With great skis and boards comes great responsibility, they say. Taking your skis on a plane or car can be a hassle but a good ski/snowboard bag can make the journey much easier.
Lets not even mention the bag handlers throwing your skis around and the need for a good bag that will protect your expensive investment is obvious.
For more of my top gear recommendations, have a look through these popular Outside Pursuits guide links: Ski Boot Bags, Ski Helmets, Ski Goggles

Quick Answer: The 3 Best Ski and Snowboard Bags For 2018
Here is a feature overview of our favorite ski and snowboard bags with our buying guide below.
The Best Ski and Snowboard Travel Bags
High Sierra Deluxe Single Ski Bag
Dakine Fall Line Double Ski Bag
Burton Snowboard Wheelie Gig Bag
Construction:
Fabric/Nylon
Fabric/Nylon
Fabric/Nylon
Features:
Quick-release adjustable compression straps.

Long webbing handles to carry over your shoulder.
Full length zipper with locking zippers

Fully padded ski protection with zippered exterior pockets

Fully padded for complete board protection

Lockable, contoured zipper pulls with TSA-Approved locks
Capacity:
One pair of skis up to 185 cm long
Two pairs of skis up to 190 cm long
Two snowboards up to 181 cm long
Wheels:
No
Yes, High quality urethane wheels
Yes, High quality urethane wheels
The Best Single Ski Bags

The High Sierra Ski Bag will accommodate one pair of skis up to 185cm long, this single ski bag should meet the needs of most skiers. The nylon fabric construction is super-durable and will last many years of heavy use. This bag is made to withstand the abuse of the baggage handlers while protecting your skis.
The bag has a good amount of padding in the center of the bag designed to protect your ski bindings, I have to say I like this feature. The long handles can be used as a shoulder strap as well for easy carrying of your skis.

When you want more protection for your skis, then you want the Sportube. Barring being run over by a truck you can rest assured no matter what the baggage handlers do, your skis will be fully protected in the high density, lightweight polyethylene hard-shell case.
The Sportube Original hard-shell carry case adjusts in length from 48″ to 83″ (122cm to 212cm) with padding on both ends to prevent damage to the nose or tail of your skis. It will accommodate a pair of skis up to 210cm in length plus your poles.
If you're into cross country skiing, it will fit up to two pairs and to make transporting your skis easy, the Sportube has polyurethane roller wheels and a pull handle.
Plan on traveling by car? Strap the Sportube on your rack to protect them from mud, dirt and salt. The Sportube cost more than a nylon ski bag, but it offers unmatched protection for your expensive skis.

The rugged polyester fabric construction from a well loved name, makes this inexpensive single ski bag a good choice!
Athalon has been making quality ski accessories for decades and this budget priced ski bag is worthy of protecting your skis. I have used an Athalon boot bag for years and can attest to their quality products.
Keep an eye on ski length when ordering this product as you'll need to make certain your ski bag can accommodate the length of your skis. I like the simple, no-frills design, and trust Athalon to make a durable product.
The Best Double Ski Bags

This is a wheeled bag, we're glad Dakine had the forethought to add this feature. Any double ski or board bag is going to be way too cumbersome to carry around without the wheels.
This double ski bag takes a slight edge over the High Sierra Double bag for one reason. Made for skis only, this bag won't have the extra slop room when filled with skis.
This bag has room for a pair of skis, ski boots, helmet, goggles, and everything else you can imagine. Lock the zippers on this bag to help add an extra layer of protection from the opportunistic thief who might want that nice new pair of goggles you're carrying!

Just like the Sportube Original, except that this case is meant to protect 2 pair of alpine skis and poles and up to 4 pairs of cross country skis in the polyethylene hard-shell case.
Like the Original, it will accommodate skis up to 210cm in length and offers the same level of protection. The Series 2 has polyurethane roller wheels and a pull strap for easy transport. If your traveling by car you can strap the Sportube to the roof for easy transport while being protected from salt and mud.
With its almost complete protection from abuse, this is the best ski bag for air travel. The Sportube can be locked up for extra protection, if traveling by plane make sure your get a TSA approved lock.

High Sierra gives us room, again, for a ski or board up to 185cm long with this combo bag. Carry two skis, two boards, but don't try to mix and match. The fully padded main compartment provides plenty of protection against your skis or boards damaging each other.
With the capacity for carrying two pairs of skis we finally get the option of having wheels. Probably the strongest asset this ski bag has going for it is the high quality urethane roller wheels for easy carrying through the airport, making this the best ski bag with wheels.
High Sierra went the extra mile on this one to provide an extra stash pocket for gloves, hats, and accessories in order to maximize use of this large bag.
The Best Snowboard Bags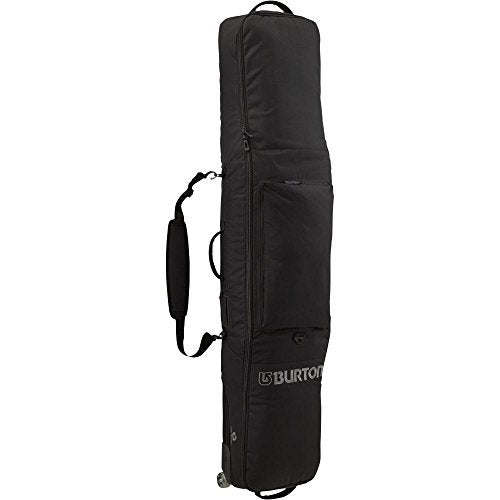 Few manufacturers can claim to know a sport as well as Burton knows boarding. With a dedicated wheel system designed specifically to support this multi-board bag, we're pretty sure you'll love the function.
The fully padded design means that this double board bag has all the protection you'll need to carry your gear. Removable shoulder strap and carrying handles gives you the choice to shoulder sling it or wheel it around the airport on your travels.
We appreciate that they added the lockable zippers because it's just good insurance these days. Like all Burton equipment, its top notch and probably the best snowboard bag.

When you want the ultimate in protection for your snowboard, you want the Sportube Series 3. The high-density polyethylene hard-shell case is tough and durable.
The Series 3 will fit up to 2 snowboards, with bindings and boots or 3 pairs of alpine skis plus it gives you some extra storage in the tube for gloves and goggles. The Series 3 has easy glide wheels with a pull strap for transport from the car to hotel or around the airport.
The Sportube adjusts in length from 42 to 72 inches (107-183 cm) to keep your snowboard and ski gear from rattling around plus padding on both ends of the case. Traveling by car? Strap the Sportube to your roof rack for protection from road salt and dirt.
If you're traveling by plane, I would say this is the best snowboard bag for air travel. For extra security, lock it up with a TSA approved lock, not included.

Offered in 3 sizes from 157cm – 175cm, this bag is going to fit your boards like a glove. Constructed from 600 denier polyester, these bags should hold up well against any abuse thrown their way.
Featuring exterior access boot pockets, these bags have room for more than just your board. It's nice to have the ability to carry all your gear in one bag and the soft snowboard boots won't damage your boards!
The fully padded bag protects your board from tip to tail while the lockable zippers secure your equipment from prying eyes. Biggest drawback? No wheels on this bad boy.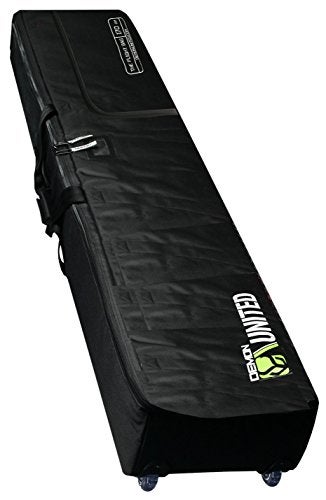 With a name like "Demon Phantom", it's easy to see why this bag might be popular. Featuring heavy duty wheels on this 170cm board bag, you won't be burdened down while traveling.
The "Monster size" interior has space for multiple boards or tons of equipment so you can keep all your gear organized in one bag! I like the removable shoulder strap for some added versatility and the beefy zippers won't break, even after years of abuse.
At the end of the day, this bag is made for boarders with a serious load of gear who need all the space to carry it! In my opinion this is the best snowboard bag with wheels.
How to Choose a Ski or Snowboard Bag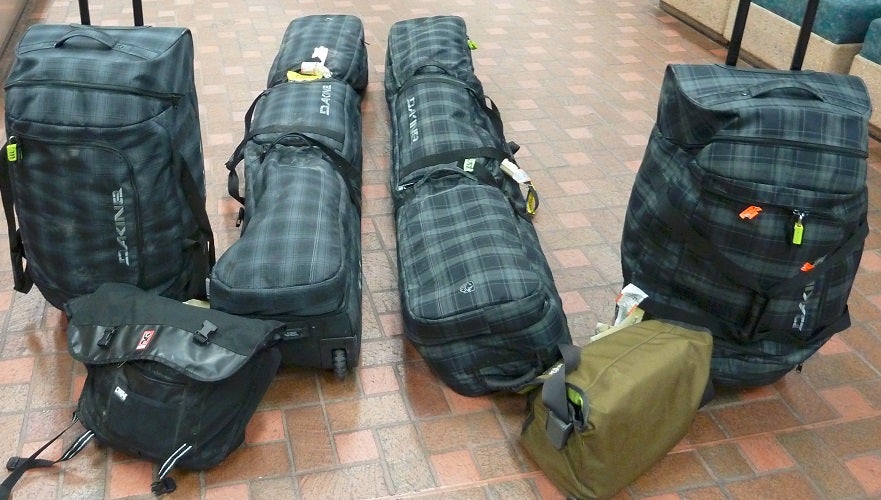 Letting your skis bang around in the attic or grind against your ski poles is the best way to ruin them. Your skis and snowboards aren't cheap and keeping them in good shape means protecting them with a ski or snowboard bag.
There are several considerations to keep in mind when picking out a new ski or snowboard bag. Some of them are obvious – such as "how many skis or boards will I need to carry?" Some, are less obvious, such as the pros and cons of padded bags.
Padding
Ski and snowboard bags may come in one of two flavors – padded and unpadded. Most often the cheapest bags on the market are thick, durable nylon lacking any padding at all.
These are great for keeping your skis organized and easy to carry while preventing them from scratching or being scratched.
Bags without padding may not provide adequate protection for air travel – we recommend seeking a padded bag for your skis or board when traveling by air.
Padded bags, however, are one step above these inexpensive nylon bags. Usually featuring several millimeters of closed cell foam, these bags may be a bit more pricey.
Benefits include keeping multiple skis protected when carrying double-ski bags, as well as providing additional protection to the ski. Most padded ski and board bags include a divider between multiple pairs of equipment to increase protection.
Padding is a great benefit and I highly recommend a padded ski bag for travel. If you expect to travel a lot or are looking for maximum protection you may want to seek a hard case for your skis.
Utility / Cargo Bags
Instead of only carrying skis, some soft ski and snowboard bags include space for all your other gear. These are often known as cargo bags.
Despite the added bulk and weight, some skiers find benefit in keeping poles, goggles, and clothes in the same bag as skis. Personally, I prefer to use a boot bag for my boots, helmet, goggles and clothes.
Skis can be rough on other equipment kept near them especially if you keep your ski's metal edges sharp.
Number of Boards / Skis
When choosing a bag, you'll want to consider how many boards or skis your already have. Don't forget to factor in room for growth – chances are you'll pick up another pair of skis or board in the future. You may choose a bag with more room to expand!
For soft bags it's usually not smart to pick a bag with more than two slots. Fabric bags have a hard time holding more than two skis comfortably and the weight will become prohibitive to you.
Wheels
For airport travel and travel to-and-from the resort, having wheels on your bag is a must! Unfortunately, the soft and flexible nature of most ski bags means that the wheels can sometimes be less effective than ideal.
When choosing a soft ski or board bag with wheels, be sure to check reviews to ensure the bag functions as designed when loaded with skis. You'd be amazed how many poorly designed bags hit the market every year.
Conclusion
It's easy to just look for the cheapest ski or snowboard bag when choosing. I recommend, however, that you look more deeply at your needs and equipment.
For frequent travel and lots of gear, a double bag with fully padded protection would be the best choice. For others, a simple single ski bag for summer storage does the trick for stashing in the attic.
Look for locking zippers and wheels to accommodate air travel and security. To top it all off, don't forget to consider growing room for your next board or skis!
I hope this guide was helpful in picking the best ski and snowboard travel bag to fit your needs. If you want to comment or recommend a bag I didn't include, please use my contact form to get in touch.
Have fun and be safe out there!
Please check out our reviews on Ski Jackets, Pants, Ski Base Layers, Socks, and Gloves
Notice: Outside Pursuits is a participant in the Amazon Services LLC Associates Program, an affiliate advertising program to provide a means for sites to earn advertising fees sold through by advertising and linking to Amazon.com. Amazon offers a small commission on products sold through their affiliate links. Each of your purchases via our Amazon affiliate links supports our efforts to bring you the best possible product reviews at no additional cost to you. We appreciate your support here at OutsidePursuits.com