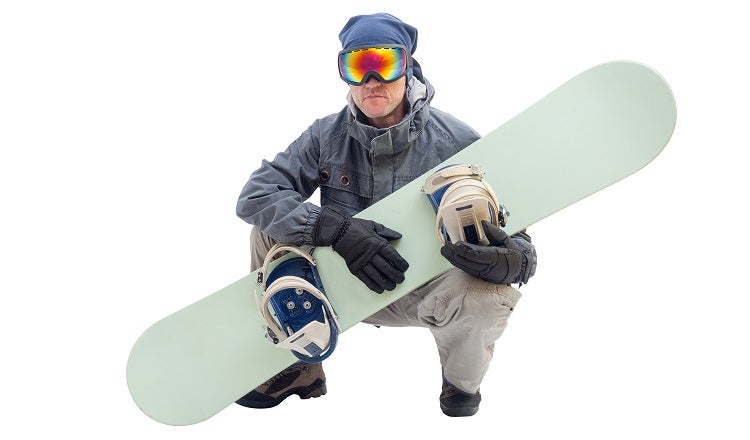 Our Editors independently research, test, and rate what we feel are the best products. We use affiliate links and may receive a small commission on purchases.
Snowboarding can be one of the most addictive action sports experience you'll try.
By choosing the best snowboard bindings or upgrading your current pair, you'll have a safer and more rewarding experience.
Snowboarders are only as good as their equipment allows. With 6 years of alpine snow sports teaching experience, I can easily tell when someone has outgrown their equipment.
It's not as easy as simply heading to the first website you think of and buying the cheapest pair of bindings. To use your money as effectively as possible, it's important to understand the basics of bindings.
After reading this guide, hopefully you'll take away a deeper understanding of snowboard bindings and find the right one for you!
Best Snowboard Bindings
| | Salomon Rhythm Snowboard Binding | Flux Bindings Snowboard Binding | Burton Cartel EST Snowboard Binding |
| --- | --- | --- | --- |
| | | | |
| | | | |
| Flex: | Medium/Firm | Medium | Medium/Firm |
| Best For: | Park / All Mountain | All Mountain | Park / All Mountain |
| Skill Level: | Intermediate/Advanced | Beginner/Intermediate | Beginner/Intermediate |
| | | | |
For more of my snowboarding gear recommendations, have a look through these popular Outside Pursuits guide links: Snowboard Pants, Snowboard Gloves, Snowboard Boots.
Quick Answer: The 7 Best Rated Snowboard Bindings
Snowboard Binding Reviews
We have lined up some of our top rated snowboard bindings for you to choose from. Our guide and comparison table will help you choose the right bindings for you, so lets get to it!
---
Best Overall Snowboard Bindings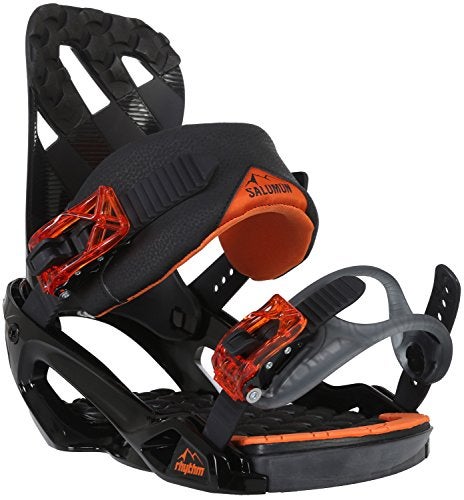 Salomon makes some amazing snow sports equipment. I've been using Salomon gear for years and I swear by their stuff for many of my appllications.
These gorgeous bindings look like they're as modern as the tech behind them. Full EVA padded baseplate with built in canting ready to ride right out of the box.
They're rocking a lock in toe strap. This split strap goes both over the top and around the front of the boot to lock your toe in from both directions.
With one big ankle strap, Salomon is touting it as the "3D Supreme". This classic ratchet style strap has a massive padded lock down for the ankle that should keep your boot locked into the heel cup.


I like the overall feel of the binding and since it's available in 5 colors (including pink and yellow) it's a pretty solid choice for versatility in just about anyone's arsenal of snowboard gear.
Women's Model: Salomon Rhythm Womens Snowboard Bindings

---
Best All Mountain Snowboard Bindings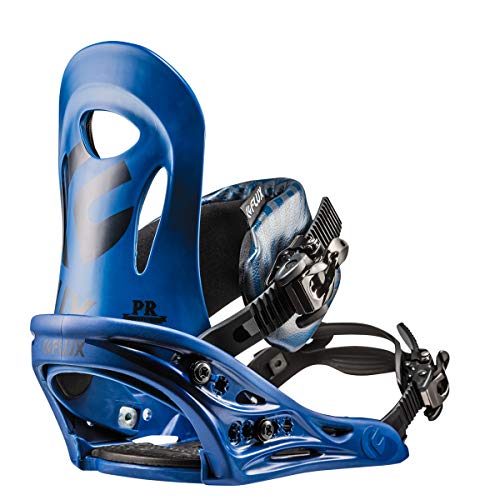 Possibly the biggest draw to this binding is that Flux seems to be making in literally every color under the rainbow. 26 different colors make choosing these bindings almost too much work.
If you're looking for the perfect color combo and refuse to compromise, then this is the place you get off!
One thing I like about these bindings compared to others is the wrap around highback. The difference seems small but it allows for more pressure to be applied to the board which leaning into the nose or tail.

Like several others on our list, the toe strap is split and provides some security both vertically and horizontally. Flux rates the binding about in the middle of the spectrum on stiffness.
This is going to yield a little more forgiving and buttery feel rather than a stiff and poppy feel.
Women's Model: Flux Bindings GU Womens Snowboard Binding

---
Best Freeride Snowboard Bindings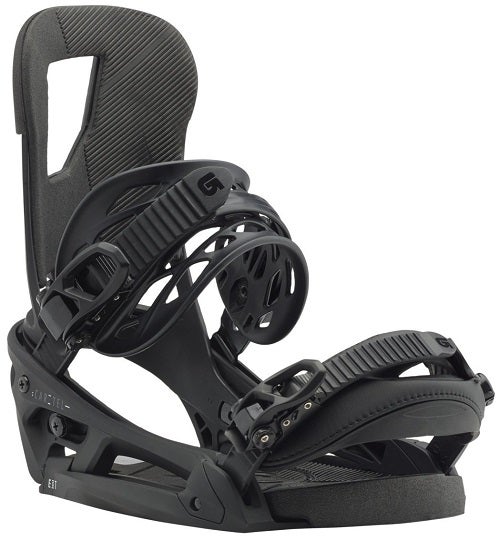 Burton is the biggest name in snowboarding gear, they've been on the scene since the first days and rocking every minute of it.
These men's bindings are available in several generic sizes so be sure to consult the manufacturer's sizing chart before purchase. You can also pick from 6 different colors to customize your ride.
With a dual component base plate Burton has made the bindings an optimal blend of cushion, response, and board feel. Stiffer materials along the edge of the binding ensure a snappy response.
I like that they chose to go heavy on the lightweight cushioning underfoot – this lightens the bindings and increase board awareness for skilled riders.
They've taken a bit of a unique approach to the highback on this binding. Called the Living Hinge, it's an adjustable and dynamic highback that provides response to changing riding conditions.
Adjustable from buttery smooth too snappy as an ankle cast you can really dial in the way your bindings work for you.
If you're looking for an adjustable, high end binding that allows you to do some fine tuning on the fly!
Women's Model: Burton Scribe Snowboard Binding – Women's
---
Best Value Snowboard Bindings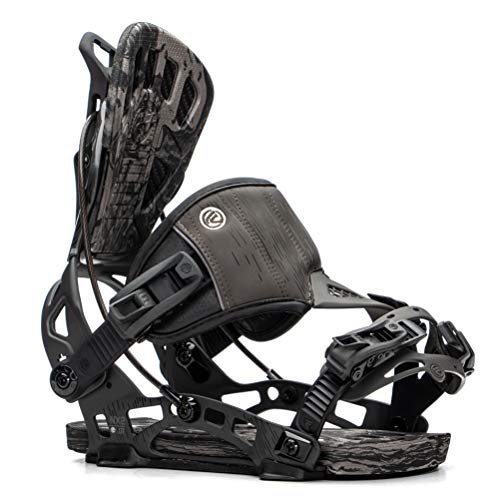 Let's take a change of pace from the softer EVA baseplate bindings we've been looking at. This Flow NX2-GT binding changes the game into a stiffer and more performance driven aluminum alloy baseplate.
They've also wrapped that straight into the nylon and glass combo highback for a responsive and snappy push when you're leaning those heel side inputs.
I love the ample highback padding that keeps this stiff binding from biting into your calf too hard. With a moderate 2.5 degree canted footbed you'll be able to rock an aggressive stance that's appropriate for a more aggressive binding like this.
There are also nylon 3mm offset multidisks that add an extra layer of fine tuning and customization to make sure the binding works for you, your gear, and your style.
If you're planning to rock some of the proprietary Burton mounting styles, Flow will provide you with the additional mounting gear.
Just contact the manufacturer to make sure you're getting the right hardware to mount these up with your board.
Women's Model: Flow Omni Snowboard Binding – Women's

---
Best Freestyle Snowboard Bindings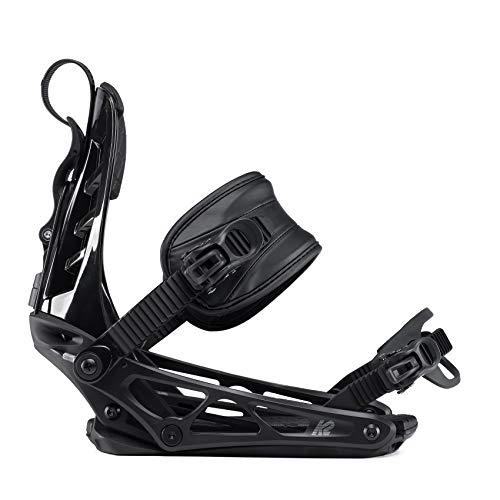 K2 makes great snow sports gear – end of story! These simple bindings forgo fancy adaptations to capitalize on something everyone needs. Reliability, simplicity, and pure proven function.
Available in red and blue, your friends will definitely be able to pick you out in the lift lines. I love the amply padded highback that's moderately tall for a good mix of butter and control.
Formed EVA padding in baseplate is pretty standard but absolutely crucial to the perfect binddings.
There's nothing fancy about the two-strap binding though I would have liked to see a more easily adjustable toe strap. This is an all mountain freestyle binding for boarders looking to crush it on a proven system.
With such a reasonable price it's really hard to argue about the value or performance of a reliable brand.
Women's Model: K2 Women's Charm: Snowboard Bindings

---
Best Beginner Snowboard Bindings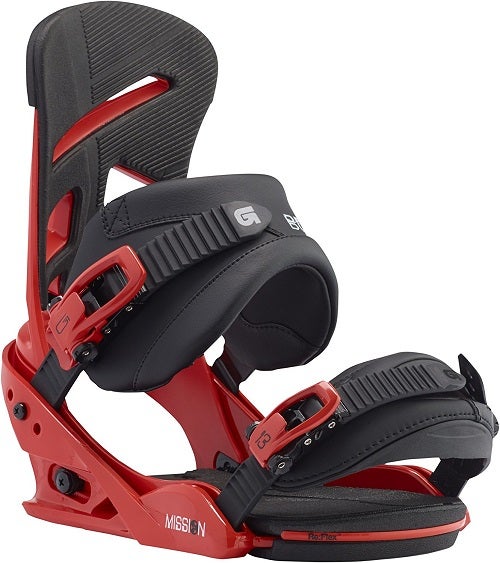 Burton is on a mission with this binding. A mission to give you a seriously tall and responsive highback on a binding that's meant to outride you. They went with a black and chrome color scheme that's somewhere between "ninja" and "stealth fighter".
Like the Cartel binding, they've put the living hinge in this one. If you don't remember, it's an adjustable and responsive thumb screw that helps to set your preference in the highback.
These bindings are universally compatible with all modern mounting systems. Since they're made by Burton you're guaranteed a good fit with the 3D and Channel mounting systems.
There's a good balance of cushion, feel, response, and flex on this. The highback is tall enough to be snappy but the living hinge allows an adjustment down to a more moderately buttery feel when you need it.
Dare I say, there might be something here for any type of rider! These would be my choice for the best snowboard bindings for beginners, you will be able to grow with these bindings as your skills improve.
Women's Model: Burton Citizen Snowboard Binding – Women's

---
Best Rear Entry Snowboard Bindings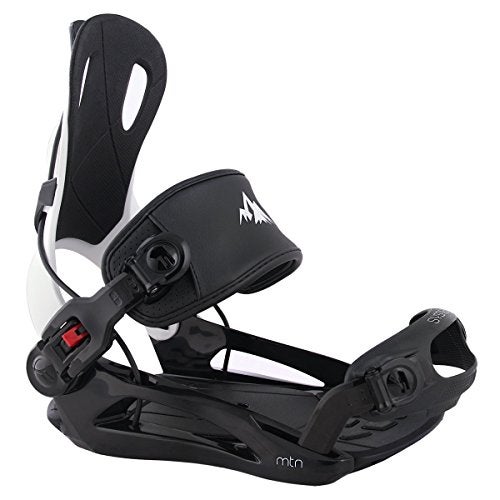 System is gracing us with the presence of one of their 2018 flow style bindings. These are rear entry speed bindings that are meant to adjust with just a single flip of a lever. Once they're adjusted to you, all you need to do is slip into them and crank down the highback strap.
These bindings come ready for any mounting system with a fully compatible multidisc base plate. That includes both the Burton 3D and channel mounts.
EVA padding on the highback and dampening foam inserted into the baseplate help mellow out what would otherwise be a particularly painful ride. I love how easily adjustable the toe strap is and it features a split strap which secures both vertical and horizontal movement.
While it may not be strictly as secure or performance oriented as a traditional binding, the quick entry is a big draw for many users.

---
Snowboard Binding Comparison Table
Author's Expertise / Why You Should Trust Our Reviews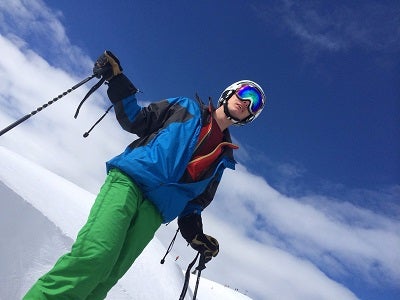 I started writing online for my own outdoor sports blog in 2010. Right out of the gate I landed opportunities to test gear for Road ID, Hydrapak, Wolverine, Helle Knives, Pearl Izumi, and GU Energy. Those were the days when growing a no-name blog was easy. Today niche blogging is a different story.
In 2012 I left Central Wyoming College with a degree in Outdoor Education and Leadership. Soon after, I was on a month-long expedition with the National Outdoor Leadership School's Outdoor Educator Course which helps would-be outdoor guides ascend from "aspiring" to "inspiring".
Between here and there I've participated in and spoken at length about outdoor pro-deal programs for companies like Patagonia, Smith Optics, Giro, Therm-a-Rest, Platypus, MSR, Columbia, and many more. I still work closely with tons of outdoor gear companies to review and analyze products.
After several seasons of guiding backpacking trips and working as a certified Alpine Ski Instructor at Deer Valley Resort in Park City, UT for several seasons, I had to move on. As any educator will tell you – teaching doesn't pay the bills very well.
In 2016 I began building my freelance writing career as readers and other bloggers reached out to me for help with technical outdoor sports content strategy for online businesses. Within weeks I was overloaded with requests for freelance writing and my new career blossomed.
2018 saw the launch of Hike With Less, my ultralight backpacking partnership program with Dustin Walker.

How to Choose the Best Snowboard Bindings – Buyers Guide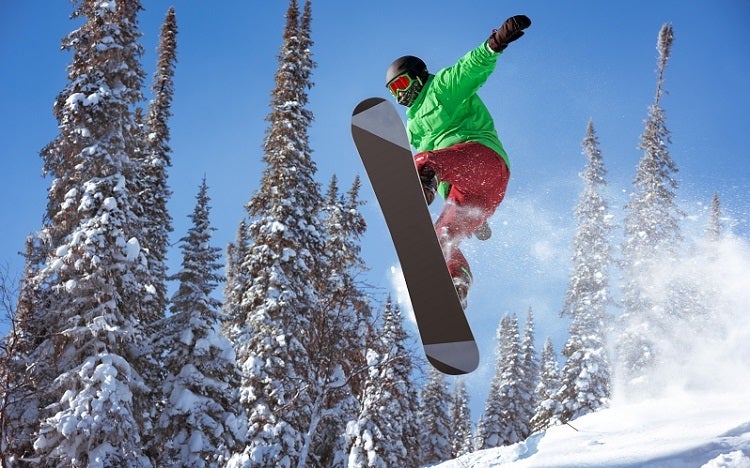 I'm going to walk you through a handful of important decision factors and how to use them when making a choice of bindings for snowboards and we going to learn how they work.
You will need to consider a few questions before choosing your bindings:
What's your preferred boarding style? Which bindings provide the ideal combination of performance to value?
Without trying to overwhelm you, I'm going to lay out critical factors that you must know before buying your bindings.
Binding Flex – Freeride / All Mountain / Freestyle
Just like snowboard boots, snowboard bindings also have a flex rating. This rating needs to match your ability level, boarding style, and snowboard boots.
Freestyle – Are typically best for beginner snowboarders and freestyle boarders should tend more toward a softer binding. Why? It's more forgiving and easier to recover. Mistakes are less disastrous!
Freeride – For advanced boarders or freeriders that want to rip it at high speeds and high angles, a stiffer flex might be critical. At higher speeds, it's important to have precise and exact control of your snowboard inputs.
Soft bindings simply won't hold up because every tiny movement counts in these demanding situations.
Freeride and powder bindings tend to be on the stiff side. They may also have some unique features if they're made for a split board. These bindings are unique and allow the split boarder to be able to tour (climb) with the bindings.
All Mountain – Somewhere in between freestyle and freeride bindings are all mountain bindings. There are among the most versatile as they allow you to go most anywhere on the mountain but are not great any specific thing. If you are unsure of what to get, all mountain bindings can do it all!

Entry – Straps vs Speed Bindings (Rear Entry)
Strap bindings are simple and straightforward. These are ratchet style bindings which are the staple of snowboarding. They're the most common and they work just fine with tons of support and cushion.
Users have moved away from these in recent years not because they're ineffective but simply because manually buckling and unbuckling them can become a pain in the butt.
Speed entry bindings are very similar to traditional bindings but feature another strap. The highback (that support plate behind the boot) on speed bindings is also adjustable!
This allows users to quickly secure the binding with less work then traditional bindings.
Unfortunately, the speed bindings do sacrifice a bit of control due to having more moving parts. For high end riders who want the most control possible, traditional bindings are the way to go.
Rear Entry bindings are the newest type of binding and like the name implies the highback reclines to allow your boot into the binding. They are the easiest and fastest type of binding to get your boot into, however they are also the least secure and somewhat heavier than traditional strap bindings.

Mounting & Compatibility
It seems that the number of mounting configurations for snowboard bindings grows yearly. Today there are a handful of common mounting styles that dominate the market.
Primarily are the 2x2 and 4x4 configurations. These are simply measurements of the spacing of the mounting holes on the snowboard. Make sure you figure out what type of mounts are on your snowboard before buying your bindings.
If you choose incompatible bindings you'll have to return them – end of story.
Less common are the 3D and channel bindings which are currently being offered by Burton only. It seems to me that when manufacturers release proprietary hardware it usually only serves to segment an already niche market.
That means hassle for consumers. If you choose Burton only mounts on your board, you'll be stuck choosing from a narrow range of bindings.
Unless you have a real reason to chooses a proprietary Burton binding and mount, go with the traditional 2x2 or 4x4 to achieve maximum flexibility in choosing your combinations.
If you want to change later, you'll have vastly more options.


Boot Fit
On top of all the other aspects of choosing a snowboard binding it's also critical that the binding simply fit the boot.
This seems like a no brainer but it's all too easy to open that package of bindings for a holiday gift only to mount them on the board and find out they're too small.
Bindings must grip your boots securely and snugly but not pinching. Pinching, even a little, will lead to discomfort and blistering during a day of hard use.
There should be no wobbling or sloppy movement inside the binding. If your boot can shift around it's much too loose.
Binding straps should extend past the ratchet at least an inch or so but should not dangle loose. If you're finding that you must tighten the binding so snugly that the straps are dragging, find different bindings.
Ladies, you may want to seek a binding designed specifically for women. They're usually made to accommodate the difference in general size and shape of women's calves and boots.

Highbacks
Highback is the technical term for the vertical cup that extends from heel to calf on a snowboard binding. This plate gives structure to the ride and allows the legs to exert leverage and force on the board when moving to the heel side.
The stiffer and taller this highback becomes, the more control it will give the rider. Beware, however, as these stiffer highbacks also come with a major downfall – they're much less forgiving.
Highbacks usually come with some degree of forward lean adjustment. This is set individually to accommodate differences in riding style, stance, and preference.
It is possible to find bindings with no backs for users who want a seriously skater feel to their board.

Baseplate
Baseplates, as you guessed, provide the connection between the board and the binding. These can be made from a wide variety of materials that will affect the strength and flex of the binding overall.
High end bindings tend to be made with tougher and more optimized materials which help facilitate the transfer of power from the boot to the board.
You may find canting on some baseplates, particularly high end or custom baseplates. This is an angled surface that permanently affects the forward lean on the board. These can be used to make up for differences in stance or riding style.

Best Snowboard Bindings Brands

As always choosing the "best" snowboard bindings brands is very subjective. Ask 10 snowboarders and you will get 6-7 different answers. However there are certain brands almost everyone can agree on like Burton.
Burton – The originator of snowboards and making some of the best bindings available at any price.
Salomon – Relative newcomer to snowboard bindings, Salomon being best known for their ski boots and now make some quality bindings at reasonable prices.
Flow – Flow has been around since the early 90's and only make snowboarding equipment, they have a lineup of quality bindings at very reasonable prices.
Flux – Flux founded in 1993 and only makes snowboard boots and bindings, they are a standout in the intermediate category.
FAQs About Snowboard Bindings
Q: What does the flex rating of a snowboard mean?
A: Pretty much what you would think. Bindings are rated between 1 and 10. So snowboard rating of 1 would have the most flex and a 10 the least. Generally for beginners a lower flex rating is advised. The flex rating of the bind should closely match the flex rating of your boots.
Q: What is an all mountain binding?
A: This binding is a general use binding meaning it does everything fairly well, from groomed trails, powder to the terrain park. These bindings are usually a medium flex and the most popular style of binding.
Q: What are freeride bindings?
A: Freeride bindings are for the boarder who goes fast and goes big! They like challenging terrain and deep powder. These bindings are going to have a stiff flex rating.
Q: What are park or freestyle bindings?
A: If you're the type of boarder who likes the terrain park then you want a binding with a softer flex rating. This allows for easier landings and more room for error.
Q: What are strap in bindings?
A: By far the most popular type of binding. They use two straps to hold your boot in the binding. One on the toe and one across the ankle. They offer the most options for adjustments and support. They are used for all styles of snowboarding.
Q: What are rear entry bindings?
A: This type of binding has a hinged back that drops down and you just slip your boot into the binding. They are fast and easy to use and popular with beginners. You may also hear them referred to as "Speed Entry Bindings".
Q: How do I match the bindings to my preferences?
A: There are many ways to get on the mountain and snowboard, let's be clear on that. However, in general, we can kind of identify some ballpark categories of snowboarding. Which style you fall into matters a lot to your overall binding choice.
Note: These are guidelines, not rules.
All Mountain boarders like to ride the terrain park, steeps, groomers, and rip powder through the trees in a good day. That means your board and bindings need to be able to handle it all. Usually, this means staying in the middle of the road with your bindings in regards to flex.
Park boarders usually opt for relatively soft bindings. This means gentler landings and less jarring to your feet and stance should you land less than perfectly.
Freeride boarders tend to stay on the steeps, off-trail, in the powder. These situations usually call for more precise control which comes in the form of stiffer bindings.
It's worth noting that it's important to match your bindings and boots. If you get boots that are stiff and bindings that are soft, the overall result will still be soft. Stiff bindings usually go hand in hand with stiffer boots.
Video: Considerations for Snowboard Bindings
How to choose your snowboard bindings
Outside Pursuits Overview
Deciding on your board and binding combination can be a tricky process. Once you understand the various components of a binding, however, it's easier to make a smart choice.
On our list, you'll find a binding that can meet just about any need from a soft flexing beginner binding to the stiffer models you'll want if you're going to rip it up at high speeds.
Remember, when in doubt go get fitted by a professional. It's always worth your time to get the help of a pro shop but don't be afraid to shop around for the best deal once you know your needs!
---
I hope this guide was helpful for finding the best snowboard bindings to fit your needs. If you want to comment or recommend a set of bindings I didn't include, please use my contact form to get in touch.
New to snowboarding? See my beginners guide to snowboarding for tips and advice.
Have fun and be safe out there!
How We Researched
To come up with the best snowboard bindings, we researched a variety of sources for reviews such as REI, Backcountry, Moosejaw, EVO along with our own personal experience.
We also consulted online magazines for product research and reviews to get as much unbiased information as we could. To help weed out fake reviews we used Fakespot.com to make sure we only looked at genuine reviews.
With so much quality gear available, we had to narrow it down based on what we felt were the best options were for the price. The author, Casey Fiedler was a full time ski instructor for Park City and The Canyons in Utah.
To help narrow down the selection he used his personal experience along with recommendations from fellow ski instructors.
After extensive research, we came up with our list to help you choose the right one for you.
Sources
Notice:
OutsidePursuits.com is a participant in the Amazon Services LLC Associates Program, an affiliate advertising program. OutsidePursuits.com earns fees from products sold through qualifying purchases by linking to Amazon.com. Amazon offers a commission on products sold through their affiliate links.