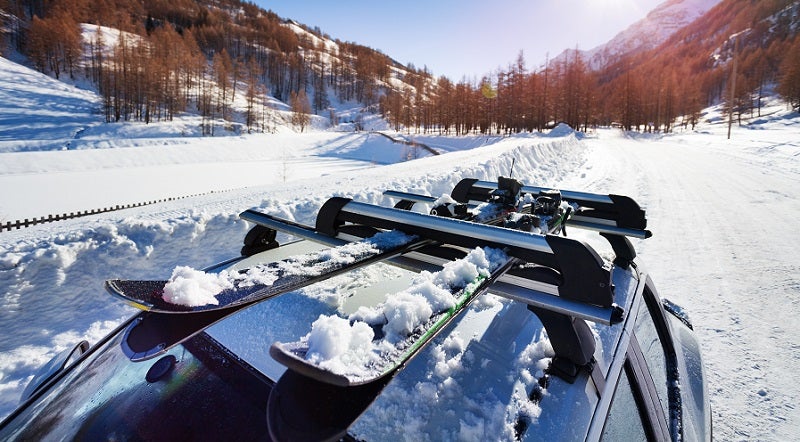 There's no arguing that skis just don't pack up well. They're long, bulky, and simply can't be made to fit in small spaces.
When I made my first trip across the country as a skiing professional, I had to break down and buy a ski roof rack because there was no way my skis were going to fit inside the old Subaru along with all my belongings to live and work for 5 months.
So whether you live in Denver and have a short commute to the resorts or if you're traveling across the country to get to your destination, a ski rack will free up valuable space inside the car.
Many compact cars are simply not big enough to carry skis anyway, unless you stick them out the window (not a recommended solution). Adding a car rack is often the only solution to these issues.
For more of my top gear recommendations, have a look through these popular Outside Pursuits guide links: Ski and Snowboard Travel Bags, Ski Boot Bags

Quick Answer: The Best Ski and Snowboard Roof Racks
Let's take a look at the top rated ski racks, then well talk about how to choose one for you. Full reviews and our buying guide is below.
Best Ski & Snowboard Roof Racks
Thule 5401 Snowcat Roof Rack
TMS J-Bar Roof Rack
Thule Force Cargo Box

Carries:
6 Pairs of Skis
4 Snowboards
Depends of size of the skis and boards
Depends on size:
5-12 Skis
2-8 Snowboards
Best For:
Cars and SUVs with factory installed side rails.
General use, works for skis, snowboards, kayaks and SUPs.
Secure safe storage with room for extra gear.
Features:
Includes four one-key locks for security.
Easy on/off hardware for fast installation and removal.
Easy mounting, opens from either side and and quiet aerodynamic design.
Ski and Snowboard Roof Rack Reviews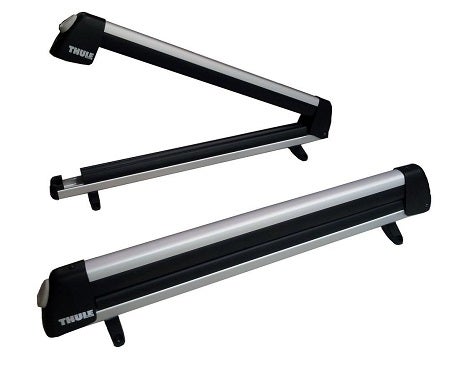 Remember that Thule ski rack I told you about earlier? The one that has accompanied me across the USA several times?
This is the one.
I can't really say anything bad about this roof rack other than the slight annoyance that accompanies a drop in gas mileage.
Locking mechanisms on both rocks mean security for the skis and the racks are bolted to the car using a special Torx bit with an internal security hole so it's hard for people to just unscrew the rack and take everything.
One nice touch is the oversized push buttons for unlocking allow you to do it with gloves on.
These racks have worked well for me for years and you can carry up to 6 skis or 4 snowboards at a time – or a combination thereof.  Thule is the standard for roof racks, and offers a lifetime warranty against defects. I think it's the best ski roof rack for the money!
---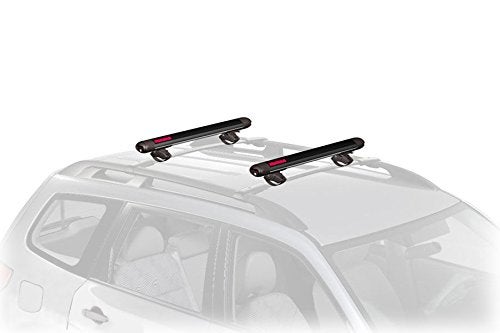 We mentioned earlier that it might be difficult to access ski racks on taller vehicles but Yakima has largely solved that problem with the Fatcat roof rack.
Each of these racks has a lockable button using the SKS locking system so you'll have one key which locks all four racks on the car. They've made the push buttons extra-large as well for easy access when wearing gloves.
The Yakima Fatcat can accommodate the wider "fat" skis that have become popular. In total, you'll be able to take along the standard 4 snowboards or 6 pairs of skis.
This might be the best ski rack, especially considering it's overall convenience and ease of access.
---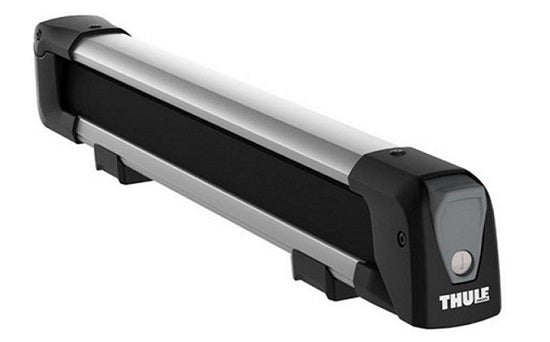 If you've got a particularly large and clunky set of skis or snowboards, there's a chance they won't fit in traditional roof top carriers.
Sometimes the bindings have clearance issues with the top of the car. Sometimes the skis and boards are so thick the carrier won't close and lock around them.
Thule's SnowPack rack solves both of these issues with an internal self-adjusting spring system which adapts to any thickness of skis and boards.
Video: Overview of the Thule SnowPack.
The included adjustable height feet also allow for adjustments in roof clearance so there won't be any fitment issues with your car!
The adjustable height also allow you to protect the top of your vehicle against scratches and gouges. The SnowPack also has oversized push buttons for unlocking allow you to do it with gloves on.
---

Apparently fat skis are becoming popular (have you noticed?) because ski racks are increasingly accommodating of thick skis and bindings.
I like this rack from Inno which features a streamlined and thin profile for minimal impact on gas mileage – great for longer trips!
With a built in locking system and universal mounting system that will secure easily to most any square, round crossbar, also works with most factory installed racks.
The Inno Gravity rack should fit just about any roof rack. Like the Thule racks, you'll be able to hold up to 6 skis or 4 snowboards.
There's really nothing wrong with saving a few bucks as well because Inno has priced these racks a little bit lower than the competition. When brands compete, you save!
---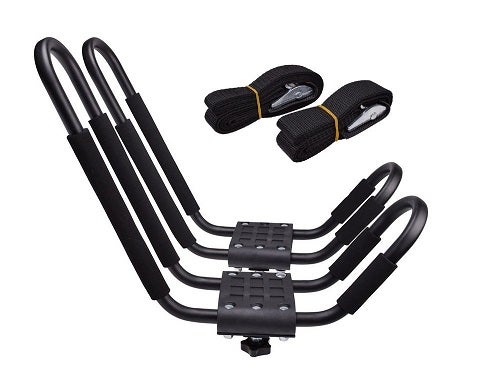 Departing from dedicated ski roof racks, we'll take a look at a slightly different option. While this rack is going to take more time to strap down your skis and boards securely, it does allow for one thing the others don't – versatility.
If you're a multi-sport athlete and don't want to change the roof rack every time you go somewhere new this might be a good consideration. You'll be able to carry skis, snowboards, kayaks, and even canoes and surfboards on the car with just one rack.
Using ratchet straps or great command of knot tying (don't tie them wrong!) you can really accommodate just about any type of sports equipment on these J-shaped roof racks.
The big downfall is that they may be too tall for many low-profile garage doors so please don't rip them off when you pull in! This TMS J-Bar  is probably the best snowboard roof rack.
---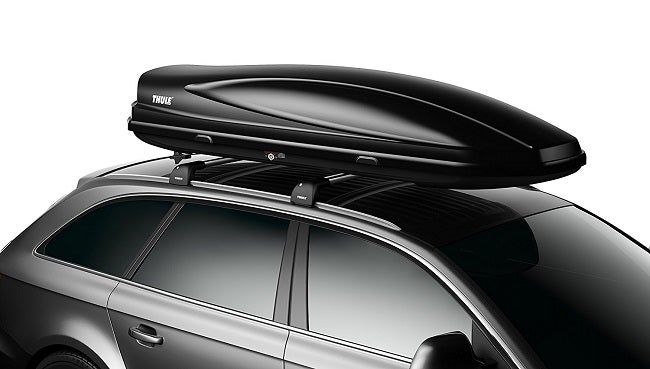 Ok, our last solution is not a rack, it actually requires a rack to use it but it is in my opinion the best way to transport your skis and boards.
The Thule cargo box steps up protection and storage capacity significantly. The Force comes in 5 different sizes that can accommodate at its smallest size, the Alpine it will carry 5-6 pairs of skis or 2-3 snowboards.
The Force XXL will carry 10-12 pairs of skis or 6-8 snowboards.
While the Thule Force Cargo Box is not cheap, it has several advantages over just using a ski rack. Believe it or not the aerodynamic shape does not decrease your gas mileage as much as a ski rack.
The Force Cargo box will carry plenty of additional cargo like your bulky ski boots, poles and other ski gear.
Video: Features the Thule Motion but its essentially the same as the Force.
It actually quieter than most ski racks as well due to the airflow around the box. You could leave it on year round and use it to carry your fishing, camping or hunting gear.
A feature I find very useful is the fact that it opens from either side, passenger or drivers side and it will stay open while you are loading or unloading gear. A user friendly feature.
The Force locks securely so you can leave yours ski or snowboards overnight and the cargo box requires no tools to mount!
Literally all you have to do is line up the "grippers" to the rack and turn the knob to clamp it down. Nothing complicated and you can mount it in a few minutes.
The Force Cargo Box is compatible with most any rack, whether factory or 3rd party. This is the best ski roof box solution.
---
Ski and Snowboard Rack Comparison Table
Ski & Snowboard Rack
Carries
Best For
Style
Features
Thule Pull Top Ski and Snowboard Carrier
6 pair of skis or 4 snowboards
Cars and SUVs with factory installed side rails
Rack
Includes four one-key locks for security.
Yakima FatCat Locking Ski and Snowboard Rack
6 pair of skis or 4 snowboards
Fits Thule rack systems, round bars and most factory rack
Rack
One-key lock cylinders lock the skis/boards to the carrier and the carrier to the vehicle
Thule SnowPack Roof Mounted Ski and Snowboard Carrier
6 pair of skis or 4 snowboards
Cars and SUVs with factory installed side rails
Rack
Wide cradle jaws hold the thickest skis and systems bindings
TMS J-Bar Ski and Snowboard Rack
Depends of size of the skis and boards
General use, works for skis, snowboards, kayaks and SUPs.
J-Bar
Easy on/off hardware for fast installation and removal.
Inno Racks Gravity Snow Rack
6 pair of skis or 4 snowboards
Ski carrier specifically designed for vehicles with factory installed side rails
Rack
Push button mechanism is easy to open and close while wearing gloves
Thule Force Ski & Snowboard Roof Cargo Box
5-12 Skis
2-8 Snowboards
Secure safe storage of skis and snowboards with room for extra gear.
Cargo Box
Easy mounting, opens from either side and and quiet aerodynamic design.
How To Choose the Best Ski and Snowboard Roof Rack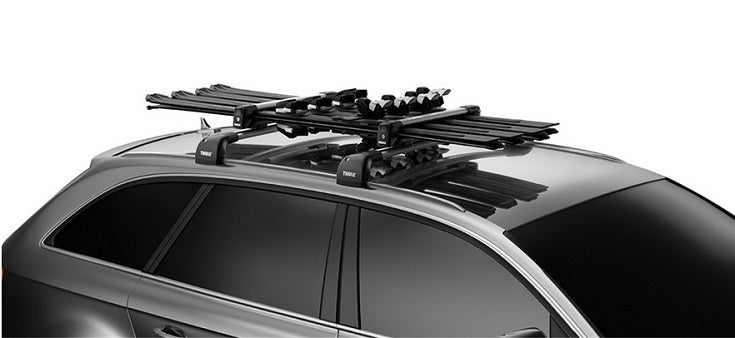 There are several key factors to look out for when picking a ski roof rack but, luckily, they're all pretty easy to understand.

How Many Skis Will You Carry?
Ski racks for cars come in a myriad of different carrying capacities. From one to four sets of skis or even more – you can find a roof rack to fit your needs.
If you're planning to travel with a partner or the family make sure to consider their needs as well. Don't forget that your buddies might want to ride along on a powder day.

Can I Carry a Snowboard?
If you have friends or family that decide to snowboard instead of ski, you may want to find a rack that can accommodate a mixture of both skis and boards when choosing a rack.
Most larger or wider ski racks can also accommodate snowboard but just double check before committing to a purchase.

Security
You'll definitely want to be able to lock your ski rack. While this won't prevent the most motivated thieves, it does mean you can stop at the grocery store on your way home without having to worry about someone walking off with your brand-new set of $1000 skis.

Versatility
If you are a multi sport person like myself who enjoys skiing but also kayaking and paddle boarding a consideration is how many racks do you need?
You could end up buying multiple racks.
One solution is the TMS J-Bar rack, while not an ideal ski rack it does the job. But it allows you to transport your kayak, SUP or surfboard as well. Saving you time and money with only one rack.


FAQ's For Ski and Snowboard Racks

Q: I don't have roof rails, can I still use a ski rack?
A: Many cars don't come with roof rails – the front-to-back mounting system for attaching roof boxes, racks, and cargo containers. If this describes you, don't worry because you're probably just fine.
There are many aftermarket solutions to adding roof racks and rails to your car.
Many custom shops will install permanent roof rails on your car but, if you don't like the idea of holes in your car, you can also add clip-on style roof racks like this one.
Q: Will a car ski rack affect my gas mileage?
A: Unfortunately… yes, it will. I noticed about a 2mpg highway drop in gas mileage when using my Thule ski rack with two sets of skis attached over the course of more than 1000 miles of highway driving.
This is why I usually remove my ski roof rack when not in use as it really can add up to lost gas money over the long run.
The short of the matter is that anything added to the outside of the car is going to affect gas mileage and skis and racks are no exception.
Q: Can I reach my skis?
A: While this may seem silly for many of us, having a ski roof rack on a taller vehicle such as an SUV or truck may mean that vertically challenged individuals among us cannot reach their skis!
Make sure that a roof rack is a good fit for your vehicle and your abilities because a roof rack isn't always the best solution.

Conclusion
Most ski roof racks operate under a similar principle – a lobster claw inspired design which sandwiches and pinches your equipment securely in a horizontal position.
For many skiers, one or two pairs of skis is plenty but most roof racks we've reviewed will accommodate up to 6 pairs of skis and 4 snowboards – plenty for a full car of people.
If you're looking to minimize the overall impact on your gas mileage, be sure to choose a slim and streamlined roof rack. For those looking to carry gear for many sports, you might consider the J-shaped multi-use roof rack.
Whatever you settle on, make sure your equipment can be securely locked so that no one walks off with it in the parking lot!
---
I hope this guide was helpful for finding the best ski and snowboard roof rack to fit your needs. If you want to comment or recommend a roof rack I didn't include, please use my contact form to get in touch.
Have fun and be safe out there!
Notice: Outside Pursuits is a participant in the Amazon Services LLC Associates Program, an affiliate advertising program to provide a means for sites to earn advertising fees sold through by advertising and linking to Amazon.com. Amazon offers a small commission on products sold through their affiliate links. Each of your purchases via our Amazon affiliate links supports our efforts to bring you the best possible product reviews at no additional cost to you. We appreciate your support here at OutsidePursuits.com