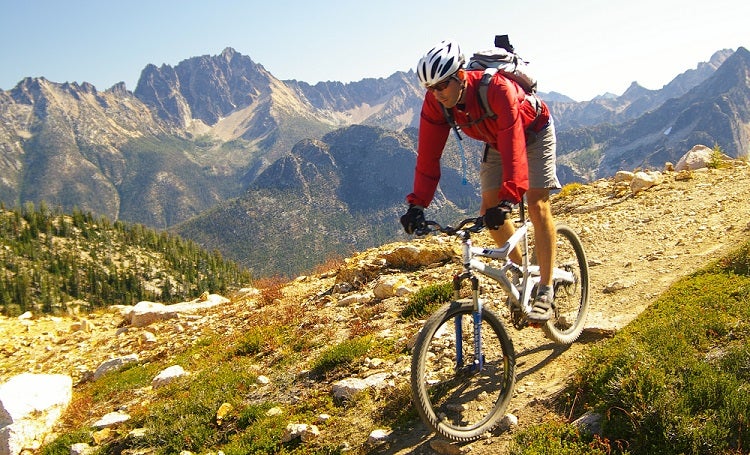 Before going out and buying a pair of MTB shorts you need to consider the style of biking you mostly do.
Once you have this down you are in a good position to choose a good pair of MTB shorts to have you riding in comfort. There are a few different styles of mountain biking shorts and we are going to cover them here.
Best MTB Shorts
| | ZOIC Ether Cycling Shorts | Fox Racing Ranger MTB Cargo Shorts | Pearl Izumi Canyon Shorts |
| --- | --- | --- | --- |
| | | | |
| | | | |
| Fabric: | Dura flex stretch fabric | 2-way stretch polyester | Water-resistant 4-way stretch rip stop fabric |
| Pockets: | 6 total, 4 zippered | 3 Total, 1 zippered | 3 Total, 1 zippered |
| Features: | Electronic pocket with wire guide | Durable, abrasion-resistant & comfortable | Snap front closure with zip fly, 15" inseam. |
| Chamois Included: | Yes | Yes | Yes |
| | | | |
For more of my top gear recommendations, have a look through these popular Outside Pursuits guide links: MTB Helmets, Bike Multi-Tools, Bike Lights.
Quick Answer: The 5 Best Rated MTB Shorts For 2020
Our reviews of the top rated MTB shorts with our buying guide will help you choose the right pair for you.
---
MTB Shorts Reviews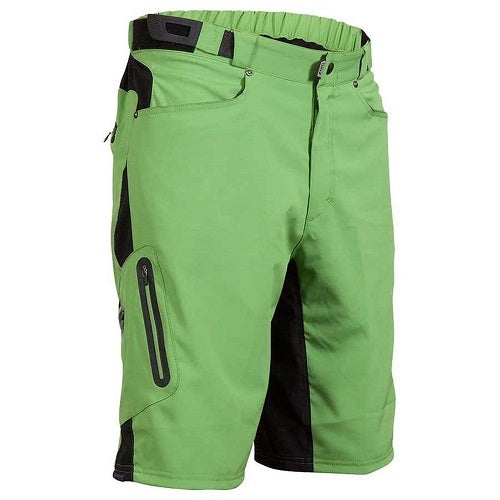 When you want to find a pair of shorts that does it all for a bargain price, then look no further than the ZOIC Ether pants. I really like these mountain bike shorts a lot.
When I put these on I just want to ride hard! They come in several colors from Neon to a plain black, depending on the look you are wanting.
Personally, I like lots of pockets so I have options and flexibility what I carry and where. This is one thing I like about the Ether shorts.
Lots of pockets.
Expand To See MoreSee Less

There are 2 hand pockets and are not zippered or secured in any way which is fine. There are 2 zippered that completely seal, one on each side that are perfect for expensive items you want protected.

There is an "electronic" pocket with a headphone port and a cord guide with a secure zipper. And lastly is a rear zip pocket that works for credit cards or some cash.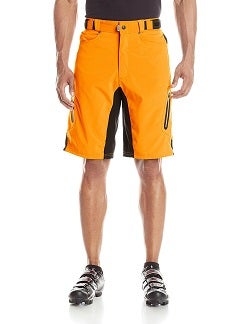 Getting a good fit is quite easy with the Ether shorts. The elastic waist band keeps the shorts snug whether sitting and peddling or standing up.

The waist band also has Velcro adjustment tabs on both sides and a snap enclosure.

Where the shorts come up a bit "short" is in the Chamois, its fairly thin and not as well designed as the Fox Ranger.

I wasn't crazy about the seams on either side of the Chamois. The leg openings are wide and it has a 12 inch inseam so that it just comes over your knees.

These shorts can be worn just as well with out the inner lining/Chamois so they offer a lot of flexibility.

I would consider upgrading the Chamois if you need a really good quality/thicker one for more protection.

The "Dura" flex fabric stretches enough to make riding comfortable but is not waterproof like the Elevate shorts. It is thick enough to provide protection for your legs while not too thick to be hot or uncomfortable.

With plenty of well placed pockets, tough and durable fabric I think the ZOIC Ether are the best mtb shorts with chamois.
---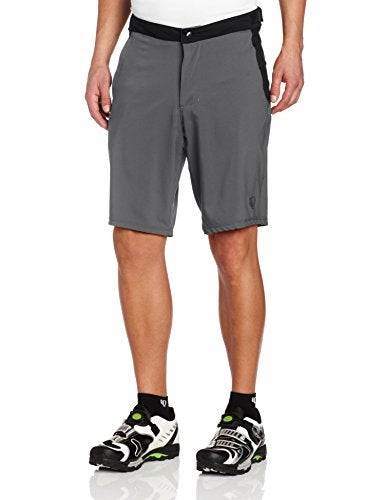 Unlike the Fox Rangers shorts, no one is going to confuse the Izumi Canyon shorts as anything other than MTB shorts. That of course is not a bad thing as long as they function as well as they look.
These are among the longest of shorts you can buy, so there will not be a gap between knee pads and the shorts. The material is tough and durable while being stretchy and flexible at the same time.
Not an easy thing to do! They are on the baggy side so they have plenty of room and are comfortable to wear for hours of intense riding.
Expand To See MoreSee Less

The shorts are well constructed with a 4 way stretch rip stop fabric that has a DWR treatment for water resistance.

You can fine tune the fit with Velcro tabs that hidden underneath, which is a nice touch to keep from catching on your shirt. The front has a fold over flap that attached with 2 snaps that stay secure.

This video shows the "Summit" Shorts but are just about exactly the same as the "Canyon".

The downside, is the included liner/chamois is not that great so if you want the padding then you will need to purchase a different chamois.

The Canyon's come with 3 pockets, 1 zippered and 2 side pockets that are useful for carrying your phone or a multi-tool.

The zippered pocket on the side just under the waist band is ideal for your wallet or keys.

These are a seriously comfortable pair of shorts that provide a good measure of leg protection with their long inseam. The material is very tough and will withstand plenty of abuse. If you wear knee pads, then these are the best mountain bike shorts for you.
---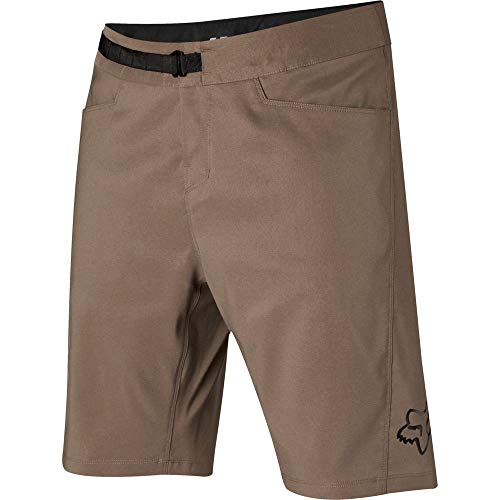 Fox is one of the best known brands in Mountain Biking and the Ranger's are their best selling MTB shorts. At first glance you might mistake them for a pair of dress shorts.
The side cargo pockets blend in and they are available in a variety of colors and styles.
I wish they had more zippered pockets. There is only one pocket on the side, so for that reason keep anything expensive in that pocket and use your hydration pack for any other important items you want to carry.
These are not exceptionally long shorts so they wont cover your knee pads and will probably just touch the top of them.
Expand To See MoreSee Less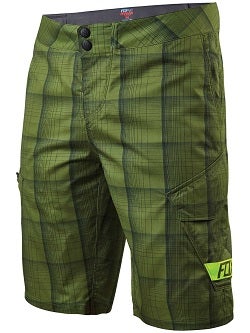 They are a comfortable, lightweight pair of shorts as I mentioned that look more something you would wear going out with friends than a pair of mountain bike shorts.

And if you don't want to look like a hard core biker, then these are your shorts.

Being a basic and simple pair of shorts, there is not much to rip or break. The included liner with chamois is of good quality and provides some compression and keep the Chamois where its needs to be.

They are not particularly baggy for a pair of MTB shorts but since they are made of spandex that stretches in 2 directions and as such don't restrict pedaling.

The shorts are adjustable with velcro tabs that you cannot see which is a nice touch as not only does it look nicer, the Velcro is not going attach it self to your shirt.

There are belt loops as well that seem unnecessary but since these are not your typical MTB shorts that should not be surprising.

I wish they had made all of the side pockets zippered but at least there is one that is secure. The Fox Ranger's are one of the best padded mountain bike shorts!
---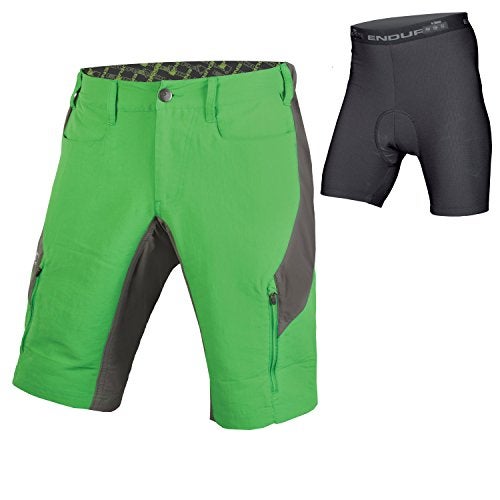 If you ride where there is a lot mud and water the Endura SingleTrack III's are for you. They are made from nylon with a DWR coating to repel water and keep you dry.
The shorts have been made to last with double stitching on the seams they they won't come apart no matter how hard you ride and abuse the shorts.
They have plenty of pockets: two hand pockets and two zippered side pockets and one on the rear of the waist. Zippers are tough and will stand up to lots of use.
When the weather turns hot, Endura have you covered with mesh vents on the thighs for plenty of ventilation.
Expand To See MoreSee Less

For comfort, the Endura's are excellent here as well. The wide waist band is adjustable and mesh lined. The liner is easily removed for washing and gives you versatility if you want to ride without it.

Overall the Endura SingleTrack III's are a good choice!
---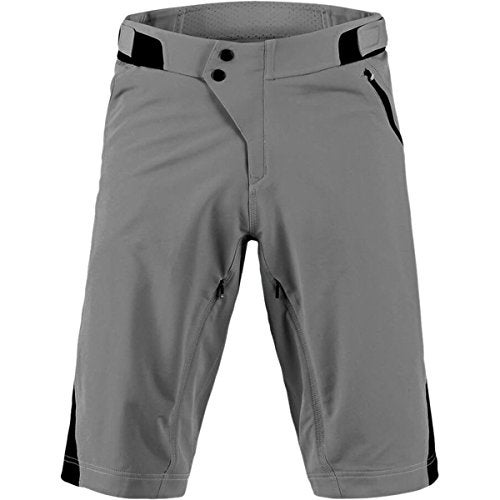 Troy Lee Designs knows how to make MTB equipment and the Ruckus shorts are no exception! The shorts are made from a combination of polyester and spandex for durability and strech comfort.
The rear panel has a 2 way stretch with mesh for comfortable riding all day. The waist band have velcro straps that give you up to two inches of adjustablity.
Expand To See MoreSee Less

The mesh on the outside of the legs give you ventilation when you are working up a sweat and also have zippered inner thigh vents for maximum comfort in hot weather.

Maybe the one downside is the lack of pockets, one hand pocket and two zippered pockets for secure storage. You most likely don't want to have your shorts weighed down anyway do I don't see this as a drawback.

Finally, if you care about the environment, the TLD shorts are Bluesign approved.
---
Considerations For Choosing Mountain Biking Shorts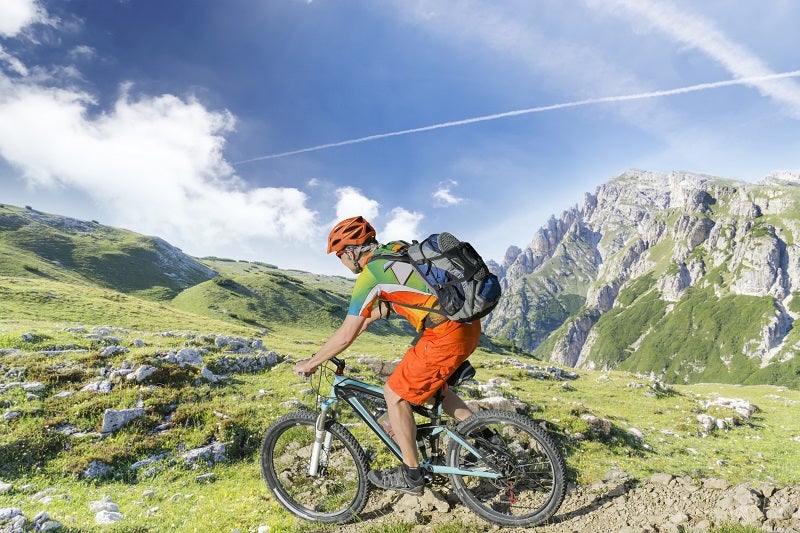 Types of Mountain Bike Riding
The first thing you need to take into consideration is the type/style of bike riding you primarily do.
Trail Riding/Cross Country Riding
The term "Mountain Biking" is a general catch all phrase for riding off road. Where I do a lot of riding in Florida, even though we call it mountain biking, clearly there are no mountains in FL. So Cross Country or Trail Riding is a better term.
Trail riding is more or less flatter, smoother riding where you are siting the your seat a majority of the time. For this type of riding, protection is not paramount. Here flexible, durable shorts is more important.
Downhill Riding
This style of riding is all about speed and with it protection. Since you will most likely be wearing full face helmet with goggles and knee/elbow pads your choice of shorts is more important.
Ideally these shorts will be longer coming down over your knee pads so as to provide better protection. You probably don't need a liner or chamois here.
Enduro Riding
This term is used now to refer to as "mountain biking" meaning you are riding up and down hills/mountains and your choice of shorts is most important here.
You need a combination of protection BUT they they cant be too thick so as not allow maximum flexibility and allow you to peddle whether standing up or sitting while changing positions constantly.
Not a lot of this in Florida unfortunately.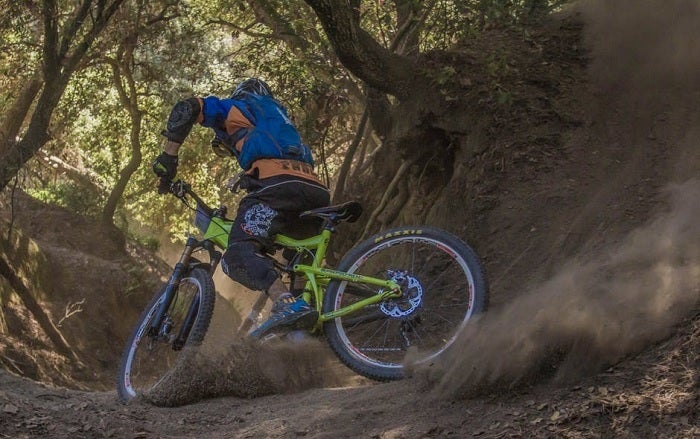 Features
Mountain bike shorts do not offer that many features to consider, lets take a look at what is critical and whats not. In my opinion, simpler is better.
Pockets
The less there is to break or rip the better. For the Trail/Enduro rider who usually rides with a hydration pack, then you may not care about pockets or lack of them.
Maybe you would prefer they not even have them because you can store all essentials in your pack. I would recommend at least on or two however since for a short ride you may not want to bother with the pack.
I only bring mine when I plan on riding for longer times or the weather is very warm. if downhill riding is more your style you probably are not using a pack and need a few zippered pocked for storage.
I cannot recommend ZIPPERED pockets enough, Velcro is just not gonna cut it. Do you really want to trust your expensive smart phone to a velcroed pocket?
I don't!
Length of Shorts
This is more of personal preference on how long you want you your shorts to be. Shorts that reach to your knees will give you some extra protection. If you wear knee pads you want them to reach the top of the pad to give more complete protection.
Water Resistance
While usually not a big consideration in choosing a pair of shorts, but if you ride in wet, marsher areas like you will likely encounter in Florida you might want waterproof shorts. This is especially true if you keep valuables like a phone in your pocket.
Adjustments & Sizing
Since its pretty unlikely that the shorts you buy are going to fit perfect right out of the package, some adjustments are necessary.
I think the best shorts have a snap fastener with Velcro tabs that allow you to fine tune the fit to allow for maximum comfort. You don't want your shorts falling down when you have to stand for pedaling!
It seems many shorts tend to run small so take this into consideration before you order a pair.

Padding/Chamois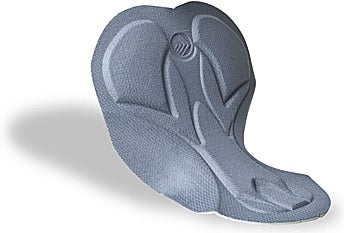 When I say Chamois I am referring to the padding in the biking shorts that is essentially what makes the bike shorts and not just shorts.
The Chamois provides your butt and other sensitive areas with some padding. They are all made from synthetic materials that can be washed.
Buying a pair of shorts with a Chamois is not a necessity since you can always buy a liner with a better quality Chamois later.
You just want to make sure they are removable and washable. Since the shorts will most likely well out last the chamois being able to remove it is important.
Chamois are typically made of a foam that form fits the shape of your body providing protection and anti chaffing properties. You can find more expensive ones using a silicone gel however.
What is important though is it is positioned correctly to do its job and it has wicking properties to allow moisture to evaporate and not get soaked.
The ZOIC Ether are our Editor's Choice as the best MTB shorts with their combination of comfort, support and features.
Notice:
OutsidePursuits.com is a participant in the Amazon Services LLC Associates Program, an affiliate advertising program. OutsidePursuits.com earns fees from products sold through qualifying purchases by linking to Amazon.com. Amazon offers a commission on products sold through their affiliate links.