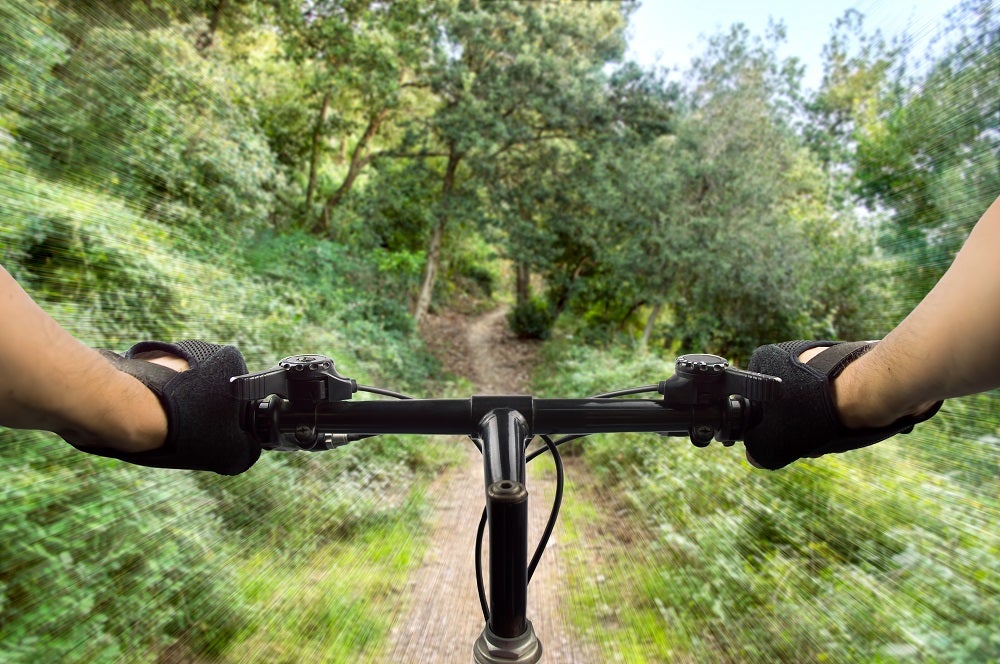 After a helmet, a pair of gloves is the most important safety equipment that you should own. Having the best mountain bike gloves will help you keep skin on your palms if you crash and give you better grip.
In summer, sweaty palms and rubber grips can be a slippery combination. Gloves maintain a good grip on the bar and move sweat away from your skin. In winter, a good pair of gloves will keep your hands warm and dry.
There are hundreds of gloves available, with different styles and features. To help you decide which top rated MTB gloves are right for you, we have made a selection of the best and summarized their features.
Quick Answer: The 5 Best Rated MTB Gloves For 2020
For more of my top gear recommendations, have a look through these popular Outside Pursuits guide links: MTB Helmets, MTB Shorts, MTB Shoes.
 Best Mountain Bike Gloves
| | Fox Men's Ranger Shorts Gloves | Alpinestars Moab Cycling Gloves | Giro Blaze Gloves |
| --- | --- | --- | --- |
| | | | |
| | | | |
| Finger Length: | Half finger | Full finger | Full finger |
| Features: | Stretchable air mesh upper for ventilation. | Synthetic leather reinforced with Kevlar for hand protection | Microfiber thumb panels for touchscreen compatibility |
| Made From: | Polyamide Nylon and Polyester | Mesh/spandex for comfort and ventilation | Clarino synthetic leather silicone with moisture-wicking synthetic |
| | | | |
MTB Gloves Reviews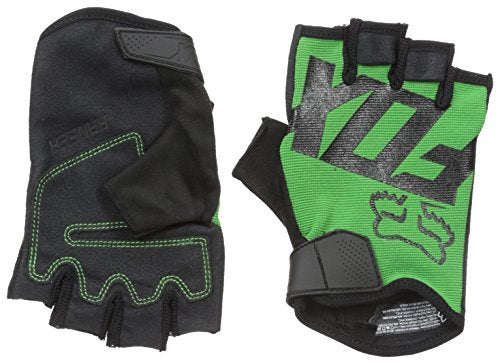 Offering much more ventilation but far less protection, these short finger Fox MTB gloves are guaranteed to let your hands stay as cool as possible on the warmest days.
The stretchable air mesh upper allows air flow and wicks away moisture from sweat. The double layer synthetic leather palm ensures grip regardless of how much you are sweating and you can use the suede on the thumb to wipe off sweat from your face.
Despite the double layer there is not any padding on the palm. They will protect your hands in a crash but not absorb any vibrations.
Any roadies reading this beware! Overall I think the FOX Rangers are the best mountain bike gloves, especially in the hot summer months!
---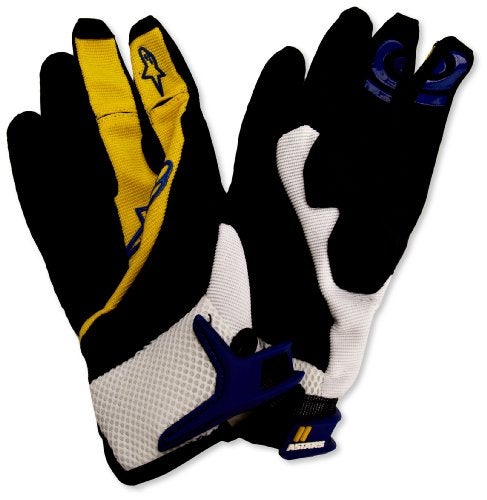 Moab is a mountain biking mecca in Utah, famous for its dry and rocky landscape. These gloves have been designed to be comfortable to wear on all day missions as well as protect your hand from the occasional strike against a tree or boulder, as can often happen in Moab.
The palm is made from synthetic leather and is reinforced with Kevlar in the areas that will get scraped in a crash. Padded sections over the knuckles allow you to gently punch any boulders that you don't like, and silicone fingertips keep your fingers on place on the brake levers.
There is some ventilation to keep your hands cool, but the added padding does make these gloves warmer than models with less padding. For when the going gets sweaty, there is a section of toweling for wiping off sweat.
Some bikers have had issues with the durability. However I think Alpinestars have addressed these concerns and the Moabs are some of the best MTB gloves you can buy.
---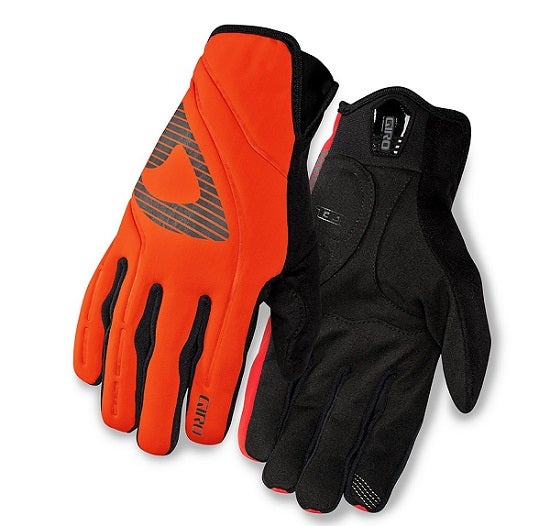 Unless you want to ride in sustained periods of rain, or sub-freezing temperatures, these gloves are great winter choice.
The upper is water resistant enough to keep out light showers and thick enough to keep your hands warm in cooler temperatures. There is also wind resistance too and if your hands do get warm, sweat will be wicked away from your skin.
Unlike other winter gloves, the synthetic leather palm is thin enough to allow feedback through the handlebars. Silicone fingertips allow grip when braking and shifting gears.
There are also some other features to keep you happy when it's cold outside.
Microfiber detailing on the fingers means you do not have to take the gloves off to use your smartphone and reflective detailing helps you get seen by other road users on the way back from the trails.
---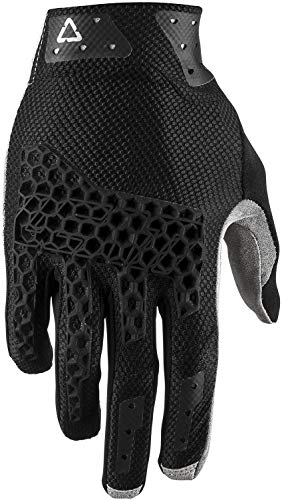 What's that? You like to point your bike down a gnarly downhill course and want a glove that will protect your hands like your full face helmet protects your pretty face? Leatt have the answer for you.
The stand out feature of these gloves is the armor gel knuckle armor. They look hardcore and are hardcore. Feel free to take a swing at a tree in these and your knuckles will walk away unharmed.
Leatt also market these gloves to motorbike riders and to do so, the gloves had to pass CE certification, which proves that they mean business.
The palm is made from a nano grip material to keep your hands on the bars when the trail gets rough and despite the protection, they are surprisingly well ventilated.
They are even touchscreen compatible and have a handy (pun not intended) sweat wipe.
---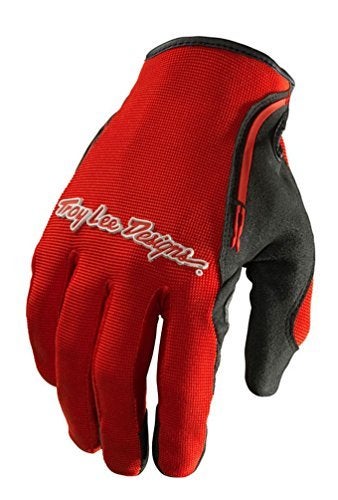 These gloves are a favorite among Troy Lee Designs' sponsored riders. Not only are they lightweight and extremely well ventilated, they are incredibly durable and versatile as well.
The spandex upper stretches snug around your hand and lets air pass through to keep them cool. Any sweat is moved to the outer layers where it evaporates quickly.
The palm is made of synthetic leather that is very hard wearing, even standing up to multiple abrasions from crashes.
The logo over the knuckles is made out of silicone and supposedly is armor, but realistically it is not going to protect you from too much. Likewise, the thickness of the material does not keep out any passing bushes or thorns.
If you do not need protection on the top of your hands, then these gloves are perfect. The fit and ventilation makes you forget that your are wearing a pair of gloves, allowing you to concentrate on more important things.
There is even a women's version available and a huge range of colors and designs on offer.
---
Mountain Bike Gloves Comparison Table
How to Choose the Best MTB Gloves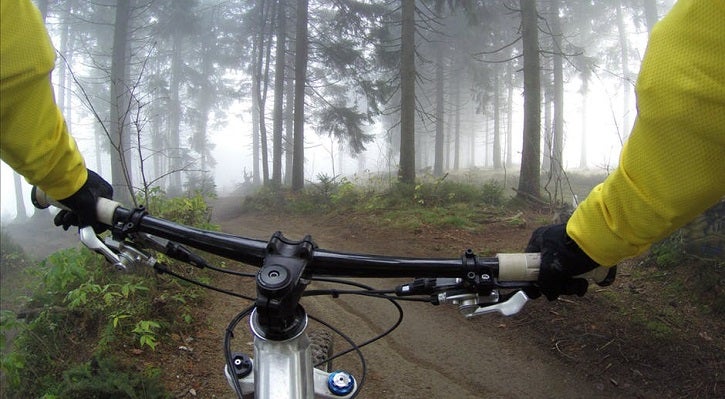 The following guide will give you a good idea of what you need to look out for in a good pair of mountain biking gloves.

Environment
The time of year and the conditions where you ride are your two most important considerations. Are you riding in open terrain or through brush where your hands will will hitting sticks and possibly thorns? If so have full finger protection will be paramount.
For summer riding, find a glove with good ventilation but no compromise on the level of protection that you need.
Time of year and temperature will also need to be considered.  If your riding in winter or cold weather, an insulated, preferably water resistant/waterproof glove full finger will be your best option.

Full or Half Finger
Full finger gloves provide more complete protection and, obviously, winter gloves need to be full length.
Half finger gloves are more ventilated and tend to be used by road cyclists and XC racers, although as XC courses are becoming more technical and hazardous, more and more racers are wearing full finger models.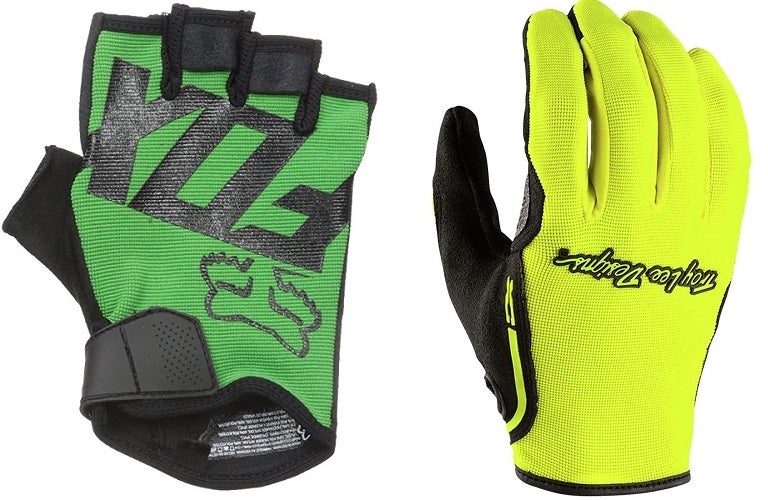 Fit
Good fitting gloves are critical. Small gloves will be uncomfortable to wear whereas gloves that are too big will let your hands move around inside them, actually decreasing the grip that you have on the handlebars.

Riding Style
More aggressive riders will want a glove with more protection than casual riders. If you do downhill racing you will need even more protection, the Leatt DBX gloves are your best bet.

Features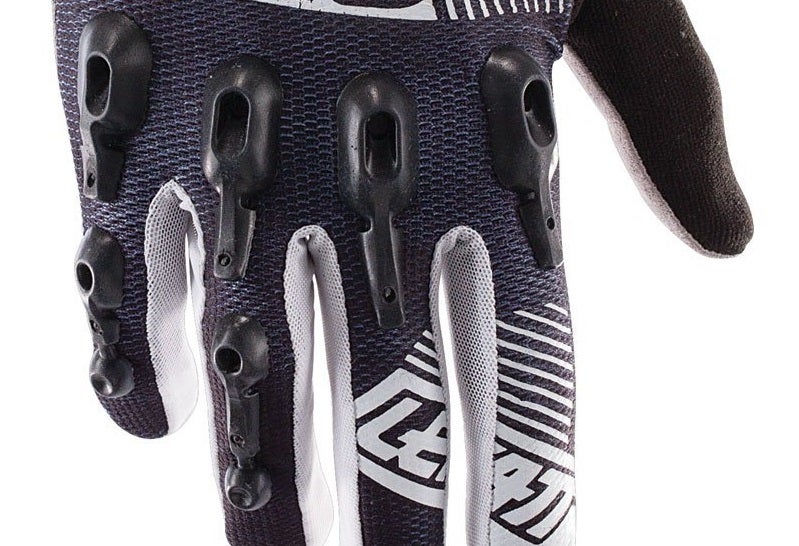 Knuckle Armor: Some gloves have rubber, plastic or silicone armor over the knuckles to protect hands from scraping past bushes and the occasions when a tree gets a little bit too close.
Wipe: A section of toweling on your gloves can be used to wipe off sweat in summer or a running nose in winter!
Padding: If you suffer from numb hands, the culprit is probably your bike setup. However, some people will get numb hands anyway so some gloves have padding on the palms to take some of the pressure.
Silicon Fingertips: These allow the fingers to grip the brake levers better.
Smartphone Compatible: If you really need to use your phone while riding, you will need gloves that work with touchscreens.
Material
The material the MTB gloves are made from needs to be considered. Most gloves are made from either leather or synthetic leather in the palms for grip and durability.
While the fingers and top of the glove should be made of a spandex for good fit and moisture wicking properties. If you plan on riding in cold weather, make sure the gloves have some insulation to keep your hands warm.

Armour
If you plan on riding where there are bushes and trees next to the trails you will want padding/armour on the knuckles of the gloves for the inevitable brushes against them. The Leatt DBX 4.0 are a good example of this style of glove.

Caring For your Gloves
Like anything you wear you wash your gloves to get the mud and dirt off they maintain their wicking properties. Most synthetic gloves are machine washable so they won't shrink but verify before throwing them in the washing machine. If you have water and wind resistant gloves, periodic treatment may be necessary to maintain it.
---
I hope this guide was helpful for finding the best mountain bike gloves to fit your needs. If you want to comment or recommend a pair of gloves I didn't include, please use my contact form to get in touch.
Have fun and be safe out there!
The Fox Men's Ranger's are our Editor's Choice for the best MTB gloves with their combination of protection, features and quality.
Notice:
OutsidePursuits.com is a participant in the Amazon Services LLC Associates Program, an affiliate advertising program. OutsidePursuits.com earns fees from products sold through qualifying purchases by linking to Amazon.com. Amazon offers a commission on products sold through their affiliate links.