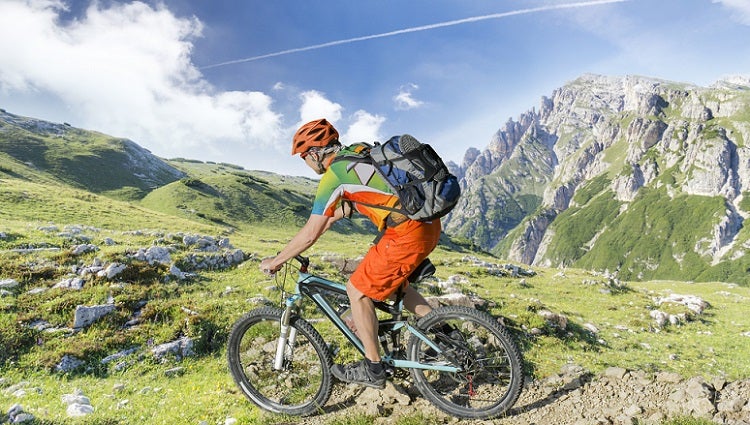 Our Editors independently research, test, and rate what we feel are the best products. We use affiliate links and may receive a small commission on purchases.
Every mountain bike has a saddle and every rider will spend a large portion of every ride sitting on it. Most every new bike will come with a stock saddle that is unlikely to be particularly good and is highly unlikely to be the right saddle for you.
Everyone has their preferences and bike manufacturers are aware of this so there is no point in them speccing all bikes with an expensive saddle that will increase the price and be swapped out anyway.
Finding the best MTB saddle for you is not easy and we are not going to pretend that you can read this article, buy a mountain bike seat and guarantee that you will be happy with it.
What we can do here at Outside Pursuits is inform you of what you need to look out for and tell you why your saddle choice is such a personal matter.
Best Mountain Bike Saddles
WTB Rocket Race MTB Saddle
Ergon SMC Sport Saddle
Race Face Affect Bike Saddle
Weight:
12 oz
10.7 oz
8.5 oz
Size(s):
135-150mm available
110 x 130 mm
130 x 150 mm
290 x 132 mm
Rails:
Cro-Moly
Cro-Moly
Ti Alloy
Rating:
4.7 / 5.0
4.5 / 5.0
3.8 / 5.0
For more of my MTB gear recommendations, have a look through these popular Outside Pursuits guide links: MTB Helmets, MTB Shorts, MTB Shoes.
Quick Answer: The 7 Best Mountain Bike Saddles For 2021
Our guide and comparison table of the top rated bike MTB saddles will help you choose the right one for you. See if one of them fits your criteria and give it a go!
---
MTB Seat Reviews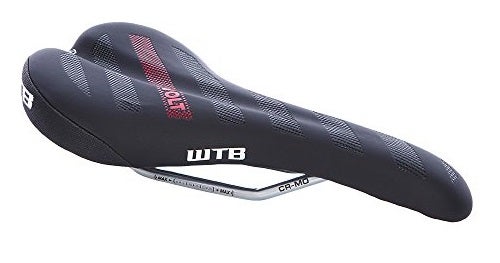 Designed to be a great budget all rounder, the Rocket Race MTB seat is at home on any kind of mountain bike, in all sorts of conditions.
The price is low, which pushes the weight up somewhat because at its price point it doesn't use the lightest materials available.
You do get the same shape and cut out feature of WTB's more expensive models however. It has a short length and the profile is flat. The synthetic cover is durable and has reinforced corners where saddles often get cut up in crashes.
It is available in three different widths so you should be able to find one that fits you. Overall this is my top pick for best MTB saddle.

---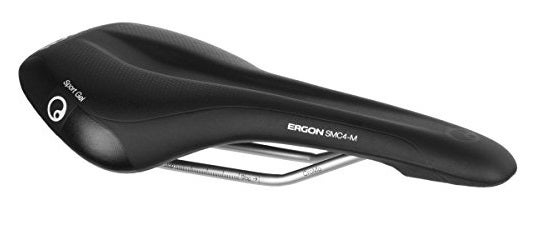 The SMC4 is designed for endurance riding. That can mean long days in the saddle or multiple days and huge distances. Two widths are available, medium and large, with the latter 10mm wider.
Both are long and feature a 9mm deep pressure relieving channel. The padding is orthopedic foam and gel, which ensure comfort and support for many long hours.
While it is comfortable to sit on, the wide rear end can get in the way when moving your weight back. Even if you can get the saddle out of the way with a dropper post, you may notice it contacting the inside of your thighs.
If you need a comfortable saddle for some serious endurance riding and can put up with the slightly higher weight, then the SMC4 will serve you well.
With just the right amount of gel for cushioning, this is probably the most comfortable mountain bike seat you can buy.

---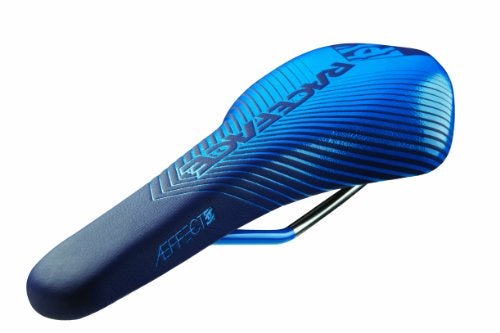 The flat shape and relatively solid padding on the Affect make it suitable for experienced riders with good flexibility.
The shape makes it easy to move across, and is therefore ideal for blasting through technical terrain, where you will be shifting your weight around often. The profile has been kept low to prevent your shorts snagging when moving back.
Superlight foam padding and titanium alloy rails keep the weight down. If you have the flexibility, the Affect will be comfortable and light for all-day big mountain missions.
Surprisingly for a saddle of this quality, durability and weight, it does not come with a hefty price tag. Another top contender for the best mountain bike seat.

---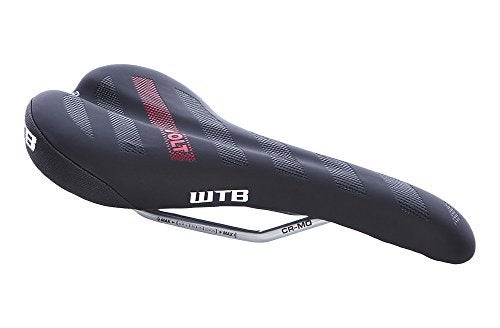 Available in a huge range of sizes, materials and budgets, the Volt is a popular saddle not just because there are lots of them, but also because it performs fantastically.
The central cut out reduces pressure and you can find a model with just the right amount of padding for you. There are three different widths avaialable so you should be able to find one with the right width for you.
The "whale tail" design gives this MTB seat a good comfort level by putting you in a good riding position and giving slightly more peddling efficiency.
Like the WTB Rocket Race above, its one the best mountain bike saddles in its price range.

---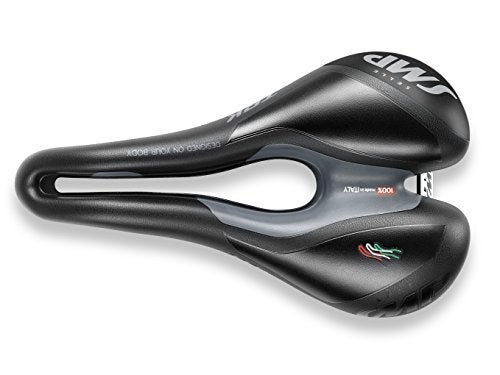 The Selle SMP TRK saddle is another reasonably priced, high quality model.
This seat is ergonomically designed to prevent any pain, discomfort, and numbness by removing pressure on the perineum with a cut-out section.
The firm padding is slightly thicker at the rear to support high pressure areas. It has a medium width and an average length, offering comfort at a reasonably light weight.

---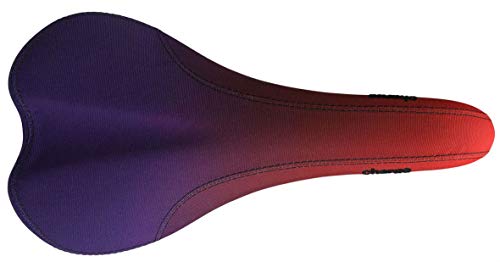 The medium width and slight curve, combined with a reasonable amount of padding make the Charge Spoon a comfortable choice for many riders.
This good looking saddle is not too heavy either and the synthetic upper proves to be very durable. For these reasons, this saddle has become a very popular choice.
A version with titanium rails is also available to save a bit of weight. At a bargain price, I would give the Charge Spoon the nod as the best mountain bike saddle for its cost.

---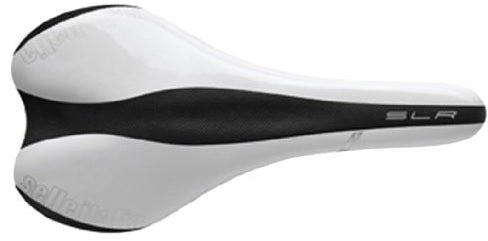 One for XC racers. The slim and narrow profile allows interference free pedalling. The weight is low thanks to the carbon shell and light padding.
The Lorica cover has Kevlar reinforcement to ensure that it will last. Despite the low weight and slim design, this is a surprisingly comfortable mtb saddle for long rides and races, assuming the narrow shape suits you in the first place.

---
MTB Saddle Comparison Table
How to Choose the Best MTB Saddle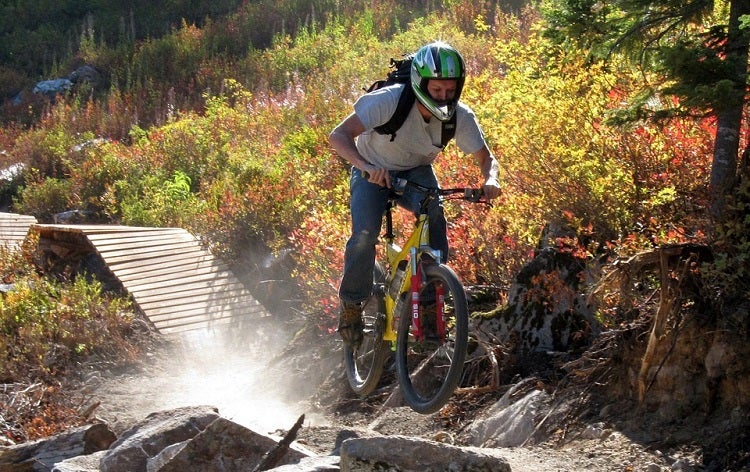 There is No Butt Like Yours
Everyone is different. Male and female anatomy differs and no two people are built the same. This is especially true when it comes to your sit bones.
The size and width of these play an important role in deciding whether a mountain bike seat will be comfortable for several hours of riding or akin to torture.
Also playing a role is spine flexibility, hip flexibility and body weight, all of which influence how much pressure is put on a saddle and the manner in which it is applied.
Each of these factors is different for everyone and are even liable to change over time. You can see why there is no single solution when it comes to finding the right saddle.
To understand which saddle could be right for you, it is first important to understand how a saddle is built and the materials used, as well as the effect that different shapes and sizes have.

Parts of a Mountain Bike Saddle
A saddle is made of four parts.
Shell: The shell defines the shape and width, and is commonly made of plastic or carbon fiber.
Cover: On top is the cover, usually made out of leather, synthetic leather and maybe some kevlar.
Padding: In between the shell and cover you may find some padding. Even there is some it is typically pretty minimal. If there is some padding it is typically some form of gel.
Package: The package is supported by two rails that get clamped to the seatpost. These are made of aluminum alloy or titanium if you want to save weight and can afford the extra cost.
Width
If you have wider sit bones, then logically a wider saddle is more likely to be comfortable. Women tend to have wider sit bones, but this does not necessarily mean that a wider, women's specific saddle will be the best choice. There are many female riders that use unisex or male saddles.
Note that narrow mountain bike seat allows more efficient pedaling and is also easier to shift your weight behind when descending or approaching technical sections.
A narrow saddle will also weigh less and weight-conscious racers will often sacrifice some comfort to shed a few grams.

Length
A long nose on a saddle allows the rider to shift their weight further forward when climbing, giving them a more efficient position. A longer nose means more weight, which is why you do not see ridiculously long saddles on XC race bikes!

Padding
Mythbusting time: More padding does not make a more comfortable saddle! A thick layer of padding will compact during a ride and eventually leave the rider sitting on the shell.
While a small amount can provide comfort and support, especially on long rides, it is uncommon to find more than a couple of millimeters padding in professional saddles. It is not uncommon to see riders using saddles with no padding at all.

Shape
If you look at the profile of a number of saddles, you will find ones that are flat and others that are curved. Again, the difference caters to different anatomies and preferences so there is no "best" saddle, its just what is most comfortable for you.

Cut Out
Ever noticed a groove running down the center of a saddle or a even a long, narrow hole? This is not about saving weight, but relieving pressure on your "sensitive" areas to prevent numbness when riding.
Do you need a seat with this feature? That depends on whether you get numb down there. You tell us!

Finding the Right Saddle for You
Start with what you know. What are you riding on right now? Have a look at the width, length, shape etc. Are you comfortable sitting on it for several hours of riding?
If you start to get sore, where do you get sore? Do you feel like it is supporting your sit bones? Is it too wide?
Consider all of this and think about what may improve your comfort. Choose a new seat based on your observations and try it out.
Unfortunately it is not as simple as just sitting on a new saddle and knowing that it is comfortable. A new saddle has a break in period so may be uncomfortable for the first few rides anyway.
After that, you will need to thoroughly test it to see how it holds up after several hours of pedaling. It is not a simple process, but once you have found your perfect saddle, you will no longer shy away from big rides.
---
I hope this guide was helpful in picking the best mountain bike saddle to fit your needs. If you want to comment or recommend a saddle I didn't include, please use my contact form to get in touch.
Have fun and be safe out there!
How We Researched
To come up with the top mountain biking saddles, we researched a variety of sources for reviews such as Competitivecyclist, JensenUSA, REI, EVO along with our own personal experience.
We also consulted online magazines for product research and reviews to get as much unbiased information as we could. To help weed out fake reviews we used Fakespot.com to make sure we only looked at genuine reviews.
With so much quality gear available, we had to narrow it down based on what we felt were the best options were for the price. The author, Richard Bailey has a wide background in mountain biking in a variety of countries, terrain types and bike packing for weeks on end.
The author has decades of experience and is eager to share his knowledge with readers.
To help narrow down the selection we used personal experiences along with recommendations from fellow MTB bikers, bloggers and bike shops.
After extensive research, we came up with our list to help you choose the right one for you.
Sources
Notice:
OutsidePursuits.com is a participant in the Amazon Services LLC Associates Program, an affiliate advertising program. OutsidePursuits.com earns fees from products sold through qualifying purchases by linking to Amazon.com. Amazon offers a commission on products sold through their affiliate links.