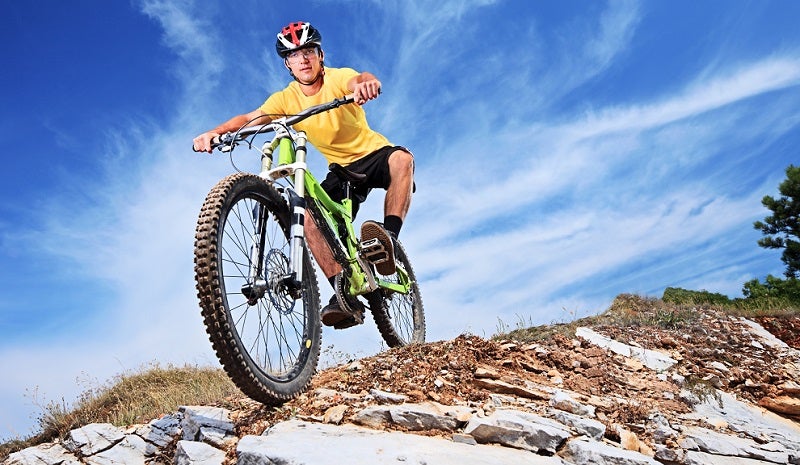 Our Editors independently research, test, and rate what we feel are the best products. We use affiliate links and may receive a small commission on purchases.
Having powerful brakes at your fingertips gives you more confidence and allows you to slow down faster.
Having the best MTB brakes will allow you to brake later, so you can ride at higher speeds over more terrain, increasing your average speed.
It may sound counterintuitive, but if you want to ride faster, you should get a better set of brakes.
First we will take you through our top rated MTB brakes, then we'll cover what you need to look for when buying a new set of hydraulic disc brakes in our buyers guide below.
Best Mountain Bike Brakes
| | Shimano M820 Saint Brake Set | Clark's Cable Systems Rear M2 Brake | Hope Tech 3 V4 MTB Brakes |
| --- | --- | --- | --- |
| | | | |
| | | | |
| Calipers: | 4-piston calipers | Twin piston | 4-piston calipers |
| Rotors: | Fits 160, 180, 183, 200 and 203mm | 160mm (included) | Fits 160, 180, 183, 200 and 203mm |
| Best For: | Maximum stopping power | Trail riding without steep inclines | Downhill riding at a reasonable price |
| Weight: | 306 grams | 418 grams | 266 grams |
| | | | |
For more of my MTB gear recommendations, have a look through these popular Outside Pursuits guide links: MTB Shoes, MTB Helmets, MTB Tires, MTB Pedals.
Quick Answer: The 5 Best Rated MTB Brakes For 2021

Our reviews of the top rated mountain bike brakes with our buyers guide will help you choose the right brakes for your bike.
---
MTB Brakes Reviews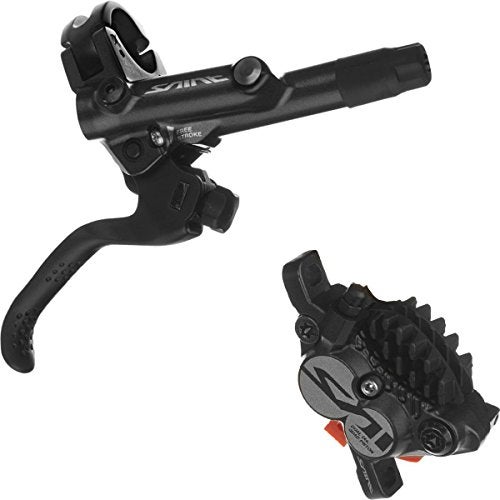 The brakes are legendary in the downhill racing world. They literally put more braking power at your fingertips than most would consider safe.
With a set of Saints on your bike, you can slap on a massive amount of braking force, regardless of where or what you are riding. The downside to all of this power is the relatively high weight.
But if you need to scrub off some speed when hurtling down a mountain at too many miles per hour, this is a small price to pay.
A consequence of so much braking force is a lot of heat is generates. This is countered by the use of vented pads and long hose banjos to allow heat to escape rather than hang around.
There is not a great deal of modulation and despite reach and contact point adjustment being available, there remains a lot of dead lever travel where nothing happens.
The power of the Saints has been matched in recent times by brakes that are lighter, which has knocked them off their podium.
This has brought the price down though, making the Saints an affordable set of high performance stoppers and my top pick for the best MTB brakes.

---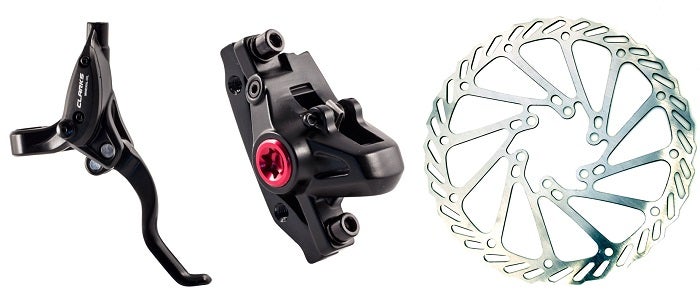 Clarks have the solution for you if you are after reasonable stopping power at an unbeatable price.
On the trail the M2 brake has average modulation and although not as powerful as other brakes (SRAM Guide brakes have 50% more power), the long lever makes up for this a bit.
A dial allows you to adjust the reach but there is no contact point adjustment.
The included pads are loud when wet – to the point that you will consider actually applying the brakes for fear of startling local wildlife with the banshee wailing.
However, Shimano pads are compatible, allowing you to swap them out for something quieter and with more bite. The package includes either a 160mm or 180mm rotor, adding to the value.
You may need to straighten the rotors to eliminate drag when setting them up but this is an easy task.
Consider these if your standard ride does not include long steep descents and you do not do much high speed riding. The M2's are the best mountain bike brakes for the money and are a good budget, lightweight option.
Front Brakes: Clark's Cable Systems Front Hydraulic M2 Brake

---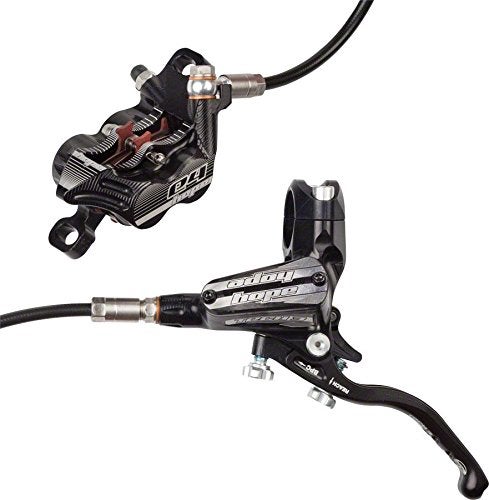 Like all Hope brakes, the E4 is machines from a single piece of aluminum and anodized in one of six colors before being laser etched. All of this, followed by hand assembly, is done in north England.
Great looks and manufacturing aside, the E4 is a reliable and adjustable brake that provides consistent performance. Although the caliper contains no fancy technology to reduce heat build up, no fade is noticeable even on long descents.
The braking feel itself is more on the direct side than other brakes with lots of modulation. In terms of power, paired with a 200mm rotor you can expect to slow down and stop with confidence thanks to the four pistons in the caliper.
More progression and more power is available from other brakes paired with smaller rotors.
At the lever there is reach and contact point adjustment to let you customize to your heart's content. Once set up, you are unlikely to want to make any adjustments on the fly.
Open reservoir bleeding is not quite as simple as using syringes, but is not too tricky if you are confident and do your homework first. The V4's are best mtb disc brakes for around $200.
Rear Brakes: Hope Tech 3 V4 Rear Brakes

---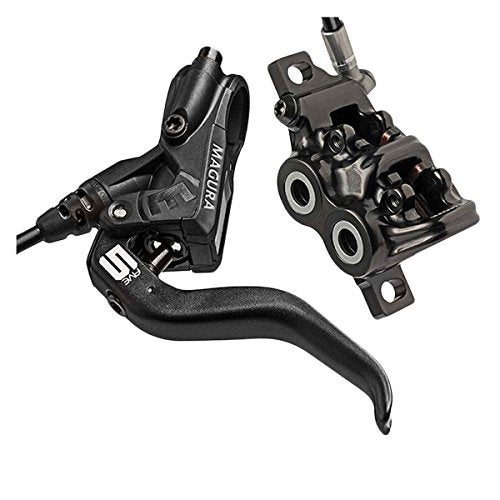 Reliable in all conditions and situation, the MT5 brakes offer unrivaled braking power at a surprising price. The braking starts soon after the pads make contact and ramps up to give you more power than you will probably ever need.
This power is coupled with a small amount of modulation, so once you start braking, you are really slowing down fast.
The long lever is comfortable for riders with big hands but too big for those with shorter digits. Its length allows for two finger braking, which isn't really necessary with brakes this powerful.
A shorter lever would make the MT5s more accessible to smaller riders without sacrificing too much power. Reach adjustment is available but you will need to get your tools out to do so.
A nice feature is the magnetic backing on the brake pads that makes them snap into position, ensuring they are in the right place. The hoses are generously long, so you will almost certainly need to shorten them, which may also mean bleeding them afterwards.
Bleeding is relatively easy but not as simple as with other systems. All of this is backed up with Magura's 5 year warranty, so all in all the MT5s are best mtb hydraulic brakes for the price.

---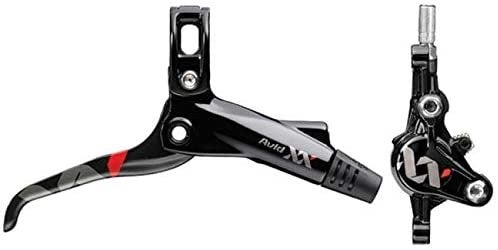 These expensive brakes more than justify their price with unmatched performance and adjustability. The standout feature of the Ultimates is the huge amount of modulation on offer.
Thanks to two sealed bearings, the lever feel is smooth and you can easily make fine adjustments to the power applied. While there are more powerful brakes available, nothing come close to the modulation of the Ultimates.
You can easily control the power between hard braking and skidding as you please, giving you ultimate control over the braking forces.
A heat shield works with the open caliper design to prevent too much heat build up. These work well to provide a consistent braking experience. Even on long, hard descents you will have consistent bite point and no fade. Dials at the lever allow easy reach and contact point adjustment.
Carbon is used for the lever and titanium bolts help keep the weight down. Adding to the ultimate label is the easiest bleeding process of any brake system out there.
The Bleeding Edge technology allows quick and drip-free bleeding. This is a huge plus for racers who will want to regularly bleed their systems. If your looking for the best enduro brakes, the SRAM's are it!

---
Mountain Bike Brakes Comparison Table
How to Choose the Best MTB Brakes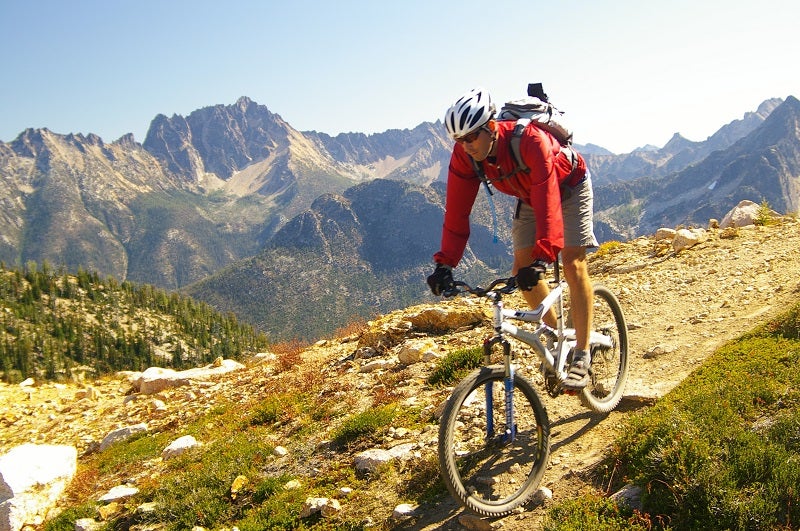 How Brakes Work
Mountain bikes used to have rim brakes. These work by a cable pulling a pad onto each side of the rim, causing friction that slows the wheel and bike down.
Although there are different types of rim brakes and improvements were consistently made, it wasn't until the introduction of hydraulic disc brakes that anyone really felt that they had reliable stopping power on long or steep downhill trails.
Hydraulic disc brakes use brake fluid to push pistons and pads onto a disc mounted to the hub of the wheel. Less force is required from the rider to pull on the lever and there is more modulation.
There are also cable disc brakes but these have much weaker stopping power.
Today hydraulic disc brakes are the standard on any mountain bike. If you are looking at a new mountain bike that does not have hydraulic disc brakes, you are probably not getting a particularly good bike.
In fact, it is difficult to find a new mountain bike these days without hydraulic disc brakes, so you are unlikely to encounter this problem.
For this reason, this guide will focus on hydraulic disc brakes.

Components of a Brake System
Lever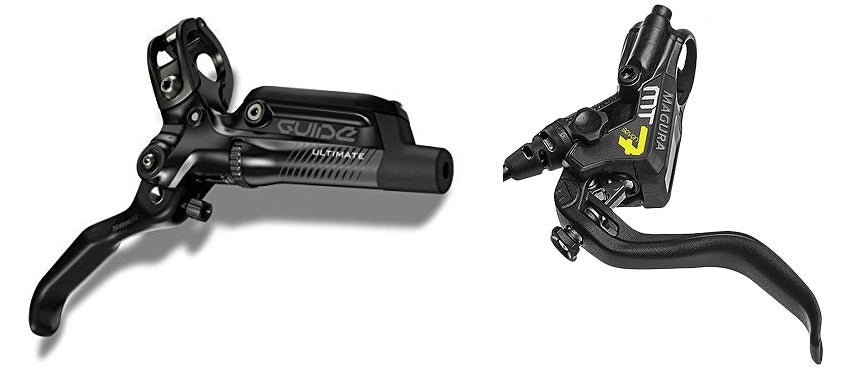 The lever is attached to the handlebar and is what the rider uses to apply the brake.
Hose
The hose contains the brake fluid and runs from the lever to the caliper.
Brake Fluid
Usually dot 5.1, dot 4, or mineral oil.
Caliper & Pistons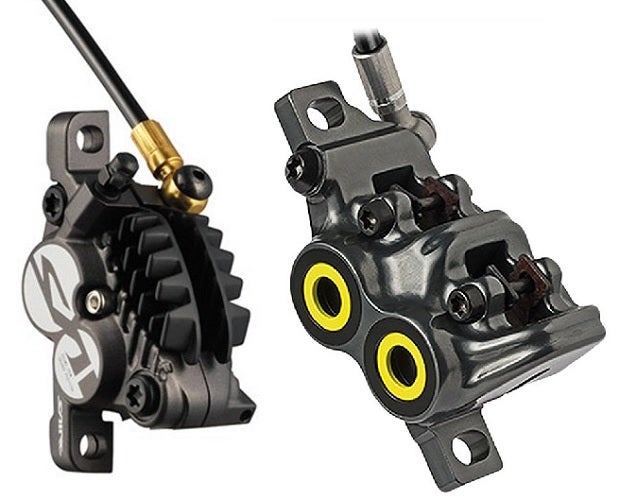 The caliper contains the pistons that push the brake pads onto the disc. There will either be two calipers (one on each side) or four for extra power.
Brake Pads
A pad pushes onto each side of the disc, creating the friction needed to slow the bike down. Pads are made of a metal backing plate bonded to pad material. This can either be organic or sintered.
Organic pads have more stopping power but are more likely to fade on long descents when they get too hot. Sintered pads are much less likely to fade but are noisier and less powerful.
Organic pads wear out faster too. Some pads are attached to cooling fins that allow heat to dissipate, preventing fade.
Disc / Rotor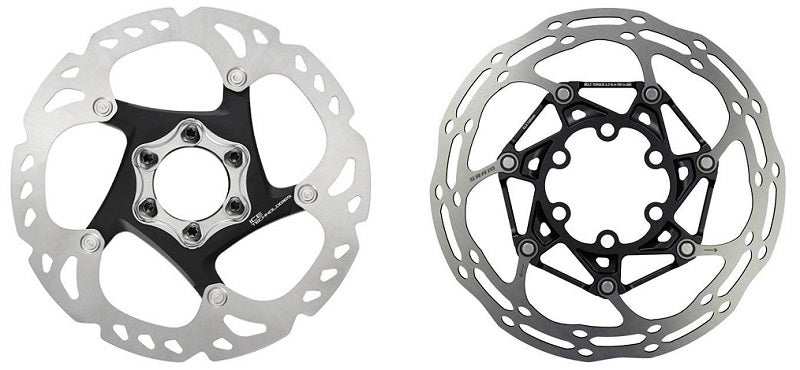 This is attached to the wheel hub. Discs are either a single piece of stamped steel and connect to the hub with 6 bolts, or Shimano Centerlock hubs need a lockring to mount a Centerlock specific disc.
The bigger the disc, the more braking power you have. If you already have a set of disc brakes, consider fitting larger discs to get more power before investing in a new set of brakes.

Considerations For Mountain Bike Brakes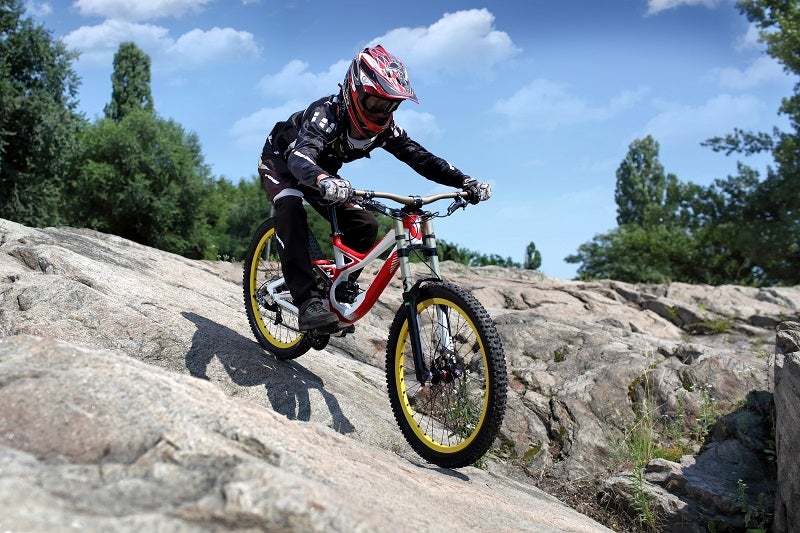 Modulation
How much you can control the braking force is called modulation. As the lever gets pulled further towards the handlebar, cams apply more leverage resulting in more braking power.
More modulation means that the lever moves more between the pads making contact and the wheel locking up to skid. Different brakes have different amounts of modulation as it is a personal preference.
Shimano brakes tend to have an on/off feel to them whereas SRAM brakes allow a lot of movement in the lever once the pads have made contact with the disc.
Contact Point Adjustment
A dial or screw on the lever body adjusts at what point on the lever travel the pads make contact with the disc. This allows customization of where on the travel the braking starts. Not all brakes have this.
Reach Adjustment
Also controlled with a dial or screw, reach adjustment moves the lever further away or closer to the handlebar to suit the rider's hand size.
Bleeding System
During hard and prolonged braking, the heat created at the caliper makes the brake fluid boil. When this happens, air bubbles are created that cause brake performance to reduce over time.
To remedy this, the brake fluid has to be replace. This is called bleeding. The process of bleeding a set of brakes varies depending on the manufacturer and can be a simple five minute job or a messy, prolonged, and frustrating experience.
The ease of this maintenance should be taken into account if you are a keen home mechanic, and also to keep your local mechanic happy if he will be doing it for you.
---
I hope this guide was helpful for finding the best mountain bike brakes to fit your needs. If you want to comment or recommend a set of brakes I didn't include, please use my contact form to get in touch.
Have fun and be safe out there!
How We Researched
To come up with the top mountain biking brakes, we researched a variety of sources for reviews such as Competitivecyclist, JensenUSA, REI, EVO along with our own personal experience.
We also consulted online magazines for product research and reviews to get as much unbiased information as we could. To help weed out fake reviews we used Fakespot.com to make sure we only looked at genuine reviews.
With so much quality gear available, we had to narrow it down based on what we felt were the best options were for the price. The author, Richard Bailey has a wide background in mountain biking in a variety of countries, terrain types and bike packing for weeks on end.
The author has decades of experience and is eager to share his knowledge with readers.
To help narrow down the selection we used personal experiences along with recommendations from fellow MTB bikers, bloggers and bike shops.
After extensive research, we came up with our list to help you choose the right one for you.
Sources
Notice:
OutsidePursuits.com is a participant in the Amazon Services LLC Associates Program, an affiliate advertising program. OutsidePursuits.com earns fees from products sold through qualifying purchases by linking to Amazon.com. Amazon offers a commission on products sold through their affiliate links.