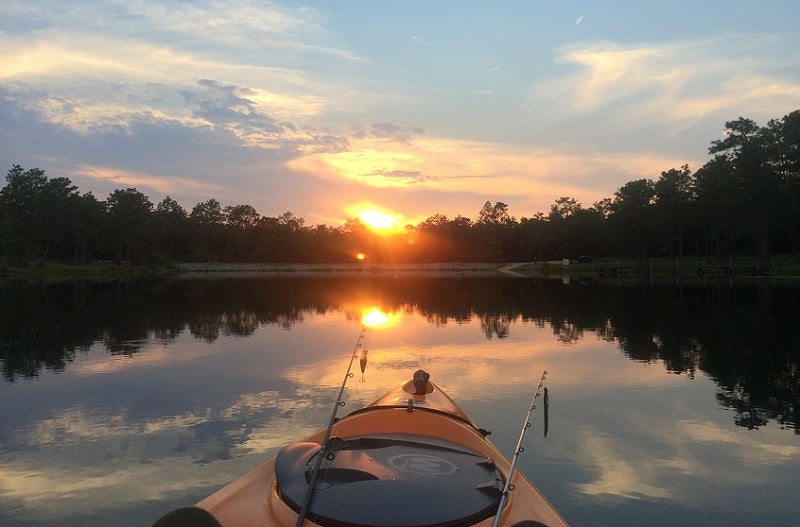 Our Editors independently research, test, and rate what we feel are the best products. We use affiliate links and may receive a small commission on purchases.
While there's something uniquely enticing about the smell of firing up the old outboard motor and sputtering off in the morning fog, sometimes it's nice to take things back to a more primitive method.
When it's time to slip into the water in your fishing kayak and paddle away from shore leaving only ripples on the glassy morning lake, you need to be sure you're doing it right.
This beginner's guide to fishing kayaks will get you ready to hit the water with everything you need to enjoy a day of landing fish from your favorite kayak.
We're going to cover everything from kayaks and paddles to fish finders and kayak anchors. Of course, you only really need a fishing pole and a kayak to succeed so we'll make sure to highlight what really matters when you're looking to polish up your kayak fishing setup.
I'm going to make it easy for you to scan this guide and find the sections that really matter to you. That way you can get the info you need about the gear you care about. Leave the rest behind!
Choosing a Fishing Kayak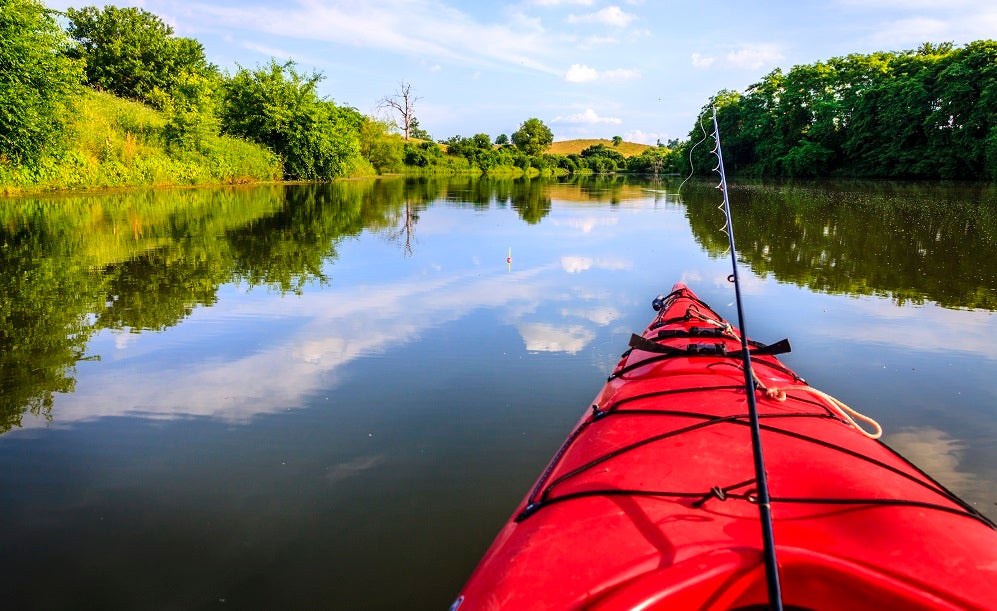 Let me trim the fat and recommend just two types of fishing kayaks for you.
Sit on Top Kayaks
Catarafts
True, catarafts aren't truly kayaks but they're similar in size and function. They offer a large, stable platform where the angler is seated well above the water.
There are also usually options for mounting motors or engines, tons of gear storage, and many other advantages for kayak anglers.
Consider a cataraft for your kayak fishing if you'd like to have the option of adding a motor, battery or hauling a considerable amount of equipment.
Sit on top kayaks make the best true kayak option for kayak fishing. These kayaks feature an open hull design that's made from a cast plastic hull.
These cast hulls are totally water tight and self-bailing so they're very easy to use and super forgiving if ever you were to tip the boat.
Because a sit on top kayak has an open top, you don't have to reach over the edges of the kayak cockpit to cast or land a fish.
Both sit on top kayaks and catarafts can be found in angler specific models and even inflatable models. These are worth your time because the more quality models come with features like kayak anchors, rod holders, and other fishing specific accessories pre-installed.
See our in-depth guides to fishing kayaks right here for more information!
Choosing a Fishing Reel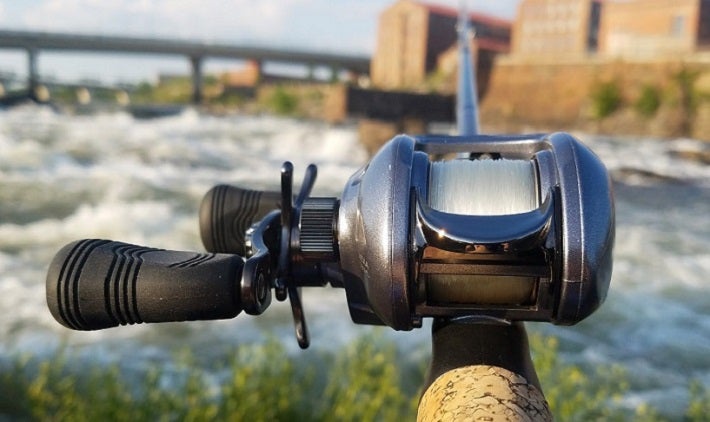 This topic could easily be an article of its own. For that reason, I won't attempt to cover every possible corner of the topic. Instead, we'll take a brief look at some of the available types of reels and rods that might make appropriate candidates for kayak fishing.
Spincasting Reels
These are a great option for most new or intermediate anglers. Known as close face reels they're dead simple, easy to operate, and affordable.
They are, however, notorious for line kinking over time and feature less control over casting than some other reel types. See our recommended spincasting reels here.
Baitcasting Reels
These reels are a great option for heavy line and heavy lures. For that reason these reels tend to be used by those seeking to land large fish.
They are known for being hard to control and prone to backlash though with practice, mastery is very possible. You can read or guide to baitcasting reels here. If you are fishing in saltwater, see our recommended saltwater baitcasting reels.
Spinning Reels
Also known as open face reels. They're accurate, easy to use, and extremely popular. These reels can handle most fishing needs are very gentle on your line meaning you won't run into as many kinks or problems as with spincasting reels.
They're also nearly immune to backlash problems.
See our in-depth spinning reel guide right here for more details on how to pick yours!
Choosing a Fishing Rod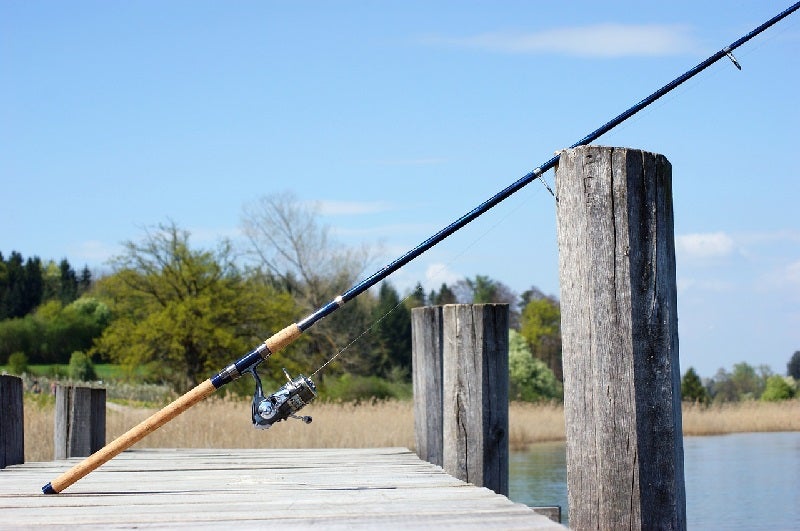 We'll cover just two types of rods because they're the only two you're likely to use for kayak fishing. Yes, there are many other types of rods out there. However, casting rods and spinning rods are the two most important for our purposes.
Casting Rods
Are the rod of choice for baitcasting reels. Remember, these are the simple, close face reels that make good choices for beginners.
Casting rods feature a short handle and a reel seat that makes the baitcasting reel sit on top of the rod when held. These rods most commonly features foam handles with a pistol grip style.
Spinning Rods
Are the rod of choice for spinning reels. Amazing, right? They have long handles and are made so that you can ergonomically hold the reel on the bottom side of the rod. These rods most commonly feature cork handles, but may have other materials worked in.
Rod length is the next most important factor. Rods can range from 6-12 feet in length. Beginners and anglers fishing in wooded, tight spots should opt for a shorter length rod.
Rod length is highly dependent on lure types, the species of fish you're targeting, and other environmental factors which exceed the scope of this article.
Generally speaking, however, a rod of 6-8 feet in length will cover the majority of kayak fishing needs in most situations. Excessively long rods tend to be difficult to manage and cast when kayak fishing.
Kayak Accessories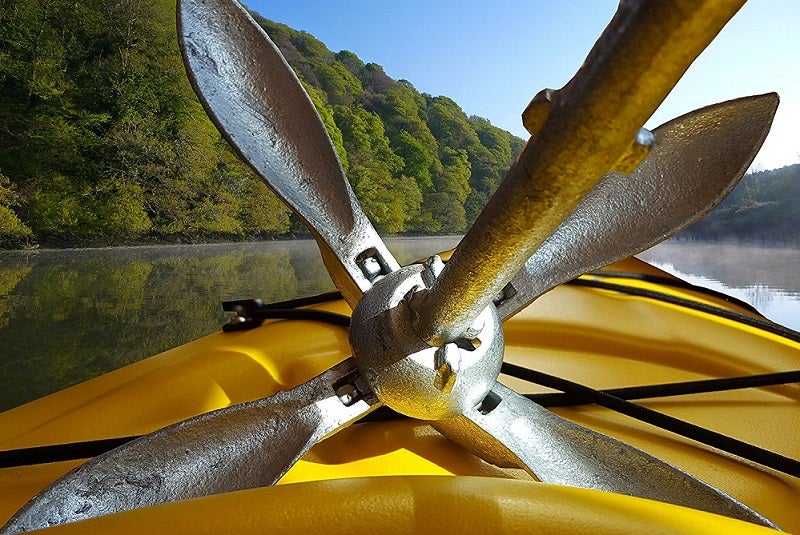 Anchors and Trolleys
Another staple of kayak fishing is an anchor system. Anchors and anchor trolleys are much more helpful than many anglers realize.
Make your life easier and look for a kayak with an installed anchor trolley. Otherwise, make it a priority to install one early on.
Kayak anchor trolleys allow the attachment point of a single anchor to be adjusted from bow to stern of the boat without having to retie or remove the anchor.
These can be installed with an aftermarket DIY kit or with a few tools from the local hardware store.
When fishing in areas with current, adjusting the anchor location on the boat will allow you to rotate from facing up stream to facing downstream – or laterally.
This is critical for being able to cast into those perfect holes where you know the fish are hiding, and you can easily fish multiple parts of the river without uprooting every time you want to cast into a new spot.
See our in-depth article on kayak anchor systems right here for more information!
Rod Holders
Rod holders are pretty straightforward. They're usually plastic tubes that hold the handle end of your fishing rod when you're not using it.
What really needs to be said about rod holders is that you need them. Don't worry, if you have a kayak without rod holders you can adapt some with an easy DIY project using PVC tubes and a little ingenuity.
Fortunately for all of us, most fishing kayaks come with 1-4 rod holders pre-installed. Yet another reason to opt for a well made fishing kayak when getting started, rather than adapting your existing kayak or buying a cheaper kayak and modifying it.
Paddle Holders
Surprisingly easy to overlook, paddle holders are critical in a fishing kayak. On recreational kayaks, there may be little need to store your kayak paddle. However, when fishing you need somewhere to secure your paddle while you cast with both hands.
Paddle holders are included on many kayaks but just double check that yours has one. Most often they're located horizontally next to the cockpit.
They'll usually look like a small indent in the plastic hull with a shock cord lashing to retain the paddle when stored.
Kayak Transportation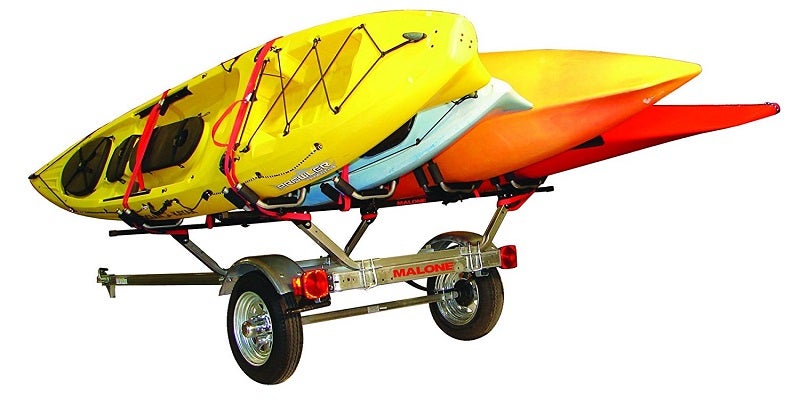 Getting your fishing kayak to and from the lake or river can be challenging. This is a non-issue for kayaks stored on the lake, but most of us have to drive with our boats to the destination. So how can you transport your kayak safely and conveniently?
Roof racks are a common choice on vehicles equipped with gear rails. They're totally secure and do a great job of holding your kayak while traveling.
The catch is that you must have gear rails on your roof. Luckily you can get these installed if your vehicle didn't come with them. Otherwise, there are a few more options you can consider.
I recommend the TMS J-shaped kayak rack for vehicles equipped with roof racks.
Vehicles with a sturdy hitch can be equipped with a hitch mounted rack. These are not trailers but instead can hold some kayaks on a rack directly supported by the hitch.
These are nice if you don't have a roof rack but don't want to deal with a trailer which can be intimidating.
Finally, for carrying multiple kayaks or loads of gear, you can consider a kayak trailer. These are lightweight, extremely small trailers.
For most kayak fishers, you'll want a single kayak trailer which, thanks to the low weight, can be mounted to nearly any hitch even on compact or commuter cars.
I recommend the XtraLight trailer for a lightweight fishing kayak setup that can be towed behind any vehicle with a hitch.
Kayak Carts and Trolleys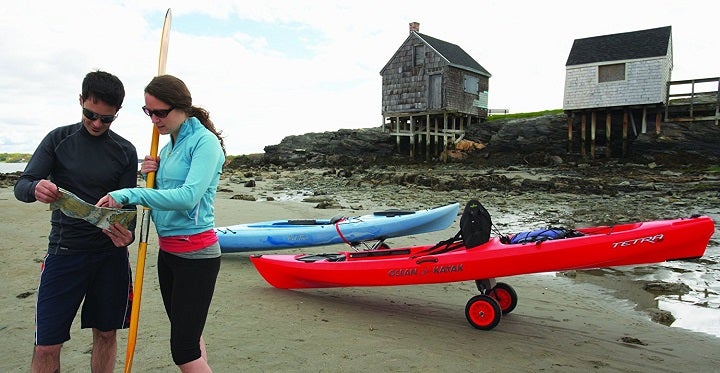 Once you get to the put in with your boat, you'll have to unload it and haul it down to the water. When you've got tackle, rods, and heavy equipment stacked up on your fishing kayak this can be a challenge.
Even if you transport the kayak empty, they're still bulky and heavy when outfitted with fishing accessories.
Luckily, kayak carts are a thing! These little wheels strap on to the bottom of your kayak. They're inexpensive, easy to operate, and make transporting a kayak to the water very simple.
There are tons of different style and types but I prefer the larger, rubberized tires over the small plastic ones. They have more traction and roll over roots, bumps, and holes more easily than smaller tires.
A kayak cart like the Suspenz DLX makes a top choice for kayak fishing.
Many kayak anglers will choose to go with a sit on top model kayak which can be used with a scupper-type cart. These carts have upright posts that go through the standard holes in a sit on top kayak (called scupper holes).
If that sounds like you, go with something like the Malone Xpress. You can see our reviews on kayak carts here.
Personal Flotation Devices (PFD)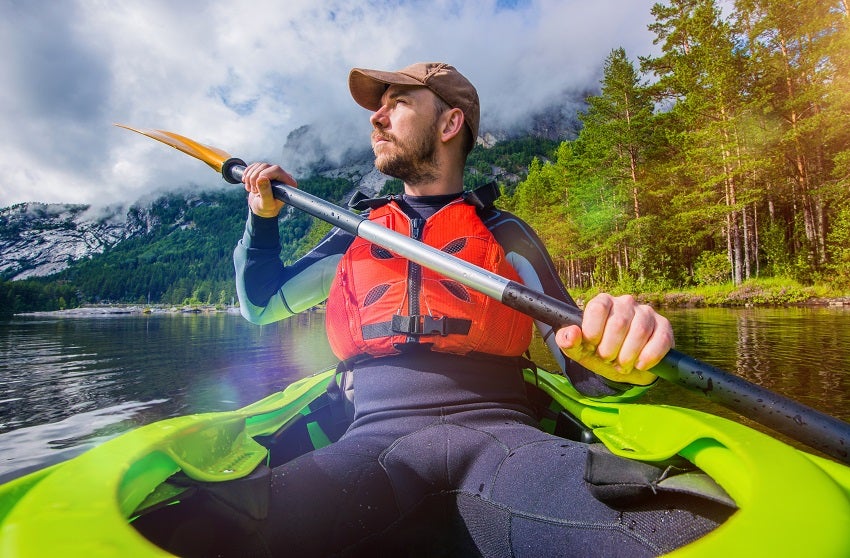 Also known as life vests, PFDs are an important part of any kayak fishing gear list. Spending time on the water without one is illegal in some instances and stupid in any instance.
For kayak fishing, PFDs can be found that are not only comfortable, but loaded with fishing accessories. Things to look for are hemostat holders, retractable clippers, and a vented mesh back panel.
For kayak fishing in particular you want an ergonomic and fitted PFD that's comfortable to paddle in and sit in.  When testing a PFD, make sure you can achieve full range of motion without rubbing or pinching.
You'll be paddling while wearing the PFD so chafing is a no-no.
Mesh back panels on kayak fishing PFDs reduce the bulk of the PFD between you and the seat. This makes for a more comfortable ride where you won't be forced to lean forward.
The mesh also reduced heat and sweat buildup which is inevitable when wearing a big chunk of foam for a vest during hot summer days of paddling.
See our in-depth article about fishing PFDs right here for more information on choosing!
Fishing Kayak Seats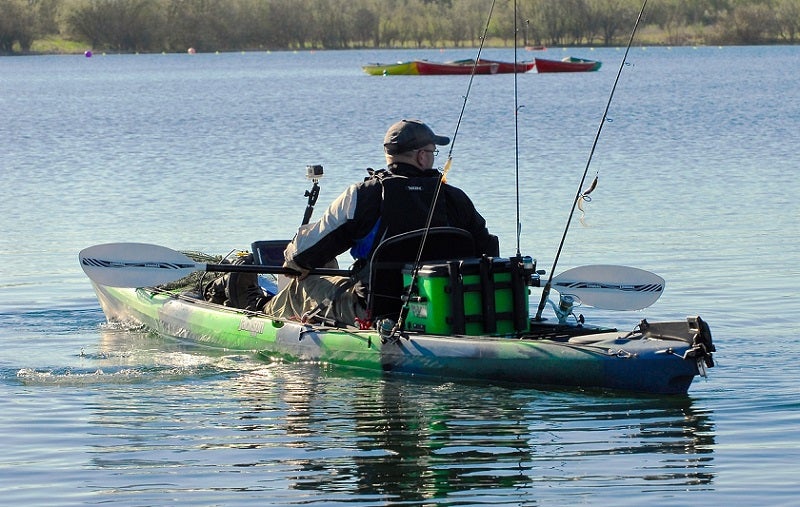 Picking out a fishing kayak means analyzing every part, even down to the seats. When you're stuck in one seat for hours doing everything from paddling to casting to landing fish, you want to be comfortable.
Lower back pain and numb buttocks are by far the most common complaints of poor kayak seats.
So how can you find a good one?
The best way to go is to hold out until you find a kayak with a great seat. High backs on the seat provide support and reduce sitting fatigue on the back which is ideal.
However, the higher the seat back, the greater the chance of it getting in the way of your PFD.
If you can't find a kayak with a seat that fits you just right, there is the possibility of replacing it with an aftermarket seat. Usually these clip right in and are universal fit – they can be changed in seconds.
Something like the Ocean Kayak Comfort Plus seat makes an excellent replacement for a poor kayak seat. It may look simpler than other models, but the engulfing wings of the seat wrap around to support all sides of the paddler.
It's also fully adjustable and can be tweaked to fit and support you just right.
For anglers, a kayak seat with extra storage on the back, such as a zippered pocket, can add much needed organization and space to the kayak. You can see more kayak seat options here.
Fishing Kayak Paddles
Kayak paddles are a whole topic unto themselves and we won't delve into them in full detail. However, we will spend a moment taking a look at some of the features on fishing specific kayak paddles.
When looking for a fishing kayak paddle, there are a handful of helpful features:
Often a fishing kayak paddle will feature a ruler built into the paddle shaft. Is this a gimmick? Not at all. When kayak fishing there's only so much room to organize and store gear, so why not put your ruler on the paddle that's already easy to access? Perfect.
Line hooks are a neat addition to the already long and extendable kayak paddle. Again, you could carry an expandable line hook but when there's one built into the paddle it's always on hand and ready to use.
Line hooks allow you to hook on to a fishing line and help jostle it free from submerged debris. They can also be used to help land large fish.
Bending Branches is a well loved kayak paddle brand with a great example of a fishing specific kayak paddle – the Angler Classic. Check it out and other fishing kayak paddles and consider going with a angler's kayak paddle when choosing your paddle.
Kayak Tackle Boxes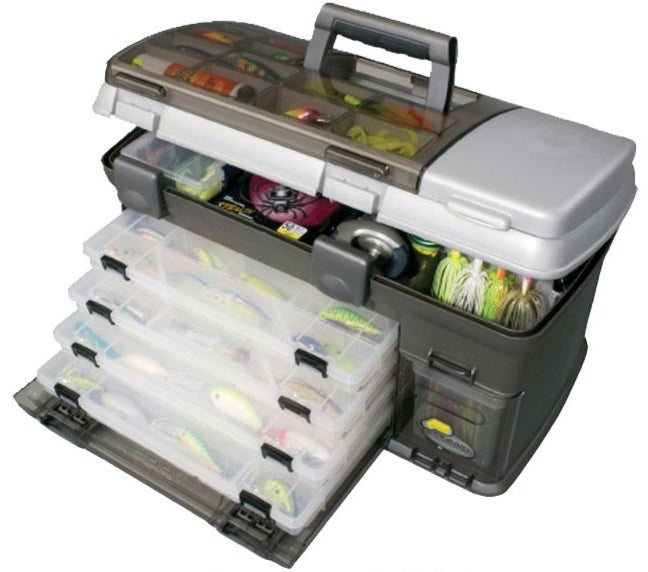 When it comes to kayak tackle boxes, pretty much anything goes. There's one major difference to be aware of, however. Kayaks are much more prone to tipping and flipping than your standard full size bass boat.
That means you'd be wise to find a way to secure your gear, unless you want it to end up at the bottom of the river in case you flip.
I prefer soft sided tackle boxes for kayaks because they offer more options for attaching to the kayak itself. Hard sided tackle boxes have very few attachment points for clips or ropes that you can use to lash the tackle box to the deck of the kayak.
Something like the Plano Guide Series soft sided tackle box offers plenty of storage and organization as well as many lashing points to attach shock cord, string, or a carabiner for a lanyard to the boat.
See our in-depth guide to choosing fishing tackle boxes for more details on exactly what to look for. Just keep in mind that you might want to find a way to secure it to the boat!
Conclusion
Building a kayak fishing gear set can take some time. Rest assured, you will add, change, and remove gear from your list over time. It may take years to learn what gear is right for you and to acquire all the specific pieces of gear you really want.
As you grow along your journey and seek to improve your kayak fishing gear, come back to this article for reference. We've rounded up nearly every type of kayak fishing gear and you'll find the inside scoop right here.
Remember that kayaks, paddles, rods, and reels all may be different depending on where you're fishing and which fish you're targeting. Some kayaks are ideal for fast water, others for open water.
While the ideal rod and reel setup will change with your skill level, location, and target species. Be willing to learn and adapt as you go.
Notice:
OutsidePursuits.com is a participant in the Amazon Services LLC Associates Program, an affiliate advertising program. OutsidePursuits.com earns fees from products sold through qualifying purchases by linking to Amazon.com. Amazon offers a commission on products sold through their affiliate links.