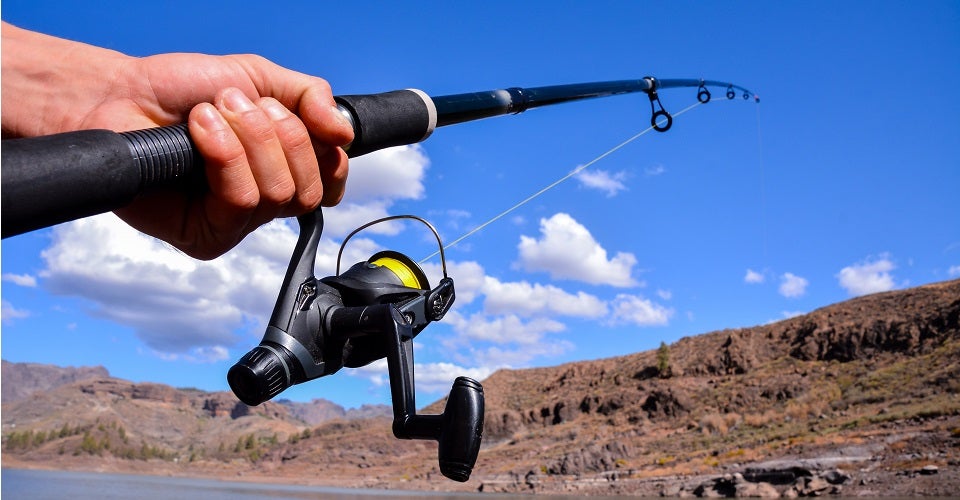 Our Editors independently research, test, and rate what we feel are the best products. We use affiliate links and may receive a small commission on purchases.
To this day I still remember how cool my older cousins were to me. They always had fancy spinning reels and the best spinning rods available. I would go on the family fishing trip with just an old spincasting rod and reel. At the time I had no idea what the real differences were, but they seemed pretty cool! Turns out, choosing the right spinning rod is a little harder than I would have imagined at the time. There's a lot to know about spinning rods and fishing rods in general. To help you through the process I'm going to walk you through all the details you need to know before shopping. We're going to take a look at a handful of the best fishing rods your money can buy these days.
Best Spinning Rods
| | Ugly Stik Elite Spinning Rod | KastKing Perigee II Fishing Rod | Shimano Solora 2 Piece Spinning Rod |
| --- | --- | --- | --- |
| | | | |
| | | | |
| Lengths: | 4'6", 5', 5'6", 6', 6'6", 7' | 6'7", 7'1", 7'4", | 5'6", 6'6", 7' |
| Construction: | 1 & 2 piece designs made with a graphite composite | 1 piece designs made with carbon fiber | 2 piece design made of fiberglass |
| Rating: | 4.4 / 5.0 | 4.6 / 5.0 | 4.0 / 5.0 |
| | | | |
For more of my fishing gear recommendations, have a look through these popular Outside Pursuits guide links: Spinning Reels, Tackle Boxes, Fishing Kayaks.
Quick Answer: The 5 Best Rated Spinning Rods For 2021
Our reviews of the top rated spinning rods with a buyers guide below to help you choose the right rod for you. Let's get started! 
---
Spinning Rod Reviews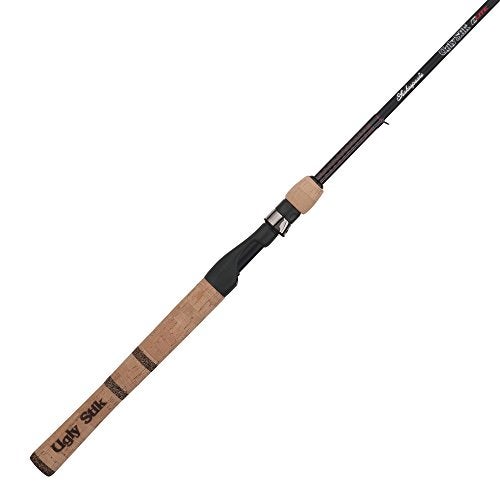 Ugly Stik Elite Spinning Rod at a Glance
:
---
17 combinations of length and power to choose from
Cork grip handle
Metal sleeved reel seat
Available in 1-piece or 2-piece versions from 4.5' to 7.5' long there's a rod style here that will suit anyone!
On top of that, Ugly Stik has one of the best names in the industry and has been making fool-proof rods for a long time.
Ugly Stik just seems to make rods with all the customizability you could want. We will see this again later in the review.
All said and done there are over 17 combinations of length and power you can pick from in either one or two piece versions.
As if that weren't enough Ugly Stik makes a solid rod no matter what. As is their signature, Ugly Stik put the Clear Tip on this rod. That's their way of incorporating fiberglass in the tip of the rod for power and flex control.
This rod is a graphite and fiberglass hybrid but since it's the Elite model they've increased the graphite content.
There's 35% more graphite than their other rods. This makes the rod lighter and better but more pricey.
Best For: Picking the best spinning rod with all the attributes you need in a rod.

---
KastKing Perigee II Fishing Rod at a Glance
:
---
Available in 2 lengths
Carbon fiber rod blank
2x tips included with rods
KastKing has grown as a brand. They're now recognized for established, proven products. These EVA foam handle spinning rods are among the best bang for your buck that we can find and users love them!
If you buy any of the two-piece rods you'll actually be getting two different rods. KastKing sends two different interchangeable tips with their two-piece rods.
That means with a single rod you can get two totally different action settings.
When you pick your rod you can choose from medium-light, medium, and medium-heavy powers. Just remember to pay attention to whether it's one or two piece.
One piece rods can be difficult to store and transport due to their length.
Some may be bothered by the EVA foam grip. There's nothing wrong with EVA foam but it can sometimes wear out faster than cork.
Fortunately, you can fall back on the KastKing Total Peace of Mind Warranty. There's also a lifetime warranty on rod tips as well so you don't have to worry about babying them.
Best For: Great reliability and warranties on a very customizable rod.
---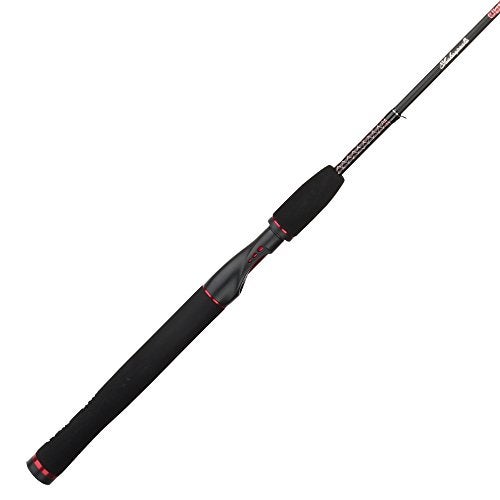 Ugly Stik GX2 Spinning Rod at a Glance
:
---
20+ combinations of length and power
1-piece or 2-piece construction
Signature Clear Tip Ugly Stik design
Ugly Stik just gets their rods right.
That's why this is the second Ugly Stik rod on our list. This one is a bit more fiberglass and a bit less graphite. Of course, you can pick it up in over 20+ combinations!
If there's one thing that makes a great rod it's customizability. Good luck finding this many different power and length options in any other pole. You can really pick out the one that fits your fishing style perfectly.
While the rod blank is fiberglass and graphite like the Elite model from Ugly Stik, it's a little more fiberglass than before. That makes the rod fractionally heavier but better for a fast action rod.
I do have to admit that I like the metal reel seat. Cheap reel seats are a pet peeve of mine because they can be one of the weakest point on any rod.
While they still could "beef it up" a bit, I think the reel seat is a good combination of lightweight and durable.
I'm always a fan of the single piece handle. It does add a bit of weight but it also allows for far more handling options when casting and retrieving.
Best For: The best spinning rod under $50, with nearly every length and power you could want.

---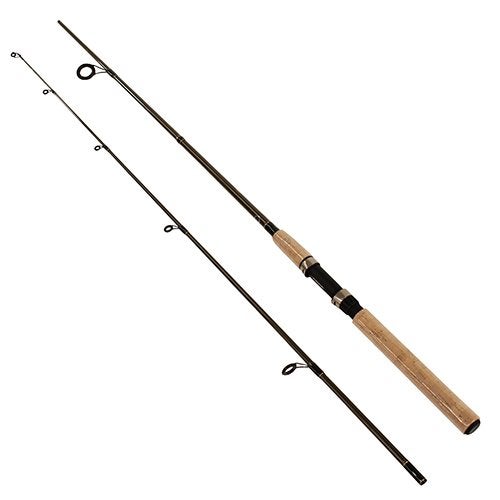 Shimano Solora 2 Piece Spinning Rod at a Glance
:
---
Full length cork grip
Two piece rod
Fast action
This fast action rod is a medium power tool for your kit that won't let you down. There's every reason to trust the established name of Shimano, plus the rod exudes confidence.
Honestly with a great brand like Shimano it's hard to imagine how they keep the cost of this rod down. As far as bang for your buck is concerned, this might be one of the best rods on our list.
Of course, you'll have to keep in mind that it's only available in fast action. With medium power you'll have to be careful not to overpower your hook sets and landing.
I do like the full length cork grip. Cork tends to form to the shape of your hand and your grip over time better than EVA foam.
Cork also seems to last a bit longer in my experience. Of course, the full length grip means you'll have tons of adjustment room for your personal grip style.
If there's one thing that concerns me with this rod it's the metal banded graphite reel seat. Users don't seem to complain about it though so maybe I'm just too picky!
Best For: Anglers looking who want the best spinning rod for bass with fast action and a great full length cork grip.

---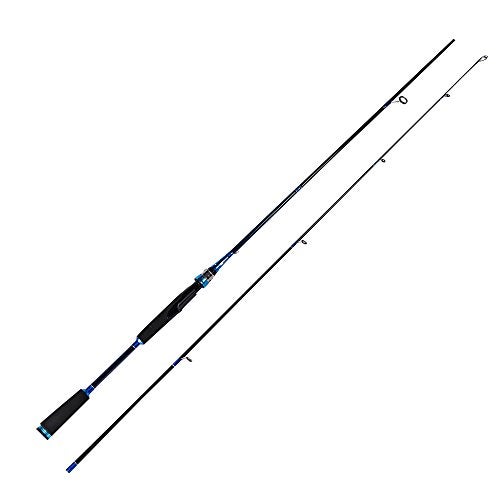 Entsport Sirius 2-Piece Spinning Rod at a Glance
:
---
Medium-light to medium-heavy power
Carbon rod blank construction
Stainless steel line guides
If you're fishing anywhere in the middle of the power band, this rod deserves your consideration.
The split EVA foam grip is lightweight and sleek, plus the colors are guaranteed to grab attention on the boat! It just looks damn sleek!
Okay, stainless steel isn't the lightest or the lowest friction choice for line guides.
However, it's rust resistant and inexpensive. There's very little noticeable performance impact for the majority of anglers between bleeding edge line guides and affordable line guides.
One of my favorite aspects of this rod is the color choices. Bright reds and blues are splashed into the rod to make it really stand out. Honestly I like the design of these colors more than I thought I would.
Plus they struck a chord with me by making the reel seat from durable stainless steel. I love being able to rely on the sturdy construction of a well made reel seat because I have thrown my reel in the water before. Cheap reel seats are a no-go.
While I'm not always a fan of split grip style rods, the EVA foam combination makes this an insanely lightweight rod for long use. It's a great choice if you want a rod that's featherlight.
Best For: Anglers who want the best spinning rod for the money made from durable materials and gorgeous color splashes.

---
How to Choose the Best Spinning Rod For You
These days there are so many materials, construction techniques, and important factors that go into picking out a rod. Let's go through them now.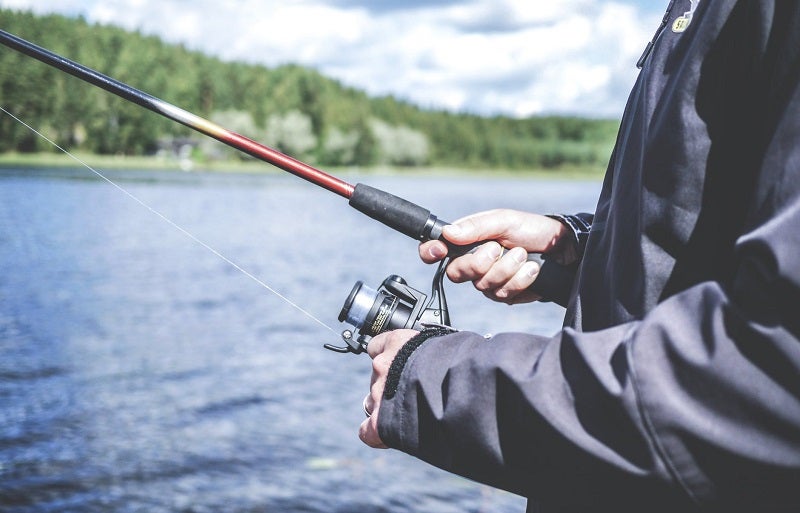 Reel Seats and Spinning Rods
This is one of those "obvious" features that has to be correct if you hope to use a spinning reel with your rod. Spinning reels are designed to sit below the rod and therefore you'll need a bottom-seated rod to pair with a spinning reel.
Reel seats are the little slots where the dovetail of the reel fits. You then clamp the reel into position.
Spinning rods usually have long handles with a split grip in front and behind the reel seat. This helps with grip as most anglers like to wrap a finger or two around the reel seat when fishing with spinning rods.
One thing to look out for is poor quality reel seats. These cheap plastic reel seats can be made of faux metal that will bend, break, or snap and cause your reel to fall off!
If the rod you're looking at has a trigger-shaped grip, you're most likely not looking at a spinning rod.
Spinning Rod Power
No matter what type of fishing rod you're buying, there will be some specification for power. I've listed the common power types from least to most powerful.
Ultra Light
Light
Medium
Medium Heavy
Heavy
Rods go by this general system of ranking for power. Lighter rods have less power and heavier rods have more power.
When considering what type of rod you need, the most important factors are your target species and lure weight. The type and size of fish you're intending to catch determine what power of rod you'll want to have in your arsenal. Power also goes hand in hand with lure weight – too light and casting feels sloppy, too heavy and casting light lures feels over-stiff.
Rod power also may come into play if you're planning to cast or planning to troll. When trolling, for instance, you probably don't want a lightweight rod that can't handle the drag of the lure behind the boat.
Power can also be subtly affected by your fishing skill and preference.

Spinning Rod Action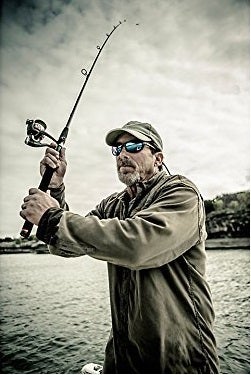 Rod action and rod power are not the same things, though they're often mistaken. It is possible to have a slow action heavy rod though unusual.
Action simply refers to the total amount of bend in the tip of the rod when you pressure the rod or cast. The more of the rod that "deflects" or bends during these situations, the slower the action.
When I say "tip" of the rod it's really more like the last ¼ length of the rod. Some rods have a change of material near the tip which increases or decreases action.
Rod action is often determined by the type of fishing you're doing. For instance, slow action rods may be a good choice for a drop shot technique. Medium or fast action may be preferable for techniques like jerk fishing.
Fast action rods set faster than slow rods because the rod engages sooner on the set. You don't have to move the rod as far to get movements in the hook. While it may sound like a good quality, fast action rods aren't appropriate for all types of fishing.
Figure out exactly what size and species of fish you'll be trying to catch. After that, you'll want to determine your preferred bait. Then you can decide on the rod action that makes the most sense to combine with those.
Rod action is sometimes also called taper. Because the taper of the diameter of the rod throughout its length determines rod power, these terms could be seen as synonymous to many anglers.
Spinning Rod Materials
Almost every single rod on the market today is made from one of two common materials:
Graphite is probably the most common high-end material although it's hard to say for sure. Manufacturers like to also often refer to this material as carbon fiber.
Technically carbon fiber is a different material, but it can sometimes be difficult to discern which is being used on your rod.
Because often rods are made from many layers of graphite and/or fiberglass it can be hard to tell exactly which is in use. These materials can be combined to make rods with tons of qualities and characteristics.

Fiberglass tends to be recognized as a superior choice for toughness and durability. For whatever reasons, fiberglass rods just take a beating a little better than graphite.
However, graphite tends to produce superior fast action rods.
You'll have to choose the material yourself but I wouldn't lose sleep over it. Rod manufacturers choose the best materials they can for the qualities of the rod you want.
There's not much getting around it.

Line Guides on Spinning Rods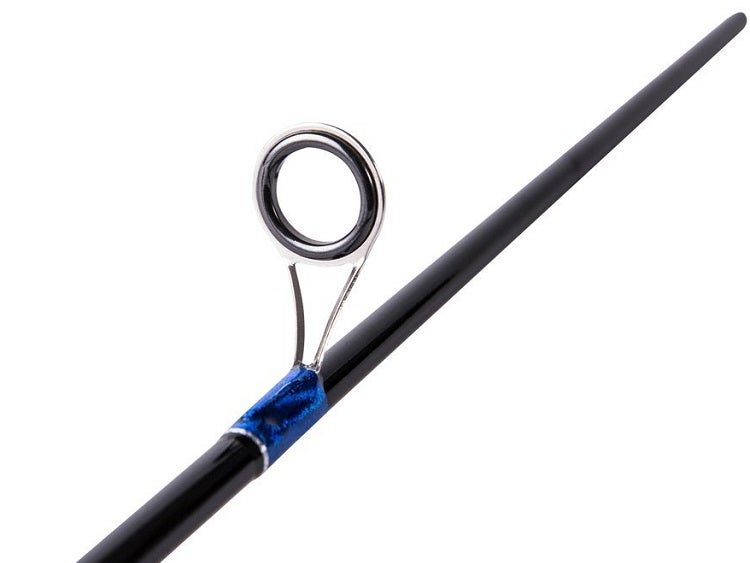 Line guides are exactly what they sound like. They're the circular eyelets that run down the length of the fishing rod.
Line guides have to control the line as you cast, retrieve, and set the hook. They also have to minimize the amount of friction on the line. The best line guides are very low friction.
On spinning rods, you'll be looking for line guides where the guides closest to the reel are quite large. Because line spools off a spinning rod in a rather large arc spinning rods must have larger eyelets than some other rods.
Line guides come in tons of types but there are two major features to consider:
Durability
Low Friction
Durability is a major concern because stiff or fragile line guides can snap if mishandled or during a hard fight. Some line guides are made from springy metal which can be fully bent and still snap back into position.
Other line guides, like ceramic guides, are fragile but extremely low friction. Ceramic line guides can help increase cast distance by trimming down on friction as the line unspools during a cast. This also makes reeling in easier and more efficient.
Most line guides feature some combination of the above two features.

FAQs About Spinning Rods
Q: The line guide broke off the tip of my rod, can I fix it?
A: Good news, friend! It's cheap and easy to find a rod repair kit that includes line guides. In fact, any fishing supply website will have line guides of every shape and size you can imagine.
While building the perfect rod takes experience, a careful hand, and lots of trial and error fixing a single line guide does not!
In fact, most of the time you can quickly clean up the rod tip and epoxy a new line guide on in just a couple of minutes.
Here are a few tips for your tod tip:
Carefully clean off old epoxy or glue
Rough up the tip with sandpaper before gluing
Use a length of dowel to make sure the line guide aligns with the existing ones
Of course, there are always great vids out there to show you how to do just about anything. Check out this helpful step by step line guide repair tutorial!
How to Repair Broken Fishing Rod Tips
Q: What's the best rod for _____ type of fish?
A: Here's the deal – there are hundreds if not thousands of sport fish on the planet. I don't know the best rod for all of them.
In fact, my preferred rod changes all the time depending on my mood, water currents, fish type, lure type, etc. I think the best thing to do is try a bunch yourself and figure out what you like.
Of course, it's expensive to own a ton of different rods, so… what's to be done?
A quick online search such as "best rod for walleye" will usually yield some useful information. Instead of looking for brands and models, however, look for rod length, action, and power. Once you find out what other anglers are using you can go find your own rod!
If all else fails, you'll have a pretty hard time being upset with a medium power, medium action 7' rod for general North American freshwater fishing. Start with that and then you can branch out from there.
Don't go out and buy a rod of every power, length, and action combination available. It will cost multiple thousands of dollars.
Q: What length of grip do I need?
A: Actually, this is more important than most people realize!
Grip length is a big deal because if you get it wrong you'll have a much harder time fishing. The problem is most people get it wrong and never even realize it!
Short grips have less leverage and can take a lot more work to land a large fish or hold onto a heavy lure when trolling. Long grips, while powerful, can get in the way when trying to work the bait.
For finesse techniques and things like jerkbait techniques I usually look for a short rod grip. A lot of these wrist-action techniques require lots of close-to-body movement and having the grip jabbing into your ribs the whole time is a pain.
For heavier lures, trolling, and larger fish I usually look for a longer grip. This can also be helpful with particularly long rods or long casting because you can really whip it.
Q: Is graphite really worth spending the extra money on?
A: Personally I've used fiberglass and graphite both recently. While fiberglass rods tend to be insanely cheap, I personally notice a big difference in graphite rods and much prefer them.
In fact, my favorite rod is a graphite spinning rod and I use it for almost everything!
These days you can find an inexpensive graphite spinning rod in the $50 range if you keep your eyes open for good sales and deals.
Since it's not that difficult to find a graphite rod and reel combo for a decent price, I would recommend that you just save your cash for a little bit and go with a graphite rod if you're still debating.
I still use my fiberglass rods from time to time, but my heart goes out to graphite.
Q: Is my spinning reel compatible with all spinning rods?
A: Yep.
Rods and reels are all interchangeable so you don't need to worry about one brand not working with another.
However, keep in mind that a casting rod won't work with a spinning reel and vice-versa. Casting, spinning, and fly rods all need the corresponding reels to work properly.
Functionally these categories of rods are designed to work only with specific reels. The biggest difference is things like orientation (reel on top or bottom), line guide size, and line guide type.
So in the end, any casting reel will work with any casting rod. Any spinning reel will work with any spinning rod. It's that simple.

Outside Pursuits Overview
There are several great choices on our list for anyone looking to add or replace a spinning reel into their arsenal. It's easy to just buy the first thing you see but I encourage you to think deeper.
The best spinning rods are a combination of preference and understanding how you want to fish. Do you want a full length grip or a split grip? What's more important to you: low cost or top quality?
All of these factors mean that there's no one fishing rod that's perfect for everyone. Your personal top pick will be different from mine. That's why I tried to offer up a selection of spinning rods with different power, action, price, and features.
Remember to revisit the "how to choose" section before you settle on your final pick. You'll enjoy landing your next fish so much more when you realize it all came together because of your hard work and research.
How We Researched
To come up with the top spinning rods we researched a variety of sources for reviews such as REI, Dicks Sporting Goods and Bass Pro Shops along with our own personal experience.
We also consulted online magazines for product research and reviews to get as much unbiased information as we could. To help weed out fake reviews we used Fakespot.com to make sure we only looked at genuine reviews.
With so much quality gear available, we had to narrow it down based on what we felt were the best options for the price. The author, Casey Fiedler has been an avid fisherman for decades and leads fishing trips into the backcountry.
To help narrow down the selection our authors used their personal experience along with recommendations from charter captains and tour guides.
After extensive research, we came up with our list to help you choose the right one for you.
Sources
---
I hope this guide was helpful for finding the best spinning rod fit your needs. If you want to comment or recommend a rod I didn't include, please use my contact form to get in touch.
Notice:
OutsidePursuits.com is a participant in the Amazon Services LLC Associates Program, an affiliate advertising program. OutsidePursuits.com earns fees from products sold through qualifying purchases by linking to Amazon.com. Amazon offers a commission on products sold through their affiliate links.