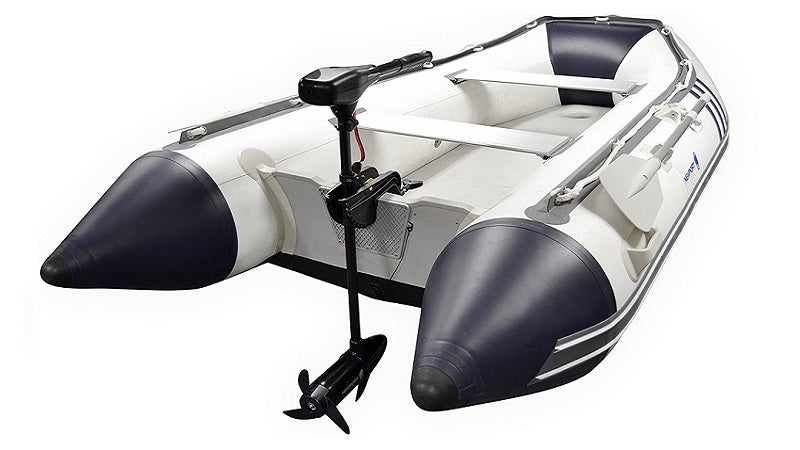 Our Editors independently research, test, and rate what we feel are the best products. We use affiliate links and may receive a small commission on purchases.
Fishing is a sport for those with patience, time, and equipment. Victory will always go to those who put in the time and effort to get out there and get the lure in the water.
It never hurts to give yourself the edge, however. When you're right next to your favorite fishing spot and you want to get in position without giving away your position, using the best trolling motor for your boat is the only way to go.
Trolling motors are quieter, easier to use, and much more agile than firing up the outboard every time you want to move or reposition.
At the end of the day you'll have more fish on the stringer thanks to a quality trolling motor because it allows you to get into the perfect spot without alerting the fish.
Best Trolling Motors
| | Newport Vessels Trolling Motor | MinnKota Edge Trolling Motor | MotorGuide Electric Trolling Motor |
| --- | --- | --- | --- |
| | | | |
| | | | |
| Thrust: | 36, 46, 55, 62, 86 lbs | 45, 55, 70 lbs | 45, 55, 70 lbs |
| Mounting: | Transom | Transom or Bow | Bow |
| Control: | Hand Control | Hand Control or Foot | Foot Control |
| Speeds: | 5 Forward/3 Reverse | 5 Forward/3 Reverse | 5 Forward/3 Reverse |
| Use: | Salt & Fresh Water | Fresh Water | Fresh Water |
| | | | |
For more of my gear recommendations, have a look through these popular Outside Pursuits guide links: Trolling Motor Batteries, Recreational Kayaks, Inflatable Boats.

Quick Answer: The 5 Best Rated Trolling Motors For 2021
I'm going to help you learn how to pick out the right trolling motor for your needs in my guide below. Now, let's take a look at a few top rated trolling motors!
---
Trolling Motor Reviews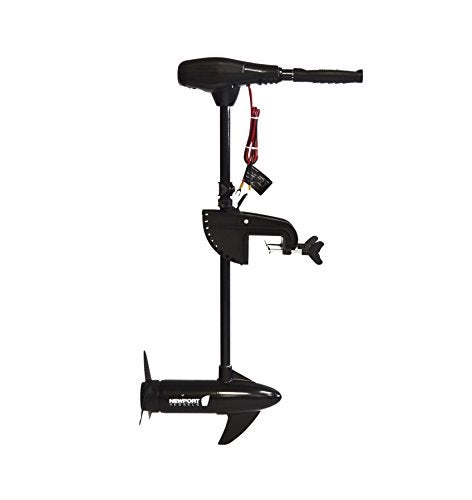 Newport Vessels Trolling Motor at a Glance
:
---
Thrust(s): 36, 46, 55, 62, 86 Pounds
Voltage: 12V
Mounting: Transom
Control: Hand
Speeds:

5 Forward, 3 Reverse
This 62 pound thrust trolling motor from Newport is a hand operated model with an array of features and speeds.
I like the quiet and cool operating motor that gets tons of positive feedback from fishermen. At a reasonable mid range price like this, it's really a solid choice.
This motor comes on a transom mount with lockable angles that can help you set the angle of the motor and pull the motor out of the water when traveling with the main engine.
There's a fully adjustable 30 inch shaft that can be set to exactly the depth you need for any water conditions. One optional features on this motor is the 5 LED battery indicator light.
Not all motors have these and they're so handy I can't figure out why anyone would leave them off. Props to Newport for doing it right!
Video: Overview of the Newport Trolling Motor.
Newport Vessels Trolling Motors In Use On The Water
Newport gives you 5 forward speeds and an ergonomic handle for control as well as 3 reverse speeds.
I like that the handle can be adjusted for length, too! Overall, I think the Newport is the best trolling motor!
Best For: Transom mount applications with a traditional outboard motor feel.

---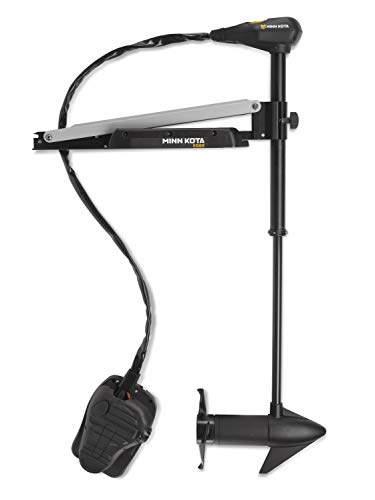 MinnKota Edge Bowmount Foot Control Trolling Motor at a Glance
:
---
Thrust(s): 45, 55, 70 Pounds
Voltage: 12V & 24V
Mounting: Bow or Transom available
Control: Foot or Hand available
Speeds:

5 Forward, 3 Reverse
The MinnKota Edge is a bow mounted trolling motor that also uses a foot controller. If you prefer you can get it with a hand controller and it also comes in 3 outputs of 45, 55 and 70 pounds of thrust.
I like a few of the advanced features on this motor such as the automatic weed escape. This makes is easier to avoid and escape weed entanglement in shallow or weedy water conditions.
Another awesome feature is the dry operation protection. The motor senses and avoids operation when not submerged. Keeping the motor submerged is critical for cooling and safe operation.
It's easy to adjust the angle of the motor shaft but I would have like to seen a little longer foot controller cable than the 4 feet one it comes with.
If you go with the hand controller model, you can adjust the handle up or down through a range of present angles that can be combined with the other adjustments on the motor to create just the right fit between the boat and yourself for comfortable fishing all day. Probably the best bow mount trolling motor in its price range!
Best For: Anglers looking for the best saltwater trolling motor where adjustability is key!

View at BassPro View at Amazon
---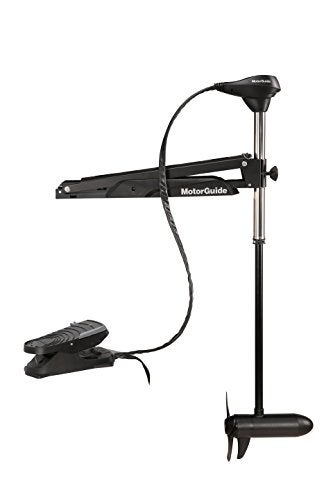 MotorGuide Electric Trolling Motor at a Glance
:
---
Thrust(s): 45, 55, 70 Pounds
Voltage: 12V
Mounting: Bow
Control: Foot
Speeds:

5 Forward, 3 Reverse
Now we're going to take a look at a powerful trolling motor that's perfect for compact applications and low demand situations like kayaks, canoes or inflatable boats.
This bow mounted trolling motor is from the popular outdoor brand MotorGuide. It's not going to turn heads or win speed competitions but it could be a great match for you low speed needs.
This motor tops out at a fairly strong 55 pounds of thrust, there are three models available up to a 70 pound thrust. When you consider that it's made for being used with ultralight inflatable boats and one man applications it's plenty of power.
Anglers love this motor and give it great reviews. The price tag is low enough to make if a great option for your low power needs and with a well known name like MotorGuide behind it, you can be assured of getting a quality product.
I like the MotorGuide as the best trolling motor for inflatable kayaks like the Sevylor 3 person kayak.
Best For: Inflatable boats and entry level use for special lightweight situations.

---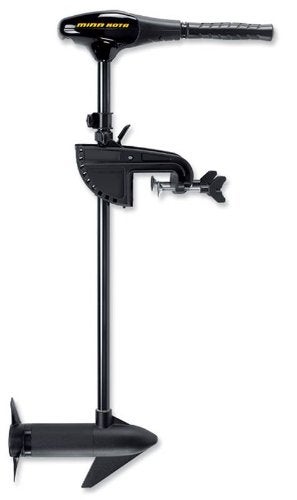 Minn Kota Endura Transom Mount Trolling Motor at a Glance
:
---
Thrust(s): 30, 40, 45, 50, 55 Pounds
Voltage: 12V
Mounting: Transom
Control: Hand
Speeds:

5 Forward, 3 Reverse
Minn Kota might be the single most recognized name in trolling motors and accessories. This 30 pound thrust output motor is mounted on a durable 30" adjustable shaft with all the features you need to have a great trolling motor at a budget price.
Comparable to the GoPlus 12V motor above, this Minn Kota packs more output in a similar package.
Don't get the wrong idea, though.
This is still a motor best suited to lightweight boats and single person applications. There are 5 forward speeds and 3 reverse speeds to choose from, like many of the higher end models.
There's a 2 year factory warranty covering the motor and a lifetime warranty covering the shaft against breaking.
With a name like Minn Kota behind it, you can be sure they'll be around to provide customer service for these warranties for many years to come.
Best For: Lightweight smaller boats and applications where budget and small form factor trump over motor power.

View at BassPro View at Amazon
---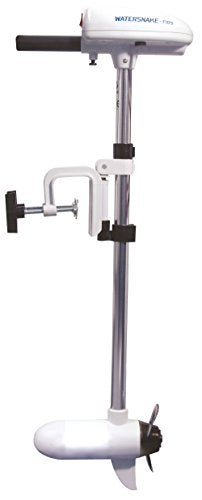 Watersnake T18S Asp Trolling Motor at a Glance
:
---
Thrust(s): 18 Pounds
Voltage: 12V
Mounting: Transom & Bow
Control: Hand or Foot
Speeds:

2 Forward, 2 Reverse
Finally we're taking a look at a compact transom trolling motor that's an awesome option for durability and lightweight.
This motor excels at repelling weeds and cutting through just about any water conditions on small, lightweight craft.
You're not going to want to use this for heavy duty pulling with 18 pounds of thrust, but for a single person in a small dinghy or lightweight inflatable fishing boat its a good option.
The motor rides on a 24 inch long alloy shaft which keeps weight down and strength up. There are only four speed options but how many do you really need on a small motor?
Slow and fast options as well as forward and reverse are your choices, but I think they'll hold most people over just fine. There's not much reason for a ton of speed options on a small 12V trolling motor.
I like that the 2-blade propeller and motor housing are designed specifically to repel and cut through weeds. Nothing kills a good fishing spot like getting stuck in the weeds!
I do wish they would have included more angle options for pulling the motor out of the water or adapting to various situations.
By far the biggest drawback on this motor in my opinion is the lack of transom angle options. The Watersnake is my top choice as the best trolling motor for canoes.
Best For: Single person applications with a shorter shaft length need.

---
Trolling Motor Comparison Table
| Trolling Motor | | Thrust (lbs) | Mounting | Control | Speeds | Can Be Used In |
| --- | --- | --- | --- | --- | --- | --- |
| Newport Vessels Trolling Motor | | 36, 46, 55, 62, 86 | Transom | Hand | 5 fwd, 3 rev | Fresh or Saltwater |
| MinnKota Edge Trolling Motor | | 45, 55, 70 | Bow/Transom | Hand or Foot | 5 fwd, 3 rev | Fresh |
| MotorGuide Bow Mount Foot-Control | | 45, 55, 70 | Bow | Foot | 5 fwd, 3 rev | Fresh |
| Minn Kota Endura C2 | | 30, 40, 45, 50, 55 | Transom | Hand | 5 fwd, 3 rev | Freshwater |
| Watersnake T18S Asp Trolling Motor | | 18 | Transom or Bow | Hand or Foot | 2 fwd, 2 rev | Fresh or Saltwater |
How to Choose the Best Trolling Motor
There are a handful of key factors to keep in mind when you go looking for your next trolling motor. By the time you're done with this article you'll know how to compare and contrast motors to pick out your next trolling motor.
Picking out the right trolling motor isn't always easy though. There are different sizes, voltages, and features that can seem confusing. Once you learn to use a trolling motor to perfect your art form, you'll never go back.
Don't worry they're really quite simply to understand.
Motor Size
This goes hand in hand with thrust output we will discuss next. Getting a bigger motor than you think you might need is never a bad idea. If at some point you decide to go with a bigger boat you can simply use the motor you have instead of having to get a new one.
Not only that a bigger motor will be able to run at lower speeds and more efficiently than a smaller motor. And the extra speed may come in handy if you need to out run a storm or make it back before nightfall.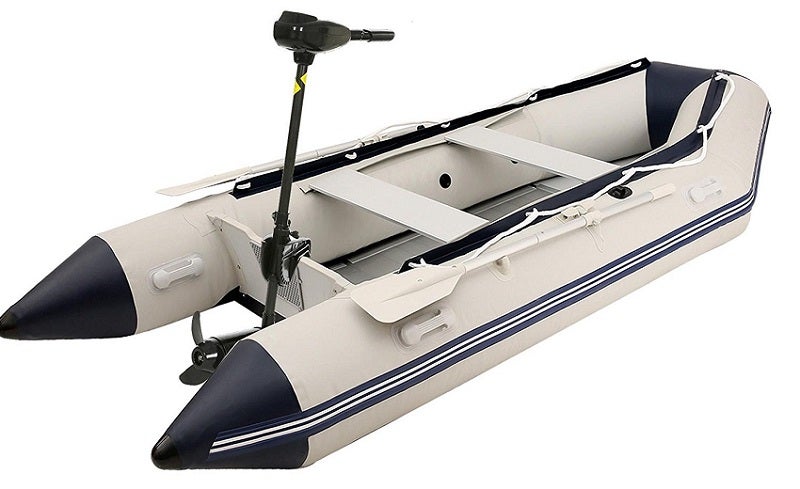 Thrust Output
When it comes to trolling motors there are only two things that will directly impact your performance. Voltage / batteries and motor output measured in pounds of thrust.
These two factors solely comprise the most important factors of raw measurable performance.
Reasons that you might need more power in a trolling motor include larger boats, windy conditions, heavy loads, large numbers of people on board, or heavily weedy conditions.
Any factors that can add drag or resistance to the boat movement need to be consider for an increase in thrust.
To get an idea of how much thrust you'll need for your boat, you can use this great generic guide from Trollingmotors.net. This gives you a baseline to start with so that you can guage what size and thrust of motor to get for your boat.
Remember if you anticipate heavier loads, lots of weedy conditions, or other factors that might slow down your boat, you may want to get the next size up.
Generally, any boats under 17 feet long can usually get away with a 12V motor. 20 feet and under can probably get away with a 24V motor. Anything over 20' in length will definitely need to upgrade to the 36V motors.
A final note on motor size is that you'll rarely regret purchasing a motor that's too large.
Going several sizes up or simply buying the highest power motor that your pocketbook can afford offers the advantage of easy movement, less strain on the motor, and improved overall performance.
Be careful not to go overkill though!
Motor Shaft Length
This can be an important consideration if you like to fish shallow water especially if there is a lot of grass that can get caught in the propeller.
However the opposite is also a problem as well. If the shaft is too short it may not be deep enough in the water to operate at full efficiency. Be sure to measure the length you need before making your purchase.
What Size Trolling Motor For My Boat?
| | | | | | | | | |
| --- | --- | --- | --- | --- | --- | --- | --- | --- |
| Boat Weight (lbs) | 1,500 | 2,000 | 2,500 | 3 | 3,500 | 4,000 | 5 | 5,000 |
| Boat Length (feet) | <14′ | 15-16 | 17 | 18 | 19 | 20 | 21 | >21 |
| Minimum Thrust (lbs) | 30 | 40 | 50 | 60 | 70 | 80 | 90 | 100 |
| Ideal Thrust (lbs) | 40 | 50 | 60 | 70 | 80 | 90 | 100 | >100 |
| Motor Voltage | 12v | 12v | 12v | 24v | 24v | 24v | 36v | 36v |
Batteries and Voltage Considerations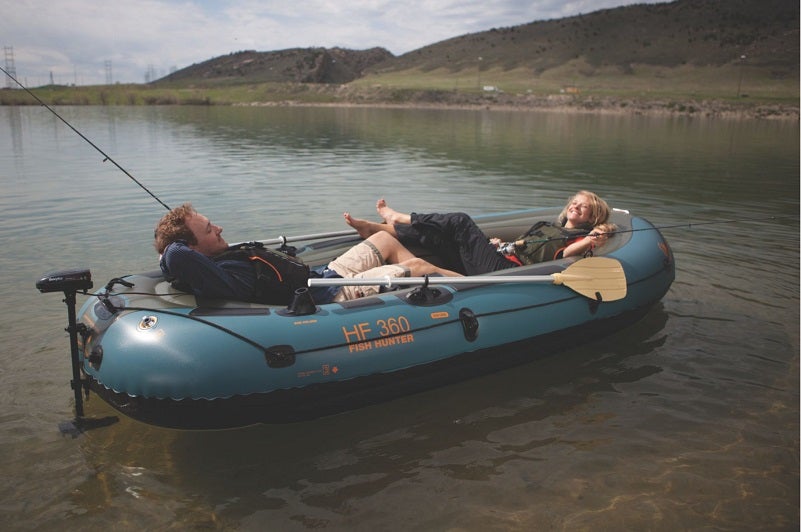 Batteries can seem expensive and it might be tempting to go with the cheapest one available. After all, they all do the same thing, right?
Wrong. Erring on the side of cheap batteries is a sure fire way to get poor performance and spend a ton on replacements. I have a post here on how to choose a marine trolling motor battery and some recommendations.
When buying a battery you definitely want to do your homework. Each type of trolling motor will be run off from 12V batteries. 24V motors simply use 2 x 12V batteries and 36V motors use 3 x 12V batteries.
Higher voltage motors with quality batteries will perform better, longer than their smaller counterparts.
Even for a relatively small boat, you could consider going with a beefy 36V motor as the lower power draw means longer overall battery life.
When it comes to batteries, high quality batteries tend to have longer lives. It's typical even for a well maintained battery to last only 3-5 years.
High quality batteries tend to be on the long side of that spectrum while I've seen low quality batteries, even well maintained, last only a single season.
AGM batteries are a newer type of battery which use a totally sealed system and advanced materials to last longer with less maintenance. AGM batteries, unlike wet cell batteries, can be stored on their side or upside down.
They tend to last a bit longer and overall are a vast improvement over the older wet cell batteries. Most trolling motor batteries today are AGM batteries.

Bow or Transom Motor?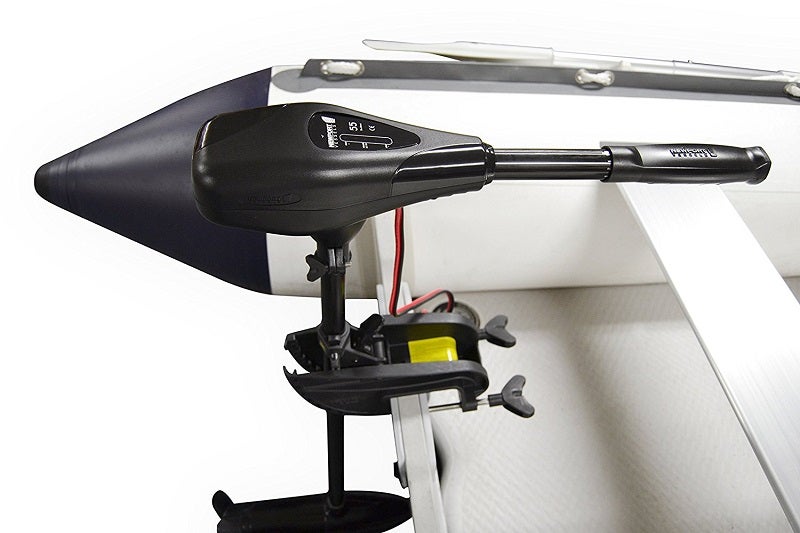 Which one is better between a bow (front) and transom (rear) mounted trolling motor? There are a few factors to consider before you throw in the towel and make a decision one way or the other.
Bow Mount
Bow mount trolling motors are much more agile than transom motors. Due to the location of the motor, you can turn the boat nearly on a dime, troll forward, back the boat up and other tight maneuvers.
This is because the motor is pulling your boat from the front instead of pushing from the back like your standard outboard motor.
Transom Mount
Transom mounted trolling motors are really only a good choice for boats that are too small to handle a bow mounted motor.
Canoes, dinghies, and other tiny vessels may not have the ability to handle a trolling motor on the front and you'd be left with transom mounted motors as your only option.,
Whenever a bow mounted motor is an option, choose the bow! Increased agility is a huge factor in choosing motor placement and bow wins hands down every time.

Hand Control or Foot Control?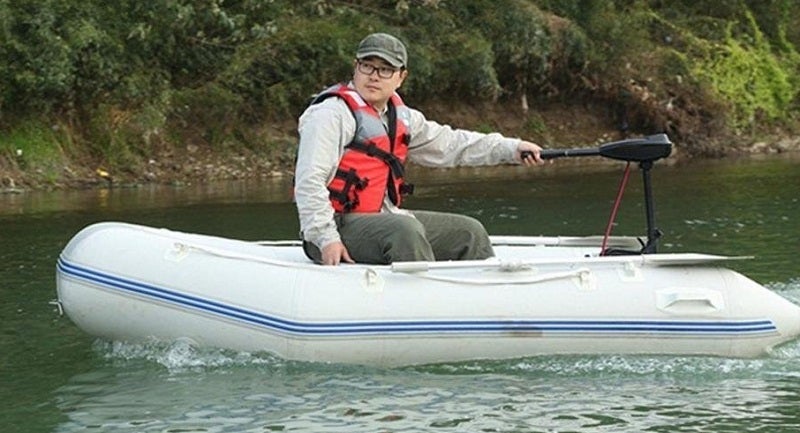 There are two ways to operate an electric trolling motor. You can have a more traditional hand controlled unit which operates like a small outboard.
Or you can go with a foot controlled trolling motor that uses a floor mounted switch and control plate.
Floor mounts take up room on the boat floor and can be hard to use unless you've got enough space for them. You'll need a decent size boat with a nice mounting option near the bow.
This would preferably be a nice flat deck so you can operate the motor with your foot while never taking your hands off the rod.
Hand operated motors cause you to have to lose contact with your fishing rod in order to operate the motor. Much less efficient, these can be a bit more natural feeling for some. They're a good option for boats with no floor space.
FAQs About Trolling Motors
Q: Is there any difference between two and three blade props?
A: The short answer is that, no, there is not a tangible difference between two and three blade propellers for a trolling motor.
Of course, the long answer is a little more complicated.
Open water is usually paired with a two blade prop. This is because the two blade design often is better at picking up speed and remaining efficient in the water to create propulsion.
Weedy water is usually paired with a three or four blade prop. This is because increasing blade numbers on a prop helps with staying weedless.
Of course, manufacturers seem to often claim different and variable information surrounding this. On top of that, you'll find the topic to be of much debate among anglers as well. In the end, I'd recommend a 2 blade for speed and a 3 blade for weeds.
Q: Should I get a motor with extra thrust, just in case?
A: Honestly, this one is up to you. Increased thrust means more expense – not just in the motor but in the battery needed to operate the motor.
I'd stick with our guidelines for thrust output based on boat weight and length. If you still feel the need to add a little extra machismo, then go up 5 or 10 pounds of thrust from our recommended guidelines.
Having a trolling motor that is way over-sized for your boat is kinda like having a lifted truck you only drive on the roads. It's kinda useless, dontcha think?
Q: Can I use a trolling motor as a primary means of transportation?
A: Indeed, you can!
In fact, it's a relatively common practice these days to use a trolling motor on an inflatable boat or smaller craft. Because these motors have limited output and battery life, however, they're best for low or no current areas where you don't need to travel far.
On the upside, they're much cheaper and eaiser to maintain than a gas engine!
On the downside, they'll never have the range or speed of a gas engine.
If you need to cover distance or you're traveling on a river where you'll have to fight heavy currents, a trolling motor may not be the greatest choice.
Remember that in some areas a boat, even a canoe or an inflatable boat, with a trolling motor may be considered a watercraft in need of registration. Check with the local natural resources office to make sure you're staying in compliance with codes.
Q: How can I fix a broken propeller blade?
A: First let me say that it's unlikely you'll break a blade. They spin slow enough and are usually sturdy enough not to break even when hitting solid objects. However, it is possible.
Don't even bother trying to fix a trolling motor prop. You're further ahead just to order a replacement blade and swap it out. They're not very expensive and it's a much more effective repair than anything you could do at home.
If you get a few nicks that create bumps on the edge of your propeller, consider gently sanding them down smooth again. Even tiny dings and nicks can reduce the efficiency of your propeller.
It's time to replace the propeller altogether if it's cracked or chipped. Even a tiny break on the tip of the blade can dramatically affect the propeller's ability to push or pull.
Pro Tip: Keep a spare propeller in your boat just in case you break one while you're out and about. Then you can swap it out and keep on going.
Q: Will a bigger battery make my motor faster?
A: That's a negative, Ghost Rider.
Assuming that you have a 12v motor and you stick with a 12v battery, a larger battery just means your motor will run longer.
Before you make a silly mistake, let me remind you that a 12v battery cannot run at 24v or 36v. Yes, these higher voltage motors do work harder and go faster. However, adding more voltage to a motor that isn't built for it will destroy the motor and possibly start a fire.
What may make your motor go faster is a 2- blade propeller and/or a larger gauge battery wire. We cover batteries and wire sizes in-depth in the Trolling Motor Batteries article here!

Outside Pursuits Overview
In the world of trolling motors, transom mounted motors are usually the only choice. For kayaks, canoes, or dinghies there's often only enough room for you, a bit of gear, and a small motor.
In these cases, or with other small boats, a lightweight trolling motor is the ideal choice. Because of their power, stealth, and agility they make the best choice for fishing your favorite water hole and landing as many fish in the boat by day's end as possible!
How We Researched
To come up with the top kayaks we researched a variety of sources for reviews such as REI, Dicks Sporting Goods, Cabelas and Backcountry along with our own personal experience.
We also consulted online magazines for product research and reviews to get as much unbiased information as we could. To help weed out fake reviews we used Fakespot.com to make sure we only looked at genuine reviews.
With so much quality gear available, we had to narrow it down based on what we felt were the best options for the price. The author, Casey Fiedler has been an avid boater and leads kayak camping trips during the summer months in his native state of Michigan.
To help narrow down the selection he used his personal experience along with recommendations from other outdoor pursuits experts.
After extensive research, we came up with our list to help you choose the right one for you.
Sources
Notice:
OutsidePursuits.com is a participant in the Amazon Services LLC Associates Program, an affiliate advertising program. OutsidePursuits.com earns fees from products sold through qualifying purchases by linking to Amazon.com. Amazon offers a commission on products sold through their affiliate links.