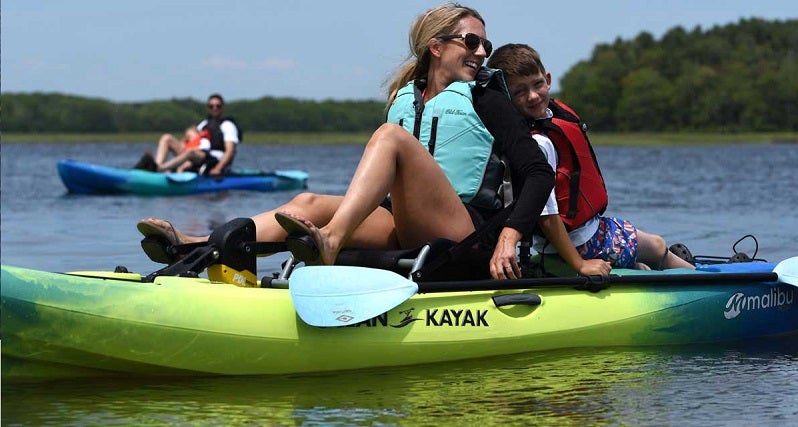 Our Editors independently research, test, and rate what we feel are the best products. We use affiliate links and may receive a small commission on purchases.
Pedal kayaks are a smaller subset of recreational kayaking that can change things up! They're a fun combination of technology that exist somewhere between a boat and a bicycle.
But don't be fooled, they're not only fun but functional. Many paddlers enjoy the advantages of pedal kayaks over traditional boats.
So, how can you be sure if a pedal kayak is the right boat for you? We're going to discuss all of the pros and cons that come with choosing a new kayak type.
I'm also going to review some of the best foot powered kayaks on the market today.
Best Pedal Kayaks
For more of my kayak gear recommendations, have a look through these popular Outside Pursuits guide links: Kayak Trailers, Kayak Roof Racks, Kayak Carts.
Quick Answer: The 5 Best Rated Pedal Kayaks For 2021
Our guide and comparison table of the top rated pedal kayaks will help you choose the right one for you.
---
Pedal Kayak Reviews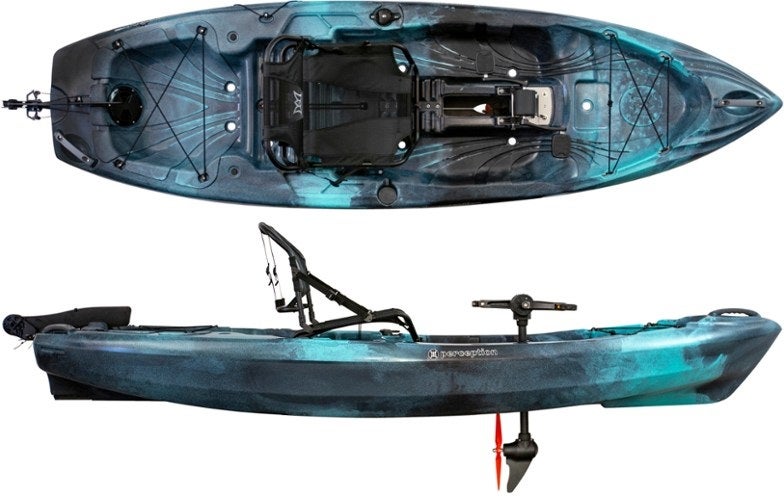 Perception Crank Sit-On-Top Pedal Drive Kayak at a Glance
:
---
Removable pedal drive w/ zero draft
Large front and rear storage areas
Fishing specific features
Height adjustable mesh / suspension seat
Without a doubt, this boat takes the medal for the best looking kayak on our list. But are looks enough to win your heart? Let's find out what else this boat offers to pedal kayakers.
This boat makes a stab straight at the heart of anglers. There are 4 molded rod holders and room for tech and gear like a transducer scupper mount. If you want to upgrade, you can use the built in Attack Gear Trac system which allows you to easily mount fishing and paddling accessories.
I'm a huge fan of the bow and stern tank wells which have tons of space for fishing or paddling gear. Plus, there are 3 separate dry wells for gear like cell phones and keys that just can't get lost!
Unlike many of the full-featured kayaks on our list, this angler's dream kayak is also lightweight. At just 75 pounds, the boat can handle over 350 pounds of weight on the water. Somehow, even with all these features, it still comes in near the bottom of the price range for a great pedal kayak.
Best For: Anyone looking for the best pedal kayak for the money that's feature-rich and that looks sleek!
---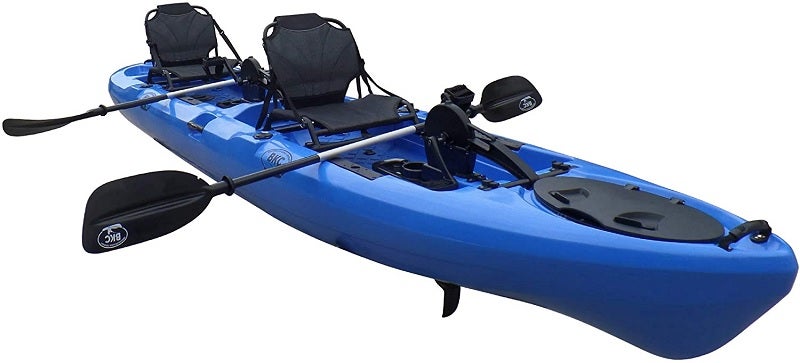 BKC PK14 Tandem Pedal Drive Kayak W/Rudder System at a Glance
:
---
Sit on top cockpit
Removable rudder
Tip-up propeller
Large bow tankwell
BKC makes tons of models of boats every year and they often appear on every kayak list I've written. Why?
Because they know how to balance quality, price, and efficiency. When it's time to hit the water, you don't want to work too hard.
What makes this one unusual on our list is it's a tandem kayak so you and your companion can enjoy a pedal powered day on the water.
Like gears on a bicycle, the gear ratio is important in determining how easy it is to pedal the kayak. This kayak has a top speed of 5.5 mph with a 10.3:1 gear ratio.
At 14 feet long and 100 pounds, this is no small kayak. It's loaded with features like an adjustable rudder and fully adjustable padded seat. With bow and stern shock cord and storage you'll be able to max out the 670 pound capacity if you really want to.
I'm a fan of the built in rod holders so you can try some fishing while your out on the water. They even include two aluminum paddles with paddle parks so you can keep them ot of the way.
Plus, the open mesh adjustable aluminum frame seat makes the boat comfortable enough that you won't need to take breaks too often. Overall the BKC is our top pick for the best pedal kayak!
Best For: Recreational use with maximum comfort and a relaxed feel.
---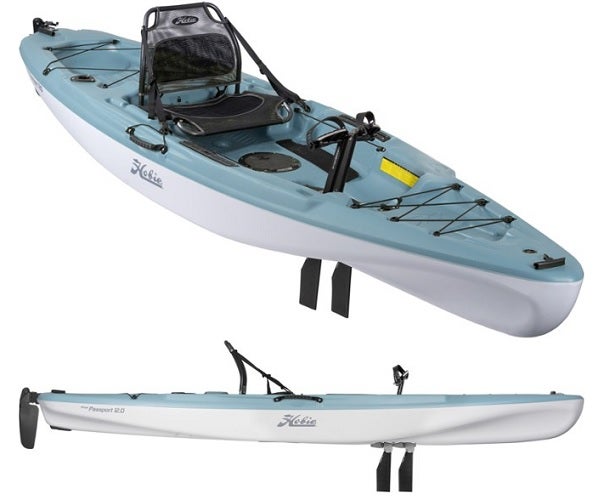 Hobie Mirage Passport 12 Sit-On-Top Kayak at a Glance
:
---
400 pound capacity
Height adjustable mesh / suspension seat
Rudder & paddle included
Sit or stand design
Hobie has long been one of my top favorite kayak brands for recreational paddlers. They are proven, effective, and durable boats that just don't ever seem to give up, even if you give them a beating.
The MirageDrive 180 has a very unique propulsion system using dual fins and is extremely efficient. It offers very high speed with little effort and switched from forward to reverse with a pull of a lever.
Unlike most kayaks, the Mirage is designed for an aggressive angler. Thanks to the unique design of the hull, you can actually safely stand up in this boat.
They added features to stabilize the boat well enough to allow for an elevated seat position as well. Once you get to your fishing spot, raise the seat to afford a better attack angle to fish more easily from the kayak!
I'm a huge fan of the padded pedals for barefoot operation. There's nothing nicer than kicking off your sandals on a sunny day and pedaling in peace with the wind between your toes!
Hobie MirageDrive180: Full Power Reverse
There are 6 removable mounting plates around the boat which offer premade locations to mount rod holders, GPS, or fish finders among other things.
Best For: High efficiency and features on a kayak that can be upgraded and modified to your needs.
---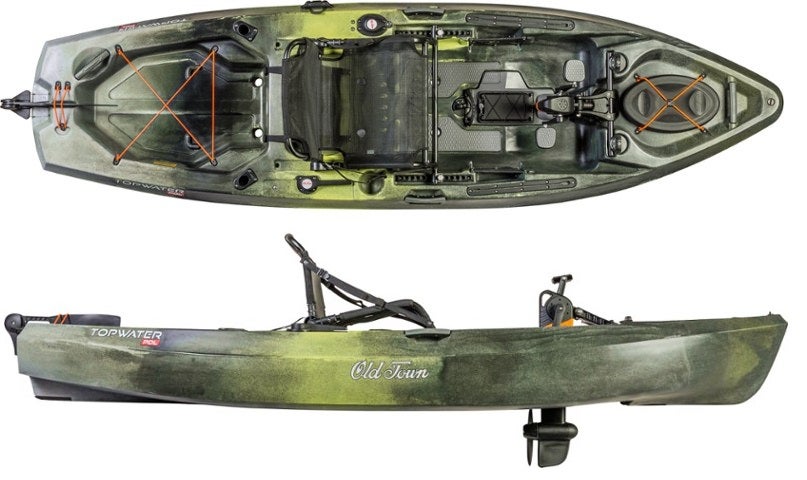 Old Town Topwater PDL Kayak at a Glance
:
---
Adjustable, elevated mesh seat
3 Rod holders
Stable hull design

Oversized stern tank well
If you're looking for one of the best pedal powered kayaks that brings along tons of options, this might be the one for you. Plus, it's hard to argue with the reasonable price tag that won't break the bank.
One notable feature of this boat is the flat hull design. Flat hulls like this offer tons of stability when sitting still or moving slowly. That's why they make a great choice, particularly for anglers, when you're not traveling long distances.
On top of the stability, this boat is notably more lightweight than other similar models. It comes in at just over 70 pounds whereas many fully-featured pedal kayaks are well over 100+ pounds.
While 70 pounds might not seem lightweight, it's certainly easier to handle moving and loading than boats tipping the scales quite a bit higher.
One major design point of this boat is the ample cargo space. Bow and stern offer large storage areas. At the bow, a covered storage option leaves room for a traveling lunch or overnight gear.
Best For: An affordable, simple pedal kayak that keeps things lightweight and simple.
---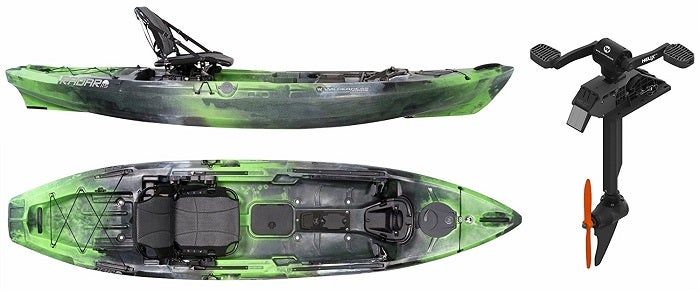 Wilderness Systems Radar Pedal Drive Fishing Kayak at a Glance
:
---
Lower gear ratio
Auto-raising mast
SMART Hull
Helix MD motor drive compatible
Let's take a step away from simple and toward luxury with the Radar 115. This boat brings a sturdy, efficient design loaded with tech and features that you may not find in cheaper boats. But, is it really worth it?
Let's talk tech and take a look at why this boat is a top contender. The SMART hull combines stability, maneuverability, acceleration, responsiveness, and tracking to blend performances into a well rounded kayak. The kayak has a flat platform for standing and moving when needed.
If you're looking to upgrade even further you can go with the Helix MD motor drive which takes over for you. If you're tired of pedaling, just let the motor do the work.
Unlike other boats on our list, the gear ratio on the Radar 115 is a bit lower. However, the larger propeller and hull technology keeps this boat quick while making it easy to pedal.
Video: Overview of the Wilderness Systems Radar Pedal Kayak
Wilderness Systems Overview | The Radar
With a flick of a spring loaded switch, you can quickly raise the mast of the propeller for situations where the water becomes too shallow. Of course, raise the propeller mast entirely when it's time to dock with the 3-position mast system.
Best For: Anglers seeking the best pedal fishing kayak with tons of fishing features!
---
Pedal Kayak Comparison Table
How to Choose the Best Pedal Kayak for You
Let's take a thorough look at everything you need to know about pedal kayaks. When it comes to pedal kayaks, there are a few unique factors you should keep in mind…
Pedal Kayaks For Anglers
Pedal kayaks make a solid choice for fishing due to a handful of great reasons. Kayaks are a fun way to enjoy fishing to begin with. They're quiet, peaceful, and can reach some unique areas. However, they come with unique drawbacks, too.
It's hard to fish while your hands are busy paddling.
With a pedal kayak, you can continue to move with your feet on the pedals without having to put down the fishing rod. Of course, there are some situations where you'll have to put down the rod, but it's a lot easier to control the boat than traditional kayaks while fishing!
Trolling with a pedal kayak is much easier as well. You can cast your bait and keep pedaling away at a nice clip without juggling items in your hands.

Pedal Kayaks for Disabilities
This is an often overlooked feature of pedal kayaks that can really help those with limitations. Pedal kayaks take the work off your arms and shoulders and transfer that load to your much stronger legs. For those with weak joins or upper body injuries, a pedal kayak can save the day.
All of the driving work is done by pedal, of course. On top of that, most pedal kayaks feature easy and simple steering. These steering systems are often so simple to operate that they require only a finger or two to steer the boat!
If you're buying a pedal kayak for someone with physical limitations, consider the style and placement of the functions.

Removable Pedals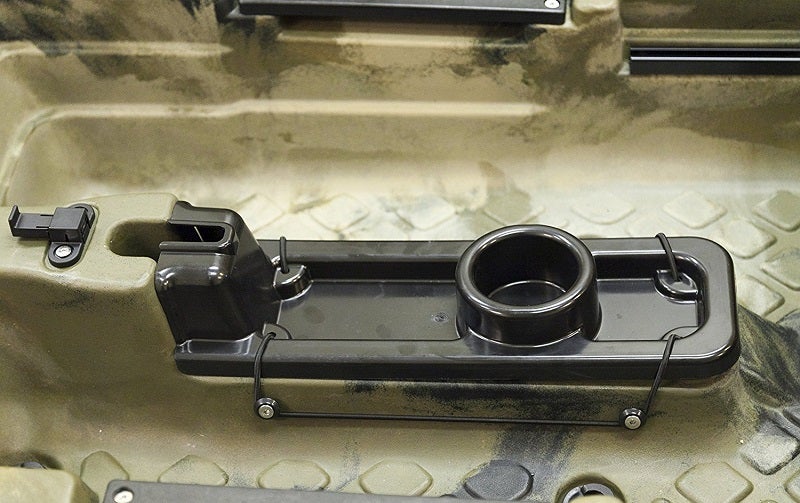 Not all pedal kayaks are made alike. One major feature difference to keep an eye on is the pedal system.
Unlike traditional kayaks, pedal kayaks have a large obtrusive pedal system sticking out. This pedal system can be annoying in a few situation.
When loading your kayak onto the trailer or vehicle, these pedal systems can get in the way of other kayaks. Instead of being able to fit two or more kayaks on to your storage rack, a single kayak may take up all the room!
So, what's to be done? Some pedal kayaks offer removable pedal systems!
For most kayakers, I would encourage you to look for this style. It's helpful for transportation and storage both. In most cases it can effectively halve the width of your boat when stored.
Plus, another advantage of removable pedals is that on many boats you can leave them off altogether. If, for some reason, you'd prefer to paddle your boat instead of pedal it – you can just leave the pedal right off.

Pros and Cons of Pedal Kayaks
Pros of Pedal Kayaks
Hands Free Kayaking
If you're a fisherman a pedal kayak you will have both hands free. This allows you to cast and reel in your catch without having to deal with a paddle. It also allows you to have an adult beverage or have something to eat that you would would not be able to do with a traditional kayak.
Speed
Your legs have significantly more muscle mass than your arms so it only makes sense you use them vs your arms! Using your legs to propel the kayak you will be most likely be able to move much faster for longer periods of time.
More Efficient
Since your legs have more power than your arms, you will suffer from much less fatigue. Most likely you will be able to cover much more distance than by paddling with your arms.
With all your energy turning the pedals vs lifting a paddle, more energy is used to propel the kayak. You will notice you will be much less tired for a given distance.
More Comfortable
Since your not lifting paddles out of the water and splashing water on yourself, you will stay drier.
Less Noise
Since your not constantly splashing the water with paddles you will be able to sneak up on the fish easier with a pedal kayak allowing you to catch more fish!
Better For Beginners
Pedaling a kayak is simpler than learning the rhythm of paddling a kayak. There is a skill to learning how to use not just your arms but core and shoulders whereas a pedal kayak you just need to pedal. Pretty simple! Where the simplicity really shines is with a tandem kayak. With traditional pedal kayak you and your partner need to be in sync otherwise you will be constantly hitting each others paddle. With a pedal kayak this will not be an issue.
Cons of a Pedal Kayak
Maintenance
Since you now have a mechanical mechanism you will need to care of it. Period cleaning and lubrication will be needed, especially true if you are using it in salt water. It's a good idea to rinse the drive system after each use.
Price
Since you have a pedal drive mechanism the cost is going to be higher than a traditional kayak. There will also be some maintenance on occasion.
Weight
Since you you now have a pedal drive system in the kayak the weight will necessarily be more than a traditional paddle kayak.

Why Buy a Pedal Kayak?
Pedal kayaks are a relatively new design in kayaks that allows you to propel you kayak by pedalling like bike vs paddling. This has the major advantage of freeing you hands to do other things like take pictures or for fishing.
If your like me your arms and shoulders get tired after 30 minutes or so of paddling but with a pedal kayak you use your largest muscle group, your legs to power the kayak. This is especially advantageous if you have any upper body injuries or just lack the strength to paddle the kayak.
While pedal kayaks are not just for anglers, tey do offer many major advantages for anglers. Most pedal kayaks are longer and offer more storage for fishing accessories like bait and tackle.
But the major advantage is having your hands available to cast and reel in fish while still being able to paddle or have to worry about a paddle to secure or drop in the water.
Pedal kayaks tend to be a little wider and more stable allowing you to stand and not tip the kayak over as easy as a non pedal kayak.
Most pedal kayaks also tend to come with better seats that are adjustable in height and more comfortable. Of course you can always upgrade the seat on any kayak, coming with a better seat saves you the trouble.
Lastly since most pedal kayaks come with a rudder they are easier to track or keep in a straight line vs a traditional paddle kayak.
Rudder Style and Location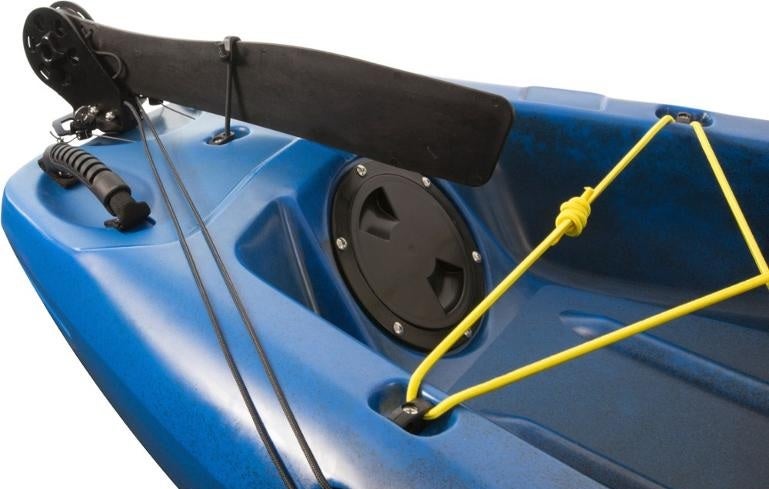 In order to steer your pedal kayak, you'll need to have some kind of rudder. On many kayaks, rudders are controlled by foot pedals. However, obviously, this is not an option for pedal kayaks as your feet are busy propelling the boat.
For most pedal kayaks, rudder systems are operated by a hand lever. Depending on the quality of your boat, these steering systems range wildly in ease of use.
On some cheap boats these steering levers are stiff and hard to use. On high quality boats, the rudder can be operated with just two fingers pressure.
Additionally, consider the rudder steering placement. Most often rudders controls are located beside the seat either on the left or right side. Some rudders can be changed from side to side, and others are fixed in a location.
Consider choosing a rudder on the opposite side of your dominant hand. Particularly for anglers, this allows you to keep your dominant hand busy while still steering with your off-hand.
Some few kayaks feature alternative steering methods. They are uncommon and generally quite expensive but can allow for totally hands-free movement.

Propellers and Maintenance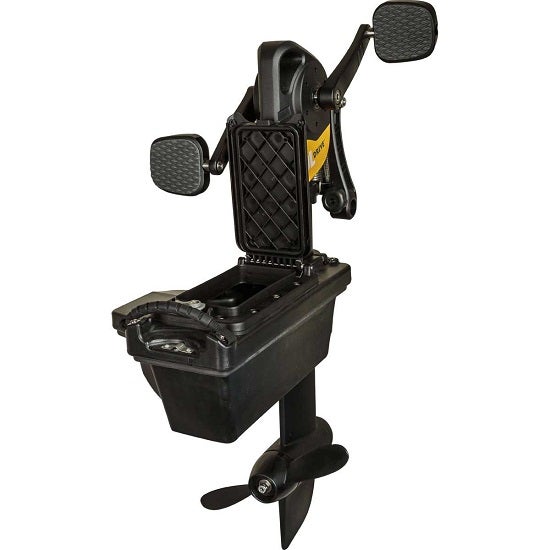 Most of the pedal kayaks today are all powered by a propeller system. This transfers the energy from the pedals to a vertical shaft which powers a propeller to drive the boat forward.
Like electric trolling motors, these small propellers may suffer from some similar complications. One major problem for pedal kayaks is shallow and weedy water. Invariably, you will eventually suck up and tangle some weeds around the propeller.
When this happens, you'll want to make sure your kayak has an access of some sort. Most pedal kayaks have a way to access the propeller to remove jams or tangles. Particularly if you're using your boat in shallow or weedy water, read through others' reviews to determine the ease of maintenance.
On the same note, those kayaking in areas prone to shallow water or weeds may look for an adjustable propeller. Many kayaks have adjustable propellers. This feature allows you to pull the propeller up to avoid collision or entanglement.
Of course, the more submerged the propeller, the better the efficiency. That's why you'll want to use the deepest propeller setting possible for any given situation. Don't run the propeller in shallow mode unless it's really necessary.
Rotational Pedals vs Push Pedals – Whats the Difference?
There are two main types of pedal powered kayaks. Push and rotational, while there is no significant advantage to wither, you should know the difference when comparing pedal kayaks.
Push Pedaling
This type of pedal action has you pushing with your feet in an back and forth manner. Its almost like a stairmaster and may be slightly more tiring over long periods of time than a rotational pedal system.
Rotational Pedaling
Just like it sounds your feet will rotate around a central axis just like a exercise bike. With this type of pedal system it is a contant flow and is easy to get in a rhythm vs a push pedal system. This pedal system is more commonly found with propeller kayaks like the ones on our list.
Conclusion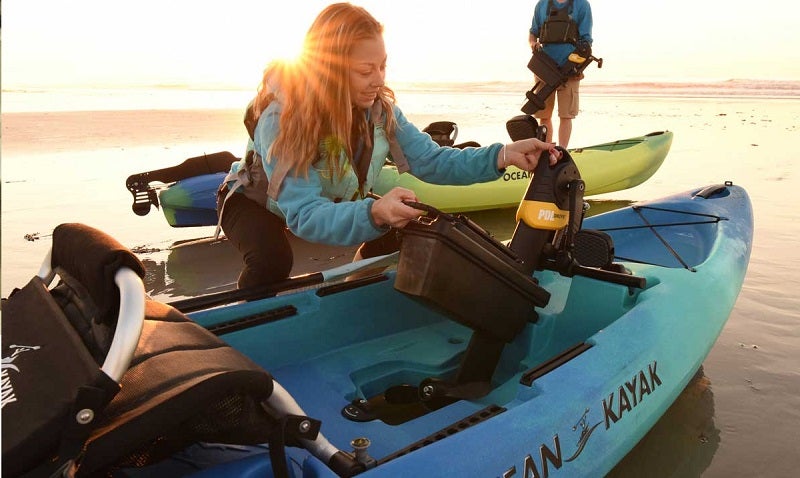 Pedal kayaks are an obvious choice for anglers. That's why so many of the cater to the world of fishing with loaded features that are ready to help you land fish.
However, we made sure to include pedal kayaks on our list that will help the recreational paddler feel at home as well.
Remember, whether you're looking to land fish or just use the pedals to take a load off your shoulders, a pedal kayak can help. They're not the perfect solution for everyone, but they're a great idea for those who have struggled to find the perfect traditional kayak.
Maybe changing things up a bit with a pedal kayak is just the ticket!
Of course, choosing the right one for you is the most important part of enjoying your new boat. Before you buy, be sure to look for a kayak that has the features important to you. If you are looking specifically for fishing kayaks, be sure to see our recommended fishing kayaks.
We also review recreational kayaks here if you want to go with a traditional kayak. Be safe always keep a PFD onboard!
---
I hope this guide was helpful for finding the best pedal kayak to fit your needs. If you want to comment or recommend a kayak didn't include, please use my contact form to get in touch.
Have fun and be safe out there!
How We Researched
To come up with the top pedal kayaks we researched a variety of sources for reviews such as REI, Dicks Sporting Goods, Cabelas and Backcountry along with our own personal experience.
We also consulted online magazines for product research and reviews to get as much unbiased information as we could. To help weed out fake reviews we used Fakespot.com to make sure we only looked at genuine reviews.
With so much quality gear available, we had to narrow it down based on what we felt were the best options for the price. The author, Casey Fiedler has been an avid kayaker and leads kayak camping trips during the summer months in his native state of Michigan.
To help narrow down the selection he used his personal experience along with recommendations from kayak tour guides and rental shops.
After extensive research, we came up with our list to help you choose the right one for you.
Sources
Notice:
OutsidePursuits.com is a participant in the Amazon Services LLC Associates Program, an affiliate advertising program. OutsidePursuits.com earns fees from products sold through qualifying purchases by linking to Amazon.com. Amazon offers a commission on products sold through their affiliate links.