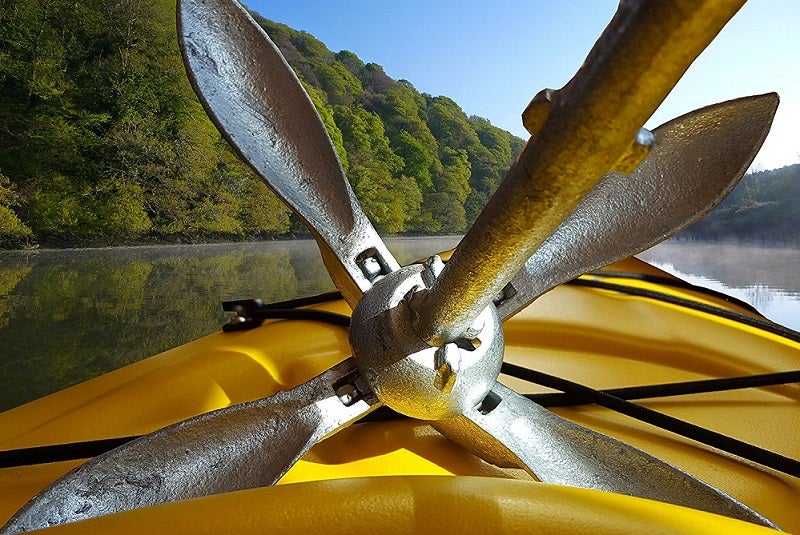 Our Editors independently research, test, and rate what we feel are the best products. We use affiliate links and may receive a small commission on purchases.
If you're like me then your first introduction to kayaking was probably a weekend trip with friends. Maybe a lazy paddle down a slow river or kayaking across the lake at the family's cabin as a kid.
Today's kayaks are lighter, faster, and more versatile than ever and kayakers are using them for more adventures! That's why choosing a good kayak anchor has become increasingly important.
The best kayak anchors have to be light enough to keep the kayak nimble but heavy enough to hold you in place.
They need to be small enough to fit in the crowded cockpit of a kayak or mount to a fishing kayak, yet large enough to grab and hold at the bottom.
Best Kayak Anchors
Marine and Outdoors Kayak Anchor
Seattle Sports Kayak Anchor Kits
OceanMotion Kayak Anchor Kit
Construction:
Pure galvanized iron
Galvanized steel
Galvanized iron
Weight:
3.5 Pounds
1.5 Pounds
(3.25 pound available)

3.5 Pounds
Rope:
40 Foot braided nylon
50 Foot braided nylon
40 Foot braided nylon
For more of my kayak gear recommendations, have a look through these popular Outside Pursuits guide links: Recreational Kayaks, Kayak Carts, Kayak Roof Racks.
Quick Answer: The 5 Best Kayak Anchors For 2021
It's a very careful line to walk, in this guide we're going to talk about what you need to know. Let's get right into it!
---
Kayak Anchor Reviews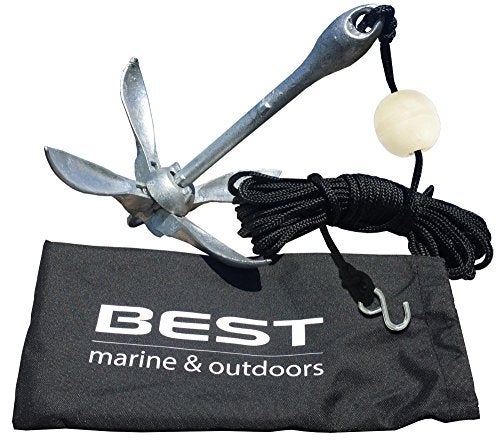 Marine and Outdoors Kayak Anchor at a Glance
:
---
Weight: 3.5 Pounds
Construction: Pure galvanized iron
Rope: 40 Foot marine grade
Folding: Yes
BEST Marine and Outdoors sells this expanding fluke anchor at a price that's hard to argue with. Users love this anchor and it's stood the test of time with enough reviews to prove it's usefulness.
There are a few additional features on this anchor compared to the Yak Gear 1.5 pound which I think set it over the top. BEST includes a quick disconnect on the anchor.
Is it necessary? Maybe not, but it is a nice additional feature.
Disconnect the anchor and the line will stay floating with the integrated captive buoy so you can find it later.
In its close position the anchor measures just 12" x 3". When deployed, the locking flukes greatly improve the surface area and give the anchor enough bite to grab on any bottom type.
I like the recurved scooping design of the flukes which is ideal for digging into soft bottoms and staying put!
One thing that any user will love is the one year no questions asked money back guarantee. No matter what you'll get your money back if it doesn't work or if you don't like it. No one can argue with that!
The Marine and Outdoors Kayak Anchor is a reliable solution for the best kayak anchor.

---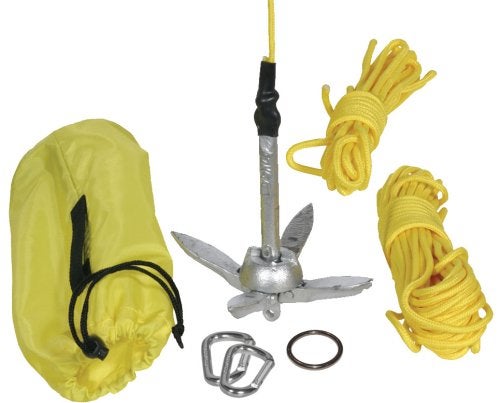 Seattle Sports Kayak Anchor Kit at a Glance
:
---
Weight: 1.5 Pounds (3.25 available)
Construction: Galvanized steel
Rope: 50 Foot polypropylene braided
Folding: Yes
Seattle Sports makes this solid anchor that weighs in at 1.5 pounds (3.25 pound also available). It's another expanding fluke anchor with a sliding collar that locks the tines into place when open.
I do like that they include two carabiners, a ring, and a storage bag with the anchor. That leaves you with some options as to how you'll rig the anchor.
The kayak anchor kit comes with 50 feet of polypropylene braided rope ready to go. This high visibility yellow rope is much better than twisted nylon.
Braided rope is softer, more flexible, and will last much longer than cheap twisted nylon rope.
Overall I think users will find the BEST brand to be a bit more thoughtful in design and execution at a price that's comparable to the Seattle Sports brand.
When it comes down to it, the deciding factor may just be that Seattle Sports has longer rope with their anchors but that's a factor you can easily change by swapping out rope.
This anchor is best for those looking for better rope quality and length with no hassle.

---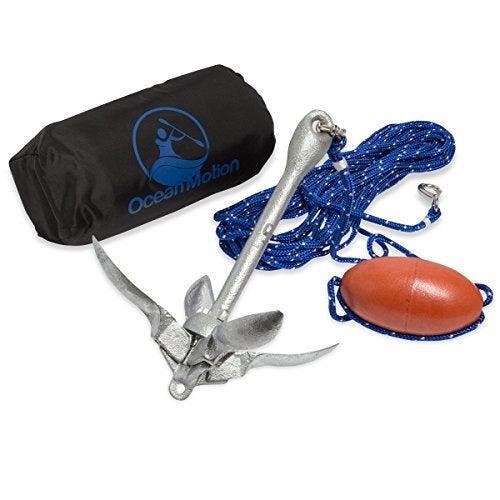 OceanMotion Kayak Anchor Kit at a Glance
:
---
Weight: 3.5 Pounds
Construction: Galvanized iron
Rope: 40 Foot braided nylon
Folding: Yes
If I didn't know better, I'd suspect that OceanMotion and BEST Marine and Outdoor source their anchors from the same place. Oh wait… maybe they do!
Visually identical to the BEST anchor, this four-fluke anchor uses a sliding collar and large scooped flukes to dig in. Remember that you'll need plenty of line for these types of anchors to be effective.
If necessary add chain near the anchor to help it tip over and feel free to replace the rope with a longer section from the hardware store if necessary.
One note about adding rope is to be sure the strength of the rope and any knots you use are guaranteed not to break!
Otherwise you'll be leaving your anchor on the seafloor for the fish to enjoy while you log on to Amazon to order a new one.
Paddlers love this anchor and the construction, design, and quality hold up as one of the best on our list. Combine this with the Yak Gear trolley kit (reviewed below) and you'll have a setup that you'll love.
Hard to go wrong with this kayak anchor!

---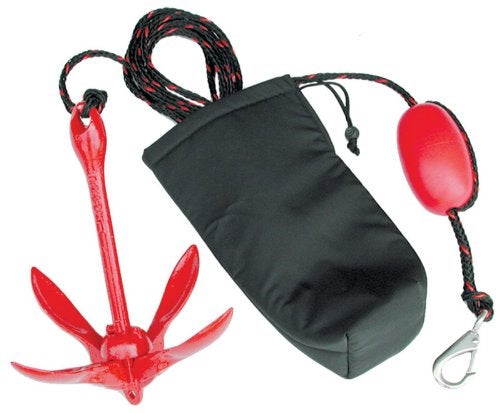 Airhead Complete Folding Anchor System at a Glance
:
---
Weight:

3-1/3

Pounds
Construction: Pure galvanized iron
Rope: 25 Feet

marine-grade rope

Folding: Yes
Again, it seems whoever makes the anchor design that BEST and Zeele uses have contributed their product to this anchor system from Airhead.
However, this anchor beats both the BEST brand and the Zeele brand.
How is that possible? Well first off, it's a few bucks cheaper. The buoy and clip release system are upgraded from the simple steel hook.
Airhead's anchor includes a nice locking clip that won't accidentally come off. You'll have to open the clip gate to remove it. No unhooking from the anchor on accident!
I also love that they matched the rope color, buoy color, and anchor color. It looks like the anchor has been powder coated red.
This extra layer of "paint" protection will help the anchor hold up to the harsh conditions underwater and repel rust a bit longer than uncoated metals. It also just simply looks good.
Overall the only major complaint I have is that the rope is too short. They're only giving you 25 feet of rope which is good for all of 3.5 feet of water depth.
I would buy this anchor and then immediately replace the rope with a longer, higher quality rope. This anchor is a good choice and would be my top pick, if not for the short rope.
Best for users that want the protection of powder coated metal anchors and are willing to replace the rope.

---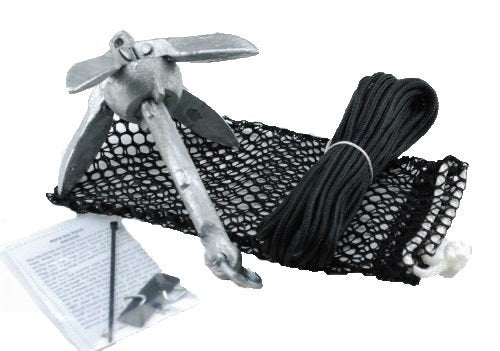 Yak Gear Grapnel Anchor Kit at a Glance
:
---
Weight: 1.5 Pounds (3.33 available)
Construction: Galvanized steel
Rope: 30 Foot marine grade
Folding: Yes
Making a kayaking anchor is not a particularly difficult process. These devices are quite simple and Yak Gear nailed it by keeping their kayak anchor simple and sweet.
This folding kayak anchor is just 1.5 pounds but remember it's not about the weight. Once you slide the collar down, the tines extend in four directions to grab and grip the bottom.
Again this means it's crucial that you have at least 7x the amount of anchor line compared to depth.
If not, the tines won't grab and you'll be left frustrated and floating away.
The kit comes with 30 feet of nylon anchor rope but that's only enough for a depth of about 5 feet. One tip for these anchors is to use a few feet of chain to help tip the anchor over on its side.
This may allow you to get away with a bit less anchor line.
Overall paddlers like this anchor and I stand behind its simple design. When not in use the tines fold in and the whole anchor can be stored in a ditty bag included when you order.
Best for a simple and cheap anchor to get the job done. Use with the Yak Gear trolley system below for the ultimate in flexibility.

---
Anchor Trolley Kits
Now we will review a few trolley kits. Most likely you will want to mount your anchor on some type of trolley to give you flexibility.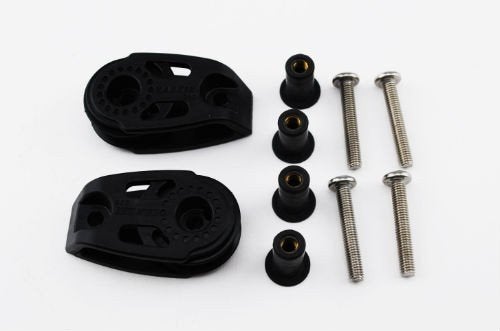 So if you're new to kayaking, having a trolley system will allow you to move the position of your anchor mount on the fly. That means you can swing the boat in different directions to adjust for different cast types, strategies, and other needs.
Paddlers love the Harken pulleys on this trolley system which you'll mount up on your boat with a bit of modifying.
Installation instructions and all hardware are included but it may require a bit of DIY ingenuity on your part during install. You'll need a drill and enough familiarity to use it effectively on your boat.
The kayak anchor system trolley kit comes with 30 feet of rope for the trolley rigging and a mini zigzag cleat for securing everything. Once installed properly you'll be able to move the location of your anchor anywhere along the side of the boat.
Video: How to mount the Yak Gear trolley system.
How to Install a YakGear Kayak Anchor Trolley
Don't worry, there's very little chance of actually harming your kayak during installation so don't be afraid to give it a try!
Best for DIY users who want versatility in fishing and control over their anchor rigging. Overall the best kayak anchor trolley kit.

---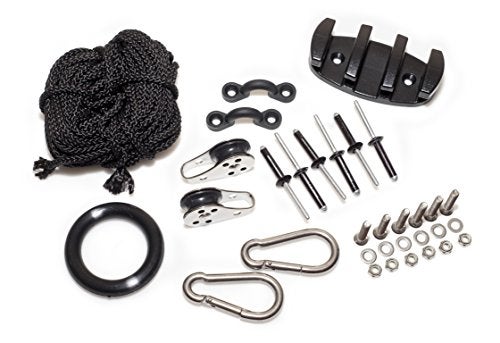 If you want to rig up a kayak anchor system trolley and need all the parts delivered to your door, then this is the kit for you.
Some users rate it as slightly less durable compared to the Yak Gear trolley kit. It really depends on which kit has the components you want.
One thing to watch out for on this kit is the inclusion of pop rivets. While there's nothing wrong with pop rivets, they do require a special tool to use.
If you don't have a pop rivet gun then you won't be able to put this kit together. These tools do cost a bit and by the time you buy new tools and get it all put together, you might wish they'd have just used screws and bolts!
All said and done though, this kit comes with a zigzag cleat, two pulleys, two sturdy carabiners, and all the rope and hardware you'll need for the install.
It's a bit cheaper than the Yak Gear kit but if you don't own a rivet gun you'll want to go with the Yak Gear to save yourself the hassle.
Some installations won't need the rivets and you can always swap them out for bolts yourself from the local hardware. It's all up to you.
Best for an affordable kayak anchor trolley kit that's got enough versatility to get the job done!

---
How to Choose the Best Kayak Anchor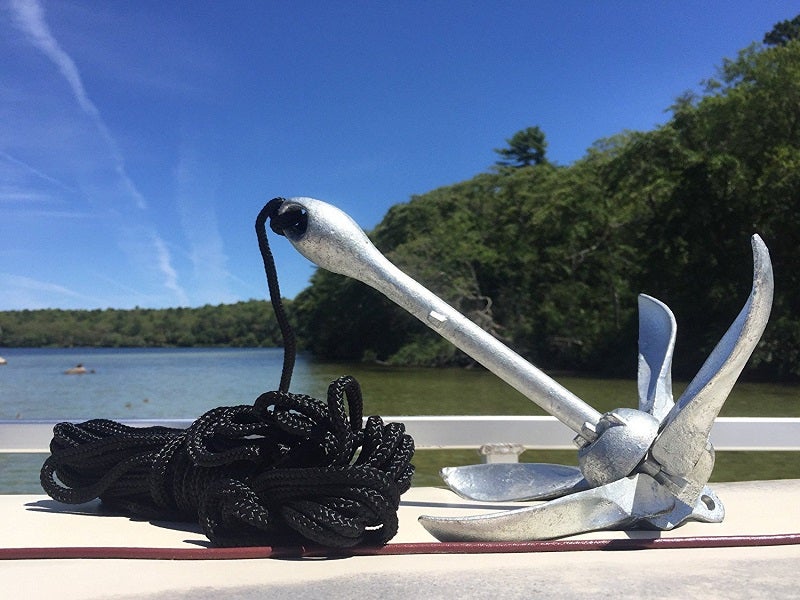 No matter what your reason for buying a kayak anchor, there are a few key points you'll need to keep in mind.
We'll cover how to pick out the best kayak anchor. There's also going to be a pile of reviews to help you get started finding just the right kayak anchor for your boat.

Weight vs Size
In the world of anchors, weight and size are the two determining factors. Unfortunately, weight doesn't really matter very much. Size tends to be the determining factor in holding power of an anchor.
Putting a heavy anchor into the water often doesn't bite into the bottom and instead simply will drag as you're pushed along slowly all day.
So what size and shape are ideal? Larger anchors have more to grab onto. Using an anchor that has large "wings" or teeth will help the anchor sink into the silt and mud at the bottom of the lake.
These anchor types may also grab branches, rocks, or other debris to really help keep your boat rooted.
A coffee can full of concrete is likely to drag along and do you no good. A lighter, but larger anchor with good wings and an intelligent design will dig in and help to hold your boat right where you want it.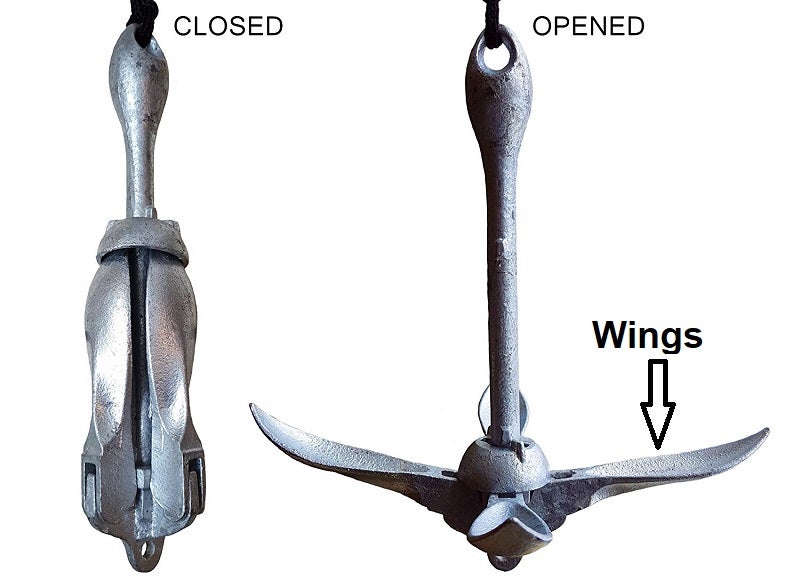 Mounting Your Anchor
Finding a place to attach your kayak anchor to the boat can be hard. Recreational kayaks, especially inflatable kayaks often don't have trolleys or dedicated anchor mounting locations.
It can be tempting to just tie it off anywhere and toss something over the side. That might not be a good idea, though and I'll explain why.
Kayaks are long boats, but they're narrow. They're made to attack water and waves head-on. When you tie off your anchor on the side of the boat any wind and waves will end up approaching you from the side.
You'll have a larger wind profile, more drag, and if waves get bad you could capsize or at least have a very hard time keeping your boat balanced.
Instead you'll want to mount the anchor to the bow or stern of the boat. This will result in a more balanced profile and less wind drag. Waves will hit the boat in the appropriate direction to keep you safe and sound.
Mounting from the bow or stern needs to be a personal preference. Each placement will result in a different fishing presentation.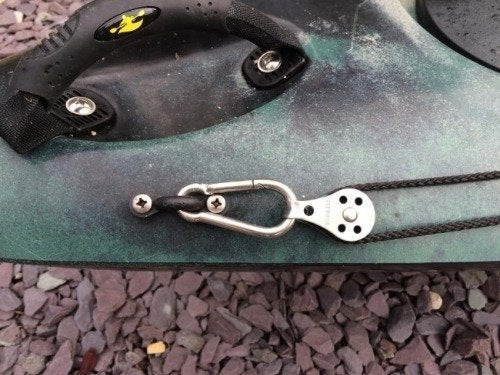 Decide which one makes more sense for your style and the type of bait you'll be casting. Mounting from the bow means you'll be casting up stream. Mounting from the stern will result in a downstream cast.

Mounting Plates and Modifying Your Boat
Some anchors require a mounting plate to be added to the boat. While it's not always necessary, mounting plates can add security and ease of use in some cases.
If modification is necessary and you're not comfortable with the work, consider taking your boat to an outfitter for the work. Anchor trolleys are one such addition that may require modification or alterations to your boat.
These accessories allow you to easily change the mounting location of your anchor on the fly. Most installations are simple and should be easy for DIY type people.

Drift Chutes
Among other interesting alternatives to anchors are the drift chutes. These deployable bags come in varying sizes and are used to slow down the movement of the kayak.
Where anchors should be used to stop the boat altogether, a drift chute simply slows the kayak by catching water and adding drag.
Drift chutes around 30" should be enough for most kayak purposes. Larger chutes will add additional drag and smaller chutes will speed up your drift.
Anchor Rode and Scope
Using a drag anchor effectively doesn't mean having a heavy weight attached to the boat as we said earlier. But even with the right type of anchor, having too short of a rope or chain can render the anchor useless.
Before heading out with your boat make sure to check the expected depth in the area you'll be fishing. Anchor chains and ropes need to be about 7 times longer than the depth of the water where you'll be fishing.
Why? Because once the anchor hits bottom it needs to lay away from the boat to be tipped over on its side. This allows the wings of the anchor to dig into the bottom.
Anchors with short ropes will simply drag along the bottom, never setting and frustrating you in the process!
Make sure you have between 7-10 times more rope than the depth of the water.

Conclusion
'Because good anchors go hand in hand with good trolley systems, you'll find both on our list. Make sure you find the anchor and trolley that work best for you and install them both correctly.
When replacing rope, double and triple check the rope and knots to be sure you won't leave it on the bottom!
All of the anchors on our list have pros and cons. It's up to you to choose which anchor fits your needs the best. Many of them will need to be updated to your preference and longer ropes never hurt.
Learning how to properly deploy and retrieve your anchor is another integral part of happily fishing from your kayak that you'll want to master before getting frustrated with your anchor. Happy fishing and may the best anchor win!
---
I hope this guide was helpful for finding the best kayak anchor to fit your needs. If you want to comment or recommend an anchor or kayak trolley I didn't include, please use my contact form to get in touch.
Have fun and enjoy your time on the water.
How We Researched
To come up with the top kayak anchors, we researched a variety of sources for reviews such as REI, Dicks Sporting Goods, Cabelas and Backcountry along with our own personal experience.
We also consulted online magazines for product research and reviews to get as much unbiased information as we could. To help weed out fake reviews we used Fakespot.com to make sure we only looked at genuine reviews.
With so much quality gear available, we had to narrow it down based on what we felt were the best options for the price. The author, Casey Fiedler has been an avid kayaker and leads kayak camping trips during the summer months in his native state of Michigan.
To help narrow down the selection he used his personal experience along with recommendations from kayak tour guides and rental shops.
After extensive research, we came up with our list to help you choose the right one for you.
Sources
Notice:
OutsidePursuits.com is a participant in the Amazon Services LLC Associates Program, an affiliate advertising program. OutsidePursuits.com earns fees from products sold through qualifying purchases by linking to Amazon.com. Amazon offers a commission on products sold through their affiliate links.