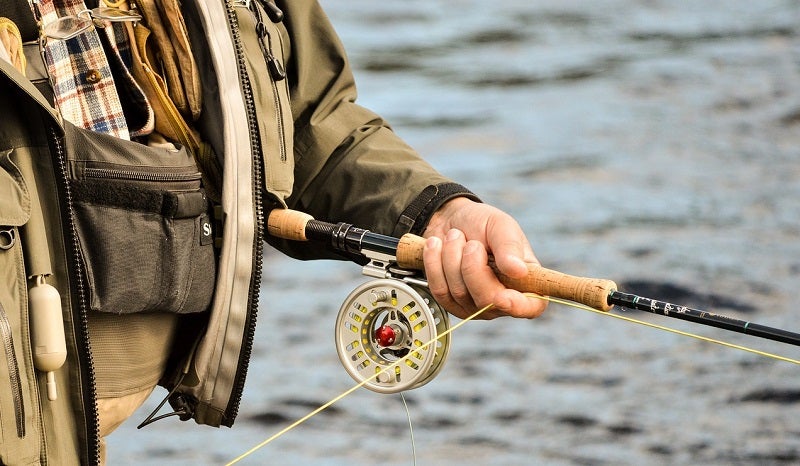 Our Editors independently research, test, and rate what we feel are the best products. We use affiliate links and may receive a small commission on purchases.
When it's time to hit the water it's easy to pack all your rods, bait, and tools in to the ol' bass boat and zip across the bay.
But…
When you're heading in to your favorite hidden stream for a few casts of the fly rod, things are a bit more tricky.
You will need the best fishing vest to carry all your tools, gear, some snacks, tons of flies, and all the accompanying gear.
While fly fishing vests are one popular solution, but they're not the only one. Many anglers prefer a fishing sling pack or a waist pack for many reasons.
Best Fishing Vests
| | Maxcatch Fly Fishing Vest Pack | Piscifun Fly Fishing Hip Tackle Bag | Allen Cedar Creek Fishing Sling Pack |
| --- | --- | --- | --- |
| | | | |
| | | | |
| Style: | Vest | Hip Pack | Sling Pack |
| Features: | Several sturdy, zippered compartments, two shell pockets and a rod holder | Large main compartment , 4 additional packets plus a water bottle pocket | Large main compartment, front pouch with tippet tender and fly patch plus a water bottle pocket |
| Rating: | 4.4 / 5.0 | 4.8 / 5.0 | 4.4 / 5.0 |
| | | | |
For more of my fishing gear recommendations, have a look through these popular Outside Pursuits guide links: Fly Reels, Fly Rods, Waders, Wading Boots.
Quick Answer: The Best Fly Fishing Vests & Packs
Our guide of the top rated fishing vests and packs will help you choose the right one for you.
---
Fly Fishing Vest Reviews
Now let's take a look at the top rated fly fishing vest and packs, there's no reason you can't use more than one at a time to keep yourself organized. First up are the vests!
---
Fishing Vests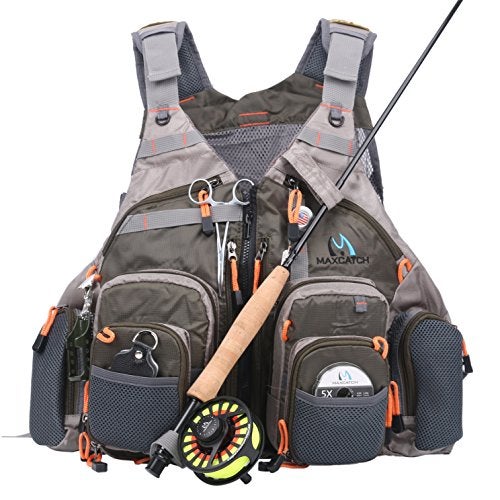 Maxcatch Fly Fishing Vest Pack at a Glance
:
---
Mesh back panel
Tons of gear storage pockets
Lightweight –

24.5oz

Fully adjustable
Let's get things started off right with a full size, full featured fly fishing vest that has just about everything. If you're looking to store enough gear to make everyone on the river jealous, look no further.
This fly fishing vest is on the extreme end of gear storage. For those who want to be able to carry everything with them on the river, the Maxcatch vest won't let you down.
There are two shell pockets with fly patches plus two smaller piggyback pockets. On top of that there are several expandable mesh pockets and zippered pockets hidden all over the place.
The largest single pocket is on the back of the vest where you can dump large items you won't need as often.
I personally like the addition of the rod holder which frees up your hands. The main issue there is that it puts the tip of the rod so far above your head it's likely to get tangled with branches.
While it's not as light as a fully mesh vest, the mesh back panel does help keep things cool. This vest is definitely for those who want to be able to haul a load of gear comfortably all day long.
The vest itself however is over a pound and a half by itself so it's in no way ultralight.
Best For: Anglers who need tons of storage space and want the best fly fishing vest!

---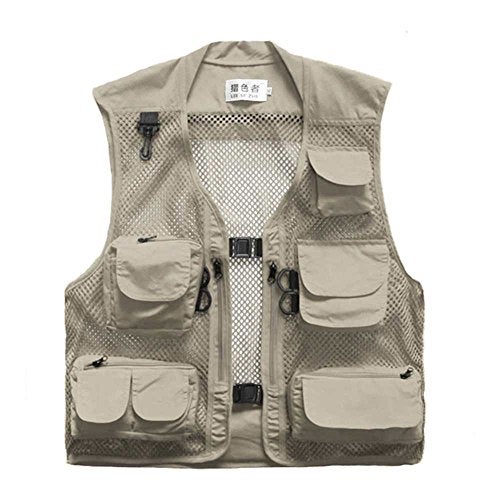 Men Mesh Breathable Multi-Pocket Fishing Vest at a Glance
:
---
Fully mesh vest
6 Sizes available
Minimal number of pockets and features
Hidden internal pockets
While some users ding this vest for running small, (order two sizes up) it's a lightweight mesh vest that's got just enough to get you in the water.
Unlike the Maxcatch it's not meant to take the kitchen sink with you, but it will get you on the water and keep you cool.
Let's be clear – this vest is a multipurpose vest. It doesn't have a rod holder but it does have most everything you need to get in the water while staying light, fast, and cool.
So why is it on the list? Because the entire vest is mesh. The scattered pockets are plenty ample to hold accessories and tools.
Plus, there are several D rings ready to clip on your fly box or other goodies if you can't fit them in the vest.
When paired with a waist pack, this vest makes a lightweight, breathable companion that allows you to spread your gear out and organize it how you want. Plus, the affordable price is pretty hard to ignore.
Best For: The minimalist needs and staying cool on hot days at a great price.

---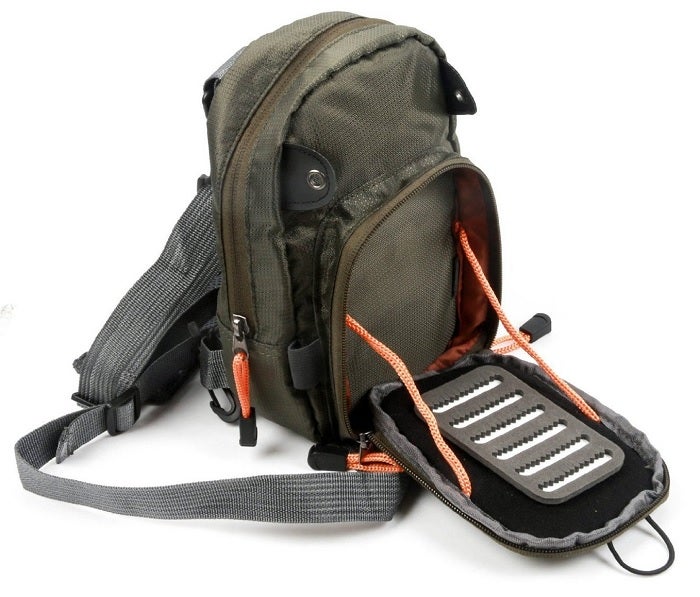 Umpqua Rock Creek ZS Chest Pack at a Glance
:
---
Small size with just enough storage
Minimalist design keeps you cool
3 pouches and 2 clip points
While it's not a true fly fishing vest, the Umpqua chest pack belongs in the vest category.
It's a smaller take on the vest that puts everything you need right in front of you while making sure you stay lightweight and cool.
Honestly this little chest pack has just about everything on it that I like in a pack. There's an integrated zip down fly bench that's easy to access and keep just enough flies for a short trip.
The large zippered main pocket has room for a fly box or two as well.
On the outside of the pack there are two clip points for carabiners or anything else you want to clip on. These are perfect for clippers and accessories.
Plus there's the mandatory hemostat loop ready and waiting for action.
The pouch attaches with a padded neck strap and a waist strap. There's nothing jostling or moving around and throwing you off balance as you move around the river.
Best For: A lightweight, custom tailored setup that's got just what you need and nothing more.

---
Best Fishing Hip Packs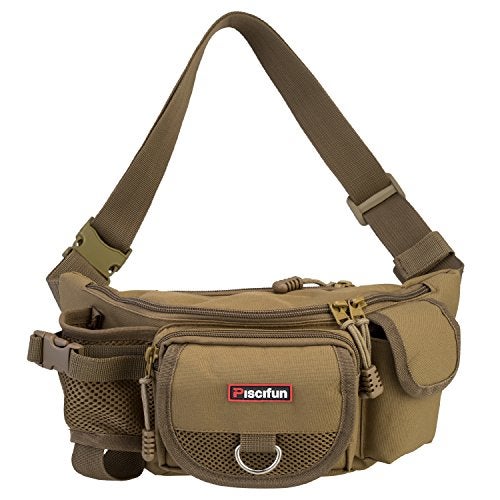 Piscifun Fly Fishing Waist Tackle Bag at a Glance
:
---
5 Outer pockets
Integrated drink holder
Zippered main pocket
Weighs only

11.4oz

4 additional accessory pockets
Whether you're looking for a waist pack to pair with a vest or us on its own, the Piscifun pack is a solid choice. This pack has a couple of fun features that you won't find on many fly fishing waist packs.
Probably the best feature of this fly fishing waist pack is the awesome drink holder. It's located right on the front and has a mesh body with elastic.
Plus there's an adjustable cinch strap that holds the drink in securely so it doesn't fall into the river when you bend over.
While you won't be able to hold as much gear as a fly fishing vest, there's a generous main pocket. This zippered pocket has plenty of room for fly boxes and additional gear.
On top of that there are 4 more pockets scattered around the pouch that can help you stay organized.
The zippered pocket at the back of the pouch is a good spot for your fishing license to keep it separate and safe.
While there isn't a hemostat loop, there is a main metal D ring in the front where you can clip on gear like that. I prefer that over loops anyways because if you drop the pliers they won't disappear into the water.
Best For: Anglers who want to enjoy a cold beverage while you land a fish or two with the best fly fishing waist pack.

---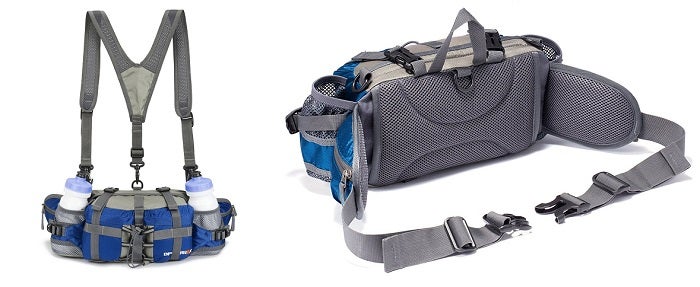 Bp Vision Fishing Waist Bag at a Glance
:
---
Two extremely large storage pockets
3 ways to carry: waist pack, shoulder strap, backpack

Double drink holders
Padded hip belt
If you need all of the space to store gear but don't want to move up to a sling pack, it won't get much larger than the Bp Vision pack. This waist pack is made to haul a serious load and users love it's total capacity.
If you don't mind having a large waist pack or you need the extra storage but don't want a bigger pack, this might be the one for you.
I'm a huge fan of the large double storage pockets. They can hold some small organizers or fly boxes without a problem.
Plus there's a shock cord loop right down the middle of the pouch. This is the perfect place to put bulky gear or extra layers of clothes you don't want to wear.
Did I mention that there are two drink holders?
The pouch has several webbing loops sewn on across the front. These can be places to clip gear or stash your pliers and hemostats. Really the options are nearly limitless and you can make it all up as you go.
Best For: Anglers who want tons of refreshment and storage space for gear in a waist pack.

---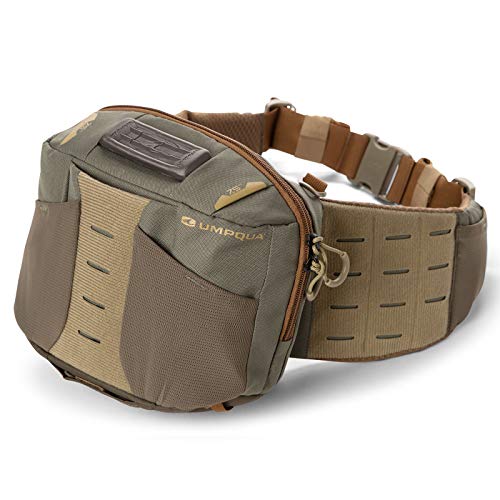 Umpqua Ledges 650 ZS Fly Fishing Waist Pack at a Glance
:
---
Waterproof pocket
2 drink holders for cold beverages
Two waist belt pockets
7+ total pockets for organization
This padded waist pack has tons of options and might be the best single option for fly fishers. Almost every features is custom tailored to make the fly fishing experience that much better.
Oh, it also happens to have 2 drink holders
While it's not quite as big overall as the Yuoto, it's definitely large enough to handle whatever you can throw at it. On the back there are two large exterior pockets and a single main compartment.
You'll be able to easily fit fly boxes in the main compartment.
I like that they made sure to keep the D rings for nets, pliers, and clippers. It's always worth keeping around a couple D rings.
Plus the two drink holders feature a compression strap at the top so you can collapse them altogether when you don't have anything in the pockets.
I'm a fan of the two earthen color choices, brown and grey. No need to be flashy on the river anyways. Probably my favorite feature, however, is the removable shoulder strap to help take some weight off the pack.
Best For: Anglers who want to carry larger amounts of fishing gear in a concise, organized pack.

---
Best Fishing Sling Packs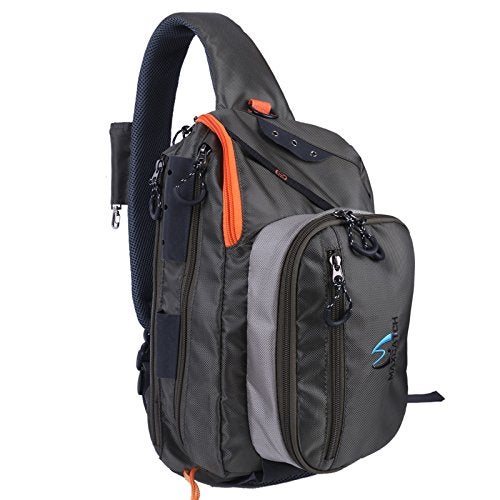 Maxcatch Fly Fishing Sling Pack at a Glance
:
---
Zippered fold out fly table
Tons of clips and loops
Loads of storage space
While some sling packs are smaller or lighter than vests, the Maxcatch takes it up a notch.
Somewhere between a fly fishing backpack and a sling pack, this bag has room for the kitchen sink. There are tons of awesome features that make it totally worth it, though.
Without a doubt this pack earns the award for the biggest single fly fishing pack on our list.
The large padded shoulder strap helps distribute the weight, but honestly you'll have to be careful not to overpack. There's nothing worse than a neck ache from a heavy pack.
With several zippered pockets there's enough storage room for many large fly boxes. I love the zip out fly table, but you'll have to be wearing the bag on your front to use it properly.
At the top and along the sides are clips and loops for gear. There are three clips for carabiners and retractable clippers. Plus at least two separate loops for hemostats and pliers.
There's actually more space in this sling pack than is really necessary for most trips so be sure to think twice before you just fill it up. All that extra gear makes a mess and gets heavy quick!
Best For: For longer trips where tons of gear is necessary.

---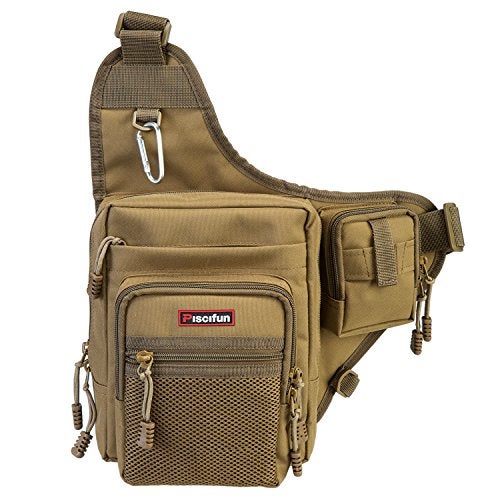 Piscifun Shoulder Bag Fly Fishing Tackle Bag at a Glance
:
---
Left / right adjustable & detachable shoulder straps

Moderate size sling pack
Several D ring attachments
Padded neck strap
It's hard to find that perfect size sling pack that can handle what you need but won't be too small.
Honestly I think the Piscifun sling bag might just fill that niche perfectly. There are several dedicated pockets for just what fly fishing requires.
While it's a minor thing, I would have liked to see them include a few webbing loops for plier storage. However, there are a couple D rings that can suffice as long as you don't mind putting your hemostats on a retainer.
One thing you'll find with this pack that you won't find on other packs we've reviewed is several color options.
Most packs have just one color but this one you can rock in 5 colors which is a sweet feature to make it a little more yours.
There are 4 compartments each with several dividers and organizers. The main pouch is by far the largest and most customizable, other pouches are quite restrictive and won't hold much.
However, there's enough room for a fly box and a few accessories and the pack won't weigh you down.
Best For: A moderate sized sling pack with scattered pockets and pouches.

---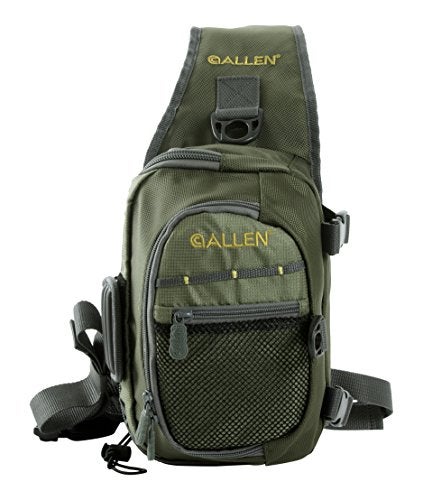 Allen Cedar Creek Fishing Sling Pack at a Glance
:
---
2 main compartments

Water bottle pocket

Fly patch
Zip down table compartment in front
Want to keep things minimalist while still having enough room for a handful of small fly boxes, a drink, and a few accessories?
Sure, you won't have room for the kitchen sink like you might with the Maxcatch, but who needs a backpack anyways?
I'm always a fan of the zip down work tables and fly patches honestly. I think they're both great features that make it easier and quicker to work in the field but somehow not all packs have them.
Thankfully this sling pack has both as well as an integrate tippet tender which keeps your tippet organized.
The main compartment of this pack has enough room for a handful of fly boxes or even a small utility organizer for tackle. Like many of the smaller packs on our list there's also a water bottle holder if you want to utilize it.
Of course there are also external D rings for clipping on to. There are two D rings and a few small webbing loops that make perfect places to clip carabiners or stash your pliers and hemostats.
Overall I think this pack might be the best fly fishing sling pack on our list for size, utility, and value.
Best For: Taking everything you need and staying organized in a small sling pack size.

---
How to Choose the Best Fly Fishing Vest – Buyers Guide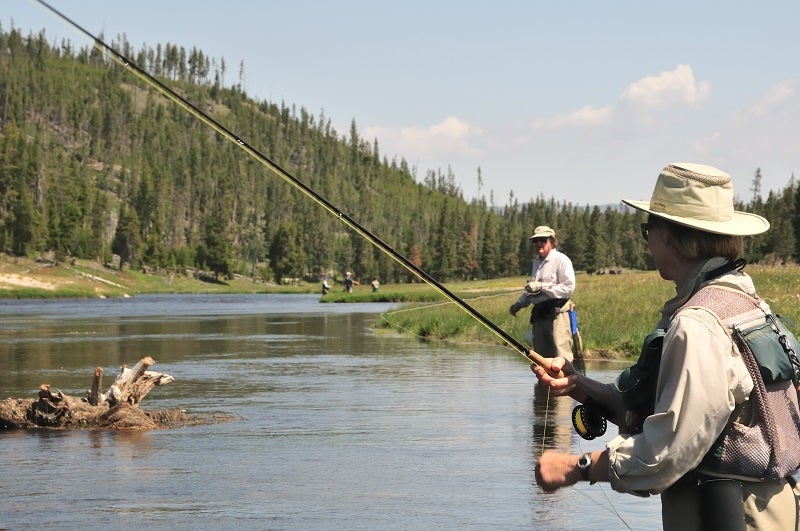 Now we'll talk about the details you need to know in order to pick out the right fly fishing vests and packs for your needs. Remember you don't have to choose just one to stay organized!

Vest Materials
Alright let's get right into it. There are two material choices for most fly fishing vests. Essentially you get to pick either mesh, or traditional fabric.
Mesh
While it looks like fishnet from the 70's, is incredibly breathable and cool for hot summer days compared to fabric. Vests are hot, and can become heavy.
When you make a fly fishing vest out of mesh at least the spaces between pockets are allowed to breath and that goes a long way in keeping you more comfortable.
Polyester
This is a common fabric might be a bit more warm, but usually not by much. When presented the choice I'd go with mesh for the breathability.
Fabric can add an extra layer of warmth on those cool spring and fall days when the breeze cuts to the bone. Of course, you can always just add another layer under a mesh vest to make up for those cooler days.
Overall a mesh fly fishing vest probably has the most utility value and makes the most sense, but it's up to you to decide.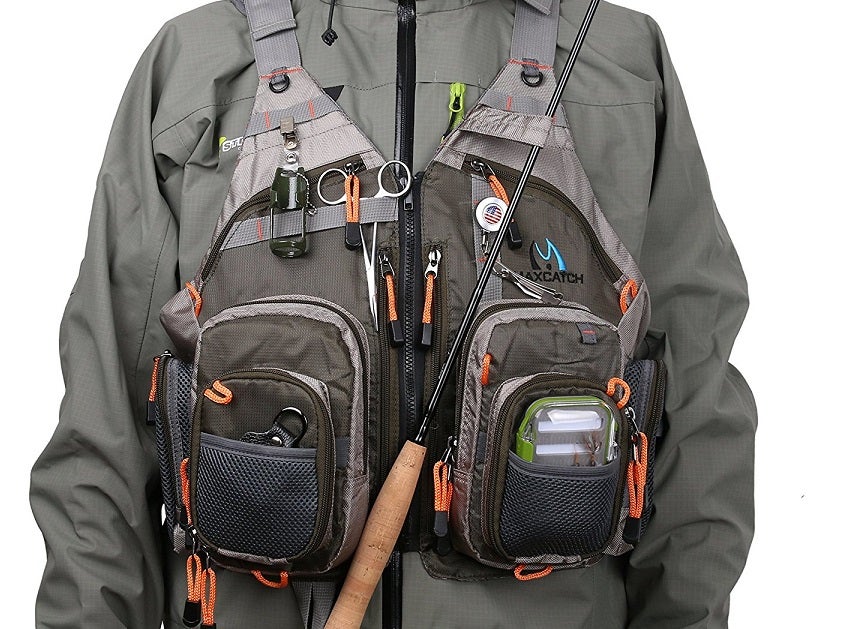 How Many Pockets?
The whole point of a fly fishing vest is to have room for storage, right? Essentially, yes that's the case. However, there is such a thing as too much of a good thing.
I have always been frustrated with backpacks, sacks, vest, and bags that go overboard on pockets. School backpacks and totes seem to be this way, too.
There are pockets within pockets and those pockets contain dividers and organizers. Who uses all of those!?!
When it comes to pockets and organization, keeping things simple is always better. You don't want to have to fumble around unzipping three different pockets to try to remember where you stored the tippet.
Be careful of any fly fishing vest or pack that makes its claim based on the number of pockets and dividers. It is possible to go overboard.
To solve this problem, think about your gear and what you carry on a typical day. How many and why type of pockets will you need for these?
Then select a vest or pack that has about that many organizers and don't go for more than you need.
Many anglers can get away with just a waist pack for a light day of fishing. Keep it simple and enjoy a more streamlined experience getting to the water and in the water. If you need the extra gear, you can always bring a tackle box.

Accessory Clips
Known to many as the infamous "D-ring" these little guys show up on nearly every piece of gear. From tactical clothing to backpacks and fishing equipment, the D ring has made an appearance.
So what's up with the D ring?
It's a great place to attach removable objects. In the case of fishing, a retractable set of clippers is a perfect companion for any D ring.
There's a problem with D rings, though. Vest and pack manufacturers seem to think that adding tons of D rings makes things better. In reality, it just makes your gear cluttered with unused hooks for stuff you don't have.
So when you go to make your final decision on your vest or pack, consider how many D rings are on it and where they're located.
Chances are you'll want one on the front, up high where you can put your clippers. You might want one for a set of hemostats.
But how many other D rings do you need?
Take inventory before buying so you don't end up decorated in unused D rings or wind up short, wishing you had somewhere to clip your gear.

Which is Better: Sling Packs, Waist Packs or Vests?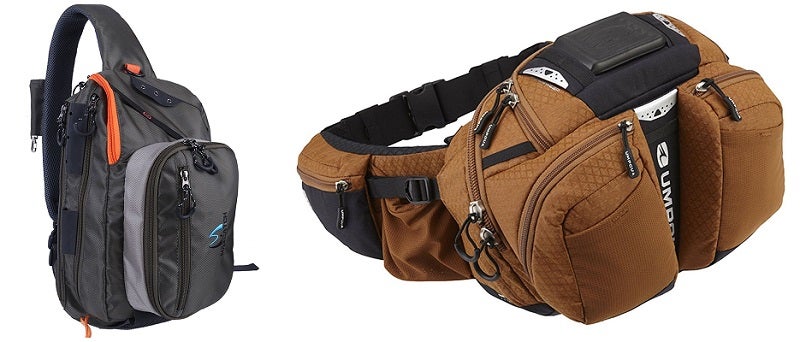 So the whole fanny pack fashion argument aside, what are the merits of sling packs and waist packs?
Well, there's a reason to try one of each so let's take a look and help you decide which one is best for your needs.
Waist Packs
In my opinion, are the best option for going light and cool. During hot summer days when you want to keep things relaxed, a waist pack minimizes extra layers heating you up.
It's small and only a thin strap connects around your waist, so it won't overheat you like a vest.
Sling Packs / Bags
Also quite minimal, but they go up over your chest, over the shoulder, and across your back. This isn't as bad as a vest for hot days, but it still makes all your clothes stick to you when you start getting sweaty.
Both sling packs and waist packs are going to be less invasive than a vest. However, they lack the robust storage of a vest.
Sling packs are usually the second largest fly fishing storage units. The sling helps distribute the weight and the packs are usually larger than waist packs. If you can't fit your gear into a waist pack, but don't want to go up to a vest – try a sling.
Waist packs are usually the smallest. Often anglers will use these packs in conjunction with other types of storage. They're ideal for hot days and lightweight gear loads like sunglasses, extra line and flys.
You can fit enough in a waist pack to get by if you're practiced and careful.
Try leaving extra gear on the bank of the river while you take just a waist pack with you. This way you'll have all the extra heavy and bulky gear you need nearby without having to directly lug it into the water with you.
Vests
Probably the most common method of carrying your gear and will give you the most options and storage of the three. As we discussed also more uncomfortable on a hot summer day. This is why have a mesh backing is important to allow you to stay cool.
Water Resistance
Since most of the equipment you will be using is designed to get wet, water resistance for your gear is not critical. When you are fishing from a boat your needs will be somewhat different than if you are fishing from shore.
Most of the vests and packs on our list have at least one pocket that is fully waterproof to protect any electronics like your phone or a fishing license.
Durability
A fishing vest, pack or sling bag is going to be subject to elements not to mention being tossed in the back of your truck or car.
Most vest or packs will be made from polyester or nylon. Of the two polyesters is less durable but is also more flexible. Nylon is extremely tough and durable and is usually water-resistant.
One way to gauge the durability of the vest is by looking at the warranty offered. Many of the vests on our list have lifetime warranties by respectable manufactures so know that you will be able to use your vest for a long time.
Comfort
This is of course subjective in what works best for you. Whether it be a vest, a sling bag or waist pack. Which one you want to use will be determined by the quantity of gear you will be bringing and how you want to wear your gear.
If you go with a vest, look for padded shoulders and a mesh back for ventilation. This is especially important during the warm summer months.
A waist pack or sling pack will not allow you to carry as much gear but offers more freedom of movement for casting and reeling in a fish.
If you are kayak fishing this will be even more important to consider because an uncomfortable vest will make paddling uncomfortable.
Final Thoughts
There's something on our list for every fly fisher needing organization and storage. It's always hard to decide exactly what and how much you want to carry on the water with you.
That's why we made sure to include several picks of each type from vests to waist packs and sling packs.
Throughout your time as an angler, you'll probably end up with more than one type of pack. That's not a bad thing either, because often you can combine a vest and a pack for greater overall utility value anyways.
So, don't be frustrated if you find yourself needing more than one type.
When it's time to make a decision, be sure to revisit the "how to choose" section for advice on what features to look for and how to pick them. There are tons of features and each angler has their own preference.
From general packs to fly fishing-specific accessories, make sure to find those features that work best for you.
How We Researched
To come up with the top fishing vests we researched a variety of sources for reviews such as REI, Dicks Sporting Goods and Bass Pro Shops along with our own personal experience.
We also consulted online magazines for product research and reviews to get as much unbiased information as we could. To help weed out fake reviews we used Fakespot.com to make sure we only looked at genuine reviews.
With so much quality gear available, we had to narrow it down based on what we felt were the best options for the price. The author, Casey Fiedler has been an avid fisherman for decades and leads fishing trips into the backcountry.
To help narrow down the selection our authors used their personal experience along with recommendations from charter captains and tour guides.
After extensive research, we came up with our list to help you choose the right one for you.
Sources
---
I hope this guide was helpful for finding a good fly fishing vest & pack to fit your needs. If you want to comment or recommend a vest I didn't include, please use my contact form to get in touch.
Have fun and good luck!
Notice:
OutsidePursuits.com is a participant in the Amazon Services LLC Associates Program, an affiliate advertising program. OutsidePursuits.com earns fees from products sold through qualifying purchases by linking to Amazon.com. Amazon offers a commission on products sold through their affiliate links.