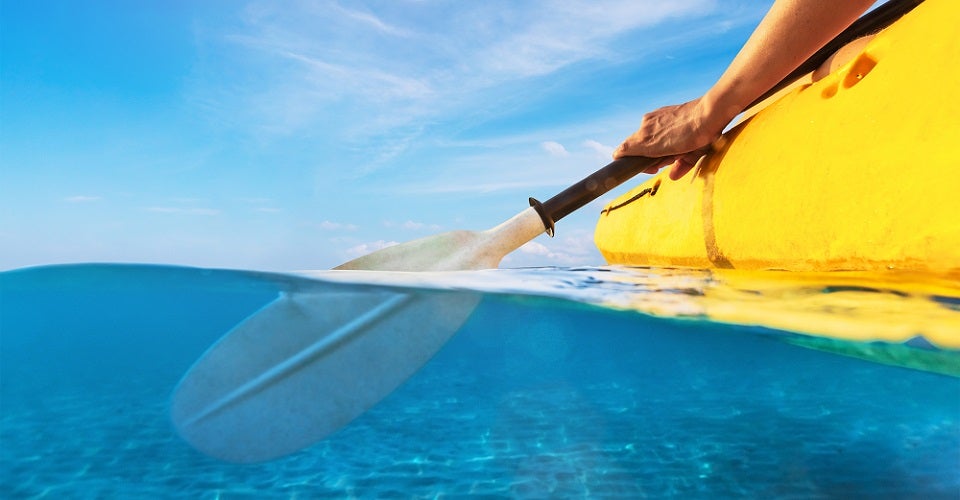 Our Editors independently research, test, and rate what we feel are the best products. We use affiliate links and may receive a small commission on purchases.
Finding the best kayak paddle for your paddling style is almost as important as finding the right kayak.
If you pick a paddle that is not the right length, uncomfortable to hold or too heavy, you will have a difficult time maneuvering your kayak.
There are several considerations when selecting your kayak paddle. To help with your decision we created this guide on how to choose a kayak paddle and evaluated the most popular paddles and give you our top picks.
You may want to consider a pair of paddling gloves, which will help prevent soreness and calluses. See our sizing guide for paddles if you're unsure which size paddle to get.
Best Kayak Paddles
Bending Branches Angler Classic
Werner Camano Premium Paddle
OCEANBROAD Carbon Shaft Kayak Paddle
Construction:
Fiberglass shaft / glass reinforced nylon blade
Carbon fiber shaft / fiberglass laminate blade
Carbon Fiber shaft / fiberglass-reinforced blade
Design
2-Piece
2-Piece
2 piece
Length:
86" / 220cm to
105" / 260cm
86" / 220cm to
105" / 260cm
90" / 230cm

Weight:
34 oz
27.5 oz.
33 oz
For more of my kayak gear recommendations, have a look through these popular Outside Pursuits guide links: Inflatable Kayaks, Recreational Kayaks, Life Jackets.
Quick Answer: The Best Kayak Paddles
Our reviews of the top rated kayak paddles with our comparison table and buyers guide will help you choose the right paddle.
---
Kayak Paddle Reviews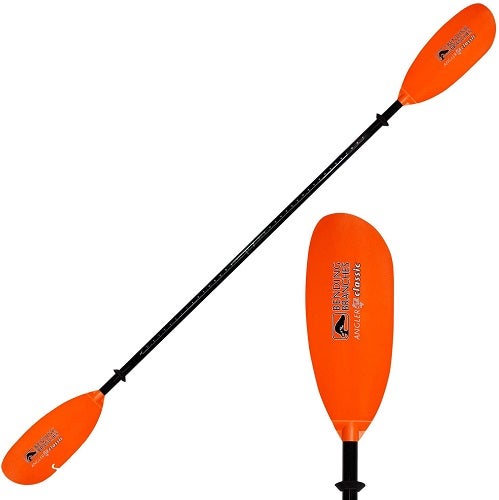 Bending Branches Angler Classic Kayak Paddle at a Glance
:
---
Shaft: Carbon fiber
Blade:

Fiberglass-reinforced

Design: 2-Piece
Lengths: 220cm to 260cm
Weight: 27.5 oz
Bending Branches was started in 1982 and have over 35 years experience making composite paddles. To this day they still make their paddles in Wisconsin to have full control over product quality.
The Angler classic continues Bending Branches tradition of quality products and the Classic does not disappoint. It has a carbon fiber shaft for strength and durability with nylon blades with fiberglass reinforcement.
One of its best features is the 3 button snap ferrule that allows you to adjust the feathering angle between 0 and 60 degrees.
There is also an upgrade to a ferrule with unlimited adjustment angles plus it allows you to adjust the paddle length.
This is a worthwhile upgrade if you plan on using the paddle with multiple kayaks or more than one person will be using the paddle.
The Classic is available in lengths from 220cm to 260cm, so there should be one that meets your needs.
Video: Overview of the Bending Branches Angler Classic.
The Angler series of paddles from Bending Branches
The Bending Branches had the angler in mind when creating the Classic. The blade has a hook retrieval system on it plus a measuring tape on the shaft to check your catch and see if its legal. If you plan on fishing you will definitely appreciate these features.
For paddlers interested in extra visibility, one of the available paddle colors is orange along with the classic green.
While you don't have to be a fisherman to enjoy this paddle, in my opinion this is the best kayak paddle for fishing.
---

Werner Camano Straight Kayak Paddle at a Glance
:
---
Shaft:

Carbon blend

Blade:

Fiberglass

Design: 2-Piece
Lengths: 220cm to 260cm
Weight: 24.5 oz
The Werner Camano paddle is a high-end paddle that features a carbon fiber shaft for the ultimate in strength and making it a very lightweight kayak paddle.
It is incredibly durable that will stand up the harshest of abuse. The blades are of an advanced design that are made of impact resistant glass and nylon for durability and efficient paddling.
The dihedral shape of the paddle gives you smooth and stable paddling, especially important for long distance paddling.
The Camano is available in a wide range of bright colors, to not only suite your style but enhances safety with increased visibility to power boats.
Werner Paddles Camano Premium Touring Paddle
For those kayakers who are willing to spend a little more money, the Werner Camano is the best carbon fiber kayak paddle.

View at BackCountry View at Amazon
---

Wilderness Systems Pungo Kayak Paddle at a Glance
:
---
Shaft: Carbon Fiber
Blade: Carbon Fiber & Fiberglass available

Design: 2-Piece
Lengths: Adjustable from 220cm to 240cm
Weight: 25 oz
The Wilderness Systems Pungo is probably the perfect carbon fiber kayak paddle. It features an 3K carbon weave shaft that is extremely lightweight and durable.
Coupled with a foam core, carbon fiber blade and you have a paddle that is excellent for all day touring or a recreational kayaker for wants less fatigue.
The shaft has adjustable ferrule that will allow any blade feathering angle so you can get the perfect stroke and makes it easily shared between paddlers.
It features a two-piece design that adjusts in length between 220 and 240cm so it will work for almost any size kayak, or paddler height.
The shafts have heavy-duty drip rings to keep the water from running down the shaft to keep your hands dry.  They are also made in the USA, so you know you are getting a quality paddle that will last you a long time.
While not cheap, its by far the best kayak paddle for the money!

View at BackCountry View at Amazon
---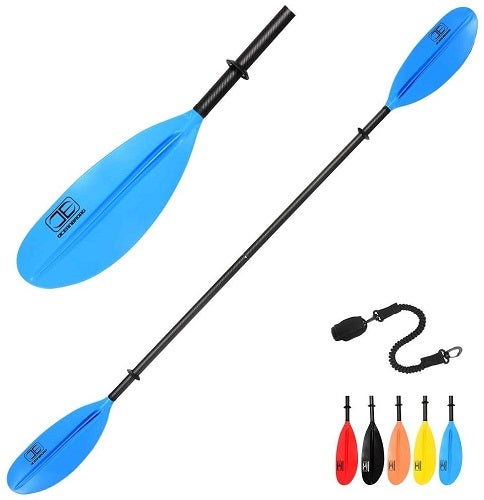 OCEANBROAD Carbon Shaft Kayak Paddle at a Glance
:
---
Shaft: Carbon Fiber

Blade:

Fiberglass reinforced PP

Design: 2-Piece
Lengths: 230 cm
Weight:

33

oz
The OCEANBROAD is on of our more inexpensive paddle recommendations. Just because it is inexpensive doesn't mean its not a great paddle.
It features a 2 piece, carbon fiber shaft that is both lightweight and strong with molded, fiberglass reinforced Polypropylene blades.
The grips are made of a comfortable foam that makes it a good choice for an all day paddle and comes in 4 bright colors.
The OCEANBROAD paddle comes with rubber drip guards to keep your hands dry and the blades can be adjusted to 3 different positions so that it will fit your paddling style.
With its bargain price and solid performance, the OCEANBROAD is the best kayak paddle for beginners. It is a good entry level paddle that makes a great spare.

---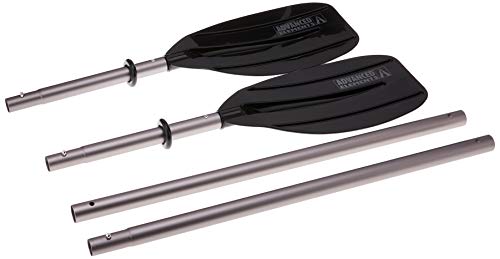 ADVANCED ELEMENTS Ultralite Pack Kayak Paddle at a Glance
:
---
Shaft: Aluminum
Blade:

Glass filled Nylon

Design: 4-Piece
Lengths: 224 cm
Weight: 23 oz
After using my Advanced Elements inflatable kayak for a while I wanted to upgrade to a better paddle and figured I would give their paddle a try.
This is a very lightweight paddle (2 Pounds) with an aircraft grade aluminum shaft and blades made from nylon that are reinforced with glass fibers.
This is paddle comes apart into 4 sections and packs down to 24 inches, for the ultimate in portability.
This makes a great complement to my inflatable kayak because it all fits easily in the trunk of my car.
The blades as you can see are Asymmetrical for more thrust at low paddle angles. The paddle is medium length of 88 inches or 224 cm, that's probably its only downside is that is available in only one size.
This should not be a problem unless you have a very wide kayak. I think the Advanced Elements is the best compact kayak paddle.

---

Carlisle Magic Plus Kayak Paddle at a Glance
:
---
Shaft:

Fiberglass

Blade: 

Glass-reinforced polypropylene

Design: 2-Piece
Lengths: 220cm to 240cm
Weight:

39.8

oz
The Magic Plus paddle is a solid choice for touring paddle. It has a durable, lightweight fiberglass shaft and polypropylene blades reinforced with glass fibers.
These blades are very tough and can take a beating from hitting rocks and other obstacles or pushing off when you get stuck.
The blades are offered in high visibility orange and blue giving you more visibility for added safety if you're around power boats.
It is offered in 3 lengths, 220, 230 and 240 cm and weighs in at only 2.5 pounds and comes apart into 2 pieces for portability.
The slight flex in the shaft makes it easier on your wrists while still giving you plenty of power in your stokes.
Carlisle makes quality water recreation gear and the Magic Plus is a good choice for a kayak paddle and in my opinion the best kayak paddle under $100.
View at Amazon

View at BackCountry
---

Aquabound Sting Ray Touring Kayak Paddle at a Glance
:
---
Shaft:

Carbon

Blade: 

Carbon-reinforced abXII Nylon

Design: 2-Piece
Lengths: 210cm to 250cm
Weight: 43 oz
When you're looking for a touring kayak paddle the Aqua Bound Sting Ray Carbon needs to be at the top of your list. The Sting Ray is an excellent touring paddle, it is lightweight and weighs only 28 ¾ ounces.
You will be hard pressed to find a lighter paddle at any price. Sting Ray achieves this with a 100% carbon fiber shaft coupled with an incredibly tough and durable carbon reinforced nylon resin blade.
The carbon fiber blade is stronger and stiffer than paddles that use fiberglass reinforced blades.
With the paddle being so lightweight, it makes paddling all day much less tiring. The Sting Ray Carbon is specifically designed for slow moving rivers or flat lakes, this is not a paddle you want to take white water rafting!
Video: Overview Aqua-Bound Sting Ray Paddle.
Sting Ray Series from Aqua-Bound
The patented Sting Ray Posi-Lok ferrule is also composite so it is corrosion resistant and offers infinite feathering angles. The Sting Ray Carbon comes in 5 lengths, from 210cm to 250cm and is a two piece design.
There is also a 4 piece Sting Ray, it costs a bit more but if you need a more compact paddle, this is a better option. All Aqua Bound paddles are made in their factory in Osceola, WI for quality control.
I think the Aqua-Bound Sting Ray is by far the best touring kayak paddle, highly recommended.

View at REI View at Amazon
---
Kayak Paddle Comparison
How to Choose a Kayak Paddle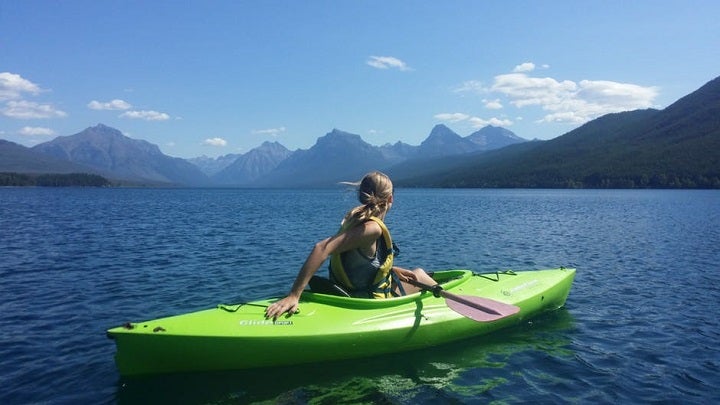 Paddle Length
Kayak paddles come in a variety lengths ranging from 210 centimeters to 260 centimeters. Finding the right length for you and your kayak depends on a multitude of factors including your height, paddling style, and the width and height of your kayak.
A general rule to consider is that the taller you are, the longer paddle a paddle you will need.

How Wide Is Your Your Kayak
Here is a quick reference with typical kayak widths:
Recreational Kayak: These kayaks are usually from 26″ to 30″ inches wide. They are normally short and wide.
Performance Kayak: Are typically from 19″ to 22″ inches wide. Performance kayaks are normally longer and narrower.
Whitewater Kayak: With a whitewater kayak the paddlers height is the most important factor.
Touring Kayak: A touring kayak have a width from 22″ to 25″ inches. Touring kayaks are similar to performance kayaks but with more storage capacity.
If you're a beginner recreational kayaker then the width of your kayak is the most important factor for selecting a paddle. If on the other hand you are into touring or sea kayaking, then your paddling style and physical fitness will be a more important factor in your decision.
A wider kayak will require a longer paddle. So measure your kayak's width at its widest point before buying a paddle.There is one other important factor we will cover next.

Your Torso Length And How Fit You Are
The length of your torso is another critical factor for choosing the correct paddle length. Here is a quick way to determine your torso length:
Sit up straight on a chair, then measure how far it is from the chair, starting between your legs to the tip of your nose. Then use this chart as a reference: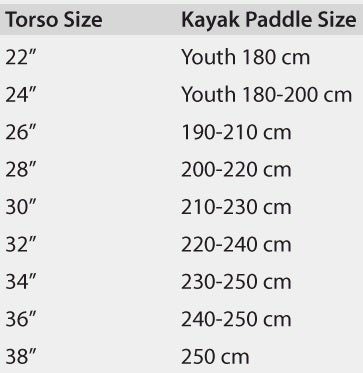 Your height, weight and fitness level is also an important consideration for choosing a paddle.
A more athletic kayaker will in general want a shorter paddle that has a wider blade for the extra power you get.
A heavier or taller kayaker will want a longer paddle that has a wide blade to provide a  slower efficient stroke.
A shorter or smaller kayaker or someone who is not concerned about speed should choose a smaller blade with less surface area.
In general if you want more power and speed get a paddle with a blade with a lot of surface area.
One last thing, if you have small hands, your better off with a paddle that has a thinner shaft.

Paddling Style
Paddle styles vary based on the type of kayaking. After determining what type of kayak adventure you are embarking on, you can easily determine which style is the best fit.
Low-angled paddles are excellent for leisure kayaking through calm waters. The horizontal thin blades are longer in length, offering more productivity and less fatigue for those intending to take long distance trips.
High-angled paddles are great for adventurous kayakers, taking on water that is more challenging and less predictable. The paddles are most useful in spots with quick flowing waters that require the kayaker to swiftly move through with moderate to strong force. Many people who choose to kayak for fitness prefer this type of paddle as well.

Blade Materials
There are three factors to consider in choosing paddle blade material including strength, weight, and affordability. Ideally you will find the right paddle for your needs, one that provides a perfect blend of these three features.

If you are looking for a colorful paddle blade falling within the medium price range, built for strength and semi-light weight, fiberglass paddles may be the best fit for you. This is typically the paddle of choice for recreational kayakers and tourist rentals.
This top of the line blade in extremely lightweight and built for power. Though it is the most costly of the blade materials, it is worth it for the serious kayaker or for someone taking a long trip.
Nylon, Plastic, or Aluminum
Though the paddles are considerably heavier than their counterparts, they are strong and inexpensive. Plus, they require little upkeep, thus are perfect for the recreational paddler or someone taking their first kayaking adventure.
Short video on choosing the correct paddle length:
How To Choose The Right Size Kayak Paddle
Blade Shape
In the past, symmetrical blades were the popular choice among kayakers; however, asymmetrical dihedral-designed blades are becoming a preferred design. The shape requires the paddler to exert less energy in comparison with the previous design. They resemble the wing of an aircraft, allowing water to effortless flow along each side of the blade.

Paddle Shaft
Finding the right shaft mostly comes down to determining what feels right. Both shafts are equal in quality though one or the other may be preferable depending on the type of kayaker.
The straight shaft is perfect for the advanced or more adventurous kayaker. It allows for more flexibility in maneuvering the paddle in various situations.
The bent shaft is ideal for beginner or leisurely paddlers. The angle in the shaft takes unpleasant pressure off the kayakers' wrists. More advanced paddlers can reduce the inflammation by adjusting their strokes, through practice.
Don't forget the Spare!
A wise man once said, "Be careful not to find yourself up the Creek without a paddle". This timeless advice applies to kayakers of all levels. Paddles break, float away, or get lost in ferocious current, etc.
Though no one thinks it will happen to them but, it is better to be safe than sorry! Carry a cheap paddle or even a portable fold up paddle, in case of emergency, so you will not be caught, "Up the creek without a paddle"!

FAQ For Kayak Paddles
Q: What size kayak paddle do I need?
A: There are several factors to determine the correct length paddle. The width of the kayak being the most important, then your height. Here is a rule of thumb chart to help you determine the correct paddle length:
Width of the Kayak:
Under 23″
24″ to 28″
29″-33″
34″+
Paddler Height:
Recommended Paddle Length
Under 5'5″:
210 cm
220 cm
230 cm
240 cm
Between 5'5″ – 5'11":
220 cm
230 cm
240 cm
250 cm
Over 6′:
220 cm
230 cm
250 cm
260 cm
Q: How do I hold a kayak paddle?
A: Sit all the way back in the kayak seat, hold the kayak paddle with your hands slightly wider than your shoulders, reach as far forward with the paddle and pull it back using your arms, shoulders and core. Repeat on the other side.
Q: How do you steer a kayak?
A: Use a wide sweeping motion with the paddle. As you do this you will notice the bow of the kayak turning away from the stroke. Continue until you are facing the direction you want.
---
I hope this guide was helpful for finding the best kayak paddle to fit your needs. If you want to comment or recommend a paddle I didn't include, please use my contact form to get in touch.
Have fun and stay safe!
Looking for a guide on how to buy a kayak? Here is our ultimate guide on finding the perfect kayak. I personally use an inflatable kayak, you can't beat them for portability, here is a buyers guide.
If you're new to kayaking, I created a beginners guide to kayaking covering all aspects of the sport.
How We Researched
To come up with the top kayak paddles, we researched a variety of sources for reviews such as REI, Dicks Sporting Goods, Cabelas, and Backcountry along with our own personal experience.
We also consulted online magazines for product research and reviews to get as much unbiased information as we could. To help weed out fake reviews we used Fakespot.com to make sure we only looked at genuine reviews.
With so much quality gear available, we had to narrow it down based on what we felt were the best options for the price. The author, Richard Remick, is an avid kayaker who lives by the water in Miami and loves to get out onto the water at every chance he gets.
To help narrow down the selection he used his personal experience along with recommendations from kayak tour guides and rental shops.
After extensive research, we came up with our list to help you choose the right one for you.
Notice:
OutsidePursuits.com is a participant in the Amazon Services LLC Associates Program, an affiliate advertising program. OutsidePursuits.com earns fees from products sold through qualifying purchases by linking to Amazon.com. Amazon offers a commission on products sold through their affiliate links.