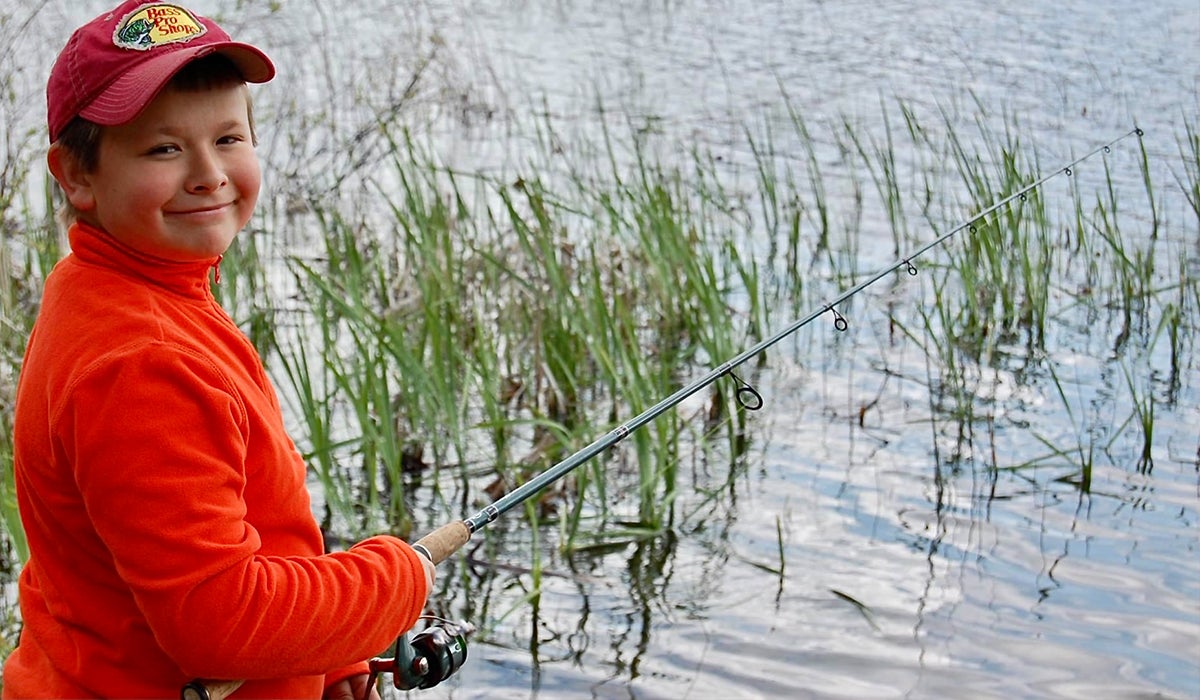 Our Editors independently research, test, and rate what we feel are the best products. We use affiliate links and may receive a small commission on purchases.
Story updated 02/25/2022                                                                     
I was fortunate growing up in that my family fished as often as possible. I started out using an old red fiberglass rod with a Zebco spincast reel atop it. Once I got to a point where I knew a thing or two, I graduated to a spinning reel and I was off to the races. Both of my own kids leapt right over my fishing reel story and started out with spinning reels. Part of why that worked for them was due to the fact that today's spinning reels are far better than most of the older designs I had available as a kid, with the exception of a couple of Mitchell reels, but that's another story. These days, I still spend a fair amount of time fishing. Of course, not I get to call it part of my job, but that's beside the point. I have used spinning reels that come right off the bargain rack, and reels that cost well into the hundreds of dollars. What I've learned is that the truth of the saying you get what you pay for is both true and false. There are some lower-priced spinning reels that perform very well, and some extremely expensive ones that won't help you any more than a reel that costs half as much. What makes for the best spinning reels available is a combination of things that include construction, number of ball bearings and value to you as the consumer.      
Cover photo by Derrek Sigler
Best Spinning Reels
| | PENN Spinfisher VI Spinning Reel | Shimano Stradic FL Spinning Reel | KastKing Valiant Eagle Spinning Reel |
| --- | --- | --- | --- |
| | | | |
| | | | |
| Weight: | 14.4 oz / 520g | 11.3 oz / 320g | 10.1 oz / 286.5g |
| Gear Ratio: | 6.2:1 (others avail) | 6.2:1 | 6.2:1 |
| Bearings: | 5 + 1 stainless steel | 6 + 1 stainless steel | 7 + 1 stainless steel |
| Max Drag: | 50 Pounds | 24 Pounds | 22 Pounds |
| | | | |
For more of my fishing gear recommendations, have a look through these popular Outside Pursuits guide links: Spinning Rods, Baitcasting Reels, Tackle Boxes.
Quick Answer: The 7 Best Rated Spinning Reels For 2021
Our guide and comparison table of the top rated spinning reels will help you choose the right one for you. Whether you're looking to choose your next spinning reel, or your first spinning reel, this is the place to be!
---
Spinning Reel Reviews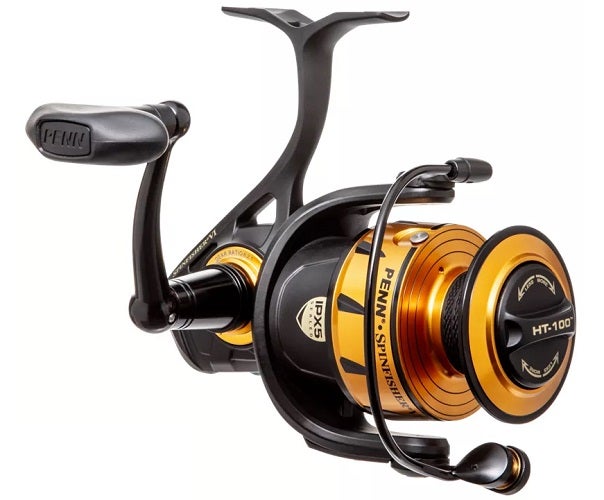 PENN Spinfisher VI at a Glance
:
---
Weight: 14.4 oz
Gear Ratio: 6.2:1 (4.2:1, 4.7:1, 5.6:1 avail)
Bearings: 5+1 shielded stainless steel
Line Capacity: Mono 390/4, 250/6, 210/8 (several sizes available)
Drag: 20 – 40 lbs
Penn's Spinfisher rocks a solid 5+1 bearing system which could really be more robust but for most fishermen you won't have a problem. I like the anodized aluminum spool and full metal body. Penn Reels are known for durability and that is the foremost thing on the mind of the design teams. It takes the top slot for this reason. It is the best reel action wise on this list? No. But are we pretty confident you'll still be using this reel many years down the road? Definitely.
While it won't be as light as a graphite reel, the added bulk isn't much and it'll stand up to just about any catch with ease. It features a sealed drag system which is a cool innovation that prevents corrosion and failure of the drag system over time due to water contamination.
This reel has Instant anti-reverse, which is basically a no-back-reeling feature that locks the handle every few degrees as you reel. Most anglers consider this a must-have.
PENN Spinfisher VI Spinning Reel Product Video
There are a handful of different variations on this model so when it comes to capacity, gear ratio, and technical specs specific to your needs, you'll be able to find the model for you. The PENN Spinfisher is one of the best freshwater spinning reels available. Just make sure to look for the model that really seals the deal for you!
---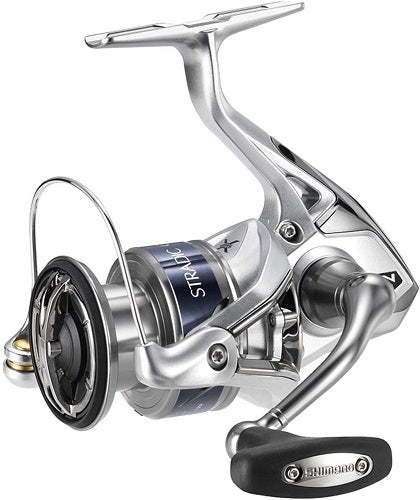 Shimano Stradic FL at a Glance
:
---
Weight: 8.3 oz
Gear Ratio: 6.0:1
Bearings: 6+1 shielded stainless steel
Line Capacity: Mono 200/6, 140/8, 120/10 (several sizes available)
Drag:

7 – 24 lbs
Shimano is another of the major-brand reels that you've likely heard of. Available in five models the Stradic spinning reel makes this list with reliability and smooth action. It has a drag range of 7-24 pounds of resistance, depending upon the model, so you can find just the right one for your main fishing needs.
Shimano has centered these reels around their X-Ship technology which is aimed at improving the durability and longevity of the internal drive system. It starts with improved reliability around the drive and pinion gear, creating lower friction and less warpage under load. This means a smooth and efficient retrieval whether you're landing a trophy fish or reeling in a little one that might even classify as bait.
The Stradic reel features Shimano's Hagane body which is a full metal body. Shimano opted for the heavier weight to give the reel the durability outside to match the durable, yet precise internals they developed for the reel.
A lighter weight body might reduce fatigue on the angler during casting, but when you're landing a large fish and body warp can cause severely increased reeling friction. No need to worry about that here. It all adds up to bring you one of the best spinning reels on the market under $200.
---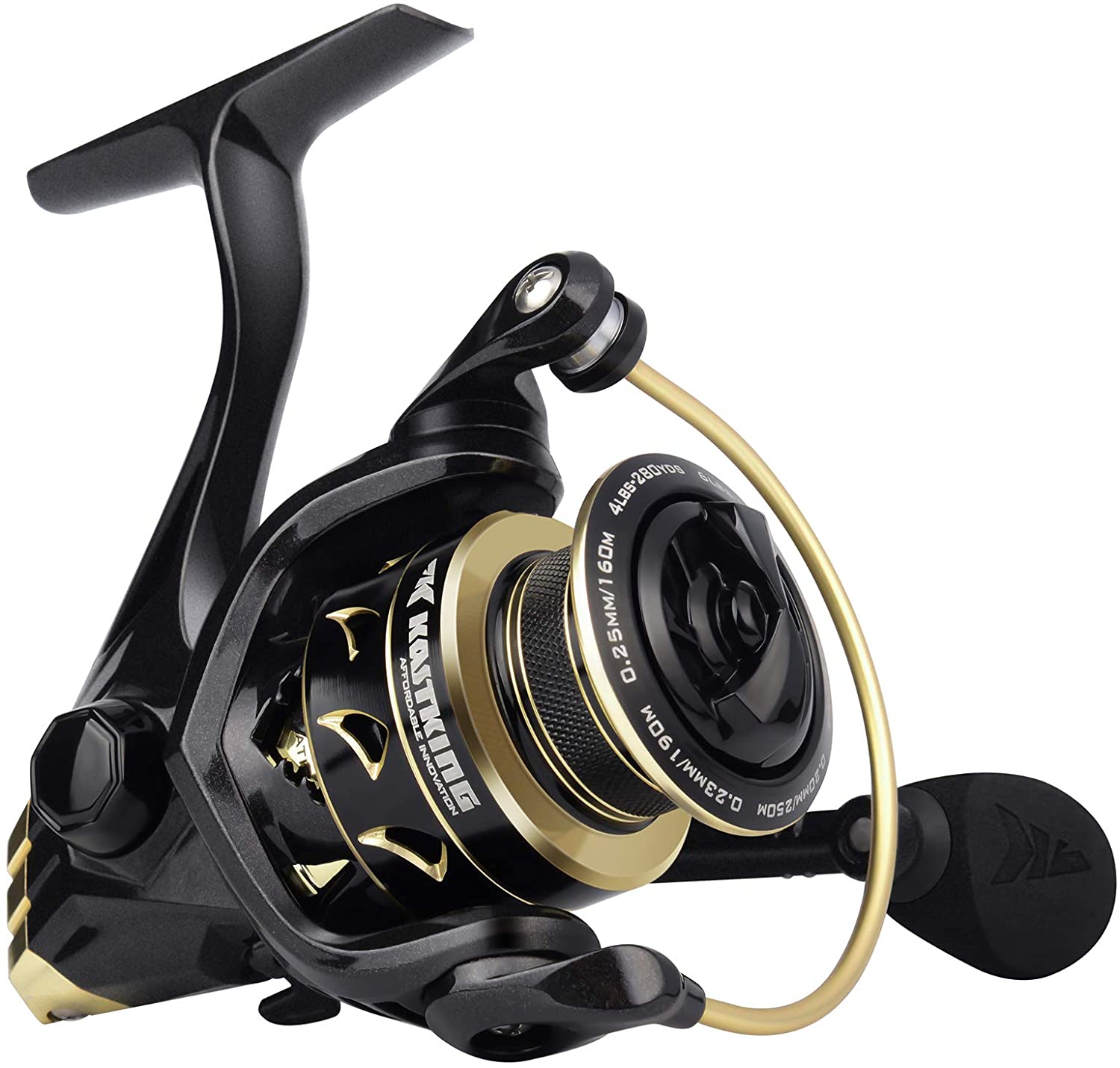 KastKing Valiant Eagle Spinning Reel at a Glance
:
---
Weight: 10.1 oz
Gear Ratio: 6.2:1
Bearings: 7+1 shielded stainless steel
Line Capacity: Mono 8/285, 20/300, 30/240 (several sizes available)
Drag: 22 lbs
If you haven't checked out a KastKing reel, then it's time you should. The Valiant Eagle is another solid aluminum reel with a machined spool that can handle some seriously big fish species. With a 7+1 bearing system and up to 22lbs of drag, you'll get a silky-smooth retrieve, a durable driveline and enough backbone to take on some of the larger, hard-fighting big-game fish species. They've aimed this reel directly at the saltwater crowd seeking serious power and control. Does that make it limited to saltwater fishing? Of course not. In fact, some catfish anglers tend to choose saltwater reels for taking on cats in turbid waters.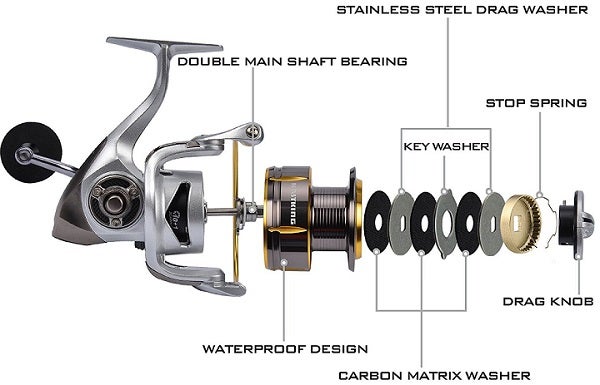 Brass pinion gears and shielded, stainless-steel ball bearings add on to the list of components designed to stand up to the harsh wear of saltwater fishing. This reel has a high line capacity, and the low gear ratio gives you that extra pulling power to deal with something big.
It's clear that KastKing put some thought into the components and has been designed to be the best spinning reel under $50. Does it hit that mark? Well. I'd say it's right there in the hunt for the title. No matter where you fish, if you're after something big, this is one of the better value reels you'll find. Period.

---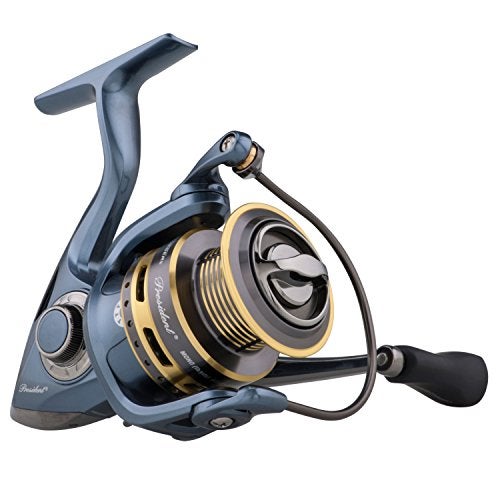 Pflueger President at a Glance
:
---
Weight: 5.9 oz
Gear Ratio: 5.2:1
Bearings: 9+1 shielded stainless steel
Line Capacity: Mono 200/2, 100/4, 80/6 (several sizes available)
Drag:

7 – 24 lbs
Pflueger has been around for many decades and the brand has built a solid reputation for quality. Since they were added to the Pure Fishing company line, they have been associated with Fenwick rods, which should tell you something about the quality of the products. The President spinning reel is a great choice for all kinds of angling opportunities. It's a lightweight, nimble reel for those that like a quick cast and a good fight. I like the large handle and easy textured grip mounted on top of a 10-bearing system for smooth recovery of any line. It also comes with a classically-inspired, stainless steel and felt drag system giving you a smooth application of friction and long life out of your internals. This is another one of those reels that you can really just buy over and over again to suit any conditions or target fish you might want to tackle.

---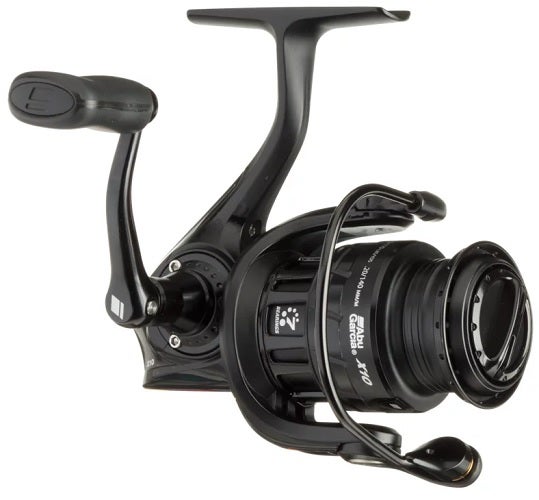 Abu Garcia Revo X at a Glance
:
---
Weight: 9 oz
Gear Ratio: 6.2:1
Bearings: 6+1 shielded stainless steel
Line Capacity: Mono 110/6 (several sizes available)
Drag:

Max 13

lbs
Abu Garcia is an old brand that has been at or near the top when it comes to quality and innovation in angling gear. With a high-quality 7-bearing system and computerized machining of gears and internals, the Revo X is the very definition of precision in spinning reels. It has a stainless-steel body and aluminum rotor combined with stainless steel bearings make for an overall solid build which is why many top professional anglers choose Abu Garcia equipment.
They've really brought the weight down by using heavy materials only where they're really needed to balance lightweight and durability in one reel and in my opinion the Revo is the best spinning reel for bass and it makes a great walleye reel, too.
---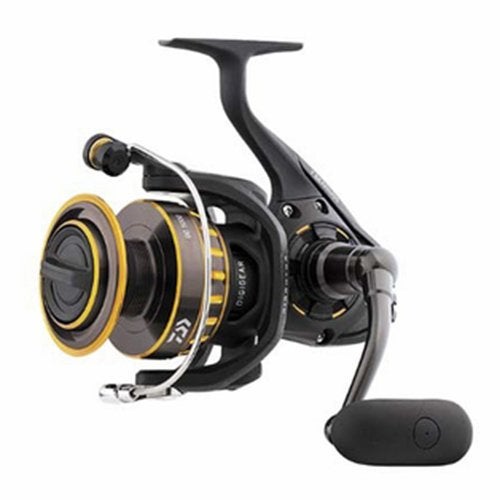 Daiwa BG Spinning Reel at a Glance
:
---
Weight: 8.5 oz
Gear Ratio: 6.0:1
Bearings: 6+1 shielded stainless steel
Line Capacity: Mono 4/155, 6/100, 8/80 (several sizes available)
Drag:

4.4 – 33 lbs
Japanese brand Diawa is another great line of high-quality spinning reels that you'll be able to find in any size or capacity you might need. The BG series spinning reels are made for freshwater fishing and rock a black and gold design reminiscent of a bumble bee! Aluminum spool and body are made for rigidity and power first, lightweight second. With a 6+1 bearing system, anti-reverse handle (double anti-reverse on the larger models), and manual return bail, it's sporting all the features you need in a great spinning reel. These are fast reels, making them great for fast-running baits.
---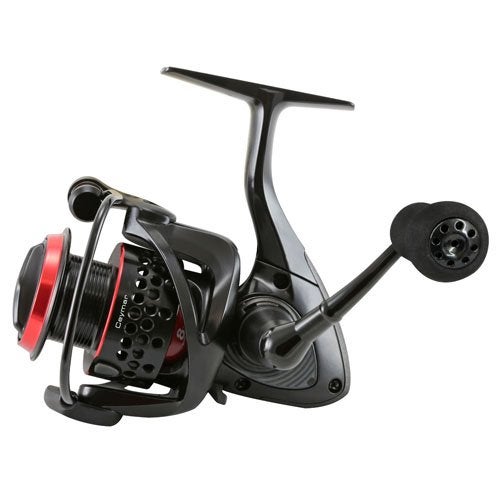 Okuma Ceymar at a Glance
:
---
Weight: 6.0 oz
Gear Ratio: 5.0:1
Bearings: 7+1 shielded stainless steel
Line Capacity: Mono 4/110 (several sizes available)
Drag:

3 – 11 lbs
If you've been wondering about finding the best spinning reel for ultralight fishing, you might like the Okuma Ceymar. I know I do. It is a small reel made for lightweight catches and precision fishing. This small spinning reel comes with a red and black anodized body made from machined aluminum. Anti-reverse and 7+1 ball bearing system are standard and I think there's more than enough smoothness in the reel to go around. This reel is available in 5 different models with varying capacities and gear ratios, but I honestly like the smallest version best to use for ultralight fishing for panfish and trout. They made this reel to handle anything from 2lbs test to 6lbs test line. With an oiled felt drag system, there's not much to worry about with corrosion and the maximum drag pressure of 5lbs should warn you that this reel's intended purpose This is a fun, playful, lightweight reel and with its budget price tag, the best spinning reel for beginners.

---
Spinning Reel Comparison Table
How to Choose the Best Spinning Reel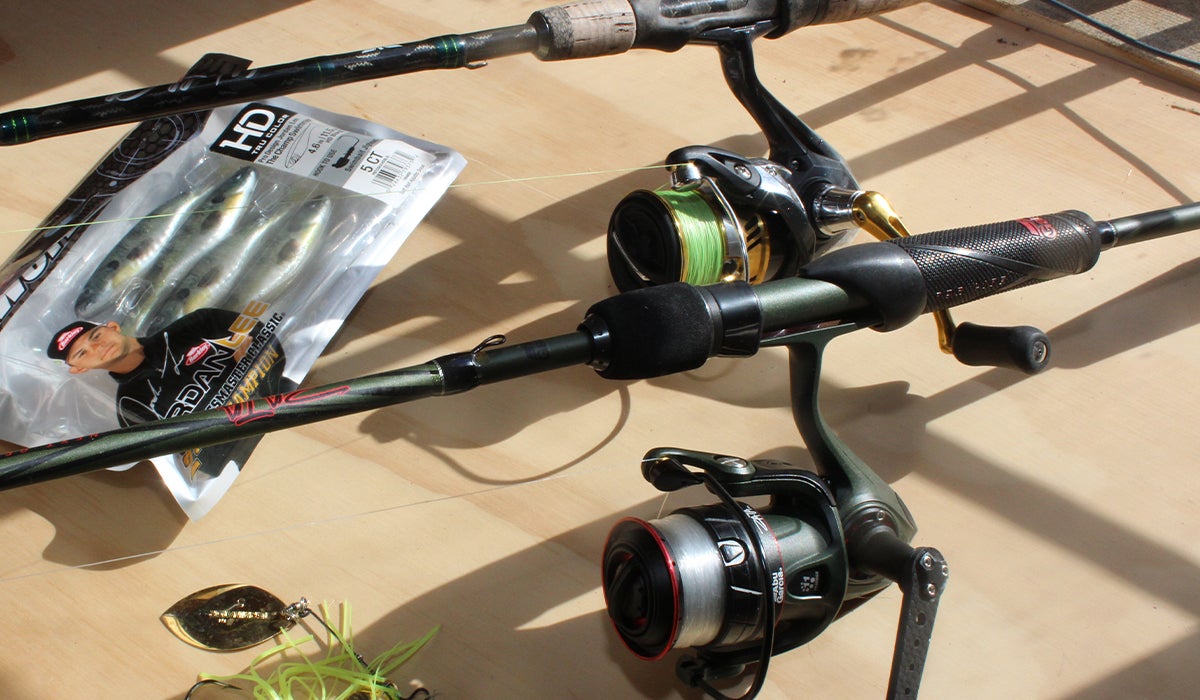 Consider Where You'll Fish
Will you be heading to small inland lakes and rivers, or coastal saltwater? Are you fishing in the open waterways and inlets of the Great Lakes where fresh water and big fishing are common?
Knowing where you'll be fishing is important to making a few decisions in buying the best reel to have a good fishing experience. For the casual fisherman who will be fishing freshwater, spending top dollar on saltwater resistant reels might not be totally necessary.
For those of you planning to put your reel through some harsh conditions, consider opening up your budget for a reel with a proven ability to stand up to nasty conditions such as a graphite body reel.

Reel Housing and Body Type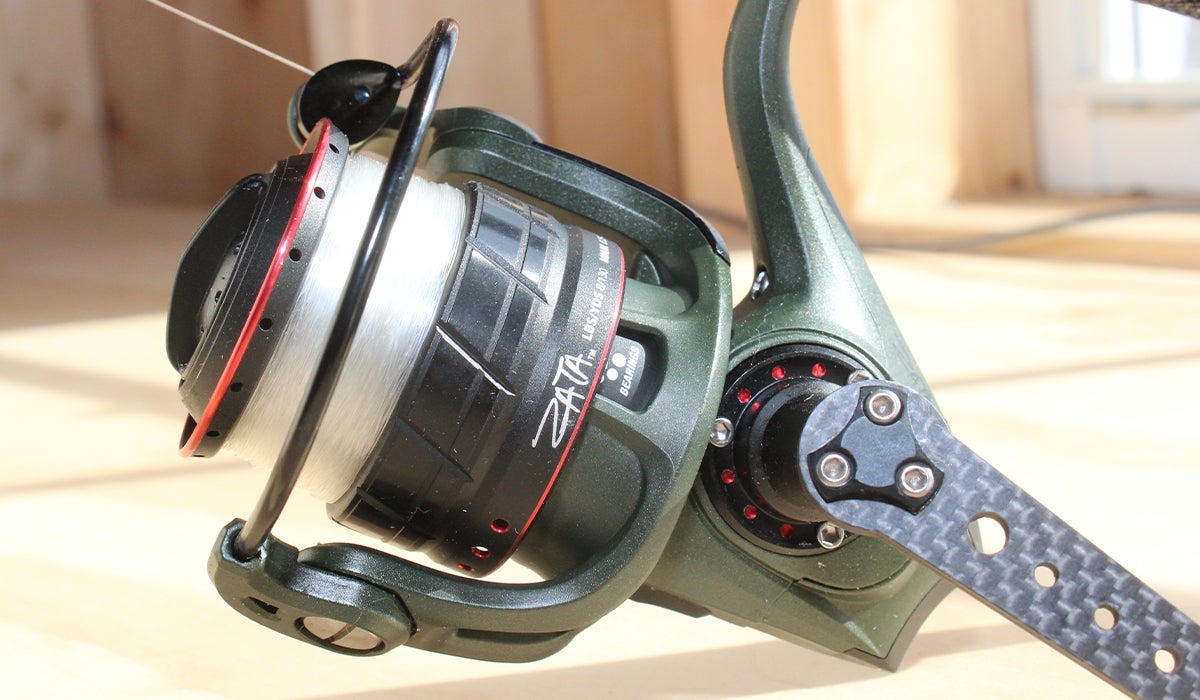 Commonly your choices will be either graphite or aluminum body reels. Aluminum tends to be more rigid and is a good choice for freshwater fishermen that don't mind a little more weight. While it won't "rust" like iron will, aluminum can still corrode and oxidize so be careful.
Graphite reel bodies are lighter and, for the casual fisherman, you won't notice the slight increase in flex that some consider a downside. You get a lot of bang for the buck, just be sure to get graphite over plastic. Any reel made from a mostly plastic body is not going to last. Period.
There are some select options out there using carbon fiber for the body, and while the weight and strength are outstanding, the prohibitive costs really hamper my enthusiasm for these reels. That and the simple fact that my wife would likely end me if I spent the hundreds to thousands of dollars one of these reels cost.
Reel Capacity and Size
Understanding what type of fishing you'll be doing is important to making an intelligent buying decision. Each angler has a preferred bait, style, and fish of choice and that will vary on every fishing trip. Consider what weight line you'll want to use before simply choosing a reel off the shelf. This will determine the overall size of the reel you'll pick. Reading the technical specs for the reel you're looking to purchase will reveal the line test the reel is suited for as well as the yardage capacity of the reel. Often you can safely move one step up or down from the recommended line test in the charts but remember to expect an adequate adjustment of line capacity overall. Be careful to not go past the line capacity, as this will lead to snarls and tangles, the worst of which starts out as a loop of line being pulled from the spool by the outgoing line. 
Gear Ratios
Gear ratios affect two main things. First, how fast will your reel retrieve the line? Second, how easy will it be to haul in heavy catches?
Gear ratios are listed as follows (6.4:1) First up is the revolutions of the spool, second is the number of turns of the handle. So, for this example, the spool will spin 6.4 times per handle turn. Higher that ratio, the faster the retrieval. The lower the number, the slower your spool will retrieve but the easier it will be to haul in a heavy load.
It can be important to consider gear ratios when choosing a reel for certain types of bait. Consider how fast you want to be able to move your bait and for what purpose. This will be heavily influenced by the type of fish you're after and the method of jigging you may use.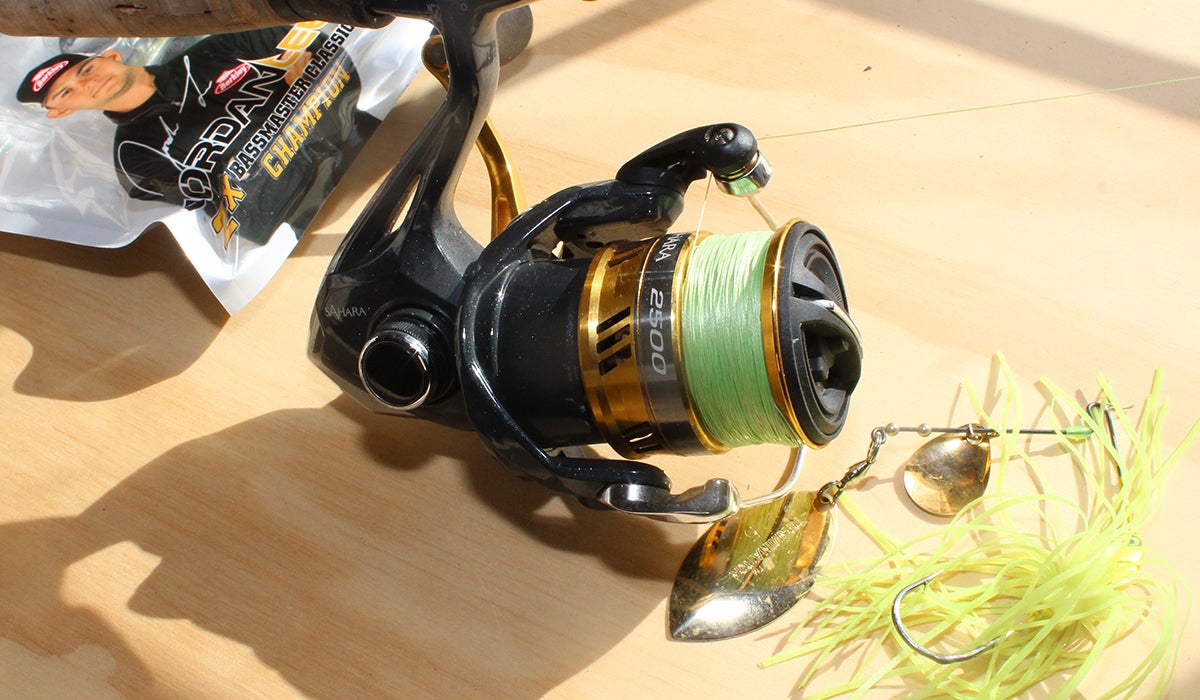 Spools
Today you're most likely to encounter the ever-popular skirted spool reel. These are the image of spinning reels that you likely envision when someone mentions the name. Skirted spinning reels create less drag on the fishing line than their older relatives which have gone by the wayside.
Within the last few years, several innovations have piqued the curiosity of anglers. Mag spools and long-cast spools are slight variants on the spinning reel's skirted spool design. Both of them report longer cast distances and decreased friction. Unless you're a real pro, however, it's pretty unlikely you'll really notice a difference.

Drag Systems
Drag refers to the amount of resistance given to the line when a fish tries to take off swimming away with your bait. You will want to adjust the max drag so that the force required to pull the line off the reel is slightly less than the "test" of the line. You don't want your line to break when you're trying to bring in a big fish!
On spinning reels, you'll encounter two main styles of drag application. Front drag reels, while similar to rear drag, are often considered more robust and durable. You will find the drag adjustment on the spool, and there is a direct connection between the spool and the drag. Rear-drag reels brake the actual action of the reel, and while they can be handy when fighting the fish, they often wear the reel out much faster and the durability of the reel suffers. Know what is more important to you going in.
I have a couple of rear-drag reels that I spent a pretty penny for, and I only use them for one thing – fishing sockeye salmon in Alaska. I like them for one main reason. If you foul hook a sockeye in the tail, your chances of landing the fish are greatly reduced. a 12lb. fish will feel like a 50-pounder in the current, and being foul hooked, you can't keep it and shouldn't even remove it from the water. A rear-drag spinning reel lets me clamp down on the drag, break the fish off and get back fishing faster.
It's worth spending a little more to get a reel with a quality reel with a good drag system. A quality drag will let line out smoothly and quietly when the fish is making a run whereas a cheap drag system will let the line out in a "jerky" fashion and possibly allowing your fishing line to snap. You don't want to lose that trophy fish because of a cheap drag system!

Anti-Reverse
This is just what it sounds like, when you engage it, the handle and bail are prevented from spinning in reverse so the line doesn't come off the reel. This allows you the set the line when you get a strike and allows the drag to perform its function.
If you turn it off, the reel can be turned in both directions and allows you to reel in reverse if you get a hit instead of relying on your drag. With modern reel technology having smooth drag systems there is no good reason to not use the anti-reverse setting anymore.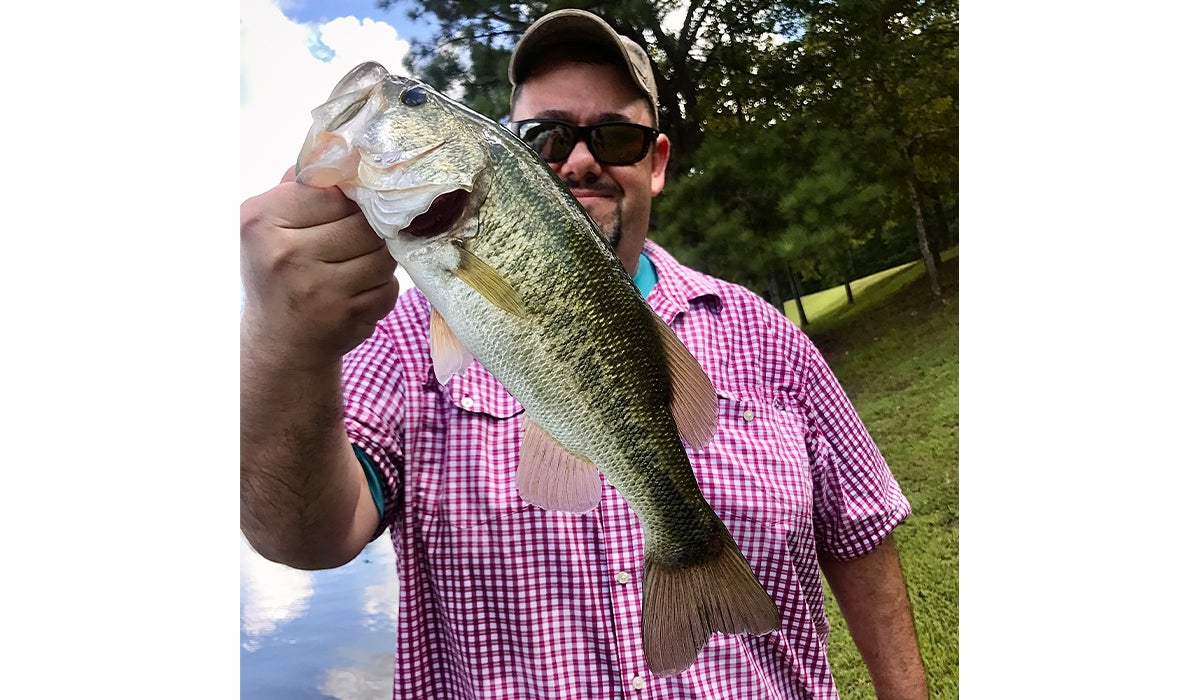 Reel Bearings
This is one of the most important aspects of the quality of the reel. The bearing is a ring with ball bearings in it usually made out of stainless steel but ceramic bearings are now available.
Ceramic bearings have the added advantage of being even more corrosion-resistant than stainless steel. This is especially important when using the reel in saltwater. As a general rule, more bearings are usually better and offer smoother operation. Of course, the quality of the bearings is even more important. Better quality bearings will always outperform lower quality bearings, even when there are less of them.

FAQs About Spinning Reels
Q: What size spinning reel should I start with?
A: Spinning reel sizes are categorized in this way: 1,000, 2,000, 3,000 and so-on. Basically the bigger the number, the bigger the reel. For me, I use a 2,000 – 2,500 reel on almost all my spinning rods. To be fair, I normally fish for bass and walleye up here in Michigan. However, I would say that a 2,000 series reel is probably about the best middle ground for general fishing anywhere you're at. For ultralight rods you can also try a 1,000 series reel which is much smaller and lighter. Bigger 3,000+ reels tend to be for more specialized fishing experiences, like catfish.
Q: When is a spinning reel better than a baitcasting reel?
A: When you are doing a slower presentation, Spinning reels generally are the better option. Spinning reels are much easier to learn to use, too. It sucks when your baitcasting reel gets birds-nested because your thumb slipped on the spool.
Q: How much should I spend on a spinning reel?
A: Cost can vary pretty wildly on spinning reel. So, why does the cost change, and what does it matter? It all comes down to precision and quality. Of the cheapest reels I've used, one of the most noticeable differences is that the anti-reverse on cheap models can be poor. These reels can also be pretty rough to operate and not last as long. Smoothness, drag responsiveness, and other more subtle features are noticable with higher quality reels.
Q: How do I spool my spinning reel?
A: Tie the line to the spool, and then I suggest usinga small piece of friction tape to hold the line in place. Hold the line loosely between your fingers to apply tension as you spin the handle and reel in the line. This also lets you check for nicks, knots or other things than can mess up your fishing. Do not fill the spool all the way to the edge, as this creates more problems. Leave some space and then tie the line to something so there is always tension on the line.
This is a skill that's way easier to learn from a video, though, so make sure you watch this spinning reel spooling video from Rapala.
Q: Are spinning reels and spincast reels for "beginners"?
A: Let's clear something up. In all sports it seems there is always a stigma around "beginner' equipment. What's wrong with beginner stuff? I've met plenty of very experienced anglers who are still happy using their spincast reels. However, some anglers move on to baitcaster or spinning reels immediately and never look back. I think what's important is to know what to look for in your gear. Why do you want a certain reel? What advantages and disadvantages will you get? Do you fish only once a month and want to save money? Spincast reels definitely have some drawbacks but there's no reason you can't be happy using one for a long time. Spinning reels are usually just as affordable as spincast reels, however, and are usually quite a bit better quality for most anglers. For that reason I feel spinning reels are the best balance of ease of use, cost, and quality for most anglers.
Advantages of Spinning Reels
Great For Beginners – Spinning reels are easy to operate. You can learn to cast one in a very short period of time. You have more flexibility than a spincast reel and easier to use than a baitcasting reel. With the open spool design you don't often get tangled and knotted line.
Versatile – They are ideal for catching all types of fish, from bass to sun fish. You can use live bait to all types of artificial lures like spoons, spinners and jigs. Although catching the really large fish is better left for baitcasters, you can still bring home some trophy sized bass!
Small Lures – Spinning reels can use very light line due to the way they work. This allows you to cast very light weight lures and bait so you can fish for smaller fish that you will find in lakes and ponds.
Conclusion
Most of the reels we've reviewed are offered by reputed manufacturers offering large lines of models for any need. Whether you're looking for cutting edge tech, or budget minded proven reels, there's something you can rely on here.
It's up to you to research what type of fishing you'll be doing and what reel is the best for your choice. Just jump up to the top and read through our buyer's guide to get a great sense of what reel will meet your needs.
Notice:
OutsidePursuits.com is a participant in the Amazon Services LLC Associates Program, an affiliate advertising program. OutsidePursuits.com earns fees from products sold through qualifying purchases by linking to Amazon.com. Amazon offers a commission on products sold through their affiliate links.