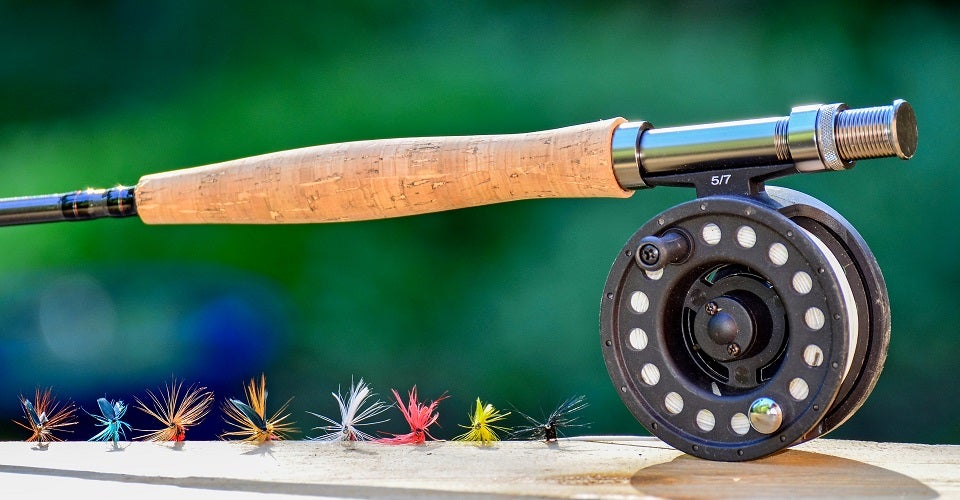 Our Editors independently research, test, and rate what we feel are the best products. We use affiliate links and may receive a small commission on purchases.
My first fly fishing experience was on a backpacking trip in the Wind River Mountains of Wyoming. After a short learning curve and getting my fly caught in several bushes, I was soon landing rainbow trout by the handful. Learning to fly fish was an extreme pleasure and in this guide we're going to help you choose the right gear. Trying to pick out the best fly fishing reel to match your fly rod for your needs can be a challenge. Reels come in various sizes, designs, and styles depending on exactly what you're trying to achieve. I'm going to talk you through how to choose the right top rated fly fishing reel for your needs!
Best Fly Reels
Orvis Clearwater Fly Fishing Reel
Sage Spectrum C Fly Reel
KastKing Fly Fishing Combo
Sizes Available:
3-5
5-7
7-9
9-11
3/4
5/6
7/8
9/10
3/4
5/6
7/8

Construction:
CNC precision machined aluminum
Machined die-cast construction

CNC precision machined aluminum

Reel Weight:
5.6 oz
4.9 oz
4.7 oz
For more of my fly fishing gear recommendations, have a look through these popular Outside Pursuits guide links: Fly Fishing Vests, Fly Rods, Wading Boots, Waders.
Quick Answer: The 7 Best Rated Fly Fishing Reels For 2021
Our reviews of the top fly fishing reels with our comparison table and buyers guide below will help you choose the right fly reel for you.
---
Fly Fishing Reel Reviews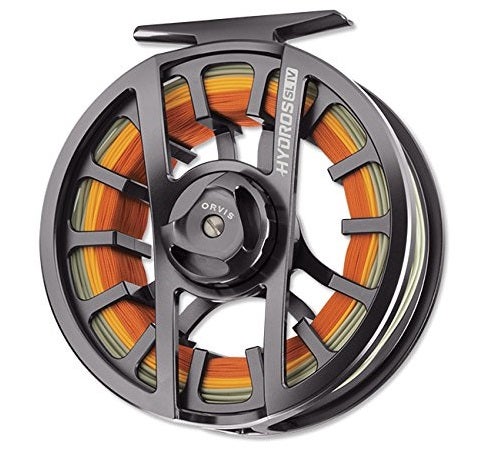 Orvis is a name that's as synonymous with fly fishing as Kleenex is with facial tissue. I learned to fly fish through an Orvis sponsored program, on Orvis gear. It's an effective marketing tool!
The Clearwater reel from Orvis features an oversized arbor for hyper speed retrieval rates and a sealed drag and bearing system.
You can be sure with a legacy brand like Orvis that their reels will be of the highest quality. The Hydros SL features low tolerance machining, a large drag knob, and a narrow spool to minimize line stacking.
The large arbor and narrow spool means less line memory and messes! All things considered, I would say the Orvis Hydros is one of the the best fly reels, especially considering its reasonable price tag.
Best For: Anglers who want the highest quality name in fly fishing.

---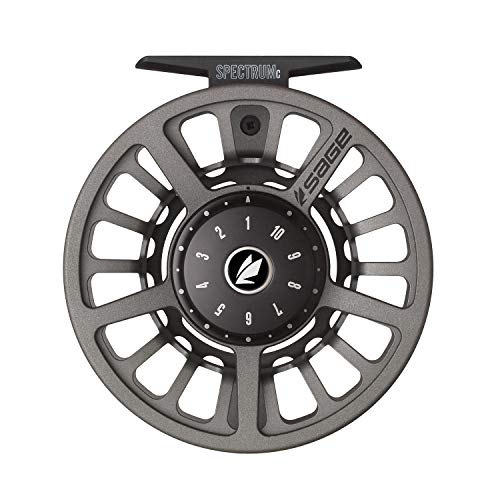 I gotta hand it to them. This might be the most sleek and elegant looking reel we review today. I love the black and platinum version for its simplicity. Like an Apple product it inspires through simplicity.
Available in 4-reel sizes you should be able to find a setup for your needs. This one tips the price range back to the high side with features like carbon drag discs.
It's a large arbor reel with an oversize handle for putting the hurt on those big fishies. It is a partially cast reel with machined finishes.
Best For: Those looking for some unique high-end features and butter smooth drag.

---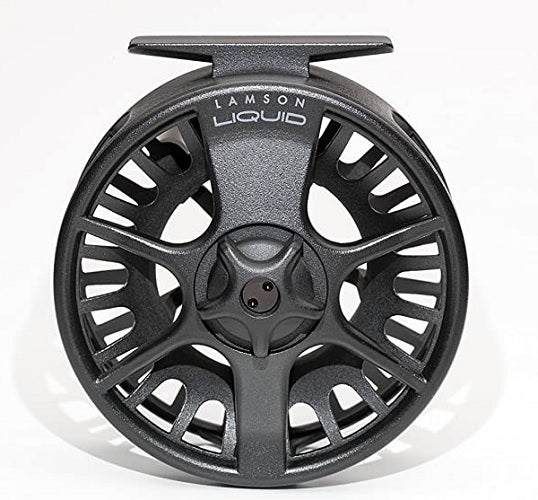 The Liquid reel has been around for a while as a large arbor reel for fly fishermen. Several years ago they revisited the design and improved almost all aspects.
Now this reel has a nice dusted finish, higher retrieval rate, and lighter overall weight. All around they scored a nearly flawless victory on improving an already well-loved reel.
I love the finish and quality of the reel overall. Especially nice is the newly enlarge drag knob which allows for easy fine tuning or adjusting of the drag on the reel. These reels are available to fit just about any size and weight of line that you might need.
Each reel type in this family of reels will fit different specifications so be sure to double check that you're getting the right one before committing to purchase. Probably the best fly fishing reel available at any price.
Best For: Fishermen who want one model of reel for any rod setup.

---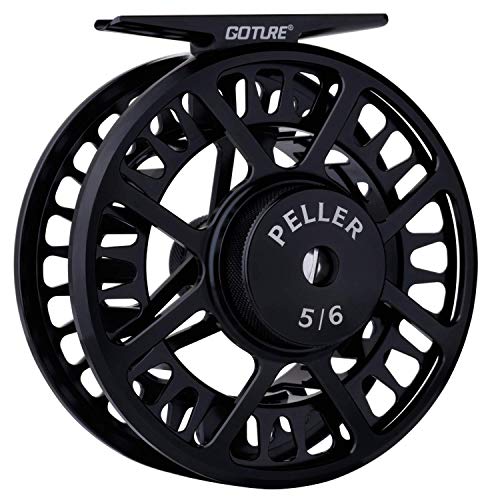 With rave reviews from users and a stealthy sleek black and red design, it inspires success. Note: it comes in three main colors.
Another machined reel with stainless and aluminum components, Goture went for a medium arbor design with this setup.
Like most reels in this class it features 2 ball bearings and a single anti-reverse bearing system. I couldn't find the specs to tell what type of drag system is inside but users rave about the smoothness of operation.
With three sizes to choose from it's not as versatile as other reels we've reviewed but there should be an option for almost any fisherman.
Best For: Anglers on a budget seeking quality and reliability.

---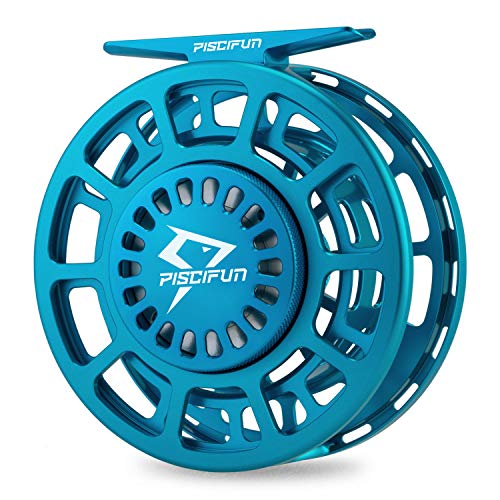 There's one feeling you'll get when you look at this reel from Piscifun. WOW!
Yeah, they're made to blow your mind with popping colors that are uncommon in the world of fishing. Blue and gold both stand out while the more traditional brown makes a good choice for those keeping it on the down low.
This reel features a medium arbor, machined components, and a disc cork drag system. Overall, it's well loved by users and seems to be a solid reel.
I like that they broke the mold a bit with some vibrant colors. The anodization helps to protect the reel against corrosion, too! This reel is available in a variety of sizes and weights.
Best For: Anglers who want to make a statement!

---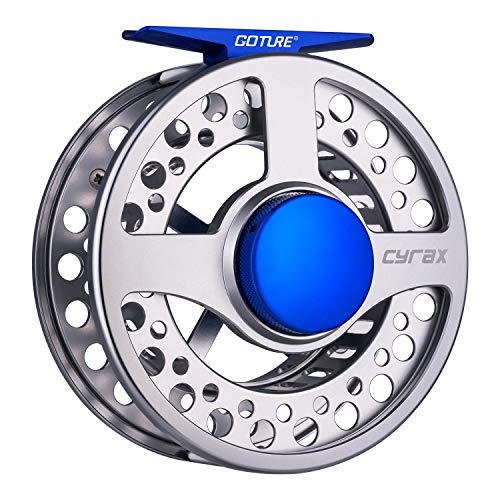 Another tasty reel from Goture, this one comes in a bead-blasted raw aluminum texture. Just like the Spark Reel from Goture it's rocking 2 ball bearings and single reverse bearing. This is standard for reels in this class.
The large arbor design operates around a machined CNC frame. I would have liked to see a better design for the drag knob which leaves something to be desired.
The nearly round knob doesn't have much to grip. They did make the left / right hand switch setup simple and fast. Just don't lose the tiny components if you need to make the switch! A solid contender for the best beginner fly reel.
Best For: The beginner angler who wants a reasonable reel at a low price.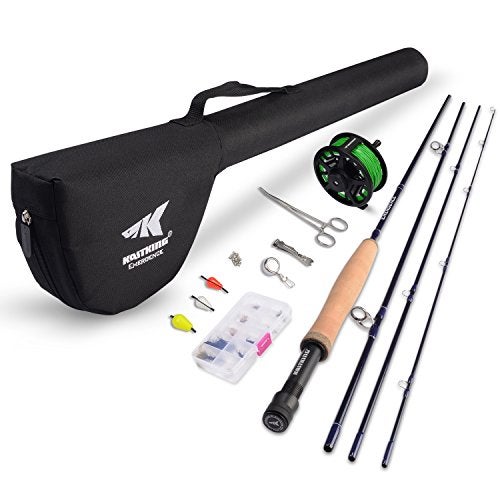 Last but not least we are giving you a complete kit, rod, reel, line and flys. Everything you need to start landing some trophy sized trout!
For the price, it's hard to believe this reel is a machined reel with stainless steel and aluminum components.
Overall the design is a bit bare bones but it makes for a good budget minded platform to get started with a machined reel and disc drag.
While it's technically a large arbor reel it's certainly nowhere as big as the Orvis Hydros. Remember that smaller arbor reels aren't always a bad thing though!
Small arbor reels make great companions on trips when you're seeking smaller fish or lighter setups. It's also done in a nice black finish that should help the reel last longer overall. Probably the best fly reel combo for the money.
Best For: Beginner anglers on a budget.

---
Fly Fishing Reel Comparison Table
| Fly FIshing Reel | | Sizes | Construction | Drag | Rating |
| --- | --- | --- | --- | --- | --- |
| Orvis Clearwater Fly Reel | | 3/5, 5/7, 7/9, 9/11 | Aluminum | Fully-sealed carbon on stainless disc | 4.7 / 5.0 |
| Sage Spectrum C Fly Reel | | 3/4, 5/6, 7/8, 9/10 | Machined die-cast aluminum | Fully-sealed carbon on stainless disc | 4.3 / 5.0 |
| Waterworks-Lamson Liquid Fly Reel | | WF4, WF6, WF8, WF9, WF10 | Machined aluminum, stainless steel | Fully-sealed carbon on stainless disc | 5.0 / 5.0 |
| Goture Fly Fishing Reel Spark | | 5/6, 7/8, 9/10 | Machined aluminum, stainless steel | Precision machined brass | 4.4 / 5.0 |
| Piscifun Blaze Fly Fishing Reel | | 3/4, 5/6, 7/8 | CNC-machined 6061-T6 aluminum alloy | Multi-disc cork and stainless steel | 4.7 / 5.0 |
| Goture Fly Fishing Reel ALC | | 5/6, 7/8, 9/10 | Machined aluminum, stainless steel | Precision machined brass | 4.4 / 5.0 |
| KastKing Emergence Fly Fishing Combo | | 3/4, 5/6, 7/8 | Machined aluminum | Disc drag | 4.5 / 5.0 |
How to Choose the Best Fly Fishing Reel for You
Let me help you understand a few of the most important factors in picking out a new fly fishing reel.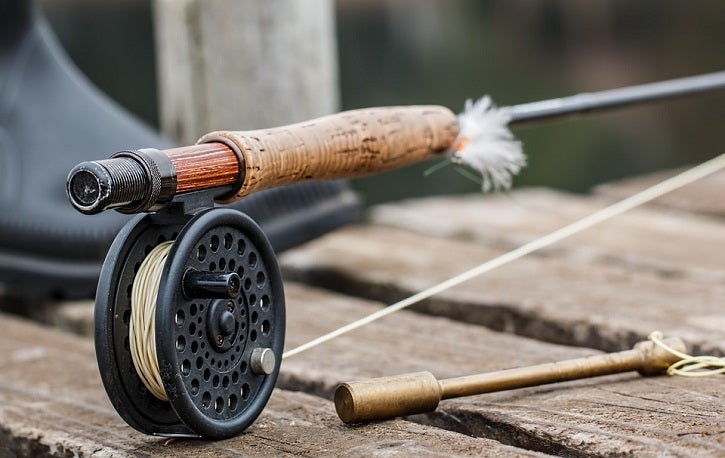 Reel Material and Build Quality
As with most any intricate metal product there are two main ways a reel can be produced. They're usually either machined or cast. Such is the case with fly fishing reels.
In the fly fishing world, cast reels often get a bad rap compared to machined reels. Why? They're seen as less durable and heavier overall than an equivalent machined reel. Overall, I think the differences are more an indicator of overall production quality than cast versus machined.
On average, however, cast reels tend to be more affordable while machined reels tend to be higher on the price tag.
Thanks to anodization and other metal finishing techniques you may want to consider a reel that's coated. If corrosion protection is of utmost important, seek a reel that has been coated to prevent corrosion.

Line Weight & Size
Both fly rods and reels often are rated by weight. In order to achieve a harmonious combination of rod and reel, you'll want to make sure that the weight of both rod and reel are matched. If you purchased a 5-weight rod, you'll want a reel that falls within that range.
If you're not sure what size line your reel will handle, just check the technical specs.
Remember that you'll also want to consider the overall line capacity of your reel. If you're fishing a species known for long runs you may need a reel with a higher line capacity, or backing capacity. Open water and salt water anglers may need to consider a higher capacity reel to accommodate longer running fish.

Arbor Diameter
Fly reels have two big circles. The outer circle defines the overall size of the reel and line capacity. The inner circle is the hub around which the reel rotates and it is known as the "arbor".
For budget reels or beginner fishermen, a smaller arbor is usually easier to learn with and more affordable. There's nothing wrong with small arbor reels and even experienced anglers should have them for small fish and lightweight setups.
Large arbor reels tend to provide better stopping power, faster line retrieval, and less kinking and bird nests in the line. These large arbor reels are best suited for large fish species and open water or salt water fishing.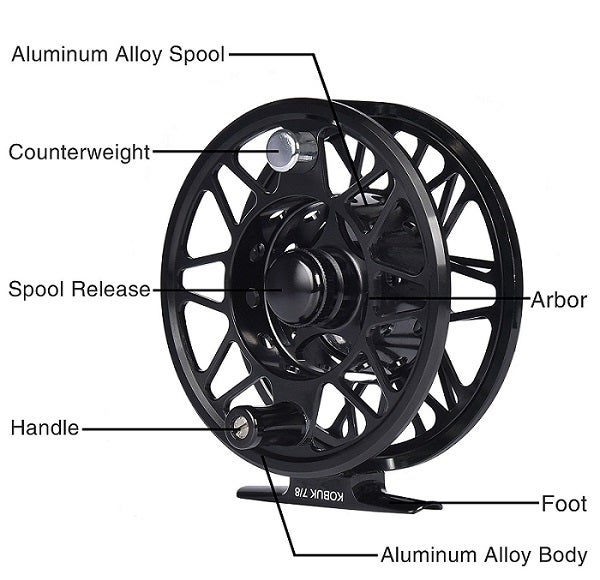 Drag Settings
When you're getting ready to pick up a fly reel, the last thing you want is a poor-quality drag system. Drag is the reel's ability to prevent a big fish from running way with all the line on your reel, never to be seen again.
For entry level and budget fly fishermen a click-and-pawl drag system is budget minded and effective. While it may not be as smooth as the disc drag system, it's certainly effective and acceptable.
If your budget allows more room the disc drag systems will provide a smoother operation and higher reliability. There's just no arguing that the smoothness is improved over click-and-pawl drag systems while providing exception stopping and braking power for large game fish.

FAQs About Fly Fishing Reels
Q: How do I clean my fly fishing reel?
A: There are two main reasons you might need to clean your fly reel.
First, maybe you used it in saltwater. If this is the case, even for saltwater reels, you should clean the reel immediately after use.
Cleaning saltwater off your reel is as easy as lightly rinsing with a garden hose or in the sink. That's really all there is to it. Using pressurized water or soap may actually make more problems than it solves.
Alternatively, you may need to clean your reel every so often to remove dirt and grime build-up. To do this, follow your user's manual for disassembly and lubrication. If you don't have one or can't find one, then rely on this helpful video to aid in lubrication and cleaning!
Q: How do I switch the reel's retrieve hand?
A: Many fly reels can be used left or right handed. Awesome!
So you got your reel in the mail, pulled it out, and found out it's set up the wrong way! What's to be done?
Switching retrieve hands is usually quite easy. First I always recommend checking and following the user's manual for instruction. If that fails, here are the basic steps:
Disassemble the reel hub
Locate the clutch bearing
Flip the clutch bearing over
Reassemble the reel hub
You may have to switch sides with the thumb grip
Of course each reel will be slightly different, but they're simple machines. Most of the time all you need to do is switch the direction of the clutch bearing.
Try performing a search for your reel model to find a video or manual with instructions before you try to go lone wolf on it!
Note: Some reels can simply be flipped around to reel from the other direction!
Q: Where can I fish with my fly fishing setup?
A: People fly fish anywhere legal fishing is allowed. In fact I've even seen people successfully fly fish out of boats, stream edges, wading, off of dams, and more!
Generally if you have enough room to perform the fly cast, you can fly fish there.
While fly fishing can be done most places, there are fly fishing designated waters. These areas are usually full of great fishing and closed to other forms of fishing. However, during peak times, you'll be shoulder-to-shoulder with other anglers.
Try getting creative with your fly fishing. You may be rewarded for fishing areas other fly anglers just don't think to go!
Fish in high traffic areas may be used to cast fishing and the baits that go with it. When presented with a fly lure, however, these fish may be much more likely to bite because they're not accustomed to fly lures… give it a shot!
Q: Can I use any type of fly with my reel and rod?
A: Actually fly fishing gear is heavily based on what kind of fly you're using. Meanwhile, fly choice is based on season, location, target species, and more. So what I'm trying to say is… it's complicated.
Most fly reels are meant to be used with a relatively narrow selection of line. Don't expect to get a single fly reel that will work in all situations. In reality, the same can be said of other types of reels as well.
If you have a specific target species in mind, I recommend researching fly methods for that species before deciding on a reel or rod.
Q: What are the differences between cheap and expensive fly reels?
A: Most of the time the major differentiating factors come down to components, construction, and materials.
Fly rods are relatively simple constructs. In that way, there is only so much that can be done to affect their quality.
As a fishing reel, however, the quality of components can vary dramatically. How much this matters to you should be determined by your budget, how often you fish, and how experienced you are.
For me, I'm not that great at fly fishing and my budget is relatively non-existent. I'm unlikely to notice or care too much about the minute differences in smoothness between a low-end reel bearing and a high-end reel bearing. I'd rather save the cash.
You, on the other hand, might be a very experienced angler and the quality of your reel could mean the difference between landing that trout or missing the photo op. What's it really worth to you?

Outside Pursuits Overview
Buying a great fly fishing reel to match any rod setup doesn't mean paying through the nose. Whether you want the proven high-end reliability of a brand like Orvis or you're willing to find a reel at any price there's something for you.
Today's fly fishing reels have better parts, tighter machining tolerances, and all around higher quality. Many of the reels on our list have even been recently redone to improve their performance from the manufacturers.
Be sure to consider all of your needs before buying a reel. It's important to recognize that when it comes to fly fishing, you'll want several different rod / reel combinations. There's no single perfect answer for all fishing conditions and all types of game fish.
How We Researched
To come up with the top fly fishing reels we researched a variety of sources for reviews such as REI, Dicks Sporting Goods and Bass Pro Shops along with our own personal experience.
We also consulted online magazines for product research and reviews to get as much unbiased information as we could. To help weed out fake reviews we used Fakespot.com to make sure we only looked at genuine reviews.
With so much quality gear available, we had to narrow it down based on what we felt were the best options for the price. The author, Casey Fiedler has been an avid fisherman for decades and leads fishing trips into the backcountry.
To help narrow down the selection our authors used their personal experience along with recommendations from charter captains and tour guides.
After extensive research, we came up with our list to help you choose the right one for you.
Sources
---
I hope this guide was helpful in picking the best fly reel to fit your needs. If you want to comment or recommend a reel I didn't include, please use my contact form to get in touch.
Have fun and good luck!
Notice:
OutsidePursuits.com is a participant in the Amazon Services LLC Associates Program, an affiliate advertising program. OutsidePursuits.com earns fees from products sold through qualifying purchases by linking to Amazon.com. Amazon offers a commission on products sold through their affiliate links.