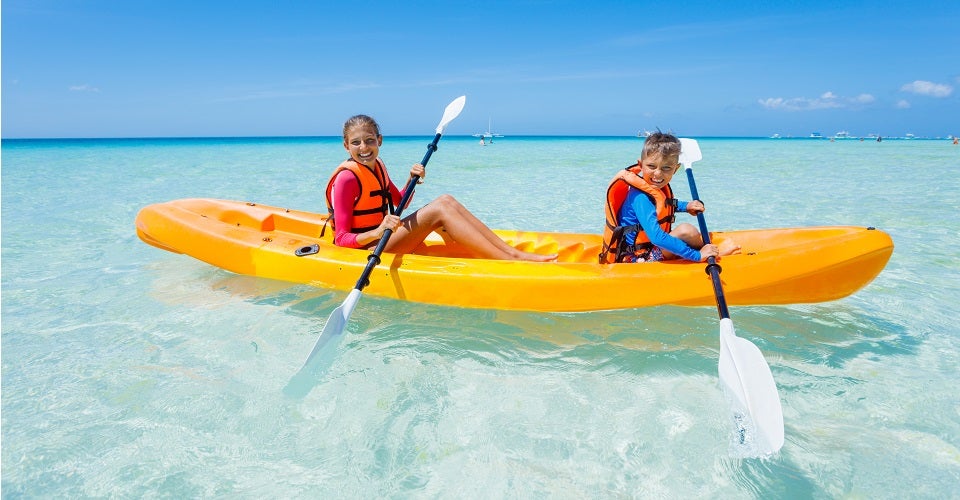 Our Editors independently research, test, and rate what we feel are the best products. We use affiliate links and may receive a small commission on purchases.
Tandem kayaks are a great way to save money, paddle more efficiently and enjoy the collaborative challenge of paddling together with others. Even the best tandem kayaks come with some drawbacks, and a there are few things you should consider before making the financial investment to buy a new kayak. I've spent years guiding outdoor trips, including working at kayak liveries and managing paddling expeditions. There are plenty of mistakes I've learned to avoid, and I'm going to share my knowledge with you.
Best Tandem Kayaks
| | Ocean Kayak Malibu | Advanced Elements | Intex Challenger 2 Person Inflatable Kayak |
| --- | --- | --- | --- |
| | | | |
| | | | |
| Length: | 12 feet | 15 feet | 12 feet |
| Weight: | 57 lbs | 52 lbs | 35 lbs |
| Type: | Rigid | Inflatable | Inflatable |
| Weight Capacity: | 375-425 lbs | 550 lbs | 400 lbs |
| | | | |
For more of my kayak gear recommendations, have a look through these popular Outside Pursuits guide links: Kayak Trailers, Kayak Roof Racks, Kayak Carts.
Quick Answer: The Best Rated Tandem Kayaks
Our guide and comparison table of the top rated tandem kayaks will help you choose the right kayak for you.
---
Tandem Kayak Reviews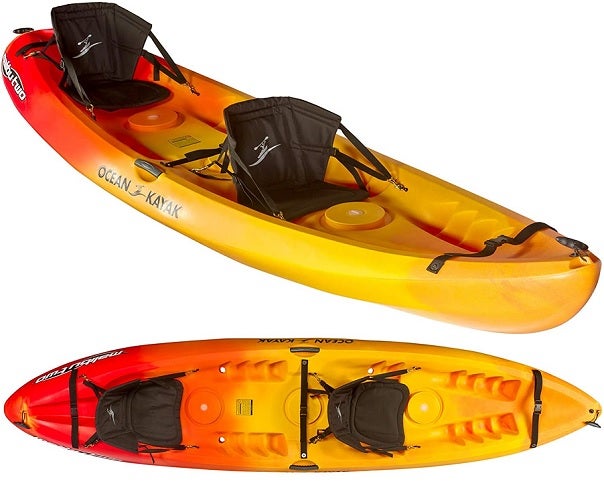 Ocean Kayak Malibu Two at a Glance
:
---
Sit on top style
Fits two adults plus a small child or pet
375-425 pound maximum load
Large, adjustable seatrests
Limited lifetime warranty
Ocean Kayak is one of the more well-known makers of kayaks, so it's no surprise they're number one on our list. The feature I love most about this boat is the wrap-around seat backs. These really contour the body and are taller up the back than other seat rests. This is an amazing feature for extra comfort to have, particularly on long paddling trips!
This boat has tons of storage in the front and rear, plus molded-in foot wells. The built in paddle holders are a nice feature along with front, rear and center carry handles. The sit on top design is also forgiving and comfortable to all paddlers. There's a third seat in the middle if you want to bring your child along for the ride, but this seat has no padding or backrest. This Ocean Kayak tandem option is one of the best for long trips and has the short maneuverability of a 12' boat.
BackCountry

---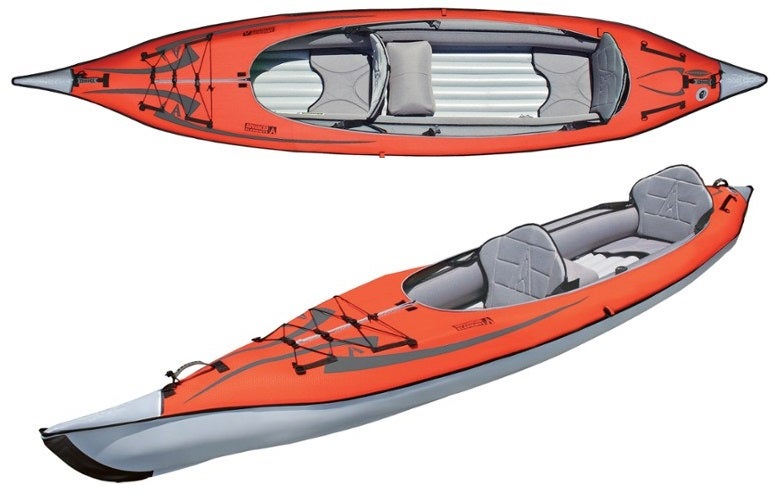 ADVANCED ELEMENTS AdvancedFrame Elite Kayak at a Glance
:
---
Adjustable for 1-2 people
Aluminum frame inflatable boat
Padded seats
Capacity: 550 lbs
1 year manufacturer warranty
This is easily one of the coolest kayaks on our list. It's inventive, unique and it really solves a lot of problems. This boat has three seat locations. Either paddle it solo with the seat in the middle, or tandem with two seats front and back. You can swap them around on the fly and the boat performs just fine in either setup. The aluminum frame on this boat provides the much-needed rigidity that most inflatable boats don't have, but of course that comes at a price.
This boat is going to perform much like a traditional rigid kayak, but it'll cost you a lot more than the Intex options we'll talk about next on our list. That said, I love the space in the front and rear for gear storage. There's also a zippered spray skirt. All these features are supported by three layers of material to help the boat resist puncture or tearing, so you shouldn't have an unexpected "pop" when you're not looking!
REI

---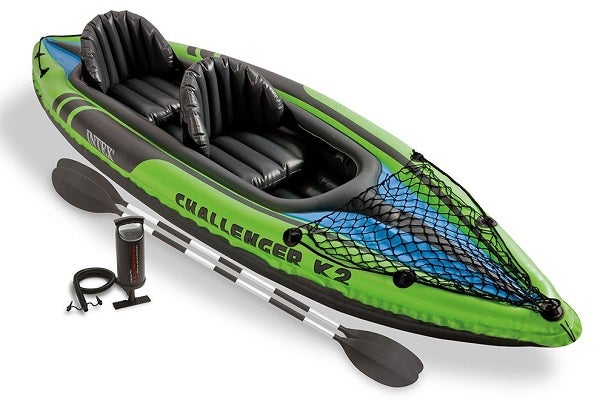 Intex Challenger at a Glance
:
---
Can hold up to 400 pounds

Weighs 35 pounds

Two comfy kayak seats
Seats 2
Includes 2 paddles and a carry bag
Another popular inflatable kayak is the Challenger K2 Kayak from Intex, which is made of their tough and durable vinyl that's resistant to rips and leaks. This tandem kayak comes with a high-pressure hand pump to blow it up when you want to head out for a day on the water, and it also comes with a carry bag for easy transport and storage. Intex includes a deck rigging feature on this kayak which it makes it easy to store any of your belongings, extra clothing you may need if the weather turns nasty, or even some snacks to store in the kayak. This tandem kayak holds up to 400 pounds, so it's ideal for kids, teens and adults alike.
The Intek K2 is perfect for exploring calmer lakes and rivers. The cockpit is a great size that has two inflatable seats with backrests for your comfort. The K2 kayak will give you loads of fun out on the water for you and the family, and it's hands down the best budget tandem kayak on our list.

---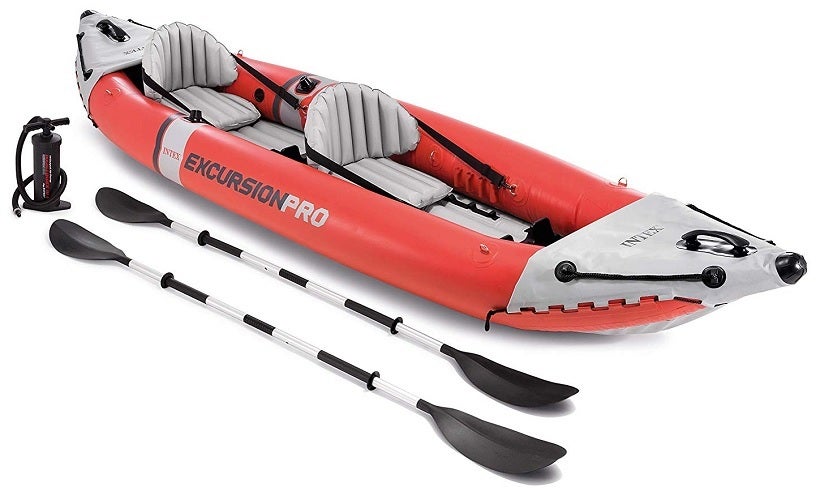 Intex Excursion Inflatable Pro Kayak at a Glance
:
---
Removable skeg
I-Beam floor for increased rigidity
2 inflatable seats with backrests
400 pound maximum weight
Includes 2 paddles
So we come to the second inflatable kayak on our list today. Not only is the Intex Excursion affordable, it also offers the compact form factor of an inflatable boat. Intex included two paddles as well as a pump, so you have everything you need to get out on the water! Feel like trying your luck fishing? There are two recessed fishing rod holders, plus a mounting bracket for a fish finder. Inflatable kayaks like the Intex Excursion are much easier to transport, because you can easily deflate them and stick them in the trunk.
However, inflatable kayaks still offer some disadvantages. Because of their shape, they can be very squirrelly in the water and tend to zig zag. For that reason, using a skeg (like this kayak has) helps to keep it tracking straight. Of course, this isn't going to be as ideal as a rigid kayak. But for occasional recreational use and for those who just don't have the room for a rigid kayak, this may be a great pick for you. The Intex Excursion Inflatable Pro Kayak is best suited for paddlers looking for a great value tandem kayak, but who don't have the room for a rigid traditional one. It's also one of the best tandem kayaks for fishing currently on the market.

---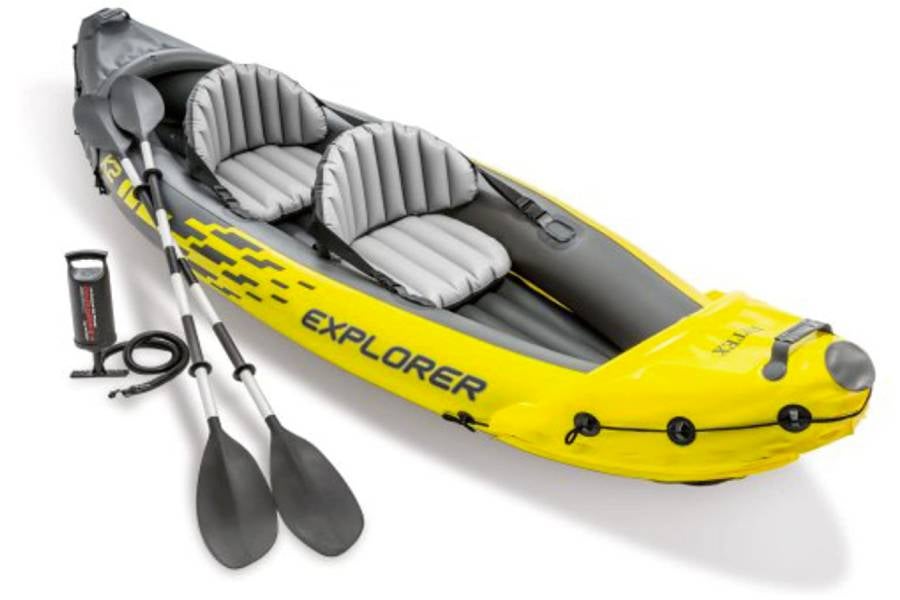 Intex Explorer Kayak at a Glance
:
---
Weighs 35 pounds
Aluminum oars and pump included

Padded, contoured seat

Adjustable seat with backrest
Last but not least, we had to include a kids option on our tandem kayak list. This inflatable kayak from Intex is perfect for kids who are a little more experienced, or for teens who want to enjoy tandem kayaking with a partner. Yes, this is yet another inflatable option on our list, but the difference is that Intex actually offers the whole set with this purchase, and it's still super affordable. It includes aluminum oars and a high-output air pump, so you'll be ready to go without needing any extra tools to get out on the water. It also comes with front and rear handles for easy transport, and padded seats for extra comfortable if you're out paddling all day.
This two-seater from Intex can hold an impressive 400 pounds, so there should be no problems fitting in your kids or teens comfortable, and even the adults too. The bright yellow exterior definitely wasn't chosen by accident, and it's ideal for visibility in case of emergencies.

---
Tandem Kayak Comparison Table
How to Choose the Best Tandem Kayak
Tandem kayaks are longer versions of traditional kayaks that make room for a second person to ride along and help paddle. Make no mistake, you'll be stuck in the same boat so you'd better get along with your partner for the day!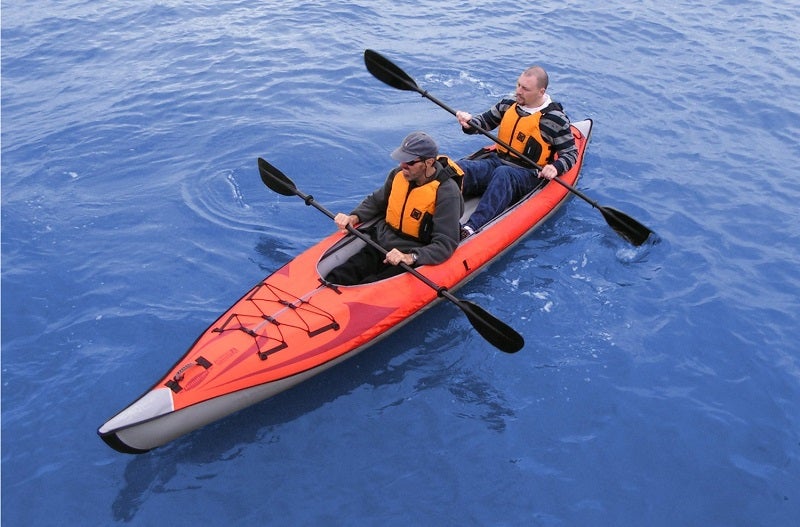 Paddling With a Partner
Tandem kayaks are fun, but they're also a lot of work. If you've never spent a long day paddling with a partner, let's take you through a few things. Tandem paddling can be hard and frustrating. It's a great way to make enemies with friends. If the person in the front and back fail to communicate about when and how to turn or where to go, chaos and frustration can quickly arise!
All that said, once you fall into the rhythm of paddling with your partner, you'll eventually be able to paddle without having to say anything at all. It will take a few trips of practice, though. Patience is a virtue when paddling tandem.

Tandem vs Single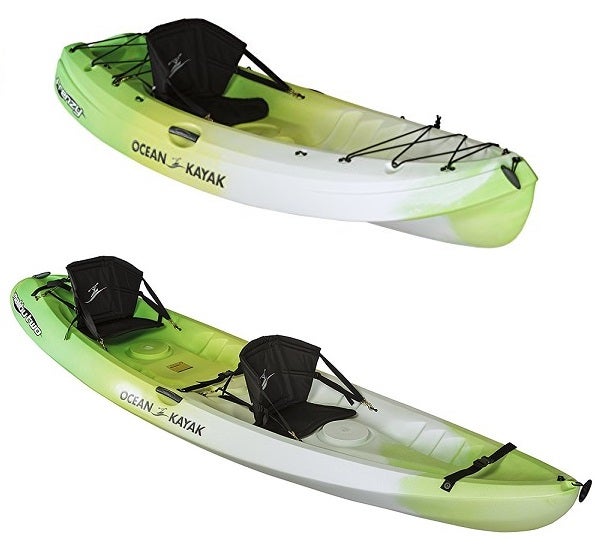 Advantages:
Usually cheaper than two single kayaks
More efficient than paddling two singles
Can take a break while your partner paddles
Opportunities to work together
Easier to carry a single boat with two people
Disadvantages:
You must have a partner all the time
You have to agree and cooperate
You can't explore the water on your own – you're stuck compromising with what your partner wants also
They're a bit longer than most single kayaks
These are all things to keep in mind when looking to pick out a new tandem kayak. If the advantages of a tandem kayaking sound like what you're looking for, then go ahead and start looking! But if I've mentioned a few things that are making you question your purchase, keep reading while you consider your options.

Kayak Styles
There are two main styles of tandem kayak that you're going to run into. The older and traditional version is the cockpit kayak (sit inside). The newer version is the sit on top kayak. Each of them are advantageous for certain situations, so let's determine which is your best option.
Cockpit Style / Sit In Kayaks

These kayaks are the kind where the paddlers sit down inside a narrow hole. Your legs are inside the boat and your torso is exposed so you can move and paddle. These boats can feel cramped and leg room is scarce at best. They are, however, generally higher performance than sit on top kayaks and are a good choice for advanced paddlers.
Sit On Top Kayaks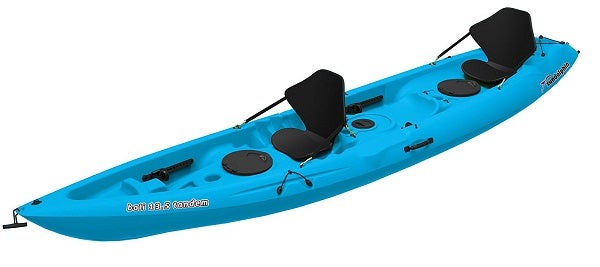 Sit on top kayaks are open to the air so you just "sit on top" of the boat. They have tons of leg room, are easy to get in and out of, and if you flip it the kayak will self drain! They have quite a few advantages over traditional kayaks, particularly for recreational paddlers.
For most users, I think sit on top kayaks make the best choice for recreational use. If you're paddling for an afternoon once in a while, or exploring the lake at your cottage, these are for you. Traditional kayaks are best for more advanced paddling where efficiency, stability in open water and advanced techniques are required. Think about which type of paddler you are or how you intend to use your kayak. These are some rough guidelines that will help you discern the best style to start with!
Which is Better for You: Sit-in-Kayak or Sit-on-Kayak?
Will you be paddling in warm weather and water conditions? If you'll be using the kayak in cold water/weather conditions, a sit in kayak may be best.
Are you a beginner and worried about the kayak tipping over? A sit in kayak is more stable as you're sitting lower in the kayak and will have a lower center of gravity, giving you more stability.
Will you be kayaking in calm/sheltered water or in the ocean? A sit in kayak will keep you more protected from the elements and has the ability attach a spray skirt, giving you more protection from the elements.
Gear Storage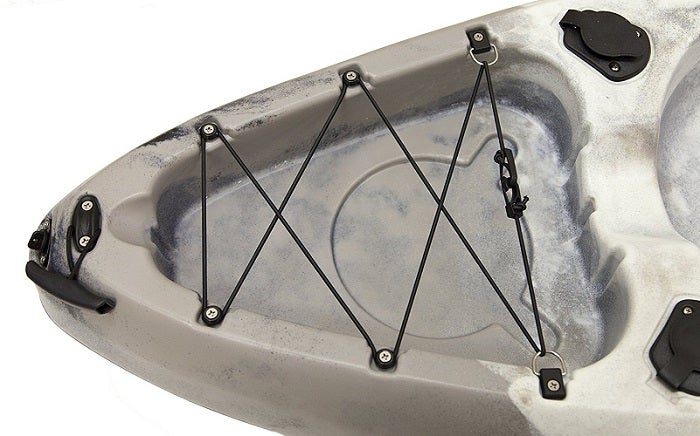 Since you'll be paddling with two people, you should have room for twice the gear, right? Wrong! Many tandem kayaks fail to offer adequate storage for both people, which can be an oversight. There are a few other pitfalls to watch out for as well! Storage comes in several options when it comes to kayaks. Deck lashing and shock cord is the most simple and most common for traditional kayaks.
Sit on top kayaks may still have some areas available for shock cord lashing as well. With deck lashing, whatever you store will be open to the water dripping from your paddle, or if you flip the boat. The more watertight option is called a hatch (often just called a storage compartment). Hatches aren't always waterproof, though.
Waterproof hatches are necessary only if you're in danger of flipping the boat, or in very rough water where the kayak is being soaked. Most paddlers don't brave these conditions, however. For that reason, even non-waterproof hatches are a great option. They seal close so if the boat flips, your keys, phone and wallet won't sink to the bottom of the lake.
Kayak Length
Instead of getting into the details of the pros and cons of various kayak lengths, I'm going to keep it general:
Tandem kayaks will be longer than solo kayaks
This means you need to be able to transport them (12' +)
The longer the boat, the harder it will be to maneuver
That's really what it boils down to. Of course, there are more details for advanced paddlers to master. However, just remember that you'll need a vehicle capable of handling a long boat. Tandem kayaks may vary in length between 12 feet to 16+ feet long, depending on what you're looking for.

Inflatable Kayaks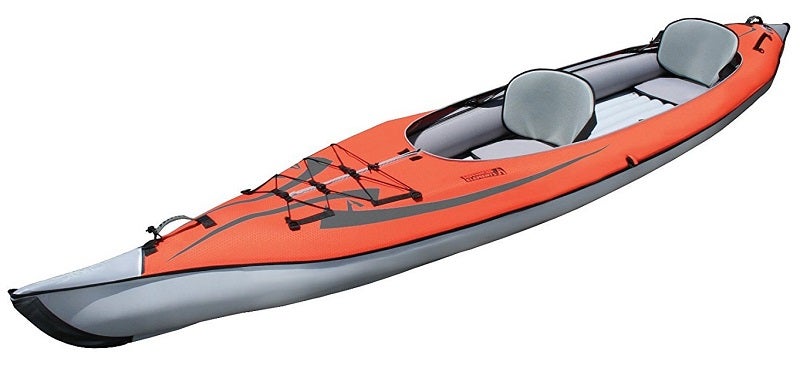 Inflatable kayaks can fit into passenger cars without taking up space, which rigid traditional kayaks cannot do. Inflatable kayaks and rafts are also becoming more popular for special backpacking trips called packrafting. Don't dismiss inflatable kayaks as junky gimmicks: they're so easy to use and are reliable. Some of the best even rival rigid kayaks for performance and features. If you want to see some more recommendations of inflatable kayaks, see my reviews here.

Misc Considerations
Kayak Features
Spray Skirt – this addition is common among whitewater and touring boats. It prevents waves and water from entering the cockpit and submerging the boat.
Rocker – One of several design considerations in a kayak's shape. Rocker describes the amount of arc or "banana" shape that the boat has. The more rocker, the easier to turn.
Skeg – This often detachable or retractable fin helps to stabilize some kayaks in windy conditions or when paddling straight over long distances.
Rudder – Not to be confused with a skeg, the rudder is actually use in controlling the direction of the boat as an aid to paddling.
Kayak Materials
Polyethylene – The most common and least expensive material to produce boats from. It's cheap but heavy. Polyethylene tends to break down with exposure to UV so store boats in the shade!
ABS – More resistant to sunlight damage than Poly boats. ABS is more expensive but more durable and easier to repair.
Composite – These can be Kevlar, fiberglass, or carbon fiber and they'll cost you a fortune! These kayaks are lightweight and top-performers across all classes but they're hard to find and very expensive.

Conclusion
There's a kayak on our list for everyone. I tried to make sure that just about every budget, skill level and preference was represented here. Of course, it's up to you to figure out exactly which one to go with, as this will depend on your budget, paddling skill level and how often you'll be using it. There's nothing wrong with heading down to your local outfitter and examining a few tandem kayaks yourself! Just remember to consider all the factors at your disposal before you buy the first tandem kayak you see.
FAQs
What is the best tandem kayak?
Our pick for the best tandem kayak on the market is the Ocean Kayak Malibu Two XL Tandem Sit-On-Top.
Can a tandem kayak be used solo?
Tandem kayaks can be used solo, but they may be a bit trickier to maneuver. Choose whether you want to sit in the front or back of the kayak if yours has molded-in seats, whichever is most comfortable for you.
Who steers in a two person kayak?
The paddler who sits at the stern (back) of the kayak will be the one steering, so if you're less experienced at paddling, sit in the bow (front) to give your partner control.
Are two-person kayaks faster?
Given that tandem kayaks are longer than standard ones, they also allow for far greater paddle power. If both paddlers are able to steer the kayak in synchronicity, a two-person kayak can certainly be faster than a solo one.
How much weight does a tandem kayak hold?
This will vary between each manufacturer, but tandem kayaks will generally have weight capacities of 300-500 pounds.
Where should the heavier person sit in a tandem kayak?
If you and your tandem partner have a large weight discrepancy, the heavier person should always sit at the stern of the kayak.
Recent Updates
April 19, 2022: The Vanhunks Voyager Kayak and Lifetime Beacon Tandem Kayak have been removed due to unavailability, replaced with the popular Intex tandem kayaks: the Challenger and Explorer. FAQs have been included to address common customer queries.
How We Researched
To come up with the top tandem kayaks we researched a variety of sources for reviews such as REI, Dicks Sporting Goods, Cabelas and Backcountry along with our own personal experience. We also consulted online magazines for product research and reviews to get as much unbiased information as we could. To help weed out fake reviews we used Fakespot.com to make sure we only looked at genuine reviews.
With so much quality gear available, we had to narrow it down based on what we felt were the best options for the price. The author, Casey Fiedler has been an avid kayaker and leads kayak camping trips during the summer months in his native state of Michigan. To help narrow down the selection he used his personal experience along with recommendations from kayak tour guides and rental shops. After extensive research, we came up with our list to help you choose the right one for you.
Notice:
OutsidePursuits.com is a participant in the Amazon Services LLC Associates Program, an affiliate advertising program. OutsidePursuits.com earns fees from products sold through qualifying purchases by linking to Amazon.com. Amazon offers a commission on products sold through their affiliate links.