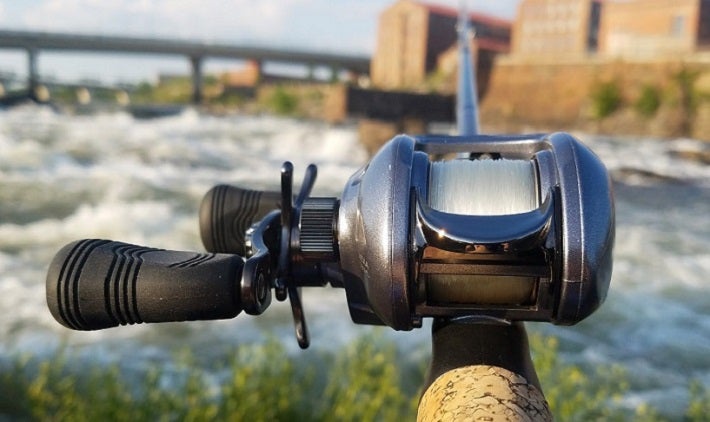 As a kid my family always took yearly bass fishing trips into Ontario, Canada. Among my many memories from those trips include long car rides, cool morning boat trips into the bay, and the odd fishing reels my cousins used.
They were, of course, baitcasting and spinning reels which seemed alien and unfamiliar to 12-year-old me. Why would anyone use one of these reels instead of the simple spincasting reel I always got from dad?
Today I've been able to figure out that spincasting reels come with many drawbacks, despite their distinct ease of use. The best baitcasting reels overcome many of the drawbacks with a few tradeoffs.
Let's dive in to some criteria you can use to select your next baitcasting fishing reel!
For more of my top gear recommendations, have a look through these popular Outside Pursuits guide links: Baitcasting Rods, Tackle Boxes, Fishing Kayaks.
Quick Answer: The 7 Best Baitcasting Reels For 2018
Here is a feature overview of my top 3 overall picks. Our guide and comparison table of the top rated baitcasting reels will help you choose the right one for you.
Best Baitcasting Reels
Abu Garcia Revo Toro Beast Low Profile Reel
Shimano 200IHG Curado Baitcast Reel
Daiwa Tatula Baitcast Fishing Reel
Weight:
13.6 Ounces
7.4 Ounces
8.1 Ounces
Gear Ratio:
4.9:1
6.2:1
7.2:1
5.4:1
6.3:1
7.3:1
Features:
7+1 stainless steel HPCR bearings and X-crafty alloy frame
5+1 ball bearings can be used for fresh and saltwater fishing
7+1 ball bearings and lightweight aluminum frame
Baitcasting Reel Reviews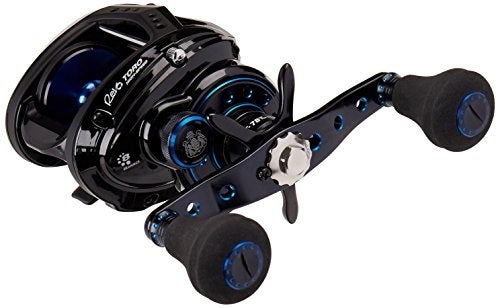 Abu Garcia Revo Toro Beast at a Glance
:
---
Weight: 13.6 Ounces
Gear Ratio: 4.9:1, 6.2:1
Bearings: 7+1 stainless steel HPCR
Drag: 25lb
This sexy looking low profile baitcasting reel looks like it's a cross between a fighter jet and a race car. Luckily for us, it's actually a fishing reel. Abu Garcia put a total of 8 stainless steel ball bearings in this baitcaster reel.
Why stainless?
Because it's less likely to rust when exposed to water in the fishing environment. Alloy frame and side plate are both coated for corrosion resistance and it's obvious they've target this reel at being a lifelong investment for anglers.
With its stainless steel ball bearings for corrosion resistance along with the titanium-coated line guide I would say the Revo Toro is the best baitcasting reel for saltwater.
Video: Overview of the Abu Garcia Revo Toro.
I like that they focused on the gear system with their DuraGear heavy duty internals. Again, we're seeing that this high-end reel is meant to last.
They also packed the reel with their proprietary Power Stack carbon matrix drag system which is highly adjustable and can provide tons of drag.
Available in two ratios, 6.2 and 4.9, this casting reel should suite anyone's fishing needs!
---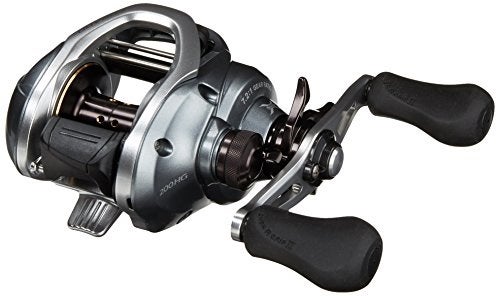 Shimano Curado Baitcaster at a Glance
:
---
Weight: 7.4 Ounces
Gear Ratio: 7.2:1
Bearings: 5+1 S A-RB® bearings
Drag: 12lb
Shimano baitcasting reels are a name my dad would recognize and buy just because he's always loved their reels. They've been around for years making gear products and there's no exception here.
This grey and silver low-profile baitcasting reel is available in 5.5, 6.3, and 7.2 ratios so you can buy one of each and have them on hand for different fishing styles.
It also packs plenty of nice features at a reasonable price, so stocking up isn't out of the question.
With a 5+1 ball bearing system, you'll have a moderately smooth reel that will get the job done. Recovery lies between 23" to 30" per turn depending on what ratio fits your needs.
With a max drag of 12lbs and a reel weight just over 7 ounces, you've got fresh water versatility in a lightweight package and the best casting reel under $200.
---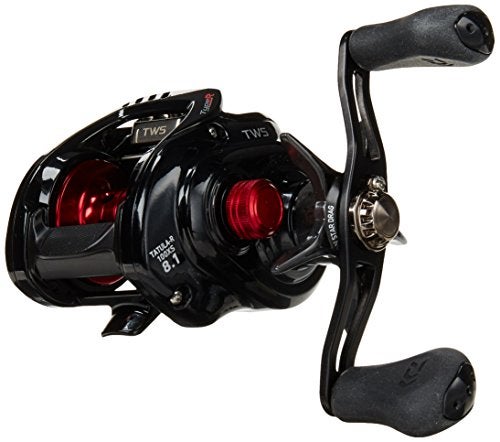 Daiwa Tatula CT at a Glance
:
---
Weight: 8.1 Ounces
Gear Ratio: 5.4:1, 6.3:1, 7.3:1
Bearings: 7+1 stainless steel
Drag: 13.2lb
I've always been a fan of the semi-flattened reel handles that the Tatula sports. The 8-bearing reel system is buttery smooth and your casts are controlled by the Magforce-Z braking system for smooth drag.
If you want a baitcasting reel with beefy line capacity and all the features of the Tatula family, the new HD model with provide. They put on an oversized grip and reel handle so that you can really generate some torque with your reel.
With gear ratios from 5.4, 6.3, 7.3, and 8.1 this family of reels has the most diversity of any we've reviewed so far. I like the large handle, specialized grips, and versatility of the various models offered in the Tatula family.
The reel is also rocking a carbon drag system and corrosion resistant clutch so you'll be able to work this reel for years to come with minimal wear and tear. The Daiwa Tatula is probably the best baitcasting reel under $150.
---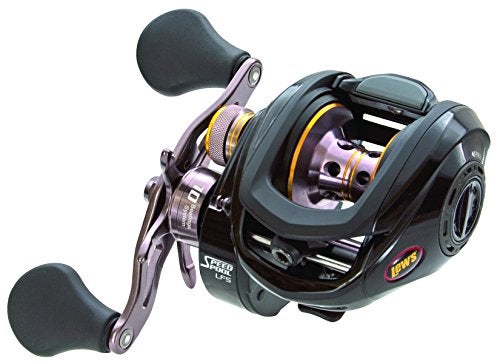 Lew's Fishing Tournament MB at a Glance
:
---
Weight: 6.7 Ounces
Gear Ratio: 5.6:1, 6.8:1, 7.5:1, 8.3:1
Bearings: 9+1 stainless steel
Drag: 20lb
With a highly adjustable brake sporting multiple settings, a 10-bearing crank, and a redesigned slim profile it's hard to complain here.
For the price tag, they managed to put on this reel they also somehow got away with a centrifugal and magnetic brake system. That's a lot of features at a reasonable price.
The entire reel, without line, weighs in at under 7 ounces so you won't get fatigued casting and reeling all day long.
You'll have tons of control over your brake system on this reel with an internal 4-pin centrifugal brake and an external click dial for adjusting the magnetic braking system.
This gives you precision control over when and how much braking occurs during parts of the cast.
Gear ratios range from 5.6 – 8.3 and many in between so there's plenty of options for any type of casting you'll want to do.
There should be a reel ratio here for everything from spinners to poppers and in my opinion the Lew's Tournament is the best baitcaster for the money.
---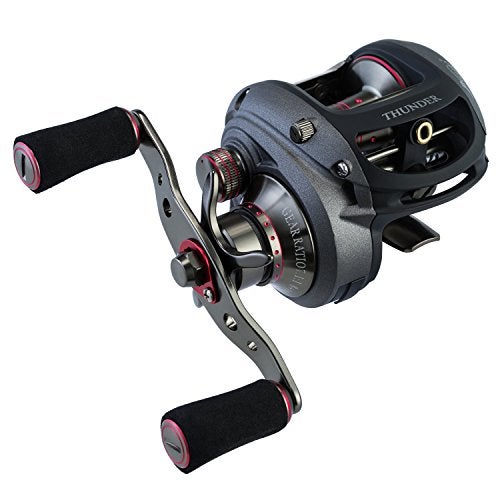 Piscifun Thunder at a Glance
:
---
Weight: 6.8 Ounces
Gear Ratio: 6.5:1
Bearings: 9+1 stainless steel
Drag: 10lb
With a carbon round drag system and graphite side plates, this baitcaster reel is meant to provide smooth reliable drag for a long lifespan.
Full size baitcasting reels are meant more for big fishing so this would be appropriate for salt water or Great Lakes fishing. Head for this reel when you might be sending bait to serious depths or fighting fish that take long runs.
This one comes in a set gear ratio of 7.1 with CNC machined brass gear. You have your choice of left or right handed models. With 9 total stainless steel ball bearings, there's plenty here to keep the casting and reeling smooth as butter.
They'll even throw in some 4-strand line which is nice, but most fishermen are going to prefer putting their own line on. No chance risking a catch on unknown line!
Overall the reel weighs in at 8.4 ounces and can pack in up to 240 yards of 10-pound test.
The magnetic braking anti-reverse system should help to massively eliminate those nasty bird nests as well. If you looking for a cheap baitcaster, I think the Piscifun Thunder is the best baitcasting reel under $100.
---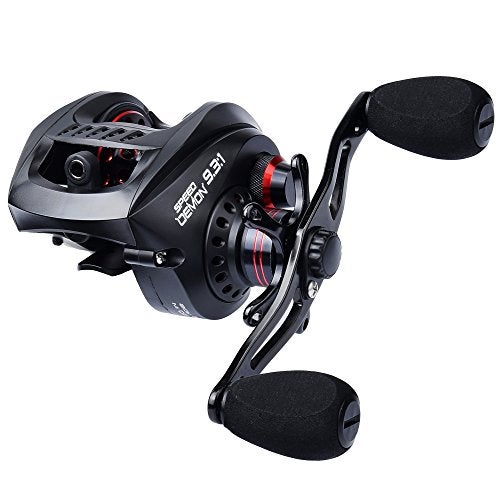 KastKing Speed Demon at a Glance
:
---
Weight: 8.3 Ounces
Gear Ratio: 9.3:1
Bearings: 12+1 stainless steel
Drag:

13.2 lbs
This baitcaster has got something to truly set it apart from the competition. With a gear ration of 9.3, CNC machined brass gear and aluminum spool it's able to pull in line faster than just about any other reel.
With 13 total shielded ball bearings, there's a guarantee that it'll be smooth casting and quick. Unfortunately, having such a high gear ratio also means that it's going to have a harder time hauling in loads.
4-disc carbon fiber drag system can handle up to 13 pounds of smooth drag pressure which should be plenty for any fish you'll be catching on a compact baitcasting reel.
They've used a magnetic brake system on this reel for elimination of backlashing, or bird nests. It's moderately adjustable and should be able to handle most situations but I would have liked to see a bit more fine-tuning ability.
Overall, this is definitely a reel that sacrifices torque for speed. I would keep this on a rod that's dedicated to light and fast casting.
If fast gear ratio doesn't bother you and you're looking for high speed retrieval, this is one of the top baitcasting reels for a budget price!
---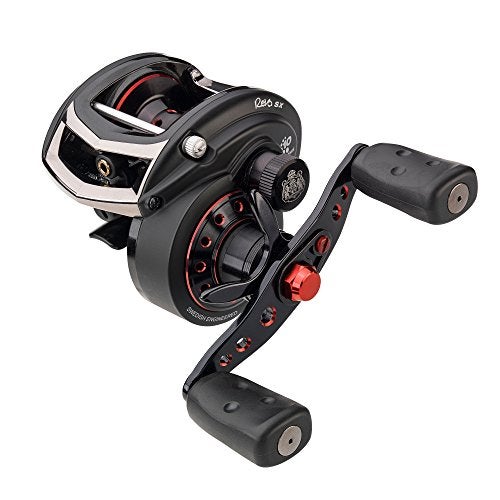 Abu Garcia Revo SX at a Glance
:
---
Weight: 7.8 Ounces
Gear Ratio: 6.4:1
Bearings: 9+1 stainless steel
Drag:

20 lbs
With a total of 10 stainless steel ball bearings, titanium-coated line guide and sealed corrosion protection this low profile baitcaster from Abu should stay smooth casting for years.
They took a lot of steps to keep the weight down on this reel, such as the C6 carbon side plate, aluminum spool and alloy frame. An alloy frame helps keep the frame rigid, corrosion resistant, and lightweight.
They have tried to maximize just about every internal system with D2 gear design, MagTrax magnetic braking system, and compact recurved handles.
According to the manufacturer's website, they were able to drop over 2 ounces of weight with the recent redesign using new materials and tech.
Pretty much everything from the frame to the gear system was overhauled so if you're used to older Abu Garcia reels, you might need to try a new one.
Overall, it's a friendly, easy to adjust, and well-rounded reel with a moderate price tag. It's not the cheapest or the most expensive, but with so many good features this high-end reel is definitely worth a look and the best baitcasting reel for beginners.
---
Baitcasting Reel Comparison Table
How to Choose the Best Baitcasting Reel For You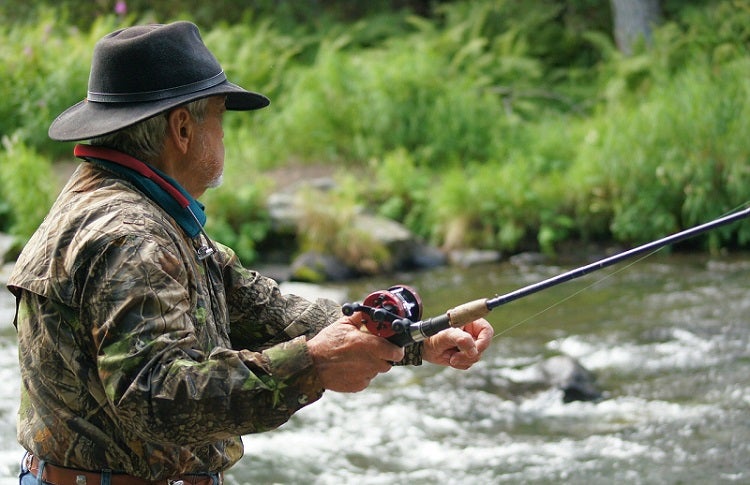 Gear Ratios
Gear ratios affect to main things. First, how fast will your reel retrieve the line? Second, how east will it be to haul in heavy catches?
Gear rations are listed as follows (6.4:1) First up is the revolutions of the spool, second is the number of turns of the handle.
So, for this example, the spool will spin 6.4 times per handle turn. Higher that ratio, the faster the retrieval. The lower the number, the slower your spool will retrieve but the easier it will be to haul in a heavy load.
It can be important to consider gear ratios when choosing a casting reel for certain types of bait. Consider if you want high speed retrieval to be able to move your bait fast or more torque for bigger fish!

Braking
Good baitcasting reels always come with an integrated braking system. This is used to help slow down the cast so that bird nesting and backlash become less of an issue.
When your spool continues to unwind after the bait has hit the water, you'll end up with an excess pile of unspooled line. This is backlash. Spool brakes are your best defense against birds' nests
There are two main types of brakes found in baitcasting reels. Magnetic brakes are usually more expensive but can be adjusted just like mechanical brakes.
Mechanical brakes in most cheap baitcasting reels rely on a pin system which creates friction during the cast to slow down the spool. Be sure to understand your braking system and how to fine-tune your adjustments.
Line Capacity
Consider the type of fish you're planning to go after before making a choice on line capacity. For general use or unless you're planning specifically to do some deep water or big-species fishing, spool capacity isn't usually an issue.
For saltwater fishing, when targeting big fish, you'll want a spool with tons of capacity for casting distance when you have those long runs!
For most anglers, a low profile baitcasting reel will have plenty of line capacity to handle bass or pickerel. Fish like salmon, muskies, and steelheads you might want to heavily consider a full capacity fishing baitcaster.

Right Handed vs Left Handed Baitcasting Reels
If you're a righty, most people will go with a right-handed rod and reel setup. For baitcasting it's important to have an ergonomic rod and reel both.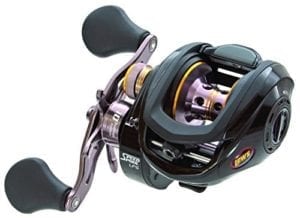 The temptation tends to be to set up your equipment for the hand you're dominant with.
This means, however, that when you cast with your right hand, you'll have to switch the rod to your left hand to work the crank with your right.
Some anglers prefer to set up their gear with a left-handed rod and right handed reel.
With some practice, you'll be able to cast with your left hand and reel with your right hand.
No need to switch hands to start reeling! This is something to consider if you want to improve your overall workflow and efficiency.

Why Use a Baitcasting Reel?
While a spinning or spincast reel is easier to use and get comfortable with, baitcasting reels have their place. There are many situations where a baitcaster is the far superior choice of reel. Let's take a look at them now.
Control
You have much more control with casting distance using a baitcaster as compared to spinning reels. This is because you are able to vary the distance/speed the of the lure by using your thumb to slow down the spool. After practice, you will be able to put a lure or bait exactly where you want it.
Increased Reel Strength
This is due to the design of baitcasting reels where the handle is connected directly inline to the frame of the reel and the spool is inline with the handle. This allows you to apply more force when reeling in a big fish because there isn't an arm to flex like there would be with a spinning reel.
Fishing Line Weight
With the design of a baitcaster where the spool is perpendicular to rod, (unlike a spinning reel where it's inline to the rod and there is an arm), this allows the line to feed directly straight through into the rod guides. This allows you to cast with heavier line and lures to catch bigger fish!

Considerations for Choosing a Baitcasting Reel
So let's sumaraize what you should look for in your new baitcasting reel so you can get out and starting catching some fish!
Bearings
Have more bearings will generally give you smoother casting and retrieval. Look for either high quality stainless steel or some of the more expensive reels now use ceramic bearings. Either of the these bearing types will last a long time are resist corrosion.
Frame
Lighter is better, look for aluminum or magnesium. Some of the newer reels even feature carbon composites that extremely light and strong while resisting corrosion.
Handle
The size handle you use will be determined by the size fish you are targeting. A longer/larger handle will allow more cranking force to go after those trophy size fish! While shorter handle will give you more a bit more control.
Spool
Using a deeper spool that allows you to use more line OR use thicker, heavier line. A larger spool also means less turns of line on the reel and easier to control.
Tension and Brakes
This can be a confusing topic. What you need to know is the brakes control the line at the end of the cast and help prevent backlash. Normally this is a "set and forget" setting but you might adjust if your casting into the wind.
Tension on the other hand is varied according the weight of the lure you are using. This video helps explain how to setup tension and your brakes.
Best Baitcasting Reel Brands

As always choosing the "best" brands of reels is subjective and truth is, with modern manufacturing and technology most all brands are pretty good. There are always a few brands that keep coming up among experienced anglers and personally I have had good luck using all these brands:
Conclusion
Baitcasting reels have a reputation as finicky and prone to bird nesting. With some practice and a well-tuned reel, you can quickly learn to master these reels.
They provide greater control, efficiency, and accuracy over traditional spinning reels. While baitcasting reels have some drawbacks, experienced anglers almost universally prefer their tunability and accuracy over other reels.
Make sure a baitcasting reel is the right choice for you. Whether you choose a compact or full size reel, first consider where you'll be fishing and what type of fish you're going after.
If you're just going out for a weekend once a year bass fishing, baitcasting reels aren't for you. But, if you're ready to push the limits on what you can do with a reel, this is the reel type you need.
---
I hope this guide was helpful for finding the best baitcasting reel to fit your needs. If you want to comment or recommend a reel I didn't include, please use my contact form to get in touch.
Have fun and good luck!
Notice: Outside Pursuits is a participant in the Amazon Services LLC Associates Program, an affiliate advertising program to provide a means for sites to earn advertising fees sold through by advertising and linking to Amazon.com. Amazon offers a small commission on products sold through their affiliate links. Each of your purchases via our Amazon affiliate links supports our efforts to bring you the best possible product reviews at no additional cost to you. We appreciate your support here at OutsidePursuits.com