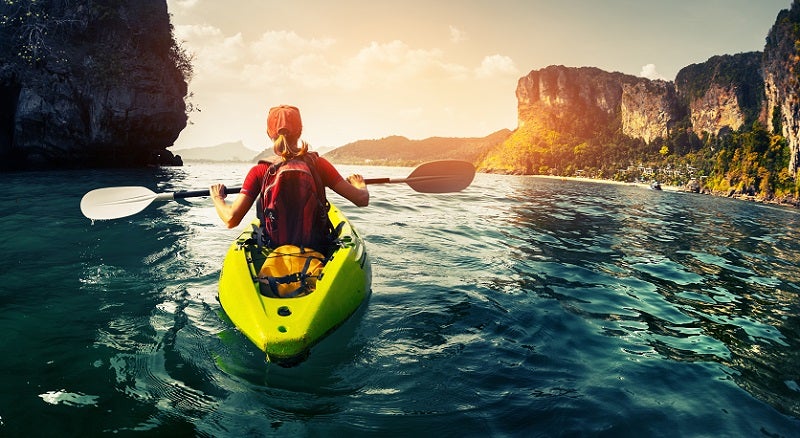 Our Editors independently research, test, and rate what we feel are the best products. We use affiliate links and may receive a small commission on purchases.
So you bought your first kayak or you're thinking about picking one up. Maybe you've spent time in a kayak before and found that, like most people, a standard kayak seat gets uncomfortable after some time on the water.
If you've ever paddled longer trips you've probably experienced discomfort or even sores from long days of paddling in cheap seats.
So, what's a kayaker to do?
Get a new kayak with a fancier seat? Probably not, because a new boat will cost several hundred dollars, if not thousands.
The best kayak seat will feature pressure molded foam, precise adjustments, wider profiles, or any number of other comfort and performance enhancing features.
Best Kayak Seats
| | OceanMotion Ergo-Fit sit on top kayak seat | Leader Accessories Deluxe Padded Kayak Seat | Ocean Kayak Comfort Tech Seat |
| --- | --- | --- | --- |
| | | | |
| | | | |
| Best For: | Sit on Top | Sit on Top | Sit on Top / Sit In |
| Seat Cushion: | Molded gel | Molded foam | Molded foam |
| Seat Height: | 18" | 20" | 18" |
| Seat Pocket: | No | Yes | No |
| Rating: | 4.2 / 5.0 | 4.5 / 5.0 | 4.5 / 5.0 |
| | | | |
For more of my kayak gear recommendations, have a look through these popular Outside Pursuits guide links: Life Jackets, Kayak Carts, Kayak Roof Racks.
Quick Answer: The 5 Best Rated Kayak Seats For 2021
Our reviews of the top rated kayak seats with a comparison table and our buyers guide below will help you choose a seat for you.
---
Kayak Seat Reviews
Now let's get into the kayak seats that you can buy today to improve the ride and feel of your kayak. I'm going to suggest a few popular kayak seats to help you begin your search for the best!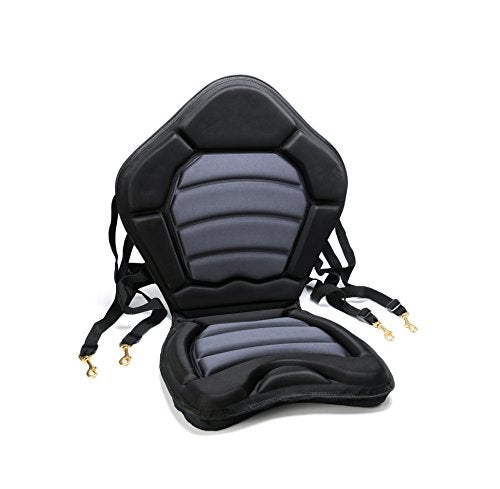 OceanMotion makes tons of aftermarket marine accessories and they're bringing their talent into the design of this seat. You'll get a little more generous seat size compared to many kayak seats but they all have a similar design.
Marine grade brass clips and sturdy webbing straps help this seat adjust to fit and support your unique shape. It's made to work with a traditional kayak and the overall level of adjustability make it a good choice for those who need to squeeze it into a tight cockpit.
I would say if you want tons of padding for a comfortable day of padding this is you seat. The OceanMotion has by far the thickest gel padding of any on our list!
All said and done, this seat is a great molded foam choice for those looking to find a larger seat cushion and sturdy aftermarket replacement seat.
Best For: Kayakers looking a larger seat cushion footprint and traditional kayak fitment.

---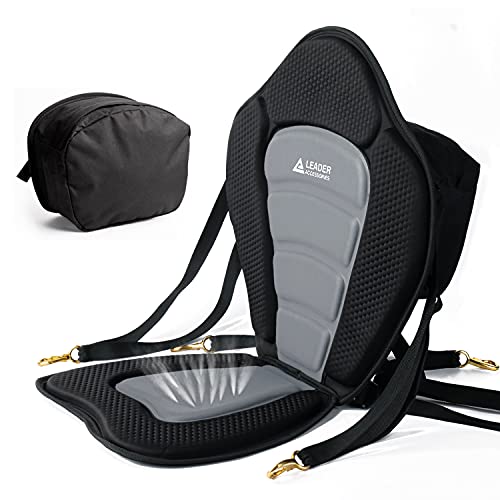 Leader Accessories brings us this molded foam and nylon seat specifically for sit on top boats. If you're riding a traditional kayak with a sit in cockpit, forget about it. You'll need plenty of space for this seat to have room for its large footprint.
I love the ergonomics of the sit cushion. Two high density cushions are aligned to support the bony parts of your tailbone and hips.
These are by far the most painful parts of the body for extended kayak trips where these areas quickly become irritated or even sore.
I would have liked to see a more generous footprint on the bottom of the seat, but the backrest makes up for it.
When it comes to backrests, few aftermarket seats are as amply endowed as the Leader Accessories .
I love the full wraparound support and forward facing straps that help the molded foam backrest really fold in around your sides to support and nestle the body.
Ultimately this seat gets my top pick for the best kayak seat being made from durable material, great backrest design, and ease of installation. The only negative marks come due to the slightly smaller seat.
Best For: Aftermarket installs on sit on top kayaks for ultra back support.

---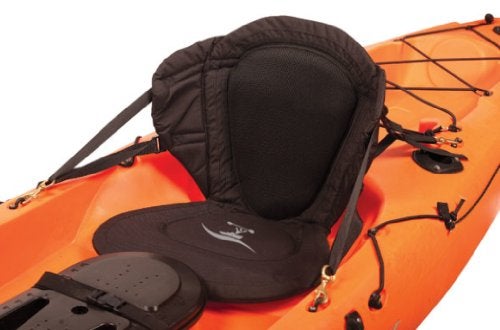 Ocean Kayak company makes tons of great boats that users love. If you happen to own an Ocean Kayak then this seat will clip right up to your boat without any problems.
You'll also love the design and comfort of this well-loved seat.
Why more seats aren't made in this way I will never know. An amply sized and padded seat cushion makes up the bottom of this aftermarket kayak seat.
I like the brass hardware and adjustability but what stands out more than anything is the seatback.
UV resistant nylon surrounds the body forming soft wings on the sides to reinforce the padded and comfortable seat back. I love the soft nylon wings that wrap around and support from the sides.
It reminds me of some of my favorite camp chairs that are durable, comfortable, and insanely effective.
Don't worry, the seatback is tall enough to provide plenty of support for taller people.
I'm actually happy to see at least one seat on our list deviate away from the molded foam design and opt for a softer, more even design that just might be the perfect fit for many of you.
If you're unsure about the more rigid construction of the molded foam seats or don't see one that looks just right for you, try this one! Probably the best kayak seat for fishing on our list for you anglers out there.
Best For: Paddlers looking for ultimate comfort and cushion with a softer feel overall.

---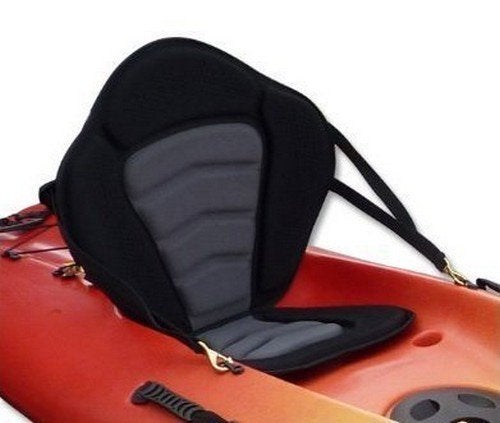 Brooklyn Kayak Company is bringing us a molded foam kayak seat for sit on top boats. This is one to compare to our review of the Kerco sit on top seat from earlier.
Unlike the Kerco, BKC included an extremely large seat cushion. I don't know about you, but if I'm buying an upgraded seat I'd want as much room as possible, so I like the larger cushion.
Like most seats we've reviewed there are generous lateral wings on the backrest which are designed to cup and support the back as you recline in the seat and is probably the most comfortable kayak seat you can buy.
I love that these are attached directly to the customizable webbing straps and brass clips. That means you can clip the seat back higher on the kayak for better support.
If you don't have D rings in the right places on your boat, consider installing them yourself. It'll be worth the improved comfort overall! Most kayaks come with a handful of D rings pre-installed though.
This is a no nonsense aftermarket molded foam seat for sit on top kayaks. It's hard to argue with a reasonable price and tons of quality reviews from happy paddlers.
Best For: Sit on top kayakers looking for an aftermarket seat with a large seat cushion.

---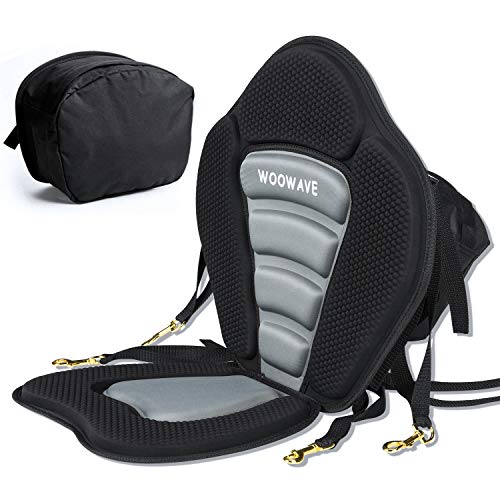 Let me start by saying that I love the large and generous strapping and support on this tall aftermarket kayak seat.
There are four brass clips and each clip is slung to a plethora of adjustable webbing so that you can tailor the fit and form of the seat exactly to you.
One think I really like is the of deeply molded center panels on the the seat back. The gaps provide some airflow so you don't get quite as sweaty as compared to a flat seat back.
The flat seat bottom is good for supporting your bum  however it is on the narrow side at 15 inches.
What I do love is the detachable backpack panel on this seat. You can fill it with your goodies or just toss in a phone in a waterproof case. Anything you don't want to sink to the bottom of the lake can go in there.
Just make sure to waterproof stuff because the nylon pack and zipper are not waterproof themselves.
Best For: Paddlers looking for ample back support with extra storage.

---
Kayak Seat Comparison Table
How to Choose the Best Kayak Seat – Buyers Guide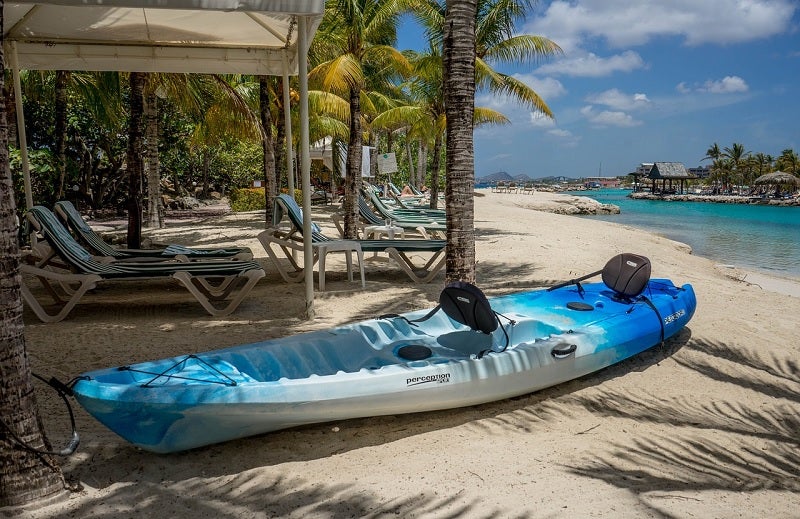 Can you improve the seat that's already in your boat? It's hard to make improvements that look good and perform well over the long term.
By far, the best solution is to simply swap out that cheap seat for one that's made right.
Picking out the new seat for your prized kayak might seem like an easy task. But if you get it wrong, you'll be set back the price of a new seat and find yourself frustrated.
Let me help you make the right choice for your next kayak seat.

Kayak Seat Foam Types
Gel
Seats with gel padding are like those upgraded mouse pads your mom once used. Soft gel inside a neoprene cover or other fabric makes for a comfortable sitting cushion. However, these tend to break down quickly and can get messy when the fabric finally wears out and tears.
Pressure Molded Foam
Is high density foam that stands up to wear and tear. While it may not "give" as easily as softer foams like open cell, or gel seats, it has outstanding longevity.
These seats often take complex shapes and may be molded into patterns that help with blood flow and comfort during long paddles.
Thermomolded
Thermomolded seats are standard these days though once they were rare. Generally in combination with pressure molding techniques these seats comprise the majority on the market today.
Chances are that you'll end up with some combination of pressure and thermomolded foam.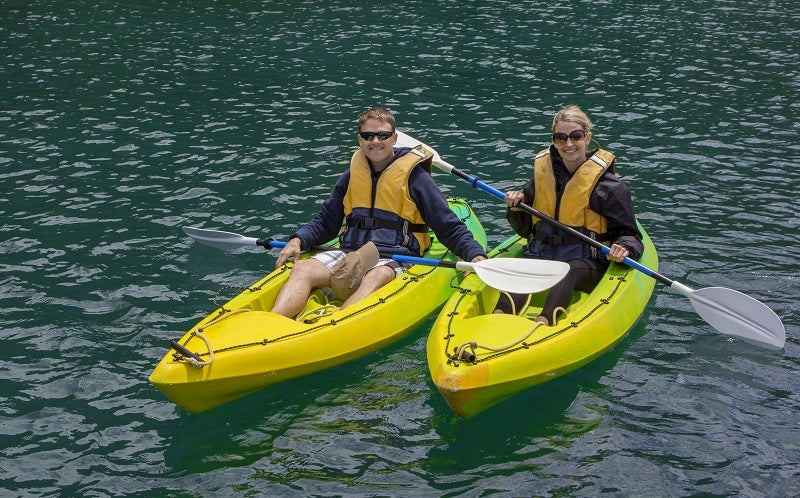 Seat Fabric Types
In most outdoor gear there are two main types of fabric. Usually you'll encounter polyester and nylon fabric in your outdoor equipment.
When it comes to marine equipment neoprene is also common but kayak seats don't usually incorporate this fabric.
Polyester
Polyester a little bit more delicate when compared with Nylon. However, it's' also more "wicking" which could be a very desirable quality in a kayak seat where sweat, moisture, and water may build up on hot days.
Polyester fabrics are usually more pleasant to the touch and make better next to skin fabric choices.
Nylon
Nylon is made in such a way that the fibers are much stronger than polyester. It's usually a water repellent fabric instead of moisture wicking.
That means it may not make as "cool" of a feeling fabric for hot days on the water. All said and done though I doubt it will make much difference to most users.
What's really nice about nylon is that it's much more abrasion resistant and should stand up to wear better over the long term.
Durability is a major factor in the longevity of your new kayak seat and I would prioritize this over other factors.

Attachment Methods
Most aftermarket seats for kayaks should be easy plug and play style seats. They're generally made to swap into the D style metal loops that are attached to the kayak. Once attached the seats can be adjusted until they fit well.
Generally you shouldn't have to drill, modify, or alter your new seat. In some cases this may be necessary to achieve the perfect fit.
On the flip side of the coin, there are some seats that are made to fit perfectly within popular kayak models. The more popular your kayak model is, the more likely you'll be able to find an exact match.
It's worth noting that attachment methods for sit on top kayaks are different from those for sit in kayaks. Either way, just make sure you take some measurements and compare what you have before committing to that "buy now" button.
If you don't have the correct attachment points it's surprisingly easy to install a few D ring attachments yourself. All you'll need is a drill bit, the D rings, and a few pop rivets.
Of course this is a task best left to the more adventurous among the DIY crowd.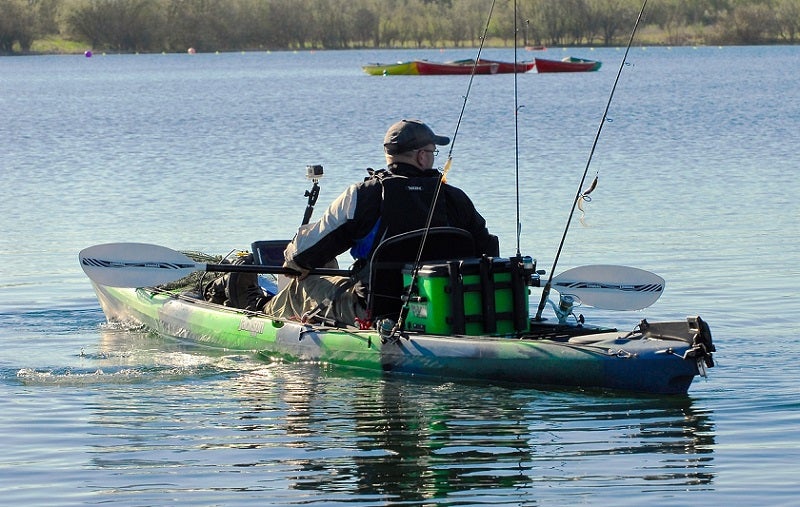 Back Support and Seat Height
I will tell you first hand that a low seat or no seat back at all can be one of the biggest pains of long distance paddling.
When you're paddling for hours or days at a time having back support is critical since those lower back muscles are used so heavily in supporting and controlling the movements of the boat.
When choosing a new seat I would err on the side of "too high". If you're 6 feet or over you'll want something in the range of 18" or more of seat height and back support. For shorter paddlers, you may want a bit smaller seat back.
Personally?
I would go for the tallest seat back available that is comfortable.
The added support once you tire from paddling is invaluable and makes the difference between walking like the Hunchback of Notre Dame for days, or getting out of the boat with a smile on your face.
Going too tall on the seat back could potentially restrict movement or cause irritability, but only if the seat rides so high on your back that it contacts or rubs near the bottom of the shoulder blades as you paddle.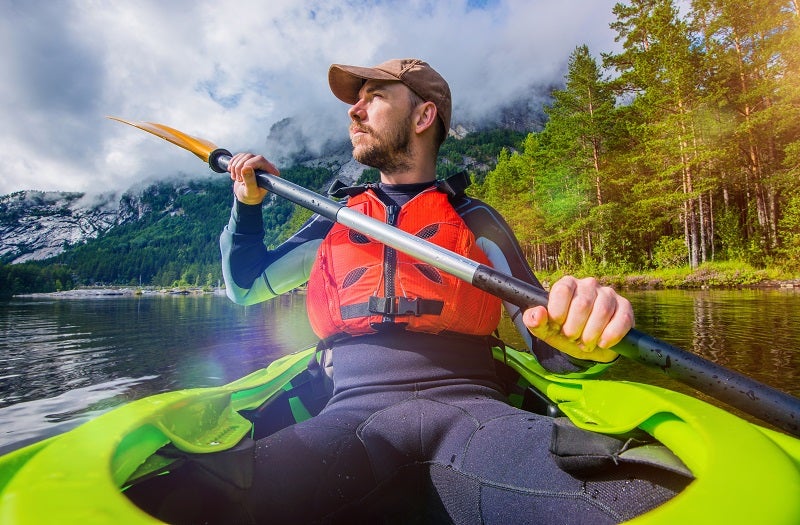 Why Replace Your Kayak Seat?
There are many reasons to invest in an awesome kayak seat. While comfort is one of the most common reasons, there are many more factors to consider when making your choice.
Comfort
If the kayak seat you've chosen isn't comfortable, you're less likely to use it and less likely to enjoy kayaking. With so many different sizes, shapes, and materials used in construction, you may find it a bit overwhelming when trying to decide on the most comfortable kayak seat. However, we've covered many of the different types of materials used in the buying guide above. We hope that gets you started on making the right choice for you.
Kayak Maneuverability
The right kayak seat for you will be designed in such a way as to give you better maneuverability on the water. It will keep you planted in the seat comfortably, and also allow you to maneuver the kayak without excess movement of your body inside the boat. Whether you are kayaking a peaceful river or lake, or heading out to the rapids or ocean, maneuverability is important.
Less Fatigue
The kayak seat you choose should allow you to make the most out of every paddle by keeping you firmly planted so your paddle is more efficient. The more efficient you are at paddling, the less energy you spend. The less energy you spend maneuvering the kayak, the less fatigue you will experience. If you don't get tired quite so fast, you can enjoy more time on the water.
Stability
It can be quite uncomfortable to move around inside the kayak as you're paddling. The best kayak seat for you will keep you stable inside the kayak, giving you more stability. Imagine trying to walk in shoes that are a bit too big for you. Your feet will end up hurting and you may even get sores or blisters. Sitting in the wrong kayak seat can give you the same experience. The right kayaks seat will keep you stable within the boat.
Storage
Even on short kayaking trips, having extra storage can be a huge benefit. Some kayak seats create room for more storage whether you are bringing along a sack lunch, extra safety gear, or even camping equipment so you can stop for the night along your trip. If storage is something you're worried about, it's important to choose a kayak seat that offers greater storage.
Conclusion
If you're looking for a new kayak seat, you'll be surprised at just how many are really out there. Your options are wide and varied. From molded foam to softer fabrics there are seats that span across anyone's tastes.
Remember to check the size and type of kayak you're replacing the seat on before ordering. While seats are flexible, they may not fit every kayak even though most sizing is relatively standard.
Comfort and support on long paddling trips is tantamount to enjoying your day on the water. Make sure to invest in a great seat before embarking on long paddling journeys. You'll be glad that you did!
---
I hope this guide was helpful for finding the best kayak seat to fit your needs. If you want to comment or recommend a seat I didn't include, please use my contact form to get in touch.
Have fun and enjoy your time on the water!
How We Researched
To come up with the top kayak seats we researched a variety of sources for reviews such as REI, Dicks Sporting Goods, Cabelas and Backcountry along with our own personal experience.
We also consulted online magazines for product research and reviews to get as much unbiased information as we could. To help weed out fake reviews we used Fakespot.com to make sure we only looked at genuine reviews.
With so much quality gear available, we had to narrow it down based on what we felt were the best options for the price. The author, Casey Fiedler has been an avid kayaker and leads kayak camping trips during the summer months in his native state of Michigan.
To help narrow down the selection he used his personal experience along with recommendations from kayak tour guides and rental shops.
After extensive research, we came up with our list to help you choose the right one for you.
Sources
Notice:
OutsidePursuits.com is a participant in the Amazon Services LLC Associates Program, an affiliate advertising program. OutsidePursuits.com earns fees from products sold through qualifying purchases by linking to Amazon.com. Amazon offers a commission on products sold through their affiliate links.