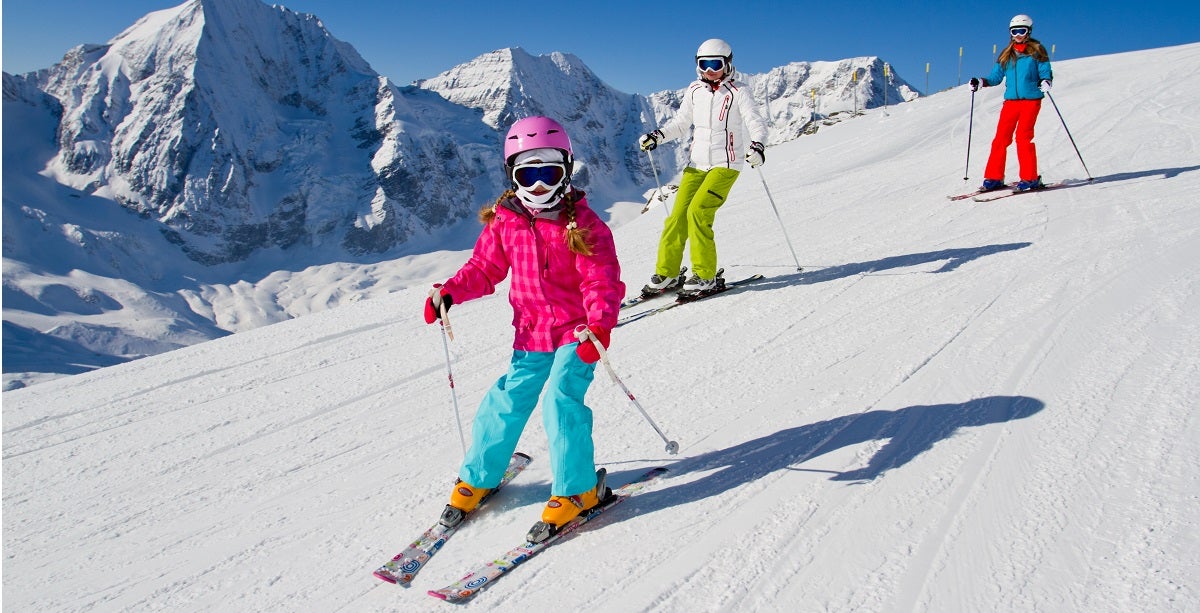 Our Editors independently research, test, and rate what we feel are the best products. We use affiliate links and may receive a small commission on purchases.
If you're a complete newbie to the skiing world, then you probably have a lot of questions. One of the biggest questions beginners have is, "What should I wear while skiing?". Well, we want to make sure that you're successful in your new sport, as well as safe and comfortable.
We've taken our own experience along with the advice of pros to come up with a guide that will tell you everything you need to know about what a beginner should wear skiing. Let's get started!
Ski Jacket
If we were to pick just one article of clothing that is most important to wear on the mountain, it would be the ski jacket. It's simply not enough to wear any jacket up on the mountain, especially when you're probably going to spend a good amount of time crashing and potentially getting snow and wind inside of it.
Ski jackets help keep snow and wind out as they're waterproof and windproof. This should be your exterior layer, and if you're skiing in particularly frigid conditions, you'll want it to be insulated as well. Ski jackets come with handy pockets where you can keep your lift pass, your ID, cards, cash, and even your snacks and gloves.
Ski jackets come in all types of fits and sizes. If you're outfitting your child, you'll find kids' ski jackets specifically made with little skiers in mind. If you're a woman and find men's models to be too boxy or loose, then there are jackets made specifically for your bodies, too!
Some will come with hoods which can keep your head, neck, and ears protected from the elements. No one likes the feeling of wind whipping in their ears.
Ski Pants
Ski pants are typically made of the same or very similar materials as ski jackets. They have the same basic function: to keep snow and wind out while insulating. They're waterproof, windproof, and are typically rip-proof as well so they aren't going to tear no matter how many times you fall on your butt or hop on the ski lift.
Not only that, but they're incredibly breathable, letting any extra heat or moisture escape so you always feel comfortable and dry. They offer enough room for you to naturally and easily move around in them, though not so baggy that they get in the way of your performance on the hill!
Ski pants can be used alone, or you can wear a layer of long johns or fleece pants underneath if you feel you need even more insulation and warmth.
Finally, you'll find that the pants come with additional pockets for you to place your hands when you're not skiing, gloves, and other essential items. While many women just use men's ski pants, some women like the feel and fit of women-specific ski pants better. It's nice to know there are options just in case.
Base Layers
Base layers for skiing are where your comfort begins. If you don't have the right base layers, you're not going to be very comfortable as you'll likely be much too hot and sweaty. You could have the most impenetrable ski pants and jacket out there, but if your base layers don't properly regulate your temperature and wick away moisture you're going to be wishing you did better research.
Base layers are typically form-fitting and stretchy to move with your body, instead of restricting your movement. Not only that, but they fit this way to minimize the risk of chafing while offering compression and support. Compression will help boost blood flow and performance.
Some of the most popular base layer materials are polyester, elastane, and Merino Wool (or some type of combination of the above).
Ski Socks
Are toes are one of the first parts of our body to get cold, and if your toes are feeling cold while skiing it's probably because you don't have the right socks on. Ski socks are not only made to keep your feet warm, but also help prevent the occurrence of blisters and chafing which can seriously be a downer when you're skiing!
To help keep your feet warm while simultaneously moving moisture and excess heat away from your skin, you'll want to go with a pair made of Merino Wool, nylon, lycra, or some combination of them. You don't want them to be too thick as this can end up being painful in your ski boots, but not so thin that they don't offer enough protection.
Ski Gloves
Gloves are an absolute necessity when you're up at the ski resort! Your hands are going to be out in the open, vulnerable to icy winds and snow as you'll be holding onto ski poles all day long. Ski gloves are insulated enough to keep your hands and fingers warm, but not so much that you don't have adequate dexterity. They come with a textured underside to make sure you have a solid grip on the poles, ski lift, skis, etc. even in the snow.
Ski Helmet
First off, we need to mention that no matter how experienced you are at skiing, you need to wear a helmet. It's like no matter if you just commute to work or are a pro racecar driver, you need to wear a seatbelt. While a ton of people go skiing every year, it's still an extreme sport and you're still flying down the side of a snowy mountain.
Now, add in the fact that you're new to this sport and are going to be falling a lot, you're at a greater risk of injury. What may be a little bump with a helmet on could mean a serious head injury without one. Moreover, helmets help keep your head and ears warm, which will make your experience a much more pleasant one. All in all, just wear a helmet.
Ski Goggles
If you can't see where you're going, that's playing a really dangerous game. Skiing involves traveling down runs at high speeds, where you could potentially hit other skiers/boarders, trees, rocks, etc. Not only that, but you could very likely be close to a cliff and if you can't see where you're traveling, it's likely you could fall off of it.
We don't want to scare you, because if you can see clearly you'll easily be able to navigate these with ease. The key to having clear vision the entire time is by wearing a pair of ski goggles. You may see some skiers wearing sunglasses instead of goggles. While they may be better than not wearing anything at all, they simply don't compare to what goggles offer.
Sunglasses are not typically shatterproof, so if you crash while wearing them the lenses could shatter and potentially get in your eyes! On top of that, they don't offer the same type of coverage as goggles, nor do they offer a seal to keep out snow and wind. Goggles are made to not fog up easily, and help protect your eyes from the sun so you don't have to worry about a glare either.
Finally, goggles come with stretchy bands that will make sure they stay on your head just in the right position so you don't have to keep readjusting or worry about losing them on the mountain.
Summary
Now that you've had the chance to read all about what beginners should wear for skiing, do you feel ready for ski season? We hope that our guide has been able to fill you in on exactly what you should wear and what you should leave at home. There's no need to overthink it – simply follow our tips and you'll be ready for a wonderful time! Thanks for tuning in and we'll see you again shortly!
Notice:
OutsidePursuits.com is a participant in the Amazon Services LLC Associates Program, an affiliate advertising program. OutsidePursuits.com earns fees from products sold through qualifying purchases by linking to Amazon.com. Amazon offers a commission on products sold through their affiliate links.