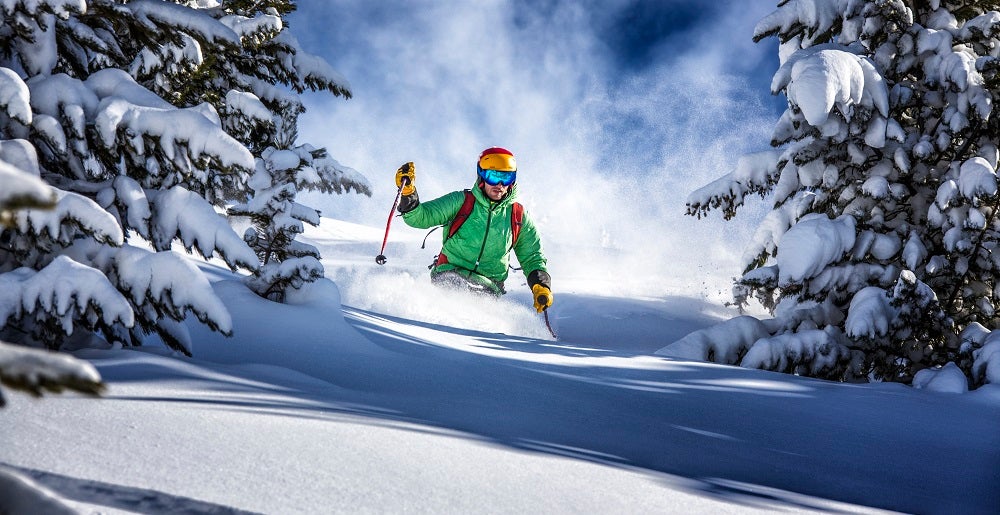 Our Editors independently research, test, and rate what we feel are the best products. We use affiliate links and may receive a small commission on purchases.
So to enjoy your day on the slope you need the appropriate gear, lets see what you need and how to choose it. Lets dig in!
Choosing Your Skis
Why Does Length of Skis Matter?
The length will alter the manner in which a ski performs when traveling in a straight line or turning. It will affect your skiing at any speed. For example, if you select a ski which is shorter in length, then they are going to move snappier, offering faster turns and more pliable maneuverability at slower speeds. Longer skis are pretty much the opposite, having longer turns and will be easier to keep your balance with at faster speeds but move like molasses at slow speeds.
If you're particularly tall, you're probably going to prefer longer skis as you're going to have more control over them and they'll be easier for you to turn with. If you're shorter and/or more lightweight, then you'll probably feel more natural with how shorter skis move. If you're a beginner, then we generally recommend going with shorter skis as they're easier to maneuver with.
Always Make Sure
Don't just guess on your height if you're unsure. Seriously, an inch can make a big different with the length of your skis. To calculate, take your height and convert it into centimeters. This number will be the center-point of a 30cm range of lengths.
For example, if you stand 5'9" tall, then that'll rank in at about 175cm. 175 is smack dab in the middle of 160 and 190 so your skis should be somewhere in that range in length. If you're just starting out, we recommend staying closer to the 160 end of that range. This is where most beginner skis land.
Effective Edge
The effective edge of your skis is the length of the ski edge which makes contact with snow on a somewhat-hard surface. For example, if you have a cambered ski, you're going to get a pretty lengthy effective edge as the tip and tail are both making contact with the snow. However, a cambered ski with an early rise tips will feature a shorter effective edge.
So, while both pairs of skis may end up being the same length in total, their effective edges do vary significantly. The shorter the effective edge is, the less control you're going to have over them, making them more difficult for beginner use.
Width
Width also has something to do with the length as well and how well you can balance on them and keep your stability on the snow. Wider skis allow a more even, balanced weight distribution which will help keep them from tilting. This is why wider skis also keep you "afloat" better than more narrower alternatives would. So, we recommend also looking at skis which are slightly wider than the norm.
Types of Skis
Okay, now we're going to get a little bit deeper into the types of skis you should look for. There are a few different types: all-mountain, off piste, park, on piste, and backcountry touring.
All-Mountain: These are pretty much what the name states they are: they're great to be used all over the mountain. If you're interested in skiing on and off piste then this is what you should be looking for. If you're a beginner, you'll want all mountain skis to come up to around your eyes/forehead, otherwise they should be the length of your entire body if you're more advanced.
Off Piste – These are for those adventurers who find groomed runs boring or not challenging enough. They will help serve you in untouched, ungroomed terrain in typically very deep snow. They'll help keep you "afloat" and reduce the risk of you sinking in.
Park – Are you someone who gawks at the skiers during X-Games seasons, flying off of ramps and sliding down rails? If so, then you're probably going to want to get a pair of park skis which will facilitate you learning these tricks. These will typically land around where your nose sits on your face, and as you become more advanced you'll want skis that are closer to your entire body length.
On Piste – If you like to parallel ski on the nicely groomed runs which always look pristine and offer expectedness and reliability, on piste skis are for you. If you don't enjoy terrain challenges like moguls, then these are great options.
Alpine Touring – Finally, if you'd like to venture out into the wilderness and just take in nature and your surroundings, you'll need a lightweight pair of Alpine touring skis.
Choosing Your Ski Clothing
Type of Ski Jackets
First things first, we have to take a look at the type of jacket you need and then narrow it down from there. You'll find a few different types: hardshell, softshell, and insulated. Each is for a specific type of environment so make sure you know where you'll be wearing it.
Hardshell – These are waterproof and wind-resistant and made to hold up to just about anything you throw at it. If you're going to be traversing the backcountry, you'll likely want to choose a hardshell jacket. While they're made to be used on the outer layers, they are not insulated so you'll definitely need to know how to use base and mid layers to keep warm. Keep in mind that these types of jackets are easy to pack away, but are not very breathable at all.
Softshell – In contrast to the hardshell, softshell jackets are incredibly breathable and offer max mobility. This shell is also waterproof and wind-resistant, and also doesn't feature insulation so you'll need to layer underneath to stay warm. These are a bit more versatile than hardshells as they can be used either as a mid-layer or outer layer, depending on your own preferences and the environment you're in. For example, if you're going somewhere with serious snowfall we highly recommend you add a hardshell jacket over this one.
Insulated – Last but not least, we have the insulated jackets that most of us are already somewhat familiar with. If you're going to be in some serious cold/intense weather conditions like you'll find in the northern countries, you'll want an insulated ski and snowboard jacket. You'll have an outer shell which will keep the wind and moisture out, as well as an additional insulation layer.
What the insulation consists of will vary, but down and synthetic insulation are the most common. If the weather is 0 degrees or colder and dry, we recommend down. Down keeps body warmth in but is also breathable.
Jacket Fit and Style
Now that you've figured out the type of jacket you need, you need to make sure you look good, too! For fit and style we have either Slim, Regular, or Loose.
Slim – Slim-fit jackets are ideal if you're a skier who is focused on the technical, meticulous side of the sport. Why? Not only will you encounter less interference from your clothing, but they reduce drag and offer better control throughout each trick and move you make. The jacket is designed to move with your body. Just make sure that depending on the thickness and quantity of your layers underneath, you may have to go up a size.
Regular – This is the fit most common among beginner to intermediate skiers and snowboarders, as it's the perfect meet-in-the-middle from slim fit and loose fit. It's a nice balance between the range of motion loose fit offers while offering the technical experience of a slim.
Loose – Loose fit is, well, loose. This means that you'll get greater range of motion from this style of snowboard jacket and not feel restricted in any way. Usually freestyle skiers and snowboarders choose this fit not only because of how it feels on but because of how it looks.
Gender/Age
Our bodies all vary, depending on our age and our gender.
Kids – For children, we need to place a strong focus on comfort, mobility, insulation, and coverage. Not only that, but you need their jacket to have ample pockets to keep gloves, snacks, spending money, etc. safe.
Women – Women usually prefer a more fitted look and feel, though this is completely up to the individual wearing it. Women snowboarders tend to prefer an in-between snowboard jacket. One that is more fitted but not restrictive.
Men – Men alternatively, often prefer loose or normal fit jackets but this will also vary depending on the type of skiing or snowboarding they're partaking in.
Waterproof Rating
So, you've narrowed down the type and fit of your jacket, we have to look at the specifics. Arguably, the most important spec to consider is the waterproof rating. This tells us more or less just how waterproof a certain jacket is, or how effective it is at keeping water from seeping into the shell. Letting moisture in is the quickest and easiest way to get cold which is not only uncomfortable, but can seriously be dangerous in some situations.
Waterproof ratings go off of millimeters and you'll usually find ski/snowboard jackets which are rated anywhere from 5,000 to 10,000 mm. However, there are some particularly impressive models which feature a rating from 15,000 to 20,000mm! You can expect those to be more expensive, of course.
Breathability Rating
Next up, we look at just how breathable your jacket will be. You not only want to focus on the warmth and insulation, but how well your jacket can let your sweat escape through the fabric to be evaporated into the air outside.
This spec is measured in grams. If you're just learning how to ski or snowboard or are a more casual athlete, then you'll be fine with a jacket ranking at 5,000 to 10,000 grams. If you're more serious and keep going until you have to leave the resort, then you'll want something closer to 15,000 grams.
Seam Tapings
This kind of goes hand-in-hand with the waterproof rating as the type of seam sealing directly affects how much moisture gets into your jacket. There are three types of seams that we'll look into:
Fully-Taped Seams – As you can probably guess from the name, each seam on the jacket comes covered by a waterproof taping. These are ideal if you'll be in the backcountry or in particularly wet/extreme weather conditions.
Critically Taped Seams – The seams located in areas that will receive the majority of wetness are taped as well, like the midsection, neck, etc. However, not every seam on the jacket comes taped.
Welded Seams – These are by far the priciest of the bunch, but for a reason: they're the most effective at keeping moisture out. These don't even have actual stitching, but instead are kept together by means of a glue or sonic bonding!
Ease of Cleaning
At least once or twice during the season you should clean your ski/snowboard jacket. This is to make sure bacteria isn't growing which not only can irritate the skin but can create foul odors which no one wants!
Make sure your jacket is easy to clean. You can find these instructions on the tag as well, but here are some tips to make sure you know exactly how to do so with any type.
Special/Extra Features
You'll notice that you get the option to add on many extra features to most jackets. However, they may not be necessary or even something you want so let's go into the most common accessories/additions that you'll find out there.
Hood – Hoods come in a few different configurations. Detachable hoods are convenient as you get to choose exactly when you want it on so on days with milder weather conditions you can simply leave it in your backpack. Attached hoods are on there forever, while stowaway hoods are as well but let you roll it up into a special pocket in your jacket when you don't want to use it.
Storm Flap – These are also the front zipper covers to make sure no wind or moisture gets in your jacket through the zipper.
Powder Skirt – This is a piece of material that you can take off with a snap closure. It's made to keep snow from getting inside your jacket through the front or back. Not only that, is it can keep wind out and warmth inside. If you're getting too hot, simply take it off.
Pit Zipper – This is another handy feature which will keep your body temperature at a comfortable level. It's located near the armpits, and will let you either release heat or keep it in, depending on the weather.
Pockets – You're probably not going to want to haul a backpack around with you unless you're going into the backcountry, so where are you going to hold your accessories and valuables? In pockets, of course! There are tons of different pocket configurations, but today, most people look for a pocket that can safely hold their smartphone, headphones, GoPros, etc. Not only that, but we recommend a goggle pocket and a place to safely hold your gloves, ski pass, and cards/cash.
Ski Pants
Ski pants are typically made of the same or very similar materials as ski jackets. They have the same basic function: to keep snow and wind out while insulating. They're waterproof, windproof, and are typically rip-proof as well so they aren't going to tear no matter how many times you fall on your butt or hop on the ski lift.
Not only that, but they're incredibly breathable, letting any extra heat or moisture escape so you always feel comfortable and dry. They offer enough room for you to naturally and easily move around in them, though not so baggy that they get in the way of your performance on the hill!
Ski pants can be used alone, or you can wear a layer of long johns or fleece pants underneath if you feel you need even more insulation and warmth.
Finally, you'll find that the pants come with additional pockets for you to place your hands when you're not skiing, gloves, and other essential items. While many women just use men's ski pants, some women like the feel and fit of women-specific ski pants better. It's nice to know there are options just in case.
Base Layers
Base layers for skiing are where your comfort begins. If you don't have the right base layers, you're not going to be very comfortable as you'll likely be much too hot and sweaty. You could have the most impenetrable ski pants and jacket out there, but if your base layers don't properly regulate your temperature and wick away moisture you're going to be wishing you did better research.
Base layers are typically form-fitting and stretchy to move with your body, instead of restricting your movement. Not only that, but they fit this way to minimize the risk of chafing while offering compression and support. Compression will help boost blood flow and performance.
Some of the most popular base layer materials are polyester, elastane, and Merino Wool (or some type of combination of the above).
Ski Socks
Are toes are one of the first parts of our body to get cold, and if your toes are feeling cold while skiing it's probably because you don't have the right socks on. Ski socks are not only made to keep your feet warm, but also help prevent the occurrence of blisters and chafing which can seriously be a downer when you're skiing!
To help keep your feet warm while simultaneously moving moisture and excess heat away from your skin, you'll want to go with a pair made of Merino Wool, nylon, lycra, or some combination of them. You don't want them to be too thick as this can end up being painful in your ski boots, but not so thin that they don't offer enough protection.
Ski Gloves
Gloves are an absolute necessity when you're up at the ski resort! Your hands are going to be out in the open, vulnerable to icy winds and snow as you'll be holding onto ski poles all day long. Ski gloves are insulated enough to keep your hands and fingers warm, but not so much that you don't have adequate dexterity. They come with a textured underside to make sure you have a solid grip on the poles, ski lift, skis, etc. even in the snow.
Ski Helmet
First off, we need to mention that no matter how experienced you are at skiing, you need to wear a helmet. It's like no matter if you just commute to work or are a pro racecar driver, you need to wear a seatbelt. While a ton of people go skiing every year, it's still an extreme sport and you're still flying down the side of a snowy mountain.
Now, add in the fact that you're new to this sport and are going to be falling a lot, you're at a greater risk of injury. What may be a little bump with a helmet on could mean a serious head injury without one. Moreover, helmets help keep your head and ears warm, which will make your experience a much more pleasant one. All in all, just wear a helmet.
Ski Goggles
If you can't see where you're going, that's playing a really dangerous game. Skiing involves traveling down runs at high speeds, where you could potentially hit other skiers/boarders, trees, rocks, etc. Not only that, but you could very likely be close to a cliff and if you can't see where you're traveling, it's likely you could fall off of it.
We don't want to scare you, because if you can see clearly you'll easily be able to navigate these with ease. The key to having clear vision the entire time is by wearing a pair of ski goggles. You may see some skiers wearing sunglasses instead of goggles. While they may be better than not wearing anything at all, they simply don't compare to what goggles offer.
Sunglasses are not typically shatterproof, so if you crash while wearing them the lenses could shatter and potentially get in your eyes! On top of that, they don't offer the same type of coverage as goggles, nor do they offer a seal to keep out snow and wind. Goggles are made to not fog up easily, and help protect your eyes from the sun so you don't have to worry about a glare either.
Finally, goggles come with stretchy bands that will make sure they stay on your head just in the right position so you don't have to keep readjusting or worry about losing them on the mountain.
Notice:
OutsidePursuits.com is a participant in the Amazon Services LLC Associates Program, an affiliate advertising program. OutsidePursuits.com earns fees from products sold through qualifying purchases by linking to Amazon.com. Amazon offers a commission on products sold through their affiliate links.