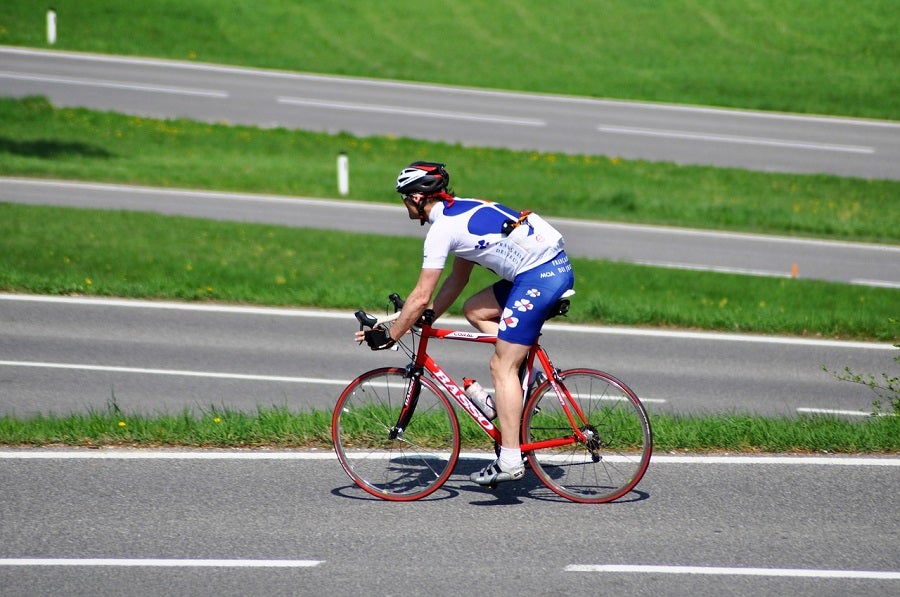 Our Editors independently research, test, and rate what we feel are the best products. We use affiliate links and may receive a small commission on purchases.
Riding a bike is a simple skill many of us learn at a young age, yet cycling is a rewarding experience you can enjoy all your life. Your bicycle is an accessible way to stay fit, commute on the cheap and enjoy the outdoors.
No matter if you've cycled before, our beginner's guide to road biking will explain how to get started with this sport. We'll go over essential gear, basic safety and maintenance tips as well as how to find routes that fit your level and style.
Looking for a different type of bike? Read our comprehensive guide to every type of bicycle. 
Introduction to Road Biking
Road biking, also called road cycling, is the most common form of riding a bicycle and includes racing, recreational, and utility cycling where you use a bike for your commute or transportation.
Road cyclists make use of all streets and roads which allow bicycles. They compete in street races, go on excursions and explore the countryside, and see pedaling as a healthy, alternative way of getting around.
Why Cycle?
Need convincing that riding a bike is a good choice? We'll give you a brief summary of some of the many benefits cycling can offer:
It contributes to your health in many ways: regular saddling up and pedaling can reduce the risk of heart disease, ward of cancer, increase your oxygen intake, help you lose weight, improve your metabolism, fortify your immune system, let you sleep more deeply and boost your results in other sports and activities. Same as running, riding a bike can provide an athlete's high that gives your short term pleasure as well as a lasting lift of the spirits.
It has a positive impact on the environment: bikes take up less space on the road and in parking, have zero emissions and nano-particle pollution and don't require fossil fuels. Though it might seem counter-intuitive, cycling typically exposes riders to less vehicle pollution than when you're traveling by car or public transport.
It is as social as you want it to be: you can enjoy cycling on your own or with your family. You can form a team with fellow cyclists and go on rides together, or you can cycle solo. In any case, it's an activity that allows you to enter a contemplative, almost meditative state that clears your head and refreshes your mind.
What Bike to Use?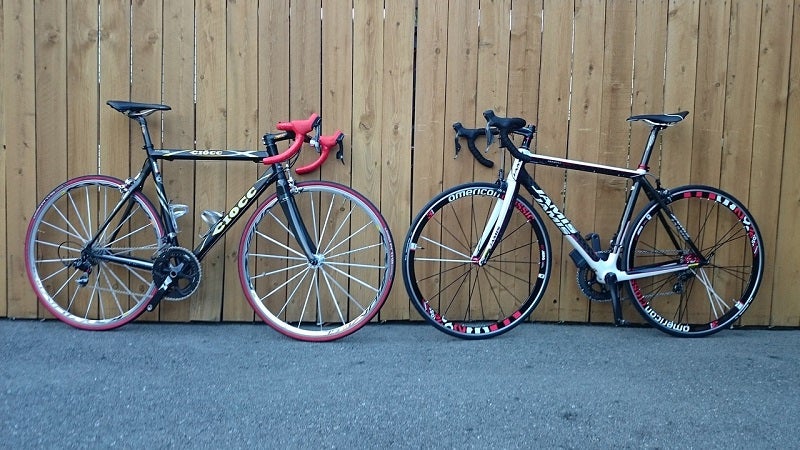 The best bike for road cycling is the one you already own. If you're a beginner and want to take on cycling, whether that means biking to work, leisurely riding through nature, or racing with other cyclists, you should feel comfortable and safe on your two wheels.
Typically, a road bike has the following features: low-positioned drop handlebars ("racing handlebars") and a high-positioned saddle for improved aerodynamics, a lightweight frame, narrow, high-pressure and low-profile tires, and multiple gears
Though some riders prefer single or fixed gear bikes.
Dedicated road cyclists often fit their bike with special pedals that have straps, clips, or clipless technology for improved pedaling. In short, road bikes are designed for fast, efficient and comfortable riding on asphalt, typically over longer distances or in a racing setting.
If you already own a different type of bike, start with what you have. A mountain bike can be fitted with slick or semi-slick tires for streets, and a hybrid, commuter or city bike is equally sufficient when you you're just starting out as a beginner.
Once you find you're really into the sport, you can always upgrade.
Should you own a recumbent ("lie-down") bike, you're probably a "roadie" cyclists already – thanks to their high aerodynamic efficiency, recumbent bikes are great for road biking if you're comfortable with that riding position.
Bike Fit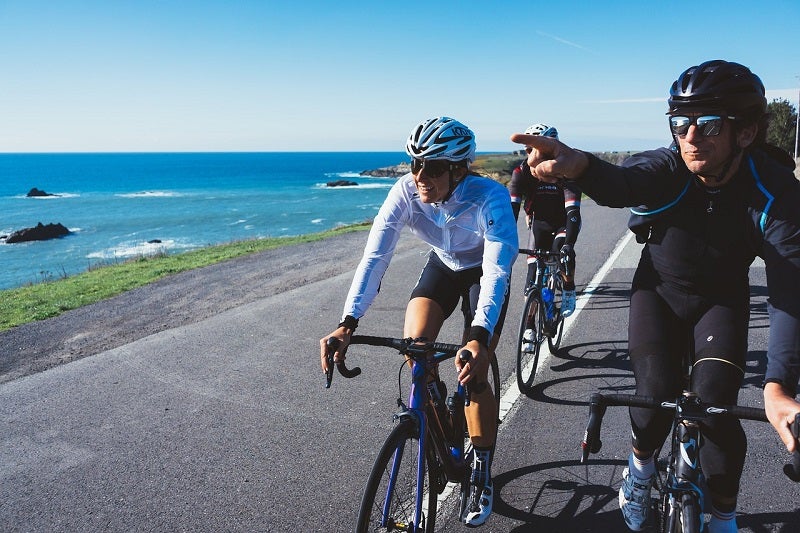 The bike you ride should fit your body. The frame size needs to be adequate for your torso, arm and leg length. When shopping for a new bike, it pays to try out many different frames and have a professional match your measurements to a bike frame.
For comfort and efficient pedaling, you can make adjustments to the saddle and the handlebars.
A well-adjusted saddle allows you to get the most out of your leg movements, while the correct reach between saddle and handlebars will ensure a good, comfortable position where you avoid back or neck pain.
If your saddle is too high, you'll be seated with discomfort and experience lower back pain due to a rotating pelvis. A saddled fixed too low prevents your transferring all the power from the pedal stroke, and you'll put too much pressure on the knee.
When the saddle is right, your knee will only be bent slightly at the bottom of the pedal stroke.
VIDEO: How To Set Your Saddle Height
How To Set Your Road Bike's Saddle Height - Tips For Getting Your Saddle Position Right
With pedalling optimized, you can adjust the height of your handlebars.
The best position depends on your comfort and riding style, but as a rule of thumb, your shoulders should be relaxed and your lower back angled at 40 to 50 degrees with your hands on the bars – or on the hoods, if you use drop handlebars.
VIDEO: How to change your handlebar height
How to change your handlebar height
Maintenance
Keep your bike in good shape and it will thank you with years of good service. The essentials of bike maintenance are:
Clean and oil your chain on a regular basis, especially when you frequently encounter dust, dirt, or bad weather. Always clean before oiling, as particles sticking to the chain can damage chainrings. Proper cleaning prevents creaking and will make your gears last longer.
Always keep your tires inflated properly. The recommended pressure is indicated on the sidewall. A good floor pump with a pressure gauge allows you to easily inflate sufficiently.
It's good practice to carry a repair kit so you can fix a puncture while you're on the road. That means bringing a small, portable pump with you as well.
Consider fenders or mudguards that you can quickly attach in wet conditions, which will make rainy rides less miserable for you and slightly less dirty for your bike.
VIDEO PLAYLIST: Bike Maintenance
How to fix a puncture on a bike
Safety
As a road cyclist, you naturally share the road with others and have to follow traffic laws and regulations. Stay alert and always watch out for any obstacles, whether in the city or the countryside.
Potholes, debris, train tracks, litter, wet leaves or metal can all cause nasty falls. Be assertive, but yield if other riders or drivers behave erratically, even if you have the right of way.
Always signal, wait for red lights to change and make complete stops at signs. Ride to the right but out of the gutter. Stay a couple of feet into the road when there is no shoulder.
Move towards the middle when turning left after checking over your shoulder and signalling. Stay off sidewalks and pay attention to pedestrians stepping into the road who might not hear or see you.
Note that riding in a formation is beneficial to everyone in a group, but it requires the skill of riding close to others. Ride at the same level as the person next to you, don't move or brake unexpectedly, match your speed with the group and be attentive.
If you have yet to learn this skill, make the riders of the group you join aware of this and they will guide you along.
Road Biking Gear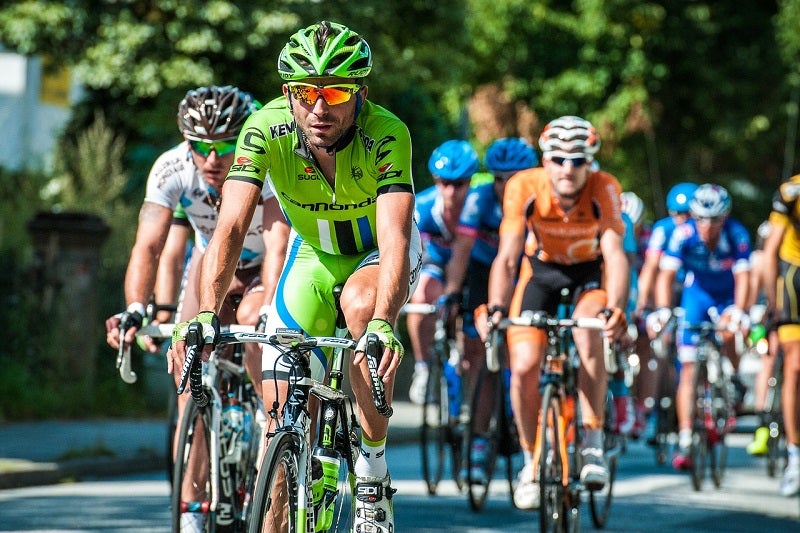 Your bike is almost all you need to hit the road, but there are a few pieces of essential gear and useful equipment you should consider to help you stay safe, achieve your training goals and ride comfortably.
Cycling Clothes
Your basic road biking outfit consists of padded shorts to keep you comfortable on the saddle and free of sores or chafing, and a cycling jersey. These are cut longer in the back to prevent material from binding up in the middle while riding.
They often feature useful pockets in the back for devices or water bottles. Other pieces of bike clothing include gloves to protect your palms, relieve your wrists and keep your hands warm, headgear to keep you warm or absorb sweat, arm, leg and knee warmers, as well as shoe covers.
Helmet
A bike helmet is a crucial piece of safety equipment you shouldn't neglect. Keep in mind that an accident might not always occur due to your own preventable fault or oversight, but because of other people's actions beyond your control.
Because wearing a helmet can make a difference between life and death, we've reviewed road bike helmets.
Lock
Unfortunately, the world is a bad place where people will steal your wheels if you don't watch out. Ideally, your ride is never unattended, but there are situations where you need to park your bike in public and leave it for some time.
With the right lock, your mind will rest a bit easier that you won't fall victim to bike theft. Have look at our recommended bike locks.
Cycling Sunglasses
Sunglasses are not a luxury item for road cyclists but protective gear for your eyes. Not only do they shield your eyes from bright light and UV rays, they also keep wind, particles, insects and other things out of your eyes.
Learn how to pick the best model for you with our cycling sunglasses.
Headlight
Riding at night or in low light is another safety issue. A headlight illuminates the road ahead of you, but it also increases your visibility so you can avoid getting hit.
Even though you might not plan on cycling after dark, a headlight is a must because unforeseen circumstances can force you to stay out longer than you had planned. Find the right model for you with our reviews of bike headlights.
Pump
Without sufficient air in your tubes you cannot ride, so make sure your tires are always properly pressurized.
There are three different types of bike pumps: floor pumps which can quickly inflate a tire and often include a pressure gauge, portable mini-pumps you can take with you on your rides, and CO2 inflators, which are basically air in a can.
You should invest in a floor pump because a pressure gauge is essential, but you'll also need a way to fill up on the go. Read our review of bike pumps to make the right decision.
Bike Computer
A bike computer is a small device keeping track of your speed, distance and route, but depending on the model, features can also include navigation, counting calories burned, monitoring your heart rate and more.
Remember, you can only track your progress if you start measuring things, so if you're serious about your road cycling training, a bike computer will support your training plan.
You can read about our recommended bike computers. Alternatively or additionally, you can use a smartphone mount to attach your iPhone or Android device to the handlebars. Some riders prefer to wear their phone with an armband case.
Water Bottle Cage & Hydration Pack
Especially on longer endurance rides, you need to make sure you stay properly hydrated. No cyclists wants to stop to dig out a water bottle while in the flow of pedalling and zooming along, so go with a solution that lets you drink while riding.
There are small cycling water bottles that fit into the back pockets on your jersey to be easily accessible at all times, and a water bottle cage can hold larger ones. If you intend to wear a light backpack while cycling, bring a hydration pack.
Multi-tool
A multi-tool will come in hand for every cyclist: adjusting your saddle, tightening brakes and fixing all sorts of things by the roadside are no problem if you carry a multi-tool. You can see our top multi tools here.
Repair Kit
A flat tire eventually happens to every cyclist, and it's never convenient, so come prepared.
A good repair kit includes an extra tube of the size you require, a patch kit to fix a punctured tube, tire levers and a small pump, if you're not already in the habit of bringing one on your rides.
An all-in-one solution is the Lezyne Twin Drive Caddy: it includes canned CO2, glueless patches, tire levers and a multi-tool, all in a nifty bag that attaches to your saddle. You can also get a saddlebag and assemble your own kit according to your preferences.
VIDEO: How To Fix A Bike Puncture – Repairing An Inner Tube
How To Fix A Bike Puncture - Repairing An Inner Tube
Cleaning Kit
As we've mentioned above, a lot of bike maintenance includes cleaning and servicing parts, most of all the chain. The Park Tool Chain Gang Chain Cleaning Kit greatly simplifies that process.
Bike Trailer
A trailer is probably not the first additional gear you'll need as a road cyclist, especially when you're riding solo.
But if you're thinking about going on longer rides where you have cargo such as a tent and provisions, or if you want road biking to be a family affair and bring kids or a dog, a trailer is ideal for you.
Check out different trailers for cargo, kids and dogs in our overview.
Pedals & Shoes
Cycling is all about pedalling, and there are three different types of pedals: platform pedals are rectangular blocks that might feature some sort of traction to help your foot stay in position, but otherwise your foot is not bound to the pedal.
When using these, your biking shoes should feature a very stiff sole to allow for the best power transfer. Pedals can also feature straps or a cage for more efficient pedalling, but modern versions typically use a clipping technology.
Clipless pedals have a confusing name: they work with cleats on the bottom of special biking shoes that clip into the pedal, yet the binding can release your foot quickly and reliably to prevent injury.
The handling of clipless pedals can be learned quickly and they will make a big difference in pedalling efficiency. As a beginner, though, first get comfortable on your bike as is before you advance to the next level.
Saddle/Seat
Last but not least is the seat or better known as a saddle. Without a doubt one of the most important parts of the bike because you will spend hours sitting on it.
There is no one best bike saddle since everyone has different "sit" bones. This article and reviews on saddles will point you in the right direction.
Where to Ride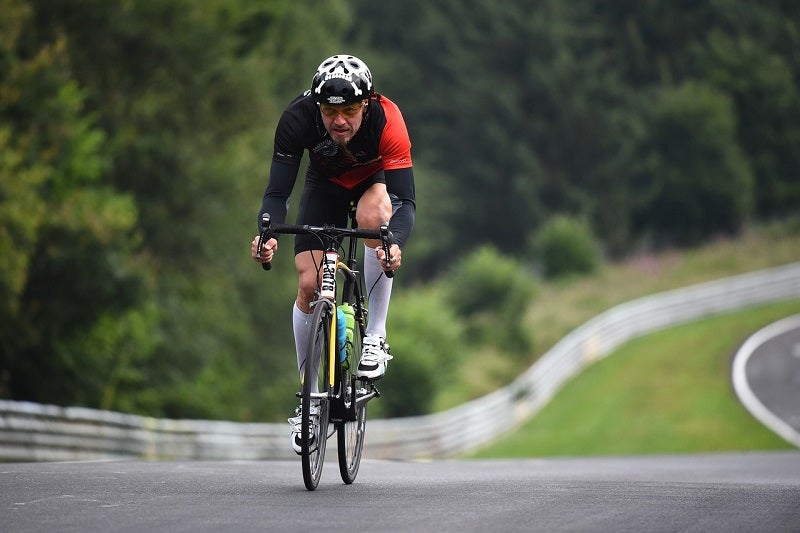 Whether you're commuting, riding for pleasure in the countryside or training for a race, the route you pick will determine how much you'll enjoy your cycling.
Choosing the right route gives you options regarding traffic, scenery, elevation gain and stops or sights along the way.
How to find routes
You have many resources available for finding, exploring and planning your routes. Here are some suggestions to try out:
Google Maps: The bicycle mode of Google Maps can be useful, especially in cities. Routing usually favors bike lanes and larger streets as well as flatter routes. You have the option of displaying elevation, and make sure to use Street View to get an idea of the terrain and route in advance.
Print Maps: Your local bike or book shop will be your stop to have a look at cycling routes in your area. Also talk to other road cycling enthusiasts at your bike shop and they can surely point you in the direction of resources.
Wikiloc: You can browse and search user-uploaded cycling routes on this portal. Routes usually feature descriptions and directions and often pictures. An app for Android and iOS is available and you can download routes.
Ride with GPS: Search and plan routes and download them to your smartphone or even bike computer. App for iOS and Android available.
Map my Ride: Routes uploaded by users and online training tool with an app for iOS and Android.
Strava: A platform for athletes for sharing routes and analyzing your training data.
Bikemap: Nearly a million routes worldwide for you to search. The portal also has apps for download.
Bikely: Another free and easy-to-use route mapping and sharing portal for cyclists.
Know Your Limits
For beginners, it's best to be conservative in your estimate of how many miles you can cover on a ride. If you come home absolutely shattered, you won't be looking forward to your next session.
Don't make the mistake of thinking it's only about distance: if you're not prepared for hills, they can destroy you, so always look at the route profile, elevation gain and the ascents along the way.
When evaluating weather conditions, it's not just the rain you need to pay attention to as heavy winds can disrupt your smooth cycling. Side winds pose the danger of blasting you off the road or into traffic, and headwind can slow you down significantly.
When browsing routes, look for indications of how exposed you'll ride.
General Tips For Road Biking Beginners
Sort out your riding position. As we've shown above, this can include adjusting your saddle and handlebars. The correct position helps you avoid unnecessary strain on your neck, back, shoulders and wrists, and you'll also enjoy more power and comfort. Have someone at a bike shop assess your position if need be.
Try to maintain a high cadence in your pedalling of 70 to 90 revolutions per minute. Riding in high gear all the time will let your power output drop.
Cornering at higher speeds is less about turning the handlebars and more about leaning into the curve. Position your feet with the inside pedal up and the outside pedal down, which will give you better traction.
When climbing a hill, downshift early. Conserve energy and keep breathing deeply and steadily. Don't push too early, save it for when the end is in sight. You can alternate between sitting and standing to activate different muscle groups. If there is room and no traffic, swerve on the road to level the hill by adding distance. Go at your own pace, and if all fails, get off and walk.
Don't cross chain your gears, meaning avoid aligning the chain on the the two largest or two smallest chain rings at the same time as it introduces stress in the system.
Remember to stay hydrated during rides and to replenish burned energy. Depending on your efforts, it's a good strategy to consume roughly 100 to 250 calories every 30 minutes.
When you cycle longer and harder than you're used to, cramps in your leg muscles can occur. Replace the electrolytes you lose through sweating. When planning your route, make sure there is some easy pedalling at the end to get the acid out of your muscles. A protein recovery drink at the end will also help.
Riding buddies help you stay motivated and make road cycling a social and fun sport. Ask at your local bike shop if there are groups in your area, or use MeetUp to find cycling friends.
Conclusion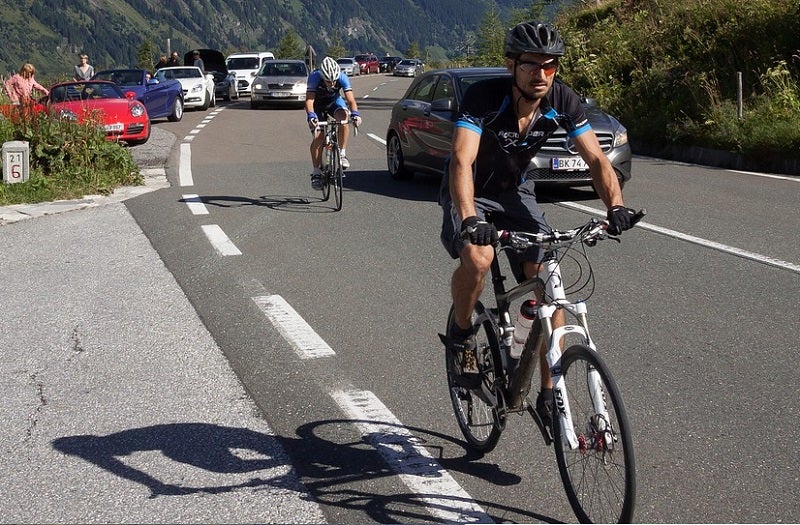 Road biking is ultimately about finding joy on two wheels. As a beginner, don't worry too much about pushing your limits, racing others or upgrading your bike.
When you're starting out, the best bike for you is the one you enjoy riding. Without skimping on safety, it's okay to limit your gear to the essentials and slowly build from there.
Spend your money on things that will last you a long time and are appropriate for your current skills, not the level you want to reach.
If you are looking for an entry-level road bike we have created two product review articles that can help you narrow your search with some excellent options: The 5 Best Road Bikes Under $500 and The 5 Best Road Bikes Under $1000. Have a great time riding.
Getting better at cycling is not about upgrading your ride, but about becoming fit and improving your technique. Train regularly to increase your stamina while keeping your ambitions modest.
You'll see results soon enough, and it's more fun to go from shorter to longer routes bit by bit than to have to cut back because you've stretched your limit too far.
Take care of your bike, stay safe on the road, share it with others and enjoy road cycling!
Notice:
OutsidePursuits.com is a participant in the Amazon Services LLC Associates Program, an affiliate advertising program. OutsidePursuits.com earns fees from products sold through qualifying purchases by linking to Amazon.com. Amazon offers a commission on products sold through their affiliate links.