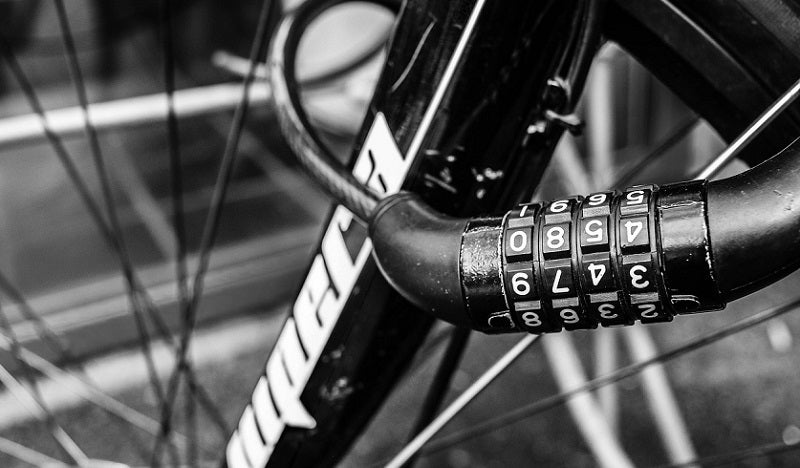 You don't need us to tell you that being the victim of bicycle theft is an awful experience. We spend a lot of time finding the right bike, upgrading parts, and keeping it clean.
Even more time is spent riding it, enjoying all the benefits that bike riding brings. So if someone steals your pride and joy, your going to be very upset.
One way of course to avoid your bike being stolen is to never leave it in public. This is not always possible, and even if it is, you should really think about locking it up at home anyway.
That's where having the best bike lock will help out.
Fortunately, there are very good locks available to keep your bike as safe as possible for the times when you cannot keep it in sight.
For more of my top gear recommendations, have a look through these popular Outside Pursuits guide links: Bike Pumps, Bike Racks, Bike Lights.
Quick Answer: The 5 Best Bike Locks For 2018
Here is a feature overview of my top 3 overall picks. Our guide and comparison table of the top rated bike locks will help you choose the right one for you.
Best Bike Locks
Kryptonite 785 Keeper
Abus Bordo GRANIT X Plus
Kryptonite New York Standard
Type:
Chain
Folding
U-Lock
Made From:
7mm four-sided chain links made from 3t manganese steel
5.5mm heavy-duty steel bars and links
16mm hardened MAX-Performance steel shackle
Features:
Weather-resistant nylon sleeve prevents scratches and protects from rusting
Mounts with with velcro or a bottle cage bracket
Protective vinyl coating with
sliding dustcover protects cylinder
Bike Lock Reviews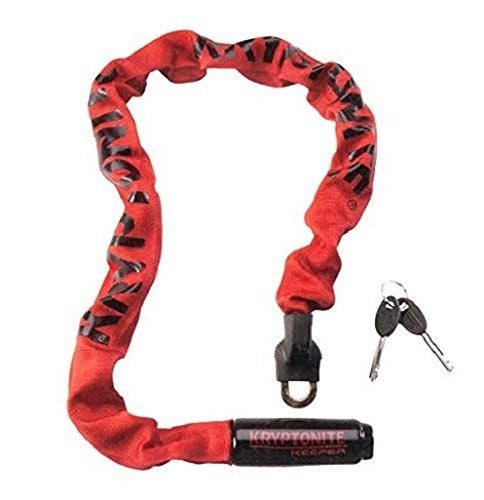 The Keeper is a chain covered in a nylon fabric to prevent damage to your frame. The links are made from 3t manganese steel. This choice of steel alloy is a great one for a bike lock as it is very hard and therefore difficult to cut.
It is also resistant to abrasion, making it difficult to attack with an angle grinder. Each end of the chain is connected securely to a hardened deatbolt. The disc-style cylinder lock is resistant to attacks with picks or drills.
Two keys are included and you can register the keys with Kryptonite's Key Safe Program, so you can get replacements if needed. At 3.05 pounds, it has a reasonable weight. You can wrap it around part of your frame while not in use, keep it around your waist, or in a rucksack.
It has a length of 7.87 inches, so you are unlikely to get it through both wheels. You may want to remove the front wheel and lock it to the back or invest in an extra cable. The Keeper has a very affordable price so an extra cable should still be within your budget.
This is a serious looking chain that will deter thieves. Should they decide to steal your bike anyway, it will certainly put up a good fight. The Keeper is the best bike chain lock, hands down.
---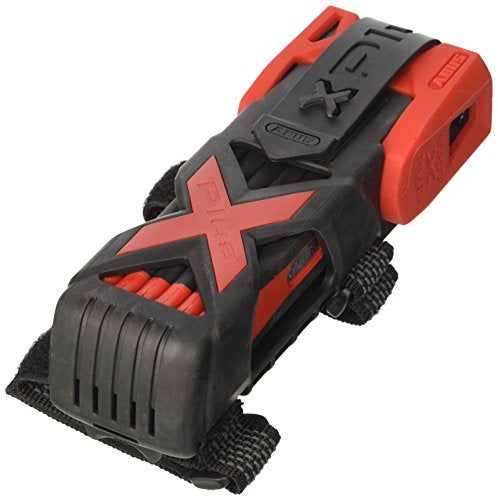 5.5mm thick hardened steel prevents the links of this folding lock being cut through easily. Abus give their locks a security rating of 1-15. This lock is rated as a 15, meaning it is one of the most secure locks that they offer.
The links unfold and to a total length of 33.46 inches, which is more than enough to fit through your frame, both wheels, and around whatever you are locking to.
While the links do not have any sharp or rough edges, they are not coated so you will need to be careful to avoid scratching your frame.
The hardened steel may be difficult to cut through, but the Achilles heel of this design is at the joints between the links. Bolt cutters can force the links apart.
This does not mean that you should avoid it, as the link design means that it can be locked around many different objects of different shapes and sizes.
The versatility is the big plus of this design and it still very secure against attacks from hammers and drills.
While the 3.48 pound weight may be heavy to carry around, it does fold up into a neat box. It also comes with a frame mount for easy transportation and I would give the nod to the Abus as the best folding bike lock available.
---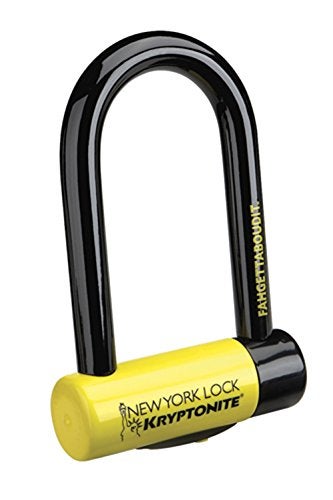 It may look small, but the 4.4 pound weight of this mini D-lock reveals just how serious it is about keeping your bike where you lock it. A serious amount of metal has gone into this lock.
The 18mm hardened steel shackle is resistant to bolt cutters and levering making this the strongest bike lock.
A disc style cylinder prevents pick and leverage attacks, and the double deadbolt will hold on for dear life, making attempts to force the lock apart almost impossible.
The size of this lock is small. You will have to lock your frame closely to a relatively thin object like a lamppost and there will be little extra room for anything else.
If you have skinny tires, you may be able to get it around your back wheel and frame. To secure the front wheel, you will need a second lock or a cable. The advantage of this is that almost the entirety of the shackle will be filled, making attacks difficult.
The whole lock is coated in vinyl to protect your frame and a dust cover slides over the keyhole once you have locked it to keep out dust, snow etc that might reduce the life of the lock, they also included 3 keys.
---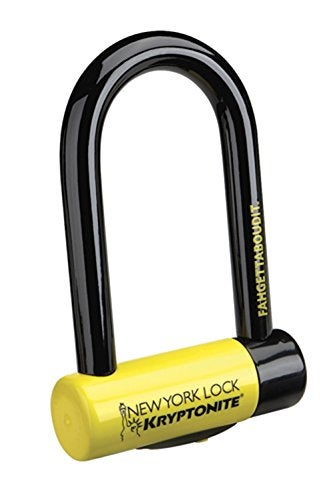 This lock is a bigger version (in terms of length, not thickness) of the Mini above. The bigger size means you can lock your bike to wider objects and/or fit it around big mountain bike tires.
All the other details are the same except that this model comes with a frame mount for transportation and the best u lock you can buy.
---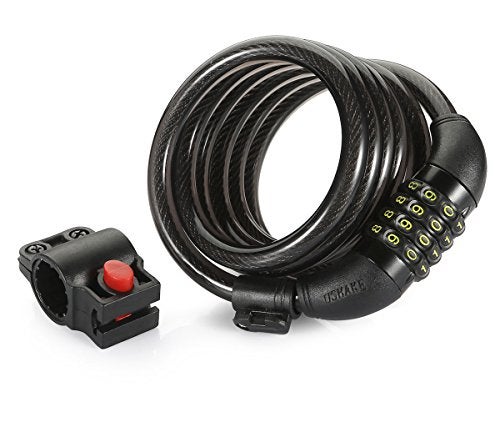 Cable locks are my least favorite bike locking option. The are the least secure, most any basic cable cutter will easily defeat this type of lock. The UShake features a 6 foot long cable that is 12mm thick and is about the most secure cable lock you will find.
The UShake is a 4 digit combination bike lock that can be easily reset to make it easy to remember. It is nice to worry about not having a key to lose of forget. It also comes with a bracket to mount it under your seat or the main support bar.
The cable is coated with PVC to resist rusting and scratching your bike's finish. If you are looking specifically for a cable lock, the UShake is probably the best cable bike lock.
---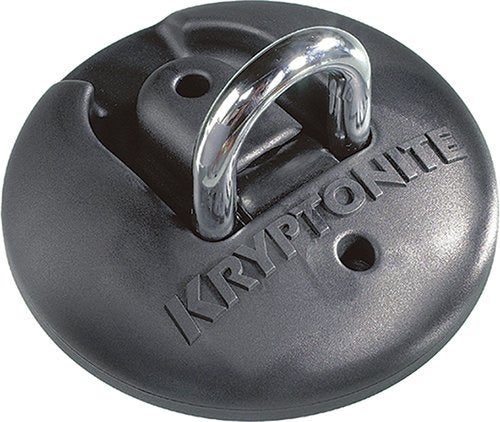 This is not a lock per se, but a secure anchor to which you can lock your bike at home. You will need to mount it to a strong wall, concrete floor or even truck bed for it to be effective.
Doing so requires a certain degree of handyman skills. Two masonry bits as well as all mounting hardware is included.
Once installed, it is not going anywhere. Not only is the anchor hard to remove, but the 16mm hardened carbon alloy steel shackle is solid. It would be easier for the thief to cut through whatever lock you are using, so make sure this is of a good quality.
When not in use, the shackle lays flat against the body of the anchor, so it can be driven or walked over safely.
The part of the anchor bolted to the ground is covered by a plastic body that is held in place with hex bolts. When a bike is locked to the anchor, it would be possible to unscrew the cover.
However, the design of the anchor prevents the cover from being moved out of the way, meaning the bolts cannot be accessed making it the most secure bike lock.
Realistically, if someone breaks into your home or garage and sees your bike locked to this, they will realize that they are looking at a valuable bike that is securely locked.
They are highly unlikely to have the necessary tools with them to cut through the lock and will turn their attention to other things to steal. Your bike is obviously your most valuable possession, and not having a TV means less distraction from riding…right?
---
Bike Lock Comparison Table
How to Choose the Best Bike Lock For You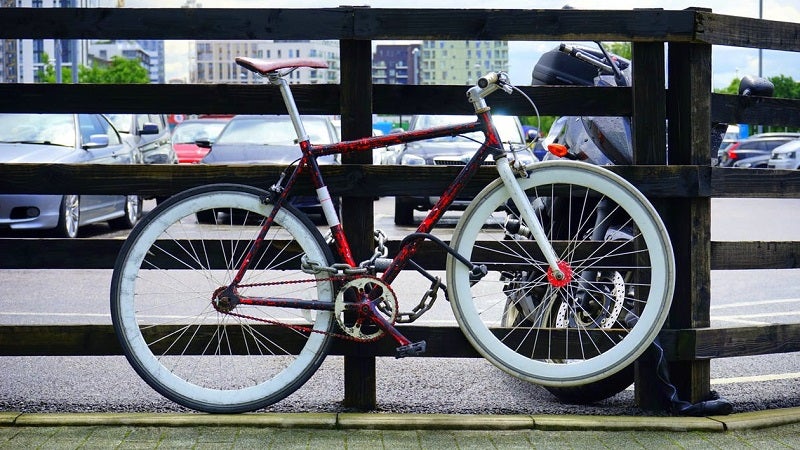 Bicycle Lock Considerations
Over 50% of bike thefts are from homes. Just how secure is your garage or bike shed? If someone gets in, do you really want them to be able to make a quick getaway on your bike? Would you not sleep better at night knowing that it is locked securely?
Lets go over the types of bike locks and their pros and cons:

Types of Bike Locks
There are a number of designs of bike locks, each with their advantages and disadvantages:
Cable Locks –  are made of a coiled metal cable, or woven cables encased in a plastic coating. They are generally cheap and light but all it takes is a quick snip with a pair of bolt cutters and your bike is gone. A thief is unlikely to even be noticed doing this.
Chain Locks – are made of thick links of steel that cannot be cut through with bolt cutters. Thieves will try to pick the lock itself, unless they have a power tool to cut through the chain with. With cheap versions of this design, it may be possible to bend a link apart, so make sure that the links are welded closed.
Folding Locks – are a series of long, flat links that can be unfolded and wrapped around awkward shapes. They are versatile locks as you can fit them through your bike and around street furniture, but their weakness is the joints where the links attach to each other.
D-Locks – are generally very secure. They are made of a D-shaped shackle that locks into a straight end piece. The metal used in the shackle and the strength of the lock itself determine how long it will take to break into a D-lock.
Cafe Locks – are small and lightweight locks, often made out of a thin cable with a combination locking mechanism. These are intended for use when you leave your bike within sight (like at a cafe) or for when you want to quickly go into a shop
Anchors –  are for home use and provide a secure object to lock your bike to. They are attached to a wall or floor with thick bolts. You may be required to have your bike locked to a fixed object by your insurance provider.
Not all locks are created equal. Check the grade of the metals used and do not choose a lock because it is cheap. Cheap materials are softer and easier to cut through.
Strength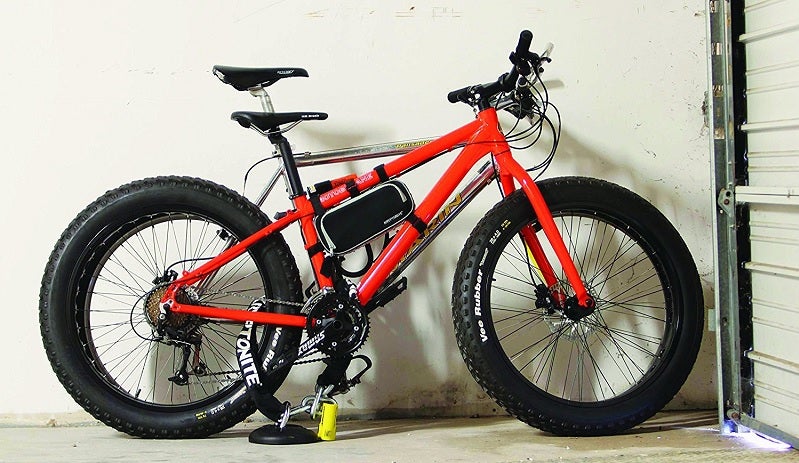 A stronger lock will take longer for a thief to crack. They may also have to make noise and draw attention to themselves with the effort needed to cut through it. Any lock can be opened, cut or broken if the thief has the right tools.
A good quality lock will require much more time to do so as it will be made from hardened steel, have multiple bolts in the locking system, and be resistant to levering.

Weight
A strong lock is a heavy lock, but a heavy lock is not necessarily a strong lock. Do not purchase a lock just because it is heavy. You will have to carry around the weight of a good lock.
If you are lucky, you can get a frame mount for your lock of choice, otherwise you will have to stow it in a rucksack. Chains can be locked around your waist… just don't lose the key.

Lock Mechanism

The two most common types of lock are opened with a key or combination code. The former is generally better because if you forget the combination, it is game over, whereas you still have a spare key at home if you lose the first one.
It is usually possible to register a code on your key with the manufacturer and get a replacement if needed. Some smart locks connect to a smartphone app and can only be unlocked with this. They also send you an alert if someone is trying to steal your bike.

Coating
You want a lock to protect your bike from theft, not scratch it. Regardless of how careful you are, frequent use will lead to paint rubbing off or accidental scratches unless the lock has a soft coating. Rubber or fabric are usually used to keep your paintwork in good condition.

---
I hope this guide was helpful in picking the best bike lock to fit your needs. If you want to comment or recommend a lock I didn't include, please use my contact form to get in touch.
Have fun and good luck!
Notice: Outside Pursuits is a participant in the Amazon Services LLC Associates Program, an affiliate advertising program to provide a means for sites to earn advertising fees sold through by advertising and linking to Amazon.com. Amazon offers a small commission on products sold through their affiliate links. Each of your purchases via our Amazon affiliate links supports our efforts to bring you the best possible product reviews at no additional cost to you. We appreciate your support here at OutsidePursuits.com