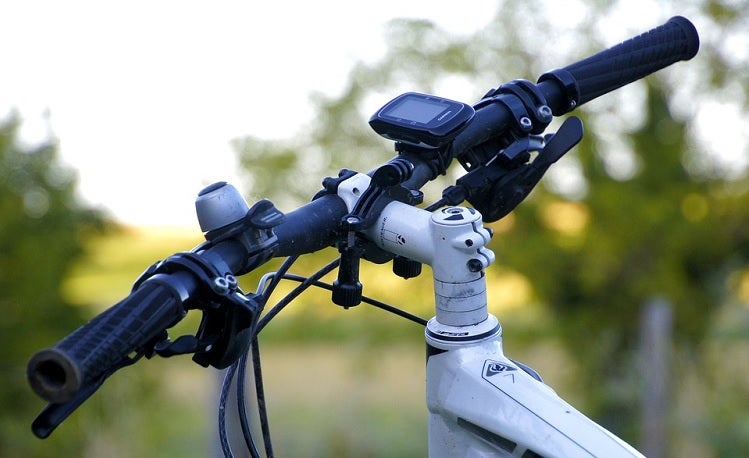 Having a bike computer can make your ride a lot more enjoyable by keeping track of your progress, where you have been, navigation and speed.
But bike computers vary widely in price and features, how do you know which one to buy? With prices coming down and features increasing they are becoming very popular.
To help you make an informed decision we evaluated several of the most popular brands and give you our top picks.
For more of my top gear recommendations, have a look through these popular Outside Pursuits guide links: Bike Helmets, Bike Racks, Bike Headlights.
Quick Answer: The 5 Best Bike Computers For 2018

Here is a feature overview of my top 3 overall picks. Our guide and comparison table of the top rated bike computers will help you choose the right one for you.
Best Bike Computers
| | Garmin Edge 810 GPS Bike Computer | Magellan Cyclo 315 Cycling Computer | Garmin Edge 25 Cycling GPS |
| --- | --- | --- | --- |
| | | | |
| | | | |
| GPS Enabled: | Yes | Yes | GPS +GLONASS |
| ANT+ and Bluetooth Compatible | Yes | Yes | Yes |
| Size: | 3.7 x 2.5 inches | 2.4 x 4.06 inches | 1.6 x 1.6 inches |
| Mapping Capability: | Yes | Yes | No |
| | | | |
Bike Computer Reviews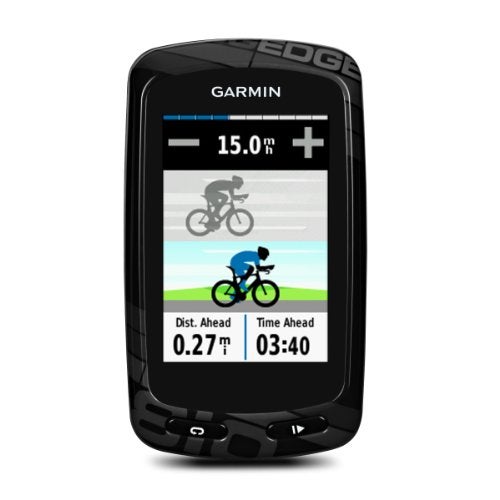 Garmin Edge 810 at a Glance:
---
Garmin Connect: instantly upload ride data
Turn by turn navigation
Garmin Custom Maps and BirdsEye Satellite Imagery
Live-tracking, instant upload and ride sharing capabilities
ANT+ and bluetooth compatible
The Edge 810 is arguably the best bike computer on the market. It has many sophisticated features, and offers many benefits to bikers of any type. It also includes many functions that are unique to Garmin that make riding more fun.
With the Garmin 810, you are able to live-track all of your rides and record your routes as you travel.
You can then instantly share and upload your rides to social media, or upload other ride data to the Garmin Connect Mobile app on your phone. These features truly set this bike computer apart from the rest.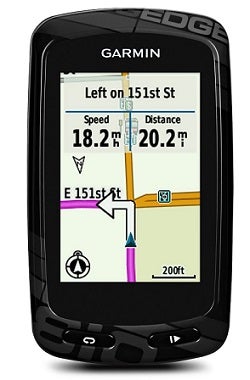 Plus, in addition to monitoring the incline, speed, elevation and distance of your rides, the Garmin 810 bike computer is compatible with ANT+ sensors that measure your heart rate, speed/cadence and power.
In terms of ANT+ compatibility and ease of use, I think the Garmin 810 is the best cycling computer with cadence and heart rate functionality.
You can access all of this data immediately after finishing your ride, and you can also log or share your most recent rides with your friends.
One of the best features in my opinion is the ability for people to see your ride as you are doing it.
All you have to do is share a link with anyone you want to see your ride, then they just goto the Garmin Connect tracking page and they can follow your ride in real time.
The Garmin Edge also offers options for navigation such as street and topo maps.
You can also sync it with the Garmin Custom Maps app or the BirdsEye Satellite Imagery app if you would like access to your own customized maps.
All of these features are easy accessible via the bike computer's simple touchscreen interface.
The screen displays basic directional arrows for smooth navigation that makes locating the most important information quick and easy!
Video: Overview of the Garmin Edge 810.
Costing almost $300, this bike computer is a bit expensive, but it is worth it. The Garmin Edge 810 GPS Bike Computer has more features and one the easiest to use bike computers on the market.
You won't have to worry about manually keeping track of your riding data, or keeping separate logs. This bike computer does all the work for you!
I think this is best bike computer for road bike use with its mapping capabilities and turn by turn navigation.
---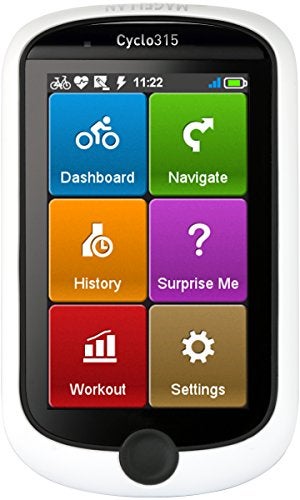 Magellan Cyclo 315 at a Glance:
---
Create up to 6 custom cycling profiles
Preloaded US road maps
Shimano Di2 compatibility
ANT+ sensor support
Turn by turn Navigation
Cyclo 315hc is good option for any serious biker looking to see how they are progressing. This computer is appropriate for road bicycling, mountain biking and anyone just wanting information about their rides.
The Magellan Cyclo is a feature rich bike computer and we'll summarize its main features.
First of all, this bicycle computer includes 6 custom cycling profiles which you can create to display the best routes specifically designed for your route.
If you are going to be mountain biking, the profiles will even inform you of how much of the route is dirt versus paved roads.
After you input the distance or time you wish to ride, Cyclo will provide 3 different routes for you to choose from. Cyclo will also inform you of the elevation, difficulty, and terrain of each path, so you can make the decision that best suits your goals.
Video: Overview of the Magellan Cyclo.
Cyclo also includes a complete USA road network with audible navigation that instructs you turn by turn. You may also be able to find some new routes, and share your own with other bikers for comparison.
Some of its most popular features are the heart rate monitor, speed sensor, and battery alert system. The in and out mounts are also universal, and the computer is waterproof, so you do not have to worry about ruining it while riding in the mud or rain.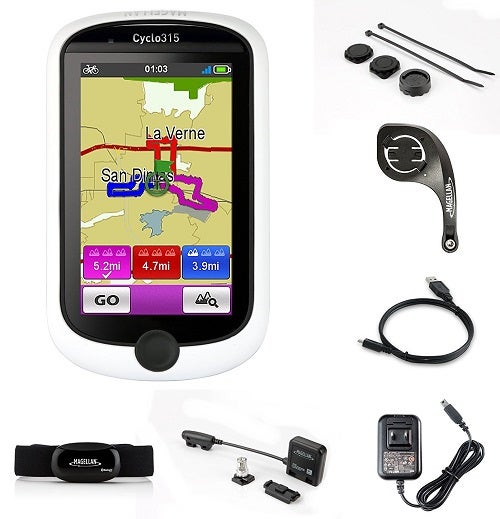 The computer is large enough so you can see the screen comfortably, but also small enough to not get in the way. Above all, the interface is very user-friendly and simple to learn. You will have no problem navigating the menus.
With the Magellan Cyclo 315hc you get a very capable bike computer at an affordable price. Simply put, this is the best budget bike computer.
---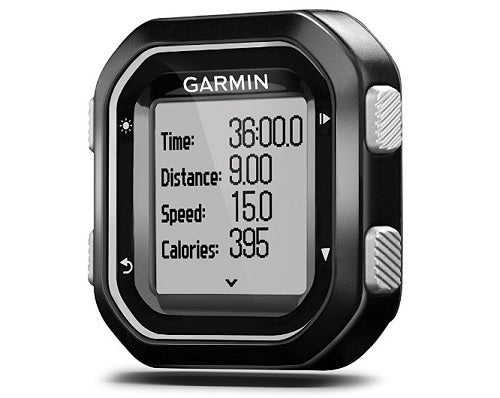 This micro-sized bike computer is an excellent option for the bike rider looking for a compact device to monitor and track their rides.
The Garmin Edge 25 Cycling GPS weighs only 0.9 ounces, which also makes it perfect for traveling. It has a small, but very readable display showing you all the information you need at a glance.
This miniature bike computer is one of the first of its kind to also include the +GLONASS function, which allows riders to acquire satellites very quickly and keep a satellite lock even when you are under trees and have tall buildings around.
You can track how far, how fast, and where you ride at the touch of a button.
Even at a bargain price it has features of more expensive bike computers like ANT+ heart rate and cadence compatibility.
It is also Bluetooth compatible and provides live tracking with automatic uploads to Garmin Connect so your family and friends can follow your ride real time!
The Garmin Edge 25 Cycling GPS is also equipped with multiple connect functions, which allows users to download new courses, share their rides, track their routes, and network with friends and family.
This bike computer also has a simple and user-friendly interface. You won't have to spend very much time learning how to navigate this device to get the most out of it.
Video: Overview of the Garmin Edge 25.
Other bike computers can be very complex and time consuming to learn. The Edge 25 is perfect if you want something quick and easy to use and aren't looking to spend a lot of money.
In my opinion the Garmin Edge 25 is the best mountain bike computer, its rugged, small and has a solid mounting bracket for attachment to your handlebars.
---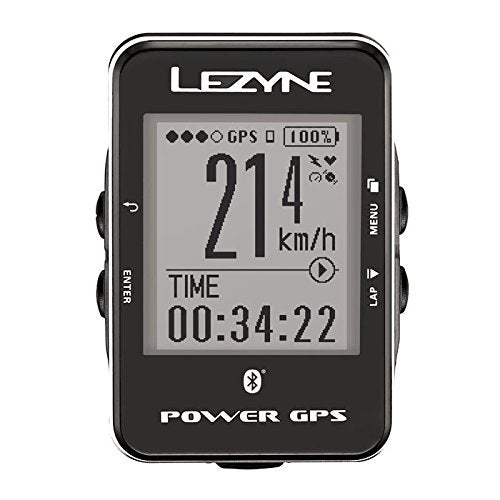 The Lezyne Power GPS Bike Computer is one of the least expensive, high-quality computers you can buy to improve your bike rides.
Whether you're a casual bike rider, a serious mountain biker or a competitive road biker, you can enjoy the many benefits of this computer.
The Lezyne bike computer is a very affordable way to track your current, average, and maximum speeds on every ride you take.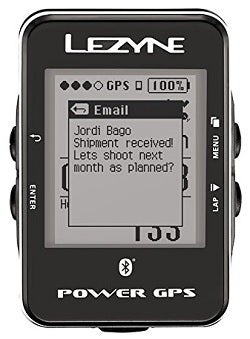 It is incredibly easy to configure and navigate, and its data-tracking functions are consistent.
It also includes additional GPS tracking that utilizes more than one satellite, so your routes will still be tracked even if you travel under trees or around tall buildings.
One of the features I like best about the Lezyne bike computer is that it will also sync with your phone and receive texts while you're riding.
Now you don't have to pull out your phone to check your messages in the middle of your ride.
Pretty cool, not too mention its safer, especially if your in an urban area or busy highway.
The texts will simply appear on the screen. The lithium ion battery has the longest battery like of any of the computers evaluated.
You won't have to worry about this device dying even during your longest rides, as long as your charge it regularly of course.
This bike computer has ANT+ heart rate and cadence compatibility plus it is also Bluetooth compatible. The user interface is easy to use and has a short learning curve to using all of its features.
The Lezyne bike computer connects to satellites incredibly fast. After you mount it and turn it on, it should be connected and ready to go by the time you put your helmet on.
Video: Overview of the Lezyne Power GPS.
Another great touch to this inexpensive bike computer is its appearance. The device looks sleek, having a glossy black finish. This bike computer feature rich for a very reasonable price.
In my opinion the Lezyne Power GPS is the best bike computer under $200.
---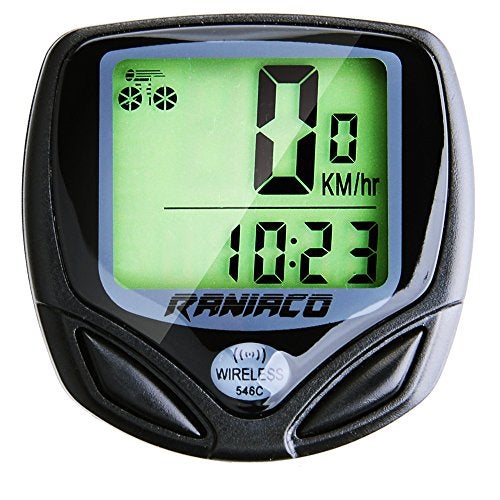 Perhaps the term "bike computer" is not the best description of the Raniaco. It records and displays all the basic information you would want to know about your bike ride without paying for extravagant features you may not need or want.
It is wireless, and includes bright green LCD display, which an easy to read screen. The screen only brightens when it is dark, so battery life is preserved as much as possible. It is also small and compact taking up a very minimum of space on your handlebars.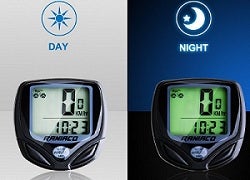 The Raniaco bike computer has all the basic functions you need like a speedometer, odometer, max speed and average speed plus it also it also records your riding time and distance.
It is a very simple solution for those looking an inexpensive bike computer.
Its even completely waterproof, so you won't have to worry about rain or mud ruining the computer.
Above all, the best part is probably the ease of installation, just attach the included sensor to your front wheel. No wires to run because the sensor is wireless.
Because the device is simple to use you won't have to worry about spending a lot of time trying to figure out complex menus to use the functions.
If you are just looking for some basic information about your rides the Raniaco is your best bet.
---
Bike Computer Comparison Table
How to Choose the Best Bike Computer For You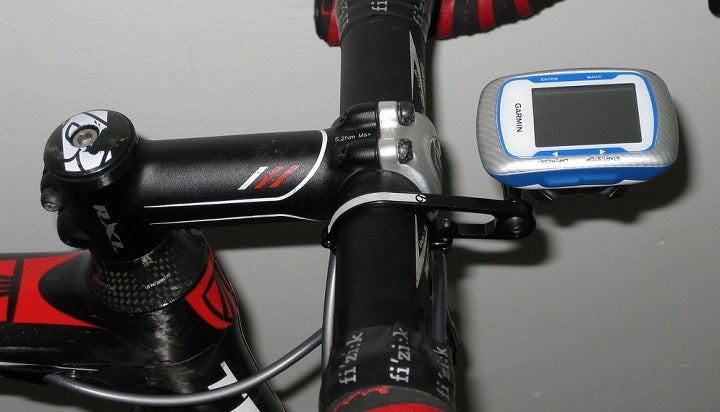 There are many reasons why you might want to upgrade your bike rides with a bike computer.
If you are looking to track your routes, log your cycling data, or monitor your speed, heart rate, and cadence, a bike computer is the best way to do this.
Now, instead of needing to download multiple mobile apps or purchasing multiple devices to attach to your bike; you can do it all with a bike computer.
Whether you're a more casual rider, a mountain biker, or a competitive cyclist, you will find benefits in using a bike computer. Many are reasonably priced, and will conveniently attach to any bike you own.
Also, many offer ways to connect to tracking apps on your phone so you can network with your friends and family. These features allow you to transform your basic rides into interconnected tracking experiences which you can share with the rest of the world.

Different Types of Bike Computers
There are many different kinds of bike computers available, and their differences can seem very complex. Do not feel overwhelmed however, most provide the same fundamental features, with some slight variations between them.
There are more advanced types, and there are very simple types for less serious riders. In short, the two basic types of bike computers are GPS-enabled bike computers and non-GPS bike computers.
Though as technology gets cheaper, most bike computers now have GPS embedded within them.
Non-GPS Bike Computers
These devices are most beneficial for measuring heart rate, cadence, and body and outside temperatures.
Many of these bike computers will also measure the speed and distances of your rides, and then provide you with maximums and averages for all data collected. These bike computers log data typically via wired sensors.
GPS-Enabled Bike Computers
These computers typically provide more accurate measurements of speed and distances because they use GPS signals in addition to third party sensors instead of wired sensors. The data collected is usually far more detailed than non-GPS bike computers.
Also, these devices offer many ways to connect to your phone or PC and download the information about your rides. They tend to be more expensive than computers that do not have this capability.
In addition to these variations, bike computers can differ in size, color, shape, weight, and basic functionality.

Ease of Use
Incorporating the use of a bike computer adds a new dimension to your bike rides. Once configured they can enhance your rides entirely with quite a bit of data. It is important to not become overwhelmed with the setup or the complex nature of their functionality.
Even though all of the bike computers reviewed in this list can be learned and utilized easily in order to improve the overall quality of your rides, Garmin products are well known for their easy-to-use interfaces.
The Garmin Edge 25 Cycling GPS and the Garmin Edge 810 GPS Bike Computer are the devices you want to look for if ease of use is a high priority.
By interface, we mean how easy these devices are to navigate and get to the features you need. The process of learning how to best use your bike computer can be complicated.

Screen Size
Many bike computers available now are a pretty close in size, but some are notably small like the Garmin Edge 25, and others are inconveniently large. While being larger makes it easier to read the screen, it might get in the way on your handlebars.

Interface
Does the device have a color screen, or is it black-and-white? Some devices still use black-and-white screens, which can make them harder to see as you are riding.
Navigating the menu systems on some bike computers can be daunting and difficult to learn. Personally I prefer ease of use to having features I never use.

Start Time (for GPS bike computers)
Another aspect to consider is the startup time of the GPS. You do not want to be waiting around, ready to ride, and your computer taking forever to acquire satellites.
Of course, faster is better. The Garmin products reviewed in this article take only 30 seconds or so to boot up after you press the power button.
By the time you lace your shoes, or get your water bottle in place the computer should be ready to go. Once powered on, these devices operate very reliably and can be used while in a forest, mountain biking or urban areas.

Battery Life
Battery life is another essential element to consider when selecting a bike computer. You want your charge to last throughout the duration of your ride. The ideal computer will keep a charge that lasts for several rides.
Garmin Edge products, such as the Garmin Edge 810 and the Garmin Edge 25, tend to have the best battery life. If you go on all day rides this will be more of consideration and you will want to consider these computers first.

Data Transfer and Smart Phone Integration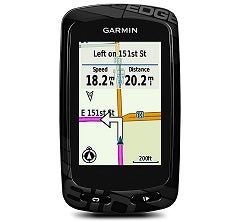 One primary benefit of modern bike computer technology is the ability to transfer data about your routes and rides to your computer and data tracking websites like the Garmin Connect website.
If you are serious about collecting and logging information such as the distance you traveled, your heart rate, your speed, etc., you want to ensure you select a bike computer with data logging/transfer capabilities.
Data transfer can be done in two ways. You can connect the a Micro USB cable to your computer, or you can use a smart phone application that uses Bluetooth.
Many of the computers reviewed in this article can be set to "auto upload" mode where your data will automatically be transferred to a tracking database on your mobile device.
This feature eliminates the need to manually upload information yourself and makes for trouble free operation.
Garmin devices conveniently connect to an app named Garmin Connect, which must be navigated carefully, but allows you to log, track, and organize your ride data. Lezyne devices connect to a similar app named Lezyne Ally.
There are also other individualized applications you may find for other bike computers, but these two are the most popular. With the advancement of technology, more and more bike computers are shifting away from the Micro USB cable, so it is best to get a computer with Bluetooth compatibility.

Setup
Regardless of which bike computer you purchase, you will need to configure it. Setup is another important factor you need to consider when selecting one.
Do not be deterred by more complicated setups, its a one time thing. Sometimes bike computers with more features and accessories just take more time to configure.
Nearly all of the bike computers come with detailed manuals in the box or websites that have online manuals and/or videos showing you the configuration steps.

Features
Before selecting a device, you will want to figure out which features matter most to you. Bike computers vary greatly in complexity, and come with a large variety of features.
Researching these features before deciding on a device can save you money, many of the more expensive computers may include features and functionality you don't want or need.
Some Key Keatures to Consider:
Bluetooth compatibility
ANT+ compatibility
Stress score
Ability to communicate with smart phone
Live Tracker
Method of data collection
Mapping and route options
Turn-by-turn navigation capability
The Garmin Edge 810 is the most feature-rich bike computer available today. If you are looking for a bike computer with the most capabilities, this is the device for you.
It will require a longer setup and take more time to master, but it will provide you the most options for your rides.
Garmin, Magellan and Lezyne computers offer many different features, and are all fairly similar with only a few minor differences in functionality.
Other brands may offer a few of the features, but will likely not include all of them. Nearly all bike computers provide basic features, such as data collection of heart rate, speed, and distance.

Water Resistance
Water resistance is another factor to consider depending on how you ride. If you are into mountain biking you will likely get mud and water on your bike computer.
Even if you are not planning on riding during rainy weather, you're bound to find yourself caught in a rainstorm eventually.
You will not want your bike computer to get ruined by a little water. Fortunately, nearly all bike computers can handle having water splashed on them without a problem.

Versatility
Finally, you will want to consider the versatility of the bike computer before purchasing. If you plan to take many different types of rides (e.g. casual night rides, serious mountain rides, muddy bumpy rides), and you use multiple bikes for these rides, you want to ensure you can easily transfer the device between bikes.
If this describes you, make sure you can easily transfer the computer and you can buy extra mounts and sensors. Most Garmin products fit this criteria, and are easily transferable between bikes.
You will also want to be able to collect data for multiple types of rides in different environments.One you main considerations if you frequently ride on the roads you will probably want a bike computer with mapping capability and even better, turn by turn navigation.
Its usually a good idea to buy a bike computer with more functionally than you think you will need. Once you start using one you will most likely want to use it for tracking more and more things.
---
I hope this guide was helpful for finding the best bike computer to fit your needs. If you want to comment or recommend one I didn't include, please use my contact form to get in touch.
Have fun and be safe out there!
Notice: Outside Pursuits is a participant in the Amazon Services LLC Associates Program, an affiliate advertising program to provide a means for sites to earn advertising fees sold through by advertising and linking to Amazon.com. Amazon offers a small commission on products sold through their affiliate links. Each of your purchases via our Amazon affiliate links supports our efforts to bring you the best possible product reviews at no additional cost to you. We appreciate your support here at OutsidePursuits.com