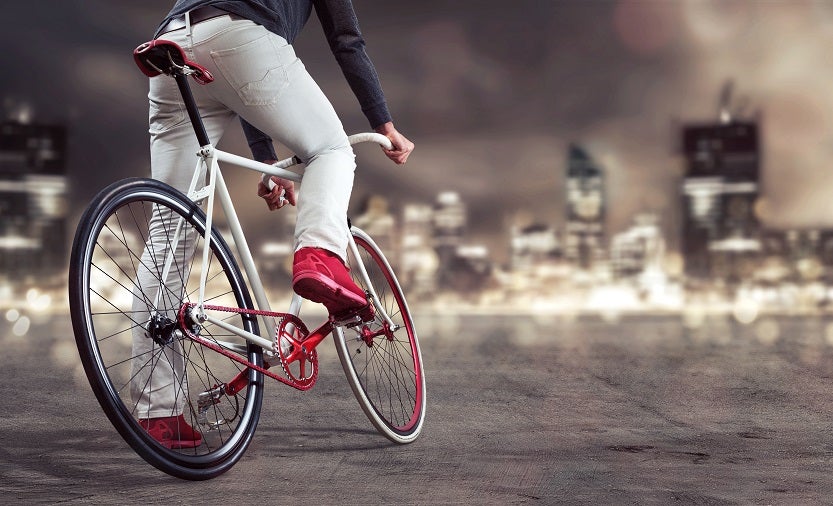 Our Editors independently research, test, and rate what we feel are the best products. We use affiliate links and may receive a small commission on purchases.
Fixed gear bicycles offer a basic and straightforward cycling experience. With their unique advantages over other types of bikes, fixies have been gaining in popularity.
Many riders prefer these bikes for their daily needs and riding around the city. Fixed gear bikes are simple, lightweight and low-maintenance.
Whether you want to race at the track, commute to work or perform tricks, we have reviewed the top fixie bikes.
If your interested in a freewheel single speed bike, see our reviews here.
Looking for a different type of bike? Read our comprehensive guide to every type of bicycle. 
Best Fixed Gear Bikes
For more of my bike gear recommendations, have a look through these popular Outside Pursuits guide links: Bike Helmets, Bike Lights, Bike Locks.

Quick Answer: The 7 Best Rated Fixed Gear Bikes For 2021
Our reviews of the top rated fixed gear bikes with our guide and comparison table will you choose the right bike for you.
---
Fixie Bike Reviews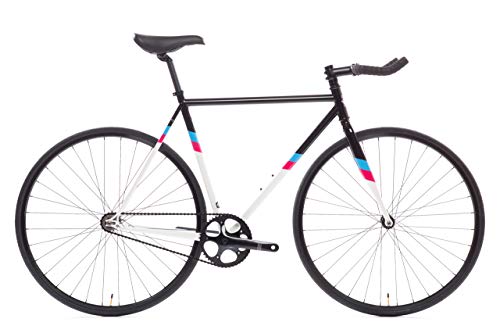 State Bullhorn Fixie Bike at a Glance
:
---
Size: 46cm/XS, 62 cm/L
Gearing: Flip-flop hub
Handlebars: Pista race drop handlebars
Wheels & Tires: rubber
Frame & Fork: 4130-grade chromoly steel
Brakes: Front & rear alloy caliper brakes
The State Bullhorn Single Speed Bike is a classic fixed gear bicycle with a flip-flop hub. It's a versatile model with well-balanced components and available in many size and color options.
The State Bullhorn bike combines efficiency with comfort for a smooth fixie ride with an authentic look and feel.
The double butted chromoly steel frame features an urban design combined with a straight steel fork. The material adds to the overall weight, but makes for a sturdy build.
Depending on the size, this model weighs 22 to 24 pounds. For sizing and standover height, consult the manufacturer's sizing chart.
The padded synthetic leather saddle comes with a velodrome style and mixes comfort with racing feel.
The riding position is aggressive with some back comfort. The rubber grips are soft to the touch and allow for secure steering.
The Pure Cycles Pure Fix Original Fixed Gear bicycle delivers great quality for a low price. It's the best fixie that is suitable for both beginners and more experienced riders.
You get a lifetime manufacturer's warranty on the frame and a one-year manufacturer's warranty on components.

---
Captain Marvel Fixie Road Bike at a Glance
:
---
Size: 58cm/L
Gearing: Flip-flop hub, 46:16 ratio
Handlebars: Alloy riser handlebar
Wheels & Tires: 700c x 28c tires
Frame & Fork: Steel fork and frame
Brakes: Dual caliper brakes
The Captain Marvel fixed gear bicycle is an affordable and accessible fixie intended for track use but equally suitable for the urban environment.
The bike is light, quick, and durable. With a steel racing fork and frame, its weight ranges from 18 to 22 pounds.
The saddle shows racing influences with a sporty design and hardly any padding – but it's large enough to offer sufficient comfort.
Safe stopping power is provided by dual alloy caliper brakes. Should you choose to, you can easily remove both for the full fixie feeling.
With 700cc by 28c tires with alloy rims, you'll get a smooth ride with sufficient grip.
The Captain Marvel fixed gear bike is the best fixed gear bike with it's features, style, and prize. With a low weight, it rides fast and delivers an authentic fixie feel.
---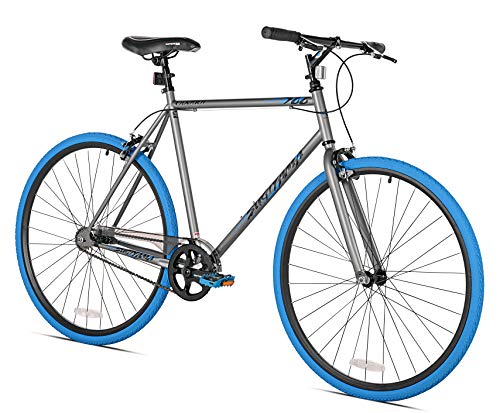 Takara Sugiyama Fixie Bike at a Glance
:
---
Size: 58 cm/L
Gearing: Flip-flop hub
Handlebars: Flat bar handlebars
Wheels & Tires: 700 x 32 alloy wheels
Frame & Fork: Hand crafted steel frame
Brakes: Front & rear alloy side pull brakes
The Takara Sugiyama Bike is a highly affordable fixie with a flip-flop hub and a frame specifically designed for track cycling.
Despite the budget price, it's stylish and versatile with quality components and a durable build.
The bike's frame is hand-built and crafted from wielded steel with an angled fork.
The sealed hub has a cog on each side, so you can flip back and forth between riding fixed gear or single speed.
Thanks to the 32-hole alloy wheels and loud 700 x 32 tires, the Takara Sugiyama is capable of withstanding less-than-perfect roads.
The wheels are more durable than for a regular track bike, giving you the option to this ride for a spin in the city as well.
Urban riders can expect speed and efficiency from the Takara Sugiyama Fixie Bike.

---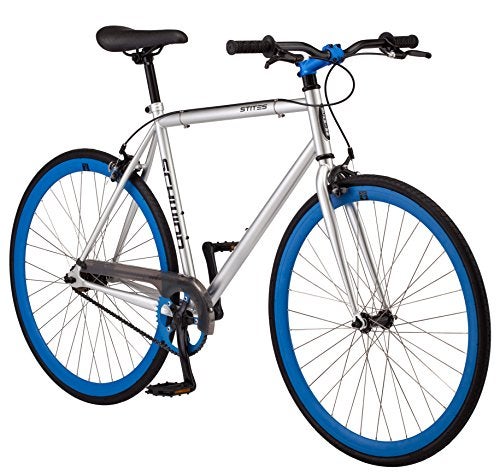 Schwinn Single Speed Fixie Bike at a Glance
:
---
Size: 58 cm/Large frame
Gearing: Flip-flop hub, 46:18 ratio
Handlebars: alloy riser bar
Wheels & Tires: 700 c wheels
Frame & Fork: steel frame
Brakes: Front and rear alloy caliper brake
The Schwinn Single Speed Fixie Bike is a stand-out bike, designed for sleek versatility.
In true fixed-gear fashion, a 46T by 18T single-speed drivetrain with a flip-flop hub propels this bike. This ensures that you can get the fixie feeling or ride freewheel.
With front and rear alloy caliper brakes, you have adequate stopping power for riding in traffic and not just on the track.
Because of the lower gear ratio, you'll have to pedal slightly more for top speed, but achieve quick starts, which is a nod to the urban use of this bike.
Designed for city riding, alloy front and rear caliper brakes for deliver precise stops, while urban seats and grips add comfort and style.
This bike also ships ready to be assembled with 700C wheels.
Overall, the Schwinn Single Speed Fixie Bike is a versatile urban model with a great feel.

---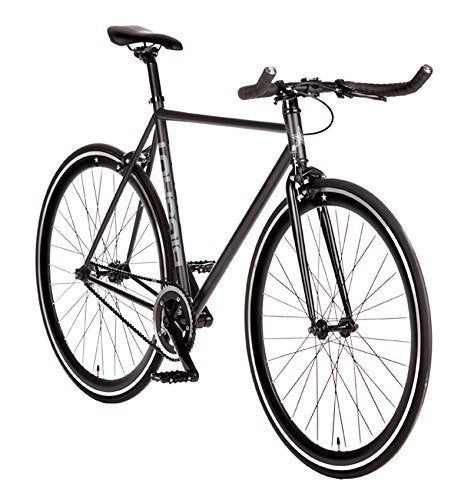 Big Shot Dublin Fixie Bike at a Glance
:
---
Size: S (52cm), M (56cm), L (60cm)
Gearing: Flip-flop hub
Handlebars: Bullhorn handlebars
Wheels & Tires: 43mm deep V rims, whitewall tires
Frame & Fork: 4130 Chromoly, track geometry
Brakes: Front & rear rim brakes
The Big Shot Dublin fixie bike is the black color option of the Havana we've reviewed above, otherwise the bikes are identical.
You get a versatile track and road fixie with a flip-flop hub and bull handlebars.
Both the Havana and the Dublin fixie are slightly above average weight for a track bike. At around 23 pounds, some riders might consider it heavier than your average fixie.
You can always reduce the weight minimally by removing one or both brakes.
Big Shot bikes come 80% assembled. You'll need a number 4 and 5 allen/ hex tool and a 15mm wrench to put the bike together.
You have to install the saddle, the pedals, the front wheel and the brake levers, then inflate the tires.
As for sizing, both the Dublin and the Havana fixie in the small version are for a rider height of 5'2″ to 5'7″.
Medium fits riders between 5'7″ to 5'11", while large suits a rider height of 5'11" to 6'3″.
Big Shot bikes have a one year warranty on the fork and frame that covers defects, workmanship and construction flaws. I would rate the Big Shot as the best fixed gear bike under $300!

---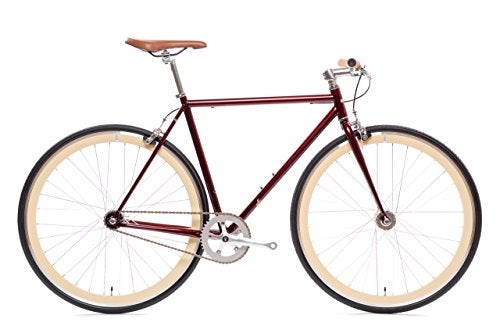 State Bicycle Co Fixed Gear Bike at a Glance
:
---
Size: XS (46cm), S (50cm), M (54cm), L (58cm)
Gearing: Flip-flop hub, 44:16 ratio
Handlebars: Aluminum alloy bullhorn handlebars wrapped with bar tape
Wheels & Tires: Aluminum 43mm deep rims, 700cc x 23c tires
Frame & Fork: 4130 Chromoly, track geometry
Brakes: Front & rear rim brakes
State Bicycle Co offers a fixed gear bike with a slightly higher price tag in six different sizes and many color options to match your height and style.
With a flip-flop hub and bullhorn handlebars, this fixie is well-suited for urban rides.
The six different frames fit riders of any heights between 4'10" and 6'6". The double-butted 4310 Chromoly frame is durable and resistant to corrosion.
The material is commonly used in higher-grade fixie bikes and lasts longer than regular frames.
It adds slightly to the overall weight, but the medium size of this bike weighs only 22 pounds.
The slightly angled fork and the bullhorn handlebars emphasize the racing look and feel of this fixed gear bicycle.
The aluminum alloy handlebars are fully taped. The saddle is made from synthetic leather and steel and is rounded for comfort and riding in the city, not only on the track.
Adjusting the tension of the chain on this model is straightforward thanks to the internal die cast drop-outs with internal tensioners.
You can adjust the chain both in freewheel or fixie mode. The bike comes with two cogs on a flip-flop hub and a standard 44:16 gear ratio. The hub is sealed for a smooth and durable ride.
Although not pictured, the bike comes with Welgo alloy platform pedals and two brakes, a front and rear rim brake.
It ships 90% assembled. State Bicycle Co delivers a high-grade fixed gear bicycle that will appeal to many riders and bike enthusiasts.

---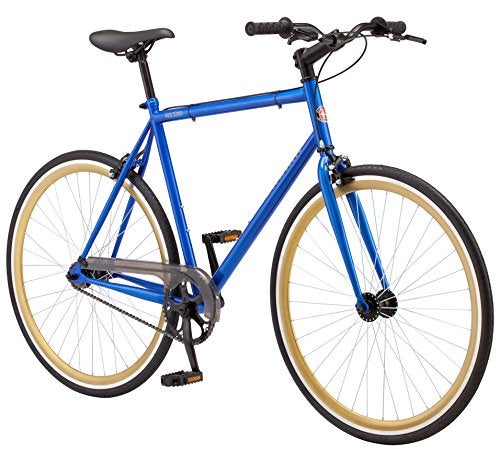 Schwinn Kedzie Fixie Bicycle at a Glance
:
---
Size: Standard size, average height (5'8″-6'5″, 34″ standover height)
Gearing: Flip-flop hub, 46:18 ratio
Handlebars: Riser handlebars
Wheels & Tires: Alloy 32h rims, 700c tires
Frame & Fork: Schwinn steel racing frame & fork
Brakes: Front & rear rim brakes
The Schwinn Kedzie is a reliable and responsive fixed gear bike with a flip flop hub and many details that make it a great city bike for urban rides.
It's available in one size and two colors at an absolute entry-level price for under $200.
Despite the budget price tag, the Kedzie is a sturdy and durable bike. Schwinn achieves this with a steel racing frame and fork for a great feel and sturdy construction.
With a flip-flop hub, you can choose between riding single speed or fixie. The gear ratio is 46:18, which favors the urban use over the track racing.
You get a riser handlebar with rubber grips as well as a comfortable urban seat. There is even a chain guard to protect your pants on your way to work, something you rarely see on a fixie.
With 700c wheels and 32h alloy rims, you can't go wrong when riding around town. The tires will withstand rougher conditions on the road.
The only disadvantage of the Schwinn Kedzie fixie bike is its size. With a standover height of 34″, it's built for taller riders with a height of 5'8″ to 6'5″.
At 30 pounds, it's also too heavy for racing but is the best cheap fixie bike that still performs well in the urban environment.

---
Fixie Bike Comparison Table
How To Choose The Best Fixed Gear Bike For You
In this guide section, we'll go over the most important features fixed gear bicycles. with our help, you'll be able to select the right model for you.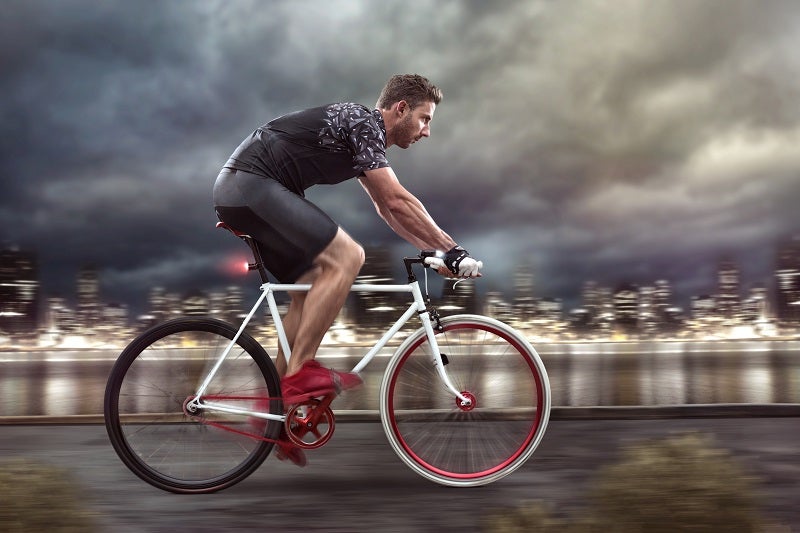 Is a Fixie Right for You?
A fixed gear bike has no shifters since it only comes with one gear. These bikes require less maintenance due to lack of cassette, derailleur and gear cabling. They're great for learning about the gear ratio between the front and rear cog, and about pedal cadence.
A fixed gear bike lacks a freewheel mechanism and doesn't allow you to coast. The fixed drivetrain means the cranks are always turning. If the rear wheel moves, you need to keep pedaling.
There are bikes with a so-called flip-flop hub with a double pinion. They feature a cog on either side of the hub where you can switch back and forth between riding single speed or fixed gear.

Fixed Gear vs Single Speed Bikes
A fixie bike lacks the freewheel option of a single speed. The rear cog is joined with the rear hub. When the wheel turns, the cog turns, meaning you have to pedal as the chain translates the movement to the front cog wheel and onto the cranks.
There is no coasting (riding without pedaling) on a fixed gear bike. The bikes moves, you pedal. By putting pressure on the pedals, you can slow down or stop by locking the rear wheel.
A single speed bike uses a freewheel mechanism where only forward motion of the cranks is translated to the rear wheel.
A freewheel or freehub uses a ratchet and pawl system with rotary motion in one direction, but not the other. The familiar clicking sound of a freewheel bike is the pawl running across the ratchet teeth.
Video: Fixed Gear vs Single Gear Bike
What Is a Fixed Gear Bike? What is a Single Speed Bike?
Why Ride a Fixed Gear Bike?
Fixed gear riders, especially bike messengers, seem to talk a lot about the flow of the ride and feeling one with the rode, something they say they can't achieve with a single speed. For slowing down, they push back on the pedals and intuitively control their speed that way.
Track and velodrome riders generally use fixed gear bicycles. They're less concerned with braking and often have a minimal approach with no mounted brakes on their bikes.
When riding in formation or close to one another, the absence of regular brakes means no one will suddenly slam on them.
Some riders argue the constant pedaling on a fixed gear bike makes for good exercise and allows them to concentrate on or work on their exact pedal stroke. Trick riders use the ability of fixies to ride backwards.

Flip-Flop Hub Explained
Usually the rear wheel of a bike has cogs on only one side of the hub, the drive side. A flip-flop rear hub has one cog on either side. One is a fixed gear cog, the other a single speed freewheel option.
The freewheel cog allows the wheel to turn without movement of the cranks, pedals, and drivetrain. It enables you to coast. With a flip-flop hub, you can change between a single speed and fixed gear option by taking out the rear wheel and mounting it in reverse.
Video: How the flip flop hub works
Size & Fit
For choosing the correct size and fit in accordance with your body's dimensions, most manufacturers offer a sizing chart. Sizes like S, M, or L make it slightly easier to pick what's best for you.
An important detail is the so-called standover height. When you stand over the bike with both feet flat on the ground, there should be roughly a 1" clearance between the crotch of your pants and the top tube.

Gearing
Both single speed and fixed gear bikes have only one gear, or speed. But there can still be a difference between riding individual models, because they come with different gear ratios. The gearing determines how much you have to pedal at top speed and how well you're able to climb hills.
The gear is created by the ratio between the front and rear chainring, which have a varying number of teeth, or cogs. Track riders go for higher gears, since they don't climb any real hills. Commuters and city riders prefer slightly lower gears in order to be able to start quickly after a stop at a red light.
Commonly, road bikes have a higher gear ratio than mountain bikes since they favor speed. What the ratio means: for each revolution of the crank, the rear wheel rotates at a multiple determined by the ratio.
If you have a ratio of 2:1, the rear wheel rotates exactly twice. A lower ratio means easier pedaling but spinning like crazy at top speed, while a higher ratio is more difficult on the hills, yet gives you greater top speed with less pedaling.
Popular ratios for fixies are 46:16 or the slightly lower 46:18.

Frame & Fork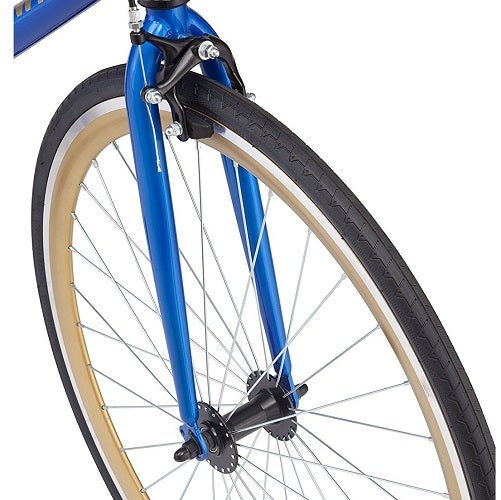 The frame and fork not only determine the size and dimensions of the bike, their shape and geometry also influence the riding style – together with the handlebars.
There are racing designs which favor a forward leaning position, and more upright road and commuter bike frames.
Frame Materials:
Aluminum and aluminum alloy are common materials with good shock absorption qualities and lower weight. Aluminum is affordable and can resist rust and corrosion.
Steel adds to the overall weight but is a strong material. It also makes for a smooth and comfortable ride. Yet steel introduces rust and corrosion when it is exposed to the elements.
Some higher-grade fixies and single speed bikes use carbon fiber components, which are sturdy and light.
Handlebars

Fixie bikes usually come with shorter and flatter handlebars, yet there are different types, which influence how you ride the bike:
Flat bar: This is the most common choice for fixed gear and single speed bikes. Some riders prefer very short bars with narrow brakes, which affects maneuvering: you have to turn the handle less to corner. With a flat bar, the distance to the seat and the height determines how upright or forward-leaning you ride.
Riser or mustache bar: A riser bar is uncommon for fixies, but they often feature a variation, the mustache bar, which is minimally curled and only slightly swept back.
Bullhorns: These can be featured on a flat or riser/mustache bar and allow you to grip a perpendicular handle in a more forward-leaning position intended for racing or going fast.
Drop bar: This racing handlebars enables you to ride aerodynamically in a lowered position if needed.
Wheels & Tires
700c tires are very common for fixie bikes. The more aggressive or suited for racing a model is, the narrower and minimal the tires will be with deep rims as you see on track bikes.
Think of how and where you'll ride the bike. Slightly wider tires with at least some profile are in order if you intend to hit the streets as well instead of just riding at the velodrome.

Brakes
Disc brakes are rare on fixies, and only one model we've reviewed features this kind of brake. Single speeds often come with a front and rear brake for safety, while fixies usually only feature a front brake because you can brake by locking the pedals.
Please check your local regulations whether it's prohibited by law to ride a bike without brakes. For most of the bikes we've reviewed, the cabling allows you to easily remove one or all brakes, should you choose to do so.

Seat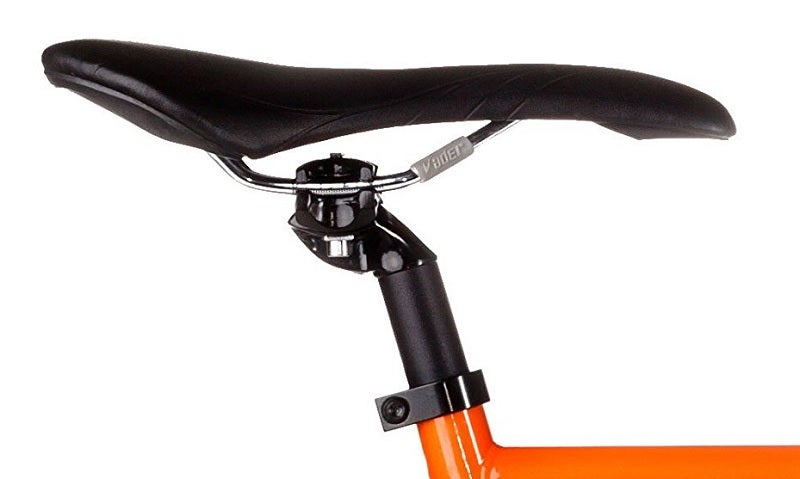 Fixed gear and single speed bikes feature varying seats, but most often use a narrow and swept seat that borrows elements from racing and track bikes.
Depending on the model, cushioning can be minimal or give you slightly more padding.

FAQs About Fixed Gear Bikes
Q: What is the difference between a single speed and a fixed gear bike?
A: Both single speed and fixed gear bikes technically only have one gear – a single speed. However, so-called single speed bicycles use a freewheel on the rear hub.
This allows you to coast, meaning you can ride without having to pedal. On a single speed bike, the cranks don't move if you don't pedal. This is different on a fixed gear bike, where there is no freewheeling action and the cogs are always moving.
On a so-called fixie bike, the cranks will always move at a speed in relation to the speed of the rear wheel. This means you have to brake by locking the pedals, and you can ride backwards by pedaling backwards.
Q: What is a flip-flop hub or hybrid bike?
A: Flip-flop hubs are also called double-sided hubs or double pinion. The rear wheel hub is threaded with a cog on either side. Depending on how the rear wheel is mounted, you can choose between one or the other cog.
Most commonly, this allows you to choose between a freewheel and fixed option, creating a hybrid bike between a fixed gear and single speed setting.
A flip-flop hub can also give you the option to switch between different gear ratios of either a single speed or fixed option. However, for all the bikes we've reviewed above, the flip-flop hub means a hybrid bike.
Q: Are single speed bikes safer than fixies?
A: The safety of fixed gear bikes is debated a lot and according to common opinion, they are less safe than single speed bikes. It's a fact that riding without a freewheel option requires a little more skill and takes time getting used to.
Remember, the cranks always move, so you'll have to keep pedaling, even downhill. There is no coasting. You also have to engage the pedals to brake or regulate speed. This is generally harder on the leg muscles and especially the knees.
A common injury for fixie beginners is to get hit by a revolving pedal on the shin after a slipped foot. Riding fixed, you shouldn't ride faster than you can control and keep a safe distance to other traffic.
Q: Do fixed gear bikes come with brakes?
A: Single speed bicycles generally come with a front and rear brake. Fixies are often mixed. To brake with the rear wheel on a fixed gear bike, you stop the cranks, which is referred to as skidding.
For safety reasons, most fixie bikes feature at least a front wheel brake. Riding without a brake might be prohibited by local road regulations. Track riders usually prefer a bike with no additional brakes.
Q: What is the advantage of a fixie over a multi-speed bike?
A: Both single speed and fixed gear bicycles require less maintenance because they lack complex gearing. Fixed gear bikes are the preferred choice for many track and velodrome riders. Other riders prefer them for exercise or pedal stroke reasons. Artistic riders require the ability to ride backwards.
Q: Do I have to assemble the bike myself?
A: Most bikes in our selection come partially assembled. Commonly, you have to attach at least the front wheel and insert the handlebars, then attach the pedals, inflate the tires and dial in the fit to your needs.
In some cases, you might have to attach both wheels, or insert the chain into the drivetrain. For bikes with a flip-flop hub, pay attention to the orientation as the assembly determines whether you're riding a fixie or a single speed bike.
Follow the manufacturer's instructions for assembling the bike, or take the parts to a local shop if you're not comfortable doing it yourself.
Conclusion
Are you still not sure if a single speed or fixed gear bike is for you?
Check out some of our other bike reviews: Mountain bikes for beginners, the hybrid bikes and the fat tire bikes.
You might also want to read our Introduction To Road Biking or our tips on How To Mountain Bike.
Hopefully, our guide has served you well in finding a good fixie bike for your needs, whether you need it for commuting, running errands or increasing your fitness.
When you get your  bike, follow the assembly instructions and adjust the fit to your body to get the most out of your new wheels.
How We Researched
To come up with the top fixed gear bicycles, we researched a variety of sources for reviews such as CompetitiveCyclist, JensenUSA, REI, EVO along with our own personal experience.
We also consulted online magazines for product research and reviews to get as much unbiased information as we could. To help weed out fake reviews we used Fakespot.com to make sure we only looked at genuine reviews.
With so many quality bikes available, we had to narrow it down based on what we felt were the best options for the price. The staff authors have a wide and varied background in road cycling, racing and bike packing.
The authors have decades of experience in cycling and eager to share their knowledge with readers.
To help narrow down the selection we used personal experiences along with recommendations from fellow cyclists, bloggers and bike shops.
After extensive research, we came up with our list to help you choose the right one for you.
Sources
---
I hope this guide was helpful for finding a good fixed gear bicycle to fit your needs. If you want to comment or recommend a bike I didn't include, please use my contact form to get in touch.
Have fun and be safe!
Notice:
OutsidePursuits.com is a participant in the Amazon Services LLC Associates Program, an affiliate advertising program. OutsidePursuits.com earns fees from products sold through qualifying purchases by linking to Amazon.com. Amazon offers a commission on products sold through their affiliate links.