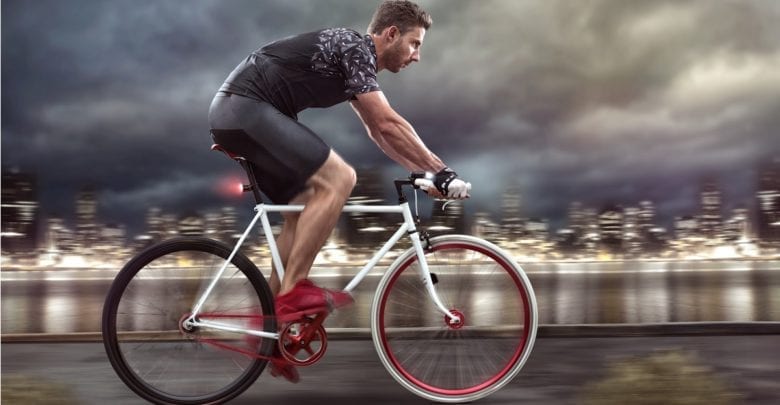 The best single speed bicycles offer a basic and straightforward cycling experience. With their unique advantages over other types of bikes, single gear bikes have been gaining in popularity.
Many riders prefer these simple bikes for exercise, commuting or just for pleasure. Single speed bikes are low-maintenance, simple to ride and very lightweight.
If you're interested in a "fixie bike" see our reviews here.
Best Single Speed Bikes
| | Pure Cycles Original | State Bicycle Black Label | Fortified City Urban Commuter |
| --- | --- | --- | --- |
| | | | |
| | | | |
| Frame: | Steel | Aluminum / Carbon | Aluminum |
| Gearing: | 44:16 | 46:14 | 44:16 |
| Handlebars: | Riser | Drop | Riser |
| Wheels: | 700cc | 700cc | 700cc |
| | | | |
For more of my top gear recommendations, have a look through these popular Outside Pursuits guide links: Bike Helmets, Bike Lights, Bike Locks.

Quick Answer: The 7 Best Rated Single Speed Bikes For 2019
Our reviews of the top rated single speed bikes with our guide and comparison table will help you choose the right bike for you.
Single Speed Bike Reviews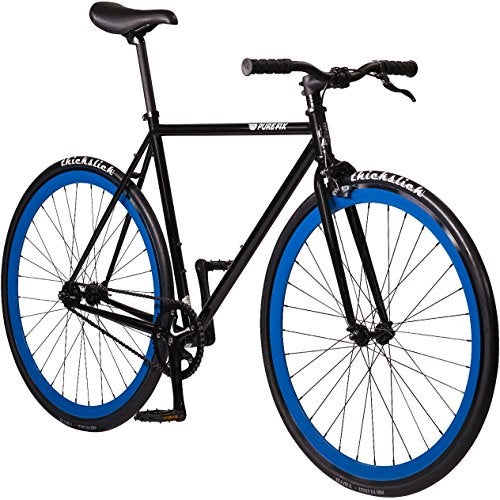 Pure Cycles is our Editors Choice for the best single speed bike that features a flip-flop hub. This model stands out for its components and many available size and color choices.
Frame & Build
This single speed bike is efficient and comfortable with a stylish look. The high tension steel frame emphasizes urban use and is paired with a straight steel fork for durability and shock absorption. The material is heavier than aluminum alloy, but makes for sturdy bike.
Expand To See MoreSee Less
Features
With alloy riser handlebars that are slightly swept back and a comfortable leather saddle, you ride more upright but still aggressive enough for the occasional sprint or race. The flip-flop hub is sealed and gives you a gear ratio of 44:16, which is pretty standard for an urban single speed.

The platform pedals are standard, and you have a front brake for safety reasons, a concession to the fixie riders. Note that other single speed bikes usually feature both front and rear brakes.

The 700c by 28c tires are slick and nimble for good top speed and agile maneuvers.
Bottom Line
With this single speed bike, you get good quality for a very affordable bike. Both beginners and more advanced riders will appreciate the features of this single speed bike.

Pure Cycles Pure Fix Original Single Speed Bike at a Glance

:
---
Size: XX-S (43cm), XS (47cm), S (50cm), M (54cm), L (58cm), XL (61cm), XXL (64cm)
Gearing: Flip-flop hub, 44:16 ratio, KMC chain
Handlebars: 30mm alloy riser bar
Wheels & Tires: 40mm deep-dish rims, 700cc x 28″ Kendra tires
Frame & Fork: High tensile tig-welded steel frame
Brakes: Removable front rim brake
---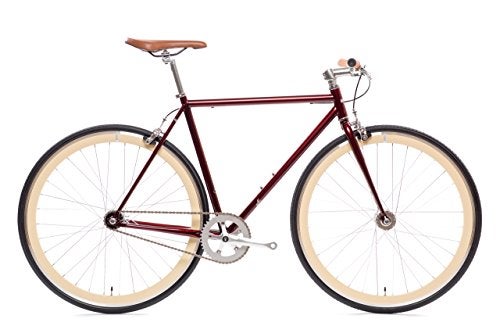 State Bicycle Co Black Label 6061 Aluminum single speed bike is our editor's choice and a high-grade, aggressive race bike. It's available in six different sizes for a rider height from 5' to 6'6" (check the manufacturer's chart) and in many color options.
This is a model for advanced riders who are looking to race on the track but still be able to ride and compete in the urban environment on the road.
Expand To See MoreSee Less
Frame & Build
State Bicycle Co appeals to these riders with their Black Label series and fast as well as lightweight bikes that you can ride both single speed or fixed gear thanks to a flip-flop hub. The great advantage: compared to other track bikes, this Black Label bike only has a mid-range price tag.

The frame and tubing are designed for the track and are paired with a shorter stem, drop down handlebars, and a slightly raised rear chain stay.

This bike takes speed serious. State Bicycle Co use 6061 aluminum aero material for a light frame and match it with an Essor fork and stem from carbon fiber for durability and excellent shock absorption.
Features
The PU race saddle works well with the handlebars for a forward riding position or a more relaxed, alternate stance. Despite the picture, the bike comes with alloy pedals with toe cages and a front and rear rim brake.

The drivetrain is highly responsive with a tight chain and consists of a limited edition Galaxy 46T crankset, a KMC Z510H chain and 32H by 14G flange bearings. The flip-flop hub gives you the best of both worlds, single speed and fixie.

The wheelset gives you CST 700c by 23c track tires with deep 43mm rims. These are surprisingly heavy – for a track bike. The manufacturer makes a concession to urban riders here, and cycling in traffic, you'll appreciate the stability or momentum at higher speeds.
Bottom Line
The State Bicycle Co Black Label is the best single speed road bike that is durable and fast. While it's the most expensive bike on our list, you are getting a well built bike with quality components.

State Bicycle Black Label Single Speed Bike at a Glance

:
---
Size: XS (46cm), S (50cm), M (54cm), L (58cm)
Gearing: Flip-flop hub, 46:14 ratio
Handlebars: Pista race drop handlebars
Wheels & Tires: 43mm deep V rims, 700c track wheels
Frame & Fork: Double-butted & 6061 aluminum frame, carbon fiber fork & steer tube
Brakes: Front & rear rim brakes
---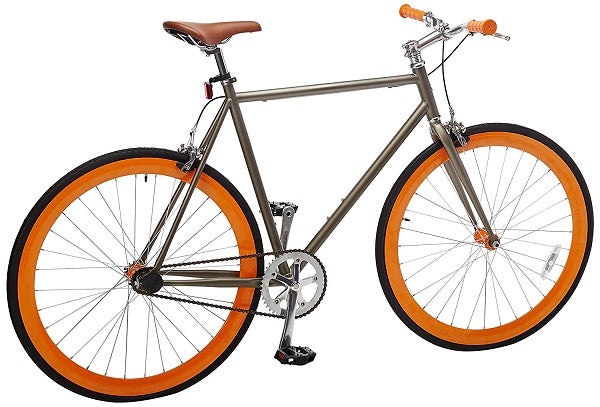 The Vilano Rampage is an incredible-priced road bike with a single speed or fixed gear option and urban features. It's available in three common sizes with appealing and stylish color options.
Frame & Build
For the highly attractive price tag, this single speed bike rides and feels great while the looks will turn heads. The high tensile steel frame and fork are meant to perform well in the city with shock absorption and durability. The rear stay is slightly raised, and the fork is straight.

The saddle strikes a nice balance between comfort and position. The riser handlebar further enhances a more upright riding style with a slight upward angle.

Expand To See MoreSee Less
Features
You get front and rear brakes, which works well on a single speed for safety reasons. Yet you can easily convert this bike into a fixie by flipping the read wheel. The 46:16 gear ratio is an urban standard and works well for top speed and quick starts.

45mm double walled and anodized rims are fitted with 700c x 28c tires with a minimal amount of tread for smooth rides and fast races.
Bottom Line
For about $200 you get the best cheap single speed bike that is stylish and eye catching that will give you years of trouble free riding.

Vilano Rampage Single Speed Road Bike at a Glance

:
---
Size: S (50cm), M (54cm), L (58cm)
Gearing: Flip-flop hub, 46:16 ratio
Handlebars: Alloy riser handlebar
Wheels & Tires: 45mm deep V double wall anodized rims, 700c x 28c tires
Frame & Fork: High tensile steel frame, urban geometry
Brakes: Front & rear rim brakes
---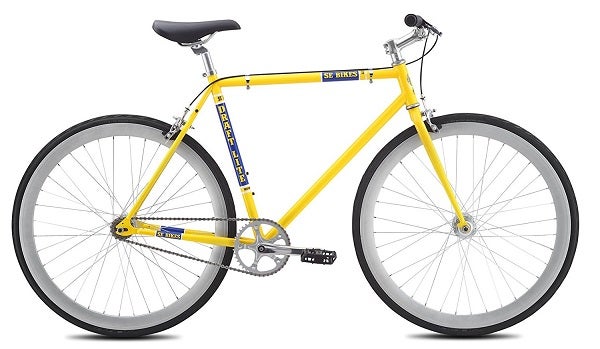 SE Bikes delivers a hip single speed bike with the Draft Lite. The design and components of this model make it ideal for the urban rider who values a fast, fun and stylish set of wheels with low maintenance.

This model is available in four sizes and color options.

The bike was inspired by track bikes to give you an advanced commute. The bike features a flip-flop hub so you can easily convert it into a fixie if you want to ride with more feeling.

Expand To See MoreSee Less
Frame & Build
The frame and fork are manufactured from high tension steel and come with water bottle and fender mounts should you wish to further equip your ride.

The riser handlebar and comfortable yet slim seat feature an upright riding position. A neat detail: the seat has an integrated bottle opener – which gives the name Draft Lite an all-new meaning.
Features
The front and rear brakes feature external cabling and are therefore easily removable. With a 42:16 gear ratio, you'll find handling city traffic with many starts and stops straightforward. This bike is as practical as it is cool.

The high-profile double wall rims are sturdy and paired with Very City wide 700c by 28c tires for withstanding even rougher roads.
Bottom Line
The Draft Lite is the best single speed bike under $300 that will give you a set of wheels that will last you a long time and serve you well on commutes or pleasure rides around town.

SE Bikes Draft Lite Single Speed Bike at a Glance

:
---
Size: XS (49cm), S (52cm), M (55cm), L (58cm)
Gearing: Flip-flop hub, 42:16 ratio, KMC Z410A chain
Handlebars: SE 23″ x 1.5″ riser bar
Wheels & Tires: High-profile double wall rims, Vera City wide 700c x 28c tires
Frame & Fork: Butted urban single speed frame
Brakes: Promax Alloy RC-453 Caliper with front & rear brakes
---
The Raleigh Bikes Back Alley Urban Road Bike is a street bike, as the name suggests. The manufacturer goes back to features of early bikes to deliver a model that is all about riding city streets with the feel of a track bike.

The Raleigh is available in a neat retro green and four different sizes. Consult the sizing chart for picking the right one.
Frame & Build
Beating traffic, commuting to work, racing down hills or going for errands, the Back Alley bike is all about efficient cycling. The high tension steel frame features a track geometry and is paired with a steel fork to absorb shocks and bumps.

Expand To See MoreSee Less

You get excellent steering results. The handlebar is nearly flat and mildly swept back. With the comfortable seat, you ride upright and have a good view of what's ahead.
Features
The cable guides for the front and rear brake are completely removable, in case you want to make use of the flip flop hub and convert this ride from a single speed into a fixie without brakes.

Otherwise the dual brakes serve you well in traffic. The gear ratio of 42:16 lends itself well to inner-city cycling. The wheels come with double wall rims and Kenda 700c tires.
Bottom Line
If the limited color choice doesn't put you off, this is a great single speed bicycle for urban riding for around $300.

Raleigh Bikes Back Alley Urban Road Bike at a Glance

:
---
Size: S (51cm), M (54cm), L (57cm), XL (60cm)
Gearing: Flip-flop hub, 42:16 ratio, KMC Z410 chain
Handlebars: Alloy, 620mm Wide, 25mm riser bar with 5° backsweep
Wheels & Tires: Alloy double wall rims, Kenda 10818 700c x 25c tires
Frame & Fork: High tension steel frame, track geometry
Brakes: Alloy dual pivot caliper front & rear brakes
---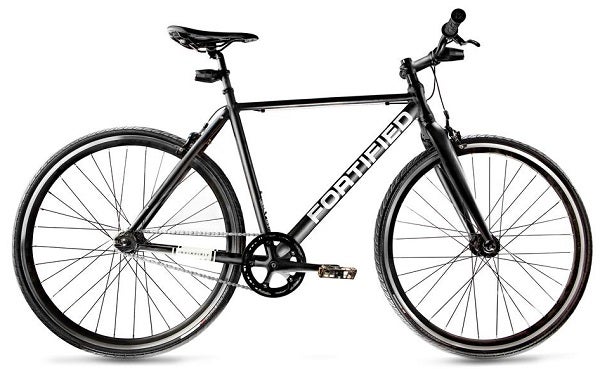 The Fortified City Commuter bike is a single speed commuter model designed to survive the city. This includes a lightweight yet sturdy aluminum construction, puncture-resistant tires, and extra security measures.

A special feature of this bike are the security bolts. This model features Fortified proprietary stainless steel water bottle screws, a top cap bolt, stem face plate bolts and S/S bolts to ensure neither your bike nor parts can be stolen.

This includes Delta Fort Knox locking hub nuts to secure the wheels. With the Fortified Theft Protection Plan, you also receive a free U-lock.

Expand To See MoreSee Less
Frame & Build
But you also get protection from shocks and the elements: aluminum makes for a rust-free bike. The 6061 aluminum frame is lightweight and sturdy and constructed for road riding. An aluminum chain means less maintenance.
Features
The saddle and riser handlebars give you an upright riding position with a good view of the road ahead. Dual brakes mean adequate stopping power. The drivetrain gives you a nice 42:16 ratio which many urban riders find ideal for good pedal cadence and top speed.

The 700c by 32c tires are puncture resistant and give you sufficient shock absorption when riding over minor obstacles or jumping a curb now and then.
Bottom Line
If you're serious about commuting to work and riding in the city a lot while valuing the single speed approach and gearing, the Fortified City Commuter bike is for you. It's the best urban single speed bike with it's theft resistance features.

Fortified City Commuter Theft-Resistant Single Speed Bike at a Glance

:
---
Size: S (50cm), M (54cm), L (58cm)
Gearing: Single speed, 42:16 ratio, KMC Rustbuster chain
Handlebars: Promax 15 degree 20mm rise
Wheels & Tires: 700c x 32c puncture-resistant tires
Frame & Fork: 6061 aluminum frame with road geometry
Brakes: Promax Dual Pivot Caliper with quick-release arms
---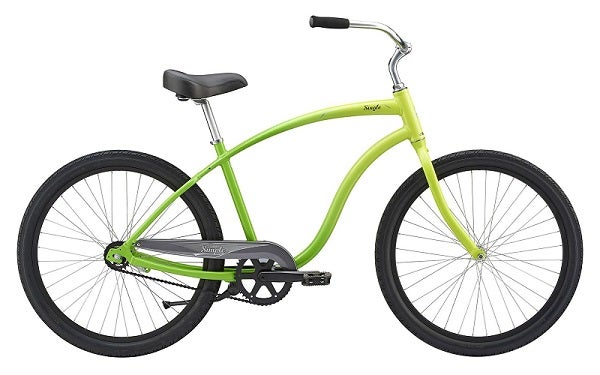 The Giant Simple Single Speed Bike features an interesting design. The hybrid approach between a road and beach cruiser bike comes with single speed gearing and a durable construction. It's also the only model on our list with only a coaster brake.

Stylish and fun, the Giant Simple Single approach reduces complexity and maintenance with the drivetrain. It's a single-geared cruiser that keeps things comfy, efficient and simple.

It's a great urban transport option for demanding riders and rough streets.

Expand To See MoreSee Less
Frame & Build
The butted Chromoly frame gives you a comfortable and supple ride with full durability. Paired with a Cruiser fork, this model rides smoothly. The geometry of the frame clearly mimics a mountain bike. The subtle yet comfortable seat paired with the riser handlebars favors an upright riding position.
Features
The coaster brake is unusual for a single speed. Unlike many other models we've reviewed, this one comes without a flip-flop hub. Freewheeling it is, with no option to switch to fixed gearing. In addition, the 38:18 gear ratio is unusual but makes for comfortably low top speeds and easy cruising.

The 700c " balloon" tires are perfect for the urban environment, as the name suggestions. They deliver some shock absorption through tire pressure and are wide and sturdy enough for minor obstacles.
Bottom Line
A minor disadvantage of this bike is its weight of nearly 30 pounds. The Giant Simple Single Speed Bike won't win any races against your fixie and single speed friends, but it sure is a cool cruiser and sturdy city bike.

Giant Simple Single Speed Bike at a Glance

:
---
Size: One Size
Gearing: Single speed, 38:18 ratio
Handlebars: Steel cruiser
Wheels & Tires: SX19 wheels with "balloon" tires
Frame: ALUXX-Grade Aluminum
Brakes: Coaster brakes
---
Single Speed Bikes Comparison Table
How To Choose The Right Single Speed Bike For You
In this guide section, we'll go over the most important features of single speed bicycles. With our help, you'll be able to decide which single gear bicycle fits your needs and select the right model for you.
Single Speed vs Fixed Gear: What's the Difference?
Sometimes the terms are used interchangeably but there is a difference between them. A fixed gear bike or fixie lacks the freewheel option of a single speed.
The rear cog is joined with the rear hub. When the wheel turns, the cog turns, meaning you have to pedal as the chain translates the movement to the front cog wheel and onto the cranks.
There is no coasting (riding without pedaling) on a fixed gear bike. The bikes moves, you pedal. By putting pressure on the pedals, you can slow down or stop by locking the rear wheel.
A single speed bike uses a freewheel mechanism where only forward motion of the cranks is translated to the rear wheel. A freewheel or freehub uses a ratchet and pawl system with rotary motion in one direction, but not the other. The familiar clicking sound of a freewheel bike is the pawl running across the ratchet teeth.

Why Ride a Freewheel Single Speed Bike?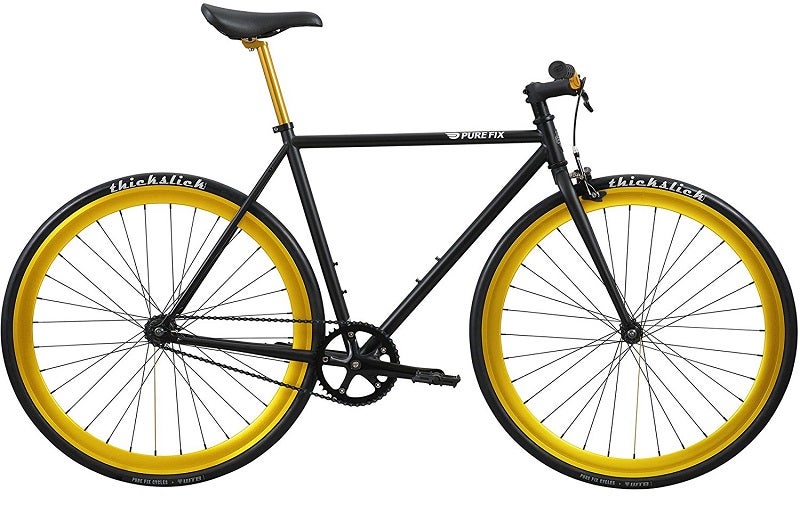 For most people, a freewheel option is familiar since it's the kind of bike they probably rode as a kid. It's the safer option because you can simply stop pedaling whenever you want or need to. Coasting is fun and allows you to rest, especially on hills!
A single speed bike is easier to ride than a fixie. It allows you to keep a high pedal cadence without having to worry about the cranks and pedals breaking your shins in case you slip or can go on anymore.
It's easier to corner on a single speed bike, as well as stop and start, for example at a red light. Especially in downhill and uphill situations, you will find you can safely ride at higher top speed on a single speed than on a fixed gear bike.
Video: Difference between single speed and fixed gear bikes.
Flip-Flop Hub Explained
Usually the rear wheel of a bike has cogs on only one side of the hub, the drive side. A flip-flop rear hub has one cog on either side. One is a fixed gear cog, the other a single speed freewheel option.
The freewheel cog allows the wheel to turn without movement of the cranks, pedals, and drivetrain. It enables you to coast. With a flip-flop hub, you can change between a single speed and fixed gear option by taking out the rear wheel and mounting it in reverse.
Video: How the flip flop hub works in a single speed/fixie bike.
Bike Size & Fit
For choosing the correct size bike in accordance with your body's dimensions, most manufacturers offer a sizing chart. Sizes like S, M, L and XL make it easier to choose what's best for you.
The most important consideration is the standover height. This is when you stand over the bike with both feet flat on the ground, there should be roughly a 1" clearance between the crotch of your pants and the top tube.

Bike Gearing
Single speed bikes have only one gear, or speed. But there are differences between riding individual models, because they come with different gear ratios. The gearing determines how fast you have to pedal and how well you're able to climb hills.
The gearing is created by the ratio between the front and rear chainring, which have a varying number of teeth, or cogs. Fast track riders go for higher gears, since they don't climb any real hills. Commuters and city riders prefer slightly lower gears in order to be able to start quickly after a stop at a red light.
Commonly, road bikes have a higher gear ratio than mountain bikes since they favor speed. What the ratio means: for each revolution of the crank, the rear wheel rotates at a multiple determined by the ratio.
If you have a ratio of 2:1, the rear wheel rotates exactly twice. A lower ratio means easier pedaling but spinning like crazy at top speed, while a higher ratio is more difficult on the hills, yet gives you greater top speed with less pedaling.
Popular ratios for single speeds are 46:16 or the slightly lower 46:18.

Frame & Fork
The frame and fork not only determine the size and dimensions of the bike, their shape and geometry also influence the riding style – together with the handlebars. There are racing designs which favor a forward leaning position, and more upright road and commuter bike frames.
Frame Materials:
Aluminum and aluminum alloy are common materials with good shock absorption qualities and lower weight. Aluminum is affordable and can resist rust and corrosion.
Steel adds to the overall weight but is a strong material. It also makes for a smooth and comfortable ride. Yet steel introduces rust and corrosion when it is exposed to the elements.
Some higher-grade single speed bikes like the State Bicycle Black Label use carbon fiber components, which are sturdy and light but more expensive.
Handlebars

Fixies and single speed bicycles usually come with shorter and flatter handlebars, yet there are different types, which influence how you ride the bike:
Flat bars: This is the most common choice for single speed bikes. Some riders prefer very short bars with narrow brakes, which affects maneuvering: you have to turn the handle less to corner. With a flat bar, the distance to the seat and the height determines how upright or forward-leaning you ride.
Riser or mustache bar: A riser bar is uncommon for single speed bikes, but they often feature a variation, the mustache bar, which is minimally curled and only slightly swept back.
Bullhorns: These can be featured on a flat or riser/mustache bar and allow you to grip a perpendicular handle in a more forward-leaning position intended for racing or went you want to go fast.
Drop bar: These handlebars enable you to ride aerodynamically in a lowered position if needed.
Wheels & Tires
700c tires are by far the most common size for single speed bikes. The more aggressive or suited for racing a model is, the narrower and minimal the tires will be with deep rims as you see on track bikes.
Think of how and where you'll ride the bike. Slightly wider tires with at least some profile are in order if you intend to hit the streets or even the trails.

Brakes
Disc brakes are rare on these kinds of bikes, and only one model we've reviewed features this kind of brake. Single speeds often come with a front and rear brake for safety, while fixies usually only feature a front brake because you can brake by locking the pedals.
Please check your local regulations whether it's prohibited by law to ride a bike without brakes. For most of the bikes we've reviewed, the cabling allows you to easily remove one or all brakes, should you choose to do so.

Seat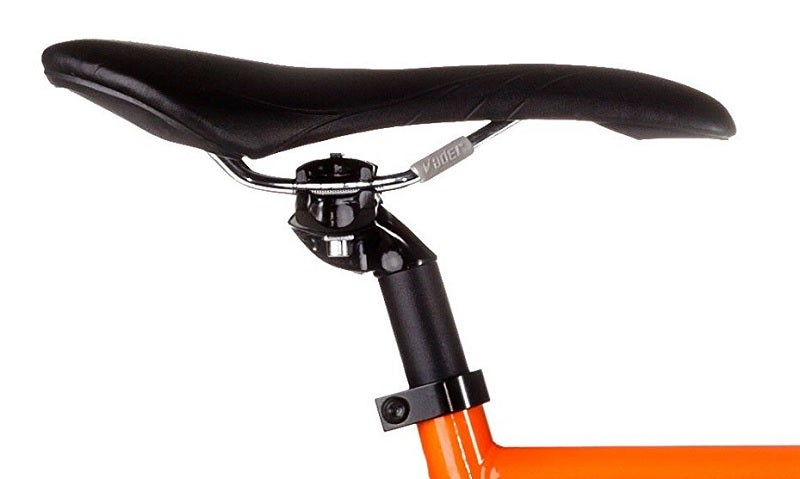 Fixed gear and single speed bikes feature varying seats, but most often use a narrow and swept seat that borrows elements from racing and track bikes. Depending on the model, cushioning can be minimal or give you slightly more padding.

FAQs About Single Speed Bikes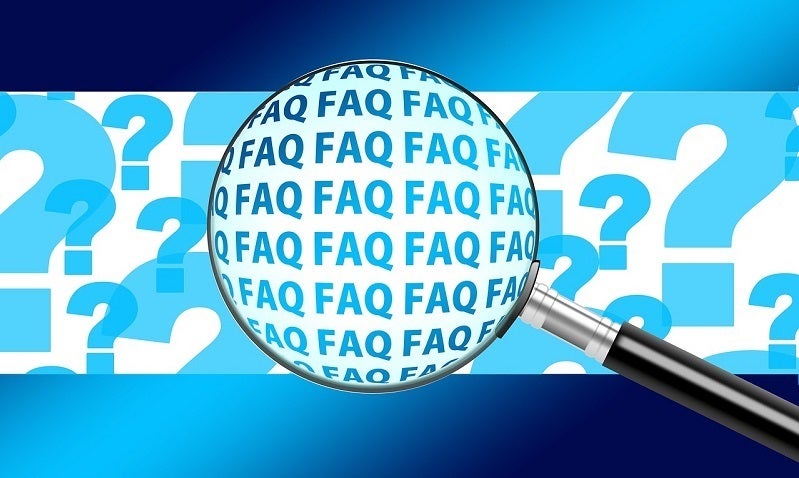 Q: What are differences between single speed and a fixed gear bikes?
A: Both single speed and fixed gear bikes have only one gear or speed. However, so-called single speed bicycles use a freewheel on the rear hub. This allows you to coast, meaning you can ride without having to pedal. On a single speed bike, the cranks don't move if you don't pedal.
This is completely different than a fixed gear bike, where there is NO freewheeling action and the cogs are always moving. On a so-called fixie bike, the cranks will always move at a speed in relation to the speed of the rear wheel. This means you have to brake by locking the pedals, and you can ride backwards by pedaling backwards.
Q: What is a flip-flop hub on many single speed or fixie bikes?
A: Flip-flop hubs are also called double-sided hubs or double pinion. The rear wheel hub is threaded with a cog on either side. Depending on how the rear wheel is mounted, you can choose between one or the other cog.
Most commonly, this allows you to choose between a freewheel and fixed option, creating a hybrid bike between a fixed gear and single speed setting.
A flip-flop hub can also give you the option to switch between different gear ratios of either a single speed or fixed option. However, for all the bikes we've reviewed above, the flip-flop hub means a hybrid bike.
Q: Are single speed bikes safer than fixies?
A: The safety of fixed gear bikes is debated a lot and most riders will concede, they are less safe than single speed bikes. It's a fact that riding without a freewheel option requires a more skill and takes time getting used to. Remember, the cranks always move, so you'll have to keep pedaling, even downhill so you can lose control!
Remember, there is no coasting. You also have to engage the pedals to brake or regulate speed. This is generally harder on the leg muscles and especially the knees. A common injury for fixie beginners is to get hit by a revolving pedal on the shin after a slipped foot.
Q: Do single gear bikes come with brakes?
A: Single speed bicycles generally come with a front and rear brakes. Fixies are often mixed. To brake with the rear wheel on a fixed gear bike, you stop the cranks, which is referred to as skidding. For safety reasons, most fixie bikes feature at least a front wheel brake.
Riding without a brake might be prohibited by local road regulations. Track riders usually prefer a bike with no additional brakes.
Q: What are the advantages of a single speed bikes?
A: Single speed bicycles require significantly less maintenance than multi-speed bikes because they lack complex gearing. With no shifters, derailleurs or cogs, there is a weight savings as well.
Single speed bikes are the preferred choice for many track and velodrome riders. Other riders prefer them for exercise or just because they look "cool".
Q: Do I have to assemble the bike?
A: Most bikes on our list come partially assembled. Most likely you have to attach at least the front wheel and insert the handlebars, then attach the pedals, inflate the tires and adjust the seat height to your needs.
In some cases, you might have to attach both wheels, or insert the chain into the drivetrain. For bikes with a flip-flop hub, pay attention to the orientation as the assembly determines whether you're riding a fixie or a single speed bike.
Follow the manufacturer's instructions for assembling the bike, or take the parts to a local bike shop if you're not comfortable doing it yourself.
Conclusion
Are you still not sure if a single speed or fixed gear bike is for you? Check out some of our other bike reviews: The best mountain bikes for beginners, the best hybrid bikes and the best fatbikes. You might also want to read our Introduction To Road Biking or our tips on How To Mountain Bike.
Single speed bicycles are perfect for city riding, commuting, running neighborhood errands or increasing your fitness. I hope our guide will serve you well in finding the best single speed bike to fit for your needs.
When you get your single speed, follow the assembly instructions and adjust the fit to your body to get the most out of your new wheels.
The Pure Fix Original is our Editor's Choice as the best single speed bike with its combination of rideability, features and quality.
Notice:
OutsidePursuits.com is a participant in the Amazon Services LLC Associates Program, an affiliate advertising program. OutsidePursuits.com earns fees from products sold through qualifying purchases by linking to Amazon.com. Amazon offers a commission on products sold through their affiliate links.