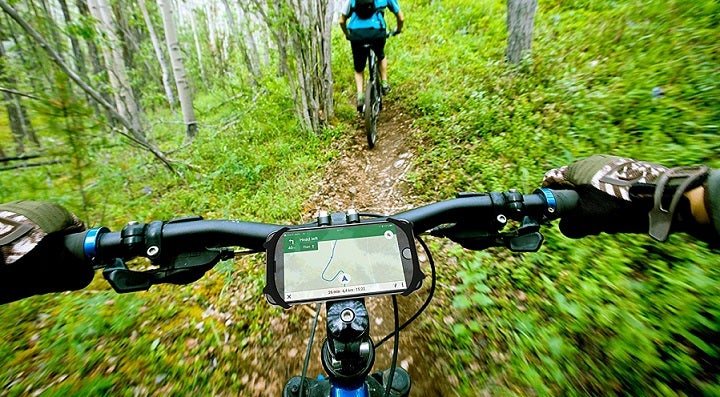 Our Editors independently research, test, and rate what we feel are the best products. We use affiliate links and may receive a small commission on purchases.
If you want to keep you phone handy while riding your bike you're going to need the best bike phone mount.
However, you are a going to find a seemingly never ending collection of mounts with different sizes, shapes, colors, prices, and even functionality.
Do you want a case that you put your phone in, then snaps into the mount or a universal mount that your phone fits into with silicone bands?
Do you need something that is weather resistant in case you get caught in a rainstorm?
It can be very frustrating but have no fear! To help set you on the right path we have our top rated bike phone mounts for you to consider.
Best Bike Phone Mounts
| | Quad Lock Phone Mount Bike Kit | MORPHEUS LABS M4s iPhone Mount | TeamObsidian Bike Phone Mount |
| --- | --- | --- | --- |
| | | | |
| | | | |
| Phone Mounting: | Clips into mount | Clips into mount | Silicone Straps |
| Made From: | Polycarbonate/TPU | Aluminum Alloy/Nylon Carbon-Fiber | Silicon |
| Best Use: | Road or Mountain Biking | Road or Mountain Biking | Road Biking |
| Rating: | 4.6 / 5.0 | 4.1 / 5.0 | 4.4 / 5.0 |
| | | | |
For more of my biking gear recommendations, have a look through these popular Outside Pursuits guide links: Road Bike Helmets,  MTB Helmets, Bike Headlights.
Quick Answer: The 7 Best Rated Bike Phone Mounts For 2021
Our reviews of the top rated bike phone mounts with our buying guide and comparison table will help you choose the right one for you.
---
Bike Phone Mount Reviews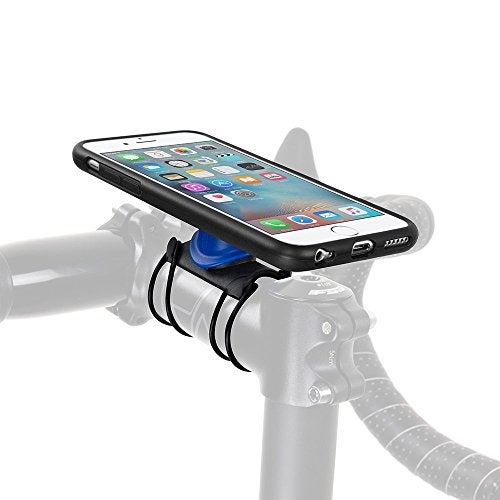 The Quad Lock Bike Kit is a case mount primarily designed for iPhones and available for the iPhone 5 up to the X.
You can also order a Quad Lock that works with any phone but it is not a case mount, it sticks on the bottom of your phone. It is also about half the price because it does not include a case.
That aside, it includes the patented dual-stage locking mechanism that is specially designed to hold your phone in place in the most secure way possible.
With the ability to mount to any stem or handlebar up to 1.57 inches in diameter, it is usable with most standard bikes.
Installation is quick and easy since all necessary O-rings and zip ties are included in the kit.
Since this Mount requires you to use the Quad Lock created case, there are a variety of options to choose from.
Quad Lock cases are slim and lightweight, they can easily be slid in and out of your pocket for day to day use while still providing a great grip.
They are made from impact resistant materials, lined with a soft microfiber interior for added protection while still allowing for access to all ports and buttons.
Video: Overview of the Quad Lock Bike Phone Mount.
Quad Lock iPhone Bike Mount - 2016
The Quad Lock Bike Kit also includes a weather resistant poncho that simply snaps on over the front of the phone to help protect your phone from rain.
Though it is important to note that the case and poncho are not 100% waterproof. The poncho also prevents the use of the headphone jack.
This is where a pair of Bluetooth headphones will come in handy. In my opinion the Quad Lock is the best iPhone bike mount. You will need a case designed for the mount, this search will show you all available models.

---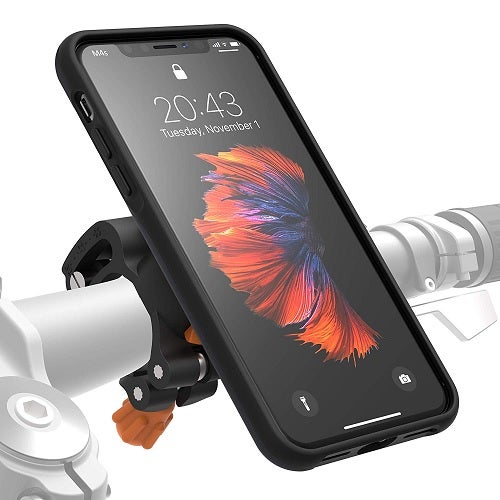 The Morpheus Labs phone mount is the most unique design on our list. They only work with iPhones unfortunately so if you have an android it wont work for you.
The mount is specific to the phone, this particular one is for the iPhone X, XS &10.
The M4s comes with a separate case that you snap your phone into. Then the case snaps on to the mount with high strength magnets. I know what you're thinking magnets?
These are very strong and one snapped into place your phone is not going anywhere! It's so strong its perfect for mountain bikers who need the ultimate in secure mounting.
The mount will work with just about any size handle bars and needs to tools to attach to your handlebars.
To phone pops off by pushing on the release button, simple!

---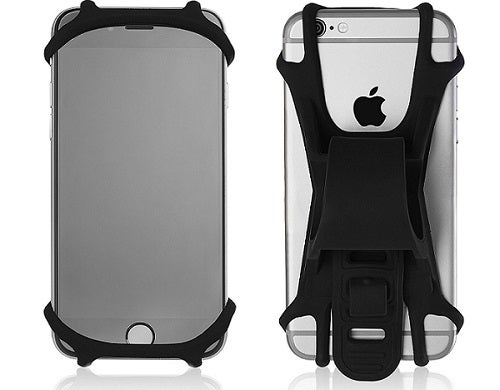 TeamObsidian's Premium Bike Phone Mount's claim to fame is that unlike most mounts which contain movable parts and parts that consist of multiple pieces, TeamObsidian's is made from a single molded piece of silicon.
This means that the chances of the mount malfunctioning or breaking are less likely than those with multiple parts of the other leading competitors.
The silicon is also a quieter alternative to plastic and metal that can squeak and make other sounds that may disrupt or distract you during your ride.
It is 100% shock absorbent providing extra protection for your phone on even the roughest terrains and will stay on even if you fall.
It's great for any phone with a width between 4 and 5.5 inches and fits any iPhone 8 / 7 / 6 / 6S or Samsung Galaxy S8 / S7 / S6.

The TeamObsidian bike phone mount is a great budget priced option. With its thick one piece silicone design that securely holds your phone and reduces the vibrations on your phone the TeamObsidian is the best mountain bike phone mount.
It also comes with a risk free money back guarantee if you are not completely satisfied with the bike phone mount.

---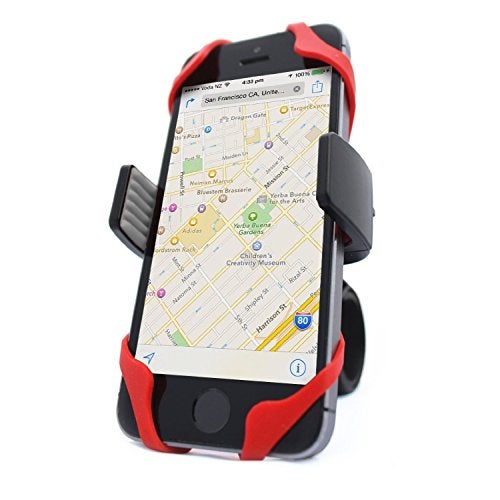 As its name says, Vibrelli is a universal bike phone mount meaning it can hold most cellphones, even larger phones like the iPhone 8+ and the Samsung Galaxy Note 4.
With its strong adjustable clamp and silicon bands available in three colors – black, red and gray – and it can hold phones up to 4.5 inches wide.
This keeps your phone safely in place while still allowing you full access to all functions of your phone including the touch screen, volume control and the headphone jack, unlike other designs that require you to remove your device to access certain features.
Once the mount is installed on the bike, you can easily mount and remove your phone with its easy clip on, clip off design. With a simple ball and socket design, you have the freedom to position your phone to the best viewing angle.

---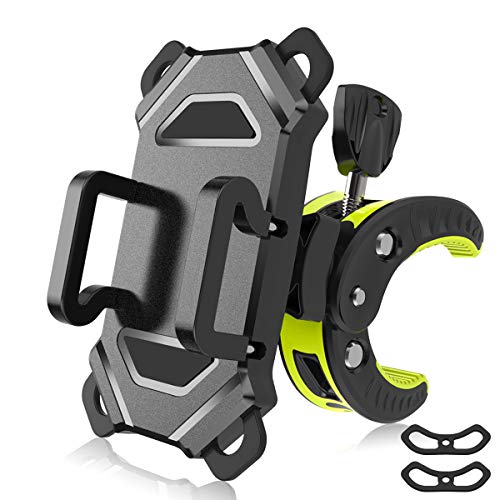 Sunby provides a universal bike phone mount that features a clamp with rubber grips to prevent your phone from sliding out of the mount.
It also has bands that stretch around all four corners of your phone for extra protection plus a foam carpet used to help prevent your phone from getting damaged while attached to the mount.
Its single button release allows you to grab your phone and go quickly while still allowing your phone to be locked in place when you need to be hands-free.
No tools are required for installation, simply screw the flipper and lock it in place, insert your phone and you are ready to ride.
Capable of holding phones from 3.5″ to 6.0″ wide and mounting to handlebars up to 1.57 inches in diameter, the sunby Universal Bike Phone Mount works with most bikes and phones on the market.

---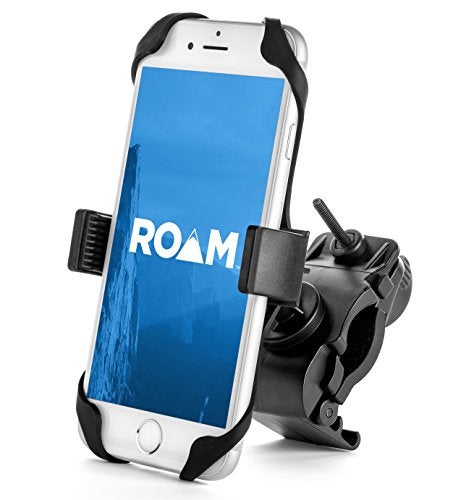 Made from a strong hard plastic paired with a silicon net that stretches up to 4X its actual size, the Roam Universal Premium Bike Phone Mount is made for strength, durability and security even on your most intense rides.
With six points of contact, your phone is locked in place and ready to go, with an adjustable mount that allows for easy viewing from any angle on your ride.
Since it fit just about any size handlebars and holds the phone so well I would say the Roam is another good choice for the best MTB phone mount.
Roam also promises a 100% money back guarantee if you have any problem or you are not completely satisfied with your product.

---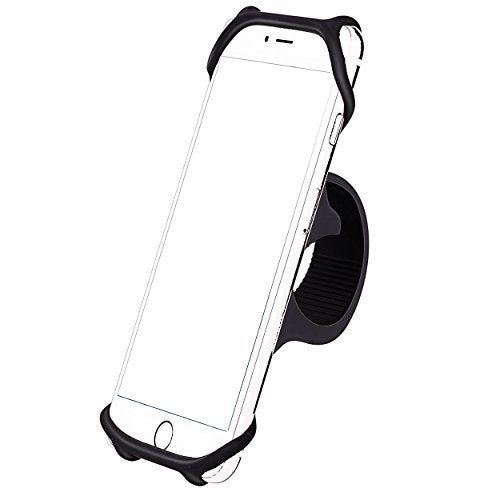 The AILUN Bike Phone Mount can be used with any smartphone including but not limited to iPhones, Samsung Galaxy, Nexus, Nokia, LG phones, and more. With its flexible spring loaded clamp, it can hold phones ranging from 2.2 to 3.7 inches in width.
Combining this with a silicon butterfly band that connects to the mount and then stretches over the four corners of your phone to add extra security ensures that your phone will be safely held in place even on the most extreme mountainous trails.
Installation is easy and can be done within two minutes. All tools needed for the installation are included so you don't have to go searching around the house for what you need.
The AILUN Bike Phone Mount can be mounted to 99% of all bike handlebars thanks to its adjustable clamp that can securely be attached to anything with a diameter between 0.9" and 2.3".
With its 360° rotation, your phone can be mounted at any angle, including horizontal, vertical and even diagonally if you prefer, making your phone easy to access and the screen clearly visible while your riding.

---
Bike Phone Mount Comparison Table
Considerations For Choosing A Bike Phone Mount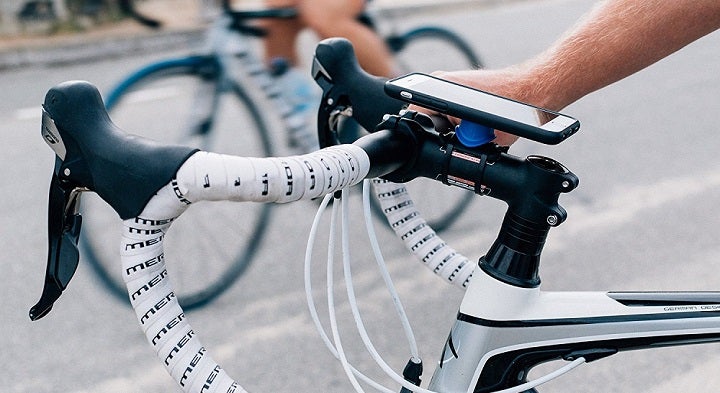 What is a bike phone mount and why do you need one? Those are both very good questions. A bike phone mount is an accessory that allows you to fasten your phone to your bike when you go for a ride.
It enables you to see your phone screen without having to hold the phone in your hand.
It also allows you to keep your phone in a safe and secure location, that is easily accessible, unlike if you had it stuck in your pocket where it could fall out and be lost or damaged.
Phone mounts allow your phone to be safely secured to the handlebars of your bike so that you don't have to worry about juggling your phone while riding, which can be potentially very dangerous and even life threatening.
Simply put, a phone mount for your bike is something that will save you a lot of hassle and makes your ride safer by not having to stop along the side of the road and try and dig your phone out of your pocket.
Especially useful when your using the mapping features or ride statistics on your phone. Expecting an important text, you just have to look down to see it.

This means that if you use your phone for navigation or even just tracking the fitness information relating to your ride, you can clearly and easily see the phone without having to look away from the road ahead of you.
Stopping to answer the phone or check the importance of an incoming message won't be necessary if your phone screen is on display right in front of you.
You can simply glance down and decide if it's something worth stopping for or if it can wait until after you have finished your ride.

Types of Bike Phone Mounts
If you have decided to look into buying a bike phone mount, you should know that there are three primary types of bike phone mounts: Case mounts, universal bracket mounts and frame bags.
Each type has its own special features and designs that are useful in different situations. Figuring out which type is best for you can be tricky but here are a few things you should know about each type of bike phone mount.

Case Mounts
These cases are ideal if you have one specific device that you intend to use with your bike mount. They usually come in two parts, the block that is mounted to the stem or handlebars of your bike and the case that is designed for your specific phone model, for example, iPhone 6S or Nexus 6.
Once your phone is in the case provided, you simply connect the block to the case, thus securing it to your bike. The Quad Lock is the best example of this type of mount.
Due to the strong connection between the block and the case and the protective qualities of the case itself, case mounts are generally known for being more secure.
But if you have a different case that you prefer for daily use, you will have to change your phone case every time you want to use your iphone bike mount so it's not as convenient, but this is an option if you want the added security provided by case mounts.
These mounts usually allow you to position the phone in a variety of different angles, some even allow for 360° rotation providing you with comfortable and convenient viewing while on your ride.

Universal Brackets
Unlike the case mounts, Universal mounts are compatible with most phones without the need for a specialized phone case. This allows you the freedom to use your preferred protective case, whether it be waterproof, scratch-proof, anti-breaking, or no case at all.
You can use any case you desire as long as the dimensions of the case and the phone together are smaller than the mount's widest grip ability. The Taotronics and TeamObsidian are two of the better universal phone mounts.
Due to the flexibility to change devices with ease, some people assume that these cycle phone holders are a lot less secure because the mount isn't actually connected to the device, it simply holds the phone in place. You could be trading in more security for more convenience but that has to be decided by individual users.
These cases vary in materials, ranging from plastic to metal mounts usually paired with silicon or rubber grips and bands to hold your phone in place at various points of contact. The more points of contact, generally means more security your phone should have when it is mounted.
Frame Bags
The plus side to using frame bags is that you have a little extra storage space for keeping things like keys, money, and credit cards while easily accessing your phone's touch screen through the clear front section of the bag while the majority of the bag is not transparent leaving the other items concealed.
The frame bags don't usually mount to your handlebars, though there are handlebar frame bags available. If you choose a frame mount bag that doesn't mount to the handlebars, it leaves that space open and free.
If you are interested in seeing your phone's display while riding, this is probably not the best options because it is mounted lower down on the frame of the bike and this can be dangerous if you are looking away from the road in front of you to look down to find your phone.
You should also consider how much extra protection you want for your phone from the elements and even just normal jostling that occurs while riding. Frame bags are usually thin and light weight but they don't often provide any extra projection.
If you are simply just looking for a way to store your phone and other items, this is probably a great choice. Though if you are planning to use your phone for navigation or you like to see your ride stats while on the move, you may want to consider another option.

FAQs About Handlebar Phone Mounts

Q: Will this also work with my spinning bike at home?
A: Yes, most should. This will, of course, depend on the adjustability and its compatibility. Check the handlebar/frame diameter of your bike to make sure it's within the range of the mount you're taking a look at. If not, make sure that the mount can adjust to fit it.
Q: What happens if I get a new phone?
A: Some mounts are going to only work with a couple models, while others will be compatible with more than that.
Q: Is my phone going to be safe?
A: Yes! These mounts are designed to be incredibly durable and reliable. GPS systems that cost hundreds of dollars are held in place in races around the world with identically-designed products. Even on steep descents and bumpy environments, your phone is secure.
Tips For Using Your Smartphone Bike Mount

#1: Make sure to always inspect the mount before and after use. You'll want to check to make sure it's on tightly, that there are no cracks, and that it's clean. This is to ensure it's properly working, and will keep your device secure as it should. Not only that, but make sure that it doesn't have dirt inside which can possibly scratch your smartphone.
#2: Try to find a model with a sufficient warranty. Some will actually not come with any warranty, while others will provide an unlimited lifetime warranty that'll keep you and your device feeling safe!

Misc Considerations For Phone Mounts
Adjustability
An important aspect of the a handlebar phone mount for you, is that it's easily adjustable. You'll want a unit that can make it so you can easily change the angle of your smartphone from either portrait or landscape mode. This flexibility will make your experience much better, and much more convenient.
Ease of Setup
As with most things, we take convenience into consideration. Just how easy is it to set up your prospective cycle phone holder? With tools included, it should be a straightforward process that takes no more than a few minutes.
In addition, you'll probably want one that has a type of quick-release feature that clips on and off without hassle.
Water Resistance
Even if you live in a sunny environment, you should take this into consideration, as you just never know when water could accidentally come into contact with your phone! Some mounts are actually waterproof, or at least have a screen cover that allows you to use your smartphone's screen as you usually would.
When you are considering which phone holder for your bike, it is also important to you look at mount compatibility and desired functions. Here is a list of some things to think about:
Phone Model: Will you be changing phone model at any point in the near future? Is the mount you want buy universal or specific to one model?
Phone Size: Is your phone too wide or too narrow to fit in the grip, bag or case you intend to purchase?
Handlebar/Frame Diameter: Is the handlebar/frame diameter within the range suitable for the mount you are interested in purchasing? If you have a wider/narrower handlebar/frame than is standard, can you still use the standard mounts?
Special Features: Are you wanting waterproof, shockproof, weather resistant or any other special features?
Case or No Case: Do you want to use a case you already own or would you be willing to change cases if required?
Number of Devices/Bikes: Will you be using one primary device/bike or multiple devices/bikes depending on who is using the mount?
Outside Pursuits Overview
It seems like a lot to think about for something as simple as a place to keep your phone while you ride so it doesn't fall out of your pocket. However, if you consider these things in advance you can save yourself the trouble of having to return the mount for a variety of reasons.
It could be because it wasn't made for your phone, you decided to change phones, or your bike isn't compatible with the mount you chose. You will thank yourself for the small amount of extra time and consideration you spent while shopping around.
Putting your GPS, music, riding stats and more right in front of you so you don't have to worry about your phone flying out of your hand, falling to the ground or being damage during a ride, a bike phone mount is the perfect biking accessory for everyone, whether you are a casual or serious rider.
Notice:
OutsidePursuits.com is a participant in the Amazon Services LLC Associates Program, an affiliate advertising program. OutsidePursuits.com earns fees from products sold through qualifying purchases by linking to Amazon.com. Amazon offers a commission on products sold through their affiliate links.