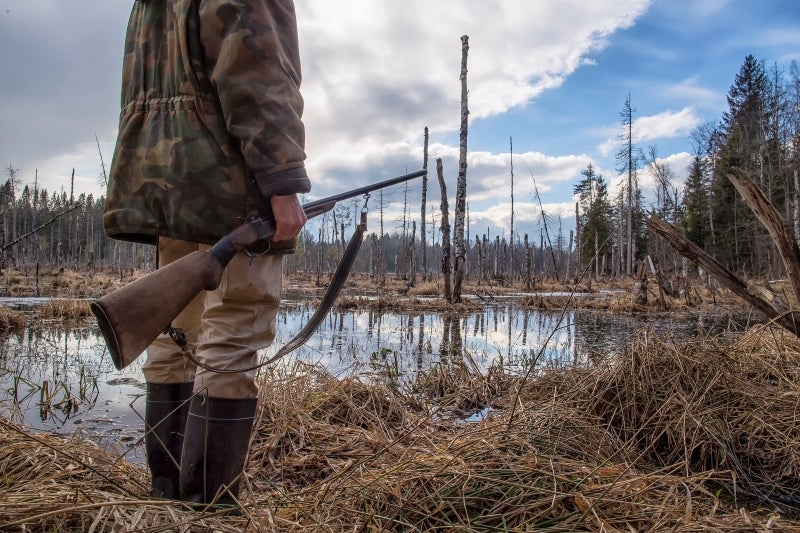 Our Editors independently research, test, and rate what we feel are the best products. We use affiliate links and may receive a small commission on purchases.
In this product review article our hunting editor, Casey Fiedler, takes you through everything you need to know in order to pick the best hunting boots for your specific needs and hunting situation.
We'll take a look at what makes a great pair of hunting boots and what to avoid. Also see How To Choose The Best Winter Hunting Boots later in the article.
Best Winter Hunting Boots
| | Irish Setter Men's Deer Tracker 10" Hunting Boot | Guide Gear Giant Timber II Men's Waterproof Hunting Boots | Men's Haw'madillo Hiking Boot by Under Armour |
| --- | --- | --- | --- |
| | | | |
| | | | |
| Insulated | Yes | Yes | No |
| Waterproof | Yes | Yes | Yes |
| Weight / Height | 3.75 lbs / 10 inches | 2.25 lbs / 14 inches | 4 lbs / 16 inches |
| Customer Ratings | 4.2 / 5.0 | 4.1 / 5.0 | 3.9 / 5.0 |
| | | | |
Also see: Hunting Boots Comparison Table and YouTube Video Review
---
Quick Answer: The Best-Rated Winter Hunting Boots – 2021
Best Men's Winter Hunting Boots
Best Women's Winter Hunting Boots
---
Mens Winter Hunting Boots Reviews

Sizes Available: 8-14, offered in medium or wide fit
Boot Height: 10 inches
Weight:3 lbs. 12 oz.
Upper: USA made full grain waterproof leather
Lining: Moisture wicking nylon
Footbed: Removable Polyurethane
Sole: RPM™ technology by Irish Setter – a composite, lightweight material designed for comfort and endurance.
Shank: Non-metallic
Insulation: 400 gram PrimaLoft® Gold Eco Insulation is a low-bulk material composed of 90% post-consumer recycled fibers, developed to maintain loft and trap heat, even when compressed.
In our opinion, these are the best hunting boots for hiking. You can stalk your prey for miles, over a range of environments and terrain, and your feet will remain dry, warm, and supported. They offer excellent arch support and are lightweight, given the features they come with.
Even though this hunting boot has only 400 grams of insulation, we've found them to offer enough warmth and heat retention to wear into the beginning of winter. Bottom line: this hunting boot has unbeatable versatility.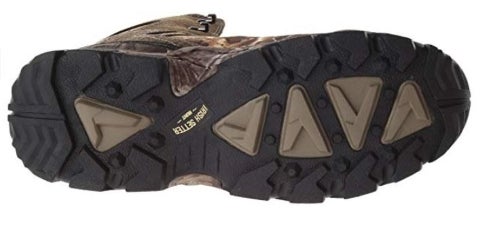 Features:
UltraDry™ waterproof technology combines a moisture management lining with waterproof outer components for long-lasting dryness and comfort.
ScentBan™ exclusive technology controls unpleasant odors by killing bacteria.
Realtree Xtra® camouflage pattern depicts the same depth and lifelike images found in nature.
---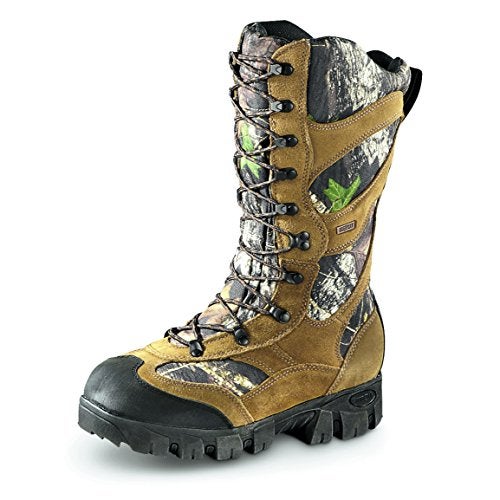 Sizes Available: 8.5-14, offered in medium or wide fit
Boot Height: 14 inches
Weight:2.25 lbs.
Upper: Waterproof suede leather and 900-denier nylon
Lining: Wicking mesh lining; padded tongue
Footbed: Permanent, mesh-lined EVA insole
Sole: Oil-resistant rubber for traction and grip
Shank: Steel
Insulation: 1400 gram Thinsulate Ultra Insulation
These are the best insulated hunting boots money can buy. If you are serious winter hunter, you'd be crazy not to buy these. They keep your feet protected and warm in up to -58-degree weather! You will never have to worry about cold toes on a hunting trip again.
If you think 1400 grams of insulation might be excessive and cause your feet to sweat, think again. The interior lining is made of wicking mesh, so your feet can still breathe. If you hunt in harsh, cold climates, we can't recommend the Guide Gear Giant Timber II enough. They are the warmest hunting boots we've been able to find.
Features:
ScentMask technology
Waterproof HydroGuard breathable membrane locks out water for dry feet
Padded tongue and collar save shins and calves from discomfort

---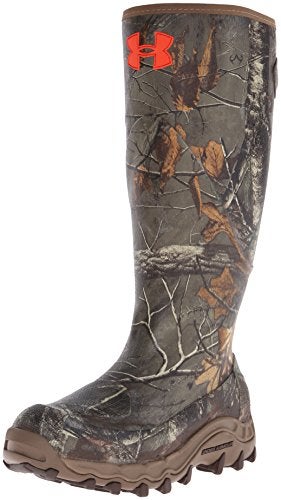 Sizes Available: 7-14
Boot Height: 16 inches
Weight:4 lbs.
Upper: Waterproof, full clad rubber upper
Lining: Moisture-wicking interior lining
Footbed: Molded Ortholite® sock liner designed with a memory foam top & PU base
Sole: Synthetic sole; heavy-duty traction outsole composed of high-abrasion rubber engineered to grip, while dropping mud & debris
Shank: No shank
Insulation: Uninsulated
These are the best rubber hunting boots on the market, truly built for wading in marshes, trekking through tough mud, and standing on your feet all day. The outsole offers excellent tread, so you can hunt with confidence. The boots come up nice and high (16 inches), allowing you to wade through whatever creeks stand between you and your target.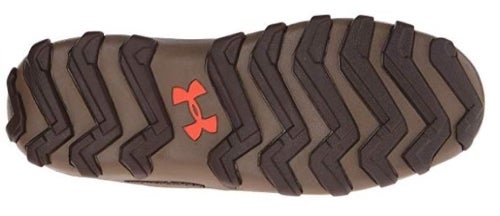 The UA Haw'madillo boot comes with a strap around the calf area, but be warned – it is not adjustable and does not have any give. These boots are made for mild weather, as they have zero insulation. Keep in mind they are not appropriate for cold weather hunting or standing around in freezing cold waters.
Features:
Heavy-duty webbing back pull
Reinforced rubber overlays for added protection
Shaft measures approximately 15″ from arch
Heel measures approximately 1.5″
Platform measures approximately 0.5 inches
Boot opening measures approximately 18.5″ around

---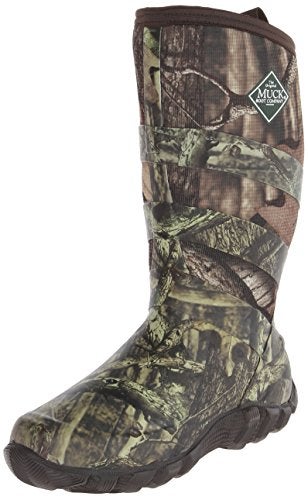 Sizes Available: 7-15
Boot Height: 14.8 inches
Weight:4.2 lbs.
Upper: Spandura® upper with rubber support cage
Lining: Fleece lining, 5mm CR flex-foam padding
Footbed: Advanced etc® sock liner technology designed to keep heat-producing friction under control
Sole: Synthetic sole, aggressive waffle outsole
Shank: No shank
Insulation: Fleece lining
These are excellent pull-on camo boots that are as functional as they are comfortable. You'll blend into your forest environment perfectly, and not so much as a drop of rain will be able to get through these snug boots.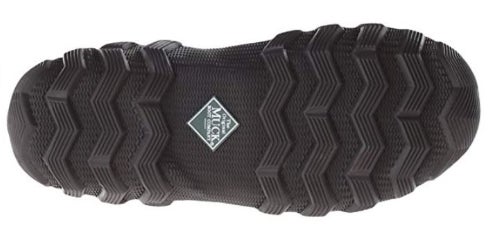 Features:
100% waterproof
Oversized angled topline
Comfort Range: -20° to 50°
Shaft measures approximately 13″ from arch
Boot opening measures approximately 15.25″ around

---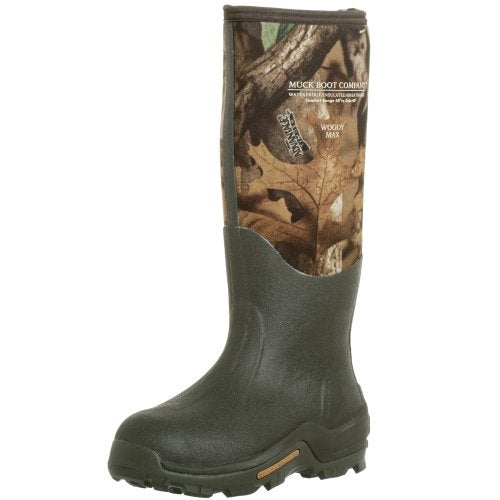 Sizes Available: Men's size 5-15; women's size 6-16
Boot Height: 18 inches
Weight:3.6 lbs.
Upper: Textile coated with a multi-reinforced tough rubber shell
Lining: Warm fleece lining; 5mm CR flex-foam
Footbed: 2mm thermal foam under contoured footbed
Sole: Rubber; MS-1 molded high-abrasion rubber outsole
Shank: No shank
Insulation: Fleece lining & stretch fit binding
Whether you are a man or woman, the Unisex Woody Max Boot is a safe bet for a comfortable and practical hunting boot. This is a good boot for a beginner hunter exploring different environments, whether hot, cold, dry, or wet. Sometimes the original is the best!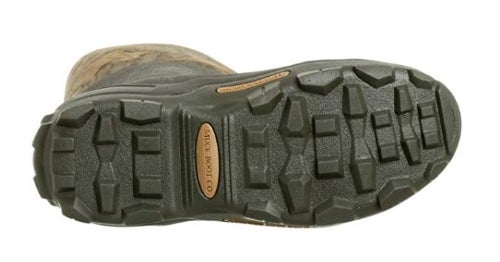 Features:
Comfort Range: -40°F to 40°F
Comfort topline
Stretch-fit binding at top fits to calf to keep cold out and warmth in
Slip-resistant

---
Womens Winter Hunting Boots Reviews
Sizes Available: 5-11
Boot Height: 15 inches
Weight:4 lbs.
Upper: Hand-laid premium rubber over a 3.5mm neoprene core
Lining: Neoprene embossed liner for increased air circulation and moisture wicking
Footbed: Removable EVA footbed
Sole: Synthetic sole
Tread: Unique tread pattern designed to allow for easy movement through mud and other demanding terrain; chamfered edges shed mud and muck
Shank: Nylon
Insulation: Uninsulated
We like these boots because, unlike most men's rubber hunting boots, they have some flexibility and give around the calf area. A neoprene gusset makes this a versatile boot for female hunters of every shape and size. We also love the scent-free rubber because – well, who likes the smell of rubber?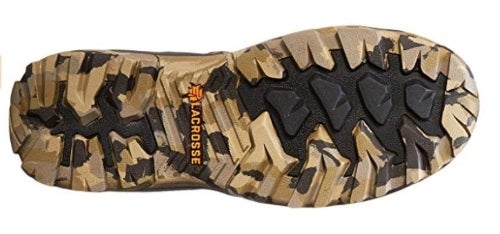 If you enjoy hunting in muddy spring or fall weather, we recommend these boots. Even though the manufacturer claims these hunting boots can be worn in 0 to 70-degree Fahrenheit weather, we suggest strictly wearing them in the fall and spring. These boots have zero insulation, and therefore can't be that warm.
Features:
Made with scent-free rubber
Waterproof
Flexible fit

---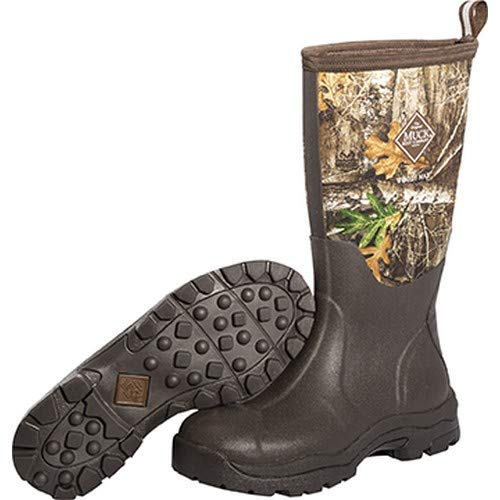 Sizes Available: 5-11
Boot Height: 14 inches
Weight:4 lbs.
Upper: Neoprene
Lining: Fleece and PK mesh lining
Footbed: 2mm thermal foam underlay
Sole: Rubber sole; MS2 molded outsole
Shank: No shank
Insulation: Fleece lining

If you're the type that likes to jet out to hunt as soon as the mood strikes, these hunting boots are a great option, as they are quick pull-on boots with lots of flexibility.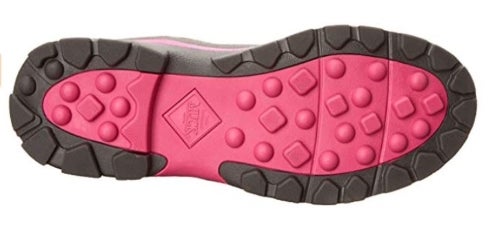 They are comfortable and allow you to quickly move through water, mud, and dirt, without having to think about your feet getting wet or losing your traction. Even though these boots have a fleece lining, they aren't that warm.
If you intend to wear them in winter weather, make sure you layer up on socks.
Features:
100% waterproof
Shaft measures approximately 15″ from arch
Heel measures approximately 1.5″
Platform measures approximately 1″
Boot opening measures approximately 16.25″ around

---
Hunting Boots Comparison Table
---
How To Choose The Best Hunting Boots
Start your hunting season off on the right foot with boots that protect you from the elements, while blending you into your surroundings.
Whether you are searching for leather hunting boots, lightweight hunting boots, winter hunting boots, or a different type of hunting boot entirely, this article will help you explore the top hunting boots on the market.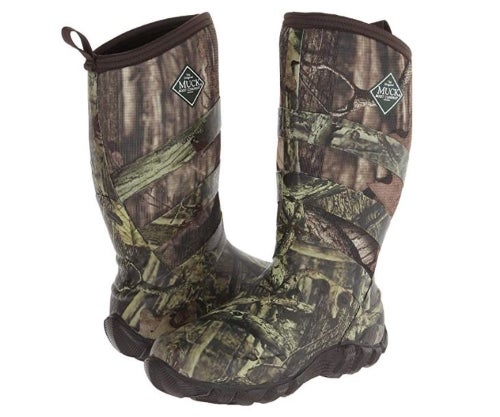 Always order a half-size or one full-size larger than what you typically wear. This allows you to wear insulated hunting socks comfortably.
Wear your new boots around the house to make sure they fit well and are comfortable enough to hunt in. Most companies won't accept returns on boots that are dirty and worn.
Always find out the manufacturer's return policy.
Buy the right socks to go with your hunting boots. Seriously – sometimes socks can make a huge difference!
Hunting Boots Technology
Like any sport, hunting requires specialized gear, including boots. Hunting boots can be broken down into several components:
Upper
Refers to the material and qualities the upper part a hunting boot is made of. A desirable upper should be made of material that is waterproof and breathable, yet offers protection and support during long hunting excursions.

Footbeds
The hunting world's term for insoles, footbeds are the bottom interior part of the boot that the foot rests directly on top of. Footbeds should be durable, comfortable, offer breathability and resistance to foot bacteria.

Lining and Padding
The interior sides of the boot are composed of lining and padding. Some lining and padding are for comfortability, others offer functionality like water resistance or insulation.

Insulation
Most hunting boots come with some sort of insulation, if only for comfort purposes. Insulation is listed in grams, which represents grams per square meter of fabric. This is a very important feature to pay attention to when shopping for a good hunting boot – we will cover this in depth shortly.

Soles
The exterior bottom of a hunting boot. The soles of hunting boots are normally made of tough rubber or other material that offers friction to avoid slipping.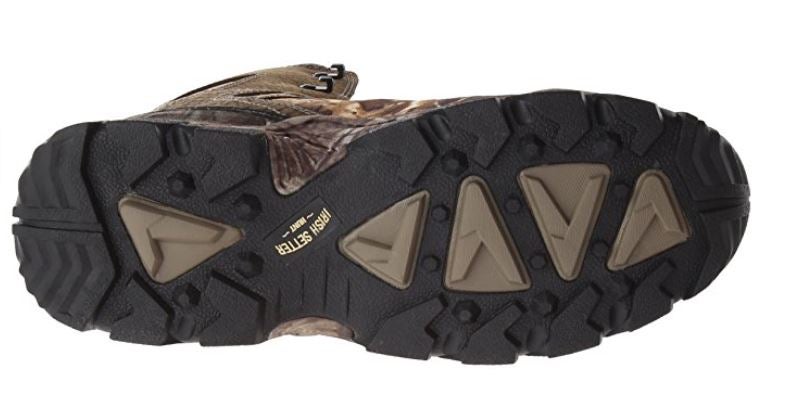 Soles absorb and redirect shock. The type of environment you hunt in will direct the type of sole your hunting boot should have.

Shanks
The stiff plastic or metal plates built into the sole of the boot. Hunting boots can be made with full, three-quarter, or half-length shanks. The longer the shank, the stiffer the boot.

Height
Boot height refers to how high the boot comes up. Hunting boots range in height – they can come up to the ankle, all the way up to the knee.

Weight
The total weight of the boot is an important consideration for hunters that go out on long treks and need to walk for hours on end. Generally, hunters should look for a boot with a decent amount of weight, but not enough to feel heavy or tire out the feet quicker than necessary.
Different Types of Hunting Boots
Just as there are different types of hunting in different environments, there are different types of hunting boots. The kind of environment you practice hunting in should always dictate the type of boot you buy.
Multipurpose Hunting Boots
New to the sport of hunting, and unsure what environment you will practice the sport in most? Or, do you enjoy hunting so much, you change up your game and the landscape in which you practice? Whether you are unsure of where you will be stalking your prey, or simply don't want to commit to a speciality boot, multipurpose hunting boots are a safe, reliable bet for good performance across almost all climates and weather.

Upland or Field Hunting Boots
If your hunting activity requires excessive amounts of walking on relatively flat land, upland hunting boots are ideal. They support your feet for miles of walking, without feeling too heavy.

Mountain Hunting Boots
If you plan on mountain climbing to track down your prey, you need to select a hunting boot specifically for mountain terrain. Mountain hunting boots are designed with hard traction soles that ensure your feet have a firm grip, no matter the angle of the mountain.

Rubber Hunting Boots

If you typically go hunting in muddy areas, marshes, creeks, and other wetlands, you'll want to get a pair of rubber hunting boots. They are durable and waterproof – two crucial features you need for this hunting landscape.

Snake Boots
The name is self-explanatory: this type of hunting boot is designed to protect you from snake bites. Snake boots are made of specialty material, designed to protect your skin from snake bite penetration. They tend to be tall boots that go up to the knee, for ultimate coverage and protection.
If you hunt in the desert or any other area that has a high concentration of snakes, make sure you buy specialty hunting boots designed for this environment. It can make the difference between an enjoyable hunting trip and a trip to the emergency room!

Insulated Hunting Boots
After type of hunting boot, insulation is the second most important characteristic to consider when purchasing a pair of hunting boots. Whether you hunt in the summer, spring, fall, or winter, you need to consider boot insulation. Pay attention to the following information if you don't want to end up with sweaty, sticky feet on a summer hunting excursion, or, on the flip side, frozen toes on a winter hunting getaway.

Uninsulated up to 200 grams:
Boots with this level of insulation (or un-insulation) are perfect for summertime to springtime hunting. If you stick to hunting in mild temperatures, like early-season deer hunts, you'll want to find a boot with 200 grams of insulation or less.
300 grams up to 800 grams:
Boots with 300 – 800 grams of insulation offer mid-level warmth, suited for fall hunting.
900 grams and above:
If you go hunting in harsh winter weather, you'll need to select a boot with at least 900 grams of insulation or more. This is particularly important for wintertime hunters that are sedentary in their posts for long periods of time.
---
FAQs – Frequently Asked Questions
Question: What kind of waterproofing do I need?
Answer: This depends a lot on what you're doing with your boots.
If you're looking for deep winter cold weather boots, I'd go with a waterproof breathable boot using a fabric like Gore-Tex. This is because the sweat from your feet can get your socks wet which leads to cold toes. Wet socks = cold feet.
For hunting in wetlands, such as waterfowl hunting, I would definitely go with something simply waterproof. Breathable fabrics can't work if the outer layer is submerged or saturated and this is called "wetted out". In these cases, something simple like a rubber boot or neoprene based boot can work just fine.
Question: My feet get cold almost instantly, what's wrong with my boots?
Answer: It might not be your boots fault at all, actually. In fact, there are several factors at play in cold feet situations.
First, check that your boots, liners, insoles, and socks are all dry. If they're wet even a little it will cause your feet to feel cold much faster than otherwise.
If that's not the cause, try loosening your boots a bit. Undo the laces and re-lace the boots with less pressure from toes to ankles and that will increase blood flow. This increase in blood flow will allow your feet to stay warmer, longer.
Still cold? Try wearing thicker socks. Be careful not to go too thick, though, or the socks may cause your boots to become tight which will, in turn, make your feet cold again. If this is an issue, go to a larger size boot.
If that's still not solving the problem, chances are good that perhaps your boots don't have enough insulation. Try buying a boot with more insulation for your next trip out.
Question: Is there such a thing as a lightweight hunting boot?
Answer: Unfortunately, there may not really be such a mythical creature at all.
Hunting boots are made to deal with nasty weather. Like hiking boots and hiking shoes, they're good at doing that job. Unlike lightweight hiking footwear, however, hunting boots have to keep you warm while you're sitting still.
Think about it. When you're hiking, jogging, or moving at all your body can keep itself warm. When you're hunting, you spend the majority of your time sitting still typically (depending on the game in question).
For hunting where you're sitting a lot, a heavyweight boot is a must-have to keep warm.
For hunting where you're walking a lot such as rabbit or partridge hunting, a thinner walking boot might be a great choice. Since you're moving, your body will stay warmer. A heavy boot will not only be tiring but may cause your feet to sweat incessantly.
Question: Does camo really help on my hunting boots?
Answer: I think this depends on what game you're hunting and what kind of hunting you're doing.
If you're walking for partridge, rabbit, or squirrel, for instance, I don't think camo is necessary. They're not that perceptive and you're moving anyways so they're likely to spot you (and you usually want them to).
For animals with better vision, particularly those that can make out silhouettes, camo boots can help. Imagine you're hunting deer from a treestand at dusk. The deer looks up and notices a silhouette, but it's broken up because you have all camo from head to toe.
Now, if this deer is spooked your camo boots could be just enough to prevent them from making you out and bolting. If you're hunting from a covered blind, however, and deer can't see your feet anyway, then it probably doesn't matter.
So if you're not sure what kind of hunting you'll be doing, just go with camo – it's the safe bet.
---
Thanks for reading The 7 Best Hunting Boots. We hope this article has helped you to discover the best choice for hunting boots for your specific needs and hunting conditions. You might also be interested in our related and informative deer hunting article entitled, Deer Hunting Regions of the United States.
You might also be interested in these related review articles:
SHOOTING & ARCHERY AIR RIFLES | AIR RIFLE SCOPES | COMPOUND BOWS | CROSSBOWS | PISTOL CROSSBOWS | RECURVE BOWS | HANDGUN SAFES | BIOMETRIC GUN CASES | RIFLE CASES | COMPOUND BOW CASES | CROSSBOW CASES
HUNTING GEAR HUNTING BOWS | CROSSBOWS | HUNTING ARROWS | TREE STANDS | HUNTING BOOTS | HUNTING BACKPACKS | HUNTING RIFLE SCOPES | HUNTING BINOCULARS | LASER RANGEFINDERS | HUNTING HEADLAMPS | TRAIL CAMERAS | HUNTING GPS | BOW SIGHTS | SPOTTING SCOPES | HUNTING BLINDS
How We Researched
To come up with the top winter hunting boots, we researched a variety of sources for reviews such as REI, Backcountry, Moosejaw, EVO along with our own personal experience.
We also consulted online magazines for product research and reviews to get as much unbiased information as we could. To help weed out fake reviews we used Fakespot.com to make sure we only looked at genuine reviews.
With so much quality gear available, we had to narrow it down based on what we felt were the best options were for the price. The author, Casey Fiedler is an avid hunter and outdoorsman. He has successfully guided hunting parties across remote wilderness areas.
To help narrow down the selection he used his personal experience along with recommendations from fellow hunters and hunting outfitters.
After extensive research, we came up with our list to help you choose the right one for you.
Sources
Notice:
OutsidePursuits.com is a participant in the Amazon Services LLC Associates Program, an affiliate advertising program. OutsidePursuits.com earns fees from products sold through qualifying purchases by linking to Amazon.com. Amazon offers a commission on products sold through their affiliate links.