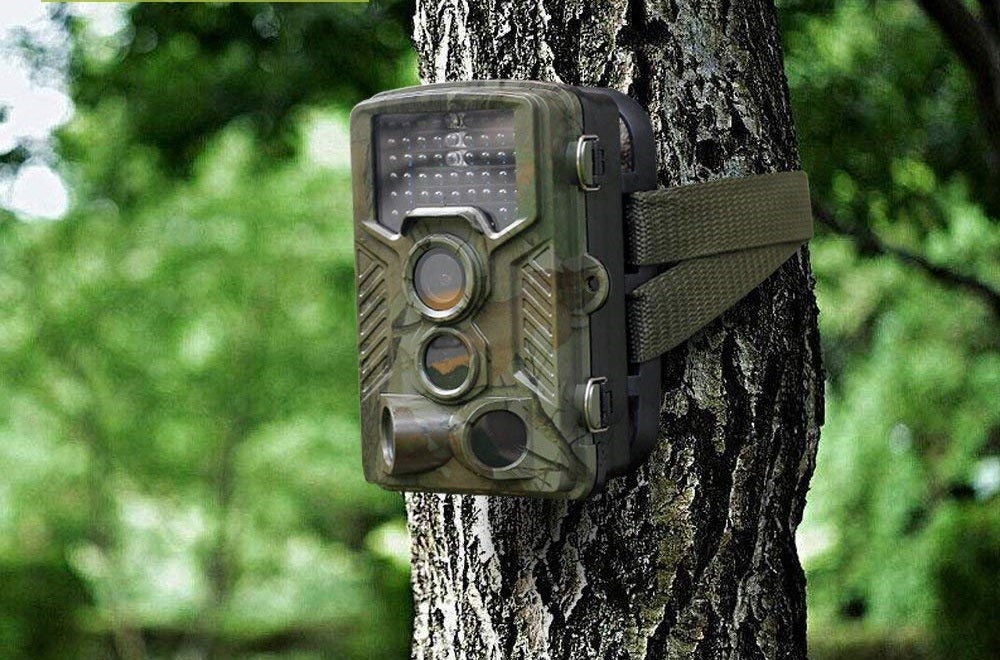 Our Editors independently research, test, and rate what we feel are the best products. We use affiliate links and may receive a small commission on purchases.
In this product review article we walk you through everything you need to know in order to pick the best trail camera or game camera for hunting that meets your specific needs and hunting situation.
We'll take a look at what makes a great trail, game or wildlife camera and what to avoid. Also see How To Choose The Best Trail Camera Under $100 later in the article. What is the best trail camera for hunting?
Best Trail Cameras Under $100
RAINBOWDAY Trail Camera with Night Vision
DinDinCam Trail Game Camera
TEC.BEAN Trail Camera
Megapixels Resolution

16 MP
12 MP
12 MP
Power Source
4 x AA batteries
(expandable to 8 x AA)
8 x AA batteries
8 x AA batteries
Weight
1.55 lbs
1.3 lbs
1.5 lbs
Special Features
Wide-angle lens and time-lapse function
Low power consumption standby mode
5 capture modes, patented motion detect function
Customer Rating
4.0 / 5.0
3.5 / 5.0
Unavailable



---
Quick Answer: The Best-Rated Trail Cameras Under $100 – [2021 Reviews]
---
Trail Cameras Under $100 Reviews

Features of the RAINBOWDAY 16MP Trail Game Camera with Night Vision:

46 LED Infrared emitters
Hi-res LCD display screen
1080p video
If you're in the market for an affordable 16 megapixel 1080p video game camera with infrared flash capabilities and night vision filming capabilities, you're in luck. This game camera also features a hi-res improved LCD display for instant preview.
There's plenty of good features on this trail camera. 46 IR LEDs emit a non-detectable light for nighttime photos in black and white. During the day the camera can take advantage of a 16MP picture quality in burst or single photo mode.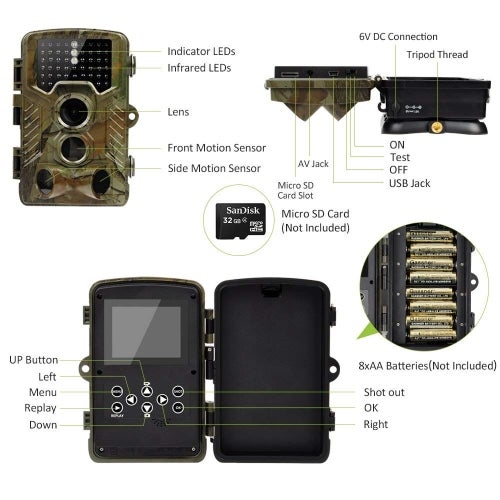 I would have liked to see a bit longer trigger distance. As it is, 65 ft isn't bad for most uses so I won't ding it on that front. It's plenty of distance for most deer filming applications, and Amazon chose this model as their best deer camera.
Trigger speeds are 0.2 seconds, which may not cutting edge in the overall world of photography, but respectable for a trail and game camera. Keep in mind, this camera won't drain your pocketbook like many of the bleeding edge models will. So it's always a give and take.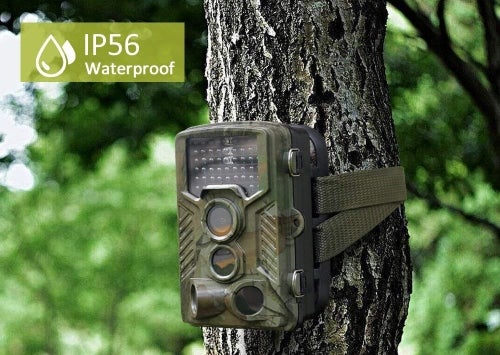 Best for an affordable camera that gives peace of mind with a 12 month warranty. I have to admit, I love warranties when it comes to trail cameras. After all they're expensive, sensitive electrical equipment that has to live outdoors. I'm glad to see that there's a year warranty for parts and labor on this camera for everyone's peace of mind.
---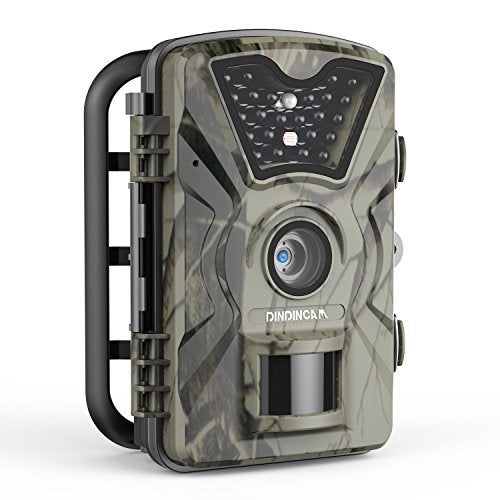 Features of the DinDinCam Trail Game Camera:

24 LED Infrared emitters
5 second trigger speed
Image information overlays
Amazingly affordable yet packed with features, this camera takes the cake on optional features. Users are raving about the reliability and value that comes with this 12MP trail camera. Looks like it might be hard to go wrong with a choice this easy.
One optional feature we didn't mention in the "how to choose" section is image overlay features. They're far from critical, but for some hunters they can provide helpful information. In this case you'll be able to set the camera to record:

This might be helpful information in determining patterns of certain desirable game animals.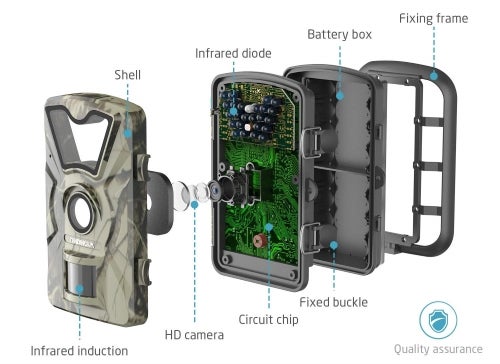 Like many trail cameras, the onboard photos will be 12MP and videos can be recorded at 1080p. This is pretty standard quality for trail cameras today, and it's totally acceptable.
I love that the camera has an intelligent standby mode which allows it to operate for up to 6 months at a time on a single set of 8 AA batteries. All the while it's waiting and ready to snap a pic!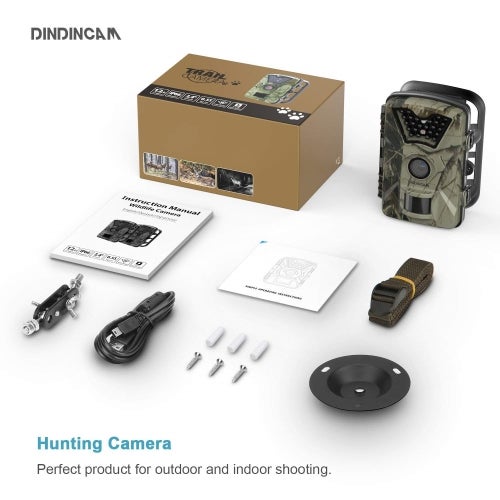 Best for advanced information overlays and battery conservation.
---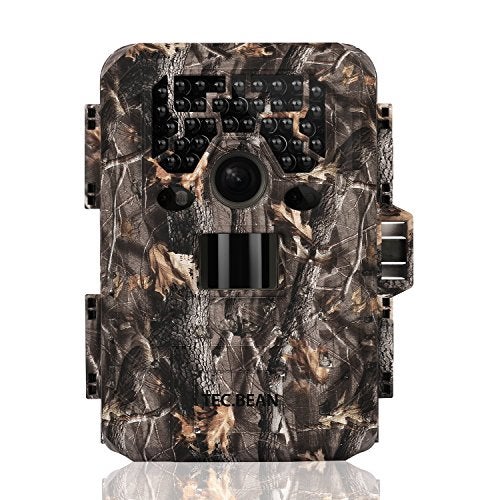 Features of the TEC.BEAN Trail Camera:

5 Capture Modes
75 ft trigger distance
12MP & 1080p video
You might pay a bit more for the TEC.BEAN camera, but you're going to get a game camera that's well loved, proven, and ready to go! I like that this camera features more capture modes than any other on our list so far.
Unlike many trail cameras, this one has several awesome recording features that will gain you more insight than any other method. Using an integrated microphone you can capture up to 90 seconds of audio and video at a time. This can be helpful when you need to get a better sense of what's happening off camera.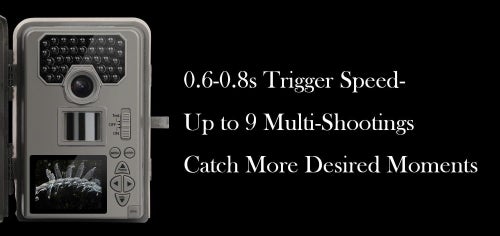 I also like that the camera can be set to access only with a password. This is an ideal feature for hunting on public land. It may not happen often, but you will eventually find that someone has messed with your camera – but not if you have a password on it!
There are 36 total IR LED emitters that wash the night with digital signals so you can get clear, nighttime photos in black and white. Particularly with the extended 75 ft trigger range, you'll need all of those LEDs if you hope to see good photos at night.

Best for use on public lands and extended nighttime image capture with several photo modes.
---
Features of the APEMAN Trail Camera:

26 Infrared LEDs
Super-fast trigger speed
Low power consumption
With a name like APEMAN, you'd think this camera is for taking pictures of Sasquatch. And maybe it is, but it's outfitted mostly to handle day time photos up to 65 ft and moderate night action.
Up until now, the fastest camera on our list had a 0.5 second trigger speed. APEMAN has come in to replace the champion with a trigger speed well under that half second mark. That makes the APEMAN one of the fastest trail cameras you can buy at this price.
While I would have liked to see more IR LEDs for nighttime photos – there are only 26 on this one – it should still take moderate night photos at midrange. Don't expect this camera to take longrange night photos, though. That's not where this one excels.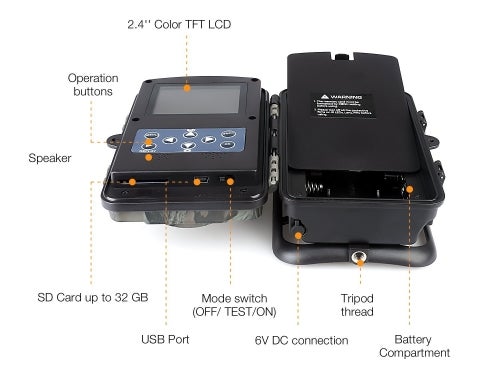 Thanks to the fast trigger speed and burst photos modes allowing up to 3 pictures per detection, this camera is ideal for close up, fast action. If you want to set up a camera close to a game trail to catch game moving locations, or prey striking, this is your camera.
Best for fast triggers and burst daytime photos.
---
Features of the AUCEE Hunting Camera:

34 Infrared LEDs
4" LCD screen
18 month warranty
If there's one camera on our list that captures the middle of all roads, it's probably this one. Somehow the price, features, and specs of this camera seem to strike a perfect balance that says, "I do everything".
Probably the most standout feature of this camera is the outstanding 18 month warranty. I love when makers truly stand behind their products like this and this warranty is unique even among trail cameras for an exceptionally long protection period.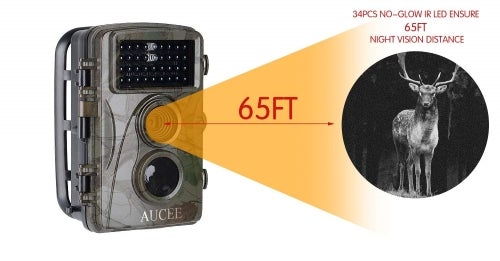 One of the other outstanding features is the large 2.4" LCD screen. You can playback photos and videos right from the camera which is ideal and many cameras seem to lack this basic function.
I like the 34 IR LEDs because it's just about right for producing reliable night photos at the 64ft detection range of this camera. Many cameras have a detection range that's too long for the IR LEDs to keep up with.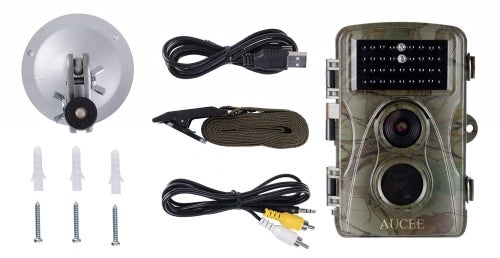 There are several standard photo and video options available which take advantage of the 12MP and 1080p video of this camera.
Best for well-rounded features and a top warranty at a very reasonable price.
---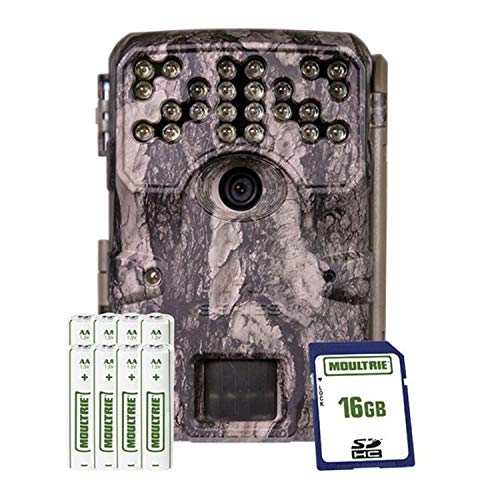 Features of the Moultrie M-Series Game Camera:

3 second trigger time
80 ft detection range
32 Infrared LEDs
[/box]Moultrie is one of the most well-known names in trail cameras. Does that make them the best cameras? Maybe – but they're certainly the fastest cameras on our list!
Let's start by talking about the impressively fast .3 second trigger time. This blows all the other trail cameras on our list right out of the water. While there are faster trail cameras out there, you'll have to go up in price range several steps to find one.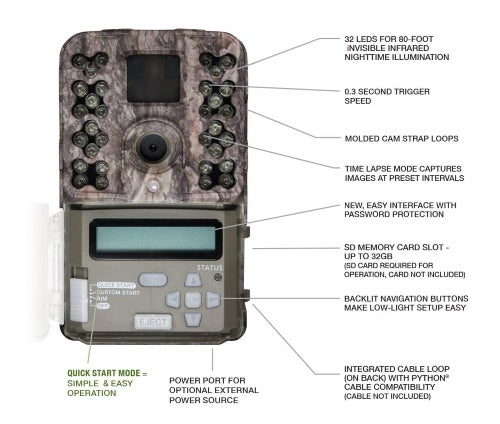 I like that this camera is not only the fastest, but also furthest-detecting camera on our list. At 80 feet of detection range, the M-series earns the title of farthest reaching camera for our list today.
Unfortunately, I would have liked to see them include more than 32 IR LEDs to make sure that night photos at a distance are clear, but that's not the case.
Moultrie's M-series also has a 16MP resolution aperture. Don't get too excited, though. 16 MP isn't enough of a difference to really matter in most cases and, like we said earlier, a lot of photo quality depends on lens quality and cleanliness.
Best for the most cutting edge performance features of any camera on our list.
---
How to Choose the Best Trail Camera Under $100
Trail cameras give you the ability to detect movement in the woods or elsewhere night or day, and to record the behavior and actions of game and nuisance animals. For some owners of motion-detecting trail cameras it's a hunting research exercise, and for others it's a wildlife photography hobby.
In any case, wildlife cameras (also known as trail cameras and game cameras) can unlock some interesting secrets that wouldn't be possible to capture with the naked eye. In this article we review and compare the best trail cameras.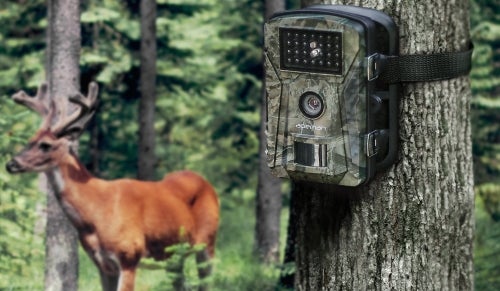 I remember my first trail camera as a big, clunky, archaic piece of plastic with a bunch of wires inside. It was a poor excuse for a trail camera, but things have come a long way since then. Hunting tech is nothing like it was and trail cameras are one of the most improved categories by far.
In fact, there is so much to know these days that it can seem overwhelming. Not only do we have to be masters of camera technology, we also have to know everything about how and where we want to use our game camera. All before we even buy it!
Don't worry though, because I'm going to help you every step of the way. We'll walk through everything you need to know about hunting cameras before you even go looking for one. Choosing the best trail camera doesn't have to be difficult, but it does help to have a guide. By the end of this article you'll be totally prepared to find the perfect game camera for you.
Detection Capability
A trail camera has a relatively simple job. At a very basic level it simply needs to take a picture when it senses motion. Unfortunately the reality isn't that simple.
Detection capability is determined by two main factors. First is the detection angle. Detection angle indicates over what field of view the camera will detect movement. A camera with a detection angle of 45 degrees will catch motion in a 45 degree arc in front of the camera.
This detection angle has to be combined with detection distance. The cone of detection is based on both the angle and overall distance the infrared sensor can "see". Detection distance is usually measured in feet or meters.
Together the detection angle and distance give us a big picture view of how the game camera will operate.

Eliminating False Positives
Of course, there are a lot of things moving around in the woods. Leaves falling from trees, squirrells hopping around, and wind blowing grass or leaves. We definitely don't want 1,000 pictures of leaves falling when we check the trail camera.
To that end, cameras have to be tempered against detecting all movement. This is done through the onboard circuitry. Some cameras have a preset sensitivity. Some cameras have various levels of adjustment that can be done to the sensitivity.
Usually you'll be able to avoid false positives by purchasing a trail camera with adjustable sensitivity and / or setting up the camera in an intelligent location. It make take some trial and error before you find a good spot for the camera that minimizes false positives.

Battery Life
There are tons of factors that affect overall battery life such as:

Camera efficiency
Camera settings
Wireless trail cameras
Taking videos
Flash photos
The more features a trail camera has, the more battery hungry it will become. For that reason, some trail cameras have extra battery features. Some can be plugged directly into a wall outlet (if there's one nearby), and some can run off large battery packs for extended run time.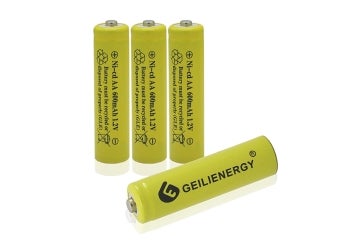 Don't forget that AA batteries aren't cheap. Most trail cameras consume them 8 at a time (or more) and that cost can add up quickly when you're running half a dozen or so of them around the woods.
Read user reviews and the manufacturer's battery rating to get a sense of battery efficiency for each model.

Infrared Lights and Emitters
Infrared is simply light that's too low on the spectrum to be visible to us (and most animals). That's why infrared trail cameras are popular – they're able to take photos at night without alerting the wildlife. The sensors inside the camera are capable of "seeing" in the dark this way and capturing a photo.
True infrared light is invisible and these are commonly known as "no glow" cameras. However, they're more expensive than other models. Instead, many trail cameras us partial infrared and partial red light to capture a photo. These cameras are usually cited as "red glow" flash cameras.
Infrared
Won't alert animals
Cameras cost more with this feature
Black and white photos at night
Red Glow
May alert animals
More affordable than true infrared
Black and white photos at night
Traditional Flash
Will alert animals
Inexpensive
Color photos at night
It's up to you what type of flash you want. What it boils down to is budget, and purpose. Do you need to see in color for night photos? Or do you prefer to not alert the game to the presence of a camera? It's your call.
Photo Quality
For the purposes of this article we're going to keep this section brief. Suffice it to say that photo quality for digital cameras is a complex and lengthy topic in its entirety. We won't attempt to cover everything.
Instead let's talk about the tried and true measure of photo quality – the Megapixel. MP is a measure of how many pixels are recorded in a photo. Today's top quality cameras can easily exceed 30 MP but most trail cameras are around 8 – 14 MP.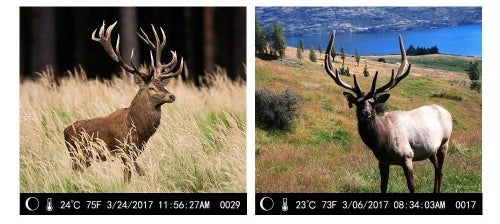 Why are they lower than some high level cameras? Partially to help keep price down. But also because higher pixel densities just aren't needed. Trail cameras need to be small, so they're equipped with compact cameras and camera sensors. They just aren't meant to handle full size camera equipment.
Even trail cameras with extremely high MP count aren't guaranteed to produce superior photos. Many inexpensive trail cameras sacrifice quality lenses to keep costs down. Of course, if the lens your camera is taking a picture through is poor quality then the final photo will be poor quality – regardless of how many MP it is.
The best way to be sure of the quality of the trail camera you're about to buy is to look up reviews of that specific model. Check for users photos – most of the time other users will upload camera photos from that specific model and you can compare them with others when making a final decision.
Trigger Time and Reset
This is a simple, yet important factor. Trigger time is simply the amount of delay between when motion is detected and the camera is able to capture a photo. The lower this delay, the more reliable your photos will be in capturing the game you want to see. Lower delays are critical for capturing game running past your camera. Fast animals may escape the view of a slow camera altogether.
Reset time is pretty straightforward, too. Reset time refers to how long it takes the camera to get ready to take a second picture or video. This time can vary dramatically due to many factors such as the power of the internal processor and onboard electronic equipment. Lower reset time is ideal for capturing fast motion or game running along a trail.

Screens and Options
Today's game cameras have more options than simply snapping a pic when something moves. I've already mentioned a few options that are important in any trail camera but let's go over a few more you may encounter.

WiFi data transfer
Playback screens
Photo and video modes
Photo and video quality settings
Sensitivity settings
Screens are an important feature that are beginning to improve in game cameras. Poor quality screens may only display simple black and white menu options. More advanced screens may actually feature color playback of photos and videos so you can see them right there in the field.
Personally I prefer a game camera with a quality, color screen that I can use to see and edit photos and video right in the field. Some other cameras do this by linking to wireless devices via bluetooth or wifi.

Conclusion
There's no doubt, if you want the highest performance features of any trail camera on our list today you need to go with the Moultrie M-series. But raw performance numbers don't always make for the best trail camera you can buy.
Some of the cameras on our list exceed in efficiency and can last months on a single set of batteries. Others have exceptional menu and screen options for ease of use in the field. Yet other cameras boast robust infrared capabilities and excel at nighttime.
Before you jump on purchasing your new game camera, make sure to consider your needs. Where will you place the game camera? How far does it need to be able to see? What type of game are you interested in photographing?
All of these factors will help steer you toward the right game camera for you and you'll be satisfied with your choice when you're done.
---
Thanks for reading The 6 Best Headlamps For Hunting. We hope this article has helped you to discover the best choice for a hunting headlamp for your needs and preferences.  You might also be interested in our related and informative deer hunting article entitled, Deer Hunting Regions of the United States.
You might also be interested in these related review articles:
SHOOTING & ARCHERY  AIR RIFLES | AIR RIFLE SCOPES | COMPOUND BOWS | CROSSBOWS | PISTOL CROSSBOWS | RECURVE BOWS | HANDGUN SAFES | BIOMETRIC GUN CASES | RIFLE CASES | COMPOUND BOW CASES | CROSSBOW CASES
HUNTING GEAR  HUNTING BOWS | CROSSBOWS | HUNTING ARROWS | TREE STANDS | HUNTING BOOTS | HUNTING BACKPACKS | HUNTING RIFLE SCOPES | HUNTING BINOCULARS | LASER RANGEFINDERS | HUNTING HEADLAMPS | TRAIL CAMERAS | HUNTING GPS | BOW SIGHTS | SPOTTING SCOPES | HUNTING BLINDS
How We Researched
To come up with the top trail cameras, we researched a variety of sources for reviews such as REI, Backcountry, Moosejaw, EVO along with our own personal experience.
We also consulted online magazines for product research and reviews to get as much unbiased information as we could. To help weed out fake reviews we used Fakespot.com to make sure we only looked at genuine reviews.
With so much quality gear available, we had to narrow it down based on what we felt were the best options were for the price. The author, Casey Fiedler is an avid hunter and outdoorsman. He has successfully guided hunting parties across remote wilderness areas.
To help narrow down the selection he used his personal experience along with recommendations from fellow hunters and hunting outfitters.
After extensive research, we came up with our list to help you choose the right one for you.
Sources
Notice:
OutsidePursuits.com is a participant in the Amazon Services LLC Associates Program, an affiliate advertising program. OutsidePursuits.com earns fees from products sold through qualifying purchases by linking to Amazon.com. Amazon offers a commission on products sold through their affiliate links.