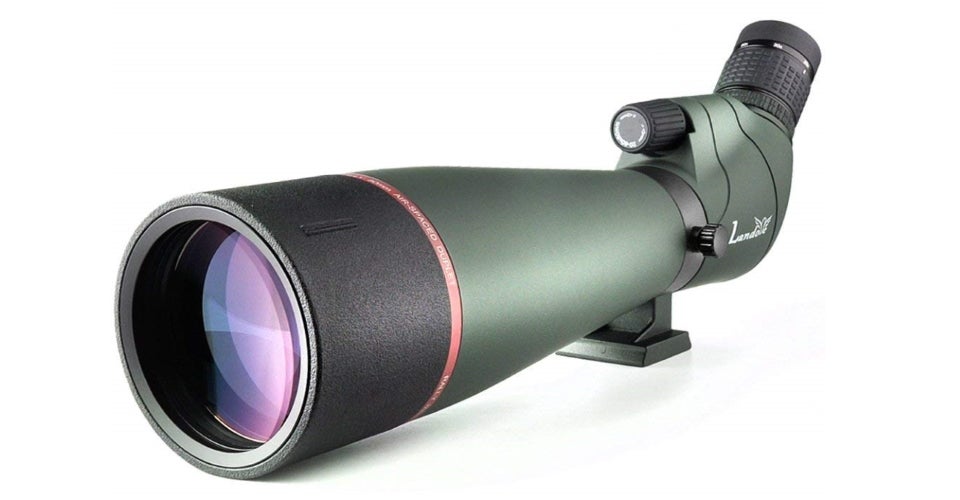 Our Editors independently research, test, and rate what we feel are the best products. We use affiliate links and may receive a small commission on purchases.
In this product review article we take you through everything you need to know in order to pick the best spotting scope for your specific needs, preferences and budget.
We'll take a look at what makes a great spotting scope and what to avoid. Also see How To Choose The Best Spotting Scope later in the article.
Best Spotting Scopes For Hunting
| | Roxant Authentic Blackbird High Definition Spotting Scope | Landove Waterproof Spotting Scope | Celestron Ultima 80 Straight Spotting Scope |
| --- | --- | --- | --- |
| | | | |
| | | | |
| Zoom | 12-36×50 | 20-60×65 | 20-60×80 |
| Glass | Fully Multi-Coated glass | Fully-Multi Coated glass | Multi-Coated glass |
| Special Features | Focus ring on main barrel | Digiscoping cell phone adapter | Straight-through viewing angle |
| Customer Ratings | 4.8 / 5.0 Stars | 4.8 / 5.0 Stars | 4.3 / 5.0 Stars |
| | | | |
Also see: Spotting Scopes Comparison Table
---
Quick Answer: The 5 Best-Rated Spotting Scopes For Hunting – 2021
---
Best Hunting Spotting Scopes Reviewed
Features of the Roxant Authentic Blackbird High Definition Spotting Scope

12-36×50
Fully Multi-Coated glass
Focus ring on main barrel
When it comes to quality spotting scopes, prices start low but can rapidly escalate out of control. Most of us would prefer to keep things reasonable, so we've topped the list with an affordable scope that can get the job done.
For beginners there are few scopes that balance price, function, and form as well as the Blackbird. If you want a quick to use variable zoom, all you have to do is twist the eyepiece. Plus the focusing is achieved using the barrel ring instead of the slower separate knob.
I will say that you probably need to upgrade the tripod right off the bat. The included tripod is miniature but might be good for using with tall tables or on the trunk of a car.
Because of the 45 degree eyepiece this is a good bird watching scope. The design makes it easy to look at upward angles without having to get down behind the scope in an awkward position in the way that in-line eyepieces do.
Best spotting scope under $100.

---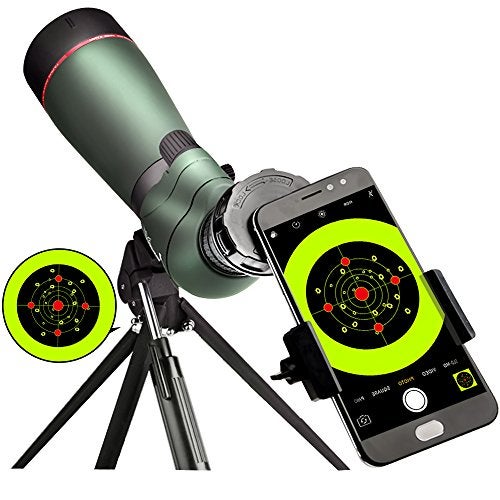 Features of the Landove Waterproof Spotting Scope

20-60×65
Fully-Multi Coated glass
Digiscoping cell phone adapter
As we move up toward slightly higher power scopes, we need to be looking for some different characteristics. We've also got to be ready to pay a bit higher price. For the mid-long range spotter this scope won't break the bank.
Sure, it's a bit more expensive than our budget birding pick, but it's still very affordable for a 60x scope. It's almost hard to believe that we can expect a waterproof, fully multi-coated lens like this just over the $100 price tag.
Thanks to the higher adjustable zoom (which is operated by twisting the eyepiece) we need a more refined focus mechanism. In this case the separate adjusting knob is ideal because it gives more control at extreme zoom.
If you're looking for a high power affordable digiscope, this is your stop! Included with the set is a tripod, case, and phone mount for taking pictures through the scope. I will say, again, that the tripod seems to be a weak point and could probably use an upgrade down the line.
Best for affordable digiscoping in an inclusive kit with everything you need to start.

---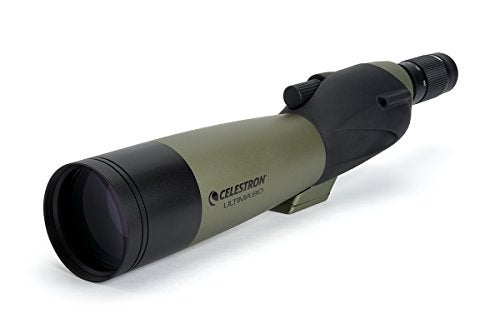 Features of the Celestron Ultima 80 Straight Spotting Scope

20-60×80
Multi-Coated glass
Straight-through viewing angle
It's time to take things up a notch yet again. If you haven't found the scope you're looking for in our reviews yet, this one is here to mix it up.
Remember that our first two scopes have both been offset 45 degree eyepieces. These are great for birders or users who want to stand above the scope. The Celestron Ultima 80, in this case, is a straight-through eyepiece which means you can sit, stand, or lay behind the scope.
Straight-though eyepieces are ideal for hunters, shooters, and observing objects at or below the horizon level. That makes this our best spotting scope for hunting in my view.
It's worth noting that this scope comes in 65mm, 80mm, and 100mm versions all of which can be had in straight or 45 degree eyepiece variants.
Hunters will also appreciate that this scope has a nice olive drab and black color theme that keeps it muted. Plus, at high zooms you can use the separate adjustment knob for fine tuning your view which is ideal.
Best for hunters and marksmen who need a straight-through scope with mid-power.

---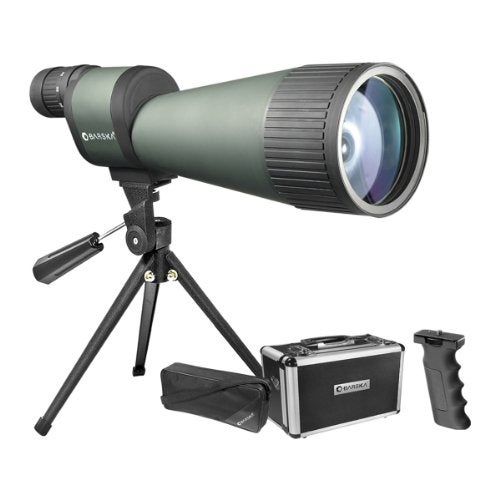 Features of the BARSKA Benchmark Waterproof Straight Spotting Scope

25-125×88
Fully Coated glass
Straight-through viewing angle
Barska makes an entrance onto our list with a scope that makes another solid choice for those needing at or below horizon viewing. It even comes with a handful of nice accessories that makes it a top competitor for the price.
I'm not going to go into detail again about the advantages of a straight through eyepiece. Instead let's talk about the details here compared to the Celestron above.
Both are straight through optics. However, the Celestron excels in being a multi-coated lens where the BARSKA is simply fully coated. Multi-coated is better thanks to the use of more than one type of coating to reduce glare and improve light gathering clarity on the objective lens.
That said, BARSKA takes the win between the two when it comes to raw zoom power. The upper zoom is more than twice as powerful as the Celestron.
I worry, however, that at the extreme zoom levels the barrel ring focus adjustment and lack of multi-coating might cause trouble with image clarity. Any small inconsistencies, when magnified 125 times, can cause image quality to drop fast.
All that said this scope is still one of the most affordable scopes with a zoom over 100x.
Best for extreme distance marksmen with tight budgets for scope selection.

---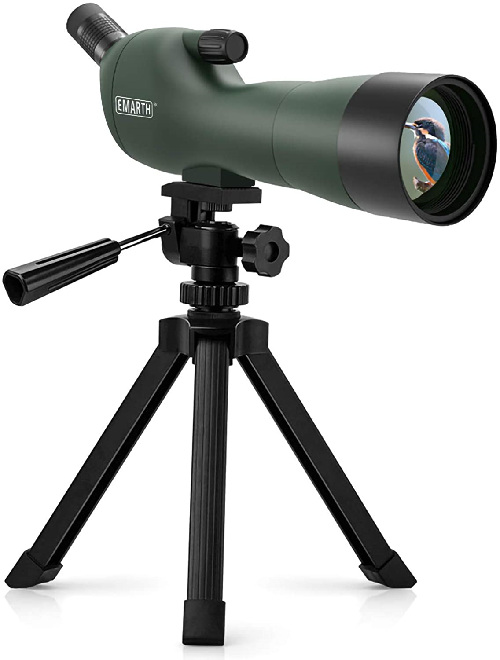 Features of the Emarth Spotting Scope with Tripod

20-60×60
Fully Coated glass
45 degree eyepiece
[/box]When it's time to go shopping in my world, the wallet rules almost all decision making. Chances are good that if you didn't find something on our list that you like, you may be looking for a budget option like the Emarth.
Let's be clear, technically speaking this spotting scope isn't the world's best. However, it totally tips the scales when you consider that it's right at that $75 price tag.
Like most of the scopes on our list, zoom is controlled by twisting the eyepiece. The focus knob is separate instead of a barrel ring on this one. However, it's sort of personal choice since the lower zoom probably doesn't need that much "fine tuning" with the focus knob.
Best value spotting scope for school programs or groups with beginner users.

---
Spotting Scopes Comparison Table
---
How to Choose the Best Spotting Scope
In my head I will always remember the exact place on the porch where they kept that big ol' spotting scope. Every summer I went north with my friends to their cottage at the lake. There, in the corner of the porch, sat an enormous spotting scope tripod that looked like it support a military mortar team.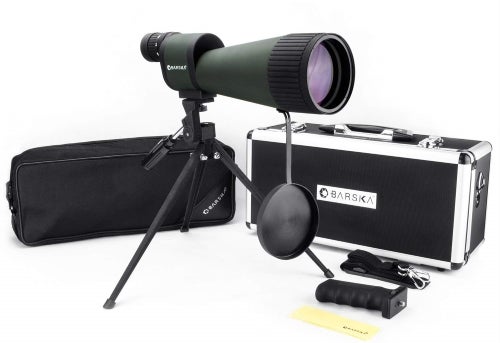 Of course this is a pretty common practice for nosy neighbors, hunters, or bird watchers. If you want to know what's going on further out than the eye can easily see, you need a spotting scope.
While binoculars are fine for lower power, spotting scopes upgrade bird watchers and hunters to an elite level of optical zoom power.
We know you want to figure out which spotting scope you should get and you want to get out in the field. That's why we're going to put you on the fast track with this article so you can learn what to look for and what to avoid.
I'm also going to recommend a handful of the best spotting scopes so you can spend more time in the field and less time shopping!
Magnification and Power
This is the reason we go looking for a spotting scope after all, right? That's why we're going to get it out of the way right off the bat.
Spotting scopes are essentially ergonomic, weather resistant, small telescopes. Their magnification can range and is often adjustable between about 20x – 60x or more.
In order to achieve this there may be interchangeable objective (front) lenses and/or eyepieces. Sometimes both are used to achieve optimal results.
So, what magnification power do you need? It depends on what you're doing with the scope. Fast moving or closer objects will be best observed with a low or medium power lens. Stationary and distant objects can be better observed with an extremely high power lens.
Birding scopes need to have a combination of zoom levels depending if you're observing nesting, stationary birds, or birds on the move. Be prepared to adapt to the situation with variable zooms.
Often, a good spotting scope may be adjustable between these magnification powers so you can scan an area at low power and then zoom in to high power.
Adjustable lenses like these do have some drawbacks, however.
The higher your zoom level, the more shaking and distortion you'll get from you scope. High zoom power lenses also heavily restrict the amount of light being gathered and can cause dark images.
To combat the effects of low light gathering, large objective lenses must be used.
Objective Lens
This lens is the front lens on your spotting scope, the big one where light first enters. Its job is to do the initial light gathering and focusing. That's why it's one of the most crucial factors in image clarity and brightness.
You can expect a good spotting scope to have an objective lens of 50 – 100+ mm. The bigger the lens, the better its light gathering will be.
Large objectives are most important on high zoom lenses or those used at dawn and dusk.
Honestly there's little drawback to a large objective lens and I'd usually say to go with the biggest possible objective. However, if you plan to travel or need a portable scope, you may want a moderately sized lens as large lenses are bulkier and heavier.
Measurements
When you go to order a spotting scope you're going to run into a standard format for zoom and objective specifications.
You'll see something like 40×100 in the title or description of the spotting scope you're looking at. In our reviews I'll be sure to make this obvious because it's important.
The first number is the zoom of the scope – 40x in this case.
The second number is size of the objective lens in millimeters.
We already talked about what those numbers mean, so just remember to read them correctly and you'll be fine.
Lens Glass and Coatings
Manufacturers will have scopes that vary wildly in price and part of that reason is glass quality. A spotting scope is only as good as the lowest quality piece of glass. In other words, high zoom or great objective lenses don't do you any good if the eyepiece glass is poor quality. It will ruin everything.
Unfortunately, it's hard to get a good read on the types of glass manufacturers are using. They get muddled behind technical jargon and marketing language that's usually anything but helpful.
In general there are a few keywords and language you can look for that is reliable.
Multi-coated or fully multi-coated means the glass employs several coatings of compounds that prevent glare and reflection on the glass, thereby absorbing and transmitting more light to your eye.
The glass itself should be high density, often "HD" or extra-low dispersion "ED". These factors are important when viewing at high zoom levels or dawn and dusk conditions. In these situations every extra light ray can really add up to a noticeable difference.
Eyepieces
Remember that often scopes have interchangeable eyepieces. These usually affect the zoom levels on the scope.
Before choosing, think about how and where you will use your scope. Eyepieces are usually either set for straight-through viewing in a single plane, or offset at a 45 degree angle for viewing from above.
Straight through scopes mean you have to be directly behind with your eye at the same level as the scope. These are like rifle scopes or binoculars where the eyepiece is inline with the scope.
Offset eyepieces mean you can bend over from above the scope and look down. These are more like telescope style.
Because of their design, offset eyepieces are good for viewing objects higher above the horizon while straight eyepieces lend themselves to objects at or below your the viewing height of the scope.
Eye Relief
This important number often gets overlooked when shopping but is especially important for eyeglass wearers.
This number measures how far behind the eyepiece a user's eye needs to be in order to see the optimal field of view. For eyeglass wearers something between 10 – 15 mm is usually about right.
For non-eyeglass wearers you can generally use the eye cup to take up the space and still get the same image. Adjustable eye cups are important for this reason so that a single scope can be used by people with different eye relief preferences.
If you're buying a scope to use at a facility or in a group where many people will use it, these features are critical to a successful scope.
Digiscoping
Since we're talking about eyepieces already, lets cover digiscoping. If you're not familiar, digiscoping is essentially the fun little nickname for taking photos through a scope.
Professional photographers be warned – this method may not produce the world's best "technical" photos. Hobbyists, however, will find that you can get fun high zoom pictures quickly and easily using a digiscoping phone mount for an affordable spotting scope.
You may enjoy digiscoping for photographing birds, wildlife, or capturing incriminating photos. We won't ask too many questions…
Focusing Knobs and Collars
Every spotting scope will have a focus adjustment of some sort. These are usually dials or knobs offset from the main body of the scope which can be turned to dial in the focus of the image. While they're precise and accurate, it can take a while to get these dialed in.
Sometimes a focus collar is used where a large ring around the barrel of the scope is rotated to adjust the focus. These usually are fast but harder to dial in then the smaller offset knob style focus.
When choosing between the two, a focus collar is probably best used on fast moving objects viewed through a medium power scope. The finer focusing knobs are better used on high zoom lenses where objects are sitting still long enough to give you time to fine tune the adjustment.
FAQs – Frequently Asked Questions
Question: What's the best cheap spotting scope?
Answer: It's hard to really drill down into this answer. Like anything, you're going to more or less get what you pay for. Of course, there comes a point of diminishing returns as prices get to nosebleed prices so I'd stay away from that.
Many shoppers go looking for great quality at a low price and, in this case, it's just not going to happen. High quality optics are expensive to produce and those with low price tags are guaranteed to have cut a corner somewhere.
For beginners or those who want to keep prices down no matter what, you'll probably be quite happy with the Feyachi scope on our list. While there are cheaper ones out there, their quality was too poor to be included on our list.
Question: Can I use a telescope as a spotting scope?
Answer: You really can't, unfortunately. They're meant to focus at absurd distances and they just won't produce good earthly images.
On top of that, they're usually built in such a way that the eyepiece is meant to be used with the telescope angled to the sky. Try using that comfortably with the telescope pointing toward the trees on the horizon.
Faghedaboutit!
Question: What's more important – zoom or objective size?
Answer: Most shoppers make the mistake of prioritizing zoom over all else. After all, we buy a spotting scope so we can see stuff closer, right?
Well, unfortunately, it is possible (and common) to have high zoom scopes with poor image quality. Among many reasons for this is a small objective lens size.
Objective lens size is responsible for letting in more light which improves image clarity, brightness, and sharpness at high zoom levels. Objective size is also critical for dawn and dusk use if you want to be able to see anything.
On top of this, a high zoom power with poor objective lens coatings will do you a disservice. Lens coatings are meant to reduce the amount of light reflected off the glass. With good objective lens coatings more light is absorbed to pass through to your eye. This is most important with high zoom optics.
In my view zoom and objective size go hand in hand. It's no good to have high zoom with a poor objective lens. On the flip side, there's not a lot to be gained by having a world class objective lens on a very low power scope either.
Conclusion
When it comes time to go shopping you can save yourself a lot of hassle by choosing a scope from our list. We've tried to keep most of the scopes in the "affordable" range. However, you'll find that we've covered spotting scopes for birders, hunters, or marksmen.
If you're not certain that the scope you're looking at makes sense for you, just read through our buyer's guide section. There you'll find some guidance on what all the "technical jargon" really means.
Just remember that not everyone needs the same scope. We each have our own budget, preferences, and needs for a spotting scope. Think about what features are most important to achieving your goals and you'll be much happier with your choice in the long run.
---
Thanks for reading The 5 Best Spotting Scopes For Hunting. We hope this article has helped you to discover the best choice for a hunting spotting scope for your needs and preferences.  You might also be interested in our related and informative deer hunting article entitled, Deer Hunting Regions of the United States.
You might also be interested in these related review articles:
SHOOTING & ARCHERY  AIR RIFLES | AIR RIFLE SCOPES | COMPOUND BOWS | CROSSBOWS | PISTOL CROSSBOWS | RECURVE BOWS | HANDGUN SAFES | BIOMETRIC GUN CASES | RIFLE CASES | COMPOUND BOW CASES | CROSSBOW CASES
HUNTING GEAR  HUNTING BOWS | CROSSBOWS | HUNTING ARROWS | TREE STANDS | HUNTING BOOTS | HUNTING BACKPACKS | HUNTING RIFLE SCOPES | HUNTING BINOCULARS | LASER RANGEFINDERS | HUNTING HEADLAMPS | TRAIL CAMERAS | HUNTING GPS | BOW SIGHTS | SPOTTING SCOPES | HUNTING BLINDS
How We Researched
To come up with the top spotting scopes for hunting, we researched a variety of sources for reviews such as REI, Backcountry, Moosejaw, EVO along with our own personal experience.
We also consulted online magazines for product research and reviews to get as much unbiased information as we could. To help weed out fake reviews we used Fakespot.com to make sure we only looked at genuine reviews.
With so much quality gear available, we had to narrow it down based on what we felt were the best options were for the price. The author, Casey Fiedler is an avid hunter and outdoorsman. He has successfully guided hunting parties across remote wilderness areas.
To help narrow down the selection he used his personal experience along with recommendations from fellow hunters and hunting outfitters.
After extensive research, we came up with our list to help you choose the right one for you.
Sources
Notice:
OutsidePursuits.com is a participant in the Amazon Services LLC Associates Program, an affiliate advertising program. OutsidePursuits.com earns fees from products sold through qualifying purchases by linking to Amazon.com. Amazon offers a commission on products sold through their affiliate links.