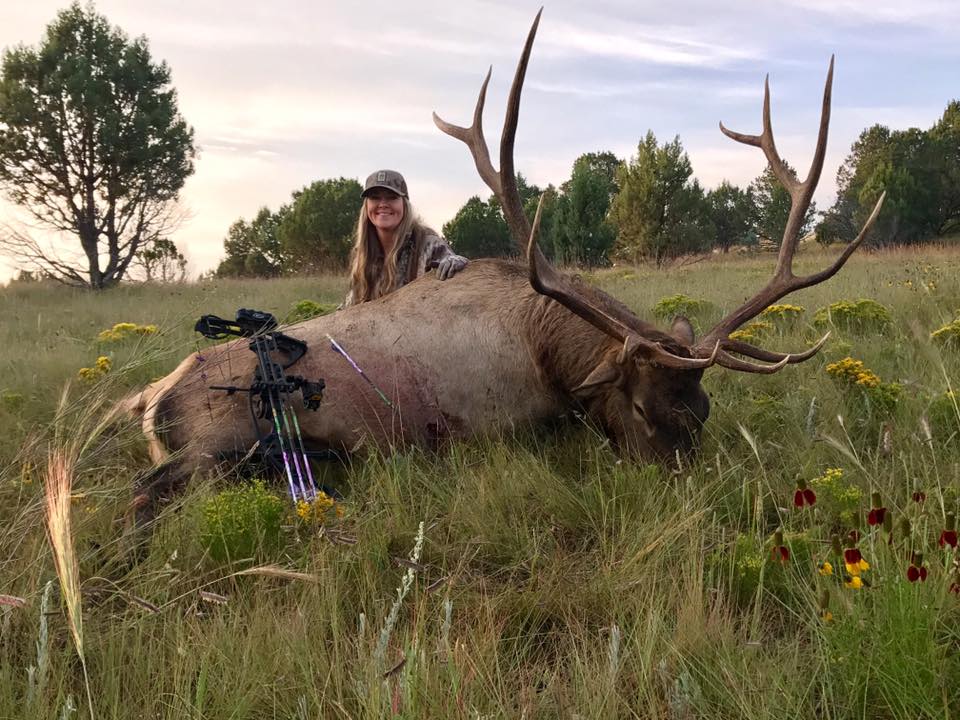 Our Editors independently research, test, and rate what we feel are the best products. We use affiliate links and may receive a small commission on purchases.
With so many compound bows available it's a challenge to choose the right draw weight, velocity, size, options and add-on accessories. Which model should you select in a top-rated compound bow for your specific needs?
In this article we've done the homework by evaluating the best beginner compound bows in the industry from the top manufacturers. And see our buyer's resource How to Choose the Best Beginner Compound Bow for You.
Best Beginner Compound Bows
|   | Leader Accessories Compound Bow | Leader Accessories Compound Bow | Diamond Archery Infinite Edge Pro Bow Package |
| --- | --- | --- | --- |
| | | | |
| | | | |
| Draw Weight: | 50 - 70 lbs. | 30 - 55 lbs. | 5-70 lbs |
| Draw Length: | 25" - 31" | 19" - 29" | 13"-31" |
| Max Speed: | 310 FPS | 296 FPS | 310 FPS |
| Axle to Axle: | 31.5" | 28" | 31" |
| Weight: | 4.4 lbs. | 3.3 lbs. | 3.2" lbs. |
| | | | |
Also see: Beginner Compound Bows Comparison Table and YouTube Video Review
---
Quick Answer: The 5 Best-Rated Beginner Compound Bows – 2021
---
Beginner Compound Bow Reviews
Features of the Leader Accessories Compound Bow 50-70lbs 25″ – 31″:
Orientation: Right

Draw Weight: 50 – 70 lbs

Draw Length: 25″ – 31″

Max Speed: 310 FPS

Let Off: 75% – 80%

Axle to Axle: 31.5″

Brace Height: 7.5″

Weight: 4.4 lbs.

Adjustable draw weight / draw length (Allen Wrench included)

30″ arrows (Carbon or Aluminum) are recommended for this compound bow

One Year Warranty
This entry level compound bow comes in several colors and camo with or without a kit. The kits include sight, rest, release, and arrows. With a right-hand orientation, it will be a solid choice for many archers, but be sure to test your eye dominance before settling on this choice.
Adjustable between 25" to 31" of draw length and 50 pounds to 70 pounds of draw weight, there's something here for most adult hunters. 50 pounds is a bit heavy for many beginners, so beware that this might not be a great choice for those with less muscle strength or smaller builds.
You'll definitely want to upgrade your sights, rest, and possibly the release immediately. I'm not sure what the quality of the items in the kit are, but I would buy the bow without extras and then add my own options after the fact.
I like the 310 fps and adjustable draw weight but the bare bones features will need to be upgraded as your skill progresses.
If you choose the Leader Accessories brand compound bow here's the link to the manufacturer's assembly instructions video:
How To Assemble Your Leader Accessories Compound Bow (Official)

---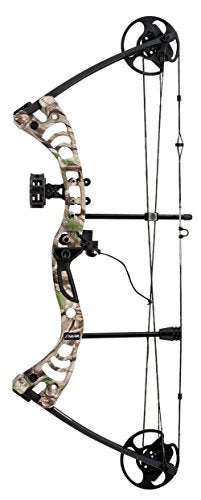 Features of the Leader Accessories Compound Bow 30-55 lbs 19″ – 29″:
Hand Orientation: Right

Draw Weight: 30 – 55 lbs

Draw Length: 19″ – 29″

Arrow Tip Weight: 100 grains.

Max Speed: 296 FPS

Let Off: 70%

Axle to Axle: 28″

Brace Height: 7″

Weight: 3.3 lbs.

Arrow Spine Deflection: 0.441″

Aluminum Riser

Adjustable draw weight length via included Allen Wrench

Included: fiber-optic sight ; drop away arrow rest ; release aid ; D-string loop ; peep sight ; wax and (2) 30″ aluminum arrows

One Year Warranty
This is another right-handed compound bow from Leader with nothing but rave reviews from loving users. It can be purchased as a kit with bow, sights, rest, arrows, and release or simply as bow only.
This time it's a much more reasonable entry level weight of 30 – 55 pounds which should be a great starting draw weight for the majority of archers. Even teens or small framed adults should be able to pull 30 pounds to start with and adjust it up as they go. Anything above 45 pounds should be enough for hunting!
With a max speed of just under 300 fps it's not going to set records but it will be enough to harvest game or shoot targets. One improvement you'll want to make early is investing in a set of carbon arrows and good hunting tips such as broad heads. The set comes with two cheap aluminum arrows that will quickly hold you back from top performance.
Overall this would make a good beginner bow for a huge range of aspiring archers.

---

Features of the Diamond Archery Infinite Edge Pro Bow Package:
Designed for longer draw archers with e

xtended length draw

Solid-constructed back wall

Infinite draw setting

Multi shooter bow

Infinite Edge Pro Bow

3-Pin tundra sight

Hostage XL arrow rest

DeadLock lite octane quiver

Tube peep sight

BCY string loop

Comfort wrist sling

5″ ultra-lite octane stabilizer
Jumping up in price a bit yields some impressive changes in what we're going to be looking at. The Diamond Archer Infinite Edge Pro is available in both left and right hand models. With three colors to choose from you can go black, camo, or pink camo. What's your taste?
Diamond Archery Infinite Edge Pro Bow review
If you're a taller archer with a long draw length, this bow can be extended a bit to accommodate you. On the flip side, if you're small framed with a short draw this might not be the bow for you.
This would make a solid choice for the beginner shooter as the draw weight can be infinitely adjusted between 5 pounds all the way up to 70 pounds of draw.
Several users complain about the stock arrow rest being of poor quality so you may want to consider upgrading your arrow rest as part of the purchase price of this bow. Overall it would make a good choice for the beginner shooter with plenty of power for hunting later!

---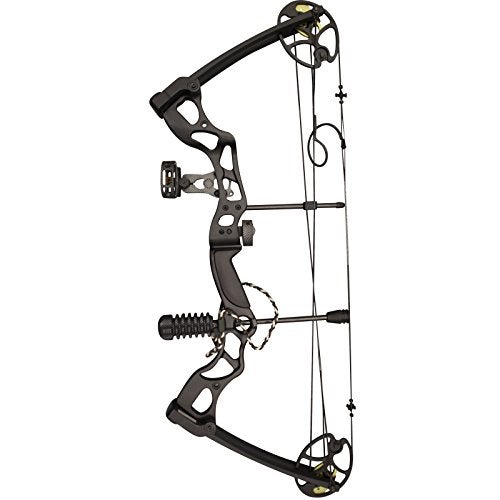 Features of the SAS Rage 70 Lbs 30" Compound Bow:
Weight: 4.4 lbs

Length of Draw: 26″ – 30″

Weight of Draw: 55 – 70 lbs.

Maximum Velocity: 270 FPS

Box Package includes:

SAS Rage 70 Lbs 30" Compound Bow

5-pin Bow Sight

Arrow Rest

Stabilizer

Braided Bow Sling

Peep Sight
Despite the name, Southland Archer Supply made this bow adjustable between 55 and 70 pounds of draw weight. This is a bit on the high side for most beginners unless you're coming into the sport with a reasonable muscular build.
With a 26" to 30" draw length archers with smaller or shorter builds may find this bow both too heavy and too long in the draw for them. This will be more in the range of a person around 5'6" – 6' tall as a general ballpark.
SAS Rage 70 Lbs 30" Compound Bow – Users Manual
Among other things that I like about this bow is that they've made it available in tons of different configurations. From straight black to camo with accessory configurations and several upgrade packages there's something for everyone's taste.
The bow comes with a 5-pin sight, arrow rest, stabilizer, bow sling, and peep sight. All of that comes in at about 4.4 pounds and rockets arrows down range at around 270 fps. That's not bad for the extremely affordable price tag you'll find on this bow!

---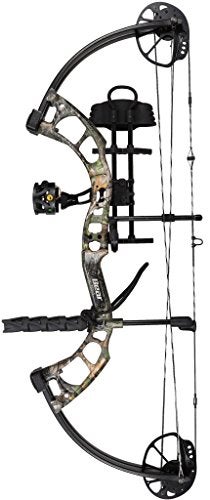 Features of the Bear Archery Cruzer Ready to Hunt Compound Bow Package:
All-Aluminum Construction

Quad Limbs w/ Max-Preload makes reliable power

Improved grip design to eliminate the hand torque and improve accuracy

Draw Length: 12″ to 30″ in ½" increments

String Suppressors are Offset

Compact bow design
Weight 3.6 lbs
Bear Archery has been around for a long time in the United States. My current longbow is a Bear Archery bow and I've been shooting it reliably for years with love!
This compound bow from Bear features a stabilizer offset with two string dampers that help to smooth the shot and quiet the kickback from each shot. Due to the design of the main bow riser the grip helps to eliminate hand torque and kick for a more consistent shot each time.
Amazingly the bow is capable of adjusting between 12" and 30" of draw length. This compliments the 5 – 70 pound draw weight scale which allows a huge range of adjustability similar to the SAS Rage bow we reviewed earlier.
The All-New 2015 Bear Cruzer Bow Package
With an overall weight of just 3.6 pounds and an axle to axle length of 32" it's lightweight and compact.
This bow could be just as good for a beginner teen archer as it would be in the hands of an experienced adult archer. There really is something here for any archer!

---
Beginner Compound Bows Comparison Table
---
How to Choose the Best Beginner Compound Bow for You
Today most bow hunters use compound bows to harvest their game in the field. These bows use a unique build that can multiply speed and force by using a simple system of cams and pulleys. Compared to traditional stick bows, recurves, and longbows, compounds can achieve much improved velocity results for the modern shooter.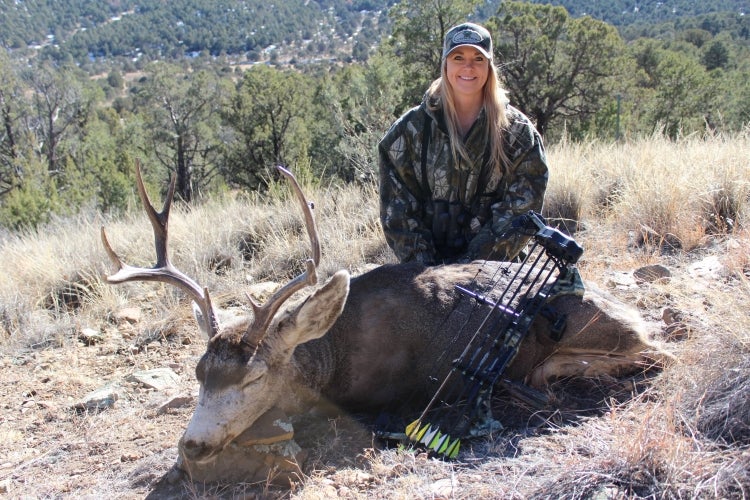 Today I'm going to help you understand some of the critical decision factors that come into play when trying to settle on a choice for your next compound bow. There are tons of features, specifications, and differences that may make one bow or another better for your specific needs. What will you use the bow for? How experienced are you?
Among many other questions, tips, and advice these are some of the key points you'll want to understand before buying your compound bow. Let's get started trying to understand how to buy your next bow and then I'll suggest a few compound bows you might choose from!
We're going to consider a broad range of questions and topics that will help you narrow your choice of bow to just the right compound bow for you.

Left Handed or Right Handed?
This is an unfairly misleading concept. Deciding on a left or right handed bow is not a matter of which hand you normally use. You might be a right handed writer, but a left handed bow shooter. How is this possible?
Well, when it comes to bows you will want to shoot with whichever side your ocular dominance is. This is usually tested by holding your hands out at arm's length so the thumbs and fingers overlap leaving only a small hole through which you can look. Pick a small object such as a clock on the wall, some distance away. Close each eye one at a time and determine through which eye you can still see the clock without having to move your head. This is your dominant eye.
If that seems confusing, just go to your local pro shop and they'll help you determine your dominant eye.
Just remember that you'll need to know for sure which eye is dominant before purchasing your bow. It is possible to train yourself to shoot with your "off-eye" but it will make archery a much steeper learning curve for your body to master.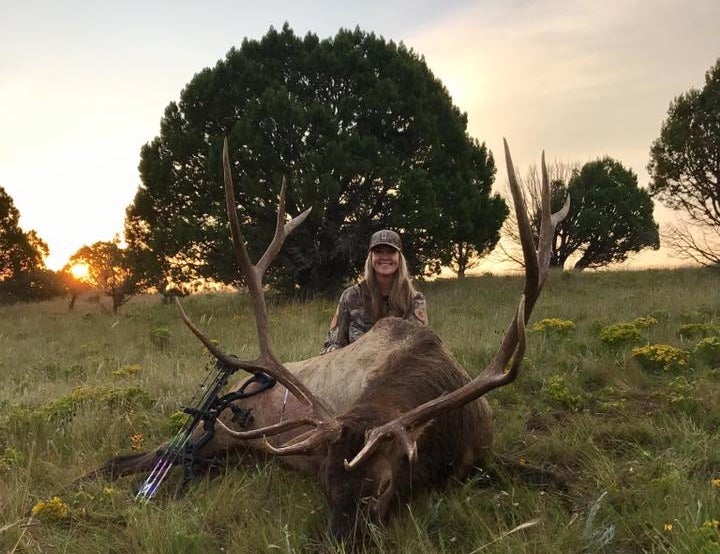 Determining Draw Length
For an accurate and precise draw length measurement you'll definitely want to get measured by a pro shop. Most compound bows can be adjusted a little do make up for differences in draw length. However, starting with the appropriate draw length is critical to ensure that you don't eventually outgrow your bow.
Draw length is usually measured roughly by measuring your wingspan (distance from middle finger to middle finger with arms outstretched). Then that number is divided by about 2.5 to determine a rough draw length. This method can vary wildly in accuracy though, so you've been warned.

Compound Bow Size and Length
This measurement is called an axle to axle length. While just about any draw length can be achieved with most axle to axle combinations, this overall measurement makes a big impact on how cumbersome your bow will be.
For hunters with long walking distances to the blind, traveling through tight under brush, or hunting from compact blinds you'll want to seek a bow with shorter overall length. If you're hunting from the ground or doing competitive shooting at a range, a longer bow could be ideal. Longer bows tend to be smoother and more forgiving overall.
In general, go with the longest bow you can get away with for whatever purpose you'll be using it for.

Choosing a Draw Weight
Draw weight refers to the amount of force required to pull back a bowstring. There's not an easy formula for draw weight and it will vary depending on age, strength, size, and practice.
When I started shooting compounds as a kid, my dad started me off with a low draw weight bow that could be adjusted up as I grew.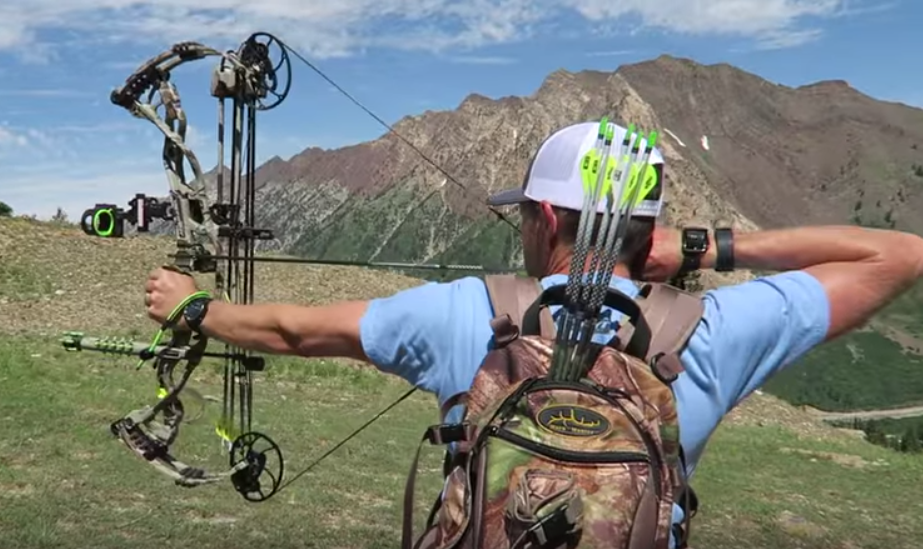 Over the years your muscles and practice will determine how much draw weight you can handle. Most recreational archers and hunters will draw between 45 – 80 pounds. Anything less than 45 pounds may not be advisable or legal to hunt with as they often lack the necessary power to cleanly kill a big game animal.
Most compound bows can adjust between a range of draw weight using a combination of set screws. By adjusting these screws, you can increase or decrease the draw weight of the bow usually by 20 or so pounds.

Compound Bow Arrows
Getting set up with good arrows is an expensive proposition! Often an entry level bow will come with several arrows and they're rarely good arrows. For hunting you'll want a set of nice modern carbon arrows, the best you can afford. These are more accurate, consistent, and faster than cheap arrows.
Make no mistake, you will screw up an lose arrows while practicing and when hunting. You'll be surprised how often you destroy your own arrows by shooting them, missing the target, or other annoying problems.
Shooting lower quality arrows for target practice is good and bad. While it might save you money, it's very likely to mess up your shooting habits and throw off your accuracy when hunting. I recommend buying a dozen of the best arrows you can afford and simply being mindful of howyou use them to make them last as long as possible.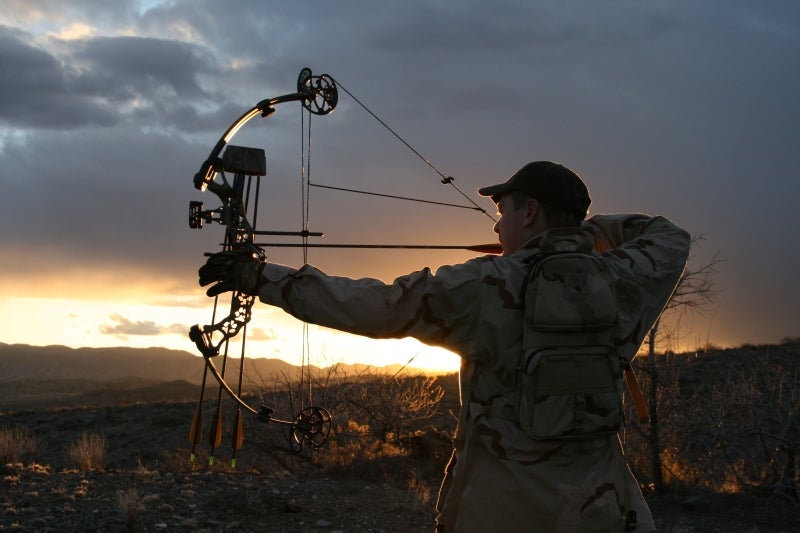 Compound Bow Sights
Sights are probably the most important place you can spend your time and money when buying a new bow. Without good sights, you'll never achieve consistent groupings. Most bows don't come with top of the line sights so you might be further ahead to buy a bow without any sights and then add your own after market.
Any good pro shop will help advise you on how to select the best sights and they'll always help you sight the bow in after you buy. This can be a lengthy and difficult process if you're doing it yourself so it's honestly well worth your time to consider doing it this way, particularly if you're new to the sport.

Conclusion
Whether you're brand new to the sport or experienced with archery, it's important to understand your options when you're shopping for a new bow. You've learned what to look for and what to consider when choosing your next compound bow. Now it's your job to go through our list of bow reviews and pick the one that makes the most sense for your needs.
Don't forget that's it's always okay to seek professional help from your local outfitter. Any bow store will be happy and ready to help you find the best draw weight, draw length, and accessories for your bow. Once you've purchased your bow, take it in and get help sighting it in and tuning the bow for you.
You might also be interested in these related review articles:
SHOOTING & ARCHERY AIR RIFLES | AIR RIFLE SCOPES | COMPOUND BOWS | CROSSBOWS | PISTOL CROSSBOWS | RECURVE BOWS | HANDGUN SAFES | BIOMETRIC GUN CASES | RIFLE CASES | COMPOUND BOW CASES | CROSSBOW CASES
HUNTING GEAR HUNTING BOWS | CROSSBOWS | HUNTING ARROWS | TREE STANDS | HUNTING BOOTS | HUNTING BACKPACKS | HUNTING RIFLE SCOPES | HUNTING BINOCULARS | LASER RANGEFINDERS | HUNTING HEADLAMPS | TRAIL CAMERAS | HUNTING GPS | BOW SIGHTS | SPOTTING SCOPES | HUNTING BLINDS
Also see: The Family Guide To Air Gun Shooting And Safety.

Beginner Compound Bows – Video Review
How We Researched
To come up with the top compound bows, we researched a variety of sources for reviews such as REI, Backcountry, Moosejaw, EVO along with our own personal experience.
We also consulted online magazines for product research and reviews to get as much unbiased information as we could. To help weed out fake reviews we used Fakespot.com to make sure we only looked at genuine reviews.
With so much quality gear available, we had to narrow it down based on what we felt were the best options were for the price. The author, Richard Moore is an avid hunter and outdoorsman.
To help narrow down the selection he used his personal experience along with recommendations from fellow hunters and hunting outfitters.
After extensive research, we came up with our list to help you choose the right one for you.
Sources
Notice:
OutsidePursuits.com is a participant in the Amazon Services LLC Associates Program, an affiliate advertising program. OutsidePursuits.com earns fees from products sold through qualifying purchases by linking to Amazon.com. Amazon offers a commission on products sold through their affiliate links.