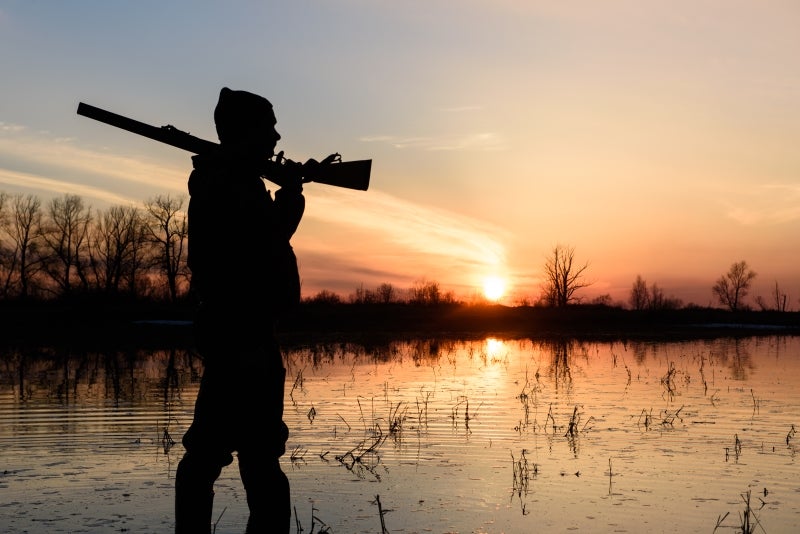 Our Editors independently research, test, and rate what we feel are the best products. We use affiliate links and may receive a small commission on purchases.
In this product review article our hunting editor, Casey Fiedler, walks you through everything you need to know in order to pick the best hunting GPS unit for your specific needs and hunting situation.
We'll take a look at what makes a great hunting GPS and what to avoid. Also see How To Choose The Best Hunting GPS later in the article. What is the best hunting GPS for the money?
Quick Answer: The 4 Best-Rated Hunting GPS Units – 2021
---
Best Hunting GPS Units
Garmin Oregon 600t 3-Inch Handheld GPS
Garmin GPSMAP 64st
Magellan eXplorist 350H Handheld GPS




Screen Size
3 inch
2.6 inch
2.2 inch
Battery Life
16 hours
16 hours
18 hours
Special Features
Dual-band GPS/GLONASS satellite positioning
Dual Battery System (2-AA or rechargeable
NiMH battery pack)
Hunt-specific waypoints / Contour Layer Map
Customer Ratings
3.9 / 5.0
4.3 / 5.0
2.8 / 5.0


Also See: Hunting GPS Comparison Table and YouTube Video Review
---
Best Hunting GPS Units Reviews
Garmin might be the most popular name in outdoor GPS units. While the best hunting GPS depends on your personal needs it wouldn't be a stretch for us to name Garmin as the best hunting GPS maker today.
Garmin's Oregon 600T model comes preloaded with topographic maps. It's available in several models, some with digital cameras, others are simply the base model.
Garmin released a newer model of this GPS recently which has received poorer reviews and comes with a much higher price tag. That's why we went with the tried and true 600T model.
One thing I love about this GPS is the dual battery capability. There's an included recharageable battery pack or the GPS can be run on normal AA batteries. Versatility is always the name of the game!
The unit operates on a 3" touchscreen display, features 3-axis compass, and tons of advanced features. It's fully compatible with all Garmin maps and many aftermarket map products.
Best for high end technology in a handheld topographic GPS with proven reliability.

---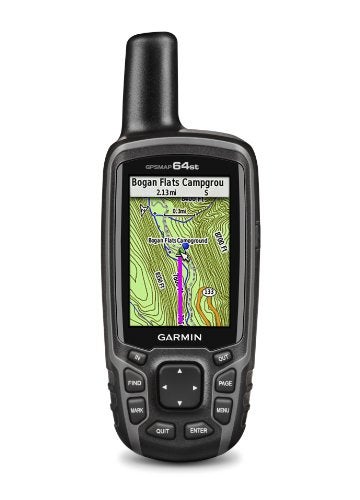 Even older and more proven than the Oregon 600 is the GPSMAP series of handheld navigation units from Garmin.
Over the last handful of years these GPS units have seen use by rescue teams, wilderness navigators, and hunters alike. They stand out as arguably the most beloved hunting GPS available.
While the display is a bit smaller than the Oregon 600, the 2.6" color screen is bright and readable in sunlight. You'll forgo the touchscreen and instead have hand controls to operate the GPS menus.
If you're not a fan of touchscreens in the wilderness (like me) this might be a key consideration for you.
Like the Oregon 600T you'll get the dual battery system which can operate on rechargeable or disposable AA batteries.
There's a generous 8GB of internal memory onboard which is more than enough for storing data to navigate even the lengthiest and most complicated routes.
GPSMAP Testimonial: Dana Brown
If you're interested in pairing this devices with other ANT+ devices like step counter, heart rate monitor, and other active devices you can do that! It will even send and receive push notifications from connected ANT devices.
The GPS with batteries installed comes in at almost exactly half a pound – 8.1 oz. This makes it a lightweight and compact companion for your next hunting trip.

---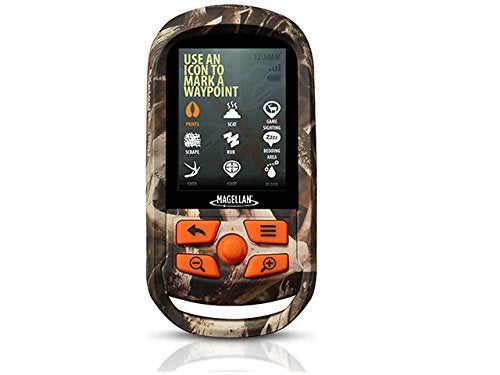 Magellan is a top competitor in the handheld GPS space and they make several units specifically for hunting. The eXplorist 350H even comes in a nice camouflage skin with simple functions and streamlined features you need for hunting. No extra!
It's hard to argue with the extremely low price and the lightweight, small stature of the GPS device. Unlike the Garmin GPS units, the eXplorist 350H even includes hunting and public lands boundaries for 40 of the 50 states.
I love that it features boundary alerts that notify you when you're moving outside of a hunting area. That way you won't wander on to private property on accident. This is, perhaps, the single best feature of this hunting GPS.
It comes from the factory preloaded with topographic maps to compliment the hunting boundary markers. There are hunting specific icons and waypoints so you can mark tree stands, blinds, rivers, bait piles, trail cams, and other hunting critical landmarks that you'll want to track.
For most hunting applications, the eXplorist 350H is the perfect balance. It's everything you need for a good hunting GPS and nothing you don't.
Arguably the other GPSes we reviewed from Garmin may be overpowered for many hunting applications when compared to the Magellan eXplorist 350H.
Best for hunting specific applications and a balance of price, power, and features.

---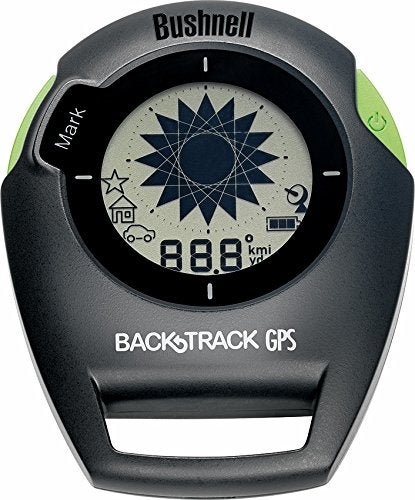 Bushnell is not a company known for high end tech gadgets. They're a hunting company that just happens to fill the need for a simple, effective, and helpful hunting GPS. It's a bit different from the other hunting GPS units we reviewed, however.
Operating on two AA batteries, this palm sized GPS is small and lightweight. I love that it's a simple 2-button unit that does one job very well. With one click you can set a location which the device then tracks and leads you back to.
Once you park the ATV just mark the location, walk anywhere you want, and then follow the GPS back to your marked location.
It's a very simple concept that's often all you need in a hunting GPS. It also allows you to store up to 3 separate locations such as the car, hunting camp, or the hunting blind. You'll see how far away and in what direction that destination is from any location!
Because of its simplicity this hunting GPS is by far the most battery conservative of all the ones we reviewed. With just two AA batteries you can often get enough power for an entire week of hunting trips!
Don't worry about adverse conditions either because Bushnell made sure that the Backtrack is weather resistant for those nasty days in the field. I wouldn't try to submerge it, though.
Best for simple, reliable navigation on a budget that weighs almost nothing!

---
Hunting GPS Comparison Table
---
How to Choose the Best Hunting GPS
Setting out for a day of hunting is an easy task when you're just heading out to the old woods behind the house on the family property. When faced with the task of navigating large and new areas of unfamiliar land in search of game, however, the prospects become much more daunting.
Hunting GPS units are used to help navigate to and from treestands, trails, ATVs, and other key points. You'll have to look for the game on your own – the GPS won't help with that. But it might help you locate key areas like streams, fields, openings, game trails, and where you parked the vehicle.
Prices on handheld outdoor GPS units have fallen while computing power and satellite accuracy have only increased in recent years. That's why I'm going to help you learn what to look for and what to avoid when it comes to hunting GPS units.
Let's go over some of the key factors in today's GPS units. Technology changes fast so here's what to keep in mind when making a decision about what GPS to get.
GPS Unit Size
Most hunting GPSes are based closely on hiking GPS systems. They're typically small and light enough to fit in a pocket or a backpack with ease. Handheld units, best for hunting, are usually a bit bulkier than your typical smartphone.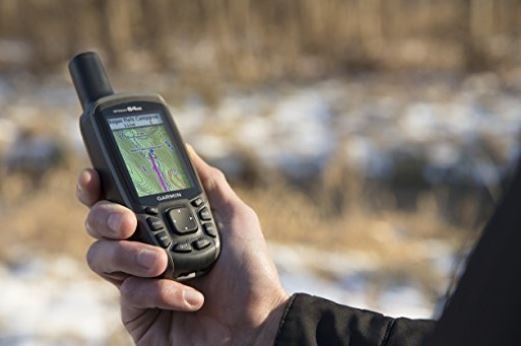 When choosing a hunting GPS, pay attention to the size of the unit you're buying. Some units are markedly smaller than others. Units with simpler features tend to be more compact. If you don't need the advanced features of touchscreens, cameras, and other modern GPS accessories then consider going with a smaller, lighter, and less expensive GPS.
Size differences between the smallest handheld hunting GPSes and the larger ones are not that substantial, however. Personally I think it's easy to justify the larger size of some advanced GPS units since it's a small increase in size for a large increase in features and function!

Touch Screens
Many of today's hunting GPSes and the best hiking GPS units are touchscreen units. Borrowing technology from modern smartphones, the GPSes are pricy yet compact and functional. Using a touchscreen GPS will be comfortable and familiar to anyone who has used a smartphone.
While function and reliability of these units has improved, I've never been satisfied with touchscreen GPS units. In harsh weather it's difficult to be accurate as the screen gets confused by gloves, snow, or rain.
For better or worse, however, most of the best hunting GPS units today are exclusively touchscreen. The accuracy and sensitivity of these screens is rapidly improving and using touch compatible gloves can help to alleviate some of the hassle of trying to use a touchscreen device in poor weather.

GPS Features
There are tons of high level features you might want in a GPS. We're going to cover a handful of them, though it may not be a comprehensive look at every GPS feature. I'll be sure to cover the most important ones you'll need for hunting.
3-Axis Compass
This is a special type of electronic compass that knows which way you're facing even if standing still. It also remains accurate even if you're not holding the GPS flat. Traditional 2-axis compasses have to be held perfectly flat while 3-axis compasses do not. This is an amazingly helpful features if you want to be able to precisely navigate while standing still.
Barometer / Altimeter
These tools measure your elevation above sea level. This tool also doubles as an effective weather prediction tool. On some GPS units you'll get alerts and weather predictions thanks to the help of an integrated barometer. While it might not be as accurate as the local weather at 6 on the news, it's more helpful than flying blind!
Maps
Maps come in tons of flavors and always tend to be more of a hassle than anyone wants. Many GPS makers today offer free maps for life with certain units or aftermarket map downloads. At the very least you'll need good topographic maps. These may come preloaded on your device.For hunting I highly recommend satellite maps whenever available. These aerial photos are overlayed with your location and any destinations you might want. This helps you determine the smartest route to get to and from that game trail in the field. It's also incredible helpful to see what's around you in case you decide you want to move once in the field.
Connectivity
Connectivity is important today. Modern GPS units can use Bluetooth features to share data, routes, waypoints, and more with one another. You can easily share information with your hunting partner in the field before you split up!The other important feature is connectivity to software updates, map downloads, and other features. Most GPSes plus into a computer using a conventional USB cable. Newer GPSes from good manufacturers, such as Garmin or Delonge usually feature painless integration with computer interfaces.
Batteries
Batteries are perhaps one of the most important features of a good hunting GPS. They're often taken for granted because on a daily basis we can charge our devices easily. In the woods, however, recharging a GPS can be hard.
Today you can get battery packs to charge your devices on the go. If you have a GPS with an internal battery and you need extra power, I suggest considering something like the Anker rechargeable battery packs.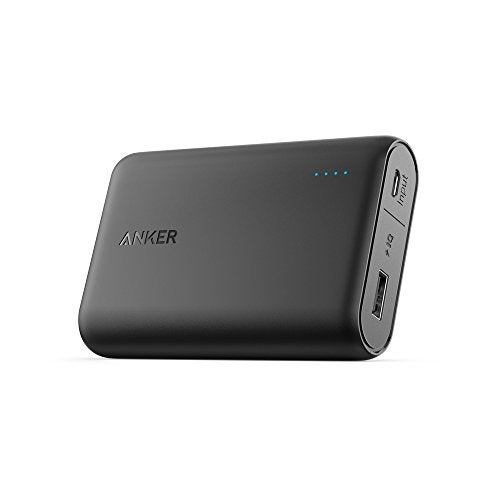 If you need extra battery power in the field, consider a GPS with replaceable batteries. GPS units powered by standard AA batteries can be easily replaced in the field. Carrying a couple extra batteries doesn't weigh much and can get you several days of constant GPS use.
It's always a gamble when your GPS has integrated batteries because if they run out of charge in the field you're out of luck! Take a backup battery charger pack to save the day.
Conclusion
Hunting GPS units don't always have to be fancy. Sometimes all you need is a reliable way to get back to where you parked the truck or the ATV. For other hunting trips you need touchscreen capabilities, satellite maps, and advanced computing power. Make sure to consider what type of hunting you'll be using the GPS for. Once you know what features you need, just use our reviews to locate the best hunting GPS for your needs!
---
Thanks for reading The 4 Best GPS Units For Hunting. We hope this article has helped you to discover the best choice for a GPS that meets your needs and hunting situation. You might also be interested in our related and informative deer hunting article entitled, Deer Hunting Regions of the United States.
You might also be interested in these related review articles:
SHOOTING & ARCHERY AIR RIFLES | AIR RIFLE SCOPES | COMPOUND BOWS | CROSSBOWS | PISTOL CROSSBOWS | RECURVE BOWS | HANDGUN SAFES | BIOMETRIC GUN CASES | RIFLE CASES | COMPOUND BOW CASES | CROSSBOW CASES
HUNTING GEAR HUNTING BOWS | CROSSBOWS | HUNTING ARROWS | TREE STANDS | HUNTING BOOTS | HUNTING BACKPACKS | HUNTING RIFLE SCOPES | HUNTING BINOCULARS | LASER RANGEFINDERS | HUNTING HEADLAMPS | TRAIL CAMERAS | HUNTING GPS | BOW SIGHTS | SPOTTING SCOPES | HUNTING BLINDS
How We Researched
To come up with the top GPS units for hunting, we researched a variety of sources for reviews such as REI, Backcountry, Moosejaw, EVO along with our own personal experience.
We also consulted online magazines for product research and reviews to get as much unbiased information as we could. To help weed out fake reviews we used Fakespot.com to make sure we only looked at genuine reviews.
With so much quality gear available, we had to narrow it down based on what we felt were the best options were for the price. The author, Casey Fiedler is an avid hunter and outdoorsman. He has successfully guided hunting parties across remote wilderness areas.
To help narrow down the selection he used his personal experience along with recommendations from fellow hunters and hunting outfitters.
After extensive research, we came up with our list to help you choose the right one for you.
Sources
Notice:
OutsidePursuits.com is a participant in the Amazon Services LLC Associates Program, an affiliate advertising program. OutsidePursuits.com earns fees from products sold through qualifying purchases by linking to Amazon.com. Amazon offers a commission on products sold through their affiliate links.