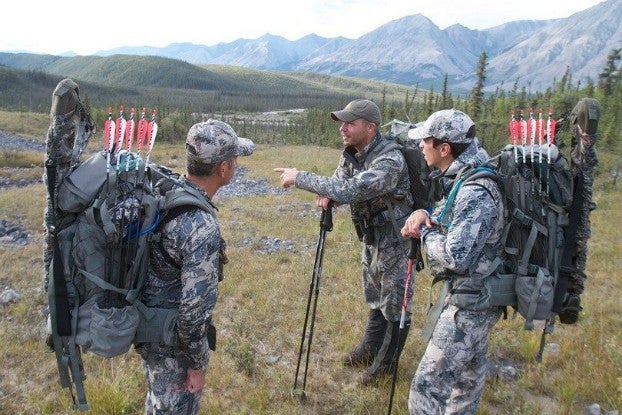 No doubt! Having a backpack for hunting will help you to have a successful hunting trip.  While this convenient item is not a necessity for a hunting trip, owning a quality backpack to store and carry all your hunting gear while pursuing game can have a big impact on the hunting experience.
Since there are many different varieties available, choosing the right hunting backpack that suits your hunting style can be overwhelming. But it does not have to be so much work.
The hunting backpack reviews in this article, and the Buyers Guide section will open your eyes to the best hunting backpacks, as well as their features, so you can make the best choice.
For more of our top outdoor hunting gear recommendations see: Best Hunting Boots, Best Hunting GPS, Best Binoculars for Hunting and Best Base Layers for Cold Weather.
Quick Answer: The 5 Best Hunting Backpacks Reviewed for 2017 / 2018
Best Hunting Backpacks
ALPS OutdoorZ Commander
Eberlestock F1 Mainframe Backpack
Stansport Mountain Hauler Pack Frame
Configuration

Pack Frame + Pack Bag Combined

Pack Frame w/ Optional Pack Bag
Pack Frame Only

Material


Aluminum Frame w/ Aircraft Nylon Pack Bag
Aluminum Frame w/ Canvas Bag
Aluminum Frame w/ Polyester Straps
Waterproof
Yes
Water-resistant
Yes
Special Features
Combo Frame/Pack
Rifle and Handgun Holders + Accessories Pockets
Modular : Transformer Pack can be used stand-alone or w/ F1 Mainframe Backpack
Heavy Duty Fold-Away Shelf
Hunting Backpack Reviews
Let's take a look at the highest rated hunting backpacks, then we'll discuss how to select the best one for you.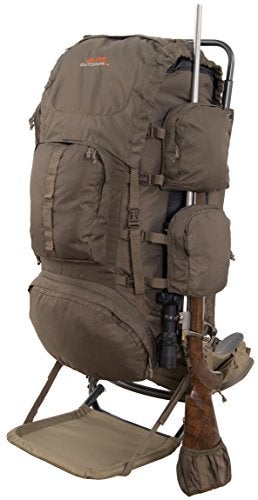 This seriously tough backpack is designed for rugged and longer hunting expeditions. The pack's versatile and functional design is made with serious big game hunters in mind.
The ALPS OutdoorZ Commander has all the space you need to accommodate all your hunting gear and a frame for carrying larger kills. If you need a quality backpack for rifle, the OutdoorZ definitely live up to the task. It is sturdy and comes with 7.5 lbs frame and durable zippers that are incredibly silent when pulled.
Features of the ALPS OutdoorZ Commander:
Rifle holder (unique fastening system)
5250 cubic inches (High capacity) with strategically placed pockets
External frame design
Webbing loops
Top loading
Lower door access
5 lbs
Made of Charcoal Nylon Ripstop fabric
Improved cotter and clevis pin design
The unique fastening system employed is versatile enough to hold and secure a wide range of equipment including your crossbow and rifle to keep your hands free while you are on the trail.
There are plenty of storage pockets, strapping and pouches for hold tons of gears- so if you want a hunting backpack that truly loads up, then this might be the best hunting backpack for you.
For convenience, this backpack comes with a lower opening, but loads from the top so there are many ways in which you can pack and unpack it.
If you are looking for a durable and quality hunting backpack to carry all your hunting gear for your next hunting expedition, the ALPS OutdoorZ Commander is your best bet.
Watch the clip below to get more information about the backpack features.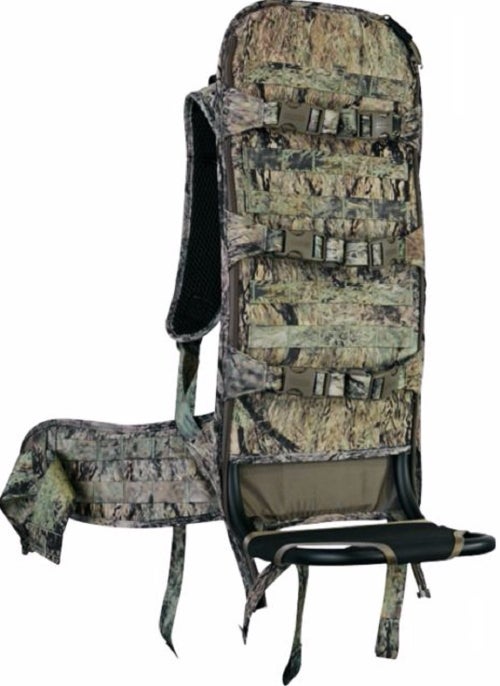 The F1 Mainframe from Eberlestock is probably the greatest innovation in modern and minimalist camo hunting backpack. Over the years, the F1 Mainframe backpack has made a name for itself as one of the most useful and versatile backpack one can ever purchase. The pack is known for its capability, ultra lightness, versatility, durability and the awesome comfort it offers its wearers.
Features of the Eberlestock F1 Mainframe backpack: 
Adjustable ladder harness system (for customizing the Mainframe to fit the different torso length)
Intex ll Aluminum Frame(internal frame)
The dimension is 26″L x 11″W
4 lbs
Three inbuilt horizontal compression straps to hold and secure your gears
Compatible with more than 15 add-on accessories from Eberlestock
Lifetime Warranty
It is designed to serve in any situation, and carry any man-portable load with great enthusiasm and comfort. If you want a strong, light, and durable backpack for elk hunting, the F1 Mainframe is one of the best options to consider. It is constructed with high-quality materials like the Intex II aluminum frame, and durable NT7 or 1000 –denier nylon fabric (based on your choice). This gives it its lightweight properties while ensuring maximum strength and durability.
The F1 Mainframe is compatible with Eberlestock Transformer Backpack and many other Eberlestock add-on accessories and can be used as a day or freight pack, or turned into a prey hauler in a few seconds. The system is equipped with horizontal compression straps to stabilize and secure your gears. With the multiple attachment points, adjustable ladder harness system and other exciting features on the mainframe, you wouldn't waste time making this backpack an essential part of your next hunting expenditure.
The Eberlestock F1 Mainframe backpack will not only help you to pack and secure your hunting gear but also offers a great deal of versatility, durability, and comfort.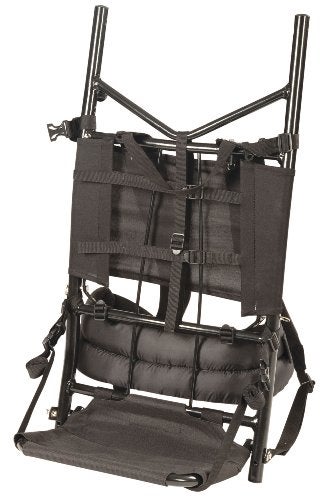 Do you want an affordable and ergonomic solution to pack and haul a range of items for your next hunting expedition? If yes, the Stansport Mountain Hauler Pack Frame is one of the best pack to consider.
Features of the Stansport Mountain Hauler Pack Frame:
Durable pack frame with fold away shelf
Breathable leno-weave mesh back band
Padded shoulder straps and hip belt to provide more comfort
100% polyester
Robust anodized aluminum frame
Frame size 31.5″ X16″
55 lbs
One Year Warranty
It offers a lot of versatility and comfort, thanks to its hip belt and padded shoulder straps.  This makes hauling of wild game, firewood and other heavy or bulky items on rugged terrain a lot easier.
The 31.5″ X16″ frame features a welded anodized aluminum construction that offers a lot of durability and stability on rough terrain.
The back band features a large weave mesh that is designed for excellent breathability and comfort. It also comes with a fold-away shelf that allows you to attach and secure your load to its heavy duty frame to give you a more comfortable and enjoyable hunting experience.
The Stansport Mountain Hauler Pack Frame is a great option for a hunting backpack and probably the best hunting pack frame.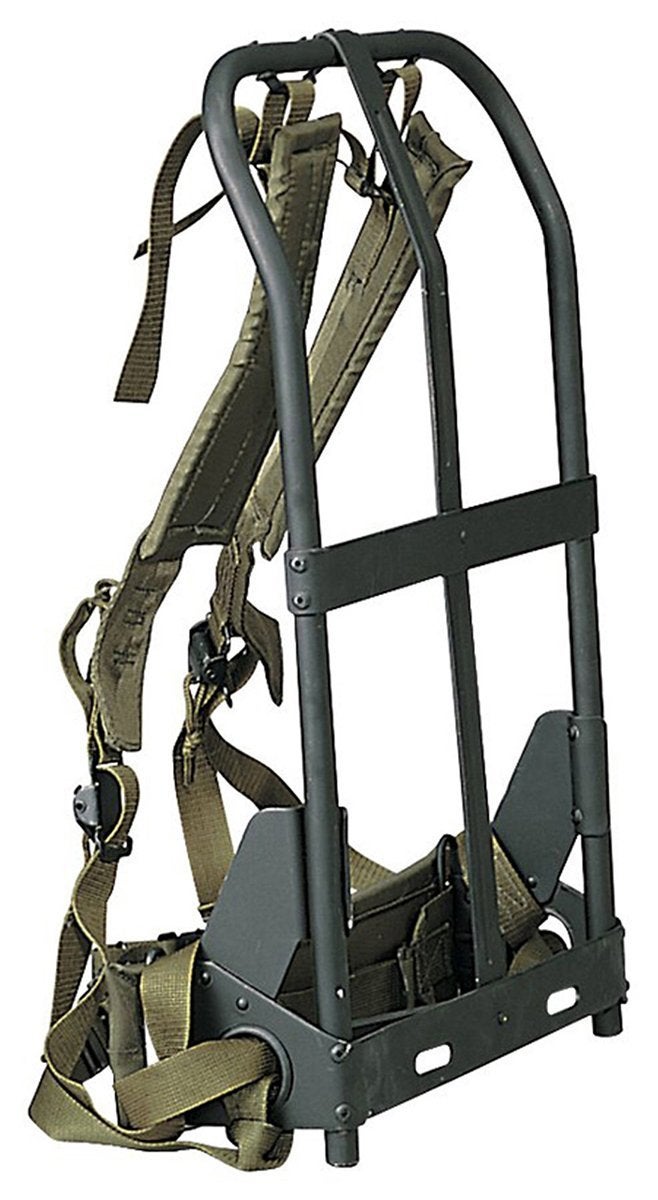 When it comes to selecting a quality but cheap hunting pack frame, the ALICE Backpack frame is probably the best pack to consider. The ALICE Backpack frame is a beautiful innovation from Rothco that is suitable for packing heavy and bulky items or wild game in all kinds of situation. It features a 12.5 x 3 x 20.5-inch frame that offers a great deal of stability and durability.
Features of the ALICE Backpack Frame: 
Durable aluminum frame
Padded shoulder pad
High-quality fabric
5" x 3" x 20.5" Frame size
4 lbs
The pack is amazingly light in weight. With the  ALICE Backpack frame, Rothco Canvas G.I. Style Soft Pack and USGI Alice Pack Frame Shelf Cargo Support Shelf, you can conveniently carry more gear and supplies for your next hunting expedition. The backpack frame comes with padded shoulder straps; this allows you to haul your prey and other items with absolute ease and comfort.
For a bargain price, the ALICE Backpack frame is almost certainly the best cheap hunting pack frame on the market.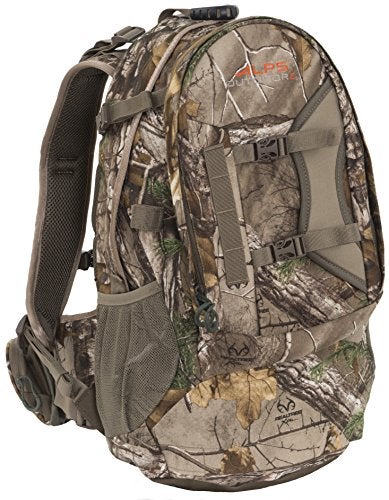 If you're looking for quality and durable hunting day pack, camo backpack and bow hunting backpack, the ALPS OutdoorZ Pursuit might be the best for you. This is one of the best archery backpacks as it is specially designed for hunters who prefer the use of the bow and arrow as their main weapon. Hunters love the Pursuit, as it can hold almost any bow and also have the space to allow them to carry other weapons and stalk their prey hands-free to make their hunting expenditure easier and more comfortable.
With the total volume of 2700 cubic inches and array of exterior storage pockets and pouches, you can pack and store those cumbersome gears and everything you need for your hunting trip. The internal aluminum frame provides stability, especially when you are on rough trails. With a great deal of versatility it offers, the ALPS OutdoorZ Pursuit can prove to be one of the best hunting daypack to carry a lot of supplies for your next hunting trip. It has a drop-down pocket to fix your bow to the pack or hold the base of your rifle or shotgun safely and comfortably.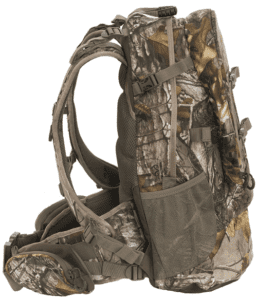 The brushed "Raintree" camouflage design and the Blaze orange rain cover allow you to blend easily into the environment while keeping your gear dry. The pack also comes with Hydration pocket and port.
Features of the ALPS OutdoorZ Pursuit:
Total volume: 2700 Cubic Inches (large capacity)
Total weight 4 lbs
Webbing system
Drop-down Bow or Gun pocket (stow-away)
Internal aluminum frame
Comes with rain cover
Large main and front pocket
Hydration pocket and port
Overall, the ALPS OutdoorZ Pursuit is not only an excellent bow backpack but also one of the best hunting packs on the market.
---
How To Choose the Best Hunting Backpack for You
When it comes to selecting the best hunting backpack that suits your hunting style, there are some important factors you need to put into consideration. These factors include:

Size
Size is an important factor to consider when shopping for a hunting backpack that is perfect for your hunting style. While it is important to select a big backpack to accommodate all your supplies, selecting the one that does not fit your torso can result in backaches that can send you home before you take any game.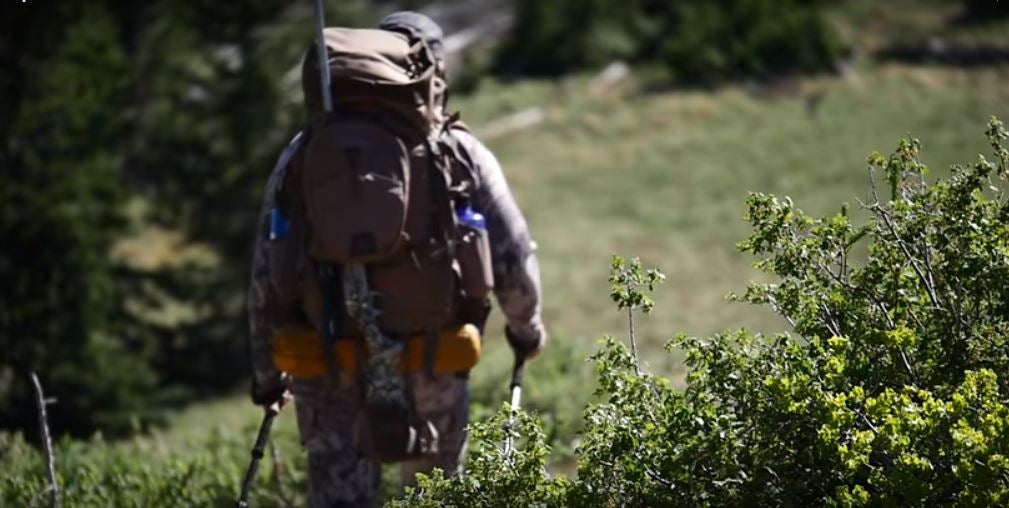 To select the appropriate size, consider the number of days you spend on a hunting trip and select the one that will comfortably accommodate all your supplies. Big game or longer days out in the field require more supplies and a bigger pack.
Small hunting backpacks or hunting day packs are more suitable for small game and shorter days. Another thing is to measure your torso length; this will help to determine the right backpack size that fits your body size. The measurement below might be able to help.
Large:20" and up
Medium:18 – 19 ½"  tall
Small:16 – 17 ½ " tall
Miniature: Up to 15-½" tall
Durability
This is also one of the most important factors to consider when choosing a pack. Since you do not want your backpack to deteriorate too soon or break open on your first trip- you need to carefully examine the hunting packs and ensure that they are made from quality materials before making your choice. A durable pack will not only be a good value for your money but will also carry your gears no matter how heavy they are, for a longer period of time.

Quietness
Some fabrics featured on the packs produce more sounds when touched or opened, or when they brush against another object. Having a backpack whose materials will produce no sound when you are stealthily moving closer to your target or reaching for your weapon will increase the odds of taking game.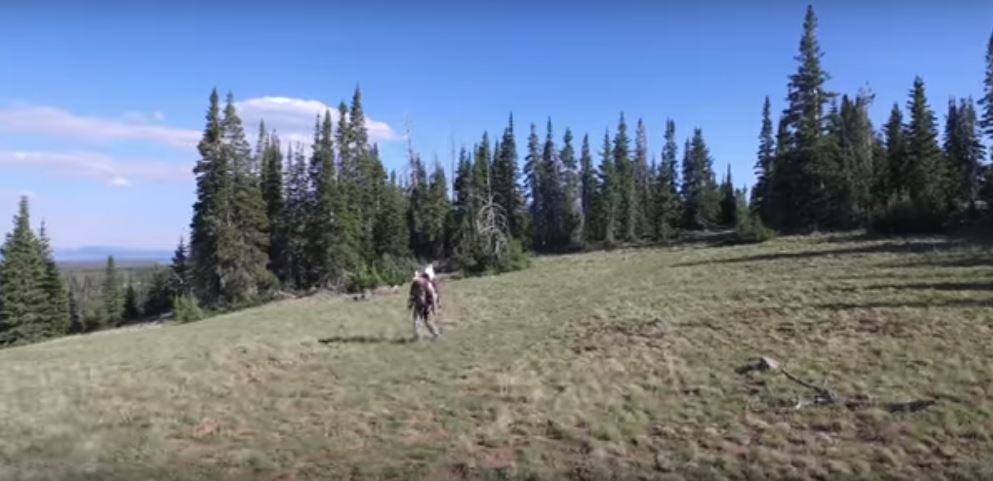 Comfort
Your comfort is very important on your hunting expedition, so you have to select a pack that allows you to carry your gears ergonomically. You also need to consider the shoulder straps, pack with unpadded straps are more likely to hurt your shoulders.

Added features
You may want to consider going for a waterproof hunting backpack if you'll be hunting in the rain, but this is not the only feature you'll want to consider. Some other added features like weapon storage pockets, color (camouflage) strategically placed pockets, and water bladder can also be put into consideration when selecting an ideal pack.
Although these features can increase the cost of the pack, going for a backpack with features that are important to your hunting style will make your trip easier and more enjoyable.

Internal or External Frame
The hunting pack design which includes the frame type is another factor to look into when selecting a backpack for hunting. Backpacks with external frames are bigger and provide added support to haul heavier loads.
However, they might be a little unstable, unlike their internal framed brothers who are smaller but more stable and comfortable. Therefore, selecting your ideal frame type depends on the size, terrain and the number of gears you intend to carry.
Consider your hunting style and make a list of the features you need. When you select a hunting pack, make sure you go for the one that does not only suits your needs but also falls within your financial constraint.

Conclusion
I hope this guide has helped you in finding the best hunting backpack that suits your hunting styles. If you want to drop your comments or wish to recommend a hunting pack that is not mentioned in this guide, kindly use my contact form to get in touch.
Notice: Outside Pursuits is a participant in the Amazon Services LLC Associates Program, an affiliate advertising program to provide a means for sites to earn advertising fees sold through by advertising and linking to Amazon.com. Amazon offers a small commission on products sold through their affiliate links. Each of your purchases via our Amazon affiliate links supports our efforts to bring you the best possible product reviews at no additional cost to you. We appreciate your support here at OutsidePursuits.com