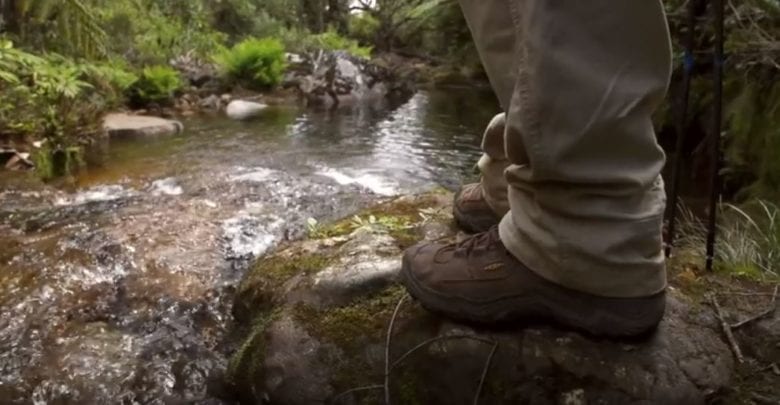 MORE WINTER GEAR  HEATED GLOVES | DOWN JACKETS | FLEECE JACKETS | BASE LAYERS | BEANIES | WINTER GLOVES | WATERPROOF BOOTS | NECK WARMERS & GAITERS | HEATED JACKETS | HARDSHELL JACKETS | SOFTSHELL JACKETS | WINDBREAKERS | ICE FISHING BOOTS
In this side-by-side product review Outside Pursuits leads you through everything you need to know in order to pick the best waterproof boots for your specific needs and weather environment. We'll take a look at what makes a great waterproof boot product and what to avoid. Also see How To Choose The Best Waterproof Boots  later in the article.
Quick Answer: What Are The Best Waterproof Boots?
---
Best Waterproof Boots
| | Best Waterproof Boots (overall) | Best Waterproof Work Boots | Best Waterproof Hiking Boots |
| --- | --- | --- | --- |
| | Timberland White Ledge Men's Waterproof Boot | Keen Utility Men's Tacoma Soft Toe Waterproof Work Boot | Columbia Men's Newton Ridge Plus Ii Waterproof Hiking Boot |
| | | | |
| Material(s) | Leather | Leather | Leather and Synthetic |
| Sole Type | Rubber | Rubber | Synthetic |
| Special Features | Hiking boot with oiled-leather finish featuring lace-up vamp and rear pull loop | Full-grain waterproof leather upper | Techlite lightweight midsole for long lasting comfort, superior cushioning, and high energy return. |
| Customer Ratings | 4.5 / 5.0 Star | 4.5 / 5.0 Star | 4.3 / 5.0 Star |
| | | | |
Also see: Waterproof Boots Comparison Table
---
The Best Waterproof Boots Reviews
Timberland White Ledge Men's Waterproof Boot at a Glance:

Material(s): Leather
Sole Type: Rubber
Color(s): Dark Brown, Wheat, Brown, Black
Rating: 5/5.0
After much research, I finally decided that the best overall waterproof boot for general use is the Timberland White Ledge. It has a half inch platform with multidirectional traction. The nice oiled leather finish is sure to keep your feet dry.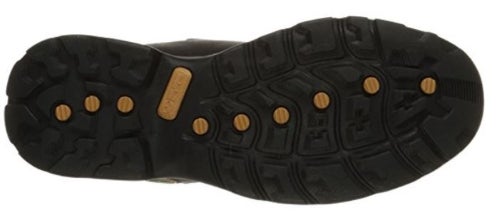 They also have a comfortable and breathable footbed that can easily be removed and cleaned or replaced if necessary. The gusseted tongue helps to relieve pressure on the top of your foot and around the ankle while still providing a secure and comfortable fit.
They are great waterproof boots for hiking, working, and even playing in the snow.
---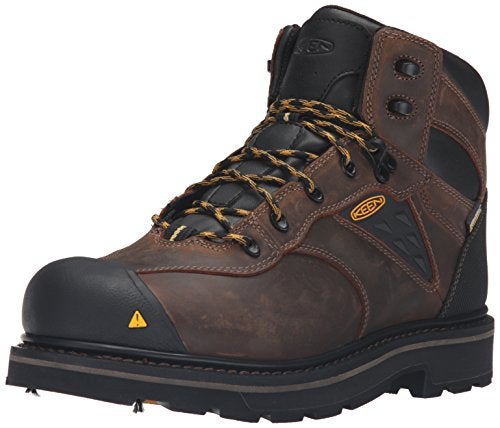 Keen Utility Men's Tacoma Soft Toe Waterproof Work Boot at a Glance:

Material(s): Leather
Sole Type: Leather and Rubber
Color(s): Cascade Brown
Rating: 5/5.0
Though these Keen Utility Men's waterproof work boots have a soft toe instead of a steel toe, they are made of strong leather with a leather and rubber sole making them still a great choice for work boots.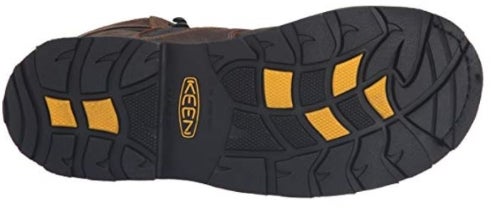 Whether you are working on the farm or working construction or even working in a restaurant kitchen, these are our top-rated best waterproof work boots. They are comfortable, durable, and provide you with the stability that you need when you spend all day on your feet.
---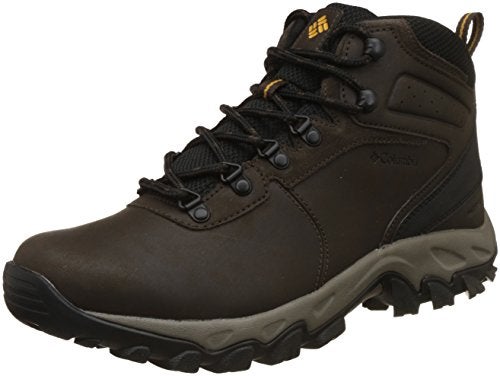 Columbia Men's Newton Ridge Plus Ii Waterproof Hiking Boot at a Glance:

Material(s): Leather and Synthetic
Sole Type: Synthetic
Color(s): Cordovan/Squash and Black/Black
Rating: 3/5.0
For the mountaineer in all of use, Columbia has designed their Newton Ridge Plus li waterproof hiking boots. Made from a combination of leather and synthetic materials, they are the top-rated best waterproof hiking boots. They are designed with waterproof hiking in mind. They even include seam-sealed construction to make sure water doesn't seep in at the seams.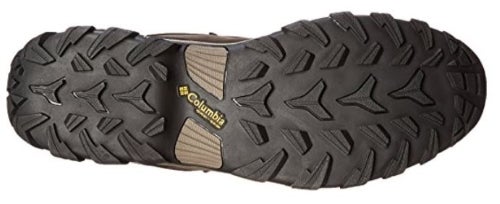 The Omni-grip no mark traction rubber provides you with the traction you need to climb those rock faces and trees. They are also lightweight thanks to the lightweight midsole design for additional comfort.
---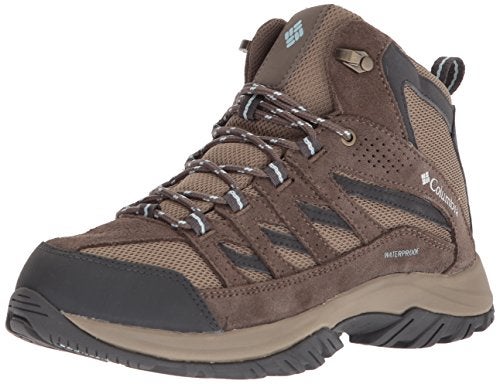 Columbia Women's Crestwood Mid Waterproof Hiking Boot at a Glance:

Material(s): Leather and Textile
Sole Type: Synthetic
Color(s): Pebble/Onyx and Ti Gray Steel/Black Raspberry
Rating: 0/5.0
For the women who aren't afraid to get down and dirty whether on the hiking trails or on the job, there is a waterproof boot designed just for you. The Columbia Crestwood Mid Waterproof boot is specifically designed for hiking but could also be used in other situations like work boots.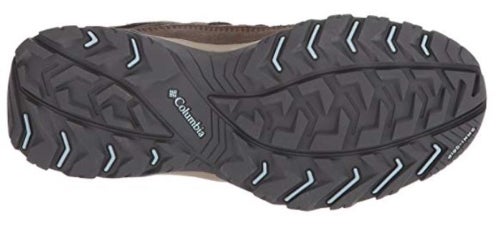 They are lighter in weight than most of the waterproof hiking boots designed for men and they only weigh about 14 ounces. They are made of a combination of leather, textile, and synthetic materials.
They are comfortable from the moment that you put them on right out of the box and you don't have to worry about them rubbing blisters on your feet. The Columbia Crestwood is our top-rated best waterproof women's boots.
---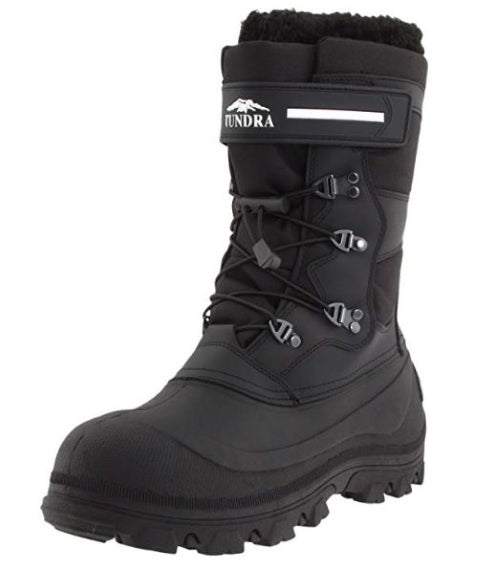 Tundra Men's Toronto Boot at a Glance:

Material(s): Fabric and Synthetic
Sole Type: Synthetic
Color(s): Black
Rating: 4/5.0
The final waterproof boot on my list is the Tundra Men's Toronto Boot. The name pretty much said it all, if it is good enough for winters in Toronto, it's good enough for you. In our review the Tundra Toronto is the top-rated best waterproof winter boots.
These winter boots are made of fabric and synthetic materials but they are are still pretty water resistant as long as you don't try to walk through a semi-frozen river. The fleece lined inside makes them super warm and the can easily be paired with thick socks for extra warmth.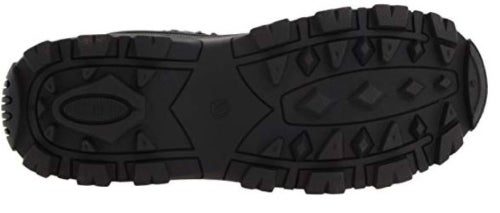 Instead of laces that need to be tied, they have a bungee lace system so they are easy to tighten and loosen. The shaft of the boot is about 12 inches so it should go up to about the middle of your calf, helping to keep the snow from getting down in your shoes.
The shaft also has a nice plush inside for an added bit of comfort so they don't rub your calves or leave blisters.
---
Waterproof Boots Comparison Table
---
How to Choose the Best Waterproof Boots
Regardless of your outdoor sport, hobby or work-related activity the need for waterproof boots is pretty commonplace. The best waterproof boots can repel water away and create a barrier to seal out moisture and keep dryness inside the boots.
Your feet need to stay warm and dry for safety, comfort and performance, no matter whether it's a fun or a working event. In this article we review and compare the top-rated waterproof boot brands and their top-performing waterproof boot product.
Whether you work at a construction site every day or you enjoy going hiking on the weekends, a good pair of boots can come in handy. Especially, if that pair of boots is waterproof. Not all waterproof boots are created equally though so if you want to get your money's worth, doing your research is a good idea.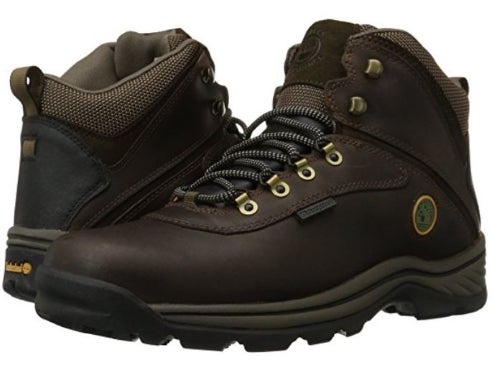 After doing the research, I have come to the conclusion that these are the best waterproof boots in five different categories. I am giving you the best boot overall, in addition to the best boots for work, hiking, women, and winter.
I am also going to give you a list of things to look for if you decide to do some more research, FAQs, and a few helpful hints for shopping for waterproof boots. Let's get started!
Before you go to the nearest shoe shops and buy the first pair of waterproof boots you see, stop and finish reading this article first. My intentions are to get you a pair of boots that are top quality for a good price that will last you a long time.
Stop and consider these five things before running out and buying something. I believe you'll thank me for it if you do.
Things to Consider Before You Buy Waterproof Boots
Material
Sole
Style
Traction
Toe Type
Material
For truly waterproof boots, they have to be made of a high quality, waterproof material. Most boots that are waterproof are made of either leather or synthetic material. Occasionally, you will find some that are made of a textile material that has been treated to be waterproof as well.
The higher quality the material and the assembly, the less likely you are to have leakage. If you aren't sure what is good quality leather, talk to someone who has worn the shoes before, read a review, or check out the boots in this guide.
Sole
The sole of the shoes is very important. This is where you have arch support so your feet don't get tired or achy and this is what fills the space between your feet and the ground. Making sure that you have a strong and supportive sole made of durable material is important.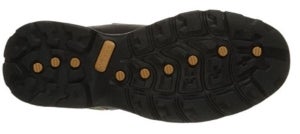 Nowadays, most soles are made of synthetic materials because it is cheaper than leather and rubber. This doesn't mean that the shoe quality is lower because it uses synthetic. In fact, synthetic material production is something that continues to improve as time passes.
Synthetic, leather, and rubber are all great choices for shoe soles. You just have to make sure it is a high quality of whichever material you choose to purchase.
Style
When it comes to waterproof boots, there are several styles to choose from. You have the rubber rain boots of course but those don't work very well as waterproof winter boots. And they most certainly can't be used as waterproof steel-toed work boots.
When you are getting into the higher quality waterproof boots for work and other activities, you have two things to consider with style. Do you want your boots to fall below the ankle or do you want your boots to go to the middle of your calf?
If you are looking for waterproof winter boots and you live in a place that gets a log of snow, consider the mid-calf boots. If you are just going hiking during the warmer months and won't encounter deep snow, the waterproof boots that fall below the ankle should be more than suffice.
Traction
Traction is important in any style of shoe. But it is extremely important in the case of waterproof safety boots or waterproof work boots. The traction is essentially the bottom of the shoe and its ability to grip the floor so that you don't fall.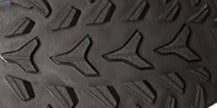 A good solid traction design is going to include lugs going in multiple directions so that no matter which way you step, the shoe should still grip the ground.
The bottom of the shoe is just as important as the way it feels when you slip your foot into it. Pay attention to traction for the sake of your own safety. Waterproof slip-resistant boots are your best option when it comes to safety.
Toe Type
This is referring to whether it is a steel-toed waterproof boot or a soft-toed waterproof boot. If you are going to be using them as waterproof work boots, you might want to consider the extra protection that steel toe provides. If you are just using them for playing in the snow or working in the garden, the steel toe may not be necessary.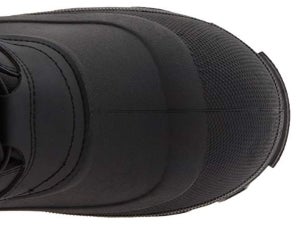 This tends to be a preference if it is not a job requirement. The good thing about steel toes is the additional protection. On the other hand, steel-toed boots also tend to be a lot heavier and can make you more tired when wearing them, at least until you adjust.
---
FAQs About Waterproof Boots
Q: Can you buy men's waterproof boots for a woman to wear?
A: Yes, the only thing that you really need to keep in mind is the size differences. Waterproof hiking boots and work boots don't have to be gender specific. In fact, the only reason they are referred to as "men's" or "women's" is for the purpose of size. As a general rule, when buying men's shoes for a woman's foot, buy two sizes smaller than the woman's normal shoe size. But it is important to always try them on to make sure they are comfortable.
---
Q: Do they need to be treated with any special kind of oil?

A: This depends on the boots that you choose to buy. If you buy leather waterproof boots, yes, they will require some care and maintenance if you want to extend the life of the boots to their fullest potential. Mink oil is what is usually used on leather.
---
Q: What should I do if they get wet?

A: The exterior of waterproof shoes is usually the only part of the shoe that is completely waterproof. That means that if you decide to walk through a creek in water up to your knees, the inside of your shoes will most likely get wet. If the shoes are made of leather, you probably don't want to use a heat source to dry them because this can dry out and damage the leather. You can try putting them in front of a fan or place socks filled with uncooked rice or even cat litter inside to help draw out the moisture. Then you can use foot deodorizers to help if there is a smell from getting them wet.
---
Q: Are waterproof boots heavy?

A: This is one of those things that depends on the specific boot. In my list, most of the shoes weigh around 2 pounds as a pair. There is one that is close to 5 pounds. If you buy steel-toed boots, they will naturally weight more. Synthetic also tends to be lightweight than leather. If you are looking for lightweight waterproof boots, you might have to be willing to sacrifices other features like the steel toe to make the boots lighter.
---
Q: Should I order a size larger or smaller than my normal shoe size?

A: Normally, boots run small. If you are going to be wearing thick socks to keep your feet warm, that is also something to consider. It is probably a good idea to order one size larger than what you would buy in tennis shoes. But of course, shoe sizes are not always the same between different companies so it is advisable to always try them on before you make a purchase. If you are ordering them online, make sure there is a return policy in case you receive them and they don't fit.
---
Helpful Tips
Avoid getting water inside the shoes. Even shoes that say they are 100% waterproof are usually talking about the outside of the shoe, not the inside. To help extend the life of your shoes and avoid unnecessary wear and tear, don't let water get inside, if possible. If it is unavoidable, take measures to dry out the insides as soon as possible.
Buy shoes that are designed for the job. If you are going hiking, buy waterproof hiking boots. If you are a woman, they sell waterproof boots for women. If you need them for work, make sure they have additional features like extra slip resistant waterproof boots or steel-toed waterproof bo
Keep them clean. If you want your shoes to last, you have to take care of them. That means cleaning them after tromping through mud puddles. Or applying mink oil to them if they are made of leather.
Now that you know so much about waterproof boots, you should be able to find the pair that is perfect for you. Once you have them, lace up your boots and get to work, hit the trails, or go outside and build a snowman if that's what you want to do.
---
Thanks for reading The 5 Best Waterproof Boots. We hope this article has helped you to discover the best choice for waterproof boots to meet your needs and types of outdoor activities. You might also be interested in our informative article entitled, Winter Clothing Materials and Fabrics.
If you have any questions or comments for us just use this Contact Form.
MORE WINTER GEAR  HEATED GLOVES | DOWN JACKETS | FLEECE JACKETS | BASE LAYERS | BEANIES | WINTER GLOVES | WATERPROOF BOOTS | NECK WARMERS & GAITERS | HEATED JACKETS | HARDSHELL JACKETS | SOFTSHELL JACKETS | WINDBREAKERS | ICE FISHING BOOTS
Notice: Outside Pursuits is a participant in the Amazon Services LLC Associates Program, an affiliate advertising program to provide a means for sites to earn advertising fees sold through by advertising and linking to Amazon.com. Amazon offers a small commission on products sold through their affiliate links. Each of your purchases via our Amazon affiliate links supports our efforts to bring you the best possible product reviews at no additional cost to you. We appreciate your support here at OutsidePursuits.com