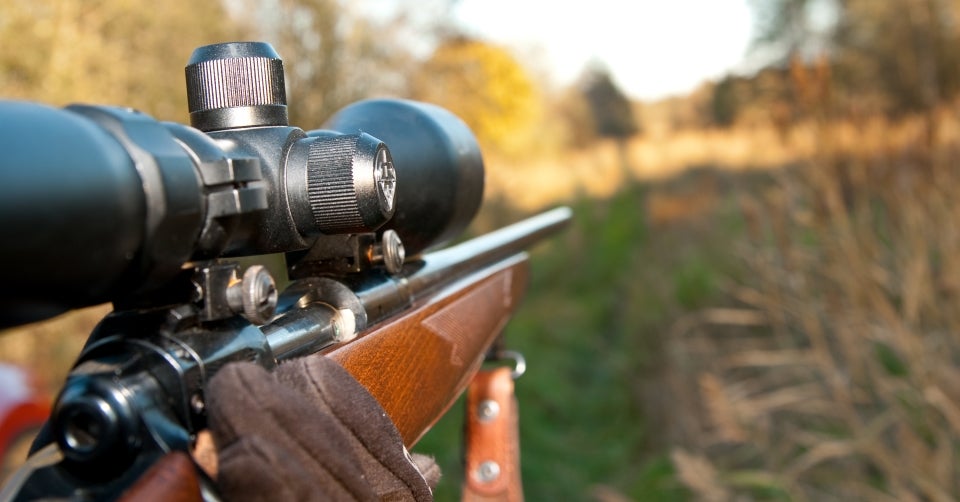 Our Editors independently research, test, and rate what we feel are the best products. We use affiliate links and may receive a small commission on purchases.
In this product review article our hunting editor, Casey Fiedler, walks you through everything you need to know in order to pick the best rifle scope for your specific needs and hunting situation. We'll take a look at what makes a top-rated hunting scope and what to avoid.
Also see How To Choose The Best Hunting Scope later in the article. What are the best rifle scopes for hunting?
Best Hunting Rifle Scopes
Also see: Hunting Rifle Scope Comparison Table
---
Quick Answer: The 5 Best-Rated Hunting Scopes Reviewed
---
Hunting Rifle Scopes Reviews
4:1 zoom ratio
Made for whitetail hunters
Multi-coated lens
Nikon is a name that we can all trust when it comes to optics. While I know we all like to keep costs down, when it comes to hunting scopes sometimes it's worth our time to trust the company making our optics.
If you're hunting up to 300 yards, which is most of us in the midwest, this scope is going to give you that 4:1 sweet spot from 0 – 300 yards. So a 200 yard shot means 8x zoom with this scope.
I would say this is a scope that will suit most moderate hunters. If you're at the pro level or extreme enthusiast you may want something with a little more zing. However, for an upgrade or an affordable, reliable scope on just about any rifle this will do the trick.
It comes with lens covers but no mountain hardware so you'll want to add your own rings for mounting. While I might have liked to see a 50mm objective, I think in reality 40mm is plenty for a 12x scope.
Best for midwest hunters and those shooting at ranges of 300-400 yards maximum.

---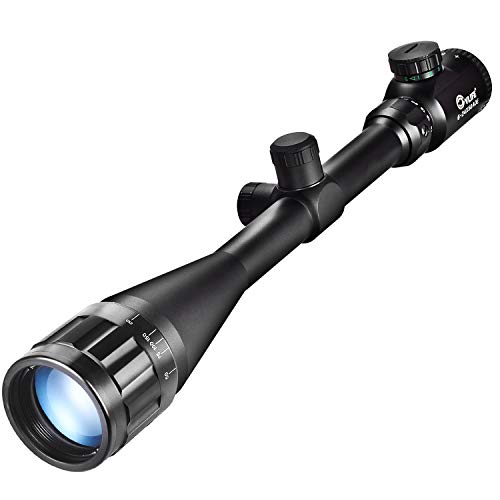 Very low price
Illuminated reticle
Hardware included
This one makes our list because it's so widely and highly reviewed that there must be something to it, right? I mean if over 1,600 people like your product enough to tell others about it then I think it's worth our consideration.
Now, let me very straightforward – this scope isn't going to make you happy if you're looking for the top quality optics available from some makers. It will make you happy if you're looking for a ready to use solution at an affordable price tag.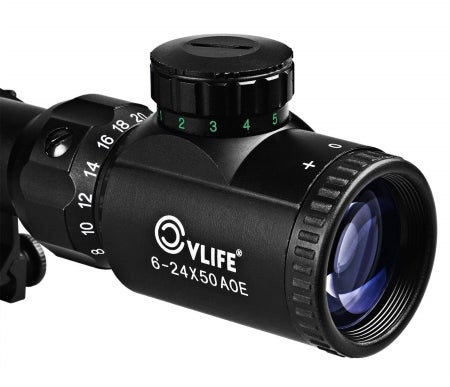 Despite the 50mm objective and 24x zoom I think most users will be happy using this scope up to about 12x. The lenses aren't coated and while the reticle has compensated drop, we don't know if it's first focal or second focal plane.
All that said, I think the scope could use some improvements. However, if it had all the top of the line features it wouldn't be so affordable. And therein lies the rub, that users looking for top shelf brands are just going to have to spend more.
Best for a very affordable scope that can keep most beginners happy and is ready to use!

---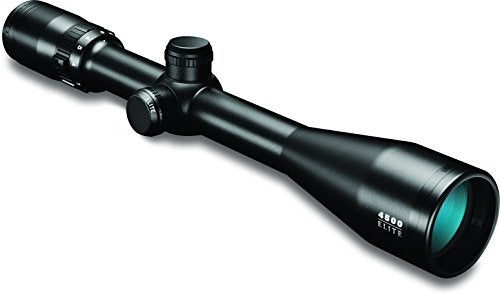 Nitrogen filled tube
Waterproof, fogproof, shockproof
Fully multi-coated lens
So, if you're not impressed by the budget optics we just looked at, maybe you're looking for that elite level optic. Not surprisingly the Bushnell Elite 6500 is just the ticket for you. Be ready to stomach the heavy price tag if you want the performance, though.
Bushnell has been making hunting scopes for years and they know how to do it. That's why this scope delivers performance from dense eastern forest to the open plains of the West.
You're guaranteed the best visual clarity on the market, especially at the price range. While it's one of the most expensive scopes on our list you're paying for quality. 50mm objective gathers as much light as possible. The fully multi coated lenses make sure that light passes through at nearly 100% efficiency.
Of course as it passes through the nitrogen filled tube you get full control of the reticle. The push/pull turrets have resettable zero benchmarks for ease of use. After each shot you can zero out with reliable consistency.
Let's just be honest you're not going to get quality like this without putting your money where your mouth is.
Best for hunters who shoot widely variable distances and need quality that won't back down.

---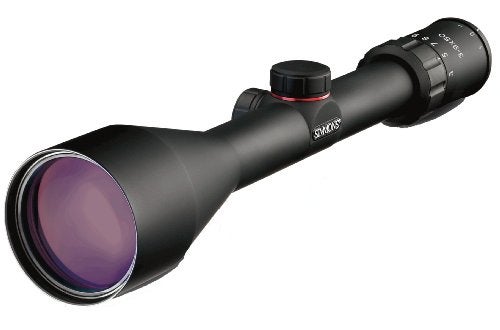 Fully coated lens
50mm objective lens
Waterproof, fogproof, shockproof
I remember my first Simmons scope on the .22 that I got for squirrel hunting as a kid. It was the best scope my parents could afford and to this day that single 4x zoom scope still sits on my Ruger. I don't think I've ever had to re-sight it in.
I would probably point anyone looking for a reliable scope at a cheap price towards a Simmons scope. That doesn't make them bad or good, it just means they know who their target audience is.
At a 3:1 zoom ratio this scope is probably best suited to short range 300 yard shots or less. For that reason I'd recommend that you consider this scope when hunting denser vegetation or short distance shooting lanes.
I think the simplicity of features and affordable price make this scope the perfect companion for any beginner hunter. Experienced hunters putting together a new kit at a budget price will probably be quite happy with the performance to value ratio.
Best for an easy to use scope that you can count on even at a value driven price.

---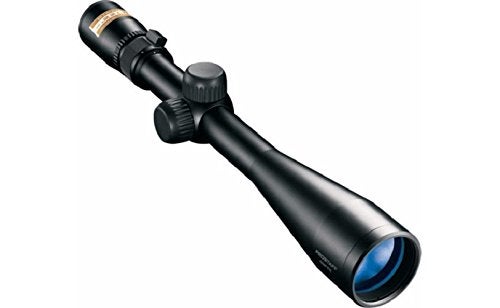 Fully multi coated
Zero-reset turrets
Made for rimfire rifles specifically
Nikon is another one of those iconic names that just can't be ignored. I settled on this scope as our last pick for the list today for several reasons. Principally, it's the only scope on our list designed specifically for rimfire rifles.
Rimfire rifles, as you're probably aware, are things like the .22, .22 mag, .17 HMR, and other small calibers. They're a little more gentle on optics than the centerfire rounds of higher caliber rifles.
For that reason you can get a nice scope like this 4-12x zoom with a large 40mm objective with coated lenses for a pretty reasonable price. This one happens to be down around the $100 price tag. Don't be a fool and try this on a high caliber rifle though, you'll eventually damage it.
Most .22 hunters don't need the 12x zoom and for that reason I would say this scope is best for .22 magnum and .17 HMR hunters. It should be great across all the ranges of distance you're likely to encounter in open prairie or woodland varmint hunting within the capabilities of these rifles.
Best for high power rimfire rounds in variable distance settings such as treelines.

---
Hunting Rifle Scope Comparison Table
---
How to Choose the Best Hunting Scope
Before you head out to the blind with that hand me down rifle from old grandpa you might want to get a new scope. I remember taking out the family .223 and pulling up on a decent whitetail buck just to find out that the scope had to be from 1950. It was partially square, hard to see through, dirty as all get out, and pretty much useless.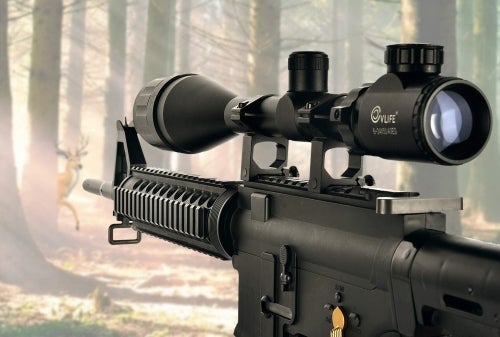 That was when I took to the interwebs and started my searches for new deer hunting scopes. Didn't take me long to figure out that most of the "reviews" and articles about the best hunting rifle scopes were written in bad English by some computer robot. I'm not about that.
That's why we're going to walk you through every step of the process as we work to figure out the best hunting scope for you. I'll go over the good, bad, and ugly of today's scopes and by the end of your read you'll know exactly what to buy and what to avoid.
Main Tube
Every hunting scope will have a single main tube that channels all the light from the lenses. This tube is responsible for housing the interior lenses and reticles as well as providing the structural integrity of the scope.
Most hunters are going to need nothing more than the standard 1" main tube which measures 30mm. These scopes are by far the most common size tube and their accessories are numerous.
Of course, you can go up a size to 34mm but you'll face a few setbacks. Yes, the light gathering and adjustability will be improved but only for elite marksmen and only really at long distances unlikely to be used in hunting.
Before you cough up the cash for a large main tube, make sure it's worth it. These scopes are pricey and their mounting rings, attachments, and adapters are less common and much more expensive than the common 1" tube.
Most experts will tell you that the improvements gained with larger main tubes aren't worth the costs involved except for elite level shooters.
Gas Filled Tubes
Cheap scopes and older scopes were just filled with atmospheric air. Of course, as we all know, this air is full of dust, pollen, and moisture among other things.
Turns out that when all that junk gets inside a high quality scope it ruins the whole thing. That's how you get things like specs on the optics and internal fogging.
So, how's it fixed? Well, some over-paid chump came up with the idea to suck out all the atmospheric air and fill high end scopes with inert gasses like nitrogen. That way the "air" inside is perfectly pure and can't mess with the visual clarity of your scope.
Objective Lens
This is the front lens on any scope and it's one of the most important factors in any long range optics. For hunting scopes objectives can range from 20mm to upwards of 80m in some extreme cases.
So, what's the difference? Larger objective lenses offer:

Better low light shooting
Brighter images
Clearer images
Large objective lenses also bring along some baggage like:
Higher price
Heavier weight
More expensive mounting hardware
Bulkier rifle profile
Don't be tempted to prioritize objective size above all else – it won't pay off. You can put lipstick on a pig, but it's still a pig, right? In the same way, a cheap scope with large a objective lens will still be a poor performer if the glass and lens quality is low.
Most hunters will say that the best hunting rifle scopes focus on quality of glass first, size of optics second.
Hunting Scope Glass
Arguably the single most important factor of a quality long range hunting scope is the glass itself. This glass is responsible for gathering, transmitting, and focusing every single little ray of light into your eye. If this process is interrupted, you'll be off with your shot.
Often you'll run into terms like High Density (HD) or Extra-Low Dispersion (ED) glass. Many manufacturers have different terms for their glass quality but don't get fooled.
Just because a company puts fancy sales language on it doesn't make it good glass.
To find out how good the glass in your scope may be, head to the manufacturer's website and do some research. If they have poor information, bad reviews, or no website at all chances are good they're using cheap junk.
Great manufacturers have quality websites, good videos, and clear information that won't mislead you in a purchase. They should explain what it's made from and how their glass works.
Of course, you may still be able to get an acceptable scope from an "unknown" manufacturer but it can sometimes feel like a guessing game to figure out the details of the scope you're looking at.
Lens Coatings
You're going to immediately see this information in every scope listing. When you're shopping for optics expect to get overloaded with "coated" this and "multi coated" that.
There are 5 levels of lens coating and they're all meant to increase the absorption of light and minimize reflection of light off the objective lens. That said, some advanced coating can be applied to interior surfaces for other purposes.
Uncoated
Has no coating and performs poorly due to reflection of light off the front glass.
Coated
Coated lenses usually have a single layer of light absorbing material deposited on the surface of the glass. This is better than uncoated, but not great by today's standards.
Fully-coated
Fully-coated enses may have improved coatings or advanced coating types. These are slim improvements over a coated lens and often unclear by the manufacturer.
Multi-coated
Multi-coated lenses have more than one lens coating. This may be absorptive coatings, fog proof coatings, or scratch resistant coating among others. They may also have more than one type of absorptive coating.
Fully Multi-coated
Fully multi-coated lenses are coated to absorb all wavelengths of light properly. They may also have other types of coatings involved. These are the best coatings available today.
It's common that cheap scopes have a coated objective and uncoated internal lenses. This can really ruin the overall quality of the scope because internal surfaces may reflect all that light that the objective lens worked so hard to gather up! The result is as poor of an image as if nothing were coated to begin with.
Reticle Types
There are so many crosshair types these days for scopes that it would be silly of me to try to list them all. Instead I'll give you a few things to think about when you start selecting the reticle that's going to do the work for your scope.
Close / Fast-moving Targets
For close or fast moving objects a thicker and easier to acquire reticle is probably best. Thick crosshairs or a dot style reticle of some type will most likely provide great results for your next hunt.
Midrange
At midrange you'll want a reticle that's sized down a bit so it won't cover up too much of your target. However, there's a good chance you'll still be taking a slightly moving shot or a quick shot. Your preference will determine if you want a larger or small reticle for these.
Long-Range
Long-range shooting or targeting small animals like rodents and varmints means using a thin crosshair or reticle. Large reticles will cover up too much of your target on small animals or at great distances.
Windage / Elevation
For windage and elevation nothing is more common than the mil-dot reticle. There are other options out there, though mostly for target shooting and not hunting.
Illuminated
Illuminated reticles include red dots and glowing crosshair style scopes. These are sometimes illegal so double check before the CO confiscates your rifle and your license.
Focal Plane
You may or may not be aware that reticles in your scope can be located in different areas. There are two places a reticle can live: the first or second focal plane.
Reticles near the front of the scope are said to be in the first focal plane. These reticles have the distinct advantage of maintaining scale and accuracy across the full range of zoom levels in an adjustable scope.
Reticles near the back of the scope are said to be in the second focal plane. These reticles do not scale with a change in optic zoom. That means if you're using something like mil-dots to know and learn your elevation and windage, they'll only work consistently at a single specific zoom level.
For any trajectory compensating scopes make sure the reticle is in the first focal plane. Some cheap manufacturers will fail to do this properly which results in a nearly useless scope.
Magnification and Zoom
This is the real reason we all want a hunting scope, right? We need to see something further away as if it's right in front of us.
I'll try to help give you some guidelines but every hunter has their own preferences. Today's shooters typically go with a 3:1 or 4:1 zoom ratio. That means for every 100 yards of distance you'll want about 3-4x zoom.
If you know that you make most of your shots between 100-300 yards then with the 3:1 ratio you'd need a scope that adjusts from 3x – 9x power.
Using that same scale, a 900 yard shot would call for 27x zoom and a 1,000 yard shot would be 30x zoom.
Of course, most of us hunters are taking shots down in the 50 – 300 yard range so the most common scope types tend to be 3-9x or so.
You've got to be careful about going crazy with zoom. High zoom scopes come with drawbacks at close range so select a scope with a reasonable maximum for your normal hunting.
Adjustable Turrets
Every scope has to be sighted in to the rifle. Generally you'll do this when you set up the scope and then once each year before hunting season to double check.
Most hunting scopes are going to use the ¼" adjustment intervals. These are easy to use because we're all familiar with that measurement and we can easily compensate. A step by step guide to sighting in your scope is a little outside the bounds of this article though.
These reticle adjustments are different than on-the-fly adjustable turrets. Once sighted in, scopes with adjustable turrets can be set to different yardage, windage, or elevation settings in the field.
An important feature on these scopes is a "return to zero". I used one on my .17 HMR that was a cheap model and the return to zero wasn't accurate so over time the scope began to wander the more I used the compensation settings on the adjustable turret. It was a waste of my money.
Be careful about opting for the "fancy" tactical mil style adjustments. They are great for truly advanced shooters who have mastered the system.
However, for most weekend warrior hunters like us, the ¼" system is a little more familiar and easy to remember.
If you're a gungho tacti-casual type of high speed low drag hometown operator, mil-dots and mil adjustable turrets might be in your wheelhouse.
FAQs – Frequently Asked Questions
Question: What's the best scope for hunting squirrels?
Answer: You're pretty likely to be happy with an inexpensive scope on an affordable .22 long rifle. Keep it simple and cheap.
4x is a great start to work with for squirrel and other varmints. You'll need to keep the reticle small and avoid anything with windage and elevation adjustments – you're just not gonna need them and they cloud the visual space.
Question: What mounting hardware do I need?
Answer: Depending on your rifle you'll need different mounting rings. Most of the time you can get dovetail 30mm rings and they'll do you just fine.
If you don't have a dovetail or picatinny rail you'll need to get a gunsmith to install one for you. Don't attempt this on your own as it's easy to destroy your file with an errant drill bit.
If you hunt fast moving or close targets like varmints you might want scope risers called "iron sighters". These leave room under the scope for you to still be able to use the iron sights to shoot!
Question: Should I get an illuminated scope?
Answer: Actually illuminated reticles can be illegal in some areas. It depends on what you're hunting and what area you live in.
If you're not sure just call your local DNR office or police station. They may not know but they can forward you to someone who does know.
These scopes can be helpful not only just in the dusk and dawn but also in dark or dense vegetation. Illuminated scopes are probably most helpful with target acquisition on fast moving targets.
Illuminated scopes are, by far, the best low light scopes available when paired with large 50mm objective lenses.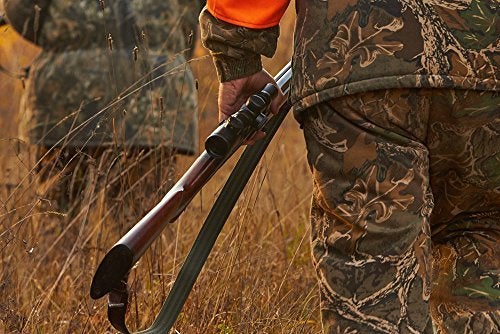 Conclusion
There's a lot to know about hunting scopes. Don't get stuck in analysis paralysis though. It's not hard to pick up a great scope that will do you just fine at a price that you won't lose sleep over. When in doubt keep things simple, reliable, and affordable.
---
Thanks for reading The 5 Best Hunting Rifle Scopes. We hope this article has helped you to discover the best choice for a rifle scope for hunting to meet your needs and preferences. You might also be interested in our related and informative deer hunting article entitled, Deer Hunting Regions of the United States.
You might also be interested in these related review articles:
SHOOTING & ARCHERY AIR RIFLES | AIR RIFLE SCOPES | COMPOUND BOWS | CROSSBOWS | PISTOL CROSSBOWS | RECURVE BOWS | HANDGUN SAFES | BIOMETRIC GUN CASES | RIFLE CASES | COMPOUND BOW CASES | CROSSBOW CASES
HUNTING GEAR HUNTING BOWS | CROSSBOWS | HUNTING ARROWS | TREE STANDS | HUNTING BOOTS | HUNTING BACKPACKS | HUNTING RIFLE SCOPES | HUNTING BINOCULARS | LASER RANGEFINDERS | HUNTING HEADLAMPS | TRAIL CAMERAS | HUNTING GPS | BOW SIGHTS | SPOTTING SCOPES | HUNTING BLINDS
How We Researched
To come up with the top hunting rifle scopes, we researched a variety of sources for reviews such as REI, Backcountry, Moosejaw, EVO along with our own personal experience.
We also consulted online magazines for product research and reviews to get as much unbiased information as we could. To help weed out fake reviews we used Fakespot.com to make sure we only looked at genuine reviews.
With so much quality gear available, we had to narrow it down based on what we felt were the best options were for the price. The author, Casey Fiedler is an avid hunter and outdoorsman. He has successfully guided hunting parties across remote wilderness areas.
To help narrow down the selection he used his personal experience along with recommendations from fellow hunters and hunting outfitters.
After extensive research, we came up with our list to help you choose the right one for you.
Sources
Notice:
OutsidePursuits.com is a participant in the Amazon Services LLC Associates Program, an affiliate advertising program. OutsidePursuits.com earns fees from products sold through qualifying purchases by linking to Amazon.com. Amazon offers a commission on products sold through their affiliate links.