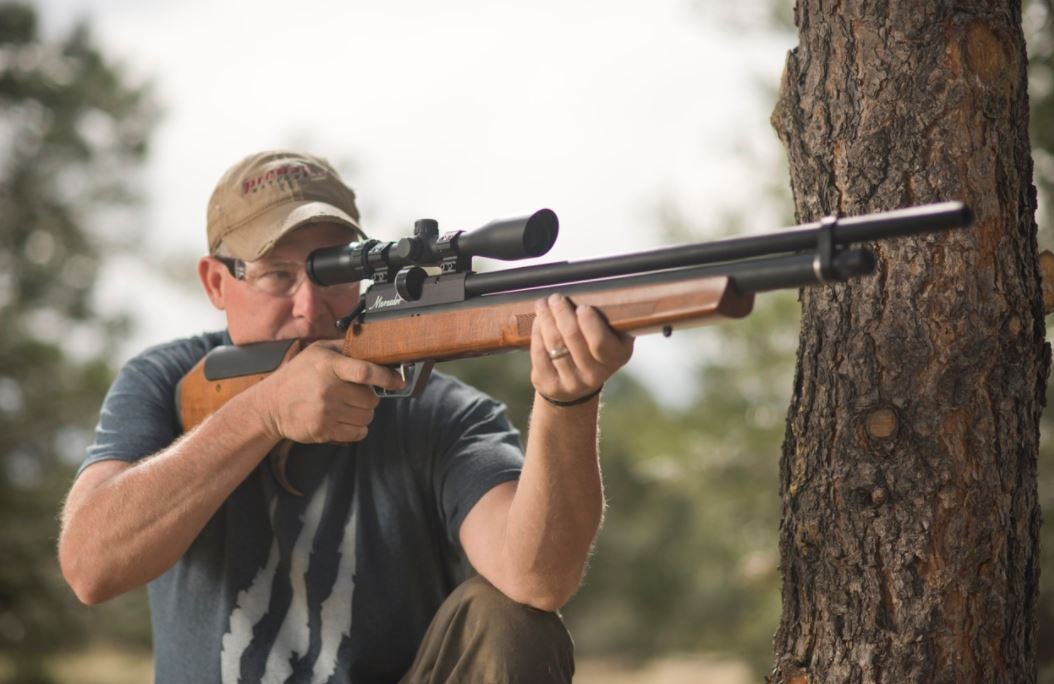 Our Editors independently research, test, and rate what we feel are the best products. We use affiliate links and may receive a small commission on purchases.
If you're an air rifle lover then you'll appreciate Outside Pursuits' review and comparison of the best air rifle scopes.  You spent top dollar on your air rifle, but the supplied optics may not be adequate to match the power and accuracy of your air gun. There's no sense in using a cheap, basic scope on an expensive pellet gun.
First, we'll review our top picks for the best air rifle scopes, and then go through the technical specs and criteria we used for rating these products in How To Choose The Best Air Rifle Scope. 
Best Air Rifle Scopes
| | CVLIFE Hunting Rifle Scope 2.5-10x40e | UTG 3-9X32 1″ BugBuster Scope | BARSKA 3-12x40 AO Airgun Rifle Scope |
| --- | --- | --- | --- |
| | | | |
| | | | |
| Weight: | 580g | 0.87 pounds | 1 pound |
| Material: | Aluminum | Aluminum | Aluminum |
| Magnification: | 10x | 9x | 12x |
| Features: | Red or green illuminated reticle, adjustable turrets | Adjustable turrets for vertical and horizontal offset, red or green illuminated reticle | Fully coated lenses, parallax adjustable objective lens |
| | | | |
Also see: YouTube Video Review and Air Rifle Scopes Comparison Table
---
Quick Answer: The 5 Best-Rated Air Rifle Scopes
---
Air Rifle Scopes Reviews
CVLIFE makes scopes that span the spectrum for an audience of raving fans that have nothing but good things to say. This 2.5 – 10x power scope features an additional laser that can reach up to 100 yards with precision accuracy.
Features of the CVLIFE

Hunting

Rifle Scope:
Weight: 580g
Material: Aluminum
Magnification: 10x
Features: Red or green illuminated reticle, adjustable turrets
I do like that this scope comes with adjustable turrets for on-the-fly corrections. Once sighted in and zeroed out at a certain distance, you can adjust the crosshairs based on alternate distances on the fly.

The variable scope can be compensated with a Kellner eyepiece which moves in and out ever so slightly to adjust for image clarity at different magnification settings. This is combined with three choices of reticle – black, red, or green.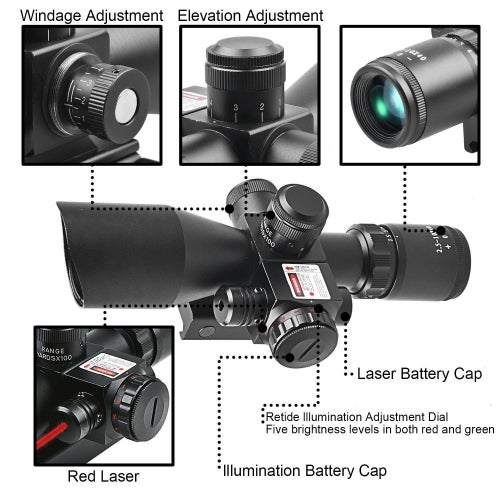 Each illuminated setting has 5 levels of brightness so you can adjust the levels down to avoid blinding yourself in low light settings.

Overall this is an excellent scope with tons of high end features at a price anyone can love. They even included more than one size dovetail mount to make sure it fits your rifle out of the box.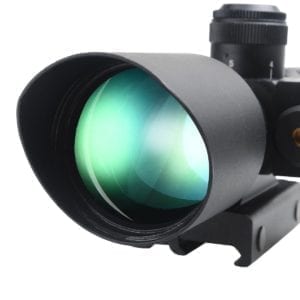 Best for a well-rounded scope that can do it all through a range of magnification levels.

---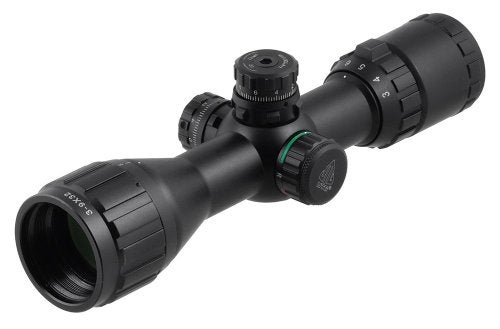 UTG has managed to land a fan favorite by combining an affordable scope with quality optics and reliability. At a price that's hard to argue with, UTG has managed to pack in some great high end features.

Features of the UTG BugBuster Rifle Scope:
Weight: 0.87 pounds
Material: Aluminum
Magnification: 9x
Features: Adjustable turrets for vertical and horizontal offset, red or green illuminated reticle
Inside the watertight sealed scope housing is nitrogen gas. This gas is free from humidity or chemicals that could cloud or condense on the inside of the scope. That ensures a crystal clear visual experience no matter what happens outside the scope.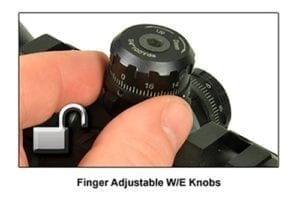 I like that it has a selection of red or green illumination on the internal reticles. Depending on your preference and light conditions, you can choose which illumination helps with reticle retention the best.

Overall this 3-9 power magnification scope revolves around a 32mm objective lens which can be adjusted from 3 yards to infinity. That means clear visuals no matter how close or far your target, although we don't recommend using the scope from 3 meters away!

Best for short to mid range shooting with illuminated reticles for low light.

---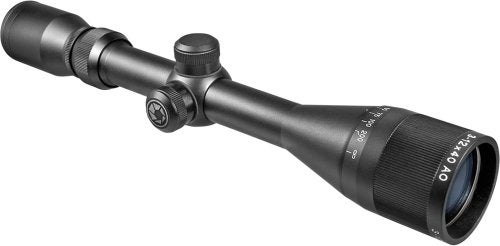 BARSKA is a common name in rifle optics and they're delivering a heck of a scope at a steal of a price. This air gun specific scope is meant to take in tons of light and give you great clarity of image at up to 12x power!

Features of the BARSKA 3-12x40 AO Air

Gun

Rifle Scope:
Weight: 1 pound
Material: Aluminum
Magnification: 12x
Features: Fully coated lenses, parallax adjustable objective lens
This scope is built around a 1" main tube which is quite common for this size of optics. Luckily, however, they kept things simple. If anything, many scopes for air rifles are overly complicated. Not so with the BARSKA.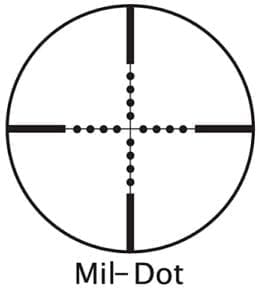 There's an adjustment for zoom power near the rear of the scope. In the center is a vertical and horizontal reticle adjustment.

At the front the bell can be adjusted for objective lens parallax correction. That's all there is to this powerful scope, but do we really need any more with an air rifle scope?

I like that the scope comes with fully coated lenses which help minimize glare and visual distortion in the image. I would have liked to see a regular crosshair reticle rather than the mil-dot reticle though. For air rifles, a mil-dot reticle just doesn't seem necessary.

I do like the relatively large 40mm objective lens. That makes this scope a great choice at high zoom or in low light conditions where extra light can enter the optic.

Best for a no-nonsense scope with tons of magnification for your air rifle.

---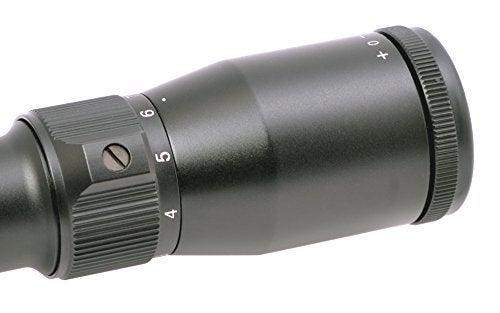 Looking for an internally reinforced air rifle scope designed to stand up to the sharp ping and shock of a spring piston? Look no further. This full size rifle scope is ready to mount up on your air rifle and offers variable magnification that won't let you down.

Features of the Hammers 3-9x32AO Air Rifle Scope:
Weight: 1.65 pounds
Material: Aluminum
Magnification: 9x
Features: One-piece mount with stop pin, 3 mounting screws for the dovetail clamp
I love that this scope features a 3-9 power zoom. This really covers all the magnification levels you might want on an air rifle scope. From close range 25-30 yards or all the way out to 80-100 yards you should be able to find a comfortable zoom level.

You'll be able to fit this scope onto any ⅜" dovetail mount which is pretty standard across air rifles. Just double check the size of your dovetail mount before ordering to make sure it fits.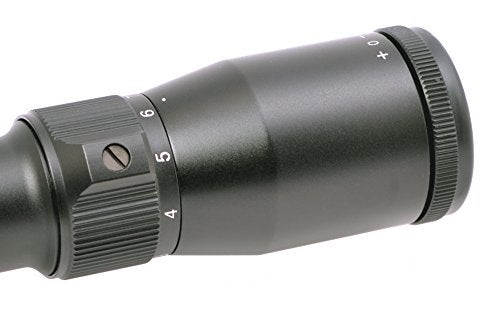 I do like that the one-piece mounting block has three screws that can be tightened down to really make sure that scope doesn't kick around during shooting. There's also a stop pin that's designed to prevent the scope from slowly sliding out of alignment over time.

Overall this scope is clearly designed to deal with the challenges of air rifle optics. It may not feature high tech illuminated optics, but many users won't need those features anyways. Everything you're likely to need, nothing you won't.

Best for high power piston type air rifles with lots of "kick".

---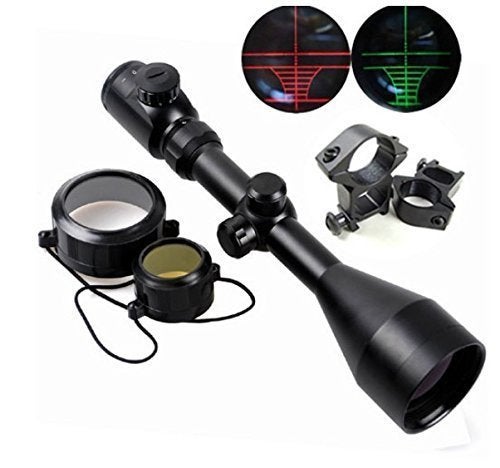 X-Aegis brings us an air rifle scope that's ready to step it up. This scope has an enormous objective lens, dual illumination options, and awesome mounting hardware. All ready to go right out of the box!

Features of the X-Aegis Tactical 3-9x56 Air Rifle Scope:
Weight: 2.1 pounds
Material: Aluminum
Magnification: 9x
Features: Dual illumination options, 56mm objective lens, see-through scope mounts
First off, let me say that I love that this scope comes with see-through scope mounts. If you remember from earlier, see-through mounts allow use of the iron sights while the scope is installed.

This is useful for close range or fast moving targets at mid range. It also provides clearance from the gun for mounting the massive 56mm objective lens.

I love that the large objective diameter makes this rifle scope one of the best on our list for low light shooting. The red illuminated reticle with 5 levels of adjustment makes a perfect accompaniment for these low light shooting situations. You can also choose green illumination if you want.

Overall there's a lot to love about this scope. Included with your purchase is a set of scope covers and a battery. It's fog-proof, shock-proof, and ready to roll right out of the box. Not a bad setup especially for low light shooting.

Best for low light shooting and see-through scope mounts.

---
Air Rifle Scopes Comparison Table
---
How to Choose the Best Air Rifle Scope
Even experienced marksmen and hunters can often feel overwhelmed when it comes to choosing a new scope. Technology seems to change daily and the technical aspects of choosing a scope can quickly feel intimidating.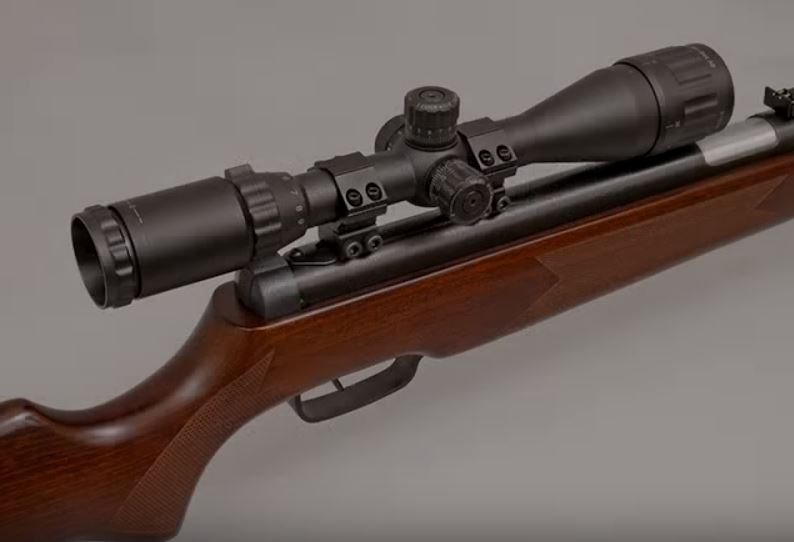 What do all the vocabulary words mean? How do you determine what scope to buy? I'm going to walk you through the process of learning how to pick out the best air rifle scope for you. I'll make it simple to understand the terminology and buy your next air rifle scope.

Let's quickly review the most important factors to keep in mind when picking out your next air rifle scope. These are the need-to-know details!
Fixed vs Variable Scopes
This one is pretty straightforward and easy to understand. Fixed air rifle scopes are preset at a single magnification and cannot be adjusted. Variable rifle scopes can be adjusted to different zoom levels on the fly. Easy, right?

Not so fast, skipper. A fixed air rifle scope has several advantages. They're easier to set and maintain because once it's sighted in, you'll rarely have to worry about calibrating it. There's no extra dial to mess with when you're using it. Just pull the rifle up, sight, and fire. Nothing to it.

Variable scopes are a little more finicky. They can require more regular adjustment and refinement since the moving parts sometimes become misaligned.

Usually this results in a slow and gradual scope drift which just needs to be sighted in again once a year or so.

However, unlike fixed scopes, variable scopes provide a lot more versatility. They can be used for long range hunting or mid to close range shooting. I personally prefer an adjustable scope.
How Much Magnification Do I Need?
Magnification usually starts at about 4x and goes up from there. If you're using a red dot scope or a close range sight you may find 1x or 2x magnification.

2-4x Magnification = 20 – 50 yard targets
6-8x Magnification = 50 – 80 yard targets
8-12x Magnification = 80 – 150+ yard targets
Magnification needs to be something that you consider in tandem with how you plan to use your air rifle. For sport and long distance competitions a higher magnification fixed zoom scope might make sense.

For hunters, a mid range variable zoom scope probably provides the most versatility. For an air pistol a red dot scope might make sense.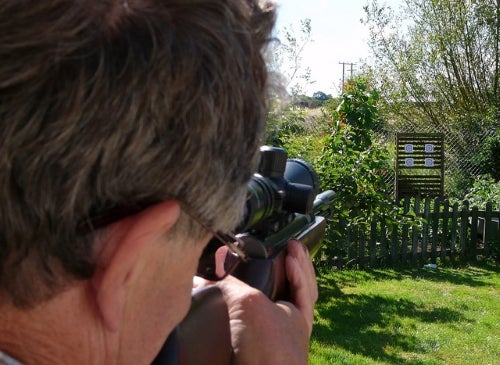 From my experience, scopes from 4-6x are adequate for squirrel hunting up to about 60-75 yards. I hunted with a 4x scope on my .22 cal for squirrel for years and never had a problem with it. Larger targets, of course, require less magnification at an equal range.

For precision and high end rifles shooting out to 100+ yards magnification of up to 12x makes sense. I use 12x magnification on my .17 cal for squirrel and love it for shots in the 70-100+ yard range.

Because of the inherent limitations of air rifle projectiles, it's unlikely that you'll be shooting regularly at ranges much above 125-150 yards tops. For that reason scopes higher than 12x seem more limiting than helpful.

Of course, some of this is subjective.
Finding the Sweet Spot
Initially it may seem that higher magnification lenses are universally more desirable. Unfortunately, it's not that simple.

High magnification lenses are significant drawbacks such as:

Difficult target acquisition at close range
Difficult eye to scope interaction (eye relief)
With high magnification lenses not only is it hard to find and see close range targets, it can be downright hard to use the scope.

As magnification power increases, the focal point becomes much more fine. That means a very slight adjustment of your eye toward or away from the scope can completely lose the image.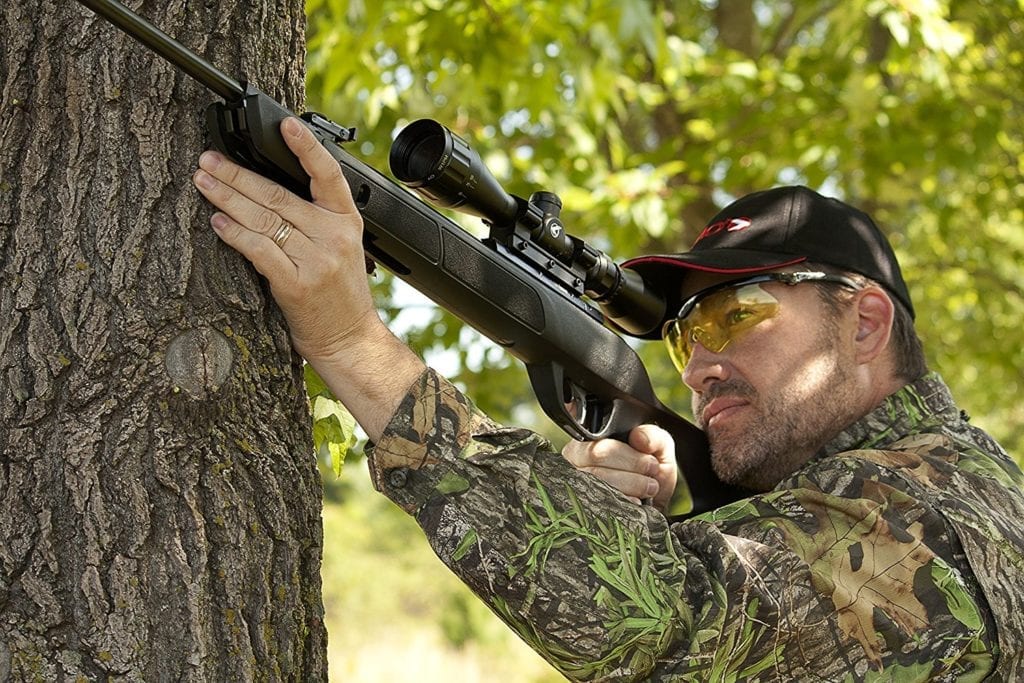 I've had many inexperienced shooters attempt to use my 12x scope and be frustrated and unable to even acquire the image. All they can see is black. Fortunately, with practice this problem goes away by understanding eye relief. For new shooters it's annoying.

High end and more expensive premium optics help eliminate these problems, but they still remain to a large degree on any high zoom power scope. It takes a refined level of skill to properly acquire and shoot with them.

When selecting an air rifle scope, don't get too crazy with the zoom power. Bigger isn't always better.
Objective Lenses
An objective lens is the front lens on any scope. These lenses are important because the dramatically affect the quality of the scope in several ways.

Objective lenses control how much light is allowed into the scope at any given moment. Therefore larger objective lenses create a brighter, crisper picture particularly in low light environments such as dusk and dawn.

Larger objective lenses also determine the scope's ultimate ability to magnify a target. Of course there are other factors at play when it comes to magnification, but all things equal, a large objective will be able to achieve greater magnification than a smaller objective.

So, are large objective lenses always desirable? To some degree. But beware! Large objective lenses can get in the way of your mounting hardware. You may need to add lifters to fit the scope on your rifle, or try other modifications to get a huge objective lens onto an air rifle.
Mounting Hardware
There are so many variations on mounting hardware that it's difficult to cover it all in one article. That's why I'm just going to mention one of the most helpful pieces of mounting hardware for any air rifle scope: see-through scope mounts.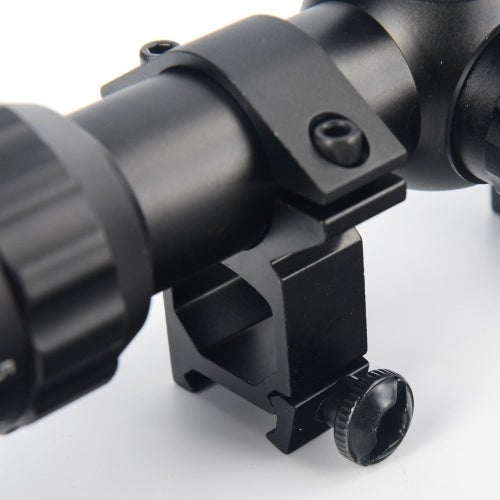 These magical inventions come from many manufacturers and go by the name Ironsighters, see-through scope mount, and many others.

See-through scope mounts simply elevate the scope above the level of any installed iron sights. That means if you have iron sights on your air rifle, you'll still be able to use them even with the scope installed.

For practical purposes it results in a best of both worlds hybrid. You can use your iron sights for close or fast moving targets. When precision and distance are priorities you can easily just use the installed scope for magnification and pinpoint accuracy.

I use these on all of my high powered rifles for varmint hunting. You never know when the target might pop out of the brush only a handful of yards away! At that moment you'll be glad you can use your iron sights.

Easy Way To Sight In An Air Rifle Scope
The Easy Way to Sight-In an Air Rifle Scope
Conclusion
Before you rush off and buy the first scope you see that has every possible gadget attched, consider your needs. Will you be hunting in low light? Do you only plan to shoot stationary targets for practice? These are some questions that dramatically change what type of optic is appropriate for your needs.

Ultimately there are tons of options available for the best air rifle scopes at affordable prices. Remember that you'll generally get what you pay for. Any rifle is only as good as the optics you put on it.
---
Thanks for reading our review and comparison of the best air rifle scopes. We hope this article is helpful and informative to you as you make an air gun scope purchase decision. Also see: The Family Guide To Air Gun Shooting And Safety.

You might also be interested in these related review articles:

SHOOTING & ARCHERY  AIR RIFLES | AIR RIFLE SCOPES | COMPOUND BOWS | CROSSBOWS | PISTOL CROSSBOWS | RECURVE BOWS | HANDGUN SAFES | BIOMETRIC GUN SAFES | RIFLE CASES | COMPOUND BOW CASES | CROSSBOW CASES

HUNTING GEAR HUNTING BOWS | CROSSBOWS | HUNTING ARROWS | TREE STANDS | HUNTING BOOTS | HUNTING BACKPACKS | HUNTING RIFLE SCOPES | HUNTING BINOCULARS | LASER RANGEFINDERS | HUNTING HEADLAMPS | TRAIL CAMERAS | HUNTING GPS | BOW SIGHTS | SPOTTING SCOPES | HUNTING BLINDS
Air Rifle Scopes – YouTube Video Review
How We Researched
To come up with the top air rifle scopes, we researched a variety of sources for reviews such as REI, Backcountry, Moosejaw, EVO along with our own personal experience.
We also consulted online magazines for product research and reviews to get as much unbiased information as we could. To help weed out fake reviews we used Fakespot.com to make sure we only looked at genuine reviews.
With so much quality gear available, we had to narrow it down based on what we felt were the best options were for the price. The author, Richard Moore is an avid hunter and outdoorsman. 
To help narrow down the selection he used his personal experience along with recommendations from fellow hunters and hunting outfitters.
After extensive research, we came up with our list to help you choose the right one for you.
Sources
Notice:
OutsidePursuits.com is a participant in the Amazon Services LLC Associates Program, an affiliate advertising program. OutsidePursuits.com earns fees from products sold through qualifying purchases by linking to Amazon.com. Amazon offers a commission on products sold through their affiliate links.