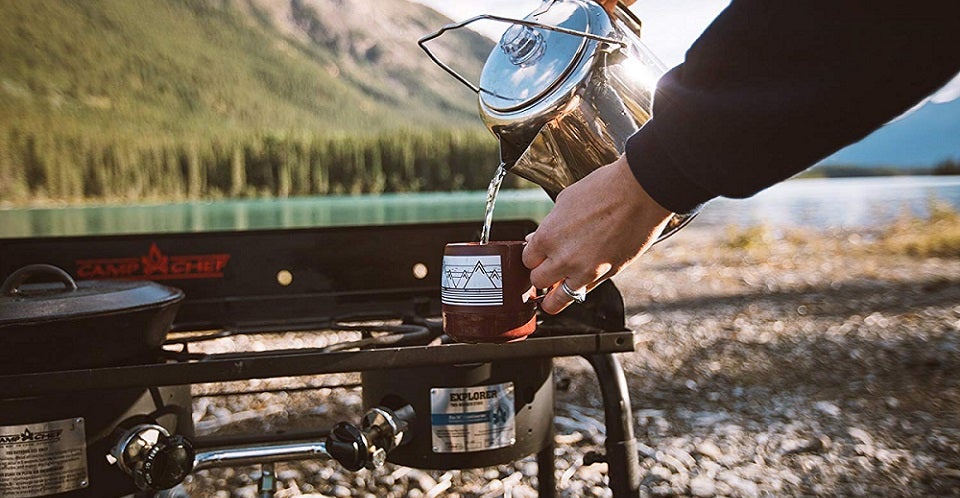 Our Editors independently research, test, and rate what we feel are the best products. We use affiliate links and may receive a small commission on purchases.
To fully enjoy the outdoors a good camp stove is a critical part of taking cooking with you wherever you go.
The camp stoves we'll be focused on are for car, truck, or RV camping where you can carry something a little heavier and bigger. Camp stoves used for long distance backpacking are a whole other matter.
By the end of the article, you should know what to look for and what to avoid. I'm also going to round up and review a few of the top stoves for camping you can find!
Best Camping Stoves
| | Camp Chef Explorer | Coleman Triton | Coleman RoadTrip LXE |
| --- | --- | --- | --- |
| | | | |
| | | | |
| Fuel: | 20 lb propane tank | 16 oz cylinder | 16 oz cylinder |
| Burners: | 2- 30,000 BTU | 2 - 11,000 BTU | 2 - 10,000 BTU |
| Size: | 34"H x 9"W x 16"L | 8"H x 18"L x 11"W | 34"H x 13.5"L x 19"W |
| Weight: | 28 Pounds | 10 Pounds | 45 Pounds |
| | | | |
For more of my top camping gear recommendations, have a look through these popular Outside Pursuits guide links: Camping Hammocks, Camping Cots, Camping Chairs.
Quick Answer: The 7 Best Rated Camp Stoves For 2021
Our reviews of the top rated camp stoves with a comparison table and our buyers guide below will help you choose a good stove for you.
---
Camping Stove Reviews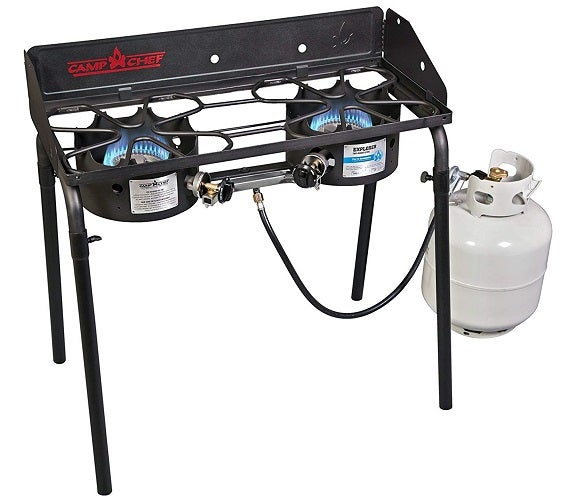 Camp Chef EX60LW Explorer Camping Stove at a Glance
:
---
Heat Output: 60,00 BTUs / 30,000 BTUs per burner
Cooking Area: 448 Square inch cooking area, two full size 14″ frying pans
Type: Freestanding
Weight: 28 Pounds
Fuel Source: 20 Pound Bulk Propane
Looking for the best camping stove that's not just a stove, but an entire camp kitchen? WIth the Camp Chef line, you can actually combine more than one component to create an awesome cooking setup tailored to you!
Yeah, it's true, this stove is pretty nice. I love the all-steel construction with removable legs. That means you can cook on or off of the table.
If you're wondering, it's 34" tall when free-standing (which is a great height in my opinion).
To get things dialed in just light the stove and adjust the air shutters on the burners until you get a roaring, clean, blue flame on each burner.
Note: Each burner has independent flame control.
To combine with other Camp Chef stove products, look for the blue flame logo on the other components to ensure compatibility.
Best for a standalone camp stove that can cook for tons of people on one 20lbs tank.

---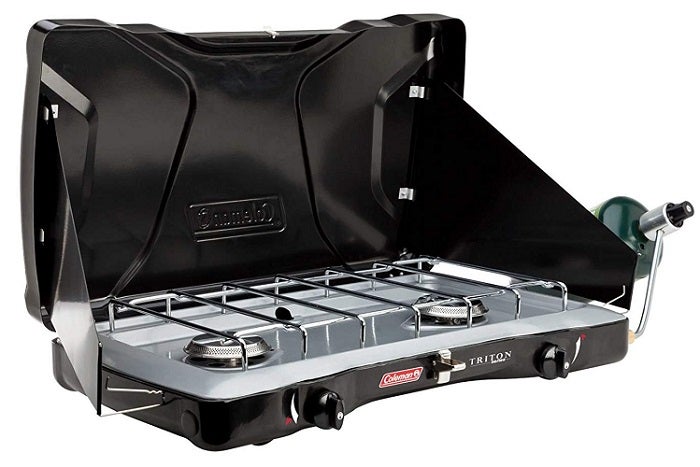 Coleman Triton Series 2-Burner Stove at a Glance
:
---
Heat Output: 22,000 BTUs / 11,000 BTUs per burner
Cooking Area: 2 x 12-inch pans
Type: Table Top
Weight: 10 Pounds
Fuel Source: 16 oz. Propane Canister or Bulk Propane
It is possible that this classic briefcase style stove may be one of the most recognizable pieces of camping gear ever made. It's small, light, and self-contained for light cooking needs in the wilderness.
There's no arguing here – this stove works and people love it. It's been around in one form or another from Coleman for decades and the stove has proven its worth in that time.
You'll have to light the stove with a match – there's no electronic ignition – but that's common among these camp stoves.
When folded closed the stove is self-contained and everything is stored in a nice, clean unit. Open it up to have a nice 3-way windscreen and double burner stove ready to go.
For light cooking on this stove, a bottle should last about a week of meals for 1-2 people. If you're cooking breakfast, lunch, and dinner for a family of 4, expect to go through a bottle a day.
Perfect if you want the best portable camping stove for light cooking needs for small groups in a lightweight compact package.

---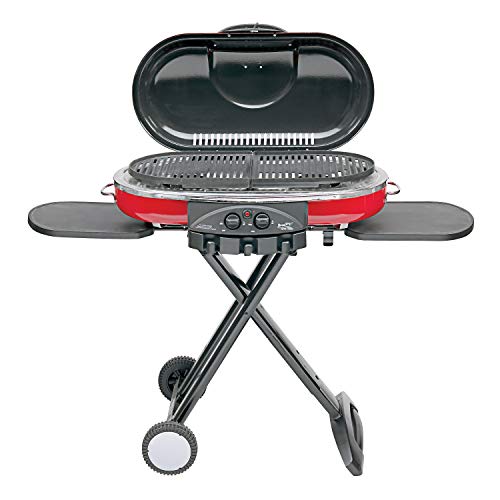 Coleman RoadTrip LXE Portable Propane Grill at a Glance
:
---
Heat Output: 20,00 BTUs / 10,000 BTUs per burner
Cooking Area: 285 sq. in of cooking surface
Type: Freestanding
Weight: 45 Pounds
Fuel Source: 16 oz. Propane Canister
While the other stoves on our list so far have been just that – stoves, this one double as a grill! If you like versatility this might be the choice for you.
This is actually the first stove/grill on our list to feature an instant start electronic ignition. If that's an important factor to you, then think strongly in this direction.
I know most people prefer this over a match or lighter and losing knuckle hair.
While it is possible you can use a pot or pan on this, it's really primarily meant for grilling. For that reason, this makes a solid case for the grilling fans and tailgaters among us.
To get the best use out of this for a stove you'll need to buy the stove-specific grates which are an aftermarket add-on item.
If you're willing to buy the addon stove grate you might want to consider buying a propane adapter to run off of a 20lbs cylinder too.
At that point, this free-standing stove/grill becomes a do-it-all wonder for the backyard, tailgate, or campground. The best camping cooker on our list that can do both grilling and cooking in a stand alone design!

---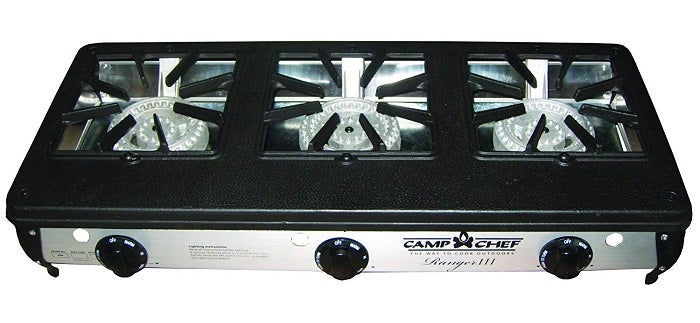 Camp Chef Ranger III Table Top Stove at a Glance
:
---
Heat Output: 51,000 BTUs / 17,000 BTUs per burner
Cooking Area: 380 sq. in of cooking surface
Type: Table Top
Weight: 25 Pounds
Fuel Source: 20 Pound Bulk Propane
Our first 3-burner stove is a tabletop design that stretches 30" wide. If you need tons of cooking space and prefer to work on the table then this might be a solid choice.
Each of the 3 burners has an independent flame adjustment knob and ignition. The grill itself is a combination of aluminum and steel. Just be aware that there are no legs so this grill is tabletop only.
One feature that's blatantly missing on this stove, however, is the windscreen. You'll need to add your own, cook only in good weather, or find a way to cook out of the wind.
While the burner housing itself helps block some wind, moving air will still dramatically reduce the efficiency of this stove.
At 25 pounds, this stove is light enough and small enough to remain portable. Just keep in mind that the larger 3-burner design is going to be best suited for large meals for at least 4+ people.
If you want the best propane camp stove for large groups or mobile kitchen work where the wind won't be an issue, the Ranger is for you!

---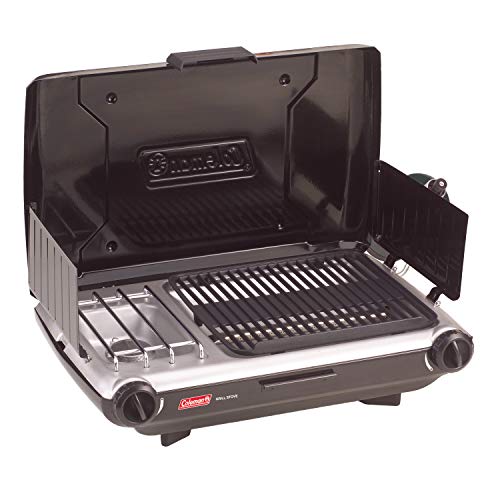 Coleman Camp Propane Grill/Stove at a Glance
:
---
Heat Output: 10,000 BTUs stove / 10,000 BTU Grill
Cooking Area: 2 x 12-inch pans
Type: Table Top
Weight: 15 Pounds
Fuel Source: 16 oz. Propane Canister
Earlier, we took a look at two Coleman stoves and grills but this time we're looking at one unit that does the job of both. Sure, the capacity is small but the versatility is large!
Let me say right up front that while Coleman claims the stove fits a 10" pan,
I think you'll find the stove cramped at best. However, you also get a nice grilling area to go with it, so just keep in mind that you'll need to balance both.
That said, if you do about 60% grilling and 40% cooking on the stove burner, this might be the right choice for you. With just 130 square inches of surface, however, you'll have a hard time cooking for more than 2-3 people at a time.
It's worth noting that the side windscreens can fold out to make an additional workspace.
Probably the best space saving feature of this stove is that you can use the griddle for the grill side as a skillet for frying bacon, making pancakes, or other tasks. Paired with the stove, you'll be ready to cook for two!
The Coleman Camp is for couples and small groups who want the best camping stove grill combo.

---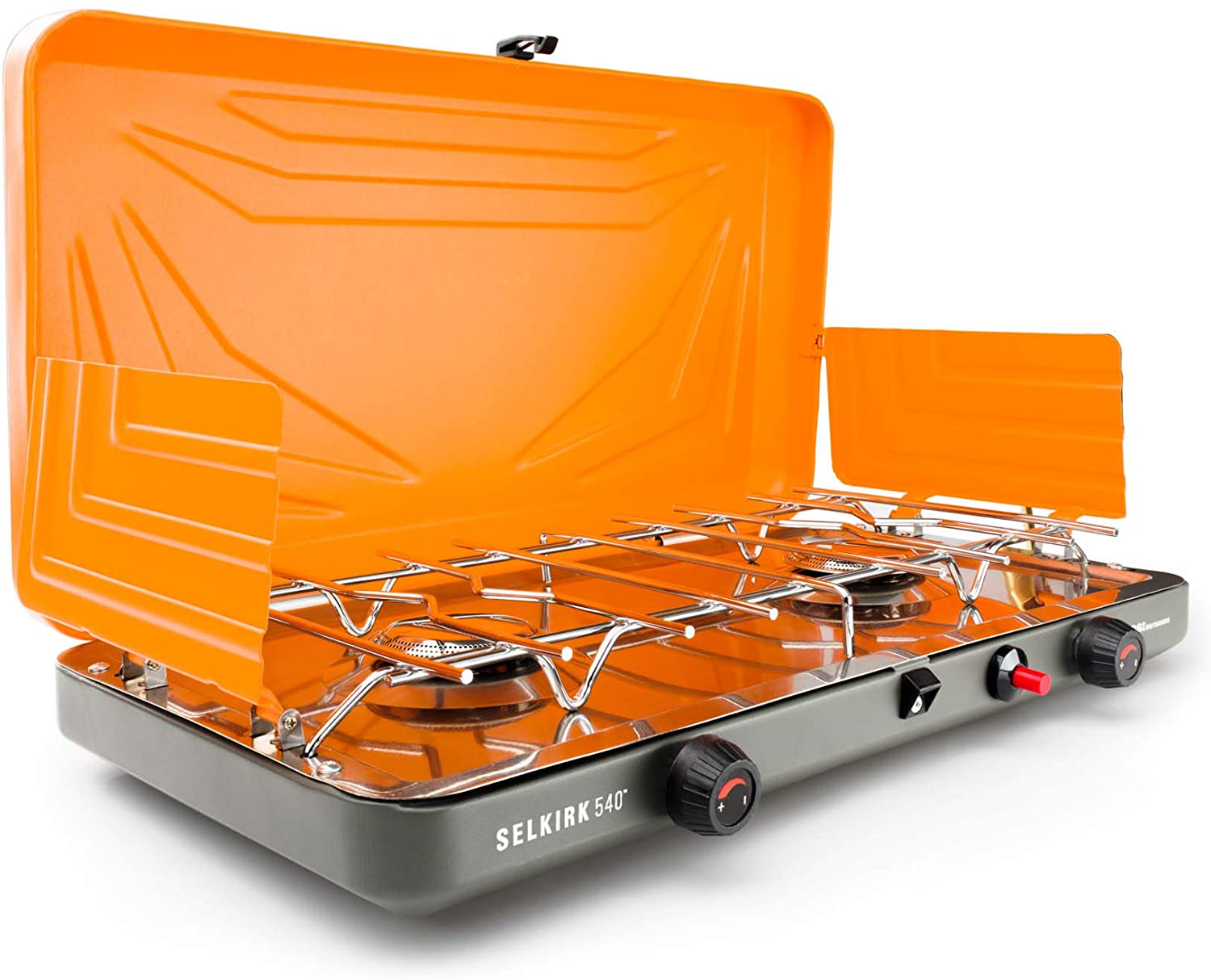 GSI Outdoors Selkirk Camp Stove

 at a Glance
:
---
Heat Output: 20,000 BTUs / 10,000 BTU per burner
Cooking Area:

N/A

Type: Table Top
Weight: 10 Pounds
Fuel Source: 16 oz. Propane Canister
Keep it simple and it'll last ages, right? Well if that's the case, then this stove should last a lifetime as it's a simple take on a proven design.
Borrowing the classic briefcase design, this stove uses heavy duty steel grates and an all-steel construction to beef up the tabletop stove concept. Of course, everything stays nice and light with a focus on portability.
I personally think that the electronic ignition system on this stove is a must-have. They're so simple to use and make the stove that much easier to operate overall that matches and lighters just don't need to be a factor.
For a good price, the GSI Outdoors is the best car camping stove with a reliable electric ignition system.

---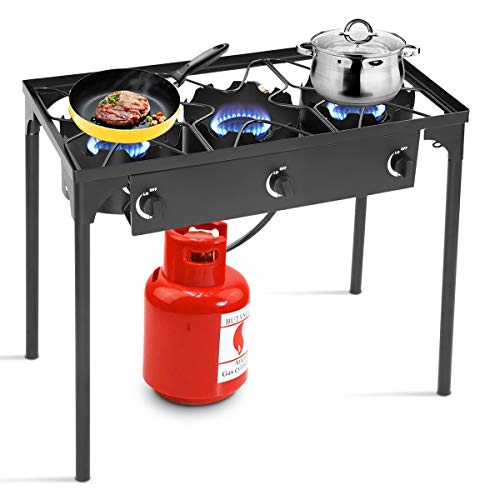 GoPlus Portable Propane Gas Stove at a Glance
:
---
Heat Output: 22,500 BTUs
Cooking Area: 120 sq. inches
Type: Freestanding
Weight: 33 Pounds
Fuel Source:Propane
Last but not least, we have the GoPlus Portable Propane Gas Stove. With 3 burners, a whopping BTU output of 225,000, and an CSA certified valve, you'll be able to rely on this for years to come.
Constructed out of durable iron material with a cast iron head, it is an efficient and powerful stove with a sturdy standalone design.
Another key feature is its versatility – due to its burner bracket design, it's suitable for various types of pots and pans.
Better yet, it has detachable legs that can make it smaller for convenient transportation and storage. It weighs in at a moderate 33 pounds, so it's not too much of a hassle to transport.
Whether you're tailgating at the football stadium or camping with the family, you and your friends or family can enjoy delicious food with the GoPlus.
Honestly, I think that for its price point, this stove makes a serious effort at stealing the number one spot.

---
Camping Stove Comparison Table
How to Choose the Best Camp Stove for You – Buyers Guide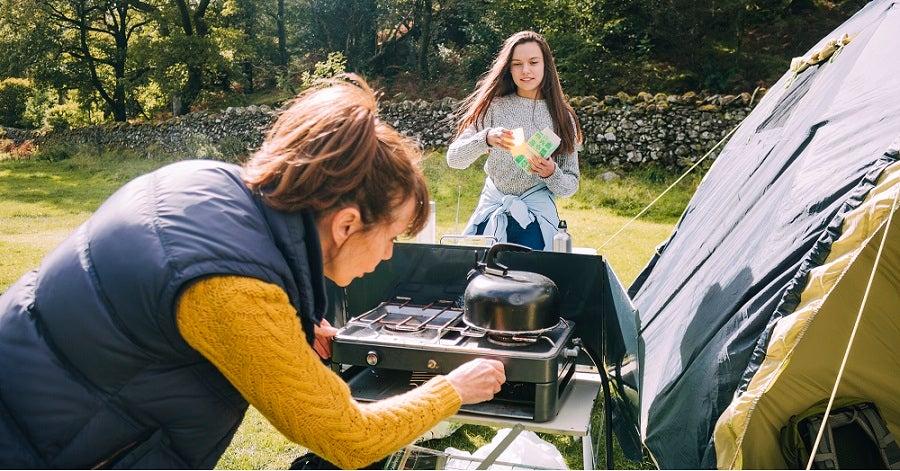 Fuel Types and Canisters
Most camp stoves in this category operate off of propane. While you can find some stoves which are multi-fuel or may run off of things like white gas, propane is the tried and true holdover of camp stoves.
Pro Tip: For portable backpacking stoves, fuel types can be very different so be sure to do your homework.
By and large, most portable stoves will come with an adapter to run off of small 16-ounce propane bottles. There are, however, many adapters that can be used to run a stove off of a full size 20lbs propane tank.
Be careful if using an adapter to run a stove off of a different fuel canister than it was designed for. Pressure differences may require a regulator for safe use.
If in doubt, look for a stove that comes with adapters for both 16oz bottles and 20lbs cylinders.
16oz Bottles
These little guys cost anywhere from $3 – $10 per bottle usually. Depending on the stove and how hard you're running it, they can last from an hour to several hours of use.
Their main advantage is portability and lightweight. Compared to a full-size 20lbs cylinder, though, they're wasteful, inefficient, and expensive.
20 Pound Cylinder
These are your standard white propane bottles most people use on their grills in the backyard.
While they may cost $20 – $40 initially, each fill costs pennies on the dollar compared to buying 16-ounce bottles. Plus, one of these large tanks can easily last for months of cooking instead of mere hours of cooking.

Stove Size
When you go to pack up the car, you'll need every inch of space to fit the kids, tent, and camping gear. If you're taking the truck and pulling the camper, though, you might have a bit more room to work with.
Before you buy the most luxurious and largest camp stove you can find, first, consider if you need it. Further, you should consider if the size of the stove is going to make sense with your camping setup.
Even if you're used to cooking on 4 burners at home, that doesn't mean you need 4 when you're camping. Try using a 1-2 burner stove to keep things smaller, lighter, and easier to manage when packing and unpacking.
Pro Tip: Make sure the distance from burner to burner is large enough to accommodate your largest diameter pots and pans.

Stove Weight
For most uses, stove weight is not a concern because you'll be transporting it with the car, truck or RV. Keep in mind, though, that if you ever end up camping away from the vehicles you may want something you can carry to your campsite with ease.
Stoves can range wildly in their weight depending on features and material used in construction. For the lightest stove possible, look for aluminum construction materials.

Stove Materials
Since we're on the topic of construction material, let's just briefly cover the metals and plastics used in stove making.
Stainless Steel
Stainless steel is durable but relatively heavy. It can be cleaned well with steel wool or brillo pads which makes cleanup a breeze!
Aluminum
Is lighter than steel but less durable. It's prone to scratching so you'll have to be careful during cleanup. Thin aluminum may also be a little more prone to bending or breaking – although a well-made stove should have no issue with this.
Plastics
These are almost unavoidable in today's manufacturing but frankly, have no place in making a stove. While it's possible to use plastics in making a stove and do so without negatively affecting performance, as a rule, I'd try to avoid it.
Because of the heat output of the stove, hot pots, and pans, and for ease of cleanup and all-metal stove makes the most sense. Even if it costs a bit more, I'd skip the plastics and go for stainless or aluminum.

Stove Height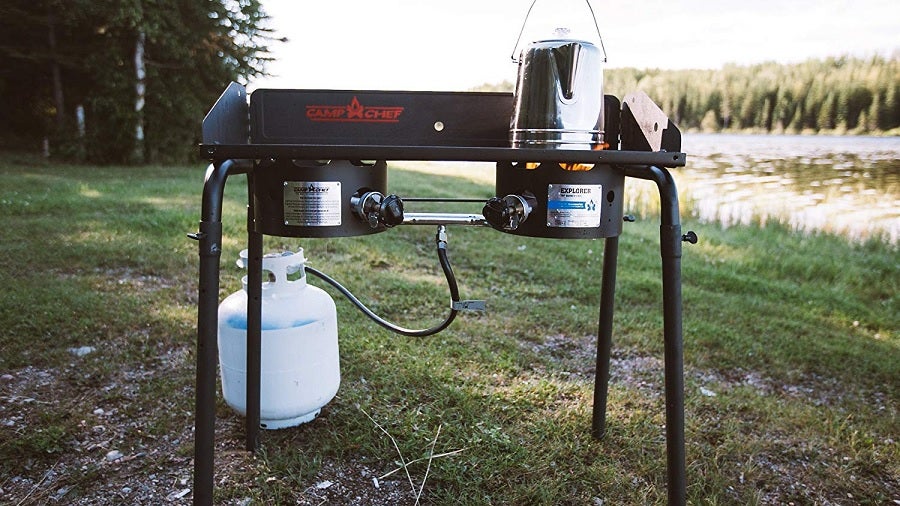 Most of the cheaper camping stoves are made to sit right on a tabletop. They're essentially briefcase size (and shape) which makes them easy to transport but they may not have their own free-standing legs.
If you don't want (or don't have) to use a table for cooking then you can look for optional free-standing legs. If you don't have a table or need to keep the tablespace open for meal prep then a free-standing stove is the way to go.
Most free-standing camp stoves have collapsible legs so that they can be used both on-table or off-table.
Pro Tip: Beware when using a camp stove on a wooden table, however, as there is some (small) possibility of scorching the tabletop or bubbling the paint.

Windscreens
Keeping the wind from blowing out your flames is important. What most people don't think about, however, is that stopping the wind also massively improves stove efficiency.
Look for a camp stove that has back and side windscreens. By stopping the wind your food will cook and boil faster while using less fuel!

FAQs For Camping Stoves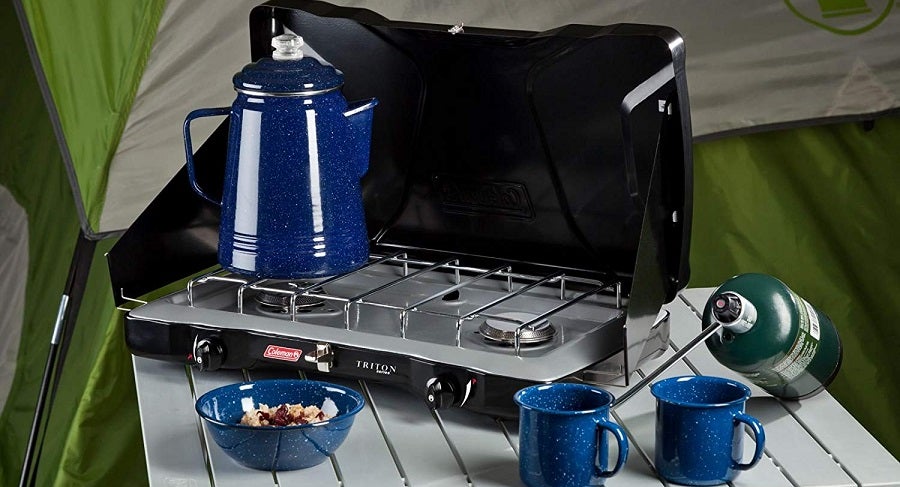 Q: How do I start my stove without an electric ignitor?
A: There's a little art to this technique and losing knuckle hair is almost guaranteed at least once during this process. After you've become proficient, you'll be able to light your stove with little trouble. Here's how it goes:
Close the burner valve
Open the valve on the propane tank
Light a match or lighter about an inch away from the burner
Slowly crack open the burner valve
If the burner doesn't light, close the valve and wait a minute or two before trying again
Mostly you want to avoid excessive buildup of propane. That's why you want to have the match lit before you turn on the stove – to avoid an explosion of gasses. If it doesn't work, just turn off the burner and let it air out for a minute before trying again.
Note: Always read and follow the manufacturer's directions specifically.
Q: How much gas will I use?
A: This is impossible to nail down, but I tried to lay out some guidelines earlier. Since this is one of the most common questions when it comes to camp stove use, I'll get into detail here.
Remember the little green propane bottles are 16 ounces – the big white tanks are 20 pounds. That means you'll need 20 little bottles to equal 1 big tank.
20 green bottles = 1 big white tank
16 Ounce Bottle Cook Times
One little green bottle will probably last a family of 4 people about 2 days of regular cooking. It may last longer if you only cook limited meals. Cooking for a single person or a couple, these little 16 ounce bottles can last up to a week of limited meals.
20 Pound Tank Cook Times
One 20 pound tank will cook limited meals for a full-size family for weeks. If you're cooking breakfast, lunch, and dinner on it expect about a week of use. As always gas time will change depending on how often and how high you're running the burner.

Q: Are these stoves safe to use inside?
A: Yes, and no.
From a gas-emissions standpoint, they're pretty safe to use inside. It would be no different than burning a propane range in your RV.
Since they're not meant to be installed inside, however, you'll want to be cautious in your use of them. Heat output could be great enough to melt or burn curtains, countertops, or other nearby items. On top of that, you run the risk of someone knocking over a freestanding stove, or knocking a tabletop stove off the counter.
Assuming nothing catastrophic goes wrong, however, these stoves should, in theory, be safe to use inside a dwelling. I wouldn't recommend it, though.
Note: Follow manufacturer's instructions in all cases concerning use indoors.
Q: How do I store my stove after use?
A: When you're done using your stove you'll need to put it away properly. Here is the process I like to use.
For 20 pound tanks:
Shut the main tank valve with stove still burning
Wait for the flame to burn out
Close the burner valve
Detach the tank and hose
Disassemble and store the stove
Pro Tip: Turning off the main tank valve while the stove is still burning allows the gas in the line to burn off before you detach the hose.
For 16 ounce bottles:
Shut off the stove burner
Detach bottle
Store the stove
These small bottle stoves rarely have a tank shutoff valve so the process is simplified.
Note: Always follow the manufacturer's directions regarding stove shutoff procedure.
Q: What meals can I cook on these stoves?
A: Any.
Honestly, if you want to cook like you cook at home, get a nice double burner stove with good flame control. If there's one thing that will ruin your cooking it's too much heat and burning food on your pans while you're camping makes a mess to clean up!
If you take a pot, pan, and a griddle you'll be all set to cook the camping classics like eggs, bacon, and pancakes
Pro Tip: Keep your meals and cooking simple. Cooking while camping isn't as easy as at home. Keeping meals simple will make prep, cooking, and cleanup faster and more enjoyable so you have more time to spent camping and less time spent stuck at the stove.

Best Brands of Camping Stoves

Coleman – The best known brand of camping gear, their camping stoves are some of the best on the market.
Camp Chef – If you are looking for free standing camping stoves, you need to look at Camp Chef. The Camp Chef Everest and Explorer are two great models.
Masterbuilt – A relative unknown but they make a great free standing camping stove that is comparable to the Camp Chef Explorer.
Final Thoughts
At the end of the day, you need to think about what kind of camping and cooking you do the most. Both tabletop and standalone stoves have their place in the outdoor world – neither one is a clearcut winner for all situations.
Remember that picking the right stove for you will save you time, money, and frustration. To get it right the first time, be sure to read through our buyer's guide section one more time before you make that purchase.
Go ahead and make a choice, order your stove, and get out there to enjoy the outdoors with a little taste of home.
---
Notice:
OutsidePursuits.com is a participant in the Amazon Services LLC Associates Program, an affiliate advertising program. OutsidePursuits.com earns fees from products sold through qualifying purchases by linking to Amazon.com. Amazon offers a commission on products sold through their affiliate links.