While cold food is great filling the stomach on a temporary basis, there is no way to replace a warm sustaining meal.
Whether you are on a daytime outing with the family or camping for an extended period of time, there is no substitute for a good camping stove, even if it is only to make coffee.
We're going to take a look at some of the best camping stoves on the market right now and why they make such great choices for camping.
For more of my top gear recommendations, have a look through these popular Outside Pursuits guide links: Camping Hammocks, Camping Cots, Camping Chairs
Quick Answer: The 7 Best Camping Stoves For 2017

First lets take a look at the camping stoves, then we'll talk about how to choose the right one for your needs. Here is a feature overview of my top overall picks with full reviews and our buying guide below.
Best Camping Stoves
Camp Chef Explorer 2 Burner Range
Coleman Triton Series 2-Burner Stove
Camp Chef Camping Oven and 2 Burner Stove
Heat Source:
Depends on size of the propane tank used.
1 Hour runtime on high.
Uses one 16.4-oz. propane cylinder
5 Hour run time on high. Uses a one pound. propane cylinder.
Burners:
2- 30,000 BTU burners
2 - 11,000 BTU burners
2 - 7,500 BTU burners
1 - 3,000 BTU internal oven
Size & Weight:
With legs off: 14 x 9 W x 16 Inches, 28 pounds
Folded: 18 x 11 x 8 inches, 10 Pounds
21 x 12 x 9 Inches, 35 Pounds
Camping Stove Reviews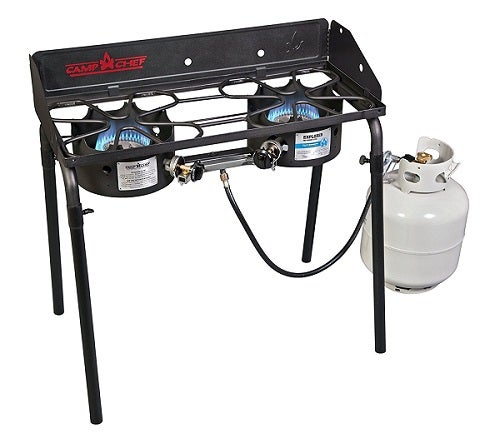 The Camp Chef Explorer 2-Burner Range stove is one of the most versatile stoves on the market with the durability and convenience not found in many other stoves.
This stove is built for the rugged outdoors and not only great for a family camping stove but tailgating or cooking if the power goes out. With its heavy weight construction and aluminum burners there's no question that this stove can handle whatever cooking needs you have.
Features of the Camp Chef Explorer:
Total 60,00 BTUs / 30,000 BTUs per burner.

448 Square inch

cooking area, able to fit two full size 14″ frying pans simultaneously.
Hi Quality, easy-adaptable low to high heat controls.
Sturdy lightweight metal alloy that wont rust or corrode.
Many available accessories increasing its versatility.
With two 30,000 BTU cast aluminum burners, the total cooking power over the 2 burner design 60,000 BTUs of heat output, significantly more than any other camping stoves tested.
With over 448 square inches of cooking surface you can do some serious cooking. We found the Camp Chef to be the best family camping stove because of its large capacity.
It really is appropriately named, I was able to cook up a serious amount of hearty chili for 10 hungry people and an omelet breakfast and coffee on it that made waking up a pleasure for everyone.
The Camp Chef Explorer features a 3 sided windscreen to block out the wind and comes with home appliance like knobs unlike you will find on other camping stoves.
One other great aspects is that the 14 inch square cooking surface can fit 14 Blue Flame accessories to increase its versatility in its cooking options. The Camp Chef comes with a regulator and a 3 foot hose to be used with a bulk propane tank.
If you want to do some real cooking on a very capable stove, the Camp Chef Explorer stove is the best camp stove and my top overall pick.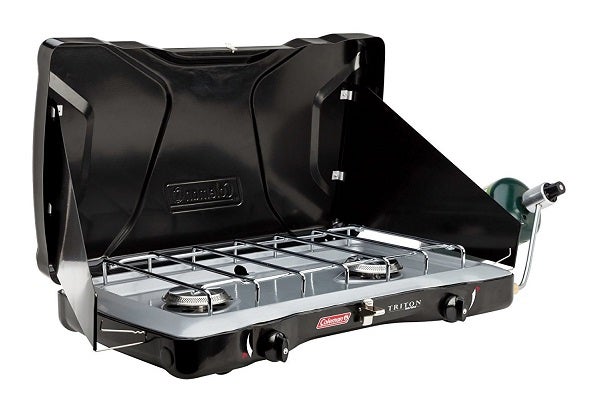 The Coleman Triton Series 2-burner stove has a large surface area for cooking with a high BTU output. The stove is built around a 16 oz. propane canister as the fuel source and has very simple connection to hook up the tank.
However, there is no is ignition source, so matches or a lighter are needed to ignite the burners. It is constructed of durable, long lasting steel, so it is built to last.
The Coleman Triton Series stove is a great blend of simple controls and durability for whatever you are needing to grill and cook. This great performing stove offers a sleek, lightweight design for easy transportability and the grill being made of a nickel-chrome alloy, cleaning up is easy.
Features of the Coleman Triton:
Total 22,00 BTUs / 11,000 BTUs per burner.
Cook-top able to carry one 10-inch pan and one 12-inch pan simultaneously.
Autonomous, easy-adaptable low to high heat controls.
Sturdy lightweight metal alloy designed to endure foul weather conditions.
Perfect Heat Technology allows for cooking temperature stability.
With two nice stove top burners, the Coleman Triton Series 2 makes for a good addition to anyone's camping gear. The thin but strong nickel-chrome alloy is light weight, at less than 10 pounds, its easy to take with you on any camping trip.
When you fold up the Triton Series 2 it measures, 21-inches long, 13.5-inches wide and 8-inches thick, allowing it to fit in any car and easy to store at your home or apartment. With its PerfectHeat technology this burner you get the exact temperature you need to cook up a gourmet meal.
The top lid also serves as a Windblock and the heavy duty nickel-chrome grates are easily cleanable. The Coleman Triton Series 2-burner uses standard 16 ounce propane fuel cylinders and can also be operated on bulk propane tanks with a Type-1 adapter with hose.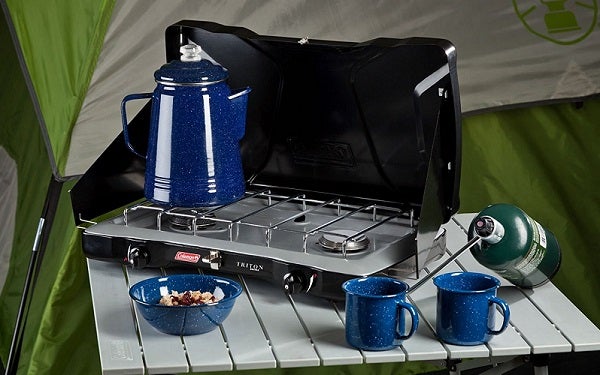 The Coleman Triton Series 2-burner stove is a great blend of easily adjustable controls and durability for whatever you are needing to grill and cook. We found the Triton to be the best portable camping stove.
The Coleman Triton Series 2-burner stove has a large area of cooking surface that can accommodate a 10-in. (25.4 cm) pan and one 12-in pan.
The burner each put out 11,000 BTU's totaling 22,000 BTU's of heat making short work of your cooking needs.
If your looking for a durable, compact and portable gas stove look no further than the Coleman Triton Series 2-Burner Stove. It is our top pick for the best portable camping stove.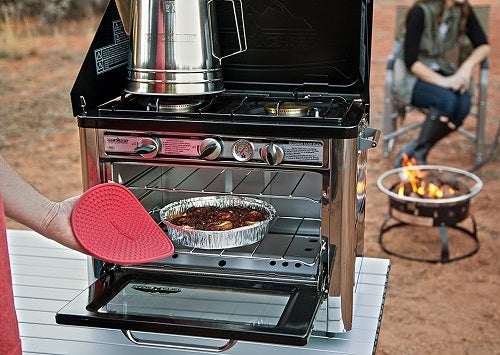 Ok, this definitely a camping stove only, you're not going to put this stove in your backpack and take it into the backcountry. The Camp Chef Outdoor Oven is for RV or car camping only.
Just because you are camping doesn't mean you cannot enjoy great food. Grilling and cooking up a good meal is one of the best parts of camping and if you do as well, then this combination stove/oven needs to be on your list.
It's the only camping stove with an oven I recommend and it's a solid performer. You may think being an oven is has to be large and heavy. The Camp Chef is only 21 x 12 inches and the oven interior measures 10 x 16 x 10 inches and weighs in at only 35 pounds.
Video: Overview of the Camp Chef Oven with Grill.
It has two 7,500 BTU propane burners and the oven has 3,000 BTU's of cooking power and will heat up 400 degree F. All of this cooking power is supplied by a single one pound can of propane.
And believe it or not, you can get 5 hours of cooking and baking with that one 16 oz. propane canister! If you are going to be using it a lot, I would recommend a bulk tank, you just need the optional hose adapter.
Camp Chef Camping Outdoor Oven features:
A folding lid with side arms doubles as a wind screen
Two 7,500 BTU brass range burners
Oven power: 3,000 BTU (up to 400ºF)
Built-in oven heat gauge
Removable oven racks
With the Camp Chef Outdoor Oven you can make just about anything at the campsite that you would at home. Want to make some cookies for the kids or a breakfast skillet? No problem.
The Camping Chef Oven/Stove will handle pretty much any task, from heating up your morning coffee to a gourmet dinner, this stove will do it all.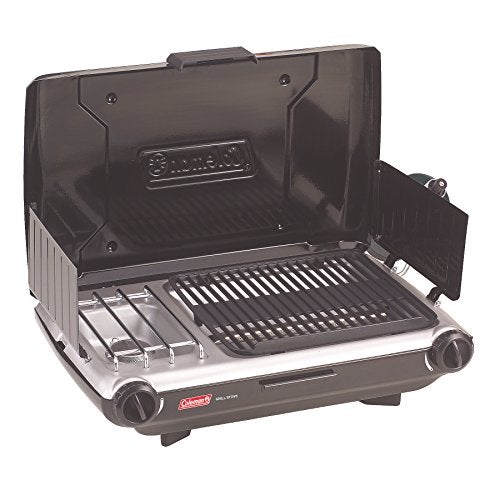 This is my 2nd recommended Coleman Stove and for good reason, Coleman makes quality camping stoves! The Coleman Perfect Flow is unique in that it combines a one burner stove PLUS a grill.
This is an awesome combination, you can grill up some hotdog and hamburgers while heating up a pot of chili on the burner. I have not seen this combination in any other camping stove and makes the Perfect Flow a great option.
Its compact, measuring only 6.5 x 15.5 x 23.75 inches and weighs only 7.5 pounds. Both the single burner stove and grill have 10,000 BTUs of grilling heat, more than enough for your cooking needs.
Whether you just want a pot of coffee and eggs or a gourmet meal this stove will handle it. No matches or lighter necessary, it has a built in piezo igniter.
The folding lid and side arms block most of the wind, keeping most of the heat on the burners so your food cooks faster. It has a locking lid with handles so it's easy to take from your RV or car to the campsite.
Features of the Coleman Perfect Flow:
2-in-1 design so you can use the grill and stove at the same time
Wind Block panels help shield burners from wind or fold down for use as side tables
10,000 BTU 10-in stove area
10,000 total BTUs of cooking power in 130 sq. in. grill area
The Perfect Flow portable gas stove features a die-cast aluminum grill grate for easy cleanup and the stove is a nickel-chrome grate for easy cleaning and strength.
If you want a simple gas camping stove and grill that can handle just about all of your cooking needs, the Perfect Flow is one of the best Coleman propane stoves.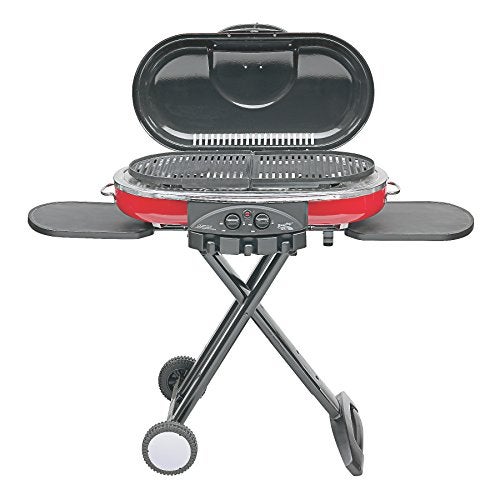 I didn't want this to be the Coleman list of camping stoves but there was no way to leave this versatile stove off the list. It comes with a grill top that is made from cast iron with a porcelain coating for even heating and easy cleanup.
There are several optional accessories I would recommend you buy, especially the burner top so you can use your pots and pans. There is also an optional griddle attachment for pancakes or eggs.
This is not a particularly small stove but it's well designed to be extremely portable. The stove sets up and folds down literally in seconds so you can spend more time cooking and less time messing with the stove.
What really sets this propane camping grill apart is the wheels. Once you fold down the stove, it has a convenient pull handle for easy transport to and from the car.
The grill features a reliable pushbutton ignitor and with a standard one pound propane canister you can cook for an hour on high heat.
The 2-burner stove puts out 20,000 BTUs of heat with a cooking surface of 285 square inches. That's a lot of space and using the burner attachments you can use 14 inch pans.
The camping gas stove can be attached to large propane cylinders or the propane supply line from an RV with an optional attachment.
Features of the Coleman Road Trip:
2 Burners each put out 10,000 BTUs
285 sq. in of cooking surface
Optional burner and griddle add-ons
Matchless ignition
Wheels for easy transport
There are two slide out, side tables for plates or keeping your utensils. This is a very handy feature that I have not seen in any other camping stove.
This is not just a camping stove, take it tailgating or use it in your backyard. There is a lot to like about the Coleman Road trip, highly recommended.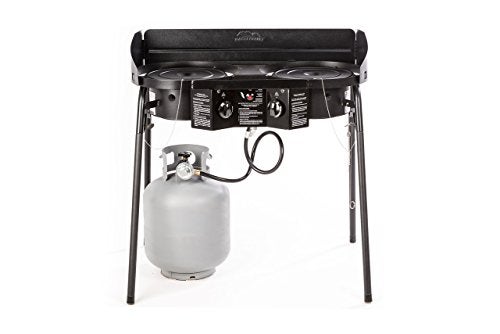 The Masterbuilt Dual Burner stove is very similar in design to the Camp Chef Explorer. It's a free standing gas camping stove that measure 34 inches high, 32 inches long and 24 inches wide.
It's a decent sized propane camp stove with a lot of cooking area that can also be used on a table.
It has two burners that each put out 10,000 BTUs of heat for a total of 20,000 BTUs, so it's not as much as the Camp Chef Explorer. It does have the convenient three-sided windscreen, which helps keep the heat focused to speed up cooking.
One feature the stove includes that is particularly nice, are burner covers to keep the rain or dirt off them when not in use. Why other stoves don't include this I have no idea.
Features of the MasterBuilt Dual Burner Stove:
2 Burners each put out 10,000 BTUs
Freestanding or tabletop use
Convenient burner covers
3 sided windscreen
The Masterbuilt is a rugged stove that weighs a reasonable 26 pounds so it's not too heavy to transport. The burners are made from aluminum and are individually adjustable in height. The flame is easily adjustable with oven style controls and has convenient piezo matchless ignition.
The Masterbuilt is designed to be used with bulk propane cylinders and comes with the necessary attachment. Overall the Masterbuilt is one of the best propane camp stoves and worthy of your consideration for your next camping trip.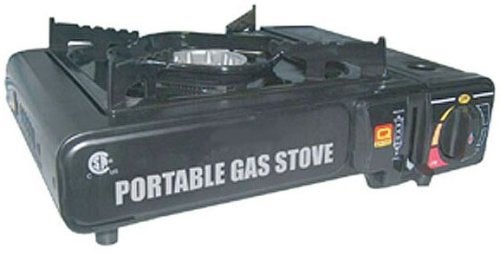 If your just looking for a cheap camping stove then look no further than the Deluxe Portable Gas Butane Stove. With a variety of features normally found on much larger and more expensive stoves, this compact and inexpensive butane gas stove is good choice for your next camping trip.
The Deluxe Portable Gas Butane Stove is not going to cook up meals for an army so if you need that, then better to go with the Camp Chef Explorer as it designed for that purpose.
No matches necessary, this unit has a piezoelectric ignition system to light the stove and keep it lit with the windshield designed to keep the flame protected.
It features a simple but effective controls to control the temperature to give you the perfect temperature. For safety and saving propane, the stove comes with an automatic shut off value.
Even though its bargain priced, the unit is built to last. This is a good beginner camping stove or when there are only a few of you.
Whats nice, is its so small and light, its perfect for not just camping but fishing, tailgate parties and picnics. We found the Deluxe Stove to be the best cheap camping stove.
Comes with a storage bag and carrying case for easy transport to and from the campsite. The Deluxe Portable Gas Butane Stove is a bargain priced stove that will serve you well for many years.
Camping Stove Comparison Table
Camp Stove
Type
Burners
Ignition
Weight
Fuel
Camp Chef Explorer 2 Burner Range
Free Standing
2- 30,000 BTU burners
Manual
28 pounds
Bulk Propane
Coleman Triton Series 2-Burner Stove
Table Top
2 - 11,000 BTU burners
Manual
10 Pounds
16 oz. Propane Canister
Camp Chef Camping Outdoor Oven and Stove
Table Top
2- 7,500 BTU burners
1- 3,000 BTU internal oven
Matchless igniter
35 Pounds
16 oz. Propane Canister or
Bulk Propane
Coleman Perfect Flow Grill Stove
Table Top
10,000 BTU grill and burner
Matchless igniter
15 Pounds
16 oz. Propane Canister
Coleman Road Trip Propane Portable Grill LXE
Free Standing
2 - 10,000 BTU burners
Matchless igniter
45 Pounds
16 oz. Propane Canister
Masterbuilt Dual Burner Propane Camp Stove
Free Standing
2 - 10,000 BTU burners
Matchless igniter
26 Pounds
Bulk Propane
Deluxe Portable Gas Butane Stove
Table Top
1 - 9,000 BTU burner
Manual
4.5 Pounds
8oz butane canisters
How to Choose the Best Camping Stove for You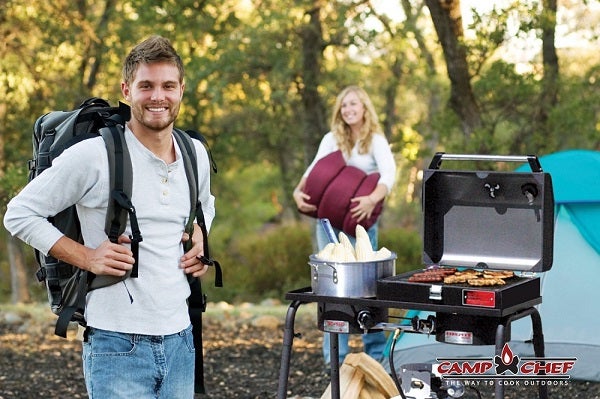 Before buying your camping stove there are a few things you should consider. If you are backpacking then the stoves in this review are not for you. They all are meant to be driven to a camping site and setup. Some of them would need to be setup on a picnic table for instance. The Camp Chef Explorer has legs so it does not have this requirement.

Heat Output/Time to Cook
The stoves reviewed, range in BTU output from 60,000 with the Camp Chef Explorer with 2 burners to the basic, no-frills Deluxe Portable Gas Butane Stove with 7,000 BTU's and only one burner.
So it comes down to how many people are you cooking for, and what you are planning on cooking. If you are just looking to warm up some food for a few people, then the Deluxe Portable Gas Butane Stove may be sufficient for your needs.
But if your looking to do some real cooking for more than 2-3 people then I would go with the Camp Chef Explorer, its 60,000 BTU output will cook your food in no time.
Heat output is measured in BTU or British Thermal Unit. If your curious a BTU is defined as it is defined" the amount of heat required to raise the temperature of one pound of water by one degree Fahrenheit".
BTUs are not the only thing to look at, the surface area the heat is spread over can affect cook time as well. The difference between 10,000 and 11,000 BTUs will not be that noticeable but between 10,000 and 20,000 you will have significantly reduced cooking time.
Especially useful when boiling a pot of water when you don't have to worry about burning something the extra heat is a decided advantage.
The downside of course is the increased fuel usage. If you are cooking with 20,000 BTUs of power with a one pound can of propane you're going to go through it fairly quickly. This is an important consideration. Be sure your stove has a hookup for a bulk propane tank.

Burners
The two burner stove is by far the most popular style. Two is usually more than enough to cook up a good meal. Unless you have very simple cooking needs having the second burner is definitely a better choice.
If you have a large amount of people, having a second stove is a better option than a larger stove.
Once you get over a 2 burner size they can get cumbersome. Having two burners is going to give you more surface area as well.
Most 2 burner stoves will allow at least two decent size pots at the same time. Even then smaller Triton can fit a 10 inch and a 12 inch pan at the same time.

Table Top or Freestanding
An important consideration is how you will use the stove, will you put it on a picnic table or use it free standing. The table top stove being much more compact and light vs the freestanding stove with legs.
Most freestanding stove can also be used as a tabletop stove as well with the legs off and fit on most standard size picnic tables. The freestanding stove normally being a larger and higher output stove.
The freestanding stove is usually much heavier, large and more difficult to transport. The Coleman Road Trip however has an excellent design with wheels for easy transport. The tabletop is sufficient for most campers needs and has the advantage of easier portability.
Of course to need to put it on something though. If your going to a campground with out a picnic table you will need to bring your own. In a pinch you could put it on the ground if you clear away anything that could catch fire.

Fuel Capacity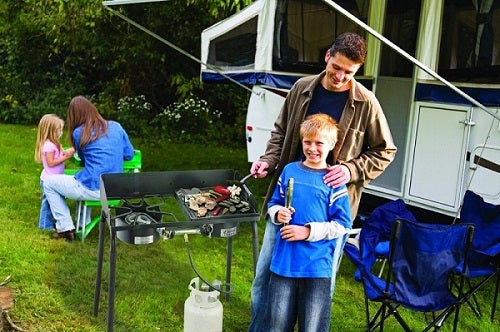 The two main choice are the one pound bottle of propane or a hook up to a 5 gallon bulk propane tank. Depending on how much you are cooking and for how long the 16 ounce bottles will provide a lot of cooking ability.
But if you are running a large stove on high heat you can easily go through a bottle in an hour.
If you are cooking for several people then either you will need to bring quite a few bottles or the better option, bring a 5 gallon bulk tank.
These are easy to transport and can be refilled in almost any town. Especially if you're in a large campground, there is sure to be a refilling station around.
Just be sure your stove has the ability to be hooked up to bulk tank. Most tabletops only come with a attachment to a 16 ounce bottle. Most stoves do offer an adapter and hose for attaching to a 5 gallon tank.

Stove Top: Burners, Grates and Griddle
Most camping stoves including the ones reviewed here have a two burner setup. A few come with a single grate for grilling like the Coleman Road Trip and even rarer is the hybrid grill and burner setup like the Coleman Perfect Flow.
The Coleman Road Trip is an excellent option with the option to add burners to swap out with the grill grate. It even has the option to add a griddle, great for breakfast.
If you don't plan on anything elaborate and just want two burners then you have many options. I would recommend a stove that is versatile that gives you the ability to grill or cook.

Stove Ignition
Any propane stove can be lit with a match or lighter but this can be a bit dangerous. Care must be taken to not let the gas run too long before ignition to avoid a burst of flames. Your best option is to purchase a stove with a piezo electric ignition system.
This push button ignition system keeps your face and hands away from the stove. While they are not perfect and can fail over time, they are your best bet. The slight extra cost is worth it. Always keep some extra matches or a lighter around just in case.

Weight and Size
If your car camping weight and size of the stove is not a primary concern like it would be for a backpacking stove. That's not to say to ignore it. Some camping stoves can take up a large portion of your trunk and weigh quite a bit.
The Coleman Road Trip comes to mind, it weigh 50 pounds and will take up the better portion of a small trunk. The size of your vehicle and how many people you will be cooking for will be of primary concern.
Also keep in mind where you will be doing most of your camping. Is there a picnic table available for a smaller tabletop stove.

Heat Control
When your boiling a pot of water, controlling the heat is not that critical. Its when you are cooking something that can burn having good control over the heat become important.
Not all stoves have good control over the flame. They are either on or off with little in between. Unfortunately that is not usually found on the list of features. Another consideration is a windscreen. Having one will give you consistent heat even in windier conditions.

Ease of Set-Up
The last thing you want while camping is a hassle of trying to setup your stove. The stoves I review here are all quick and easy to setup. The Deluxe Portable Gas Butane Stove being the simplest, you literally just pull it out of the case and your ready to go.
The Coleman Triton Series 2-Burner Stove just simply unfolds in about 15 seconds and your ready to go. The Camp Chef Explorer 2 Burner Range, takes a few more seconds to put on the legs and attach the propane tank.

Packed/Folded Up Size
Its no surprise the Deluxe Portable Gas Butane Stove is the smallest and most compact as it only has one burner. The Coleman Triton Series 2-Burner Stove folds up into a nice neat compact case, nothing extra to pack or lose.
The Camp Chef Explorer 2 Burner Range is the largest and heaviest of the stoves. When you take the legs off, it stores easily in your car though.

Wind Resistance
Blocking the wind can make a significant difference in both just lighting the stove but in cooking times. No surprise here, keeping the wind from blowing the flames all over the place, decreases the time to cook your food.
The two best performers here, were the Coleman Triton Series and the Camp Chef Explorer, each of which comes with a decent wind screen.
The Deluxe Portable Gas Butane Stove does not come with one, so if you think your going to be in some windy conditions, you will need to have some shelter from the wind.

Ease of Care/Cleaning
Probably the last thing you will be thinking about, is cleaning the stove after getting back from your trip. Most modern stoves are made for easy cleaning and made of materials that food will not easily stick to.
With a burner there is very little to clean, it's a grill that will be more problematic.
Make sure you buy one that the grill is easily removable for cleaning. The few minutes spent cleaning the stove at the campsite will save you considerable time when you get home to fully clean it.
All the the reviewed stoves are pretty low maintenance, its pretty much a given a camping stove is going to get dirty and will need to be taken apart to be thoroughly cleaned at some point.
In this area, the Camp Chef Explorer was hands down the winner. Its very easy to take apart and remove all the food particles and grease that accumulates over time.
The Colemen Triton was a close second however with the Deluxe Portable Gas Butane Stove coming in a distant third. It could be a pain to take apart and clean it as the didn't seem to be designed to be easily disassembled.
Best Camping Stove Brands

Coleman – The best known brand of camping gear, their camping stoves are some of the best on the market.
Camp Chef – If you are looking for free standing camping stoves, you need to look at Camp Chef
Masterbuilt – A relative unknown but they make a great free standing camping stove that is comparable to the Camp Chef Explorer.
I hope this guide was helpful for finding the best camping stove to fit your needs. If you want to comment or recommend a stove I didn't include, please use my contact form to get in touch.
Have fun and be safe out there!
Notice: Outside Pursuits is a participant in the Amazon Services LLC Associates Program, an affiliate advertising program to provide a means for sites to earn advertising fees sold through by advertising and linking to Amazon.com. Amazon offers a small commission on products sold through their affiliate links. Each of your purchases via our Amazon affiliate links supports our efforts to bring you the best possible product reviews at no additional cost to you. We appreciate your support here at OutsidePursuits.com