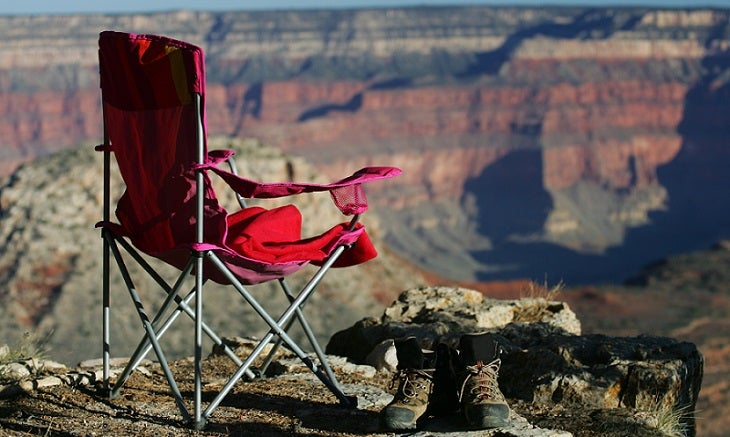 When your looking for the best camping chair, portability and durability are the most obvious factors to consider.
Camping chairs take a lot of abuse, they typically are getting tossed into the back of cars and trucks, dragged around camp sites and stay out in the elements.
And as much as they get abused you expect them to not fall apart and be comfortable when you just want to relax by the fire.
So to create our list, we took several of the top brands and put them through our tests to see which would come out on top.
For more of my top gear recommendations, have a look through these popular Outside Pursuits guide links: Camping Stoves, Camping Coolers and Camping Hammocks.
Quick Answer: The 7 Best Camping Chairs For 2018

Here is a feature comparison of my top rated camp chairs with full reviews and our buyers guide below.
Best Camping Chairs
| | Kijaro Dual Lock Folding Chair | Coleman Camping Oversized Quad Chair | Coleman Portable Deck Chair |
| --- | --- | --- | --- |
| | | | |
| | | | |
| Weight Supported: | 300 Pounds | 300 Pounds | 225 Pounds |
| Dimensions Unfolded: | 35.4 inches wide x 45.7 inches high x 26 inches deep | 37 inches wide x 40.5 inches high x 24 inches deep | 31.1 inches wide x 42 inches high x 21 inches deep |
| Weight: | 10.15 pounds | 7.75 pounds | 7 pounds |
| Features: | 2 cup holders & organizer included with zip & mesh pockets. | Built-in arm rest cooler holds up to four cans with storage pocket. | Relax with a drink and a snack on the side table. |
| | | | |
Camping Chair Reviews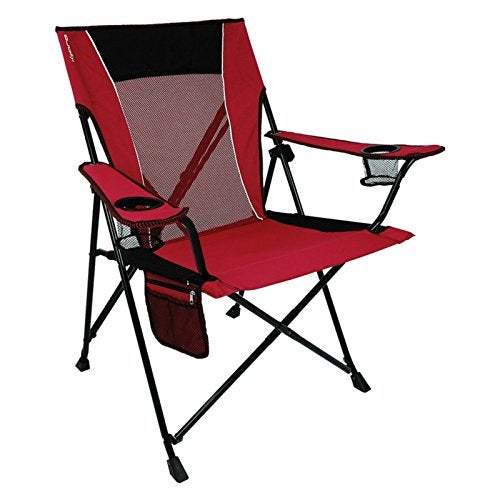 Kijaro Dual Lock Folding Chair at a Glance
:
---
Supports up to 300 pounds
Locks open and shut for stability and transport
Breathable mesh seat back for improved ventilation
Two cup holders
Attached organizer with zippered mesh pockets
Carrying bag included
Kijaro has designed a chair that will make sitting around the campfire more comfortable than ever. This dual lock chair not only locks shut for portability, it also features a sag-free seat.
The sag-free design makes it easier to get in and out of the chair. The slight recline in this design makes it a great choice for those who need a chair with posture support.
The breathable mesh on the back keeps you cool and dry on a hot summer day. Features like the two-cup holders and zippered pockets make this an attractive chair for any camper.
Performance
The Kijaro Dual Lock folding chair cannot be beat for a comfortable lounger. The Kijaro Dual Lock Folding chairs patented technology locks it in the folded position, making it easy to stuff into its carrying bag.
Whether tailgating, camping, even heading to watch a baseball game with the kids, the Kijaro will be a trusted chair to bring along. The Kijaro features a two-cup holder design with an organizer and zip-up mesh pockets for storage of personal items.
The chair holds up to 300 pounds, which is ideal for holding your little one in your lap on a family camping trip, while you enjoy the campfire.
It is a bit heavier than its competition at 12 pounds so you wont be packing it into the backcountry but its perfect for car camping or sitting in your backyard.
The Bottom Line
The Kijaro is more expensive than the typical Walmart camping chair but significantly better quality. The Kijaro is is solidly built and with good back support is the best camping chair for a bad back.
Though you will pay a little, more the added stability and comfort is worth the cost. This is our top pick.
---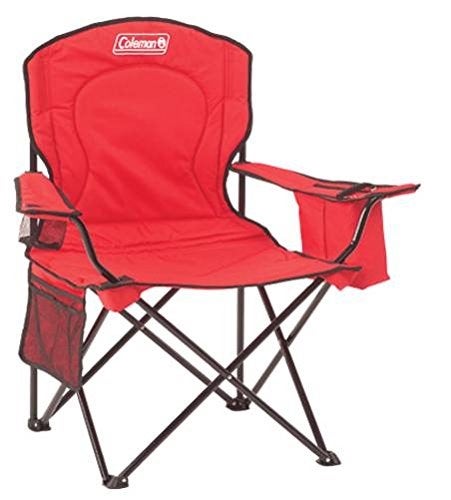 Coleman Oversized Quad Chair with Cooler at a Glance
:
---
Built-in four-can cooler with storage pocket
Easily adjustable armrests
Heavy-duty steel frame for durability
Padded seat
Supports up to 300 pounds
Included bag for easy carrying
As far as luxury camping chairs go, this Coleman Quad Chair with cooler is headed in the right direction. It features all of the bells and whistles you need for a relaxing camping weekend.
Some of the best features include; a built-in cooler, comfortable armrests, a convenient cup holder, a storage pocket, and adjustable arm heights.
This durable, padded chair will make any relaxing camping trip even better. Just because you are "roughing it" in the great outdoors does not mean you have to sacrifice comfort.
Its many luxury features contribute to the comfort of this chair. The four-can soft cooler provides insulated storage for your drink of choice.
The adjustable armrests allow you to get comfortable no matter how tall you are. The padded seat, mesh cup holder, and storage pocket also combine to create a cozy chair that is a lot more than a simple camp seat—it's a veritable outdoor "dad chair."
Performance
This Coleman Quad chair is where 'comfort camping' begins, though everyone may start argue over who gets to sit in it. When collapsed, its only 24 x 37 x 40 inches in its carry bag.
There is a spot for everything—a good book, some personal items, camping accessories, and all the beverages you can drink in an evening (or at least a good start).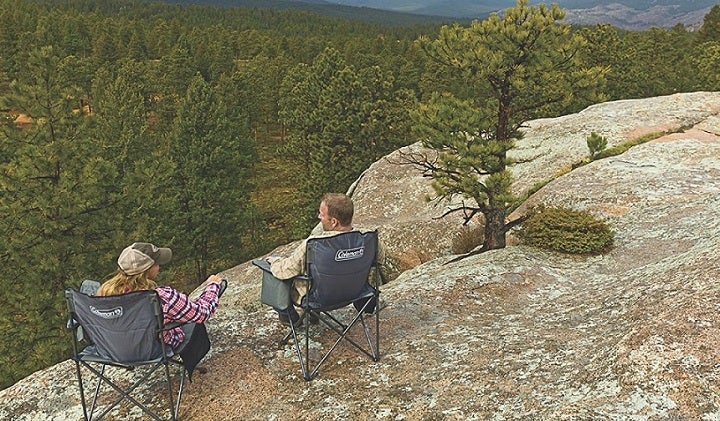 The padding on both seat and back make for a very comfortable chair, you may even find yourself waking up to the sunrise, after a relaxing night's sleep in your chair.
Being a portable camping chair, it folds up and fits easily into the included carry bag that has a shoulder strap for transport. Even though it is not an incredibly small chair when folded up, it still fits inside most trunks.
The Bottom Line
Being made by Coleman you know your getting good quality at a good price. The Colman Camping Oversized Quad chair is a blend of comfort and convenience. It has a plenty of storage to keep a book, phone or a tablet handy.
Weighing around nine pounds, it's not practical for backpacking. The Quad Chair is ideal for those staying at a single campsite or sporting events and its one of best folding chairs for camping you can buy with a price tag under $30!
---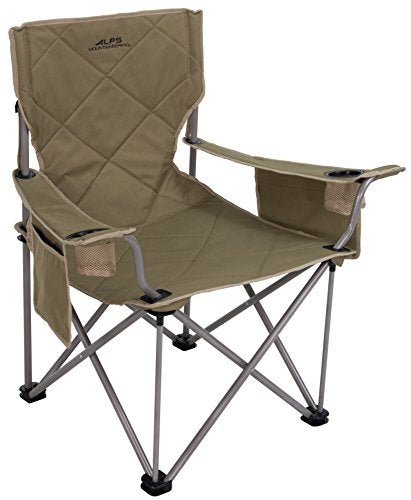 ALPS Mountaineering King Kong Chair at a Glance
:
---
800 pound weight capacity
Shoulder carry bag included for convenient storage and transport
Adjustable Armrests
2 Cup holders
Side pocket on each arm for storage
Strong, durable 600D fabric
Alps Mountaineering is well-known for making quality camping and backpacking products. So if you are looking for the strongest and sturdiest camping chair available, you need to take a look at this chair.
The King Kong chair as you may have guessed can handle a lot of weight. It has a max weight capacity of 800 pounds!
Alps Mountaineering achieves this incredible strength by using a 600D polyester fabric and combines it with a steel frame that has unmatched stability.
Performance
It's a bold claim, but this may be truly the last camping chair you will ever buy. This is not a disposable chair like you might buy at Walmart or CVS. This quality chair has a LIFETIME warranty against manufactures defects.
The patented steel frame is not much heavier than a normal folding camping chair but it is designed to support almost 3 times the weight.
The steel frame has a "powder coating" that is significantly better than paint for a rust proof design that will last a lifetime.
The Alps Mountaineering chair weighs a tad over 12 pounds, which is amazing for the weight it will support.
In addition to the storage pouches on each side, the back of the chair has a mesh storage pocket that is ideal for a tablet, magazines or a book.
Video: Overview of the ALPS King Kong Chair.
The Bottom Line
The Alps King Kong chair is no more expensive than any other decent chair on the market. I'm not sure how they were able to manage that, but they did. Their patented steel frame offers the most weight capacity without increasing the weight of the chair.
The King Kong chair may very well be the last camping chair you buy and is by far the best heavy duty camping chair.
If you are looking for a quality chair with amazing weight capacity and good back support for a great price, then the Alps King King chair is a no brainer!
---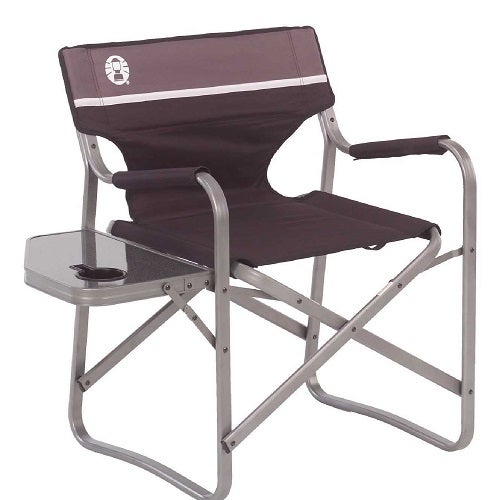 Coleman Portable Deck Chair at a Glance
:
---
Supports up to 225 pounds
Reinforced, lightweight aluminum frame
Polyester fabric seat
Padded back, seat, and armrests
Angled for posture support
Carry handles for ease of handling
Our second Coleman camping chair on our list and what makes this chair unique is the small side table. It might not sound like a big deal but its one of those features that you will quickly wonder how you did without.
The side table feature of this chair is perfect for keeping a drink, your phone or a book handy. The one downside is of having it though, is the side table design prevents the chair from having its own carry bag.
It does fold up flat for convenient storage and will fit easily in your trunk or the back of your SUV or truck.
Performance
The Coleman Portable Deck Chair is not only a good choice for campgrounds, but also perfect for tailgating, barbecuing and your backyard.
It supports up to 225 pounds with a strong and lightweight aluminum frame. The oversized chair features a sturdy and heavy-duty polyester fabric on top of a padded seat, armrests, and back. It is ergonomically designed with comfort in mind.
Like the previous chairs reviewed, this chair is not meant for backpacking but car camping only. Its easy to transport from home to the campsite with a flat design and carry handles.
If you are in the market for a table and chair combo that is easy to carry, you have found it.
There are a few small drawbacks to consider, the drink holder on the table could be deeper and it doesn't come with a carry bag.
The Bottom Line
While this is not a super high end chair, it is ideal for camping and sporting events and a top contender for the best folding camp chair.
If you are looking for a camping chair that has the convenience of a side table at a bargain price, this is the chair for you!
---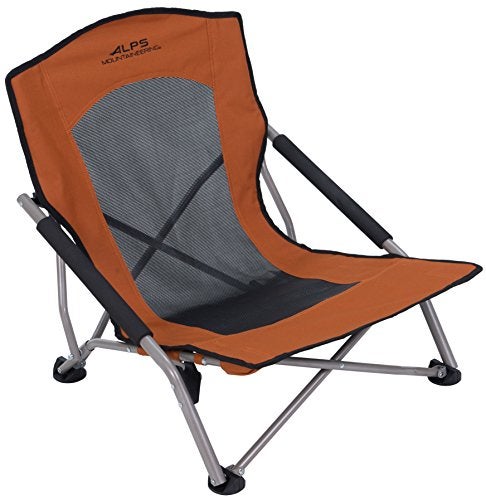 ALPS Mountaineering Rendezvous Chair at a Glance
:
---
Weight Capacity: 300 lbs.
Dimensions: 14″ x 22″ x 24″
Weight: 6.8 lbs
Shoulder Carry Bag Included For Easy Transport and Storage
TechMesh back to allow airflow
With our second Alps Mountaineering camping chair, the Rendezvous we have a very different style of chair. With the King Kong we had a sturdy chair with a large weight capacity. With the Rendezvous, we have low profile camping chair that was designed for comfort and light weight.
The Rendezvous may be the most comfortable camping chair you will ever sit in! It has a max weight capacity of 300 pounds and it manages to achieve that while weighing only 6.8 pounds.
This is a low profile design chair so you are close to the ground that is perfect for sitting around the campfire roasting marshmallows. It is also versatile in that it is a great option for a beach chair or enjoying a concert.
Its small and compact, this lounger could be used for short backpacking trips. The back of the chair has a mesh center that provides nice airflow so your back doesn't get all sweaty when is hot out.
The back of the chair is angled back at a very comfortable angle so that you can stretch out your legs without needing a foot rest.
Performance
The Rendezvous is a quality camping and all around activity chair that is equally at home around a campfire or listening to your favorite band at a festival.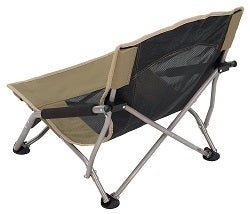 Alps Mountaineering uses a steel frame that has a "powder coating" that resists rust and has a lifetime warranty against manufactures defects.
Being so low to the ground is does not have drink holders but they are really not needed in my opinion.
They put some padding on the arm rests, which is a nice touch in my opinion. You will notice how comfortable it is almost immediately.
On a hot, humid summer day the mesh backing will be especially noticeable, it allows ventilation and airflow on your back keeping you cool and dry.
The Bottom Line
At less than $50 this chair is a bargain. While costing a bit more than your typical Walmart camping chair I think you will find it worth every penny. If you don't want a "disposable" chair that lasts a few camping trips, then you need to seriously consider the Rendezvous.
Being extremely lightweight at only 6.8 pounds and compact at only 8×28 inches it is the best lightweight camping chair.
Video: Overview of the ALPS Rendezvous Chair
For a low profile camping chair at a bargain price the Alps Rendezvous really has no equal!
---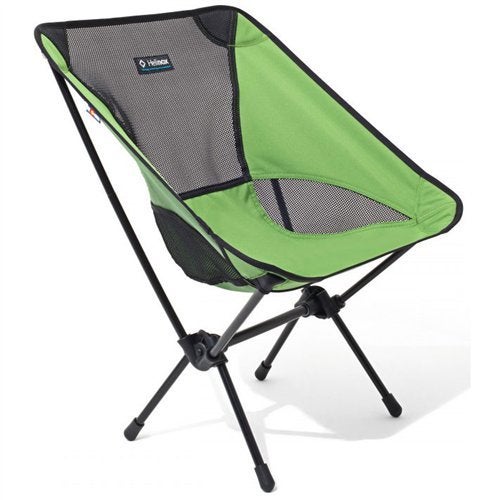 Big Agnes Helinox Chair One at a Glance
:
---
7075 aluminum supports up to 350 lbs

Mesh storage bag
Weighs only 2 pounds

Terragrip feet won't sink in the sand
The Big Agnes Helinox Chair One is definitely worth considering for your next camping or backpacking adventure. What makes the Terralite unique is the design, the chair folds up into a very compact carry bag.
Weighing only 2 pounds and when folded up measures only 17 x 4.5x 4.5 inches it can support 350 pounds, it's pretty amazing.
The combination of mesh and 1000D oxford cloth makes the chair comfortable for long periods of sitting, even when its hot out. The mesh backing keeps your back cool and dry by allowing perspiration to evaporate.
The frame made from aluminum, is strong and durable while being easy to fold and unfold. The backing of the chair fits on the frame similar to a tent and is fast to assemble. The bottom of the legs have wide rubber caps to keep it sinking into the sand or mud.
Perfect for camping and backpacking the Helinox with a nylon carrying bag is ideal for a beach chair, tailgating, fishing or a picnic. The Big Agnes Helinox Chair One is my top pick for the best portable camping chair.
---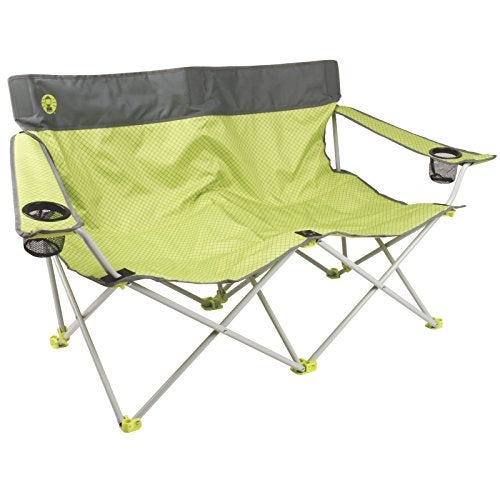 Coleman Quattro Lax Double Quad Chair at a Glance
:
---
Seats 2 people,

500 lbs capacity

2 mesh cup holders

Includes convenient carry bag
Strong steel frame for stability
The Coleman Quattro is designed so you can sit comfortably next to your significant other in this comfortable chair. It would seem Coleman misnamed it, should be called the Duo chair but I digress….
With a strong steel frame and nylon fabric, it supports up to 500 pounds. It folds up, accordion style to 31.9 x 7.9 x 6.7 inches. This is not a chair you will putting in your backpack but it will easily fit in your trunk.
Coleman gave the chair pockets on the back of the chair for storing magazines or a jacket and conveniently put two drink holders in the armrest to hold your favorite beverage.
Ideal for camping or tailgating, the Quattro is the perfect 2 person camping chair.
---
Camping Chair Comparison Table
How To Choose The Best Camping Chair
Camping can be fun even if you ditch the lawn chairs and rough it on logs or park benches, when relaxing at the campsite.
However, having a camping chair stashed in with the gear adds a lot to any camping experience, whether you are doing a little weekend camping at the nearest national park or trekking deep into the woods.
A camping chair is certainly not among the necessities of your outdoor gear, but it does add extra relaxation to the experience.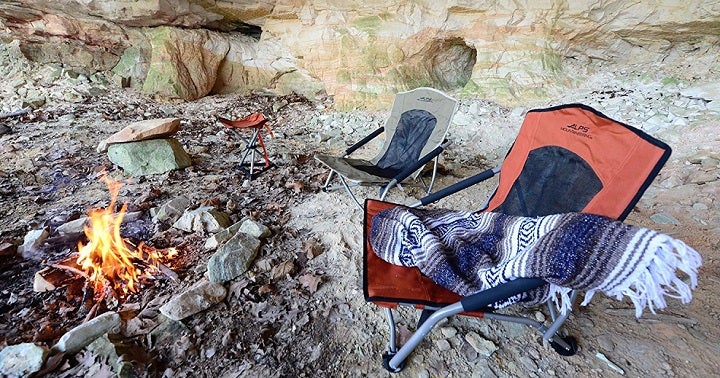 Types of Portable Chairs
Camping
When we say camping chair we are referring to chairs for car camping. These types of chairs are not the lightest available because they are not designed for carrying through the backcountry.
These chairs are durable, foldable to fit in the trunk of your car and are usually pretty comfortable. Camping chairs will normally have more support and more features than backpacking chairs.
Backpacking
When you are hiking through the backcountry and looking to take a chair with you, you are going to have very different requirements than car camping. Weight and size are the major priorities. Comfort takes a backseat to packability.
Backpacking chairs are going to have less sturdy frames, thinner materials and most likely less features and comfort. While these chairs are ideal for hiking in the backcountry, they are less than desirable for car camping.
Weight and Dimensions
Since we are talking about camping and specifically car camping we are looking for a chair that isn't necessarily the lightest but one that just packs up small enough for transport but is comfortable for sitting around the campfire.
Camping chairs usually range in weight from 7 to 10 pounds with an outlier on our list the Terralight, weighing in at only about 3 pounds.On the other end of the spectrum is the Coleman Quattro or the Kelty Low Loveseat Chair that seat two people but weighing about 15 pounds, I would want to carry them too far!
As long as the chair fits in your trunk and is comfortable we are probably going to be happy with it.

Height
There are two heights with camping chairs we are concerned with. The first is the seat back height. This becomes much more an issue if you have back issues. A higher seat back will normally offer more support and comfort over longer periods of time.
When we are talking about ground to seat height we are referring to the distance between the bottom of the seat and the ground. Overall the higher the seat height, the more comfortable it is. A higher chair tends to be more comfortable for your legs and are easier to get in and out of.
If you will be using the chair for outdoor concerts, a higher seat height will definitely give you better viewing in addition to being more comfortable.
The chairs on our list range in height from 12 -18 inches. The Coleman Quad and the Kijaro are right in the middle of this range and good for both camping and concerts.
Fabric
With a camping chair the main focus is on comfort and strength. Since weight really is not an issue the manufacturer can create heavier fabrics that support large amounts of weight like the Alps King King chair that can support 800 pounds!
Needless to say, you will not be taking a heavier chair like this into the backcountry as it weighs over 12 pounds.

Frame
Camping chairs as compared to backpacking chairs are normally made out of steel because to is not only stronger but cheaper.
Since we not concerned with weight, steel makes more sense and is what allows a camping chair to support more weight like the Alps King Kong and the Kijaro which are stands outs in this category.
The one problem with a steel frame vs an aluminum frame that is used in most backpacking chairs is rust. Steel if not properly coated will eventually rust.
In this regard both the Alps King Kong and the Rendezvous are well designed with a "powder" coating. This is protective coating that is baked on the metal and keeps moisture away from the steel and will prevent rust for the life of the chair.

Features of Camping Chairs
Storage Pockets
Camping chairs will have a few more features than a comparable backpacking type chair. Since we are probably car camping we can bring along personal items like smart phones, tablets and some reading material. Most camping chair loungers have at least one or two pockets to keep your stuff handy and getting lost.
Drink Holders
With a camping chair a drink holder is pretty much a standard feature with all of our chairs for obvious reasons! If you sitting around the campfire enjoying an adult beverage, having somewhere to keep your drink handy is an obvious feature to look for.
With a backpacking chair, such features are not necessary since you will not be packing along bottles and cans to use them with, or magazines for that matter.
Rockers
For the camper who can't sit still, you may want to consider a camping rocking chair. While we didn't review it on our list, the GCI Outdoor Freestyle Folding Rocking Chair is worth considering. Very similar to the Coleman Portable Deck Chair, the GCI Outdoor is rugged, comfortable with a cup holder.
Other Camp Chair Considerations
Many factors influence which chair is the best choice for your outdoor gear. Considering what type of terrain you will be camping on is the most critical factor in determining which type of camping chair is ideal for you.
Portability
Camping chairs all share a common denominator—portability and ease of set up.
The big difference comes when it comes down to destination. Are you headed to the beach? A light-colored mesh chair will accommodate you the best.
Are you camping next to your car at a local campground? Comfort inevitably trumps size and bulk every time.
If you are the adventurous type going for backcountry camping (or any adventure involving a lot of walking) where you will be hoisting everything on your back, a one to two pound portable camping chair works best.
This type of a chair will be a mesh design with a very lightweight frame, like the TerraChair. You do not want to be lugging around a full chair while hiking through the woods. Destination is everything.
Comfort
Bottom line, a campsite chair needs to be comfortable. If you really need to save on space for your next trip, a portable camping chair will do, but there's nothing like the thick padding of an oversized camping chair after a long day of hiking, fishing, or boating.
If you want the convenience of stowing items while you sit—a cup holder, for one—the full-sized camping chair is the only kind with room for it.
If lounging is your goal, keep in mind features like cup holders, coolers, and the fabric. Keep in mind, this chair is only for the camper who sets up camp in a single destination, as opposed to hiking through the woods.
---
I hope this guide was helpful for finding the best camping chair to fit your needs. If you want to comment or recommend a chair I didn't include, please use my contact form to get in touch. All of the above chairs are available from REI or Amazon.
Have fun and be safe out there!
Notice: Outside Pursuits is a participant in the Amazon Services LLC Associates Program, an affiliate advertising program to provide a means for sites to earn advertising fees sold through by advertising and linking to Amazon.com. Amazon offers a small commission on products sold through their affiliate links. Each of your purchases via our Amazon affiliate links supports our efforts to bring you the best possible product reviews at no additional cost to you. We appreciate your support here at OutsidePursuits.com