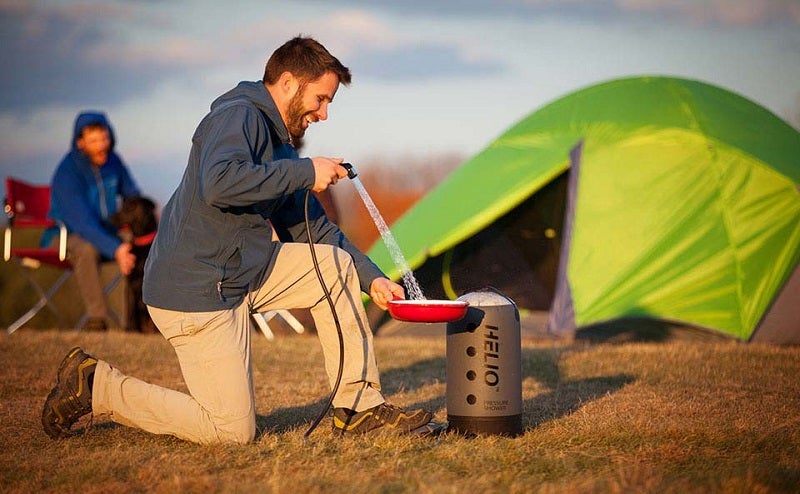 Our Editors independently research, test, and rate what we feel are the best products. We use affiliate links and may receive a small commission on purchases.
Heading into the woods means days of sweat, dirt, grime and hard work! If you're going on a long camping trip you might not have the convenience of modern amenities like a good shower to clean with.
While some barbarians among us go unshowered, you're looking to wash those stinky pits and keep your humanity intact. Taking a camping shower along is the only way to bring the modern into the rustic.
The best camping showers are usually large reservoirs of water that can be heated, hung on a tree branch, and then used to produce a shower of water where you can bathe.
Some are more modern with fancy ways to heat the water, and many options.
Best Camping Showers
| | Advanced Elements Summer Shower | Dr. Prepare Camping Shower | Mr. Heater BaseCamp Shower System |
| --- | --- | --- | --- |
| | | | |
| | | | |
| Water Capacity: | 3 Gallons /11 Liters | 4 Gallons / 15 Liters | 1.5 gallons per minute |
| Heating: | Solar | Solar | Bulk Propane |
| Weight: | 1.3 Pounds | 1.2 Pounds | 15 Pounds |
| | | | |
For more of my camping recommendations, have a look through these popular Outside Pursuits guide links: Camping Stoves, Camping Hammocks, Camping Cots.

Quick Answer: The 5 Best Rated Camping Showers For 2021
In this guide I'll walk you through just what to expect. What features to look for and what to avoid. I'll recommend a few top rated camp showers you can pick from to get started fast!
---
Camping Shower Reviews
Now let's take a closer look at the most popular and well loved camping showers you can choose from when selecting your next camp shower!

I love that this portable outdoor shower has a few tech features that really take it up a notch. It's not just a bag full of water anymore. The Advanced Elements shower sets the bar a bit higher for camp showers.
This bag features a bar at the top which distributes weight and helps the bag hang level and even. Under that, the bag is made to help warm the water from solar energy just by leaving it in the sun.
The material reflective panel and insulation panels of this camping shower are both additional benefits to helping that water get hot and stay hot.
Don't expect a fully hot shower just from solar energy, but it will certainly help warm up those chill mountain streams!
I like that there's a side pocket for soap and shampoo and the shower head lives on a tube that you can grab to direct the water where you need it most.
Of course you can always just leave the shower head attached to the bag and use it as a stationary shower. My top pick for the best solar shower!
Best For: Those who love a simple, portable solution for their mountain showers!

---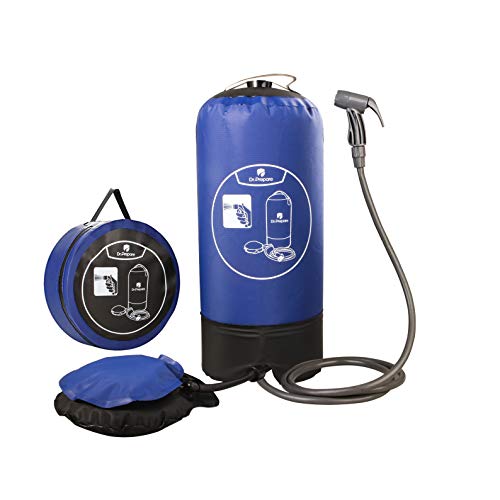 Talk about breaking the mold! Dr. Prepare makes tons of outdoor gear and this innovative and unique camp shower stands up to their name.
Pump the shower full of pressure using the foot pump as you use the water to wash dishes or shower.
Because this shower doesn't need to be lifted to use gravity, you can get away with heavier loads or showering in areas where there are no convenient tree branches.
By pumping the foot pedal you pressurize the tank and then the spray nozzle can easily be used to direct the water where you need it.
This shower comes with a durable carrying case and a safety strap. This strap prevents the water bag from opening during operation when the tank can be slightly pressurized.
It won't hurt you if you open it under pressure, but it will make a giant mess! I love that they made the whole system so it can't be overinflated. Maybe the best camping shower with its versatility and lightweight.
Best For: Pressurized water delivery for a variety of camp needs.

---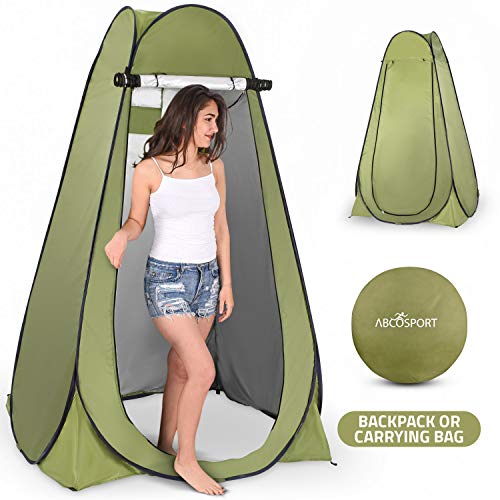 What's a dressing tent doing on our list? Well, it's because you need somewhere to shower when you're using your camping shower at a busy campground. You don't want to scar Little Timmy for life by going commando in the picnic area!
Not only can you use this privacy tent for standing dressing and changing, it can be used for showering! If you're not showering, take it to the local beach and sit in the shade when you're not swimming.
There's a zippered window on one side of this camping shower tent that would make a perfect entrance for your shower hose.
Using one of our camping showers from earlier, just hang the bag outside the tent and route the hose into the little window opening. Zip the window closed around the hose and then take your shower!
There's no need to worry about a drain in the tent since the floor is removable so just leave the floor off and let the water run away into the ground.
If you do choose to do this, try to minimize your use of harmful cleaning products as soap and other shower chemicals can hurt plants and animals. Using a castile soap like Dr. Bronners will minimize your impact on the land.
Best For: Combining with any of the camping showers reviewed here for a more private experience. The Campla would be my choice for the best camping shower tent.

---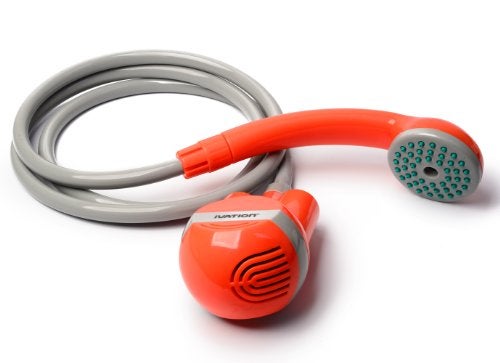 Here's a neat tech shower that brings modern convenience to the outdoor world. Of course, you'll need access to a bit of electrical power to keep this outdoor camping shower running.
It might just be an excellent solution for camping at a campground where there are usually outlets nearby! There's a rechargeable battery that powers a submersible water pump.
This pump then pushes water up to the showerhead. The battery is separate from the water pump and waterproof so there's a very low risk of water interrupting or shorting out the battery power.
I think it's an awesome ideal and the rechargeable 2200MAH battery could even be recharged with a pocket battery pack if needed!
There are ways to charge the battery using solar panels or just an outlet if you want. Of course you'll need to buy solar panels and charging equipment separately.
I think users will find this to be difficult to use in muddy, murky, or dirty water. Because the water pump pulls water up and delivers it to the nozzle under pressure, any debris in the water will be fed into the system.
Be sure to use relatively clean water with this system as it won't be fun to clean muck out of the pump! In my opinion this is the best portable shower and at a bargain price.
Best For: Clean water showers where all you need is a little pressure delivery!

---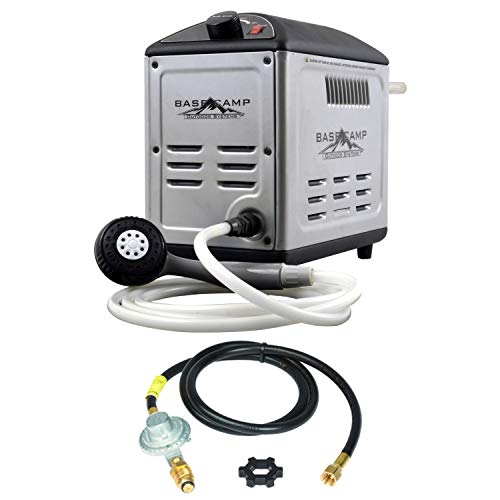 If you're using a pop up camper, small RV, or truck camping you might want to consider an inline portable hot water shower. If you are at a campsite with a water hookup, how will you heat it?
The Mr. Heater BaseCamp! This portable propane shower unit is small, efficient, and effective at heating water. This unit can be self supporting or you could mount it to the side of your camper for versatility.
There are four settings on the showerhead and it provides 1.5 gallons per minute of hot water to the showerhead. There are a few restrictions though.
You'll need a minimum of 25 pounds of water pressure to operate. That means you'll need a modern water hookup such as a campground water hookup.
This portable heated shower uses batteries to ignite the gas and then heat the water so you'll need a few D batteries.
The unit brings the modern convenience of a hot shower to the camping experience!
Best For: Adding to a popup camper or truck camper for a campground shower.

---
How to Choose the Best Camping Shower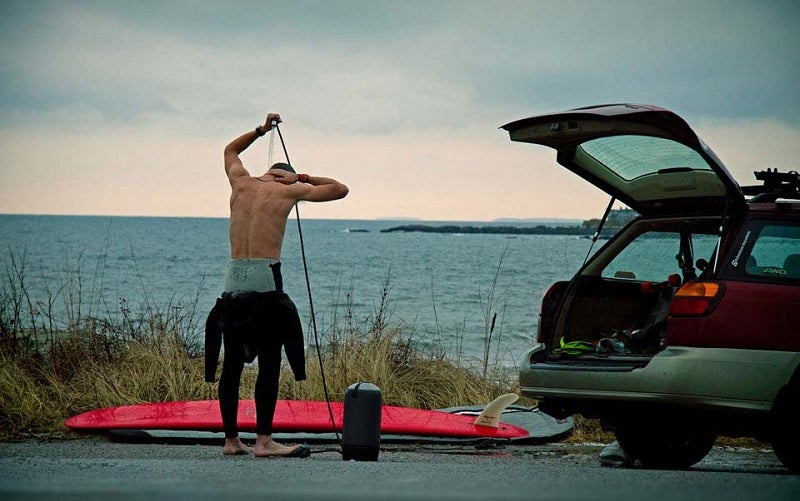 Alright, it's just a camp shower you're thinking. How hard can it be to pick one out? Let's go over a couple details you need to keep in mind before you make your move.
Don't go looking for your next camp shower until you've taken the time to educate yourself!

Capacity
First and most obviously is sheer capacity. How much water your camp shower can hold will determine how long of a shower you get. So is capacity the best factor for determining camp shower quality?
Definitely not.
In this instance bigger isn't always better. Larger showers will take more water which means you'll have to somehow heat up more water. When camping this isn't always easy and heating a ton of water will waste a lot of cooking fuel.
When you go to hang up a camp shower, remember that water weighs about 8 pounds per gallon. That means a 5 gallon shower will weigh 40 pounds.
Will you be able to find a low hanging branch that is strong enough to hold your full shower? Last thing you want is to have your camp shower snap the branch and come crashing down.
Of course you don't always have to fill the shower all the way up. In some instances you might be able to hang the camp shower from a more sturdy location.
These are all factors you'll want to keep in mind before you simply buy the largest and heaviest camp shower possible!

Shower Heads
We're not talking about massaging shower nozzles, or hot tub type luxury. What we are talking about is flow rate and shower head type.
It takes a lot of work to fill your camp shower, heat the water, hang the shower, and get yourself clean in the woods.
Once that shower is hung up you want it to last as long as possible before your hard earned water disappears. So what determines how long your shower will last?
First is shower capacity. The more water, the longer your shower lasts. Second is flow rate which is determined by the type of shower head on your camping shower.
Most camping showers have a ball valve that can be adjusted to control water flow.
Even with a high flow shower head you can adjust a ball valve to get just enough water and not too much with each shower. If you're getting too much, just close the valve a bit.
With the valve full open if you're not getting enough water then check for clogs. Debris in the water you put in the camp shower can easily clog the small shower heads on camping showers.
If there's no clog and still not enough water coming through, you'll need a higher flow showerhead.
Unfortunately most camping showers have only one type of showerhead. They're not typically interchangeable like home showerheads.
If you need to change heads, you'll probably need a whole new shower. Read user reviews before buying to make sure you're getting what you want!
Construction Materials – Fabric vs Plastic
Camping showers tend to come in two distinct flavors (no, don't lick them!) First up is plastic camping showers.
These little showers are made from a soft and flexible plastic. Typically clear, you can see through them to determine how much water you have left and how fast it's draining.
I do like this feature on some showers as it helps you judge how fast you need to scrub at those pits! I find that plastic seems to not last as long as a good quality fabric shower, though.
Fabric showers are usually made from nylon with a silicone inner coating. These nylon bags are covered with a waterproof membrane which allows them to have the flexibility of fabric while staying waterproof and holding that precious shower water!
Because they're made from fabric you can't see through them and you'll have to guess how much water is left. I find that they're usually more durable and they can make great camp seats!
Just try not to pop them on a share stick or rock… These durable nylon bags tend to pack up smaller and offer more versatility than their plastic cousins.
There's really no wrong or right answer here. Personally I'd go with fabric any day because I prefer the durability and versatility of a good nylon camping shower over plastic ones.
Available Space
The amount of space you have available for bringing a camping shower with you is important to consider. If you are backpacking into the woods, you're not going to have as much space as if you are camping in a pop-up or mini trailer.
Before you make your choice, consider how you will be traveling, where you will be camping, and how much space you're willing to devote to carrying your camping shower.

FAQs About Camping Showers
We receive questions from both novice and experienced campers about camping showers, their features, their use, and more.
Q: Can I use a camping tent while in an established campground?
A: Many established campgrounds already have amenities such as showers. Oftentimes, if a campground does have amenities such showers, they either don't allow the use of camping showers or they limit their use. However, if shower amenities aren't available, most likely portable camping showers will be allowed. If you aren't camping in an established campground, there usually isn't an issue with using your own shower.
Q: How do I know what camping shower capacity to get?
A: There are several things to consider when choosing the capacity you need. The first is, of course, how much space you have to bring a camping shower with you, but even if you have all the space to bring one, you may benefit from investing in a smaller one. It's important to consider your access to both water and a heating source, as well as how frequently you will use it and for what purposes.
Q: What's the best heating type?
A: The type of heating source that's best for you will depend on what kind of camping you do. If you're going to be out in the desert, a camping shower with solar heating can be an asset. However, if you're going to be camping in the woods, a solar heating source may not be the best choice. In this instance, you may want to heat the water over a campfire or camping stoves. In fact, you may want to have a different camping shower for each type of camping you enjoy so you always have the most efficient one, no matter where you're camping.
Q: Is showering while camping eco-friendly?
A: Using a camping shower is very eco-friendly as long as you're careful about the types of soaps that you use. Using an all-natural and biodegradable soap will ensure that you're showering has as little impact on the environment as possible. There are soaps designed just for use while camping, but many soaps that utilize essential oils instead of chemicals are also a great choice.
Q: How can I make my camping shower last longer?
A: Before leaving on your trip it's important to check the camping shower to make sure it is in perfect working order. While camping, be observant of where and how you use it. Keep it away from pets you may be traveling with and when not in use put it up and out of the way of any critters that may be around. Once you get home from your trip, clean it and make sure it's completely empty and dry before storing it.

Tips For Using Your Camping Shower
If you're ready to make your camping trips a little more comfortable, we have some great tips for you.
Tip #1: Use Your Camping Shower for Other Things
You don't only have to use a camping shower for showering. It's also possible to use it to give your four-legged camping buddy a rinse off as well, especially after a swim or getting into a bit of a mess. It can also make washing dishes while camping a lot easier. What other uses can you find for a camping shower? We'd love to hear your ideas!
Tip #2: Have Access to or Bring Needed Resources
Using a camping shower is much easier when you have ready access to both water and a heating source. If you have to bring water with you, as well as your own heating method, using a smaller shower it's probably best. If you do have ready access to the resources you need, it's possible to use the shower more frequently and for many other purposes. If you haven't camped at the site before, research what resources are available to you and what you may have to bring with you.
Tip #3: Invest in a Camping Shower Tent
Depending on where you're camping, you may need or want a little bit more privacy while showering. A camping shower tent can make it a lot easier to use your camping shower and give you that privacy. A camping shower tent isn't just for privacy, however. You can use it to create a little bit of warmth while showering should it be chilly.
Tip #4: Bring Shower Shoes
Showering while camping can bring a few challenges. One of those challenges is that you will need something on your feet while showering to keep from stepping on sharp objects, insects, or things that make taking a shower obsolete. You won't want to wear your regular shoes, so bringing a pair of shower shoes can definitely help. If using a camping shower tent, be sure your shower shoes won't damage the inside of it.
Tip #5: Choose Quick-Drying Towels
When bringing a camping shower on your trip, it's also important to bring a towel or two. Because you won't be able to toss a damp towel in the dryer, invest in a couple quick-drying towels that are also lightweight and easy to carry. Many microfiber quick drying towels are also lightweight and very absorbent.

Final Thoughts
Determining which type of camp shower to use depends on your needs. If you're adding on to your car or truck camping gear, you can go with more advanced gear.
If you're hiking into remote locations, you won't have access to pressurized water. Choose the camp shower that makes the most sense for your needs and don't be afraid to get more than one for each situation you'll be in.
A little creativity goes a long way and with the products we've recommended you can bring the modern into the rustic!
How We Researched
To come up with the top camping showers we researched a variety of sources for reviews such as REI, Bass Pro Shops, Cabelas and Backcountry along with our own personal experience.
We also consulted online magazines for product research and reviews to get as much unbiased information as we could. To help weed out fake reviews we used Fakespot.com to make sure we only looked at genuine reviews.
With so much quality gear available, we had to narrow it down based on what we felt were the best options for the price. The author, Casey Fiedler has been leading backpacking trips for over a decade in his native state of Michigan.
To help narrow down the selection he used his personal experience along with recommendations from fellow guides and outfitters.
After extensive research, we came up with our list to help you choose the right one for you.
Sources
---
I hope this guide was helpful for finding a good camping shower to fit your needs. If you want to comment or recommend a portable shower I didn't include, please use my contact form to get in touch. New to camping? Here is a guide to get you started.
Have fun and be safe out there!
Notice:
OutsidePursuits.com is a participant in the Amazon Services LLC Associates Program, an affiliate advertising program. OutsidePursuits.com earns fees from products sold through qualifying purchases by linking to Amazon.com. Amazon offers a commission on products sold through their affiliate links.