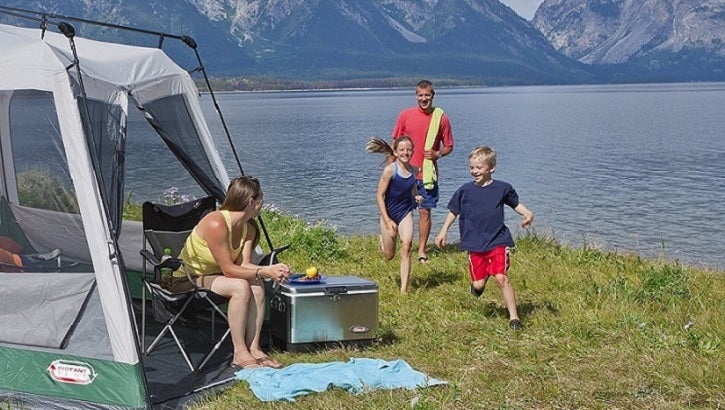 Our Editors independently research, test, and rate what we feel are the best products. We use affiliate links and may receive a small commission on purchases.
When we pack up the RV or car to head out and tackle the wilderness with friends and family, you can bet a cooler will be included.
If you're lacking a camping cooler, then this is the point where you realize you've made a mistake.
To pick the best camping cooler, we need to understand what we'll be using it for. Will it be for weekend trips to the campground?
Are we taking food for 2 people or 12?
Some coolers even come with advanced features like integrated cup holders, fold out trays, or even auxiliary batteries for charging phones or powering the Bluetooth speaker for the party.
So what is the best cooler on the market?
Best Camping Coolers
| | Pelican Products ProGear Cooler | Engel Coolers High Performance | Coleman Steel-Belted Cooler |
| --- | --- | --- | --- |
| | | | |
| | | | |
| Ice Keep: | Up to 10 days | Up to 10 days | Up to 1.5 days |
| Insulation: | 2" polyurethane | 2" polyurethane | 1" foam |
| Size(s): | 70 Quarts | 13-80 Quarts | 54 Quarts |
| Weight: | 36 lbs | 30 lbs | 19 lbs |
| Rating: | 4.4 / 5.0 | 4.1 / 5.0 | 4.5 / 5.0 |
| | | | |
For more of my camping gear recommendations, have a look through these popular Outside Pursuits guide links: Camping Stoves, Camping Cots, Camping Chairs.
Quick Answer: The Best Camping Cooler
Our reviews of the top rated camping coolers along with our comparison table and buyers guide will help you chooser the right one for you.

---
Camping Cooler Reviews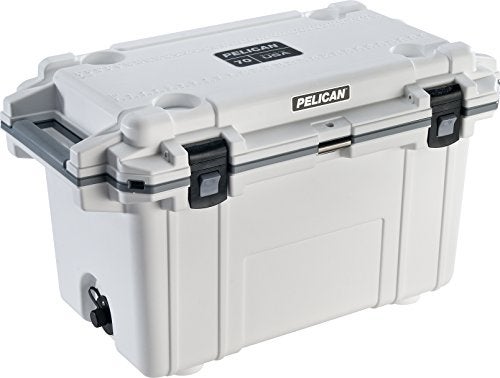 Pelican Products ProGear Elite Cooler at a Glance
:
---
Capacity: 70 Quarts
Ice Retention: Up to 10 days
Insulation: 2″ Polyurethane
Weight: 33 Pounds
This 70-quart cooler from Pelican features 2" polyurethane insulation for ice retention up to 10 days.
Using molded handles, press and pull latches for a air-tight seal and a molded outer body, this rugged and durable case is a serious contender for your consideration.
Large press-and-pull latches are designed to be used with gloves on and operate with a two-stage locking mechanism.
There's even a combination lock attachment point on the cooler if you really want to keep the pesky neighbors out of your beer.
Pelican Cooler will protect your beer from unwanted guests:
The Ultimate Showdown: Grizzly Bears vs Pelican Elite Cooler
With a sloped flood drain and a threaded attachment that can be attached to a garden hose, you'll be able to really rinse out any nasty gunk that builds up inside this cooler.
Despite the relatively heavy weight, I think you'll like the longevity and performance of this high-end cooler. Definitely a tool for car or truck camping as the weight and bulk make it impossible to carry over distances.
Pelican Coolers are proudly made in the USA in South Deerfield, MA. With a lifetime warranty I think this is the best cooler on the market.

---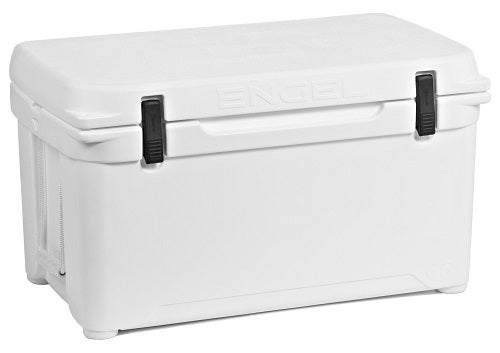 Engel Coolers High Performance Cooler at a Glance
:
---
Capacity: 13-80 Quarts
Ice Retention: Up to 10 days
Insulation: 2″ Polyurethane
Weight: 28 Pounds (65 QT)
With a steep jump in performance over most other camping cooler models, the Engel ENG65 can hold ice for up to 10-days at a time!
This is a serious cooler for those looking to keep food fresh for more than a week in rugged backcountry conditions.
With a silicone gasket and marine grade compression latches, there will be absolutely zero air transfer to the outside world.
Just be certain to clean off the silicone gasket thoroughly after each use when you get home.
Engle has managed this high degree of insulation by using a solid two inches of polyurethane foam around the entire cooler!
The Anvil Hinge keeps the lid upright when opened, very handy when trying to get a beverage out of the cooler when you have something in your hands or need both hands to search for buried items.
I really like that the cooler is a IGBC certified bear resistant container. This is great touch for camping in animal friendly areas to make sure that you keep yourself and the animals safe! The Engel 65 is one of the best coolers like yeti but cheaper.

---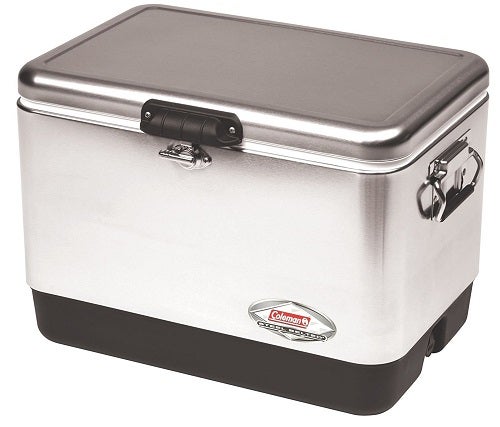 Coleman Steel-Belted Cooler at a Glance
:
---
Capacity: 54 Quarts
Ice Retention: Up to 1.5 days
Insulation: 1″ Foam
Weight: 19 Pounds
If retro design or timeless style is your jam, then this cooler will be your top pick! First designed by Coleman in 1954, the 54-quart cooler looks retro!
While it's big, heavy, and nearly bombproof you'll be able to fit just about anything inside.
With exterior dimensions of 14"x22" it's not a behemoth, but neither is it compact. You can fit up to 85 cans of your favorite beverage or hold several two liter bottles upright.
Rustproof stainless steel and each cleaning design leave no room for bacteria to take hold in nooks and crannies.
Remember when we talked about durable handles? Coleman's steel handles and metal brackets are sturdy and durable.
The Have-A-Seat lid will ensure you always have a place to sit at the campsite, tailgate party or BBQ. This cooler has been loved for decades and for good reason!
Coleman has always been known as making some of the best camping coolers on the market at a reasonable price.

---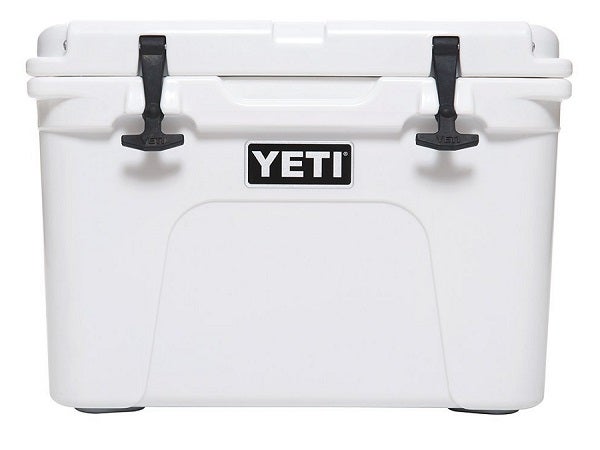 YETI Tundra Cooler at a Glance
:
---
Capacity: 20-160 Quarts
Ice Retention: Up to 10 days
Insulation: 3″ Polyurethane
Weight: 25 Pounds
The Yeti is not ranked #4 because its not as good as the other coolers, its just you really pay a premium price for YETI coolers. They are the best, but the difference between YETI, Engel and Pelican is not that much.
This smaller cooler is a size down from the others on our list which makes it a great personal cooler choice or a short day at the parade, air show, or beach.
With a capacity of about 20 cans of brew, you can be sure there's enough for a few friends on a long hot day. If your in need of a larger size, here is a link to the 65 quart size.
Despite the small size, it still weighs in at a hefty 20lbs. but that's the tradeoff for serious insulation. This cooler features up to 3" of insulation, a rubber sealing gasket, and two rubberized latches to keep the lid on tight.
Video: Overview of the Yeti Cooler.
It's built to be bear resistant for thwarting the attempts of those tenacious buggers but we don't recommend testing it out.
All YETI Tundra model coolers come standard with one dry-goods basket to help separate the ice and water from any goodies you might want to keep crispy.
This is a solid choice for those looking to carry a more moderate number of cold goodies. One of the best coolers for camping, but at a higher price point than its competitors. When you want the best cooler there is, YETI has no substitute.

---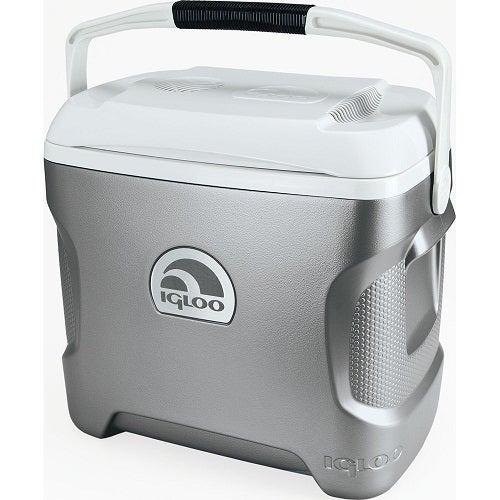 Coleman PowerChill Thermoelectric Cooler at a Glance
:
---
Capacity: 40 Quarts
Ice Retention: Unlimited
Insulation: 1″ Foam
Weight: 10 Pounds
If you're heading off the grid, then this is not the cooler for you! If, however, you're spending the weekend at the campground and you've got access to a 110V outlet, you'll be able to keep your items fresh and cool in what amounts to a tiny fridge.
Coleman designed this cooler to be halfway between the college dorm room and the campground cooler.
You can convert the door to open either left or right or you can simple set the cooler down horizontally to be used like a traditional cooler.
Its not a true refrigerator of course, but it will keep the interior of the cooler 40 degrees cooler than the surrounding air temperature.
The fact that you do not need ice is major advantage in my book, you get a true 40 quarts of storage since there is no ice taking up room and soaking your food.
Internally a tray shelf can be used as a divider or a shelf depending on how you set up this cooler fridge. You'll be able to hold about 44 cans of your favorite brew with the 40 quart capacity.
The motor that keeps the interior cold, takes up little weight so the cooler is about the same weight as a standard cooler of similar capacity.
Overall, this is a good choice for the tech savvy campground visitor.

---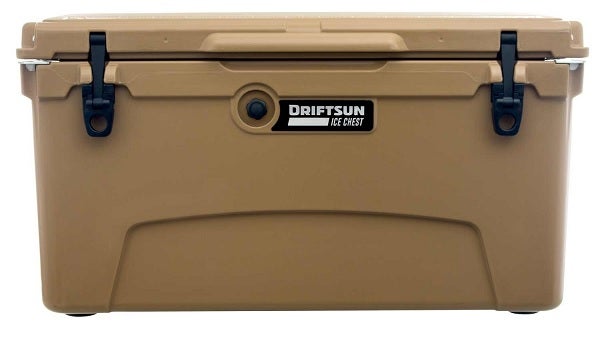 Driftsun Quart Ice Chest Cooler at a Glance
:
---
Capacity: 75 Quarts
Ice Retention: 3-5 Days
Insulation: 3″ Polyurethane
Weight: 32 Pounds
A perfect cooler for the great outdoors, the Driftsun is designed to keep your food and drinks cold for up to 5 days in 90 degree plus heat.
Similar in appearance to the gold standard in coolers, Yeti it comes close in toughness but not in how long it will keep your food cold.
This 75 quart sized cooler is made from a double walled insulation with a rotomolded durable plastic exterior and is bear proof with its "tallon" latches. Hopefully you wont have a front row to a bear trying to get into it.
The insulation is top notch and has a wide freezer gasket to keep the cold in and provides an airtight seal.
The Driftsun has non slip rubber feet to keep the cooler from moving around or tipping and has one of my favorite features, a self-stopping lid so it stays open while you hunt around for your favorite beverage.
This is a tough, durable cooler that will keep your food and drink cold for days. It even comes with a handy bottle opener and is one of the best coolers coolers similar to Yeti for keeping ice at a bargain price.

---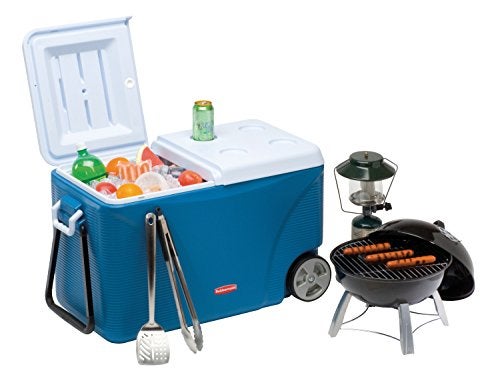 Rubbermaid Durachill Wheeled Cooler at a Glance
:
---
Capacity: 75 Quarts
Ice Retention: 3-5 Days
Insulation: 1.5″ Foam
Weight: 15 Pounds
If your looking for a bargain priced cooler for your next camping trip the Rubbermaid Durachill is worth considering. Keeping in mind when you go for a budget priced cooler you have to give up some features.
Rubbermaid claims it's a 5 day cooler, well I can tell you its not! You will probably get a day or so depending how often you open it and the outside temperature.
The hinges are not going to last a long time, luckily they are easily replaceable and it doesn't have a stay open lid like the better ones do.
The downside being you have to hold it open with one hand while you fish about for your food or beverage.
Its most redeeming quality are the wheels, they make the cooler easy to transport with a full load of ice and beverages from your car to the campsite.
There are not that many options for coolers with wheels so if you are looking a cooler with wheels, this might be your best bet.
The Durachill is large, the  75 quart size will accommodate 130 cans of your favorite beverages.
Rubbermaid thoughtfully put 4 drink holders on the lid, great for tailgating or sitting around the campfire. As long as you have realistic expectations, the Durachill is the best camping wheeled cooler for your next adventure.

---
Camping Cooler Comparison Table
How to Choose a Camping Cooler – Buyers Guide
Great camping coolers are more than just a place to keep some ice frozen. They're able to keep cold items chilled for days at a time and feature modern inclusions that tip the cooler above a food storage device and into a multi-function party saver.
Insulation
Most coolers utilize a foam insulation. While there are different types of foam insulation, one of the biggest factors in how long your ice will stay frozen is the sheer amount of insulation used. The thicker the outer insulation on any cooler, the longer it will keep your food cold.
The most advanced coolers or ice chests are using polyethylene foam of 1.5" or more on all sides. You may also run in to polyurethane insulation or extruded polystyrene insulation.
All of these options are minutely different when it comes to making a camping cooler and ultimately the most important factor is simply the thickness of foam included.

Seal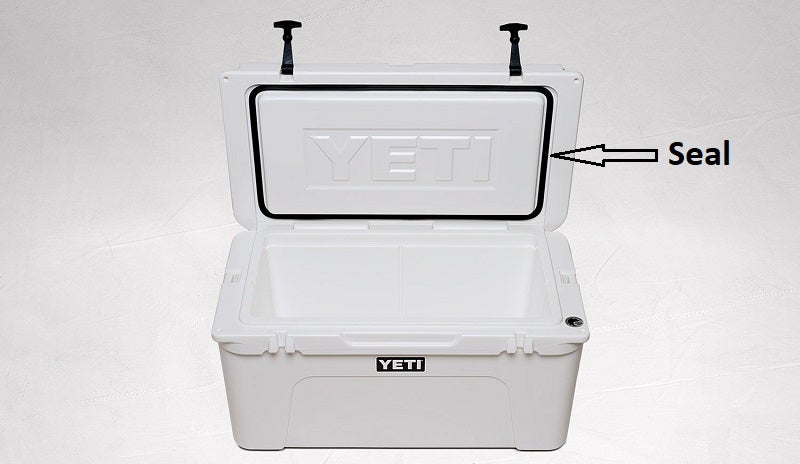 A decent cooler must seal perfectly. Any exchange of air between the inside and outside of the cooler will instantly ruin the insulation value of the cooler.
Avoid coolers with poor sealing mechanisms or weak seals.
Look for coolers with robust locking mechanisms and rubber sealing gaskets around the lid. Rubber gaskets are a must-have if you want to keep stuff cold for days. Making sure the cooler latches and stays latched every time is the key to efficient cooling.

Drains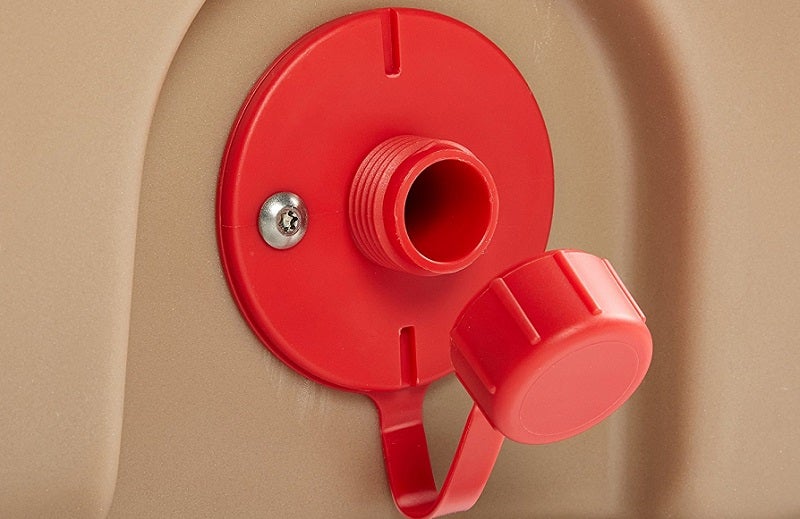 Every cooler will get wet inside – it's just a fact of life for a cooler. When that happens, you'll want to be able to drain the cooler.
For convenience, you'll want to be able to drain the cooler from the outside to remove water as your ice melts. You'll also want to be able to drain the cooler after washing and cleaning.
When considering a drain option for your cooler, the most important factor is durability. Look for drain plugs which are receded inside the body of the case so they can't be accidentally knocked loose or broken.

Handles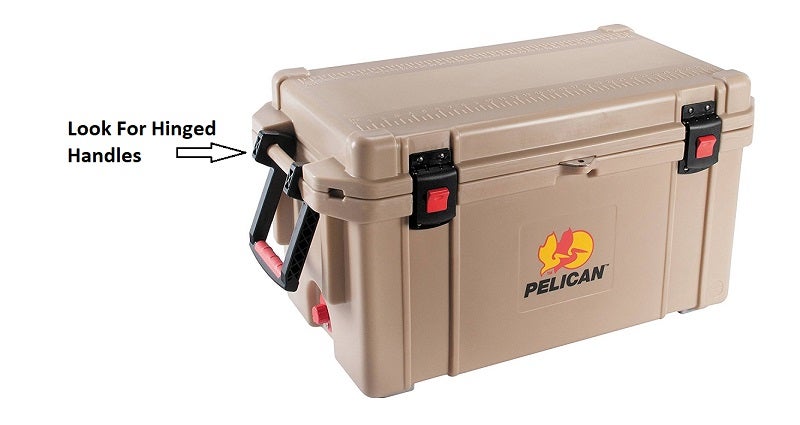 This might seem like a trivial consideration but coolers can get heavy with ice, food, and water. This means you'll want comfortable, robust handles that can tolerate a lot of weight and use.
Make sure your cooler handles tuck away seamlessly so that the cooler can be packed tight in the trunk or RV. Avoid cheap handles or handles that seem poorly made – they'll leave you stranded if they break.

Size
Considering the size of your cooler is important for two main reasons. First, you'll need room in the car or truck for all your other camping gear so don't get a cooler that takes up all your space.
That being said, however, you'll need enough space in the cooler to carry critical food items. To save space, make sure you only pack food in the cooler that absolutely must stay cold. That will help save space for other items.
Pack all of your dry or room temperature food outside of the cooler so that you can carry the smallest possible cooler for your trip.

Best Cooler Brands

Well the unquestioned king of coolers is of course Yeti. If you have never heard of them, they make the best coolers at any price. They are pricey however, but the best is not cheap.
Pelican is another good brand that makes a similar cooler that is close in performance and a cheaper price point. Elkton is a newcomer in making coolers and have some very good offerings that have good performance at a reasonable price. So the best cooler brands are:
Yeti
Pelican
Elkton
Coleman
FAQs About Camping Coolers
Q: Which Cooler keeps ice the longest?
A: They are several that claim 10 days for keeping ice. This of course is under the best conditions. The king so far is still Yeti but Pelican and Engel are close seconds.
Q: What is the best cooler for the money?
A: In our opinion the Engel High Performance is the best cooler for the money. It's not the cheapest cooler but on a cost / performance basis we felt it was the best.
Q: Are Yeti coolers worth the money?
A: If you are looking for the absolute best cooler for keeping ice then yes they are worth the money. If you are looking to save some money and not give up to much performance, then Engel or Pelican coolers are good choices.
Conclusion
So what is the best cooler for keeping ice the longest? Yeti, they are still the best cooler. Try making a camping trip work on a hot July weekend without a good cooler and you'll be sorry. It's critical to have the tools on hand to cook the way you want.
While it's totally possible to enjoy camping without a cooler, most people prefer to take the luxuries of home with them into the outdoors.
Picking out a cooler with ample insulation and internal space for your needs is important to finding the right tool for your needs.
How We Researched
To come up with the top camping coolers we researched a variety of sources for reviews such as REI, Bass Pro Shops, Cabelas and Backcountry along with our own personal experience.
We also consulted online magazines for product research and reviews to get as much unbiased information as we could. To help weed out fake reviews we used Fakespot.com to make sure we only looked at genuine reviews.
With so much quality gear available, we had to narrow it down based on what we felt were the best options for the price. The author, Casey Fiedler has been leading backpacking trips for over a decade in his native state of Michigan.
To help narrow down the selection he used his personal experience along with recommendations from fellow guides and outfitters.
After extensive research, we came up with our list to help you choose the right one for you.
Sources
---
I hope this guide was helpful for finding the best camping cooler to fit your needs. If you want to comment or recommend a cooler I didn't include, please use my contact form to get in touch.
Enjoy your next camping trip!
Notice:
OutsidePursuits.com is a participant in the Amazon Services LLC Associates Program, an affiliate advertising program. OutsidePursuits.com earns fees from products sold through qualifying purchases by linking to Amazon.com. Amazon offers a commission on products sold through their affiliate links.