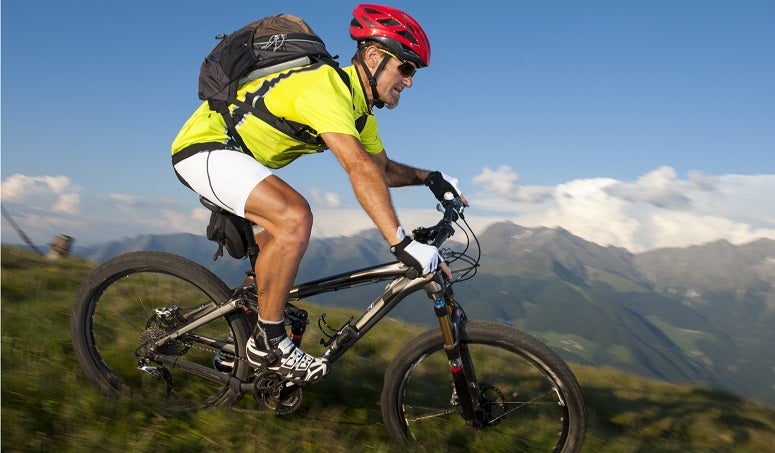 Our Editors independently research, test, and rate what we feel are the best products. We use affiliate links and may receive a small commission on purchases.
The first mountain bikes were fully rigid with no suspension and it was a bumpy ride until the suspension fork was developed.
The concept already existed for motorbikes and just needed to be adapted. The introduction of suspension forks was a huge step in the evolution of the sport as it allowed riders to travel faster and at greater comfort over rough terrain.
Eventually rear suspension was also introduced and with it the classification of mountain bikes into full suspension bikes, or hardtails with just a suspension fork.
Full suspension bikes have become the norm in recent years. The common perception that more is better, plus the fact that a full suspension bike is faster through technical terrain has ensured that full suspension bikes are very desirable.
This does not mean that hardtails are dead. In fact, there are a number of advantages to riding a hardtail. Most importantly for cross country racers, a hardtail is lighter.
Best Hardtail Mountain Bikes
| | Ibis DV9 NX Eagle Hardtail Mountain Bike | Diamondback Bicycles Overdrive Hardtail Mountain Bike | Orbea Laufey H30 Hardtail Mountain Bike |
| --- | --- | --- | --- |
| | | | |
| | | | |
| Frame: | Carbon Fiber | 6061-T6 Aluminum | Orbea hydroformed alloy |
| Fork: | Fox Float Rhythm 34 GRIP, 120mm travel | SR Sun tour XCT 80mm travel | RockShox Recon RL 140 Air Q15x110 Boost |
| Drivetrain: | SRAM PG-1230 NX Eagle, 11 – 50t, 11 Speed | Shimano Altus M310, 3×8, 24-speed | Sun Race 11-46t 11-Speed |
| Brakes: | SRAM Level T Hydraulic Disc | Tektro Aries, 160mm rotors | Shimano MT201 Hydraulic Disc |
| Wheelset: | Ibis S35 Aluminum | 32h Diamondback DP25 Doublewall | Orbea Tryp 30c Disc Tubeless Ready |
| Tires: | Schwalbe Nobby Nic, 29 x 2.6″ | WTB Nineline 27.5×2.25″ | Maxxis Rekon 2.6″ 60 TPI Exo TLR |
| | | | |
For more of my MTB recommendations, have a look through these popular Outside Pursuits guide links: MTB Pedals,  MTB Helmets, MTB Shoes.
Quick Answer: The 7 Best Rated Hard Tail Mountain Bikes
Our guide and comparison table of the top rated hardtail mountain bikes will help you choose the right one for you.
---
Hardtail Mountain Bike Reviews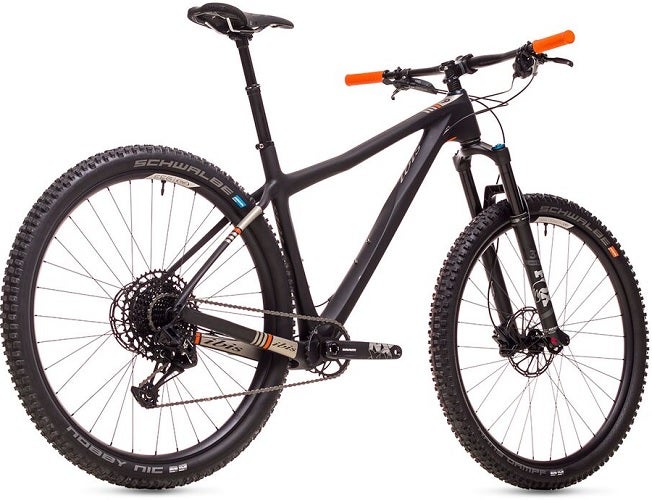 Ibis DV9 NX Eagle Hardtail Mountain Bike at a Glance
:
---
Frame:

Carbon Fiber

Fork:

Fox Float Rhythm 34 GRIP

, 120mm travel
Drivetrain:

SRAM PG-1230 NX Eagle, 11 – 50t, 11 Speed

Brakes:

SRAM Level T

Hydraulic Disc
Wheelset:

Ibis S35 Aluminum

Tires:

Schwalbe Nobby Nic

,

29 x 2.6

″
Ibis's flagship XC race bike is blisteringly fast. The DV9 NX Eagle is not quite as good but it's a lot cheaper with the same design! Built around a Carbon Fiber frame, all aspects of the DV9 have been carefully thought out to maximize your speed on the trail.
FRAME
The frame is very stiff and responsive, ensuring that everything that you put into the pedals ends up instantly driving you forwards.
Ibis were ahead of the game when it comes to progressive geometry and were making long frames before others.
It is no surprise that the DV9 has a long reach and responsive handling to help you thread it through tight singletrack and technical sections that are increasingly turning up on modern XC courses.
DRIVETRAIN
A 1×11 drivetrain composed of a SRAM PG-1230 11-50T gives you enough range to crush any climb before attacking any descent. This drivetrain is also very light. The derailleur in particular is incredibly reliable and works perfectly with the shifter to give you crisp gear changes.
SHOCK & SUSPENSION
Fox's range of forks have a long history of top performance and winning races at the top level of the sport. It is no surprise to see the 120mm of travel specced on the DV9.
120mm is all you need when XC speed is your priority, but do not be fooled into thinking this might not be enough travel for you. You will be pleasantly surprised at the performance of this fork. Most XC forks are very stiff as riders feel that anything else will rob them of power.
Despite this, the Fox Float Rhythm is very responsive in the mid stroke and soaks up small bumps, smoothing the ride and ultimately making you faster.
WHEELS
Ibis S35 Aluminum with Schwalbe Nobby tires keep everything spinning fast. The 2.6″ tires help soak up the bumps while providing great traction.
BRAKES
With great speed comes a great need to slow down at some point. This is taken care of by the SRAM Level T Hydraulic Disc. The brakes provide plenty of stopping power to slow you down when needed.
Despite having enough power and reliability to slow you down when racing, the technology in these brakes is now dated and there are better performers available under the SRAM brand.
This is perhaps reflected in the 180mm rotor on the front of the DV9, where other XC race bikes usually have a 160mm to save weight.
STEM & HANDLEBARS
Ibis take care of the cockpit with a Mini-Riser handlebar and Forged Alloy stem. The 45mm clamp size add to the overall stiffness of the DV9.
Although a couple of components this model may be slightly dated, they are still top performers and will absolutely not let you down.
Consider that in light of the huge discount and you have got yourself a bargain XC hardtail ready to attack any race or "casual" ride with friends.The Ibis DV9 is a solid contender for the best 29 hardtail MTB!

View at
---
Diamondback Bicycles Overdrive Hardtail Mountain Bike at a Glance
:
---
Frame: 6061-T6

Aluminum

Fork: 

SR Sun tour XCT 80mm travel

Drivetrain: 

Shimano Altus M310, 3×8, 24-speed

Brakes:

Tektro Aries

, 160mm rotors
Wheelset: 32h Diamondback DP25 Doublewall
Tires: WTB Nineline 27.5×2.25″
The Diamondback Overdrive is a classic model from the 90s that has recently been revised and updated to keep up with modern trends. A slack head angle, longer reach and rear boost axle spacing mean that you get a bike that is more than ready to hit the trails.
This model is the perfect hardtail to help you get into the sport without a huge initial investment. While the components are entry level, they are more than capable and allow you to upgrade in the future.
FRAME
In terms of intended use, the Diamondback Overdrive leans more towards the hardcore hardtail side of life than XC. The geometry wants you to push hard on descents and remains stable in corners.
You can even jump it with confidence and the design of the frame absorbs impacts in the chainstay, giving you a more comfortable ride. The plus size tires have tons of grip and add an element of comfort over narrower-tired bikes.
You can take the Diamondback Overdrive anywhere. It is at home on all kinds of trails and even has eyelets for pannier racks, making it suitable for bikepacking adventures.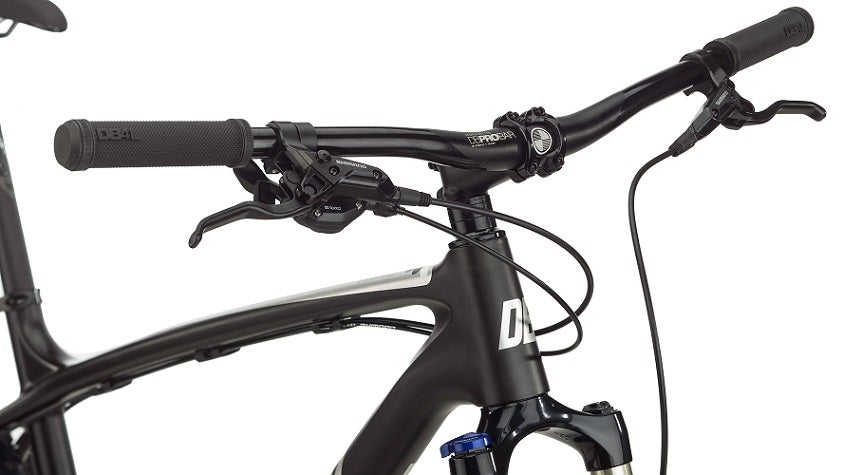 SHOCK & SUSPENSION
Absorbing bumps at the front is a SR Suntour XCT with 80mm of travel, rebound adjustment and lockout to increase climbing efficiency. The 30mm stanchions are reasonably stiff and Suntour classify this fork for XC and all mountain use.
This means you can push it hard through rough terrain with no problem. It will also hold its own on jumps and small drops but if these features become a regular part of your rides, you will probably want to upgrade the fork to something more capable.
DRIVETRAIN
A 3×8 drivetrain made up of Shimano Altus M310 shifters and derailleurs, Shimano cranks and a KMC chain gives you just about enough range for your adventures.
No pedals are included with the Overdrive which is typical, as most new bikes do not come with pedals as pedal choice is personal to each rider.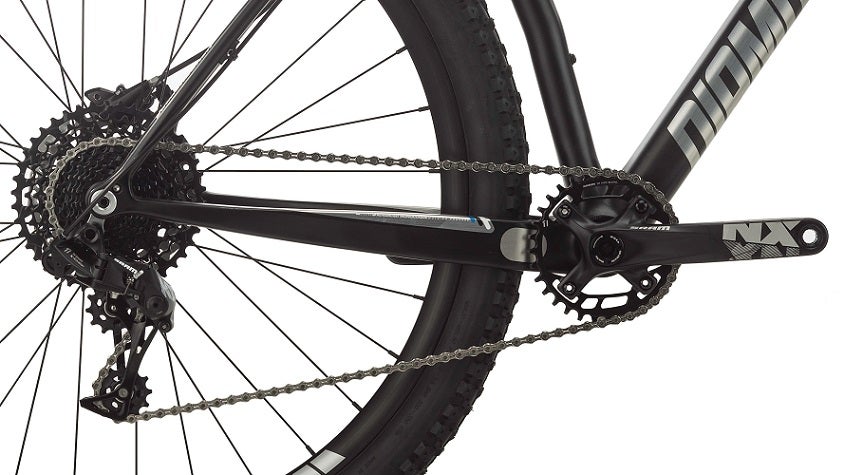 STEM & HANDLEBARS
The Overdrive also provide a reasonably wide 740mm handlebar and a 70mm stem. As your confidence on rough trails increases, a wider bar and shorter stem will give you a bit more control, but to get started, this combination is perfect. No dropper post is included but the frame is compatible with one.
The Diamondback Overdrive is the perfect bike for anyone that is serious about getting into mountain biking. You get a great modern frame and capable components without spending lots of money.
As your skills progress and parts wear out, you can replace them with better or lighter options. The Overdrive really does have lots of upgrade potential and is capable of all kinds of riding, from XC laps, hectic downhill trails and bikepacking.
This, along with its upgrade potential, mean that the Hook will be a reliable bike for many years and countless adventures. If your looking for the best hardtail mountain bike under $500, the Diamondback Overdrive is a good choice.

---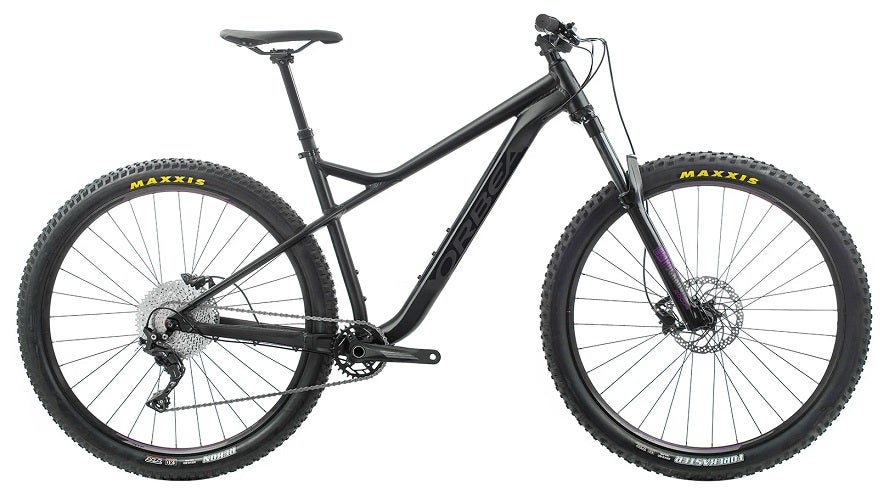 Orbea Laufey H30 Mountain Bike at a Glance
:
---
Frame: Orbea hydroformed alloy
Fork: RockShox Recon RL 140 Air Q15x110 Boost
Drivetrain: Sun Race 11-46t 11-Speed
Brakes: Shimano MT201 Hydraulic Disc
Wheelset: Orbea Tryp 30c Disc Tubeless Ready
Tires: Maxxis Rekon 2.6″ 60 TPI Exo TLR
Although hardcore, it is also not just a hardcore hardtail. What Orbea set out to do with the Laufey is a make a hardtail with a focus on having fun.
This means that it is not the fastest bike to get you up or down a mountain, but you will absolutely have a blast wherever you are!
FRAME
Orbea spec the Laufey with 29 plus tires for maximum traction when you are blasting through corners and hammering through loose rocks. Spend some time getting the PSI dialed in to your weight and you will love how the Maxxis Rekon tires absorb small bumps on the trail.
The wide tires also help you climb tricky sections. If you want even more traction, the frame can also take tires up to 3.0 wide.
The frame has all the modern features you could ask for. Long and slack geometry, boost axle spacing, and internal cable routing to give the frame a clean look.
For those of you that like to hit really technical trails, you will be pleased to see tabs for an ISCG 05 chainguide. Orbea even give the Laufey with a hydroformed alloy frame, rare to see in the price range!
SHOCK & SUSPENSION
Taking care of the big impacts that you will inevitably throw the Laufey into, is a RockShox fork with 110mm of travel.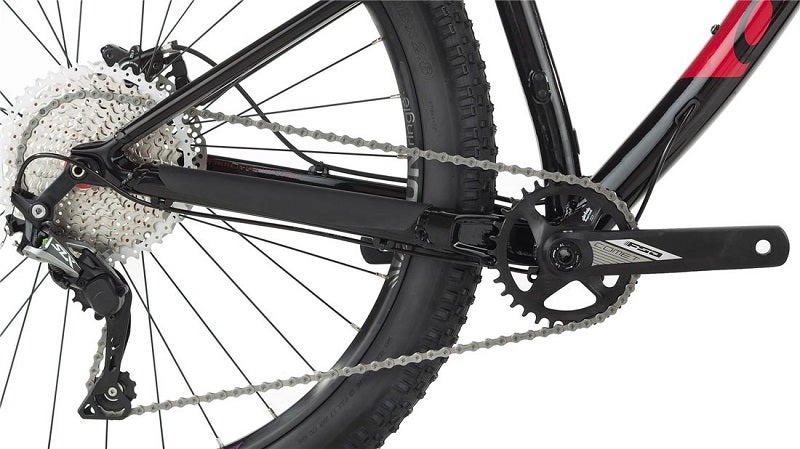 DRIVETRAIN
A 1×11 drivetrain provides enough range for any adventure. It consists of a Shimano SLX M7000 shifter and derailleur, SRAM Stylo cranks, a Sun Race 11-46t 11-Speed, and a 34-tooth chainring. Orbea finish the Laufey with their bars, stem, and seatpost. There is not dropper post, but there is internal routing for one.
WHEELS
Plus tires and the ability to swap between 27.5" and 29" wheels mean the Laufey can be taken anywhere and do anything. Although there are no eyelets for panniers, most bikepackers use frame bags anyway.
You will therefore find the Laufey is also perfect for multi-day trips.
For day-to-day riding, the Laufey may not be the fastest, but the huge amounts of traction and stiff frame gives you the confidence to get the most out of every trail, jump, drop, and berm. I would say the Laufey is the best hardtail mountain bike under $2000.

View at
---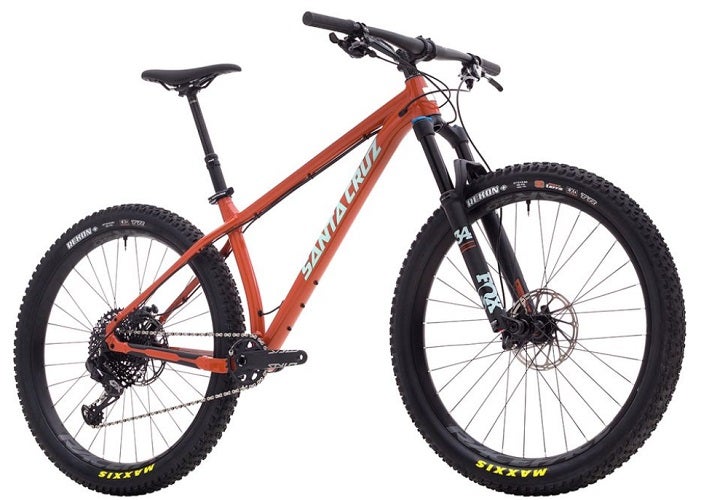 Santa Cruz Chameleon Hardtail Mountain Bike at a Glance
:
---
Frame: 6000-series aluminum
Fork:

FOX 34 Float Performance

Drivetrain:

SRAM XG1275 Eagle, 12-speed

Brakes:

SRAM Level TL

Wheelset: Race Face AR 40
Tires:

Maxxis Rekon

3.0

27.5″x3.0″
A Chameleon can effortlessly change its color to match the surroundings. The Santa Cruz Chameleon may be a mountain bike, but it can do the same thing.
Not literally of course, that would be even more remarkable. Regardless of what kind of trail you point this highly-capable hardtail at, its colors will shine.
FRAME
Modern geometry is to thank for this. The Chameleon frame is very low, has short chainstays and a long front end. All of this combined with a slack head angle mean that you can easily get to the top of a mountain before having a blast on the way down.
It does not matter whether you take a flow trail, a double black diamond, or even a few days deep into the hills on a bikepacking adventure, the Chameleon has your back.
Like other hardcore hardtails, you have the option to swap the 27.5 plus wheels for 29" wheels. This model comes with the former and 3.0 wide WTB Ranger tires.
Plus size tires also play a part in the Chameleons capability. Bumps are smoothed and you have almost endless traction in corners, allowing you to tame any trail.
SHOCK & SUSPENSION
This version of the Chameleon strikes a balance between keeping costs low and great performing products. The FOX 34 fork takes care of rocks and roots, as well as any reasonable sized jumps and drops that you may encounter. When climbing you can twist the low-speed compression dial until the fork is locked out.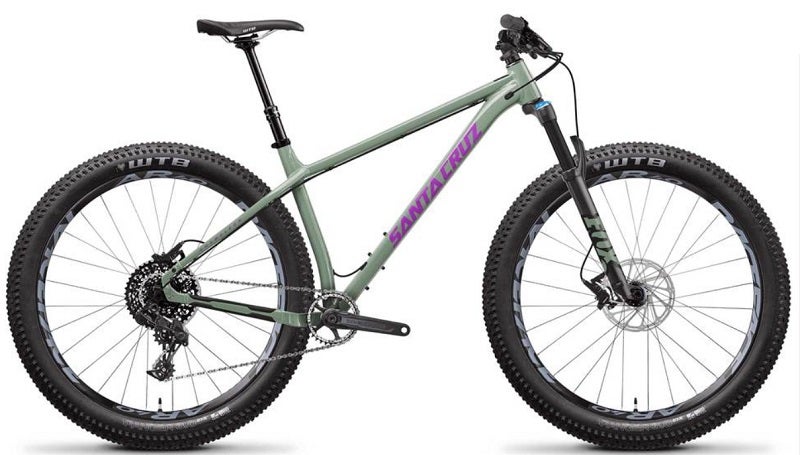 DRIVETRAIN
A SRAM XG1275 Eagle 1×12 drivetrain is great to see. You get enough gears for any adventure in an affordable yet reliable package. Race Face Aeffect provide the cranks and there is a 30-tooth chainring.
Race Face also provide Ride 760mm wide handlebars and a Ride 50mm stem. This combination will give you confidence to ride through rough terrain and land drops.
BRAKES
When it comes to stopping, SRAM Level brake give you ample amounts of power. The Levels feature technology that has trickled down from the top-performing Guide series, but in a lighter package.
While they do not have the same amount of power as the Guides, not everyone actually needs so much force at their fingertips. For a bike like the Chameleon with this build, the Levels combined with 180mm rotors are perfect.
No dropper post in included but there is stealth routing for one, allowing you to upgrade in the future.
The Chameleon is a great looking and versatile hardtail. It wants to take you down the roughest trails that you dare and be by your side on any mountain adventure. If your looking for the best hardtail mountain bike for the money, the chameleon is it!

View at
---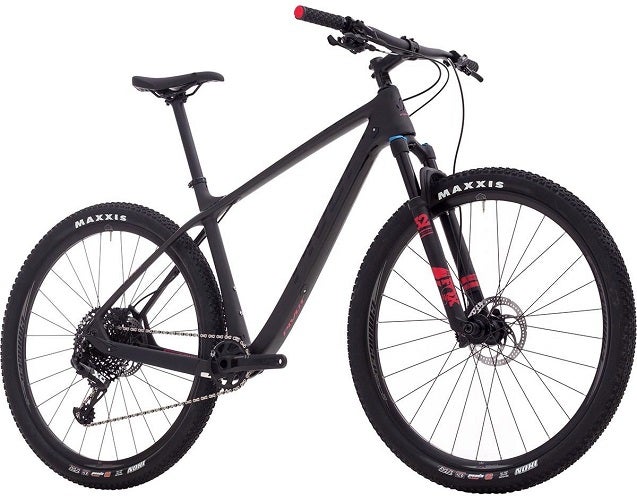 Pivot LES Eagle Complete Mountain Bike at a Glance
:
---
Frame: Carbon
Fork: Fox 32 Performance 100mm
Drivetrain:

Shimano SLX M7100 12-speed

1×12
Brakes: Shimano SLX BR M7100
Wheelset: Sun Ringle Charger
Tires: Maxxis Ikon EXO TR MaxxSpeed 29″x2.2″
If you want a modern XC race machine that combines stiffness, efficiency and great handling, look no further than the LES.
FRAME
Pivot have updated the LES frame to reduce weight with a new manufacturing process and to increase stiffness with boost axle spacing. The geometry has been tweaked as well.
A slacker head angle, makes the LES more capable than ever on technical trails and race courses, and shorter chainstays help you corner at speed or weave through tight singletrail sections.
Boost axle spacing and generous tire clearance mean that you can also swap the 29" wheels for 27.5 plus if you are not racing but heading out deep into the mountains and want a more fun trail setup.
SHOCK & SUSPENSION
Mirroring the stiffness of the frame is the Fox 32 fork. The lower of this fork has a stepped design to keep weight low, which is ideal on a light speed machine like the LES.
100mm is all you need for racing, but just as you can swap out the wheels, the frame will work well with a fork up to 130mm. In terms of performance, it absorbs small bumps well to keep the front wheel on the ground where it should be.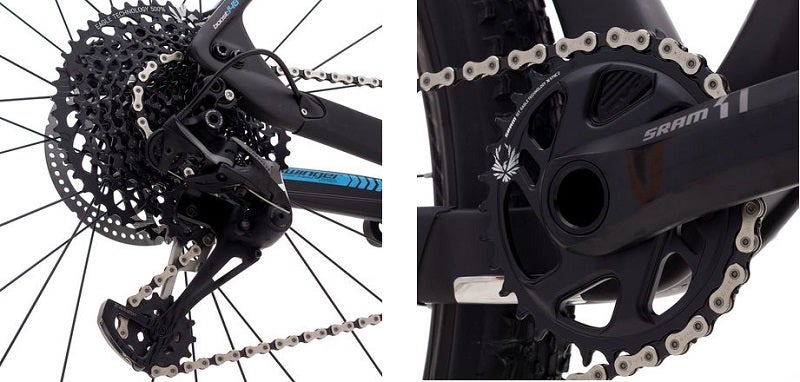 DRIVETRAIN
You get a fantastic SRAM SLX 1×12 drivetrain on the LES, made up of a X01, X1, and GX components. The SLX drivetrains give the biggest range there is.
You may find that you need to use an even bigger chainring to actually need the huge 51-tooth cog on such a light bike. This means that your top speed will be pushed up as well when using the 10-tooth cog at the other end.
BRAKES
Shimano SLX M7000 brakes are not the most powerful brakes that Shimano produce but the LES is not intended for huge, fast paced downhill trails. For general trail riding they are more than adequate and for XC racing they are perfect.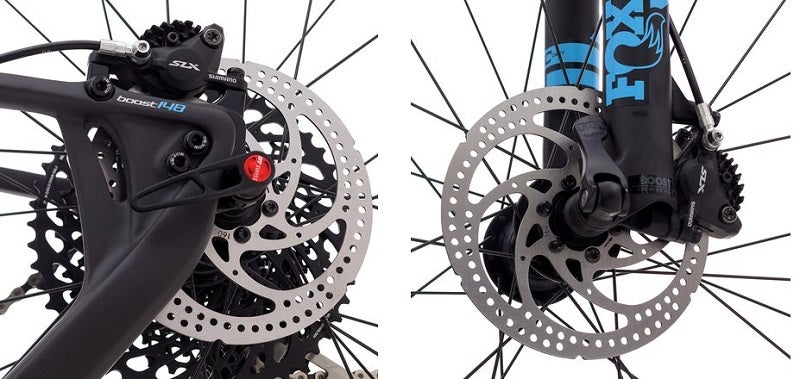 Pivot want you to use this bike well into the future, as is not only shown by the choice of boost axle spacing, but also by the ten year warranty on the frame.
On top of this, the frame has been designed to be fully compatible with Di2 (electronic shifting) systems. Pivot's Cable Port System is intended to house all the cables, batteries, and everything else needed for Di2.
More than just the best hardtail 29er, the LES can also be built as a general trail hardtail. Take it to a XC race however, and it will not disappoint.
The carbon frame with boost axle spacing is stiff enough to help you power around any course. If you train hard enough, you could even see yourself on the podium.

View at
---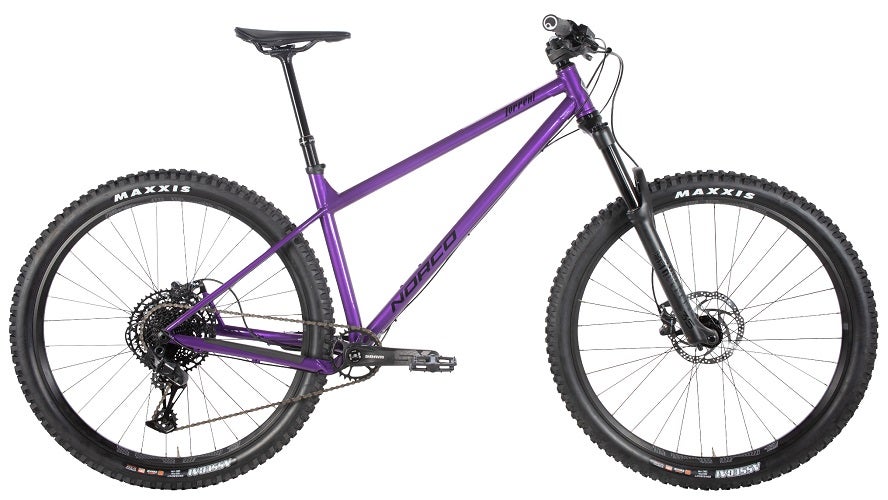 Norco Torrent HT S2 Hardtail MTB at a Glance
:
---
Frame: Chromoly
Fork: RockShox 35G, 150mm Travel
Drivetrain: SRAM PG-1210 Eagle 11-50T, 1×12
Brakes: TRP G-Spec Trail S
Wheelset: Novatec Boost Hubs
Tires: Maxxis Assegai 29×2.5″
This all mountain hardtail takes the concept of a hardcore hardtail to the next level. Designed in British Columbia, the Torrent has been built for, and tested on some of the most technical trails there are.
FRAME
The frame is strong and capable of handling anything. You will enjoy the slight flex of the chromoly and the added traction this gives you. The rear end features boost spacing to increase lateral stiffness.
SHOCK & SUSPENSION
This build has a 150mm RockShox 35G fork. Although most hardtails have shorter forks, 150mm suits the big intentions of the Torrent. British Columbia's trails are littered with big drops and jumps, as well as chunky rock gardens. 150mm of travel helps you to plow through this terrain.
The 35G is a very popular fork amongst trail and enduro riders. It does a great job of smoothing out rough trails and softens big landings too. It also has a huge amount of adjustability so you can get it tuned in exactly to your weight and riding style.
The Torrent rolls on a Novatec Boost wheelset. Novatec intended this aluminum wheelset to be as stiff and durable as carbon at a much lower cost.
WHEELS
Obviously the downside to this is the relatively high weight, but they perform exceptionally well. You will not have to worry about swapping the tires, as the Torrent comes with a set of Maxxis Assegai, which are perfect for any terrain, except deep mud.
DRIVETRAIN
Possibly the best aspect of this build is the precise and reliable SRAM PG-1210 1×12 drivetrain. With the huge 50-tooth cog on the cassette, you will be able to crank up the steepest of climbs, or conserve your energy on fireroads to get back to the top.
SRAM PG is the best groupset for anyone that wants the perfect balance of affordability and performance from a wide range drivetrain.
BRAKES
In keeping with the theme of affordability and performance are the TRP G-Spec Trail S brakes. Thanks to TRP's Servo-Wave modulation and ceramic pistons, these brakes are perfect for trail riding. If you are a fan of big descents, you may want to upgrade to some finned pads to avoid heat build up.
Norco do not just make frames. They are also very well known for their components, so it is fitting to see a Norco cockpit on this bike.
STEM & HANDLEBARS
There is a 8000mm wide Norco handlebar, which is plenty wide enough to support you at high speeds and a big landings. This is clamped to a 50mm Ranger V2 stem. The stem in particular is a beautifully machined component, typical of Norco's commitment to quality design and manufacture.
A X-Fusion Manic dropper post gets the Fizik Taiga saddle safely out of the way before you hit technical sections.
Norcohave really hit the nail on the head with the Torrent and do not hide its intentions at all. It is billed as a hardcore hardtail and that is exactly what it is. While you could also use it on tame forest roads, you would be doing it a disservice.
The Torrent wants you to take it high into the mountains and absolutely destroy every descent, no matter how rough or technical it gets.

View at
---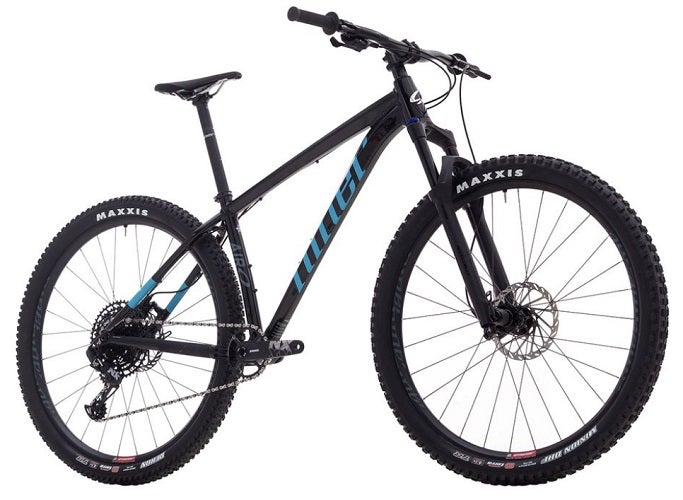 Niner AIR 9 Hardtail Mountain Bike at a Glance
:
---
Frame: Hydroformed

Aluminum

Fork: Marzocchi Bomber Z2, 120mm Travel
Drivetrain:

SRAM PG-1230, 11-50T

Brakes:

SRAM Level

Wheelset:

Niner Alloy 29

Tires: Maxxis Minion DHF 3C/EXO/TR 29 x 2.5″
If you are the kind of rider that wants a hardtail that is not only great for trail sessions after work, but also more than perfect for weekend (or longer) bikepacking trips, the Niner AIR 9 is for you.
FRAME
The aluminum frame is by no means new in the Niner lineup. What is new however, is the redesigned geometry to make it a more capable and fun ride.
Compared to previous models, the cockpit and wheelbase are longer, the chainstays are shorter, and the head angle slacker, making it the AIR 9 ready to take on steep and technical trails. To ensure that it still pedals well uphill, the seat angle has been steepened to keep rider weight central and over the bottom bracket.
It is not just the geometry that makes the AIR 9 a special bike to ride. Like its predecessors, it has been constructed from aluminum.
The intelligent design of the AIR 9 means that it is stiff yet compliant in all the right places. For example, an internal plate ensures that the frame has a stiff pedaling platform while being able to flex in other places to increase traction and ensure rider comfort.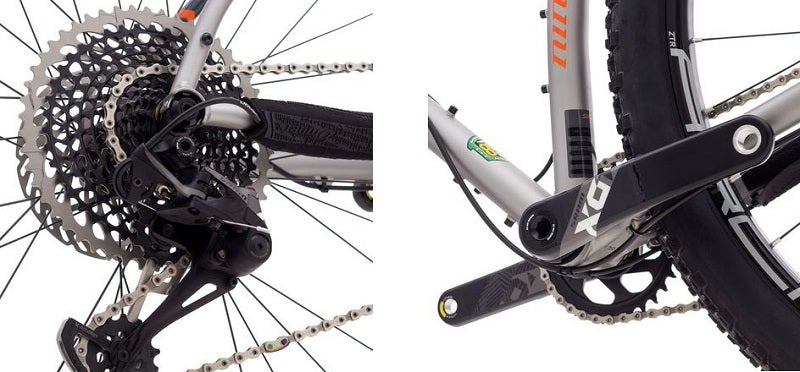 SHOCK & SUSPENSION
Working with the new slacker head angle is a Marzocchi Bomber Z2. This fork is one of the best available for trail riding. It is stiffer than XC models and capable of soaking up big hit after big hit, as well as rough, high speed trails.
WHEELS
This build comes with tough Niner Alloy 29 wheels. Like the fork, these wheels are ready for some serious abuse and are trusted by professional enduro racers who put them through bigger tests than you can achieve on a hardtail.
You can trust them is what we are saying. The frame has clearance for 29″x2.5″ tires, as well as 27.5 plus, so if you want to go really wide, you can swap out the wheels.
Although a highly capable hardtail for a day of trail riding, bikepacking was also very much on the minds of the frame designers. The frame is strong and able to haul you and your gear through the mountains.
When it comes to gear, there are no less than 18 mounting points for frame bags, water bottles and anything else that you will need for your adventure. Looking at the frame, the front triangle is large. It appears that some standover height has been sacrificed in favor of more storage potential.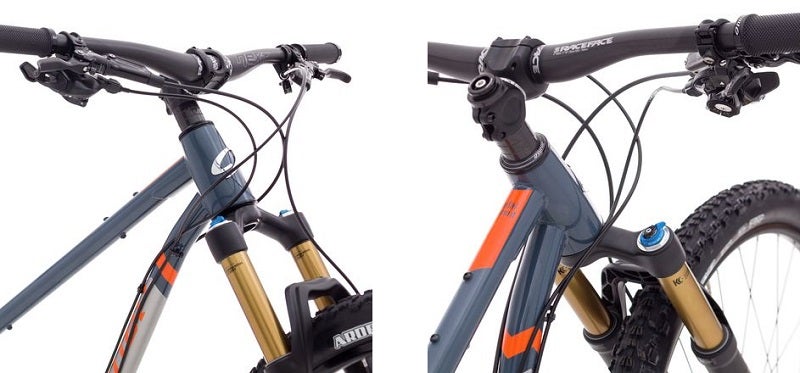 DRIVETRAIN
A bike that is capable of doing anything and going anywhere needs a drivetrain to match. The huge 500% range of the RAM PG-1230 is the perfect choice. The stiff carbon cranks keep weight down and help you transfer power through the 32-tooth chainring.
Seemingly endless mountain climbs will be of no concern with the 50-tooth cog at the top of the PG cassette. The SRAM NX Eagle and derailleur ensure fast and accurate shifting every time.
BRAKES
There are also top-performing brakes on the AIR 9. SRAM Level on 180/160mm (front/rear) rotors give you tons of stopping power.
The SRAM Level model is at the top of the trail and enduro range of SRAM brakes and is only second to the Guide Ultimates, which are reserved for hardcore enduro and downhill racing use.
The SRAM Level provide huge amounts of stopping power. There are other brakes available with more all-out power, but where the Guides shine is the control at your fingertips.
A massive amount of modulation is available, allowing you to precisely adjust the power depending on the trail conditions. You can really feel the traction of the wheels through the lever and adjust pressure accordingly to keep the wheel rolling rather than skidding.
The Level model also offers reach and pad contact point adjustment so you can dial in the brakes to your hand size and brake point preference. Finishing off the NINER AIR 9 is a stiff Race Face cockpit with 780mm wide handlebars.
You will love the feel of this alloy frame. What you will love even more is that you can use the AIR 9 to do literally anything. It may have been built with trail riding and bikepacking in mind. The AIR 9 is probably the best aggressive hardtail that is just as at home on XC loops and enduro rides.
With such a propensity for multi-day adventures however, it would be a shame not to strap on some frame bags and head deep into the mountains for a few days. The AIR 9 would love to join you.
---
Hardtail Mountain Bike Comparison Table
| Hardtail Mountain Bike | | Frame | Fork | Drivetrain | Brakes | Wheelset | Tires |
| --- | --- | --- | --- | --- | --- | --- | --- |
| Ibis DV9 NX Eagle Hardtail Mountain Bike | | Carbon Fiber | Fox Float Rhythm 34 GRIP, 120mm travel | SRAM PG-1230 NX Eagle, 11 – 50t, 11 Speed | SRAM Level T Hydraulic Disc | Ibis S35 Aluminum | Schwalbe Nobby Nic, 29 x 2.6″ |
| Orbea Laufey H30 Mountain Bike | | 6061-T6 Aluminum | SR Sun tour XCT 80mm travel | Shimano Altus M310, 3×8, 24-speed | Tektro Aries, 160mm rotors | 32h Diamondback DP25 Doublewall | WTB Nineline 27.5×2.25″ |
| Orbea Laufey H30 Mountain Bike | | Orbea hydroformed alloy | RockShox Recon RL 140 Air Q15x110 Boost | Sun Race 11-46t 11-Speed | Shimano MT201 Hydraulic Disc | Orbea Tryp 30c Disc Tubeless Ready | Maxxis Rekon 2.6″ 60 TPI Exo TLR |
| Santa Cruz Chameleon Hardtail Mountain Bike | | 6000-series aluminum | FOX 34 Float Performance | SRAM XG1275 Eagle, 12-speed | SRAM Level TL | Race Face AR 40 | Maxxis Rekon 3.0 27.5″x3.0″ |
| Pivot LES Eagle Complete Mountain Bike | | Carbon | Fox 32 Performance 100mm | Shimano SLX M7100 12-speed 1×12 | Shimano SLX BR M7100 | Sun Ringle Charger | Maxxis Ikon EXO TR MaxxSpeed 29″x2.2″ |
| Norco Torrent HT S2 Hardtail MTB | | Chromoly | RockShox 35G, 150mm Travel | SRAM PG-1210 Eagle 11-50T, 1×12 | TRP G-Spec Trail S | Novatec Boost Hubs | Maxxis Assegai 29×2.5″ |
| Niner AIR 9 Hardtail Mountain Bike | | Hydroformed Aluminum | Marzocchi Bomber Z2, 120mm Travel | SRAM PG-1230, 11-50T | SRAM Level | Niner Alloy 29 | Maxxis Minion DHF 3C/EXO/TR 29 x 2.5″ |
How to Choose The Best Hardtail Mountain Bike For You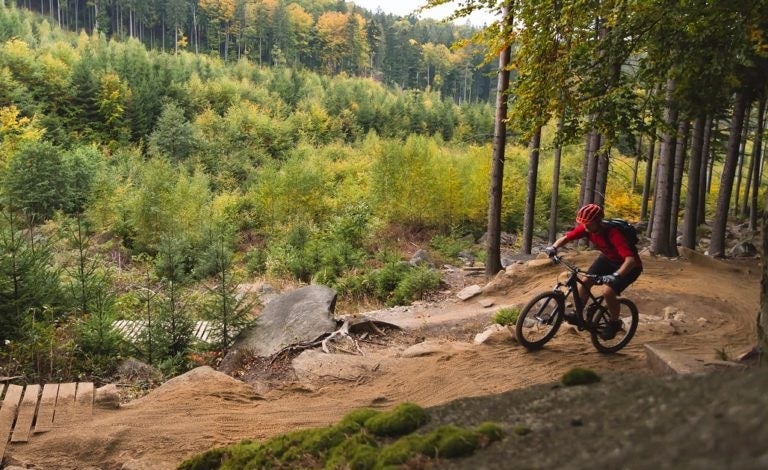 Why Ride a Hard Tail Mountain Bike?
Having no moving parts and pivots on the frame, as well as no shock keeps the whole bike lighter. Not all XC racers use a hardtail all the time though, especially as XC courses are becoming more technical.
Bear in mind though that top of the range XC full suspension bikes will still weigh less than a hardtail that most people can afford. Even if you are not racing, a lighter bike means that you are pushing around less weight, so it is easier to get up hills and ride further.
With less moving parts, no bearings to replace, and no shock to service, the absence of rear suspension also means that from a mechanical point of view, a hardtail is easier and cheaper to maintain.
Also, because less effort is needed to engineer a hardtail frame, the overall cost of the bike is lower. This means that more of your budget can be spent on a bike with better components.
If you spend most of your time on smooth trails, such as fire roads and easy flow trails, then a hardtail is the better choice. If you live for the downhills then it may make more sense to get a full suspension bike.
However, bear in mind that there are a number of "hardcore hardtails" intended for the same terrain that most people want to ride on a full suspension bike. There is even a hardtail world enduro series for serious masochists.

Frame Material
You get a full complement of frame material choices when choosing a hardtail with aluminum "alloy", carbon, and steel commonly being used.
Depending on the exact alloy used, the cheapest option is an hydroformed aluminum frame. Although heavy, an aluminum has some flex, which makes the ride more comfortable.
Carbon is the lightest and strongest material available but due to the construction process costs more. The stiffness of a carbon frame means that power is transferred efficiently and the whole ride feels very responsive.
Increased stiffness means less bump absorption, which can be uncomfortable after a few hours. Despite this, carbon is very good at vibration damping.
Steel is a great choice for a hardtail frame. Although heavier than aluminum, it has incredible comfort due to the amount it can flex and is also very strong and durable.

Frame Geometry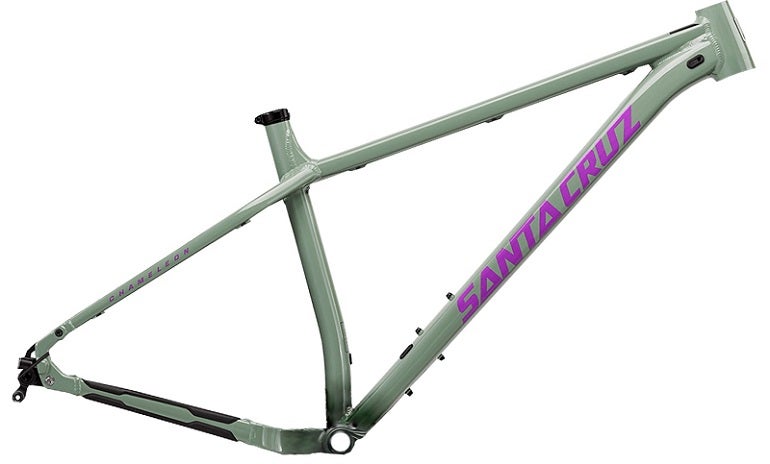 What makes each frame different, regardless of whether it is a hardtail or full suspension, is the geometry. The angles and measurements between the various points on the frame determines how the bike will behave on the trail.
Mountain bikes used to have similar geometry to road bikes but it has since been realized that they actually need vastly different geometry to get the best performance off road. Modern bikes are usually being marketed as being "long", "low", and "slack".
These three terms basically refer to how the geometry of a frame puts the rider and center of gravity in a position that makes riding technical off road trails easier. "Low" is in reference to the bottom bracket height.
A lower bottom bracket means a lower center of gravity that is level to or lower than the wheel axles. The result of this is that the combined weight of bike and rider will push the bike through technical terrain, rather than the rider being bucked over the front wheel.
A "long" bike has a long wheelbase. This is the distance between the center of the two wheel axles. A longer bike is more stable at speed and the rider has more control in steep terrain.
The headtube angle influences how the suspension fork reacts to high speed impacts and cornering. A slack angle improves both of these but if the angle is too slack, the bike becomes difficult to ride uphill.
Also influencing how the frame rides is the chainstay length. The chainstay is the part of the frame between the bottom bracket and the rear dropout.
There is a chainstay on each side of the bike. A short chainstay lets you lift the front of the bike easily, which is great for jumping and bunny hops. However, the shorter the chainstay, the less stable the bike is at speed.
Standover height is also important to consider as this is how much space there is between the top of the frame and your body. More space allows you to easily get your foot on the floor if you need to, but more importantly, allows you to move around when riding.
The exact geometry of a frame depends on its intended use. Remember that it is not just the geometry that defines how the bike will feel, but also the components fitted to it.

Suspension Fork
A hardtail mountain bike will have a suspension fork with between 100mm and 140mm of travel. XC bikes will have either a 100mm or a 120mm fork and more aggressive bikes will have more travel to absorb the bigger hits.
There are suspension forks with greater travel, but these are usually only found on full suspension bikes. The reason being that with more than 120mm, there is already a huge difference between the behavior of the front and rear end of the bike.
A long travel fork deals with bumps better, which would appear to be better in any situation. However, the reality is that it is better to have a shorter travel fork so you still get enough feedback from the trail to be able to predict how the rigid rear end will react, or how you need to move. With rear suspension this is less of a concern.
Regardless of what length fork your bike has, it is essential to set it up properly, as well as keep it clean and serviced to optimize its performance.

Wheels

Mountain bikes come in three wheel sizes: 26", 27.5", and 29". All used to be 26" and 29" wheels were developed in the early 90s.
A bigger wheel rolls easier over obstacles but 29" wheels were often regarded as slower in corners and flexy. In recent years the in between size of 27.5" has been adopted as the standard, but with advancements in wheel technology, the popularity of 29" wheels is gaining traction.
It is rare to see any other wheel size at a XC race and in the downhill and enduro disciplines, more and more racers are using 29" bikes.
All modern bikes will have either 27.5" or 29" wheels. Which wheel size you should choose depends on the kind of riding that you will do. If you are a tall rider or looking to get maximum speed, then a 29er is probably the bike for you.
The difference between the two is realistically not very big, so do not spend too much time deliberating, and certainly don't get lost in the arguments on online forums!
When you have made a decision about wheel size, the next thing to think about is the material that has been used to build the wheels, specifically the rims.
You have a choice between carbon and aluminum, which have the same pros and cons as outlined under frame material.
Carbon wheels are light, stronger than aluminum, and much more expensive. They are also very stiff, which helps you to accelerate fast and keep the bike heading where you want it to when the trail gets rough.
On long descents, this stiffness can become a disadvantage because carbon does not absorb bumps and this is especially noticeable on a hardtail.
Despite being strong, a big impact with a sharp-edged rock can cause a carbon rim to crack. Fortunately, the risk of this is getting lower as better wheels are developed, but the risk is still there.
Once a rim is cracked, there is no way to repair it. There are a few carbon wheels on the market that come with a lifetime guarantee, which is absolutely worth the investment.
Aluminum rims absorb bumps better and are more likely to dent than crack, although they will still crack if you hit them hard enough! For the average rider, it is unlikely that you will be doing anything extreme enough to destroy a rim in this way. Aluminum rims are also more affordable than carbon.
The internal width of a rim (distance between the rim walls) defines what size tire you can use on it. A wider rim allows a tire to hold a greater volume of air. As the rim width increases, you can use even wider tires. Modern wheels will have an internal width between 26mm and 35mm. Plus size bikes with extra wide tires will have even wider rims.
A rim is laced to a hub with spokes. The whole wheel rotates around the hub. There are a number of different hub width "standards" and no consensus over which is best.
Not all wheels will fit in all frames although lots of wheels do have conversion kits. This is something to consider if you already have a set of wheels that you want to use on your new bike, or if you intend to upgrade in the future.

Gears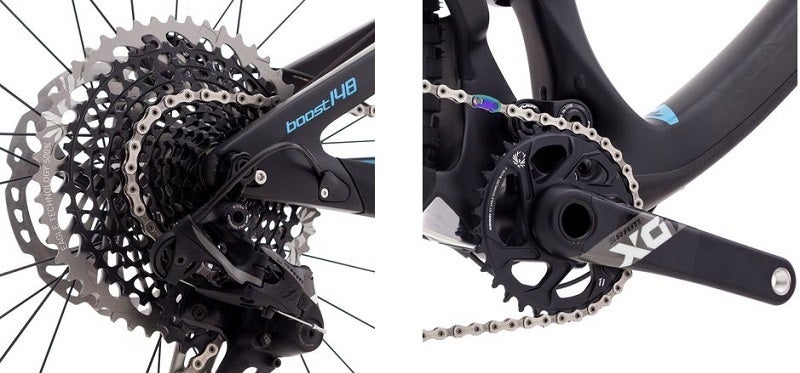 You will find bikes with either one or two chainrings at the front, and between 8 and 12 cogs at the back. This is indicated by two numbers and an x. The first number represents the chainrings and the second, the cogs. 1×11 and 1×12 are the modern standard and well worth having.
With only one chainring and no front derailleur or gear shifter, weight is kept low while the large number of cogs give you a huge range of gears to get up and down any mountain. 1×12 is newer and more expensive. Most people will get enough range from 1×11 setups.

Brakes
For obvious reasons, being able to slow down and stop is incredibly important. A good set of brakes can be the difference between safely enjoying high speed trails and squeezing the levers praying that you can slow down enough before hitting a tight corner or rock garden.
More powerful brakes can slow you down faster, allowing you to brake later. You should not consider any bike that does not have hydraulic disc brakes. Even entry level hydraulic disc brakes will outperform mechanical versions.
Braking power is defined not only by the design of the brake itself, but also the size of the rotor. The rotor is attached to the hub and will have a diameter of 160mm, 180mm, 200mm, or 203mm. A rotor with a larger diameter will result in more braking power and is less likely to overheat the brake.
A larger rotor is also heavier. XC bikes tend to use 160mm rotors. Trail bikes will perform well with a 180mm rotor on the front and a 160mm on the back. If you are unsatisfied with the power of your brakes, you can upgrade the rotor size but be sure to check the limitations of your fork and frame first.
Power is not the only concern. Good brakes manage heat build up to prevent brake fade on long descents, although this is also influenced by the material and quality of the brake pads.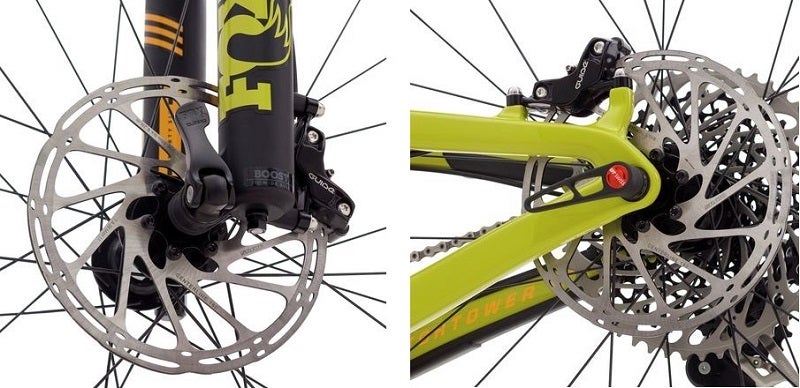 Other Components
If you are lucky, your bike will come with a dropper post. If you enjoy riding undulating trails that combine climbs and descents, a dropper post will keep you happy. XC racers tend not to use them to keep weight down.
Dropper posts are quite expensive, so it could be that one is not specced in order to keep the overall price of the bike down.
Other components, such as the handlebars, stem, and saddle may be of a well-known brand or the frame manufacturers in-house brand. Either way you want to have well made and reliable components.
It is hit and miss as to whether your hardtail will come with a good set of tires or not. Generally speaking, lower priced bikes will come with cheap, harder compound tires that you should swap. More expensive bikes are likely to come fitted with a good set of tires.
However, there is not guarantee that they will suit the terrain and weather conditions of your area. As the only contact point with the ground, tires have a profound effect on the performance of a bike, so it is very much worth investing in a good set.

FAQ About Hard Tail Mountain Bikes

Q: What is a hardtail?
A: A hardtail is a mountain bike with a rigid frame and a suspension fork on the front. There is no rear suspension.
Q: Surely more suspension is better?
A:  A Full suspension bike is more comfortable to ride, and is easier to ride through technical terrain. However, this comes with a weight penalty, so hardtails are easier to ride uphill. A hardtail also gives the rider a more direct connection to the trail, allowing him to "feel" more of what is happening under the bike. 
Q: Can I still ride fast and technical trails on a hardtail?
A: You can, although maybe not quite as fast as on a full suspension. Without rear suspension "saving" you all the time, riding a hardtail forces you to adopt better techniques, which will make you an all round better rider, and even faster when you do ride a full suspension bike.
How We Researched
To come up with the top hardtails, we researched a variety of sources for reviews such as Competitivecyclist, JensenUSA, REI, EVO along with our own personal experience.
We also consulted online magazines for product research and reviews to get as much unbiased information as we could. To help weed out fake reviews we used Fakespot.com to make sure we only looked at genuine reviews.
With so much quality gear available, we had to narrow it down based on what we felt were the best options were for the price. The author, Richard Bailey has a wide background in mountain biking in a variety of countries, terrain types and bike packing for weeks on end.
The author has decades of experience and is eager to share his knowledge with readers.
To help narrow down the selection we used personal experiences along with recommendations from fellow MTB bikers, bloggers and bike shops.
After extensive research, we came up with our list to help you choose the right one for you.
Sources
EVO
---
I hope this guide was helpful in picking a good hardtail mountain bike to fit your needs. If you want to comment or recommend a bike I didn't include, please use my contact form to get in touch.
Have fun and be safe out there!
Notice:
OutsidePursuits.com is a participant in the Amazon Services LLC Associates Program, an affiliate advertising program. OutsidePursuits.com earns fees from products sold through qualifying purchases by linking to Amazon.com. Amazon offers a commission on products sold through their affiliate links.