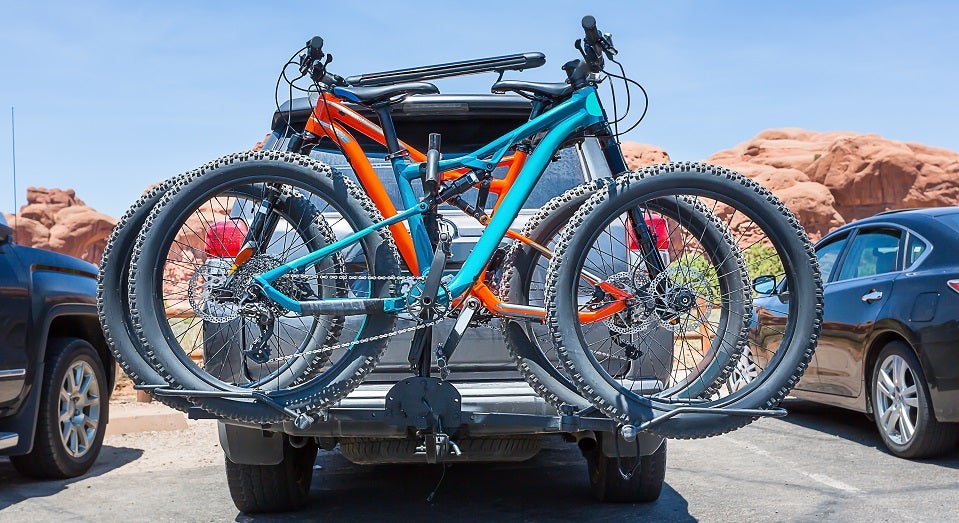 Our Editors independently research, test, and rate what we feel are the best products. We use affiliate links and may receive a small commission on purchases.
Transporting and storing your bike is a seemingly simple task. However, with a wide variety of bike racks and mounting styles, it's not that easy.
Using the wrong bike rack can result in damage to your vehicle or bike.
Here we've got a list of the top bike racks, both hitch and trunk-mounted, so you can find the one that works best for you.
Best Bike Racks
| | Thule T2 Pro XT 2 Bike Rack | Thule Passage Trunk Mount Carrier | Overdrive Sport Hitch Mounted Rack |
| --- | --- | --- | --- |
| | | | |
| | | | |
| Mounting: | Hitch | Trunk | Hitch |
| Bike Carry: | Platform / Tray | Hanging | Platform / Tray |
| Capacity: | 2 Bikes | 2 Bikes | 2 Bikes |
| Max Weight: | 120 Pounds | 105 Pounds | 120 Pounds |
| | | | |
For more of my biking gear recommendations, have a look through these popular Outside Pursuits guide links: Bike Locks, Bike Helmets, Bike Lights, Bike Repair Stands.
Quick Answer: The 10 Best Rated Bike Racks For 2021
Our reviews of the top-rated bike racks with our comparison table and guide will help choose the right one for you.
---
Bike Rack Reviews
Now let's take a look at the racks in more detail and we'll guide you in selecting the model that's right for you.

Best Bike Racks For Hitches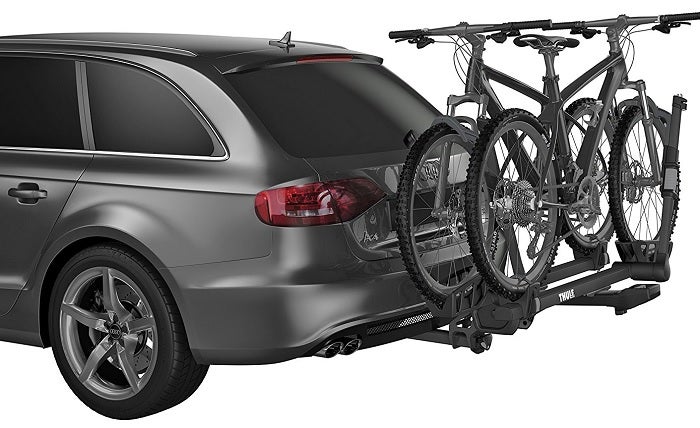 Thule T2 Pro XT 2 Bike Rack at a Glance
:
---
Hitch mounted
Platform support
Carries up to 2 bikes
Hitch and bike locks
Up to 60lbs max weight per bike
The T2 Pro XT 2 Bike Rack is the "show-off" rack and our Editors Choice for the best hitch bike rack. Way out in front in terms of price, the T2 Pro XT has a lot to prove. So what makes it so special?
Starting with the installation, I found it very easy to connect to the receiver using the dedicated handle, tighten the connection and lock the anti-theft component — all of which is a tool-free operation.
You can't help but notice the build quality of the connecting segment. I would imagine attacking it for a full day with a sledgehammer would maybe cause a few surface scratches at most.
This hitch-mounted rack can carry up to four bikes on a very secure platform. The position of your bikes can be adjusted by using the cradles and ratchet straps, so you can offset your bikes according to your needs and avoid contact.
U-shaped arms hook the front wheel, adding downward pressure to secure your bike. For security, this same arm features a lock, which works as a theft deterrent for the bikes, as well as the security key for the rack itself.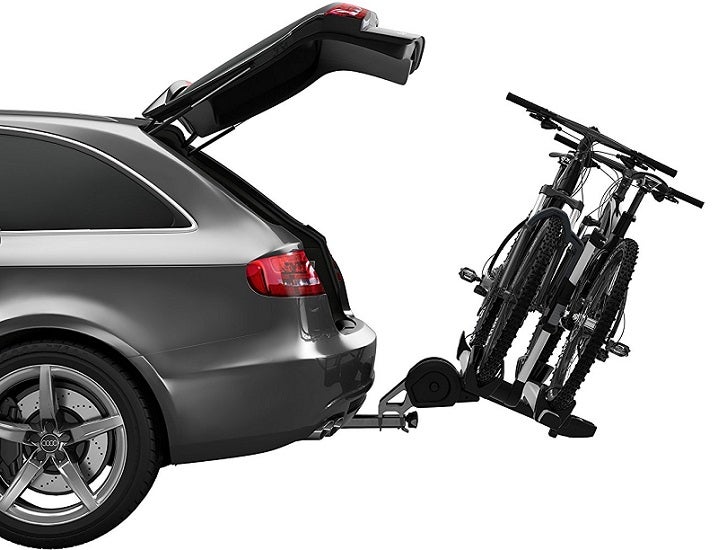 When you're not using the rack, simply squeezing the handle and raising it up to the back of your car will keep it tucked away for when you need it. In the same way, you can lower the rack for access to the back of your vehicle.
However, Thule has cut no corners and left nothing to chance. The intricate design features in the T2 Pro XT make it a worthwhile purchase for those with enough money to throw at it.
In terms of practicality, strength, and design, it has to be said that the T2 Pro XT leaves the rest of the products on this list eating its dust.
---
Best Bike Rack For SUVs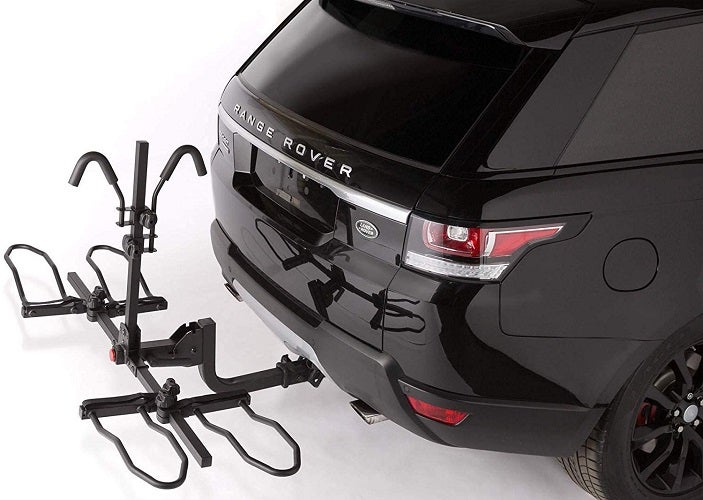 Overdrive Sport 2-Bike Hitch Mounted Rack at a Glance
:
---
Hitch mounted
Hanging support
Carries up to 2 bikes
Hitch and bike locks
Up to 120lbs max weight
The first thing I thought when setting up the Overdrive Sport was how simple it was to attach the rack to the hitch.
The hitch attachment doubles as a security device. All you have to do is turn a key and you disable the rotating AutoPin used to connect the rack to your car.
The same key is used to lock the swing arms to the bikes, making the Overdrive Sport one of the best racks on our list for anti-theft measures.
I found that after a couple of minutes of getting used to putting the bikes on the rack, it is obvious that this rack has been designed with practicality in mind.
It is very user-friendly after a bit of practice and looks cool too.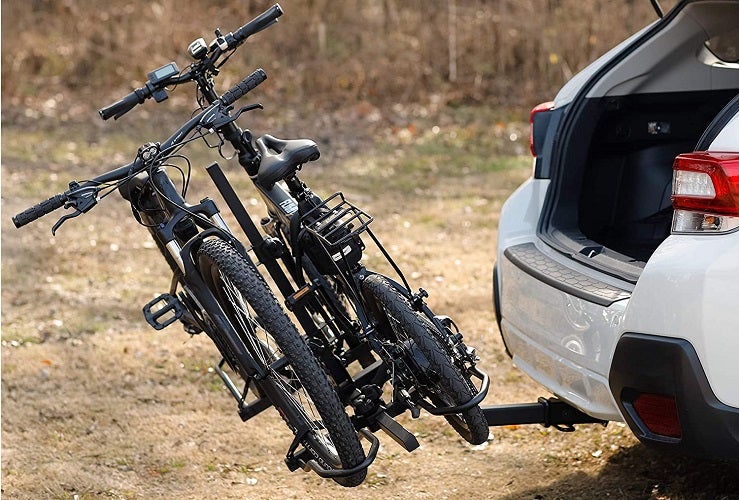 The cradles are adjustable, so you can be flexible with where you position your bikes. Overdrive uses wide 5″ trays that can fit just about any fat bike in existence.
You'll also find the locking arm works very well to prevent your bikes from banging into one another. The padded locking arm rotates around and locks on the bike's frame to securely hold it.
While this isn't the most inexpensive rack on the market, it is definitely cheaper than some of the more well-known racks on the market.
The rack is almost completely wobble-free even when hitting potholes or going over speed bumps.
The innovation on display in the Overdrive Sport is seriously impressive, making this the best SUV bike rack and a better deal than the Thule T2 Pro XT 2.

---
Best Platform Bike Rack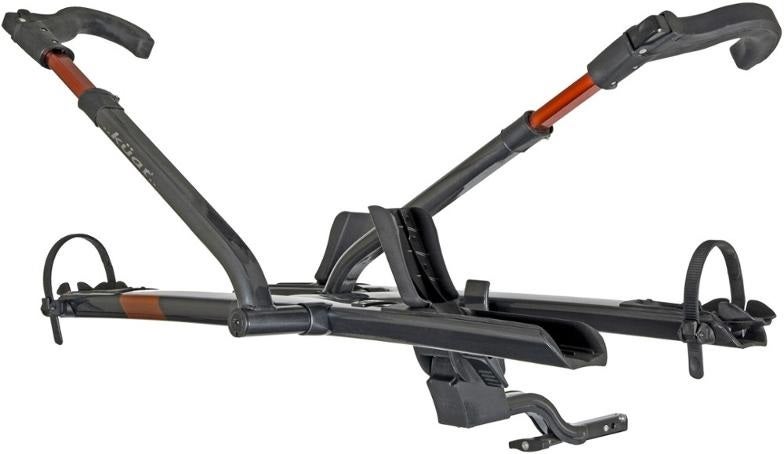 Kuat Sherpa 2.0 2-Bike Hitch Rack at a Glance
:
---
Hitch mounted
Platform support
Carries up to 2 bikes
Up to 40lbs max weight per bike
The Kuat Sherpa 2.0 Hitch Mount is a no-nonsense rack that keeps things to a minimum but does not skimp on performance.
It is the best platform bike rack that easily attaches to both standard 1.25-inch and 2-inch receivers. This was one of the easiest racks to install, with just a single bolt attaching it to your receiver.
As with all of the hitch-mounted racks in this list, you can tilt it outward to access your trunk. Kuat has implemented a well-designed foot lever for this function which makes life just that bit easier.
You can also press down the foot lever and tuck the rack away when not in use.
The platform cradles have three different sizes, so you can fit thick tires all the way down to skinny road tires. Specifically, the wheel trays can accommodate 20 to 29 inches, and the wheelbase can be from children's bikes to a maximum wheelbase of 47 inches.
While the cradles take care of the bottom of the wheel, your bikes stay snugly in place with an adjustable U-shaped arm putting downward pressure on the front wheels.
Named the PerfectFit adjustment system, this technology means your bike is secured with absolutely no frame contact.
In terms of security, Kuat does include security cables, but I certainly wouldn't rely on them for overnight storage.
It falls around the higher end of the price range and for serious cyclists, it is great value for money. The Kuat Sherpa 2.0 was among my favorites on this list.
I particularly liked the PerfectFit adjustment system that leaves the frame untouched, while keeping the bike firmly in place. Secure, innovative yet simple, I can't recommend the Sherpa Hitch Rack enough.
---
Best Hitch Bike Rack For The Money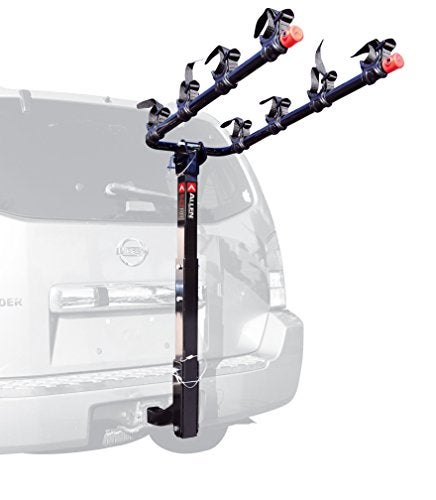 Allen Sports Deluxe Hitch Mounted Bike Rack at a Glance
:
---
Hitch mounted
Hanging support
Carries up to 4 bikes
Up to 35lbs max weight per bike
The four-bike model can only be attached to a two-inch hitch due to the weight of four bicycles. The design feels a bit more primitive than other products with higher price tags, which is to be expected, but it still performs its function well.
Users point out that the hitch pin provided isn't a standard size and there aren't any washers to protect the bars, so you may have to make some quite serious adjustments to use it safely.
Another downside is the lack of anti-swing straps. I used bungee ropes to try and stop the frames from moving, but with four bikes on the back of your car, it is quite a challenge.
But it's not all bad news. When loading four bikes, you can see the subtlety of the Allen Sports design. A platform hitch-mounted rack would apply a lot of torque on the hitch, due to it sticking quite a distance directly out from the back of the vehicle.
However, the Allen Sports Deluxe rack goes directly up before extending outwards, putting less strain on the hitch. (Apologies for the geekiness)
If you're not carrying bikes, but don't want to remove the rack — no problem. The carry arms are very easy to fold down and like almost flat.
Despite being the least expensive model in this guide, the no-frills Allen Sports Deluxe performs well and is the best value hitch-mount bike rack.
Any fears you may have about the strength of the design should be comforted by the confidence of Allen Sports' lifetime warranty. If you want a low-price rack and don't mind making a few adjustments with hitch pins and washers, this is a good choice.
Although I have reviewed the four-bike two-inch hitch version, Allen Sports has plenty more options to choose from within the same line.
Depending on which one you go for, you could carry between two and five bikes with options for locking, and racks that are suitable for different sized hitches.

---
Best Bike Rack For Cars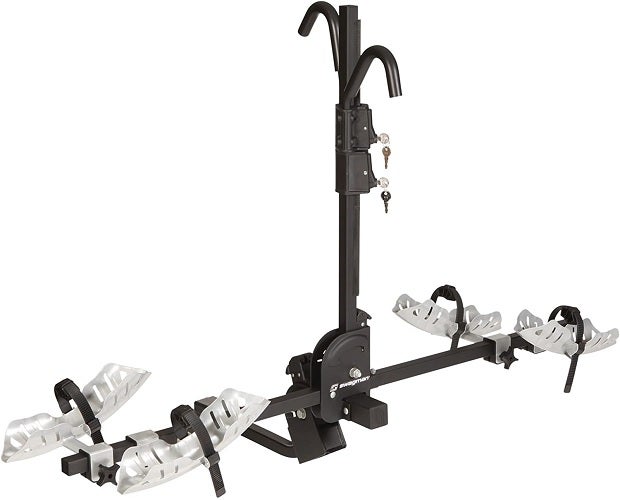 Swagman Chinook Hitch Bike Rack at a Glance
:
---
Hitch mounted
Platform support
Carries up to 2 bikes
Hitch lock
Up to 45lbs max weight per bike
As a hitch-mounted platform bike rack, the Swagman Chinook can accommodate all kinds of frame shapes. The ratchet straps safely fasten down two bikes at a time, and the adjustable padded arms secure the top of the frame.
Both the cradles and the upper hooks can be individually adjusted to fit bikes of totally different sizes.
This padded hook ratchet also works as a security measure, holding the frame snugly. They can be locked with a key, meaning the frame can't be moved until the ratchets are released.
This doesn't quite work as well as regular bike locks, but is tight and does not move about like a D lock does while driving.
With your bikes secured to the rack, the hitch pin locks the rack to your vehicle as another anti-theft measure.
Like most of the hitch-mounted bike racks on this list, the Chinook can fit both standard-sized hitches. The rack can be tilted down for access to your trunk and folded away when not in use. This is done with a handle that, for me, seems a little strange.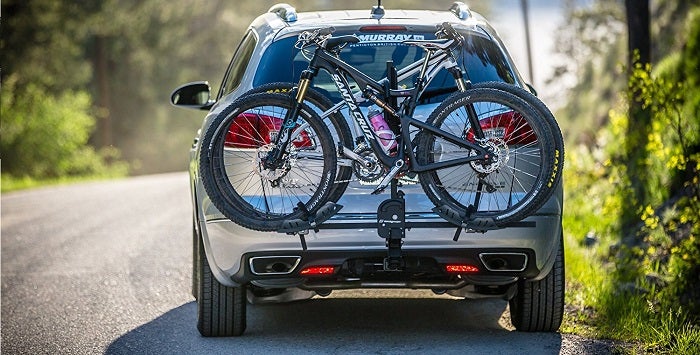 Placed between the bikes and the back of your vehicle, it is quite awkward to reach compared to the foot lever on the Kuat Transfer Universal 2 or the handle on the Thule T2 Pro XT 2.
In terms of price, the Swagman Chinook Hitch Bike Rack hits its smack bang in the middle. The price, combined with the clever locking design means this is a safe bet for a mid-range bike rack. Unless you want to go for the top of the range, or a model with space for more bikes, the Swagman Chinook is the best bike rack hitch for the money!

---
Best 4 Bike Hitch Rack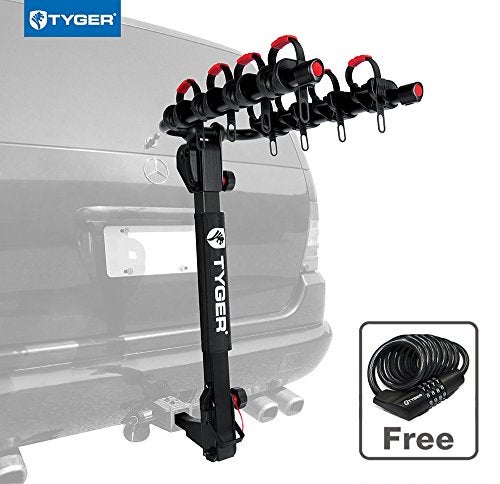 Tyger Auto TG RK4B102B Deluxe at a Glance
:
---
Hitch mounted
Hanging support
Carries up to 4 bikes
Hitch and bike locks
A low-cost, hitch-mounted bike rack, the Tyger Deluxe can carry up to four bikes comfortably thanks to its sturdy construction.
It fits both 1 1/4-inch and 2-inch hitches and comes with a Tyger hitch lock. Installation is made quite a bit easier by the noticeably lightweight, but fortunately, this doesn't translate into flimsy construction.
Like all of the hitch-mounted bike racks reviewed here, the Tyger Deluxe can be lowered for easy access to the trunk.
However, you get what you pay for, and this lower-budget rack does not have a quick-release handle or a foot lever. You have to turn the screw that connects to the hitch receiver.
The hold on the bikes is not the best among the products reviewed here. For bikes without a straight top bar, you need to buy an extra part.
This is probably the biggest disadvantage compared to other hanging bike racks. What's more, there are no anti-swing components, meaning there is a higher risk of bikes colliding with each other.
One area where Tyger does very well is their security features. The hitch lock works in a similar way to the aforementioned Thule and Yakima key locks.
A simple turn of the key and your rack is locked onto your vehicle. You can also lock your bikes to the rack with cable locks.
With the low price, somewhere between $100 and $200, you could maybe forgive the lack of anti-swing straps and the slight difficulty in tilting the rack down.
If a low price is a high priority for you, the Tyger Deluxe is a great bet. Even if certain aspects can be mildly frustrating, the value for money and reliability that this bike rack represents is not bad at all.

---
Best Bike Rack For Mountain Bikes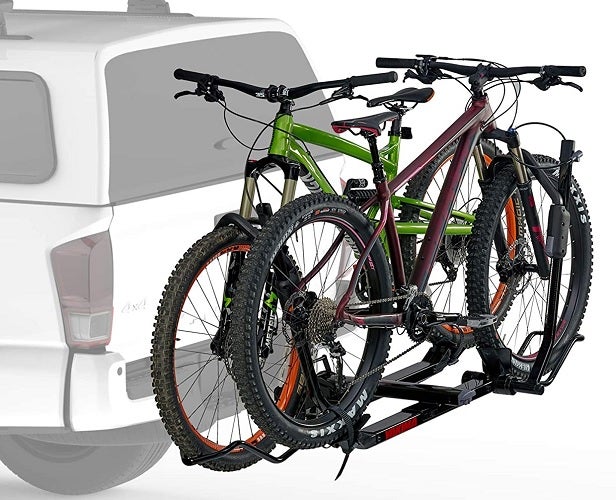 YAKIMA HoldUp EVO Bike Rack at a Glance
:
---
Hitch mounted
Platform support
Carries up to 2 bikes
Hitch lock
Up to 45lbs max weight per bike
The YAKIMA HoldUp EVO Hitch Rack has a very secure platform for two bikes, with adjustable supports that hug your wheel.
With wheel supports and padded arms, which can be easily shifted to accommodate different bike sizes, mean that all kinds of bikes can fit, including fat bikes and kids' bikes.
The simple design makes it one of the easiest racks on the list for loading and unloading.
It fits 1 1/4-inch and 2-inch hitch receivers and is very easy to attach. The Yakima HoldUp Hitch Rack comes with a very useful lock to secure the rack to your vehicle.
Unfortunately, it doesn't come with devices to lock the bike to the rack, however, I found it just as easy to use the locks I have to secure bikes. All you need to do it attach the frame to the vertical pole underneath the padded arms.
One great feature of the Yakima HoldUp Hitch Rack is its ability to fold both up and down. Folding down offers easy access to your trunk while your bikes are attached.
Folding it up keeps it nice and compact when not in use, so you don't have to keep thinking about how much room you need to leave while parking.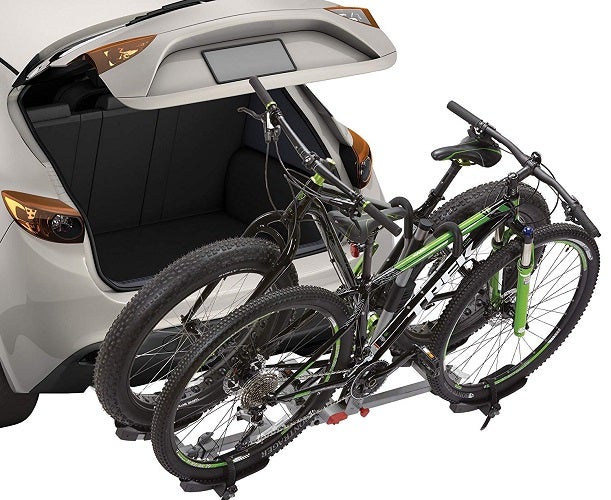 Another nice little touch, although it took me an embarrassingly long time to identify, is the bottle opener attached to the rack — great for a post-ride drink.
One downside that some users point out is that it bounces on certain roads, but I found that it was more than stable enough for two standard mountain bikes on standard roads.
At a mid-range price bracket, the Yakima HoldUp Hitch Rack is strong, compact, and versatile. If you don't want to splash the cash on a Thule, this two-bike hitch-mounted bike rack is fantastic value for money.
---
Best Bike Rack For Trunks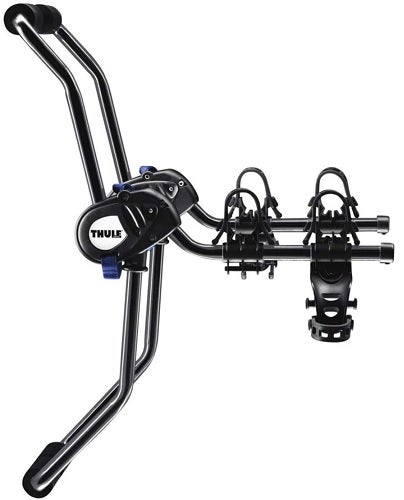 Thule Passage Trunk Mount Carrier at a Glance
:
---
Trunk mounted
Hanging support
Carries up to 2 bikes
Hitch and bike locks
Up to 55lbs max weight per bike
The Passage is our Editors Choice for the best trunk bike rack and offers an excellent range of features and the kind of quality you would expect from Thule.
It is a simple, easy-to-use design that performs very well. The Thule Passage might just be the last bike rack you ever buy.
While it can't be attached to all cars, the patented FitDial feature makes for a really snug fit if your car is compatible.
The Thule fit guide is an excellent tool to help you gauge whether the Thule Raceway 2 will attach to your trunk.
With the SureTight ratcheting locking cables, I found setting up the bike rack very easy. The folded rubber pads provide excellent friction with the car while protecting your windows and paintwork from scratches.
Like other models on our list, when you aren't using the Thule Raceway PRO, you can fold it flat for storage.
The cradles, with Road Dampening Technology, perform the same role on your bike frame, while also absorbing shocks caused by the road.
They can also be adjusted to a very narrow diameter to hold almost every type of bike, even small kids' bikes. The patented No-Sway cages further protect your bikes by keeping a safe bike clearance and ensuring they don't bump into each other.
With Thule quality comes a Thule price tag. Having said that, it is impossible not to be impressed by the build quality, practicality, and ease of use of this excellent trunk-mounted bike rack.
---
Best Budget Trunk Bike Rack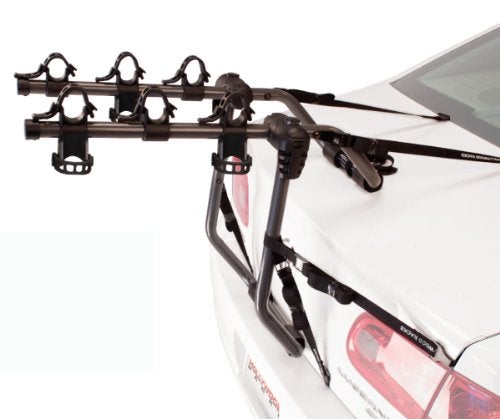 Hollywood Racks Baja Trunk Mounted Bike Rack at a Glance
:
---
Trunk mounted
Hanging support
Carries up to 2 bikes
The Hollywood Racks Baja trunk-mounted bike rack is high in quality and practicality while just sneaking over the 100-dollar mark in terms of price.
They are suitable for a wide range of bikes and an impressive amount of vehicles. If you're worried about buying it now and finding out later that it doesn't fit your car, worry no longer.
The fantastic search function on the Hollywood Racks website allows you to enter the make, model, and year of your car and find out if it is compatible.
Installing the Hollywood Racks Baja trunk-mounted bike rack is relatively straightforward. Although I would always recommend reading the manual, I found the explanatory video on Amazon to be more than enough to attach this trunk-mounted bike rack.
It is true that there are many steps, but it makes for a very solid rack.
To avoid your bikes swinging while in motion, there are anti-swing cradles. Six straps that attach bikes to the structure and three anti-swing straps, so your bikes will remain solidly in place.
To avoid scratching your car, the contact points are all well protected, and the hooks that attach to the body of your car are all coated with a non-scratch finish.
One of the special features is the quick-release hub system, which makes it easy to adjust and attach to most types of vehicles.
The quick-release hubs allow you to easily fold the bars so that the rack lies almost flat. Doing the opposite of this quickly opens the rack for when you need to attach it to your car.
Hovering just above 100 dollars, it is difficult to find better value for money than this extremely user-friendly, well-built trunk-mounted bike rack.
And if you know you won't be needing three bikes, Hollywood Racks also offer a more compact two-bike alternative.

---
Best Trunk Bike Rack For The Money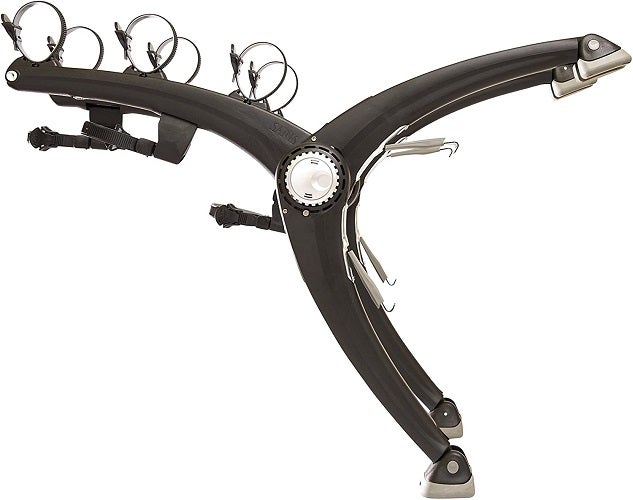 Saris Bones Trunk Rack at a Glance
:
---
Trunk mounted
Hanging support
Carries up to 2-4 bikes
Up to 35lbs max weight per bike
The Saris Bones two-bike trunk rack is made of a strong, yet lightweight frame that can hold two bikes of up to 35 pounds each.
Although Saris offer expert installation as an additional extra, the instructions are easy to follow and check that there is a comfortable amount of space between your trunk and your bike.
Other than that, you shouldn't have a problem setting up your Saris Bones bike rack. The smart design allows it to be attached to most kinds of vehicles, including hatchbacks, minivans, sedans, and more.
Its moveable rubber feet attach to your rear window and fender, while the non-scratch vinyl-coated hooks attach to either side of your trunk.
You load your bikes onto strong straps, which have hard, durable plastic on the outside and a soft surface on the inside to avoid scratches.
As well as the standard fitting straps, there is an anti-swing strap for each bike, which, as you may have guessed, stops the bike from swinging against the back of your car while you're moving.
Eco-friendly bikers are often drawn to the Saris Bones rack as it is made with 100% recyclable, non-rusting materials. The injection-molded arms and legs are extremely strong — according to Saris, the strongest on the market.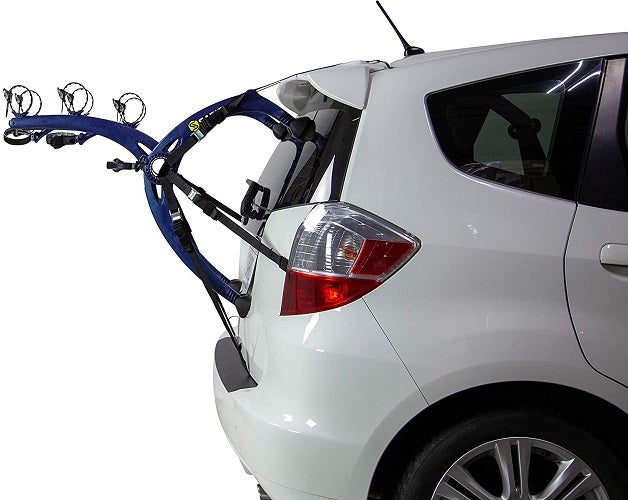 The excellent design isn't just for when you're on the road. Its special design allows it to be folded flat, so you can store it in your garage with no problems during the off-season.
Despite its build quality and practicality, the Saris Bones trunk-mounted rack is at the lower end of the price range on this list.
So for a bike rack that is sturdy, easy to store, and great value for money, the Saris Bones is the best bike rack for cars.
---
Bike Rack Comparison Table
How to Choose the Best Bicycle Rack – Buyers Guide
Those who are new to researching bike racks might question if they are all really that different. But for every cyclist, there is an ideal bike rack.
This list features seven hitch-mounted racks and three trunk-mounted racks; some with platforms and some that hang. Below, you can find my explanation of the key points to consider when choosing a bike rack.
Considerations for Bike Racks

Attaching the Rack
One factor makes your decision incredibly easy — if you don't have a hitch receiver, you simply can't use a hitch-mounted rack.
And as long as it is a standard 1 1/4-inch or 2-inch hitch, you can fit any of these products to it, whereas trunk-mounted racks can depend on your vehicle model.

Trunk Access
For me, one of the biggest advantages of a hitch-mounted rack over a trunk-mounted one is the ability to access the trunk.
All of the hitch racks listed here have the ability to tilt away from your vehicle, allowing you to get into the trunk for anything you might need. On the contrary, trunk-mounted racks mean you have to prepare well or be prepared to remove and replace your bike rack.

Rack Security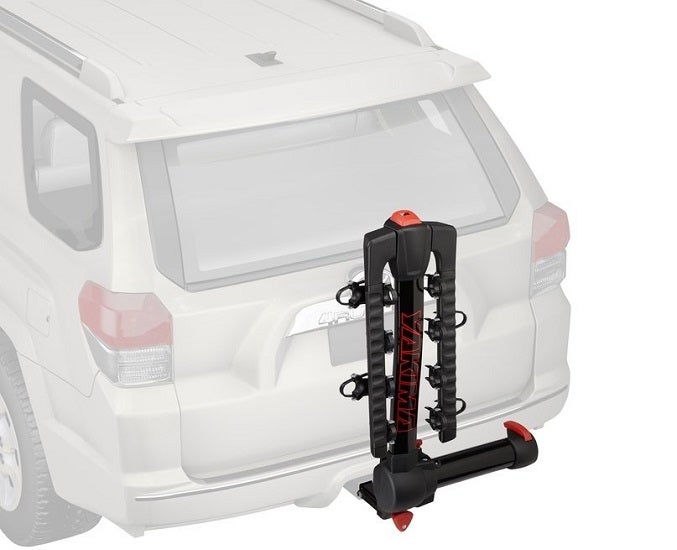 The hitch-mounted racks reviewed here all have a locking system for at least the rack itself. This comes in useful when you're stopping off on the road and want to rest assured that you won't come back to the car and find your bikes have disappeared — not a good feeling.
On the other hand, trunk-mounted racks are generally attached using just straps, which can be cut relatively easily. The Thule Raceway 2, which uses metal rods instead of straps, secures the rack far better than other trunk-mounted racks, but still doesn't quite match the hitch-mounted options.
Many users fear trunk-mounted racks because they come into direct contact with the body of your car, rather than just attached to the hitch receiver. I can understand the worries of damage to the paintwork, but as long as you are not careless, the trunk-mounted bike racks in this list will be just as good for your car as hitch-mounted ones.

Platform vs. Hanging Racks Bike Racks
These two types of racks are variations of hitch-mounted racks.
As the names suggest, a platform rack has a platform that supports the wheels of the bike, while a hanging rack hangs your bike, often with anti-swing straps.
There are pros and cons to both types of rack, which are outlined below.
Platform

Hanging

Pros

• Low hanging — easy to load bikes

• Suitable for different bike styles e.g. kids bikes and enduros

• Secures bike at frame and wheel

• Avoids contact between bikes

• Easier to attach

• Lighter in weight

• More compact on the back of your vehicle

• Stores much flatter

Cons

• Comparatively heavy

• Heavier items may be harder to set up and remove

• Not as easy to store

• Juts further out from the back of your vehicle.

• Can often only hold bikes with a top bar

• Bikes can be touching

• Bikes can damage each other if there is no anti-swing strap

• Bikes need to be lifted higher for storage
Hitch Mount Bike Racks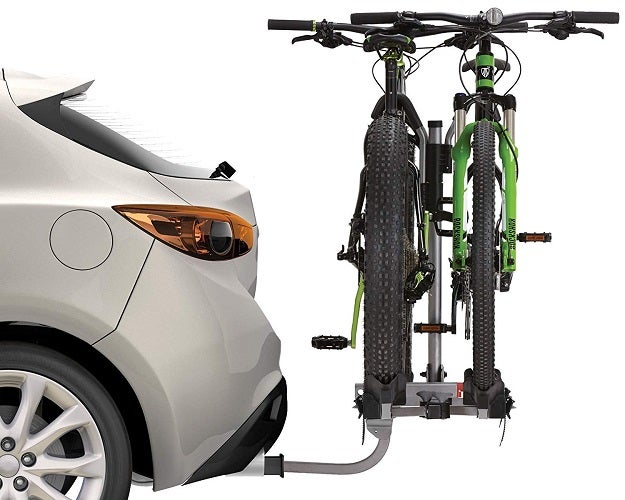 The 2 Types of Hitch Mounted Racks:
We looked at a chart of the pros and cons of the type of hitch-mounted racks, let's discuss them in more detail:
Platform/Tray
Platform style racks, although heavier and costlier, provide many benefits over other designs. The stable platform where the front wheel and rear wheel sit in a tray virtually eliminates any risk of swaying during transport, and many different styles of bikes can be carried at once.
Minimal contact with the bike frame ensures that the bicycle will be protected during travel and lowers the risk of damage to the frame. These types of tray-style bike racks are ideal for the newer fat-tire bikes.
A hitch mount design will allow you to load multiple bikes at chest level resulting in easy loading.
A platform style of hitch mount is ideal for allowing ample space between bikes, resulting in less damage from colliding frames. Hitch mounts can accommodate almost any style of bike, as long as the vehicle and hitch can support it.
A common concern regarding hitch mounts is how much they will hinder the ability to reach the trunk of the vehicle. A common solution to this problem is purchasing a tilt down rack, which will allow you to move the bicycles out of the way with the help of a hinge, to ensure trunk access.
Hanging
Similar to trunk-style racks, the bikes hang on the rack from the top tube. They are usually less expensive since there is no tray they have their downsides compared to a platform style.
Since they hang from the rack they are not suitable for many women's bikes and hybrids with their sharply angles tubes or oddly shaped so they are difficult or impossible to get them to hang properly on the rack.
If you have a carbon fiber bike, I would stay away from them as well to eliminate any risk of cracking the frame.

Trunk-Mount Bike Racks
Maybe the most popular style of bike rack is the "trunk mount." A trunk mount is a convenient option for carrying multiple bikes and can be easily stored when not in use.
Trunk mounts do not require additional assembly like a hitch mount, and they avoid many hazards associated with roof racks. Trunk mounts are typically very lightweight and user-friendly. They can easily be attached with straps to the trunk or hatch.
When purchasing a trunk mount you will want to take your vehicle into consideration and make sure it will fit. While most racks are lightweight if you choose a model that is not suited to your car you can risk denting, deforming, or scratching your vehicle.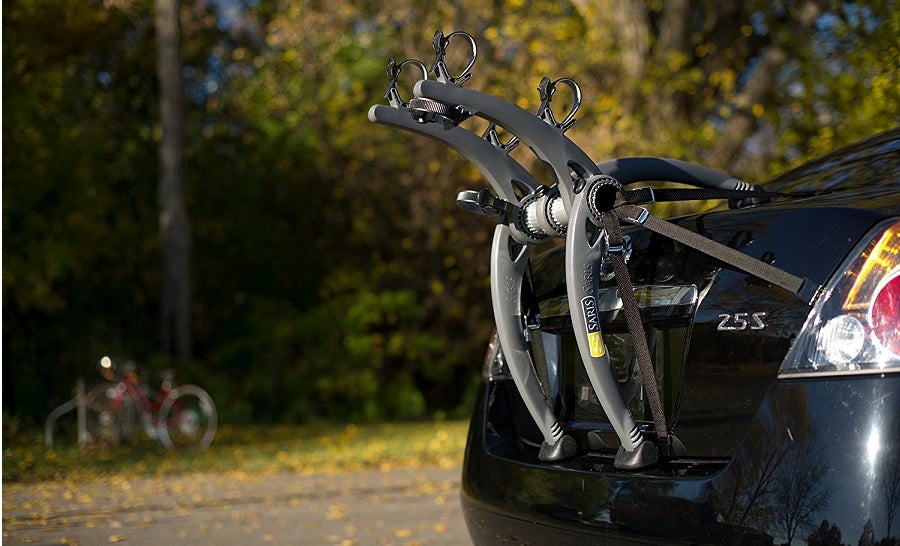 Let's look at some pros and cons of trunk-mounted bike racks:
Pros
Versatility – They fit almost any car or SUV and require no extra equipment
Cost – They are less expensive because a hitch is not required.
Cons
Security – With a truck-mounted rack, it is almost impossible to truly secure the bikes. A thief can just cut the straps and take the rack and the bikes.
Truck Access – With the rack mounted on the truck, access to opening the trunk is difficult at best unless you remove the bikes from the rack and you may have to remove the rack completely.
Roof Mounted Bike Racks
Roof racks are not as common as hitch and trunk-style bike racks. This type of rack requires you to lift your bike on the roof of your car or SUV and then clamp it down.
We don't review roof-mounted racks because of the substantial downsides of this type of rack. Let's look at some pros and cons.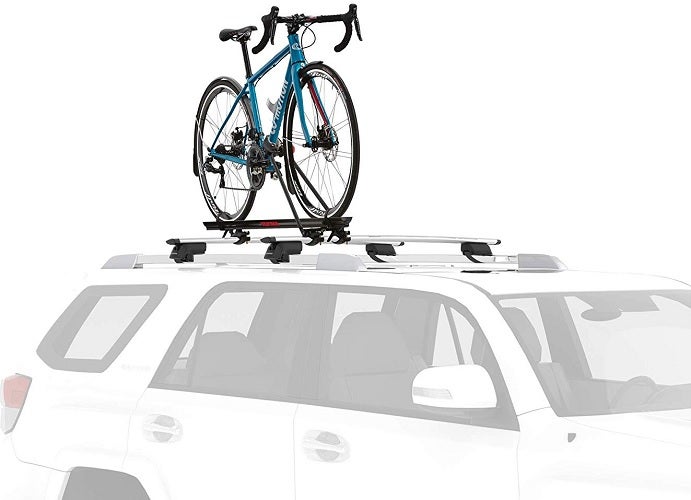 Pros
Visibility – Since the bike is mounted on the top of the car, the bike do not obstruct your vision through the back window.
Trunk/Hatch Access – With the bikes on top of the car, you have unrestricted access to the back of your car/SUV.
Bike Safety – Since the rack recures the bikes using the tires, there is no danger of cracking the frame or scratching the paint from the bikes rubbing together.
Cons
Bike Mounting – Since you have to lift the bike over your head and secure it to the rack it is ideally a two-person job. One to lift and hold the bike, another to secure the clamps. If you have a heavy bike, you may not physically be able to lift the bike over your head. There is also the possibility of dropping the ebike, not only damaging the bike but also your vehicle!
Garage Access – Another real danger is that now you have added several feet to the height of your car there is the possibility of hitting a low overhead. If this happens most likely more bikes will be destroyed and possibly worse
The Swinging Front Wheel Problem
The swinging front wheel is a thorn in the side of many hanging bike racks. Without anything to support it and its pesky ability to turn, the front wheel can be a bit of a problem.
Some of the products on this list have anti-swing components, but in the absence of a dedicated feature, you'll have to find another solution.
However, it is not a difficult problem to fix. A couple of hooks and look straps or well-positioned bungee cords should do the trick.
Bike Rack Features to Look For
Padded Attachment Points
The last thing you want is the paint on your car being scratched off by your rack. The rack points that rest against your car should be padded with high-quality foam. If there are straps holding the rack securely (usually found in trunk-mount models) make sure they are coated with a rubber/plastic so it doesn't rub the paint off.
Security Cables
Some bike racks come with cables that can be locked so that thieves will have a difficult time trying to remove your bike from the rack. Even if the rack doesn't come with cables there are usually aftermarket bike locks to keep your bike secure.
Bike Attachment Points
We cover two types of racks, trunk, and hitch. For truck mount models, There will be a padded bar that rests against the truck and is the main point of contact. The bar needs to be solid to resist swaying and bumps in the road.
The straps that fit into the seams should use a secure adjustment method so they don't loosen up as you are driving down the road. With straps, more is better. Many have only 4 attachment points whereas the Saris Bones has 6 making it one of the more secure racks on our list.
For hitch mount models, the only real contact point is where the rack fits into the hitch. We would recommend the 2-inch hitch mount models because of the extra strength of the larger hitch vs the 1 1/4 inch.
FAQs For Bike Racks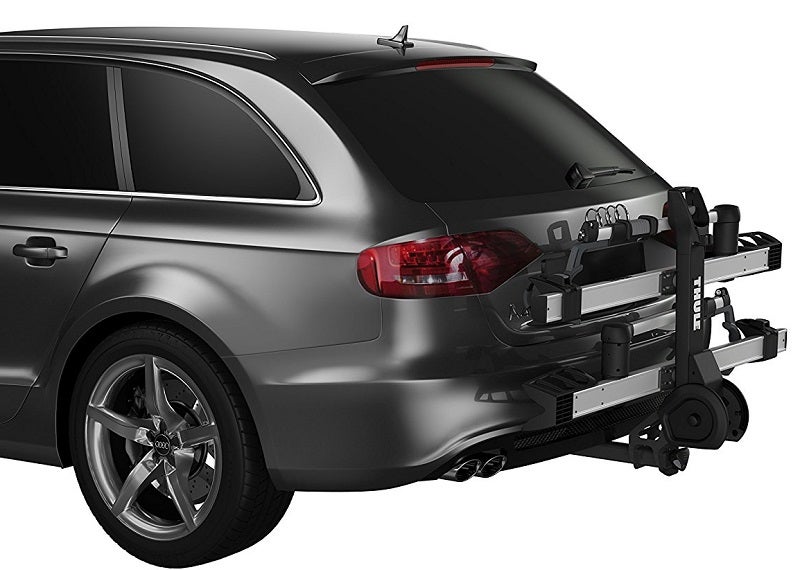 Q: Can these bike racks fit any car?
A: In short — no.
Hitch mounted racks can connect to any standard hitch, but for trunk-mounted ones, I'd suggest you take a look at the fitting guide provided by each manufacturer.
Q: What is the best rack for an SUV?
A: A hitch rack is definitely best for an SUV. Most SUVs already have a hitch mount installed and one will surely be available if not installed already.  Roof racks are not ideal since the roof is already too high. Trunk racks usually don't fit SUVs well and the load is not supported by a shelf or trunk.
Q: Are the platform bike racks suitable for fat tire bikes?
A: If you have Fat Bike, you need to pay close attention to the details of each bike rack. Generally, hanging racks, whether hitch mounted or trunk mounted, are the best option.
There are cases, such as the Kuat Transfer Universal 2, of platform-loading racks that can accommodate extra-wide tires as well as slim tires in their cleverly designed wheel cradles.
Q: Can you open the trunk with the bike rack?
A: If you have a truck-mounted bike rack the answer is no. If you need to open your truck with the bikes on your car I would suggest a hitch-mounted bike rack that will give you full access.
Q: What is the best 4 bike hitch rack?
A: If you need to transport 4 bikes with a hitch-mounted rack we would recommend the Yakima FullTilt. It has the stability and ease of setup you need.
Q: Can you use a trunk bike rack on an SUV?
A: As long as there is a place to attach the straps you should be able to use a trunk-mounted bike rack on an SUV.
Q: Can I carry my electric or hybrid bike?
A: The only real restriction on mounting standard electric or hybrid bikes is the weight. Check through the models in the list, and as long as your bike is under the weight limit, you should be fine.

Best Brands of Bike Racks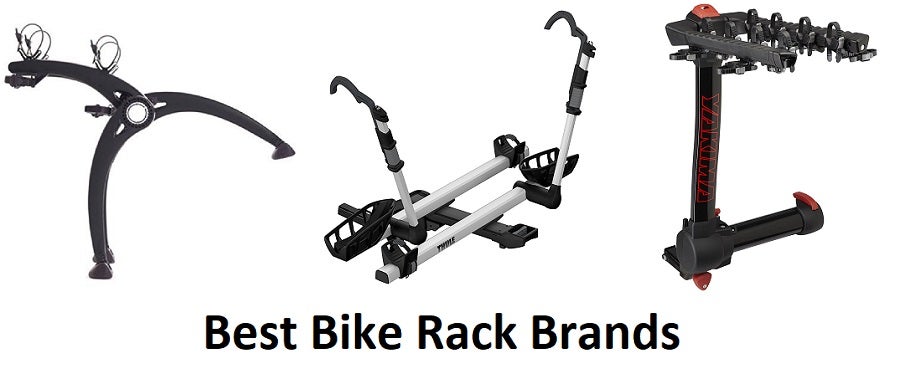 Choosing the "best" brand of bike rack is an almost impossible task. Not only are there quite a few manufacturers of quality bike racks, it also depends on the type of rack whether it be trunk, roof or hitch mounted. Any of these 3 brands is a good place to start.
Saris -Specializing in racks of all sorts, their "Bones" trunk rack is one of the best on the market.
Thule – Swedish company Thule got its start in the 1940s making roof racks. They make some of the best quality racks at any price!
Yakima – One of my favorite companies, their philosophy is to connect people with the outdoors. Their bike racks will help you do that!
Final Thoughts
Bike racks are an essential part of any great cycling trip. Whatever kind of journey you're planning, there is a rack to match in this list.
I hope I've been able to help you decide which is the best hitch or trunk bike rack for you. If you have any feedback, I'd love to hear from you. Please drop me a comment!
How We Researched
To come up with the top bike racks, we researched a variety of sources for reviews such as CompetitiveCyclist, JensenUSA, REI, EVO along with our own personal experiences.
We also consulted online magazines for product research and reviews to get as much unbiased information as we could. To help weed out fake reviews we used Fakespot.com to make sure we only looked at genuine reviews.
With so much quality gear available, we had to narrow it down based on what we felt were the best options for the price. The staff authors have a wide and varied background in road cycling, racing, and bike packing.
The authors have decades of experience in cycling and eager to share their knowledge with readers.
To help narrow down the selection we used personal experiences along with recommendations from fellow cyclists, bloggers, and bike shops.
After extensive research, we came up with our list to help you choose the right one for you.
Sources
Notice:
OutsidePursuits.com is a participant in the Amazon Services LLC Associates Program, an affiliate advertising program. OutsidePursuits.com earns fees from products sold through qualifying purchases by linking to Amazon.com. Amazon offers a commission on products sold through their affiliate links.