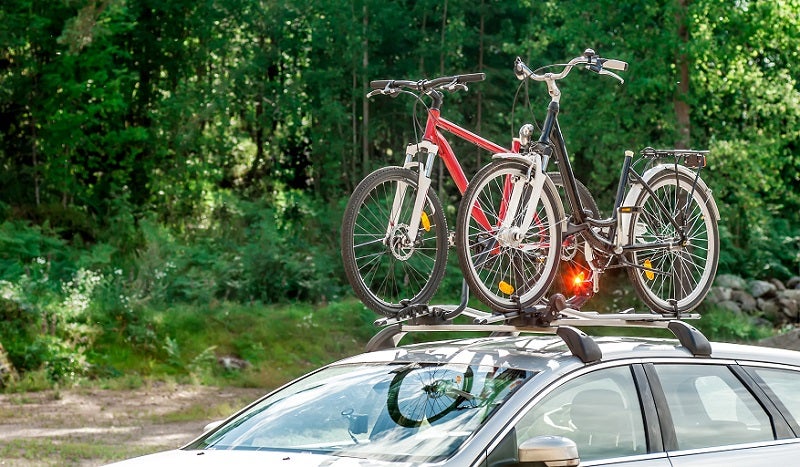 Transporting and storing your bike is a seeming simple objective. However, with all the different types of bike racks and mounting styles it's not that easy.
If you are still researching what type you need, this guide will help you decide.
Using the wrong bike rack can result in damage to your vehicle or bike.
We tested the highest rated brands and styles of bike racks to come up with the best bike rack for each category.
For more of my top gear recommendations, have a look through these popular Outside Pursuits guide links: Road Bike Helmets, MTB helmets, Bike Headlights
Here is a feature overview of my top 3 overall picks. Our guide and comparison table of the top rated bike racks will help you choose the right one for you.
Best Bike Racks
| | Saris 805 Bones Trunk Rack | Thule Sidearm Universal Roof Mount | Allen Sports Deluxe Hitch Mount |
| --- | --- | --- | --- |
| | | | |
| Style: | Trunk Mount | Roof Mount | 1.25" or 2" Hitch Mount |
| Max Capacity: | 4 Bikes | One Bike Per Mount | 5 Bikes |
| Features: | High strength, injection molded plastic that will never rust or crack and providing unmatched stability. | Double-wall aluminum tray that provides maximum strength, rigidity and corrosion resistance. | Lightweight, corrosion resistant steel, simple one bolt to tilt rack and allow access to rear of vehicle. |
| Best For: | Cars | SUVs | Trucks |
| | | | |
Best Trunk Bike Rack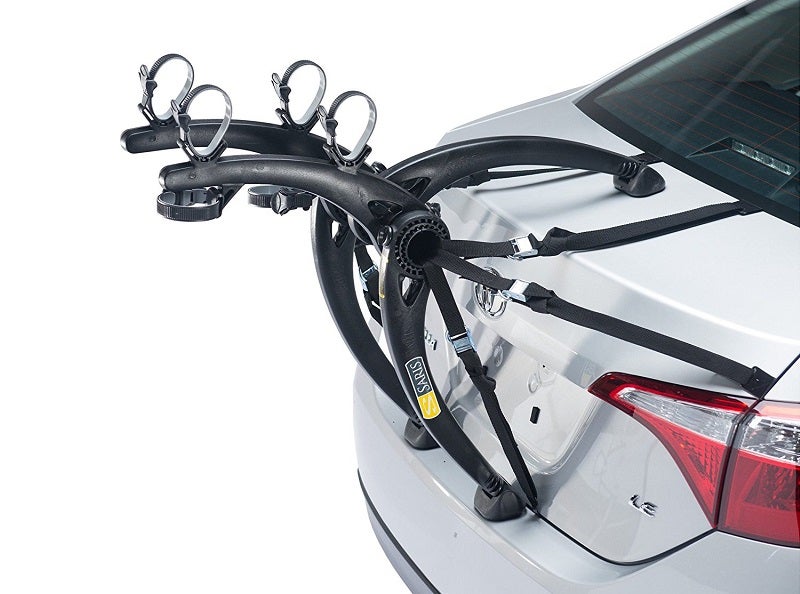 This rack is ideal for use on multiple cars as it can be used on all models from sedans to mini-vans. Even many cars that contain a spoiler can utilize the Saris 805 Bones 2 Trunk Bike Rack. (Note: there are 3 and 4 bike versions available).
It will carry two bikes, and has the strongest injection-molded arms and legs available on a bike rack. This gives the Saris Bones unmatched stability when carrying a full load of bikes.
The hold down straps are easy to adjust and lock securely keeping the rack extremely stable. Your bikes are fully protected with the use of dual level set up, ensuring they do not rub together or scratch one another while driving.
What I loved about the Saris 805 Trunk Rack was its versatility. It fits just about any car/mini-van or SUV and has the ability to hold the bike comfortably away from the trunk and bumper so you don't have to worry about your car getting scratched.
The straps have a sturdy design, and the anti-sway rung is a great added feature. It's easy to install, and can be compactly stored when not in use.
The Saris Bones is unsurpassed when it comes to transporting bikes over long distances and the best bike rack for cars.
I feel confident the bikes are not going anywhere while driving at highway speeds of even hitting speed bumps. The rack is solid and stable.
One thing to keep in mind when it comes to the Saris 805 Bones is that the distance between the two bikes is not adjustable.
Video: See how easy it is to mount and stable the Saris Bones is.
If you wanted to complain about something, the only thing would be that it has 6 straps to attach, including the uncommon use of side-straps.
However, it is these straps that give the Saris Bones incredible stability and if your just going a short distance you can skip using the side straps.
While there is no way to truly lock the rack to your vehicle, to steal it you would need to remove the entire unit. If you are going to leave it unattended for long periods of time its easy enough to remove and store it in your trunk.
If your looking for the best trunk bike rack, the Saris Bones is my top pick.
---
Best Platform Bike Rack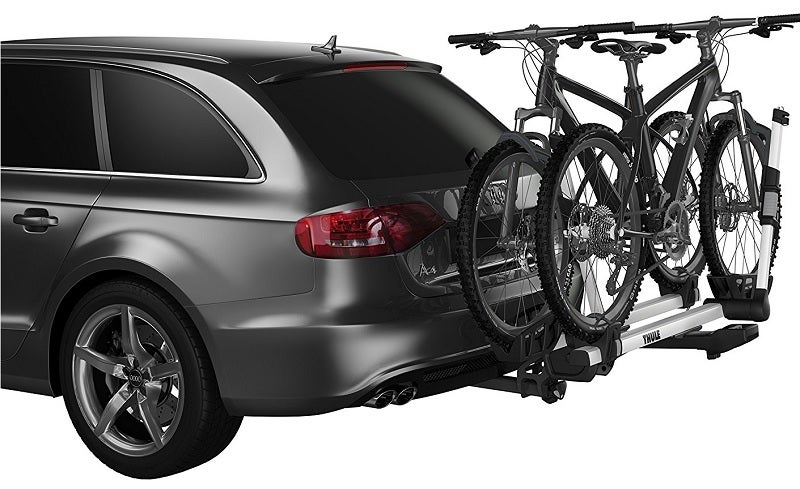 If your looking for a bike rack that just plain works and will carry just about any bike on the market then the Thule T2 Pro is what you are looking for.
The bike rack has deep, wide wheel trays that will handle the skinny tires of a road bike all the way up to the 5 inch fat tires of the newest fat tire bikes. (reviews of recommended fat bikes here)
If you have fat tire bikes then I wouldn't even look at anything else. This rack was designed to handle them without any special modifications.
The wheel trays and be moved anywhere laterally on the arm of the rack so it can accommodate a bike with any wheel base.
One complaint if you could call it that, is the bikes cannot be adjusted distance wise from each other. I don't really see this ever being and issue however. There is plenty of distance between the trays to accommodate larger bikes.
I found the Thule T2 Pro to be the easiest bike rack to assemble and get mounted on your vehicle. The main support arm and the pivot are one piece and come assembled right out of the box.
About the only thing that you need to assemble is the wheel trays. You will need to attach them to the arm of the rack.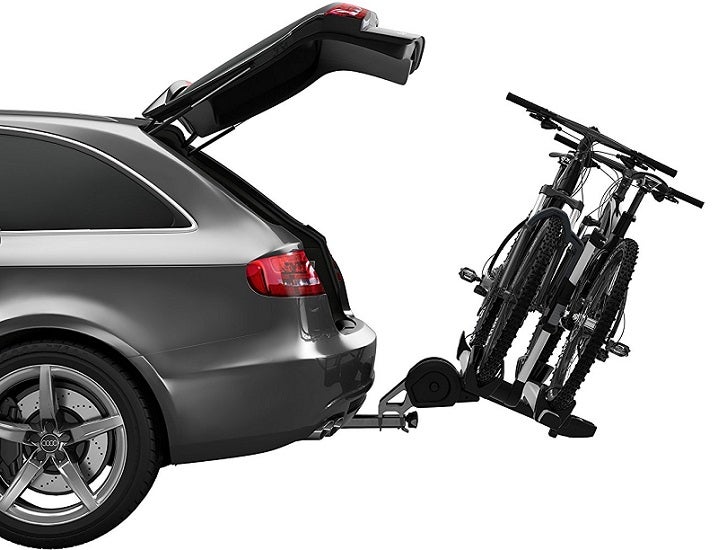 Where the T2 Pro really excels is how easy it is to use. The bike rack has 3 positions; horizontal for normal operation and up and down.
These positions allow you to fold the rack up and out of the way when not in use. This is nice because you can leave it on your vehicle all the time and it stays out of the way.
The down position allows you to tilt the rack down and out of the way for access to your trunk or hatch. The rack is designed so that it is not difficult or take much strength to lower the arm even when fully loaded.
Not only that, no tools are required to setup and install the rack. The rack slides into the hitch receiver and locks with a pin. Then turn the locking knob to secure it from moving.
Video: See how easy it is to install the Thule T2 Pro.
Once it's locked in place the rack is amazing secure and wobble free. You can be confident the bikes are secure and highway speeds and on the bumpiest of roads to get to your favorite off road spot.
The Thule T2 is durable and reliable. The quick release ratcheting mechanism to lock the bikes down on the rack is easy to rotate and move, even covered in dirt and mud.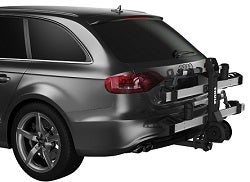 The T2 has a cable lock system for securing your bike to the rack so you can be assured your bikes are still there when your vehicle is unattended.
If I were to really complain about something it would be the cables. They are not very thick or long.
They are not long enough to wrap through the wheels. If you are really concerned about this then I would look into buying a longer cable so you can thread it through the tires to secure them.
The Thule T2 is by far the best hitch mount platform bike rack. Its easy to install, no tools required. Folds out of the way when not in use and easily removable should you choose to remove it when not in use.
---
Best Bike Roof Rack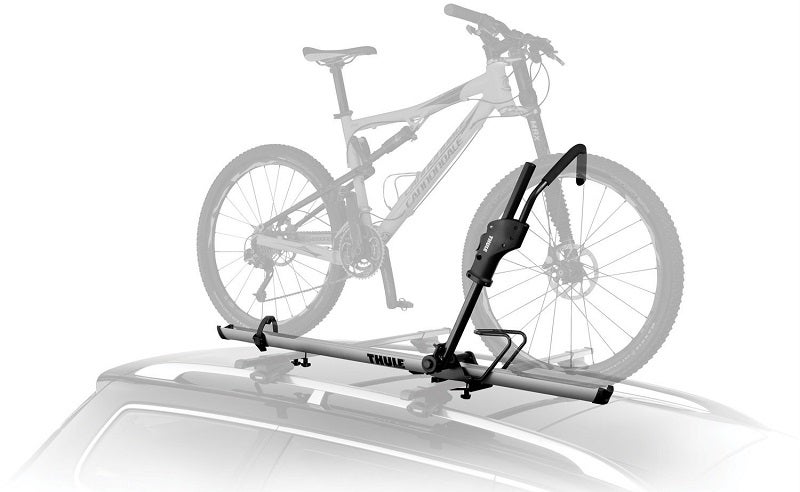 The Thule Sidearm Universal Bike Mount is the perfect option for securing your bike to round bars and factory installed roof racks, especially on SUVs.
This mount fits most 20 to 29-inch wheel diameter bicycles, and the SecureHook feature ensures that there is no frame contact with the bike.
Security is provided with the rear ratcheting wheel strap and the rubber rim adapter. Purchasing the One-Key lock cylinder from Thule (sold separately) allows the bike to lock to the carrier, and the carrier to lock to the rack.
This bike rack lives up to the sturdy, durable, and reliable nature that Thule is known for in all of their products.
The is versatile rack and be used just about any type of bike or size. The new fat tire bikes however, may not fit in wheel slot.
Whether traveling at high speeds, or through unpredictable terrain, the mount holds the bicycle securely. Loading the bike is quick and easy, ensuring you will be on the road within seconds.

My main complaint when installing the Thule Bike Rack is that the instructions could have been more clear, it took me a little longer than we anticipated but it was my first experience with a roof mounted rack so maybe it was just me.
It is also important to remember that installing this mount will increase your car height by about six inches, so make sure you have the clearance in your garage/car port.
I would get the optional locking mechanism if you plan on leaving your bike unattended, the peace of mind is worth the extra cost. All in all the Thule Bike Rack did not disappoint and is my recommendation for the best roof mount bike rack.
---
Best Hitch Bike Rack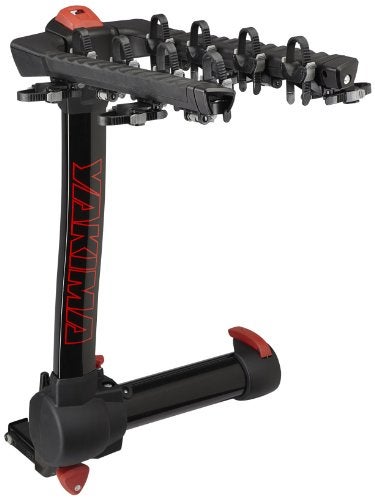 Yakima, best known for making quality racks has come up with a winner with the "Fullswing" hitch rack. One look at it tells you all you need to know. Its solid and well built!
Mounting the rack is a breeze, slide the rack into the hitch and the "speedknob" locks it in. To remove, turn the twist knob and remove it, couldn't be simpler. It also has a locking feature so someone can't steal the rack.
This is not a cheap bike rack so you don't want that to happen!
You really don't need to take the rack off the car when not in use. The bike rack arms fold down when not in use, so its sleek and doesn't get in the way.
Perhaps its best feature is the fact the that rack swings down allowing you to access the tailgate of your SUV.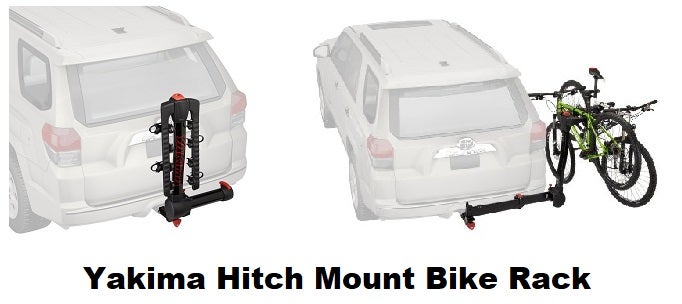 The ratchet style straps securely hold the bikes to the rack, so when your driving you will not need to worry about the bikes falling off the bike.
Also included are anti-sway cables to secure the bikes so they don't bang into the back of your truck or SUV.
You can load up to 4 bikes and up to 150 pounds' total weight on the fully padded arms that won't scratch your bike. With a lifetime warranty, and integrated bike locks I would say this is the best bike rack for SUV or (trucks) you can buy.
---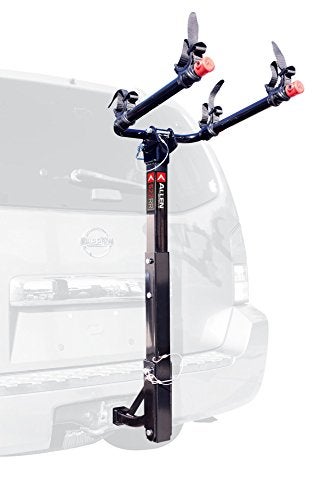 This Allen Sports Deluxe Hitch Mount Rack is perfect for carrying two bicycles on road trips or camping adventures, (Note: there are 3-4 bike versions available).
It fits 1 ¼ and 2-inch receiver hitches and includes a no-wobble bolt. Each bike is individually secured and protected with the tie-down cradle system.
To gain access to your truck or raise the gate you simply remove the locking pin and lower the rack, when your done, just raise it back up and push the pin back in to lock.
Video: See how to install the Allen Sports Hitch Bike Rack.
The rack tilts back giving you access to the lift gate and the rack can be folded out of the way when not in use.
The carry arm is capable of holding many different styles of bikes including fat tire, mountain and road bikes. Loading the bikes can be done very quickly.
The Allen Sports Deluxe Hitch Mount is extremely popular for good reason;  it's durable, with a stable design and ability to hold the bikes securely while traveling at high speed.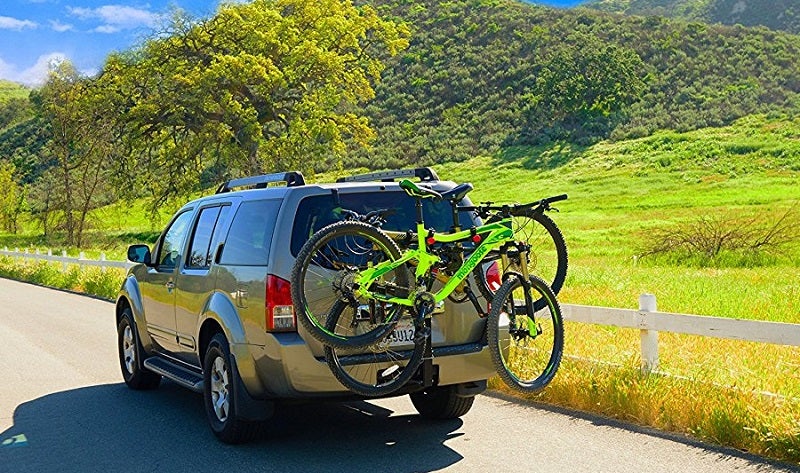 The arms are easy to maneuver, and the rack can be moved to ensure trunk access. I really liked the fact that it was so simple and easy to install plus is a bargain for what you get.
This is my top pick for the best hitch mount bike rack.
---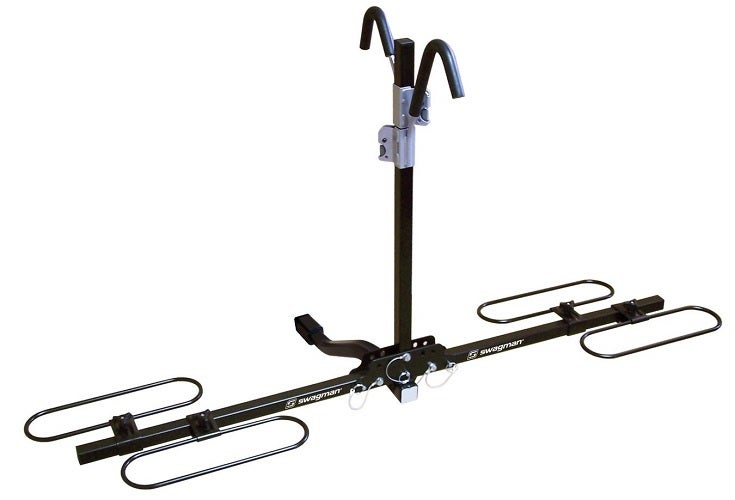 The Swagman XC Cross-Country is a tray-style bike carrier that fits into your trailer hitch and will transport up to 2 bikes.
The wheels of your bike fit securely into the trays and will accommodate bikes with wheel sizes ranging from 20-29 inches.
If you are riding a fat bike, there is an optional tray size available so you can transport them as well with the Swagman.
Max carry capacity is 25 pounds per bike or 70 total and the quick release rack fits into both 1.25 and 2 inch hitches.
My favorite feature is it folds up vertically so you can leave it on your car or SUV when your not transporting your bikes and also folds down to easily access the rear of your vehicle.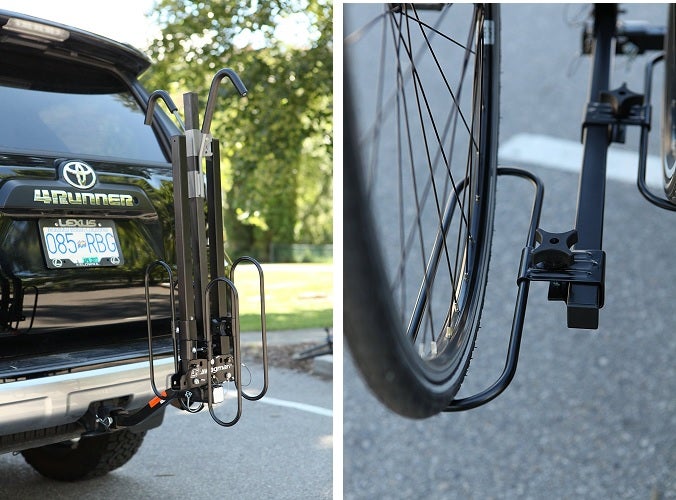 The XC has ratcheting arms that adjust to lock on the bike frame and hold it securely with its "anti-wobble" feature. The arms are rubber coated so they don't scratch your expensive bikes.
The XC does not come with any locking features so you will need to purchase the 10mm Swagman cable lock or you can use your own bike lock. You do have one right?
---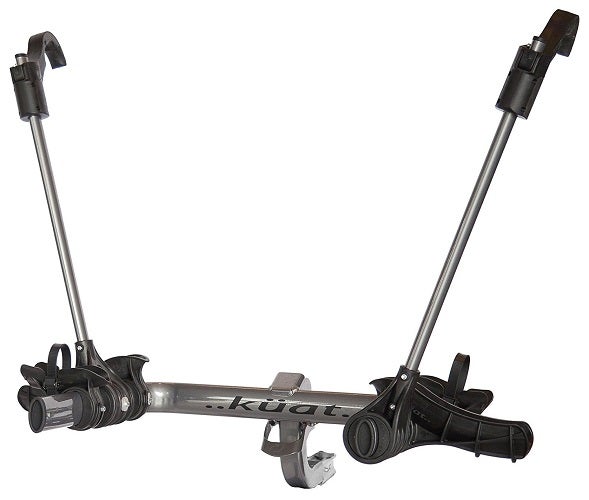 If you're looking for a solid and innovative design for a hitch mounted bike carrier the Kaut is just what you need. It will fit into both 1 ¼" and 2" hitch recievers.
Wide tire trays will accommodate just about any size fat bike tire (up to 4.5" tires) and hold them securely.
The locking loop can loop around the front wheel or the the rear wheel for extra security. I would still use cable to secure the frame however.
The Kuat Transfer as solid arms that are adjustable in length that lock down over your bike frame to keep the bikes secure and are coated so that the don't scratch or mare the frame of your bike.
I love the spring loaded pedal that when pressed the rack folds down so you can access the rear of your vehicle plus it folds up and out of the way so you can leave it on your vehicle all the time.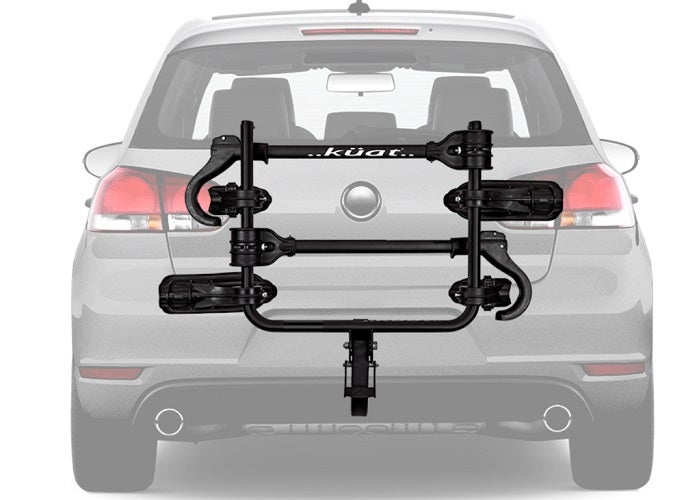 The Transfer comes in two models, a 2 and 3 bike carrier with weight capacity limit of 40 pounds per bike and fits bikes with tires between 20" and 29".
The 2 bike rack weighs only 33 pounds and comes fully assembled ao your ready to put on your car right out of the box.
---
Best Bike Storage Rack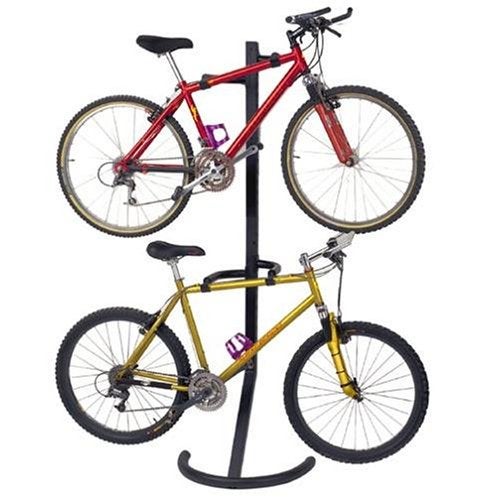 If your looking for a simple, inexpensive bike storage solution, Racor has designed the perfect solution. After hitting my bike while backing into the garage I figured it was time to find a better way to store my bike in the garage.
After doing some research into the different solutions I found this Racor rack.
I had the rack mounted in my garage in literately five minutes. All is takes is one bolt to mount to hold it against the wall. It only weighs 20 pounds so its easy to move it around your garage or storage area.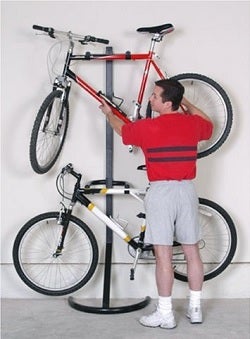 There is a 4 bike option but it is free standing and doesn't mount to a wall.
The 2 bike rack holds up to 100 pounds total, so you shouldn't have any issues as I am not aware of any bike weighing more than 50 pounds.
I have a mountain bike and a road bike and they both fit perfectly.
The bike arms just snap into the rack and it doesn't take any tools to do it.
The arms that hold the bikes are coated in vinyl so they wont damage your bike and hold it securely.
The Racor is inexpensive and probably the best garage bike rack available.
---
Bike Rack Comparison Table
| Bike Rack | | Mounting Style | Bike Capacity | Features | Fits | Rating |
| --- | --- | --- | --- | --- | --- | --- |
| Saris 805 Bones | | Trunk / Rear Mount | 2 Bikes | Made from 100% recycled materials | Cars and SUVs | 4.3 / 5.0 |
| Thule T2 Pro | | Platform Rack For Hitch | 2 Bikes | Rack folds up when not in use | 1.25" / 2" Hitch | 4.5 / 5.0 |
| Thule Sidearm | | Roof | 2 Bikes | SecureHook holds the bike firmly | Car/Truck/SUV | 4.4 / 5.0 |
| Yakima FullSwing | | Hitch Mount | 4 Bikes | Swings away with bikes loaded for access | 1.25" / 2" Hitch | 4.3 / 5.0 |
| Allen Sports Hitch Mount | | Hitch Mount | 2 - 4 Bikes | Rack tilts back for easy lift-gate access | 1.25" / 2" Hitch | 4.2 / 5.0 |
| Kuat Transfer Universal | | Hitch Mount | 2 Bikes | Rack tilts back for easy lift-gate access | 1.25" / 2" Hitch | 4.4 / 5.0 |
| Swagman XC Cross-Country | | Hitch Mount | 2-3 Bikes | Rack tilts back for easy lift-gate access | 1.25" / 2" Hitch | 4.8 / 5.0 |
| Racor Pro PLB-2R Stand | | Floor Mount | 2 - 4 Bikes | Vinyl-coated cradles protects bikes | Anywhere | 3.9 / 5.0 |
How to Choose the Best Bike Rack For You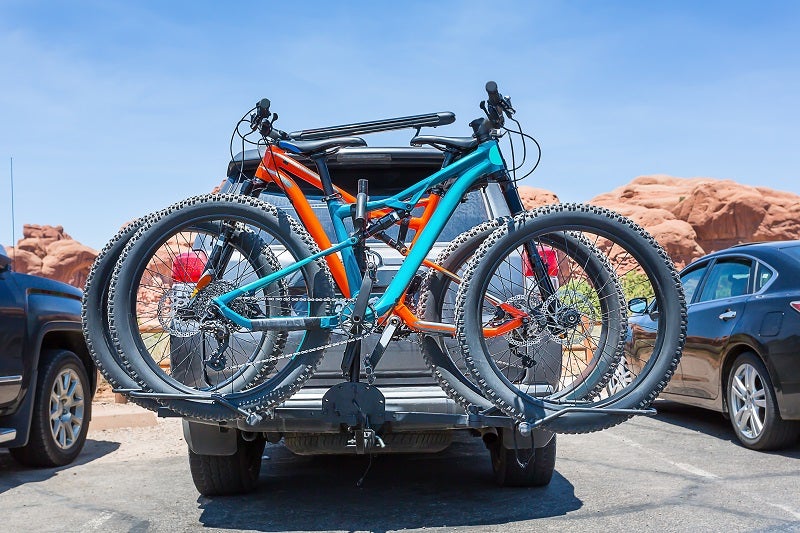 Bike racks are the ideal means of transportation when it comes to traveling with your bike.
There are many options to choose from when looking for a bike rack, and the ease of use will ensure that your time is spent exploring the outdoors and not struggling with getting your bikes out of the back of your car or SUV.
Here are some questions to help you decide which type of bike rack is right for you.
How many bikes do you need to transport?
How often will you use the rack?
Are you using the rack on a rental or your own vehicle?
Will you need to move the rack between vehicles?
Can you lift a bike by yourself over head and hold it in the rack with one hand?
Are there other activities that a rack will come in handy for? Like transporting a kayak or SUP?
Do you have an unusual bike like a tandem?
Does your vehicle have a roof rack or a towing hitch?
Does your vehicle have a spare tire on the rear?
Types of Bike Racks
There are four different types of bike racks. Let's go over them now!

Roof Mounted Bike Rack
The roof rack consists of a metal rack that is installed on the roof of your vehicle which holds the bicycle in an upright position.
Since roof style racks keep the bicycle out of the line of sight when driving, they are great as a long term option, especially given that they can be left on top of the car when not in use.
Roof racks should be avoided if you are traveling in an area with low clearance. The bike is suspended in an upright position, thus low bridges, parking garages, or low hanging trees should be avoided.
Roof racks should never be used with heavy weight bikes, and there is a risk of damage to the bicycle from any debris, animals, insects or weather while traveling.
Hitch Mount Bike Rack
Another common type of bike rack is the "hitch mount." A hitch mount bike rack requires the use of a trailer hitch to suspend the bike from the tail end of your car.
There are many styles of hitch mounts, including hanging and platform designs– most typically have simple loading or unloading mechanisms.
Hitch mounts help avoid some of the low clearance risks that roof racks introduce, and they are more aerodynamic as well.
A hanging style hitch mount typically weighs less and costs less than the platform style designs. Hanging style hitch mounts may also require the use of additional devices to prevent the bike from swaying during transport.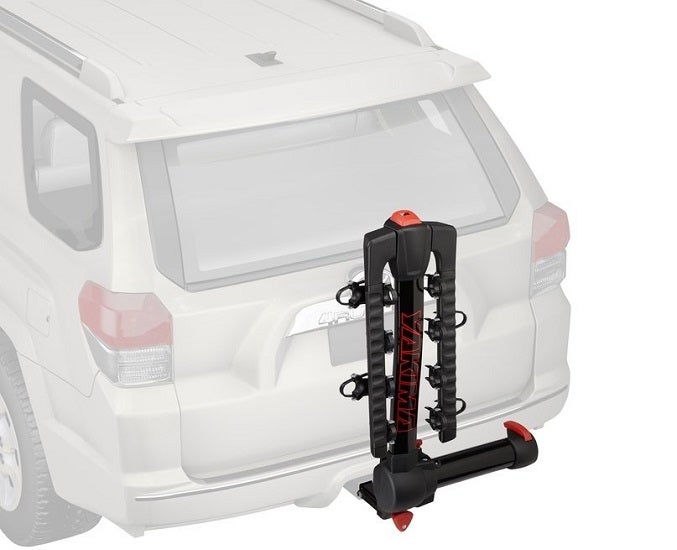 There is also a possibility that an adapter bar may be required for bikes that have an atypical frame style. While some models can suspend bikes from the wheels only, many designs make contact with the frame, which increases the risk for scratches or damage.
Hitch mounts are great for carrying multiple bicycles but they can be expensive, and some intricate styles can be difficult to install or remove from your vehicle.
When choosing a hitch mount you will want to take into consideration the type of bike you have, how many bikes you will typically carry, the design of your car, and whether or not you will experience any restriction to your tailgate or access.

Platform Bike Rack
Platform style racks, although heavier and costlier, provide many benefits over other designs. The stable platform where the front wheel and rear wheel sit in a tray an virtually eliminates any risk of swaying during transport, and many different styles of bikes can be carried at once.
Minimal contact with the bike frame ensures that the bicycle will be protected during travel and lowers the risk of damage to the frame. These type of tray-style bike racks are ideal for the newer fat tire bikes.
Trunk Mount Bike Rack
Probably the most popular style of bike rack is called the "trunk mount." A trunk mount is a convenient option for carrying multiple bikes, and can be easily stored when not in use.
Trunk mounts do not require additional assembly like a hitch mount, and they avoid many hazards associated with roof racks. Trunk mounts are typically very lightweight and user friendly. The can easily be attached to your spare tire, or the trunk door itself.
When purchasing a trunk mount you will want to take your vehicle into consideration. While most options are lightweight, if you choose a model that is not well suited to your car you can risk denting, deforming, or scratching your vehicle.
Considerations
Most bike racks are typically very easy to use and attach to the vehicle. Here are a few things to consider before choosing:
Roof racks typically require the most physical effort, as mounting the bike on top of the car requires some extensive lifting.
Almost all bike racks include easy installation processes, however you should be certain that the style you choose does not limit your accessibility, or block any features of your car you may need.
Because trunk mount designs can so easily be removed from a vehicle they are the easiest to steal and along with it your bikes.
If you don't want to or cannot lift your bike very high, a platform bike rack that sits low to the ground is your best option.
Keep security for your bikes in mind, most bike carriers have add-on locks to keep the bikes secure.
Helpful Tips
While many styles of bike racks can hold multiple bikes, the most stable and reliable is typically the hitch mount. A hitch mount design will allow you to load multiple bikes at chest level resulting in easy loading.
A platform style of hitch mount is ideal for allowing ample space between bikes, resulting in less damage from colliding frames. Hitch mounts can accommodate most any style of bike, as long as the vehicle and hitch can support it.
A common concern regarding hitch mounts is how much they will hinder the ability to reach the trunk of the vehicle. A common solution to this problem is purchasing a swing-away hitch, which will allow you to move the bicycles out of the way with the help of a hinge, to ensure trunk access.
A roof rack is a great option if you are looking for a permanent or long-term installation device, that can carry more than just your bike. Roof racks can also be used when it comes to skiing, boating, or storing snowboarding equipment.
If you are an outdoorsman all year-long, you will likely find many reasons to take advantage of a roof rack.
A trunk mount style is ideal for those who need to transport their bikes, but need an option that provides compact storage and easy removal from the car.
They are relatively inexpensive options that are perfect for occasional use. A great benefit for a trunk mount is that most can be used on multiple cars.
When purchasing bike racks it is important to think about the individual needs for your lifestyle and design of your vehicle. Consider factors, such as loading time, add-ons, and ease of installation especially if you are not familiar with bike racks.
Determine how often you will use your bike rack—helping you decide if a permanent mount or removable mount is a better fit for you. Your bike rack should provide stability, durability, and protection for your bike, your car, and you.

Best Brands of Bike Racks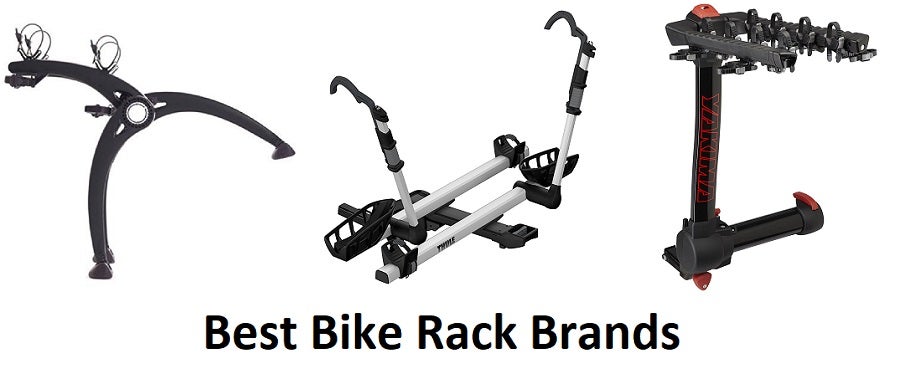 Choosing the "best" brand of bike rack is an almost impossible task. Not only are their quite a few manufacturers of quality bike racks, it also depends on they type of rack whether it be trunk, roof or hitch mounted. Any of these 3 brands is a good place to start.
Saris -Specializing in racks of all sorts, their "Bones" trunk rack is one of the best on the market.
Thule – Swedish company Thule got their start in the 1940's making roof racks. They make some of the best quality racks at any price!
Yakima – One of my favorite companies, their philosophy is to connect people with the outdoors. Their bike racks will help you do that!

FAQs For Bike Racks
Q: What kind of hitch do you need for a bike rack?
A: There are two types of hitches. The newer 2"x2" and the 1 ¼" x 1 ¼" size. Before you buy a hitch mount bike rack you need to check to see what size hitch the rack will fit. Many of them have an adapter to work with either size, but confirm before buying.
Q: Do bike racks fit all cars?
A: "Trunk" bike racks not only fit car trunks but they will also work with most SUVs. The straps on the rack have clips that fit into just about all vehicle except trucks.
Q: How do I lock my bike to my bike rack?
A: The easiest way is with a cable bike lock. You can wrap it around the frame of the bike and then around the rack. If your rack uses straps to hold the rack on. However, all a thief would need to do is cut the straps and take both rack and bike. It will at least deter most thieves.
Q: Can you open your trunk with a bike rack on it?
A: If you need to access your trunk with the bike rack still attached. You will need to use a hitch mounted bike rack that will either tilt down like the Allen Sports or swing away like the Yakima Fullswing.
Q: What bike carrier is best?
A: We feel the best trunk bike track is the Saris Bones, for a Platform bike rack the Thule T2 Pro Bike Rack is an excellent choice and for a hitch mount bike rack the Yakima FullSwing is your best bet.
---
I hope this guide was helpful for finding the best bike rack to fit your needs. If you want to comment or recommend a rack I didn't include, please use my contact form to get in touch.
Have fun and enjoy the ride!
Notice: Outside Pursuits is a participant in the Amazon Services LLC Associates Program, an affiliate advertising program to provide a means for sites to earn advertising fees sold through by advertising and linking to Amazon.com. Amazon offers a small commission on products sold through their affiliate links. Each of your purchases via our Amazon affiliate links supports our efforts to bring you the best possible product reviews at no additional cost to you. We appreciate your support here at OutsidePursuits.com