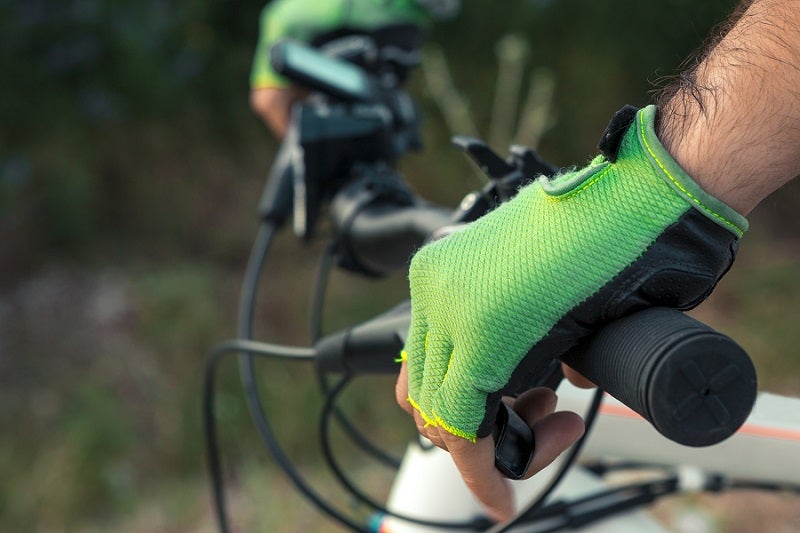 Our Editors independently research, test, and rate what we feel are the best products. We use affiliate links and may receive a small commission on purchases.
Mountain bike grips are an important interface between you and your bike. The best MTB grips will keep your hands in place while reducing the effects of vibrations and impacts from the trail.
There are a couple of reasons to invest in a new pair of grips for your mountain bike. If you have recently purchased a bike, the stock grips that came with it are unlikely to be a pair that you will find comfortable.
Just like stock tires, they are probably of a harder compound and may not have the thickness that you find comfortable.
There are a couple of things to consider when purchasing new mountain bike grips.
Best Mountain Bike Grips
| | Lizard Skins Moab Lock-On Grip | ESI Chunky MTB Grip | Chromag Grip Palmskin Mountain Bike Grips |
| --- | --- | --- | --- |
| | | | |
| | | | |
| Material: | Rubber | Silicon | Rubber |
| Mounting: | Lock on | Slide on | Lock on |
| Length: | 130mm | 130mm | 142mm |
| Diameter: | 31mm | 32mm | 30mm |
| Rating: | 4.3 / 5.0 | 4.6 / 5.0 | 5.0 / 5.0 |
| | | | |
For more of my MTB biking recommendations, have a look through these popular Outside Pursuits guide links: MTB Helmets, MTB Pedals, MTB Shoes.
Quick Answer: The 7 Best Rated MTB Grips For 2021
Our reviews of the top rated MTB grips with our comparison table and buyers guide will help you choose the right MTB grip for you.
---
MTB Grip Reviews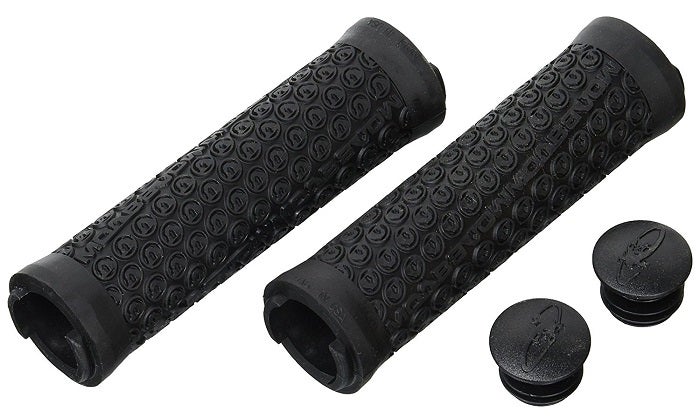 These double lockring grips are great for riding in all conditions. The Moab Trails Alliance benefits from each sale, so purchasing these helps maintain the great trails of Moab. Despite Moab being a desert region, these grips also perform well in wet conditions.
The soft texture gives good grip with or without gloves and they are surprisingly durable considering how soft they feel. Vibration damping could be better, so bear this in mind if you ride a lot of fast trails or trail parks.
The Moab grips are 130mm long, have two lockrings and come with end caps. They have a diameter of 31mm. These would be my second choice for the best mountain bike grips.

---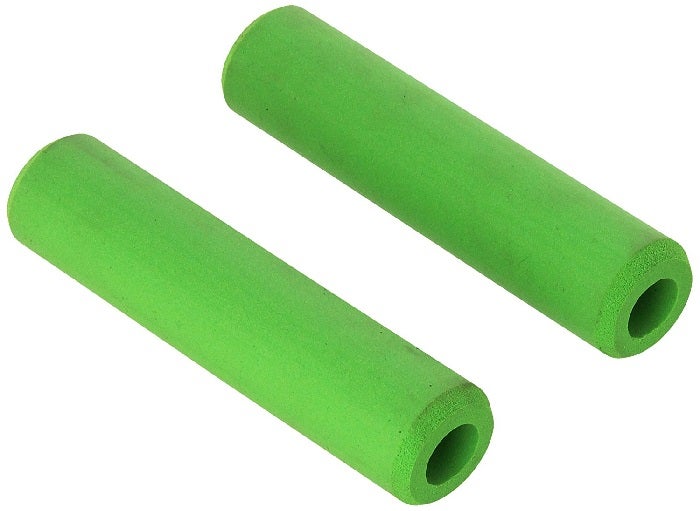 For all out grip and vibration damping, you cannot beat the ESI Chunky mountain bike handlebar grips. The silicone ensures traction even on the wettest of rides and the internal structure soaks up vibrations.
The grips are thicker under the palm area than under the fingers to provide cushioning where it is needed. The disadvantage of such soft grips is that they are easily damaged and do not come out of crashes looking too healthy.
They come in a variety of thicknesses and colors to match your needs. There are no lockrings here, so you will need to clean your handlebars and glue them in place.
Make sure you have them the right way up before you glue them on. It is a good idea to go for a short ride with them to determine which position feels best. Make a mark to keep the position and then get gluing.

---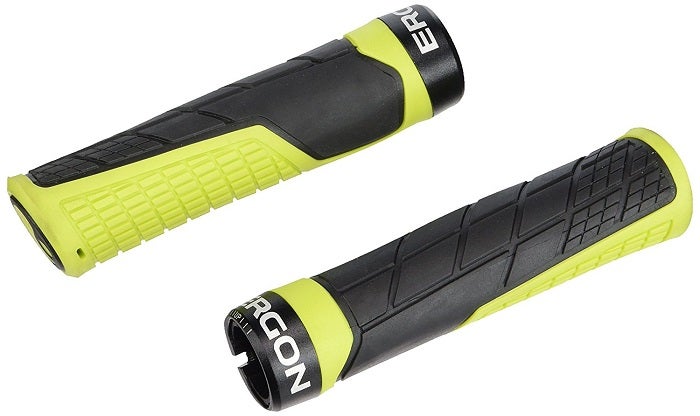 Ergon pride themselves on their knowledge of body dimensions and what shape grips should have to maximize comfort and control. After a lot of research, Ergon produced the GE1 grips.
The ergonomic shape of these grips prevents hand numbness and puts your hands in a position that encourages you to push your elbows out, which is a strong stance on the bike.
The surface of the grips features smooth and textured areas, positioned where more or less traction is needed. On the underside there is more texture and a ridge to grip your index finger.
Once you have found the correct position for the grips (this can take some trial and error), these features work together to give you a great hold on the handlebars without actually needing to hold on too tight, reducing fatigue.
The benefit is that you can have a more relaxed grip through technical trails and on long descents.
Apart from the patience needed to find the correct position, the other downside of these grips is that they are for riders with large hands, which Ergon defines as anyone who wears gloves in size large. Overall, these would be my top pick for the best MTB grips.

---

Not satisfied with the existing grips on the market that only make use of one kind of pattern, professional racer Brendan Fairclough teamed up with DMR to design the Death Grips.
Brendan liked the benefits of three different patterns and brought them all together in these grips. A waffle pattern sits under the palm and ridges increase grip under the fingers.
Hand fatigue (commonly called death grip) is reduced by the tall ribs around the thumb area.
Because everyone has different preferences, Death Grips are available in any combination of thick/thin, hard/soft compound, and flange/flangeless.
Several color options are also available, including camo for anyone that wants to hide their grips in the woods.
The Death Grips are held in place with a single clamp and are 130mm long. For a bargain price they are a solid contender for the best mountain bike handlebar grips.

---

These are essentially the same as the GE1 grips but have less shape to them. They are still ergonomic but are narrower and flatter in comparison.
The GA2 grips will suit anyone that finds the GE1 grips too contoured or too thick. They also have less texturing and as a result do not work so well in wet conditions. If you do not wear gloves, things will get slippery as soon as you start sweating.
The GA2 grips also have a single lockring, are 136mm long and have a 30mm diameter.

---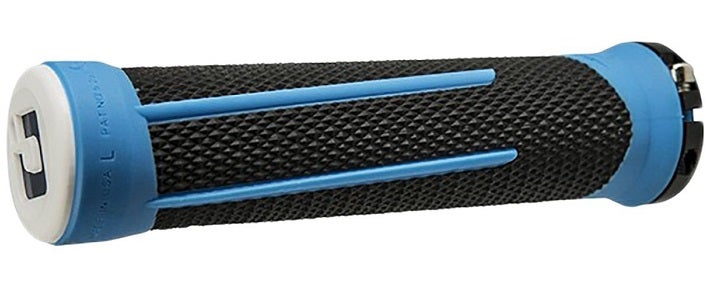 Another partnership with a professional racer, ODI have worked with Aaron Gwin to improve on the shortcomings of their first attempt at making some grips together.
The AG-1 grips were not well received as they have a rigid and harsh feel to them. The AG-2 grips are thicker with a 30.5mm diameter instead of 28mm.
The new version keeps the waffle design on the main body of the grip now has larger blocks with more space between them. Two fins run along each grip on the underside.
These line up with the your finger joints to give you something extra to hold on to. The outer edge of the grips ramp up to help keep your hands in place while the inner edge is smooth for comfort and features an embossed eagle.
A single clamp holds the AG-2 grips in place and they are 135mm long. While these grips cannot make you ride as fast as multiple world cup winner Aaron Gwin, what they can do is help you hold on while trying to.

---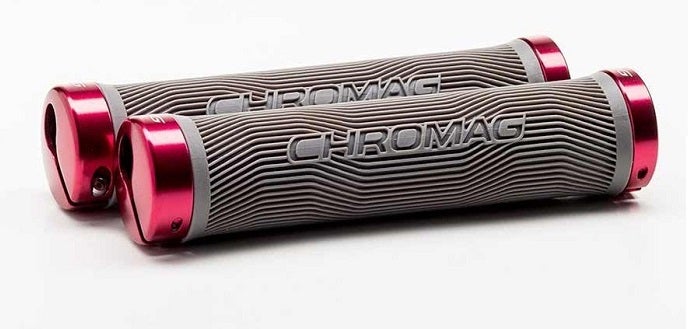 Although it is highly recommended to wear gloves when mountain biking, some people prefer the feel of riding gloveless, despite the danger of shredding their hands on the trail when they crash.
One other advantage of wearing gloves is that sweat is absorbed from your palms, allowing you to keep a dry and solid purchase on your grips.
Riding without gloves can lead to slippery grips, so Chromag have designed these grips for those that prefer riding with their hands naked.
Waving ribs run along the grips and squash down under your hands. The gaps between the ribs act as channels to drain off sweat. They work well in moderate temperatures but when the thermometer really soares, you will still end up slipping around a bit.
Do not see this as a disadvantage, as the Palmskins allow you to ride gloveless in higher temperatures than any other grips.
The Palmskin grips are quite a large at 140mm long with a medium thickness of 30mm. They use a lock-on design with two lockrings and an end cap.

---
Mountain Bike Grips Comparison Table
How to Choose the Best MTB Grips
If you experience hand pain while riding, your grips could be the reason. Grips that are too hard or too thin do not absorb as much vibration from the trail.
If you get hand or forearm pain on long descents, a new pair of mountain bike grips could help. Please note that there could be other factors causing the pain, such as bike and suspension setup.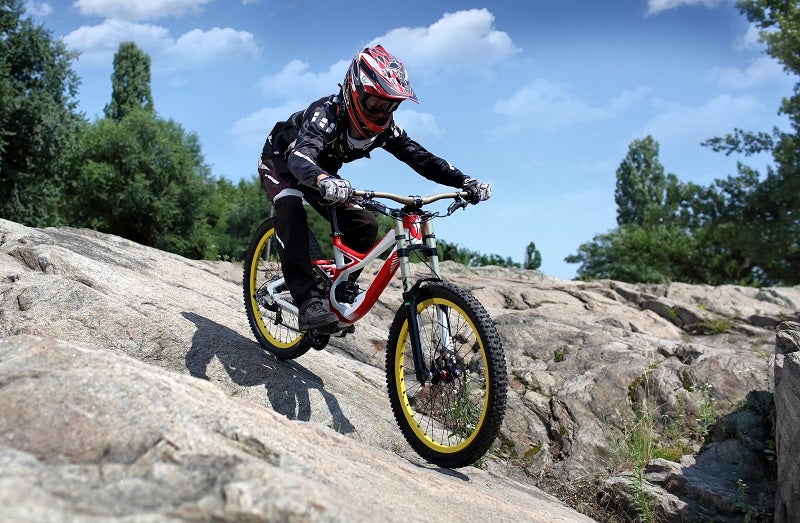 Slide-On vs Lock-On
There are two ways of fixing mountain bike grips to the handlebars. A pair of grips has either a slide-on design that is held in place with glue and wire, or a lock-on design and each grip is held in place with one or two lockrings.
Slide-on grips are entirely rubber while lock-on grips have a plastic core that closes around the handlebar as the lockrings tighten. The plastic core means less of the grip thickness is actually rubber.
Without the plastic core, slide-on grips have a more direct feel. However, once glued on, they may have to be cut off to be removed.
Not all brake lever, gear shifters and dropper post levers can be installed or removed without removing the grips, so removing or replacing any of these means installing a new pair of grips.
Slide-on grips tend to become loose in wet weather and rotate around the handlebar. It is also possible to use wire instead of glue to hold slide-on grips in place.
Lock-on grips with two lockrings are the more secure but the lockring adds weight and if there are two of them, the outer takes up space on the handlebar, preventing you from placing your hands as far out as possible.
Lockrings are usually made of metal, which is a disadvantage for winter riding as you do not want your hands to come into contact with cold metal.
For most riders this is not a problem.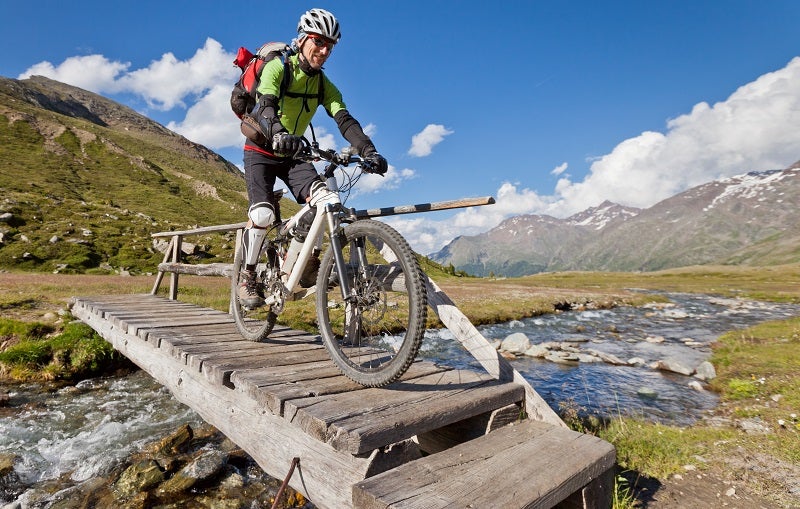 Compound & Material
Most grips are rubber and the compound used creates a harder or softer grip. Softer compounds are more comfortable, give better grip, and absorb more vibrations, but wear out faster.
Some grips use layers of different compounds to maximize comfort and durability. Grips may also be made from silicone, which is very grippy in dry conditions but can be easily damaged in a crash.
The surface of the grip usually has some kind of pattern. This may be a waffle design, ribs, or blocks.

Profile, Shape, Length
Depending on your hand size, thicker grips may be easier to hold on to, preventing forearm pain. Some people prefer the feel of thinner grips as they claim to be able to feel more of the trail through them.
Grips can be straight, or contoured to fit the shape of your hand better. If you have bigger hands, make sure that the grip is long enough for you to hold on to comfortably.
Long grips with small hands may result in the brake levers and gear shifters being pushed too far away for you to reach, so look for a shorter pair of grips.


Bar Plugs
One final consideration is how the end of your handlebars will be covered. Some grips are open at both ends, so plugs are needed to cover the hole at the end of the bars.
Single clamp lock on grips and some slide on grips have closed ends, so plugs are not needed. If you do not cover the end of your handlebars, you are playing a dangerous game.
In the event of a crash where you land on the end of your handlebar, it can stab you with potentially fatal consequences. Using bar plugs prevents this from happening.
---
I hope this guide was helpful in picking the best MTB grips to fit your needs. If you want to comment or recommend a pair of grips I didn't include, please use my contact form to get in touch.
Have fun and be safe out there!
How We Researched
To come up with the top mountain biking grips, we researched a variety of sources for reviews such as Competitivecyclist, JensenUSA, REI, EVO along with our own personal experience.
We also consulted online magazines for product research and reviews to get as much unbiased information as we could. To help weed out fake reviews we used Fakespot.com to make sure we only looked at genuine reviews.
With so much quality gear available, we had to narrow it down based on what we felt were the best options were for the price. The author, Richard Bailey has a wide background in mountain biking in a variety of countries, terrain types and bike packing for weeks on end.
The author has decades of experience and is eager to share his knowledge with readers.
To help narrow down the selection we used personal experiences along with recommendations from fellow MTB bikers, bloggers and bike shops.
After extensive research, we came up with our list to help you choose the right one for you.
Sources
Notice:
OutsidePursuits.com is a participant in the Amazon Services LLC Associates Program, an affiliate advertising program. OutsidePursuits.com earns fees from products sold through qualifying purchases by linking to Amazon.com. Amazon offers a commission on products sold through their affiliate links.