Perhaps the single most important and overlooked item of your ski gear are goggles.
Many skiers and snowboarders have the misconception that they are all basically the same and they simply buy a pair based on style, color and price.
A good pair of ski goggles will make BIG difference in flat light and snowy conditions.
To find out which goggles performed best we took 10 different pairs and tried them out when it was snowy, sunny and flat light conditions to see how they would perform.
These are our favorite ski goggles that have won our trust because of their superior performance.
Here is an overview of the ski goggles (for Men and Women), full reviews and our buying guide is below.
The Best Ski and Snowboard Goggles
| Mobile Users Scroll Over => | Smith Optics Scope Goggles | Oakley O2 XL Ski Goggles | OutdoorMaster Ski & Snowboard Goggles |
| --- | --- | --- | --- |
| | | | |
| | | | |
| Lens: | Dual pane lens with anti-fog and anti-scratch coating with patented carbonic lens with superior visibility even on the cloudiest of days. | Dual pane lens with anti-fog and anti-scratch coating. with UVA, UVB, UVC protection. | Features a panoramic dual layer anti-fog and anti-scratch coating with a detachable lens. |
| Comfort: | Soft urethane foam molds to your face. | Triple-layer foam with moisture wicking polar fleece lining. | Unique 3-Core Face Foam to mold to almost any shape face. |
| Features: | Airflow ventilation system to prevent fogging. | Flexible O Matter chassis conforms to your face for all day comfort. | Airflow ventilation system to prevent fogging. Easily detachable lens to adapt to any site conditions. |
| Style and Colors: | Over 40 colors and style frames available, your sure to find one you like. | Over 11 colors and style frames available. | 5 lens colors available. |
| | | | |
| Link to Purchase: | | | |
Ski Goggle Reviews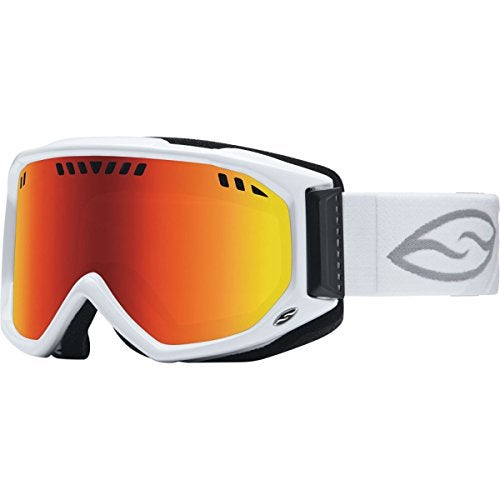 Smith Optics have been making ski goggles for over 50 years now and they were the original creator of the double pane goggle with a sealed thermal lens.
Dr. Bob Smith who was an orthodontist and self described "ski bum" got tired of his goggles fogging up and as a result created the worlds first double pane goggles.
The Smith Optics Scope Goggle is the latest in a long line of quality ski goggles and is a great option for any skier or snowboarder, regardless of your ability level.
These goggles are durable and comfortable, and their lens combines both anti-glare and anti-fog qualities.
Not surprisingly they have a dual lens design with a breathable foam liner which prevents the moisture build up by providing adequate air flow.
The strap is wide and fully adjustable and ensures a firm, yet comfortable fit for anyone. They are compatible with any ski helmet and work best with the Smith Optics helmet. The goggles have a soft urethane foam lining the inside to prevent chafing, pinching, or sliding.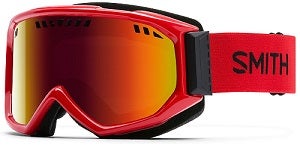 The Smith Optics Scope Goggles are available in many styles and colors. Some examples include the "blue sensor mirror", "neon black light", and "fire red ignite" lenses. Some less exotic lenses include standard black, clear, and rose.
Regardless of your style preference, you will find one you like. I bought the "Blue Sensor Mirror" for my evaluation.
They work great in cutting glare in sunny conditions but also work fine in overcast and cloudy conditions.
The Smith Optics Scope Goggle is my number one pick because it offers exceptional quality and are the best ski goggles under $100.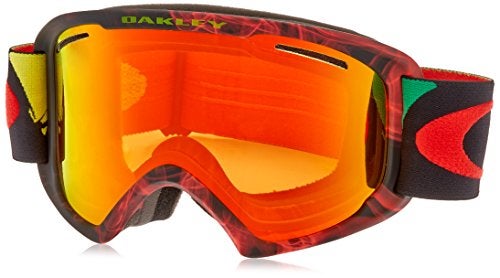 You probably know Oakley from their sunglasses that are worn by most professional athletes and people who want to look good and protect their eyes. Oakley was founded by James Jannard in 1975 out of his garage with an initial investment of $300.
In 1980, Jannard released a pair of goggles called the O-Frame with the 'Oakley' logo present on the strap.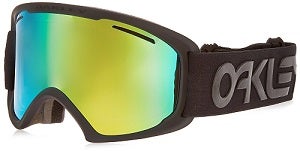 Their latest and best offering to date are the O2 XL goggles. I bought a pair to evaluate on a trip to Breckenridge this past January and I am glad I did.
These goggles have a unique design that gives you excellent visibility especially from the sides allowing your peripheral vision to see people coming at you from the sides.
They have a triple layer of polar fleece foam that even after a full day on the slopes they were still comfortable, in fact I really didn't even notice I had them on.
The foam also has moisture wicking properties that helps keep the goggles from fogging by keeping the moisture away from your face.
If you wear prescription glasses you will appreciate the frame notches that allow you to wear them comfortably unlike most goggles.
They have an anti-glare coating and block 100% UVA, UVB, UVC rays giving you superb visibility under almost all conditions.
They fit my Smith Optics helmet perfectly and should fit any ski helmet.
I really liked these goggles and highly recommend them, they are a great bargain in my opinion.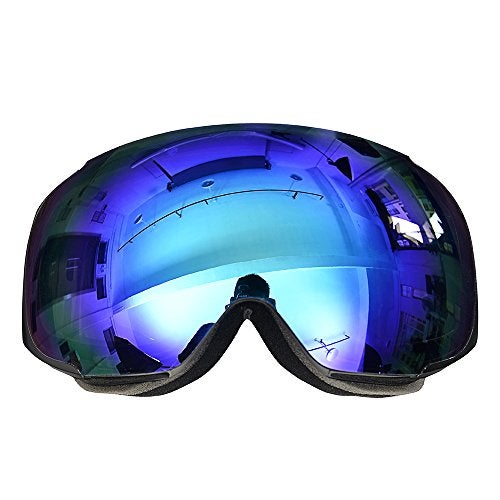 The Outdoor Master ski and snowboarders goggles is one of our top picks based on price and performance. They are designed for maximum comfort and clear visibility. They offer a dual layer (anti-fog) detachable lens. The lenses are easily snapped on and off with (10) quick release magnets.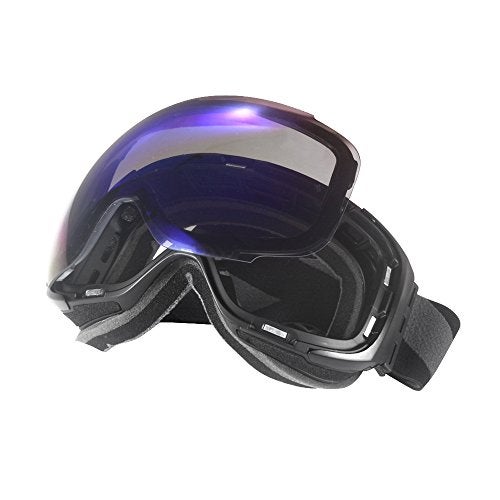 This is our favorite feature, as conditions can and do change rapidly on the mountains, the removable lens allows you to use the proper lens for the conditions you are encountering.
If you start the day off in bright sunshine with a dark lens then clouds roll in later in the afternoon, all you have to do is snap off the lens and put on a lighter tint to improve your visibility.
The headbands are also designed to be easily changed. These ski goggles are compatible with just about every helmet.
You would be hard pressed to find a more comfortable ski goggle. This is a great pair of ski goggles, highly recommended.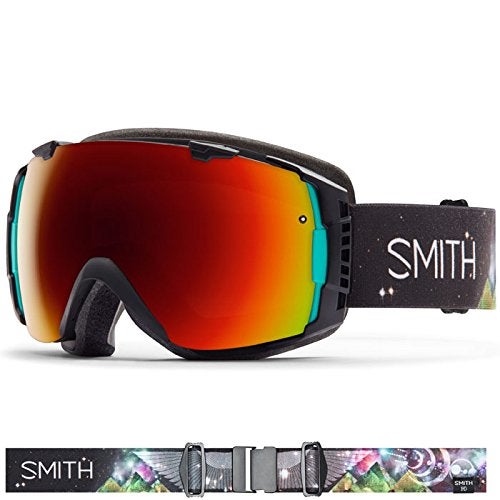 The Smith Optics I/O are a high end pair goggles that are not inexpensive. They have one of my favorite features: detachable lens. The I/O goggles come with 2 lens; a darker mirrored lens and a lighter mirrored lens for overcast conditions or night skiing. You are able to choose from a variety of lens colors so you should be able to find a color you like.
The main reason these goggles are on the expensive side is because of the lens technology. They have what Smith Optics calls "Tapered Lens Technology" which is a fancy way of saying they correct for the fact that light refracts when it passes through a medium, in this case the lens.
What this means to you is they give you a crisper view of the slopes while reducing eye fatigue. I don't know about you but sometimes I get a headache after wearing goggles all day. These goggles significantly reduce eye strain.
The lens are coated with what Smith Optics calls Carbonic-X. It just means that they are very impact and scratch resistant. The dual lens design also means they resist fogging no matter the weather conditions.
They of course are compatible with most any helmet out there, and the lens sleeve also has a separate to store the extra lens to prevent scratching. The DriWix foam liner on the goggles is very comfortable on your face along with being moisture wicking allowing sweat to pass through while keeping your face warm.
The only reason these goggles are not my number one pick is because of the cost, these are more money than the other goggles I reviewed.  You will want to buy these goggles because of the lens technology. You will really see the difference once you hit the slopes with them.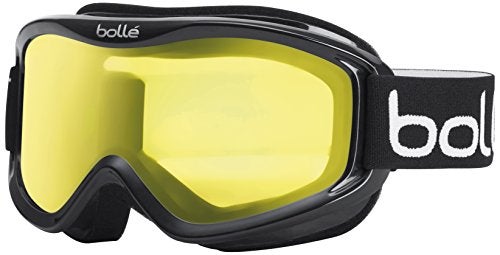 I put the Bolle Mojo Snow Goggles on my list because if you are really looking for cheap ski goggles, these are about as good as get in their price range. They are a good value for their quality. These particular goggles are best worn on partly cloudy or sunny days as they don't have a dark tint.
The goggle's design best fits the medium to large face. Those with smaller and flatter faces will not get as good a fit but its still acceptable.
Bolle Mojo Snow Goggles provide excellent clarity while their Flow-Tech venting technology keeps them virtually moisture and fog-free. The venting system also prevents snow and ice clogging.
A double layer lens typically that are typically found in more expensive goggles, is a feature that allows for a secure seal that helps creates a thermal barrier.  They also have an anti-scratch lens helps keep the lens clear.
Overall, we recommend this ski goggle due to the comfort it provides and overall quality. The Bolle Mojo Goggles are your best bet if you don't want to spend much money.
How To Choose Ski Goggles
It goes without saying that your ski goggle must fit properly in order to protect your face and eyes. They also must fit well with your helmet. If they don't, they will let in cold air and make for a miserable day on the slopes.
If you wear prescription glasses; you need ski goggles that fit properly over the glasses. Many skiers like to wear sunglasses under their ski goggles. That is a personal choice (though there are better choices for safety) that create a greater need for a perfect ski goggle fit. The lenses must be correct for proper visibility in the conditions which you are skiing. If the color is wrong, it will reduce your ability to see obstacles on the slopes.
Collision with a tree, rock, or fellow skier is a common accident that can be directly attributed to poor vision caused by your choice of ski goggles. Without the proper goggles you will lose definition on the trails and may not be able to see obstacles, moguls or other hazards. This is one of the major causes of injures and accidents. It hard to overstate how important good visibility on the slopes is.
So how do you buy the correct ski goggles? Here are some tips to ensure you are purchasing the correct ski goggles for your comfort, safety and peace of mind.
Purchase your ski goggles before you go. Many ski shops only carry a select few pair of goggles. The limited selection makes the chances of you getting the wrong pair more likely. The prices will likely be inflated. Let's face it; if you are on the mountain and you do not have ski goggles, you have no choice but to buy a pair. (Not wearing them is simply not an option).
Before heading to your sporting goods store or ski shop, measure your head. You need to have a good idea of the circumference of your head around the proper area in order to shop for the right size.
Consider where you are going and what the conditions will be like when you arrive. If conditions are going to be bright and sunny a goggle with a darker lens will be best. If if going to be overcast and snowy you will need a lighter tint to give you as much definition as possible.  There are ski goggles with interchangeable lenses so you can take extras with you and ensure you have good vision even in changing conditions. This is less expensive than purchasing a second pair not too mention much easier to carry in your coat.
Do not be shy. Ask questions. Take your time and try on many pair to get a good idea of the best ones. If the associate is uninformed or unwilling to take his time to help you, ask for more assistance or go to another store.
The color and tint of the lenses will be critical. Are you skiing where it is sunny and bright or hazy and grey? Will you be in an area where there are a lot of trees and rocks? You need lenses that provide the right vision and prevent tired eyes.
Here are the general rules for lens colors:
Yellow, gold or amber lenses filter out blue light and emphasize snow shadows.
Rose or rose copper lenses are for low-light days.
Dark copper, dark brown, dark green and dark grey are for bright days.
Mirror ("flash") coating enhances the effect of tinted lenses. They reflect sunlight. These are great for sunny days. (This is a very popular choice.)
Use clear lenses for night skiing/boarding or for wearing over prescription sunglasses.
Of course, there are ski goggles with photochromic lenses that change from light to dark depending on the sun. These are a great investment if you are an avid skier. Interchangeable lenses are very popular for people who ski in varying conditions.
Use polarized lenses to reduce glare and insist on ultraviolet light protection to shield your eyes from harmful UVA and UVB rays. (This is not optional; your eyes are easily damaged by the sun in snowy conditions.)
Make sure you have adequate side eye protection. This is an area that is often overlooked.
Go with the ski goggles that provide the most peripheral vision while having the lowest profile and ensure they fit well with your helmet.
Inquire about the return and exchange policy in case you return home and find they are not comfortable with your ski helmet.
Look for anti-fogging and anti-scratch features. The additional cost is low and the benefits are well worth the few dollars you will add to your purchase. Ski goggles that do not protect against moisture buildup will cause vision issues as moisture can freeze making if difficult to clean them.
Look for flexibility. Ski goggles should move easily and the lenses should remain in place when you maneuver them. They should be durable and lightweight.
Though style and looking good is important, safety is your top priority. Keep that in mind while making your purchase.
A good pair of ski goggles will last for years. They are a good investment. Buy the best ones you can afford, it will be worth the investment.
Now that you have the basics of making a ski goggle purchase, let's take a look at some of the best ski goggles for your consideration.
The Bottom Line
When it comes to ski goggles, you should consider all the options and make your decision based on your particular needs and what works for you. There is plenty of good information on the various brands, and perhaps the best used information is from other skiers.
Getting a good pair of ski goggles is important and its worth it, if you need to spend a little more to get exactly what you want. The cost of the goggles is really a pretty minor expense when compared to how much you'll spend on everything else skiing related.
Choose well and be safe.
Need a great helmet? See our reviews here. And if your in need of a pair of ski gloves, read our reviews for men's and here for women's. If you need to get a pair of long underwear I reviewed the best base layers here and the best ski socks here.
Notice: Outside Pursuits is a participant in the Amazon Services LLC Associates Program, an affiliate advertising program to provide a means for sites to earn advertising fees sold through by advertising and linking to Amazon.com. Amazon offers a small commission on products sold through their affiliate links. Each of your purchases via our Amazon affiliate links supports our efforts to bring you the best possible product reviews at no additional cost to you. We appreciate your support here at OutsidePursuits.com
Review Overview
Summary : The Smith Optics Scope Goggles are our top pick. They offer an unbeatable combination of quality, comfort, style and value.