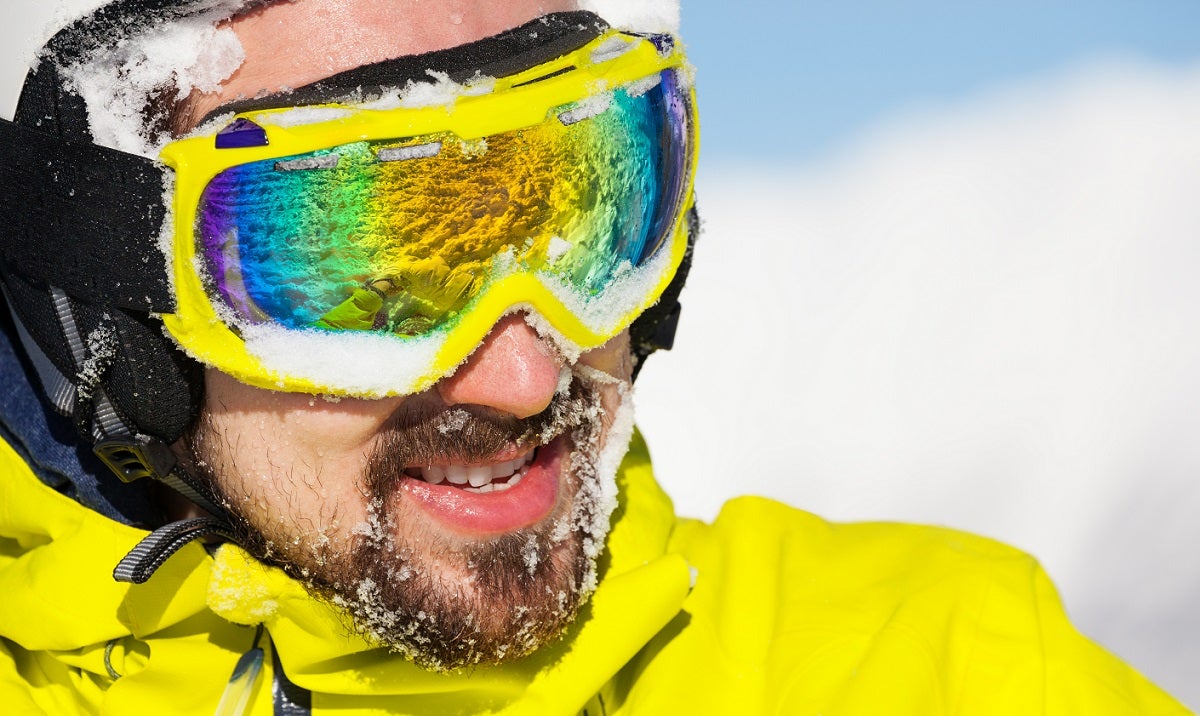 Our Editors independently research, test, and rate what we feel are the best products. We use affiliate links and may receive a small commission on purchases.
If you're a newbie to skiing, then it's normal to have a lot of questions. One of the biggest ones is "Do I need goggles to ski?" or "Do I need goggles for snowboarding?"  While you may see skiers wearing sunglasses or not anything on their face at all, it's not recommended to go this route.
It's not a requirement, but we highly recommend wearing them to maximize performance and to keep you safe. Not to mention, they look pretty cool! Let's take a look at all the reasons why wearing ski goggles is, for many, an absolute necessity.
1. UV Protection
Yes, even if you're not out on the beach or even in a season where we'd want to suntan, you can still get UV damage by skiing or snowboarding. In fact, did you know that UV rays can reflect off the snow and cause even worse damage than if you were to just go out walking on a hot summer day? High altitudes put you at a greater risk of light exposure, too.
Ski goggles help protect against this, as our faces are usually the only exposed parts of our bodies while on the mountain. They offer 100% protection against these rays, and as UV light can cause both short and long-term eye damage, you should take it seriously. Snow blindness is a real thing, and although it doesn't happen in every case, it occurs when UV light burns the cornea!
There are many skiers who think wearing sunglasses will get the job done. While they'll undoubtedly help, they're typically not sealed around the edges which lets light in. Not only that, but they have a significantly smaller frame which doesn't allow for much skin protection.
In contrast, goggles, a ski helmet, and a pull-up neck warmer, neck gaiter or mask will protect your entire face. If you want to forgo the helmet and/or neck warmer, make sure you are regularly and correctly applying sunscreen – even on overcast days.
2. Reduce Glare
Glare is a very real threat when we're dealing with sunlight and snow. When you're barreling down that run, you have to be able to see clearly to navigate potential hazards. Ski goggles help make glare obsolete, so you have great visibility the entire time.
For best results, we recommend using goggles that have a dark lens tint, or advanced filters like photochromic and polarized lenses. These are perfect for reflecting light and will ensure you don't have to squint, making for a more comfortable experience.
3. Improve Contrast
Without goggles, it can be very difficult to see the details on your runs, like dips or bumps. It's important to be able to see these so you can navigate around them or adjust accordingly to overtake them.
Ski goggles improve the contrast so you can see these ahead of time, making shadows and objects clearer. Different tint colors all help with different things, so let's take a look at each:
General weather conditions: Orange, yellow, and bronze tints are the best-suited in most cases.
Overcast or Cloudy: If your ski resort generally experiences cloudy conditions, you may want to select rose or brown tints.
Sunny: If the sun is bright and there aren't many clouds to speak of, try to get goggles with grey tints.
Tip: Blue tints not only look cool but are generally an excellent option for both dark and sunny conditions.
If you're unsure of the type of weather conditions, then we recommend you either go with a blue, orange, yellow, or bronze tint.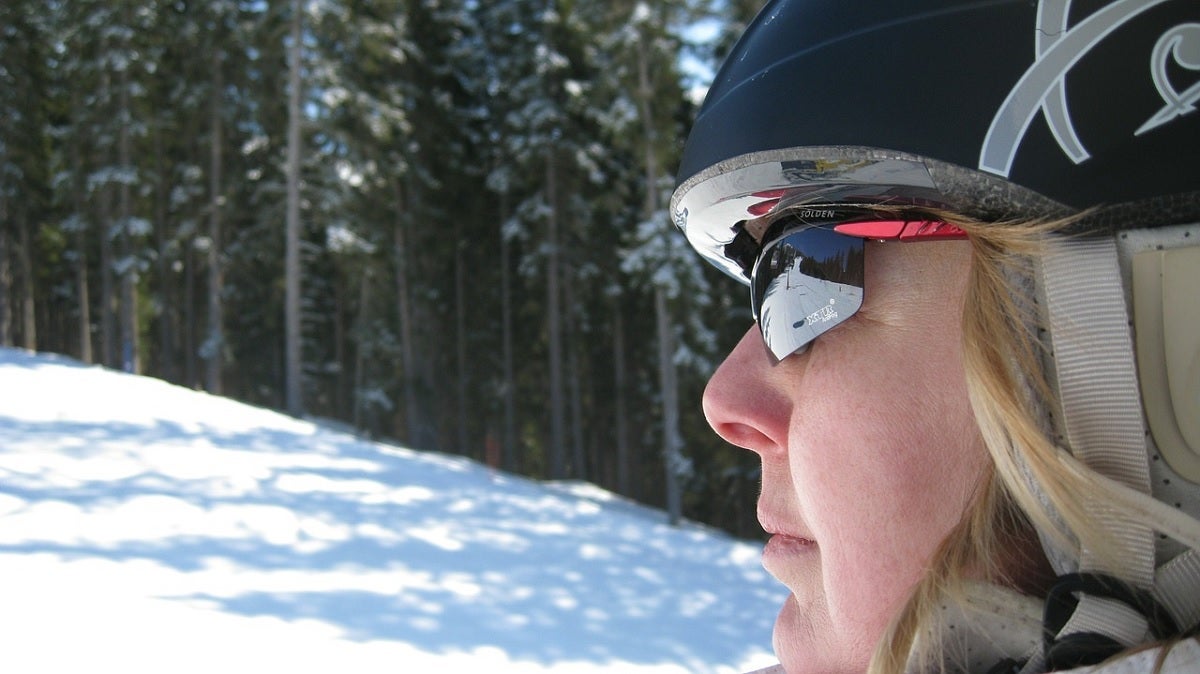 4. Protection from the Cold
This may be the most obvious one. If you're never experienced your face or eyes in absolutely frigid conditions, we don't recommend it! Speeding down the mountainside in freezing temperatures does not feel pleasant, if you didn't already figure that one out.
Sunglasses are not going to protect you much, if at all, from the cold and wind whipping on your face. If you ski without adequate eye protection, ice can also form on your eyelashes which is not only uncomfortable but also reduces visibility.
Ski goggles, especially when worn with a helmet, protect a larger surface area, covering the entirety of your eyes and a good portion of your face. The materials and way they're designed offer excellent insulation against extreme conditions, while still including vents to prevent them from fogging up. As the goggles offer a gap between your skin and the material, you won't feel uncomfortable or too hot.
5. Keep You Safe
Safety is our top priority, and goggles help with that. It's almost guaranteed that you're going to crash at least once during an entire day on the mountain. This can cause not only snow and ice to go flying everywhere, but depending on the conditions, rocks, dirt, or even your poles or skis.
This can smack you in the face and cause cuts or even eye damage! While ski goggles may not protect you from everything (depending on the speed you're traveling and the severity of the crash) they still offer much more protection than wearing sunglasses or nothing at all.
The foam padding that lines the perimeter of the goggles offer cushioning which helps protect your face during impacts.
6. Better Fit
This is another one of the biggest differences between sunglasses and ski goggles. You simply will never get the same kind of custom fit with sunglasses as you will with goggles. The latter has complete, all-around protection and a strap which is stretchy enough to stay in place while remaining comfortable on your head. The clip at the back further helps to secure the strap so they won't come off, even if you crash with them on.
Summary
Now that you know just about all the benefits that come with wearing ski goggles, which ones will you be wearing next ski season? No matter what you get, just make sure it comes from a reputable brand. Smith, Oakley, and Spy are some of the biggest and most notable, though if you go to a ski shop, they should all be great selections. We hope that our guide has helped you a bit more in this regard. Thanks for tuning in and we'll see you again soon. Have fun in the snow!
Notice:
OutsidePursuits.com is a participant in the Amazon Services LLC Associates Program, an affiliate advertising program. OutsidePursuits.com earns fees from products sold through qualifying purchases by linking to Amazon.com. Amazon offers a commission on products sold through their affiliate links.