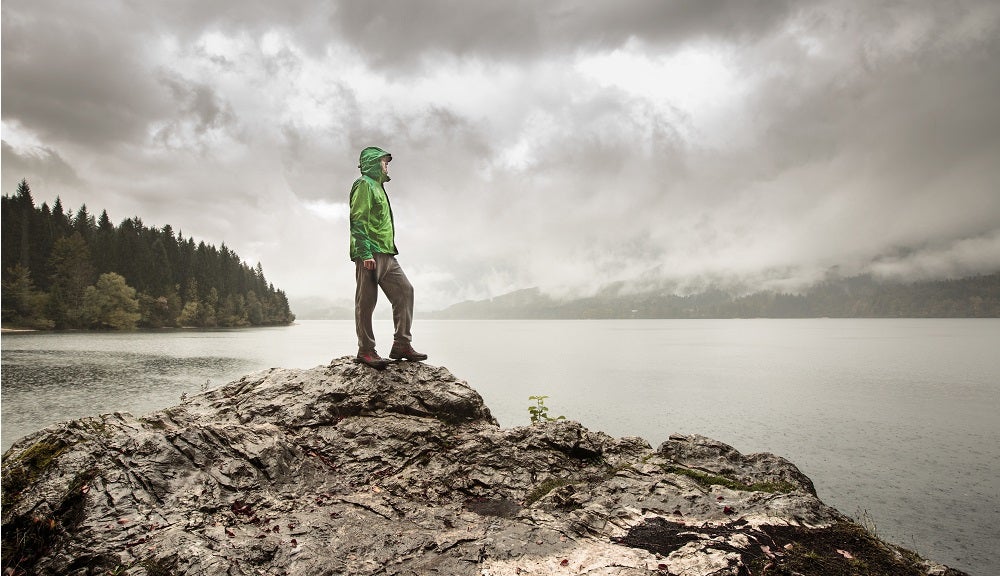 Our Editors independently research, test, and rate what we feel are the best products. We use affiliate links and may receive a small commission on purchases.
Don't let a wet weather forecast put you off going on your next camping trip. With a few additions to your usual gear and some forward thinking when it comes to clothing, you can still have a fun outing. The key is staying warm and dry, so take a look some of my best tips for camping and hiking in the rain.
Choosing the right site for your tent
One of the most important things to consider when you're camping in the rain is where you're going to pitch your tent. If the ground looks soft or caved in, you can be pretty sure this will be a puddle prone area when it starts to rain.
No one wants to wake up wet and realize they've set up camp in a puddle, so be savvy about choosing a good spot. Also try to avoid camping close to a river, as heavy rain may cause flooding.
Setting Up Camp
Once you've picked the right spot, it's time to set up your tent. If you're a beginner, it's best to practice setting up your tent at home when you're not under any pressure, as this also ensures you know exactly what goes where.
Rainy weather usually calls for some extra protection, like a rain fly, which needs to be out of the way of the tent walls to filter the rain out to the sides.
The best way to keep your camp as dry as possible is to bring a few extra tarps with you. As well as covering your tent, you'll be able to create a few more dry areas for eating, getting changed, or storing gear.
You can tie a large, sturdy tarp between two trees to create a roof and add some extra protection from wet conditions.
Staying Dry
Wet campers equal miserable campers, so your focus should be on keeping the inside of your tent as clean and dry as possible.
If your sleeping bag or cot gets damp, you're in for an uncomfortable trip, so that means taking wet clothes and boots off before you get into your tent, preferably under a tarpaulin, so you don't continue getting soaked.
If you're on a short trip, store your wet clothes in a dry bag and wash them when you get home. If it's raining during the whole camping trip, they're unlikely to get dry.
If you're wondering what kind of camping gear to take with you, here's an excellent guide to help you choose the perfect sleeping bag for any camping trip.
Choosing the right clothes for the weather
When you're hiking in the rain, it's essential to have the right gear, or you'll end up soggy and miserable.
You can stay as warm and dry as possible by layering your clothing, for instance by wearing breathable warm under layers or thermal underwear, a synthetic fleece or warm vest as a mid-layer, and then a waterproof rain jacket and pants over the top.
Aim for full-skin coverage under your waterproof shell, but try to choose layers which don't hinder your movements too much.
Boots vs. Trail Runners
This choice is tricky, as you're weighing up comfort versus staying dry. For shorter hikes, you can opt for waterproof trekking boots worn with waterproof gaiters, which you can layer under your rain trousers to seal the gap between your boots and pants.
However, for longer trips, breathable shoes such as trail runners can be a better option.
No matter how careful you are, it's almost impossible to avoid damp feet, as apart from the rain itself, sweat can quickly build up in your boots too. So in some cases, softer, breathable footwear will be the more comfortable option and cause less blister damage.
They will also be easier to dry when you're not using them. Investing in several good pairs of hiking socks will also help protect your feet and keep you warm.
Blister Care
Blisters often occur when you're hiking in the rain as wet or damp socks rub the protectant natural oils off your skin. This means your feet absorb more water, increasing the chance of developing painful blisters.
To try and prevent this from happening, replenish your skin's natural oils by regularly applying salves or balms where blisters tend to occur.
Protect Your Backpack
Apart from avoiding getting valuable items wet, a wet backpack will be much heavier to carry around. Fully waterproof backpacks are available but can be quite expensive, so as an alternative, you can use a waterproof pack cover or even a large garbage bag.
Try to open it as little as possible while you're hiking, which you can do by storing snacks and things you'll often need in your pockets, or placing them in dry-bags and securing them on the outside of your pack.
The same goes for your map if you're using one. If it's not waterproof, keep it in a Ziploc bag to avoid water damage.
Final Thoughts
Many a camper has been put off by a rainy forecast, but as long as you focus on staying warm and dry, camping and hiking in the rain can be great fun. Remember to choose comfortable under layers, a waterproof shell (for yourself as well as your backpack), and avoid bringing any dampness into your tent. That means no hats or gloves inside either.
A sturdy tent with good ventilation and some extra space is an excellent choice for wet weather camping, just don't forget that all-important tarpaulin to give you some extra freedom around camp.
Notice:
OutsidePursuits.com is a participant in the Amazon Services LLC Associates Program, an affiliate advertising program. OutsidePursuits.com earns fees from products sold through qualifying purchases by linking to Amazon.com. Amazon offers a commission on products sold through their affiliate links.