The most important consideration for your next hike is what is on your feet. Your choice of hiking shoe will make big difference in how much you enjoy your hike.
A good pair of Women's hiking shoes will keep you dry, provide traction and support as well as being light weight.
The last thing you want is to be weighed down by your shoes while hiking all day.
We evaluated some of the most popular brands and below are the hiking shoes for Women that came out on top.
Quick Answer: The 7 Best Hiking Shoes For Women

For more of my top gear recommendations, have a look through these popular Outside Pursuits guide links: Women's Hiking Pants, Women's Hiking Boots, Hiking Rain Jackets.
Best Hiking Shoes For Women
| | Merrell Women's Moab Ventilator Hiking Shoe | Adidas AX 2 Hiking Shoes Womens | KEEN Women's Targhee II Waterproof Trail Shoe |
| --- | --- | --- | --- |
| | | | |
| | | | |
| Upper: | Combination of Leather and Synthetic materials. | Synthetic upper with air mesh construction for superior wicking. | Combination of suede leather and textile construction. |
| Sole: | Vibram sole with aggressive tread pattern for grip. | Super-high-traction rubber. | Extra Grip rubber sole |
| Features: | Water resistant leather and mesh upper with full bumper protection around the toe and the heel. | Molded sockliner for enhanced comfort and fit, socks not necessary. | Water resistant leather and mesh upper and tongue with a cushioned collar. |
| | | | |
 Women's Hiking Shoe Reviews
Let's take a look at our top rated Women's hiking shoes, then we'll talk about how to choose the best pair for you in our buyers guide below.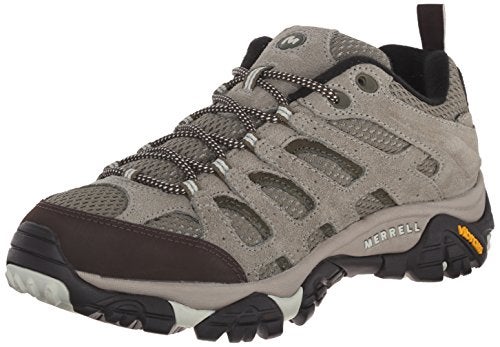 The Merrell Moab Ventilator's are constructed of leather and fabric, which gives the shoe both durability as well as breathability.
The sole of the shoes are made of Vibram and have a seriously grippy and aggressive tread pattern.
The important thing to realize about these shoes, is that you are will be able to handle any terrain without having to worry about slipping.
You will have a full range of motion because the hiking shoe rests well below the ankle.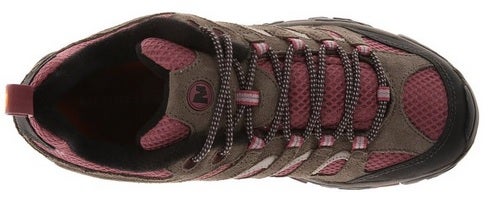 Comfort is provided in the hiking shoes as well because of the plush cushion on the collar and tongue. There's also an Ortholite footbed that is going to offer a lot of support for the sole of your foot.
Finally, there's breathable mesh so your feet never get too hot and the shoes can dry off quickly if they are exposed to water.
The Merrill Ventilator's are the best women's trail shoes on the market, highly recommended.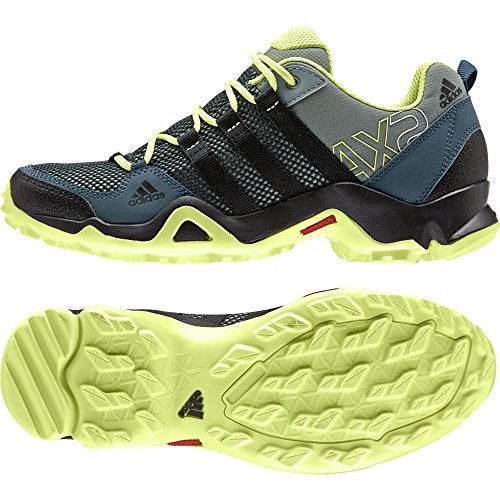 The AX 2 Hiking Shoes by Adidas come in a variety of colors for women to choose from. There are a lot of great features.
The Adidas shoe is a great mid-range priced shoe that offers durability, comfort, and support. The air mesh keeps your feet cool and makes sure that shoes dry out quickly.
There's a lightweight EVA midsole so you can wear the shoes for a long hike and not get tired.
There's also lightweight cushioning along with a molded sockliner so you will enjoy even more comfort and a good fit (socks are not necessary).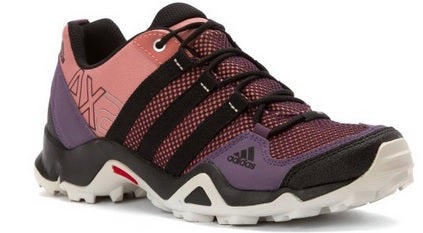 There's a comfortable textile lining and shoes only weigh about 10 ounces each, so you don't have to worry about a really heavy hiking shoe.
The synthetic material is easy to clean as well, so your shoes can always look their best, even when you're not out on the hiking trails.
The AX 2's have an aggressive tread pattern to keep you from slipping and one of my favorite features: a small toe cap with reinforced lowers for abrasion resistance and toe protection when your on the trail.
Overall, you get a good value for your money and the high quality materials make the Adidas AX 2 the Best Women's lightweight hiking shoes on the market.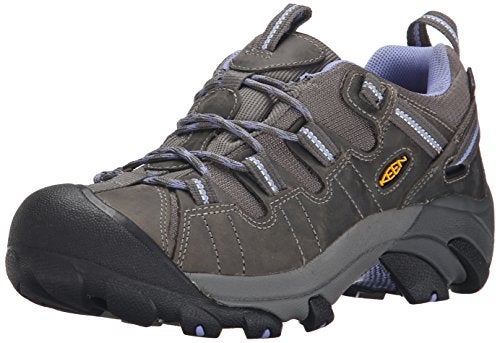 The Targhee II Waterproof Trail Shoe by Keen is definitely a serious hiking shoe. It's probably one of the best options, especially if you plan on going on damp trails or are going to be around a lot of water.
It is a waterproof hiking shoe and features lugs that are quite aggressive. You get a few color choices, though they are all fairly neutral.
The rubber sole has a good thick tread on it, offering durability and a no-slip grip so you can feel confident hiking on rock, rough trails, and more.
There's a cool removable insole to be able to clean out the shoes from time to time, especially if they have been exposed to a lot of mud and other unsavory elements.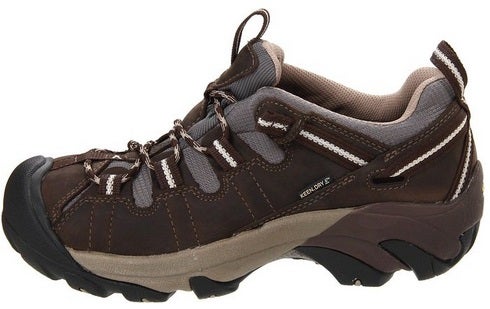 Good support is given, without covering the ankle. There's a cushioned collar along with a breathable mesh tongue.
This is all designed to give you a lot of comfort so you can wear the hiking shoes all day long without any kind of foot fatigue and for hiking in and around wet areas.
The KEEN Dry waterproof membrane is also what really helps these shoes stand out amongst the competition as one of the Best Women's waterproof hiking shoes.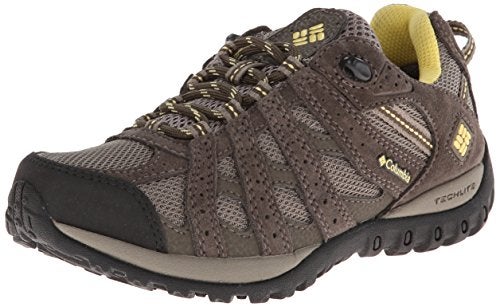 Using a combination suede and mesh upper, this shoe will protect you from scuffs and abrasions while still allowing plenty of air movement.
Two-stage toe cap provides plenty of all around protection for any situation. With a pretty moderate tread pattern, this will be a good all-around hiking shoe for the ladies.
It's about halfway between trail runner and hiking boot so it's not going to fit either category perfectly but it's a good compromise for most hikers needs.
Overall, it's a pretty lightweight shoe at just 9.8oz per shoe, or 19.6oz for the pair. Probably the best quality about this shoe is the value to price ratio.
Columbia always delivers a solid product at a lightweight price tag and this is no exception! The Columbia Redmond are probably the best Women's hiking shoes for the money.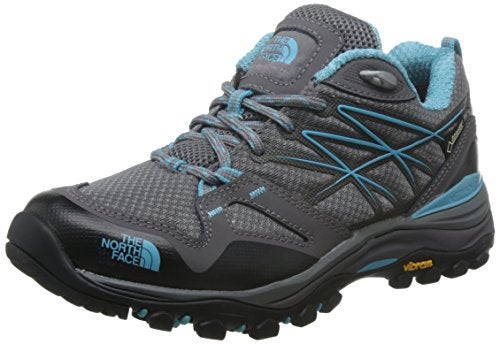 Packing the North Face name, Vibram soles, and Gore-Tex waterproof breathable membrane, there's a name here anyone can recognize.
This shoe revolves around a beefy tread with aggressive lugs for tearing through mud and dirt. Under the ankle construction paired with waterproof membrane makes this a niche shoe only for certain conditions, however.
I wish that The North Face would have laced the shoe further toward the toe, as the lacing section is short and provides little adjustment near the front of the shoe.
Luckily, they included an optional upper lace which can be added or removed from the lacing depending on what your preferences are. I like the PU coated leather on the toe, it's a nice touch for added durability and longer waterproof life.
Overall, this is a niche shoe which lands somewhere between a lightweight, breathable trail runner, and a full size waterproof hiking shoe.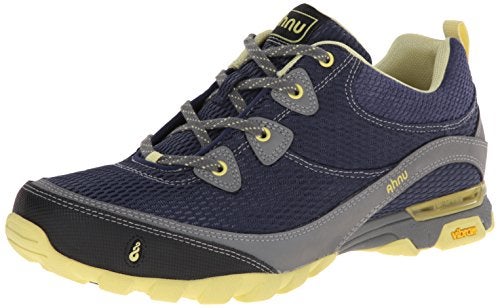 This thick mesh trail shoe has a small toe cap and reinforced lowers for abrasion resistance on the trail. With just four laces along the shoe, we're not expecting a huge range of adjustability for fitment, but it should be plenty for this hiking sneaker. The one drawback I find with this shoe is that the tread could be a bit more aggressive.
I like that they didn't bother putting in waterproof membranes, since it's a low-cut trail runner. Vibram soles are often known as one of the most durable and versatile shoe soles on the market so they should be some of the best options available.
Overall both shoes weigh in at just 20 oz. which isn't going to break any lightweight records but it should provide plenty of cushion and protection.
This would be a good choice for someone looking to bridge the gap between trail runner, lightweight hiker, and tennis shoe.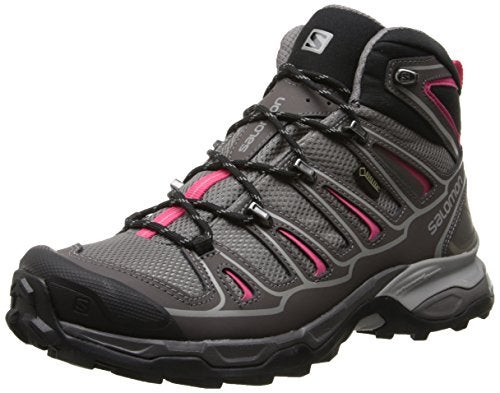 This is a high-top hiking shoe with a great skeleton lacing system and Gore-Tex waterproof breathable membrane.
Full wrap around toe cap means this boot provides tons of support and protection for those looking to have the most foot armor for hiking! I like the rugged tread lugs and aggressive build of the lower on this shoe.
By and large I trust Salomon to build a good piece of footwear. They kept the coloring minimal for a light accent which is nice to see when so many outdoor shoes these days are coming in bright neon colors.
One thing I really like is that they extended the lugs on the tread right up on to the toe cap. This means the boot is ready for some serious uphill climbing or pushing through any conditions.
Not sure this would be used by most people very often, but it is a testament to the ruggedness of this shoe and make these the best Women's hiking shoes.
How to Choose the Best Hiking Shoes for Women
When you're picking out hiking shoes for women, it's important to fully understand how they're built and what you'll use yours for.
There are so many advanced features on today's hiking shoes that it can be difficult to sort out what you need versus what's just advertising. Let's look at what makes a good hiking shoe:

Waterproof
Do you want waterproof hiking shoes or not? By and large waterproof features are only helpful on full size hiking boots. If you're looking for a trail running shoe or low cut hiking shoe, consider avoiding the waterproof features.
Why? Because it's cheaper, first off. Secondly, a low-cut shoe is likely to get wet inside anyways, rendering the waterproofing useless.
Waterproof features are usually most helpful in cold spring and fall conditions in certain situations. Carefully consider how you'll use the shoe before making a choice.

Weight
Believe it or not, there's a big difference in weight between certain shoes. Heavier shoes often feature more support, bigger toe caps, and sometimes metal stay rods for torsion stabilization.
Lighter shoes can go all the way down to a minimalist trail running shoe with no cushion.
Find a good balance for your needs between protection, cushion, and features versus weight. Every ounce of weight saved on the feet adds up to hundreds of calories burned over the course of intense hiking or running.
There is a saying that goes "one pound on your feet equals five pounds on your back" and it couldn't be more true.
According to many studies, empirical evidence, and a large body of writing, "Weight on the feet is disproportionately more exhausting than weight carried on the torso."

Above the Ankle vs Low Cut
This goes hand in hand with choosing whether or not to buy waterproof shoes. Over the ankle shoes or boots are generally a better choice for those looking to buy a waterproof shoe that can walk through puddles without letting in water.
Keep in mind, however, that if the puddle spills over the top of the boot, there's no stopping it!
Many hikers argue that taller shoes and boots provide ankle stabilization or protection. While I have not found that to be the case personally, this might be a factor to consider if you experience chronic ankle instability.
Consult your doctor for a professional opinion.

Toe Cap
A toe cap is a piece of firm rubber which extends over the top of the toe and often around the sides. This protects you from hitting your toes on rocks, logs, or debris that might damage or injure your toes.
While this doesn't seem like a big deal, peeling your toe nail back by kicking a rock can end or hamper your hike. I look for toe caps on all my hiking shoes.

Misc Considerations for Choosing Hiking Shoes
In addition to what we have covered, the following are also important considerations:
Comfort
Seems fairly obvious that having comfortable hiking shoes is an important factor for hiking because having uncomfortable shoes will definitely ruin your day.
This is especially true when the going gets hard when hiking up steep inclines or rocky, uneven terrain can not only uncomfortable but could actually be dangerous.
Hiking is a great way to get some exercise and relieve stress while you're enjoying the great outdoors but if suffering with an uncomfortable shoes you are not going to push yourself to continue on when the going gets tough or want to go back out and try again.
Breathablity
The truth is no matter what the shoe manufactures tell you is that waterproof shoes are going to be less breathable. The same properties that make them waterproof also make them less breathable.
Some shoes do a better job than others at being waterproof and still managing some level of breathability. The Merrell Moabs do a better job than most in the compromise of waterproofness vs breathability.
If your feet get hot and sweaty you are better off with a shoe made from mesh or mesh combination with leather or synthetic leather. This give you the advantage of light weight and breathability.
Keep in mind no matter how waterproof your shoes are and you step in a puddle water will get into the shoe from the top.
Support
Many hikers will tell you they need to support of a high cuff boot. These types of boots which lace above the ankle can be laced to surround the ankle and provide some measure of support.
However, in my experience this will help with scrapes against rocks or sticks but not offer much in the way of support.
Now if you have weak ankles, by all means go with a high cuff boot, but for most people the comfort of a shoe will overcome the benefits of boots.
Traction
As you might guess traction is how well your shoe grips the ground. This becomes especially critical when climbing hills and walking down inclines. The amount of traction your shoes have will keep you from slipping and keep you safe.
There is no downside to having an aggressive tread that will provide maximum traction from slipping and possibly injuring yourself.
It is one of the more important aspects to think about when buying a pair a shoes because it will make your hike safer and easier.
Lacing
Most likely one of the most overlooked aspects of a hiking shoe is how the laces are setup. Cheaper hiking shoes will tend to have a poor lacing system that are not only harder to adjust to get the proper fit but also may not stay tight and loosen up as you hike.
Look for a lacing system that is easily tightened and also easy to loosen when you want to take the shoes off. The higher upon the shoes they go the better because it will give you more flexibility how they fit. But the primary factor is usually the actual laces.
Poor quality laces will not stay tight and constantly need to be re-tightened. Luckily this is an easy fix by investing in some better quality laces.

Best Women's Hiking Shoes Brands

Merrell is one of my all time favorite brands for shoes. All they make are shoes and they have been doing it for over 20 years. Columbia in my opinion is the best value proposition there is. Their gear is always of good quality at a reasonable price.
The North Face, certainly one of the best known outdoor gear brands, they make great stuff but is not the same value as Columbia.
Adidas is well known for the sneakers and running shoes, with the introduction of the AX2 they now have a competitive hiking shoe.
---
I hope this guide was helpful for finding the best hiking shoes for Women to fit your needs. If you want to comment or recommend a pair of shoes I didn't include, please use my contact form to get in touch.
Have fun and be safe out there!
Notice: Outside Pursuits is a participant in the Amazon Services LLC Associates Program, an affiliate advertising program to provide a means for sites to earn advertising fees sold through by advertising and linking to Amazon.com. Amazon offers a small commission on products sold through their affiliate links. Each of your purchases via our Amazon affiliate links supports our efforts to bring you the best possible product reviews at no additional cost to you. We appreciate your support here at OutsidePursuits.com