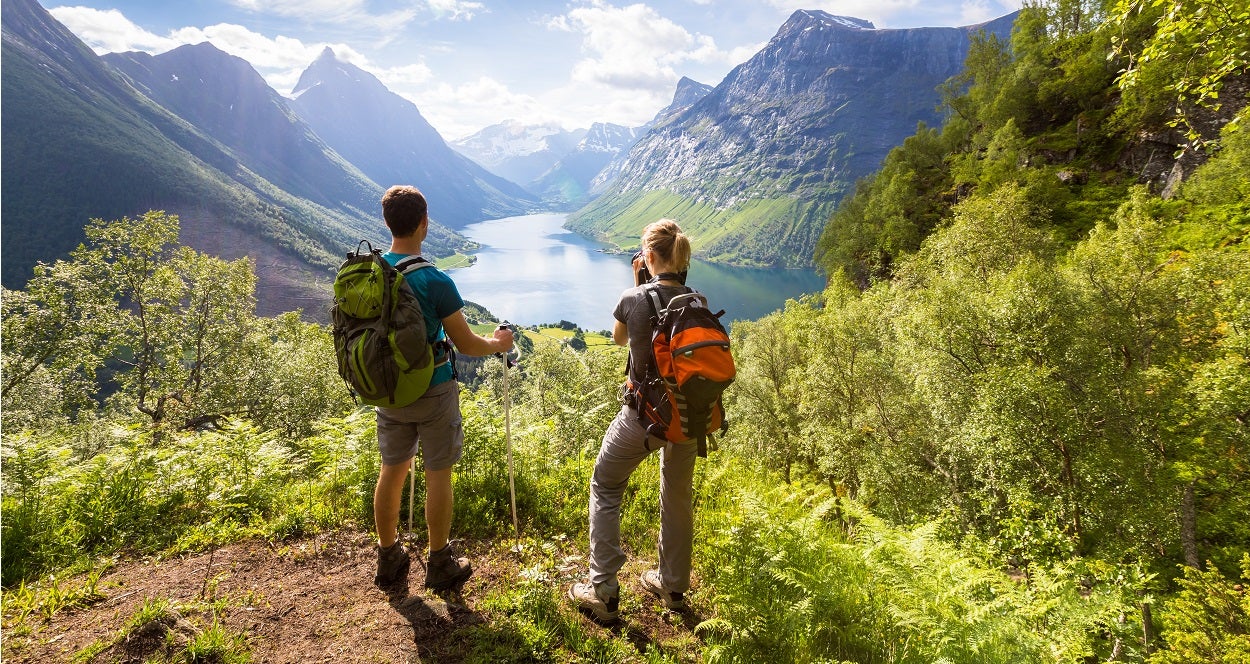 Our Editors independently research, test, and rate what we feel are the best products. We use affiliate links and may receive a small commission on purchases.
Enjoying our natural world is one of the few simple pleasures still available to us for little to no cost. Whether your an experienced hiker or a newbie hiker, there is nothing to make you feel more human than getting out of the city and into a forest, up a mountain or through the plains.
That being said, with hiking becoming a more and more popular tourist activity, our natural environments are feeling the increased strain from human visitors. That's why it's important, now more than ever, to treat these environments with care and respect, so that future generations can enjoy them as much as we do now. Here are seven ways to enjoy nature in a responsible and eco-friendly way.
Go local
Thanks to nature documentaries and social media, we know that this world is full of incredible beauty and stunning scenes. But, while flying off to explore the jungles of Borneo might get you some great Instagram shots, the highly polluting plane ride over is certainly doing more harm than good.
Instead, have a look at what nature is on your doorstep. You might be surprised to find out that you've got a park, forest or nature reserve that's nearby, one you can go to without breaking the bank or boosting your carbon footprint.
When you're going local, also try to recruit local guides to make sure your tourist dollar is going straight back to the community, or better yet into the preservation of these natural spaces you love so much.
Take only photos, leave only footprints
It's an old adage but it's important to remember. We are guests in nature, and if we mistreat it we won't be invited back. 100 million pounds of waste turns up in U.S. national parks alone, each bit affecting the natural environment and endangering its inhabitants.
Make sure you bring back whatever you take with you, no exceptions. Even biodegradable waste like apple cores and banana peels should be sealed up and taken home, as they may carry foreign bacteria or parasites that could affect the ecosystem.
Don't be a twisted firestarter
Setting and maintaining fires in nature is one of those magical movie moments that inspire people to camp outdoors, but it's still a potentially dangerous activity that must be approached with caution. The National Park Service reports that 90% of wildfires in the U.S. are started by humans, either from poorly attended fires or from discarded cigarettes.
If at all possible, avoid setting fires altogether; question why you need to set one, and ask yourself if you are prepared to do so safely. If you do set a fire, make sure you never leave it unattended and confirm it is completely extinguished before moving on. Click here for more detailed fire safety tips.
Walk the line: stick to paths
Although it might be tempting to wander off into the wilderness and become truly one with nature, remember that paths and trails are there for a reason. Firstly, they are there to mark the safest route through the wilderness and designed to avoid you getting lost, injured, or taking any unnecessary risks.
Secondly, keeping to trails minimizes your impact on the environment. Keep to trails and you are far less likely to trample vegetation, disturb wildlife habitats or otherwise harm the ecosystem you're lucky enough to enjoy.
Make a water plan
Another important sustainable habit is thinking ahead when it comes to water and food. Water is essential to any hike, no matter the length, location or season. Think about how long you plan to be out for, and how much water you will need to stay hydrated throughout that time.
You might find it less convenient to carry all of your bottled water with you, especially for longer hikes. For that reason, I recommend carrying a reusable water bottle or hydration pack to refill along the trail. This not only avoids the burden of carrying multiple water bottles, but it also reduces how much plastic you're wasting in disposable water bottles, making it easier to avoid littering on your hike. Bear in mind, though: if you're collecting water on the trail, use water filters and purification tablets to avoid contamination.
Respect and care for wildlife
Part of the beauty of hiking is reconnecting to your animal instinct and feeling part of nature again. That being said, remember that this is not your home, you are only visiting. The true inhabitants of these natural paradises are the animals, so it's important to respect your hosts.
This means resisting the urge to chase down that deer and pet it; no matter how much you want to show the wildlife that you are a friend, they might not see you the same way. Animals can experience undue stress from human interaction, and offspring touched by humans might be abandoned by their parents due to unfamiliar scents.
Also important is to avoid feeding wild animals. Animals fed by hikers develop a dependency that can increase aggression towards human visitors and reduce natural hunting and foraging instincts. You've come to see the animals in their natural environment, keep that environment natural for the next person to enjoy.
Stick together
Don't get me wrong, some of the best hiking moments are when you come across a clearing and you feel like the first and only person that has ever been there. Seeking out this pioneer feeling of isolation can be addictive, and definitely has its advantages. For example, it often pushes hikers to visit less popular destinations, something I wholeheartedly support!
But, the old wizard in Zelda had it right when he said: "It's dangerous to go alone!" At the end of the day, nature is unpredictable and can quickly turn harsh for the solo hiker. For women it's especially important to travel in pairs or groups, or at least for someone to know where you are are when you're supposed to be back.
If you're unconvinced, just look at James Franco's 127 Hours for a perfect example of why solo adventuring can have some pretty dire consequences.
Notice:
OutsidePursuits.com is a participant in the Amazon Services LLC Associates Program, an affiliate advertising program. OutsidePursuits.com earns fees from products sold through qualifying purchases by linking to Amazon.com. Amazon offers a commission on products sold through their affiliate links.