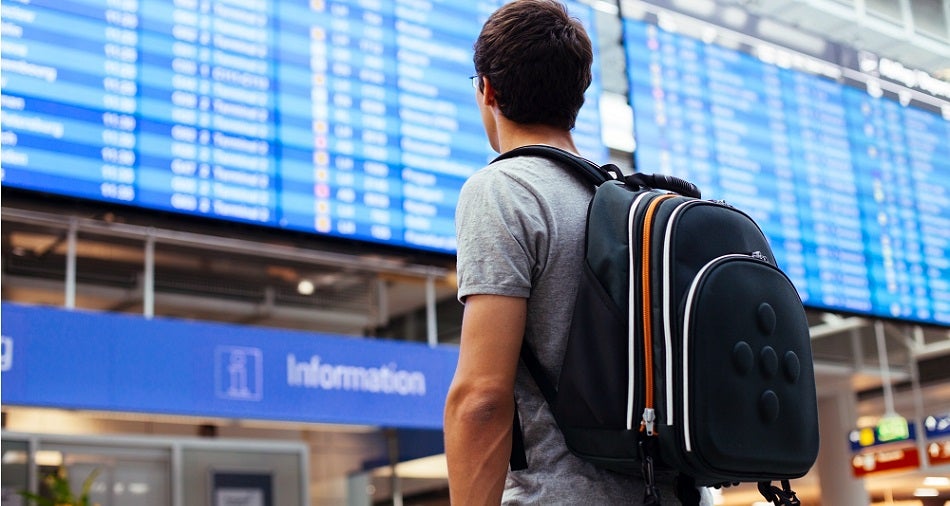 Our Editors independently research, test, and rate what we feel are the best products. We use affiliate links and may receive a small commission on purchases.
The convenience of flying has its downsides and the luggage situation is one of them.
Physical space is at a premium on flights – particularly on low-budget airlines which recoup a lot of their expenses by charging high fees for additional baggage.
This means that getting the best carry-on backpack is a must. A good carry on backpack can help you make the most of the space that is available and ensure that your belongings are transported safely.
However, there's a lot to consider: capacity, material, compartments etc. We've done the research to bring you the top carry-on backpacks available. Enjoy and travel well!
Best Carry On Backpacks
| | eBags TLS Mother Lode Weekender | Osprey Nebula Laptop Backpack | Cabin Max Metz Backpack |
| --- | --- | --- | --- |
| | | | |
| | | | |
| Dimensions: | 22" x 14" x 9" | 19" x 12" x 12" | 21'' X 14'' X 9" |
| Weight: | 3 lbs | 1.9 lbs | 2.25 lbs |
| Laptop Size: | 19" | 15" | 17" |
| Carry: | Backpack, & top handle | Backpack, side & top handle | Backpack, side & top handle |
| Material: | 900D Twisted Poly | 630D Nylon Dobby | 600D Nylon |
| | | | |
For more of my travel gear recommendations, have a look through these popular Outside Pursuits guide links: Solar Chargers, Outdoor Watches, Compact Binoculars.

Quick Answer: The 7 Best Rated Carry-On Backpacks For 2021
Our reviews of the top backpacks for flying with a comparison table and our buyers guide below will help you choose the right backpack for you.
---
Carry-On Backpack Reviews
eBags TLS Mother Lode Weekender at a Glance
:
---
Dimensions: 22" x 14" x 9"
Weight: 3.0 Pounds
Compartments: Two main compartments, a range of organizational compartments within
Laptop Only Compartment: Yes
Carrying: Backpack straps, suitcase, shoulder strap
Additional features: Lockable rings, general build quality
While this weekend travel backpack is on the more expensive side, it's easy to see where the additional cost goes.
The build quality is lauded by its owners. Rugged materials can withstand many years of use and the zips don't fall victim to wear and tear, a typical weak spot on other backpacks.
A range of carrying modes means that the bag can be used in a variety of circumstances.
Whether you're heading on a quick business trip, weekend away, or something else. The variety of colors reflects this adaptability.
Organization is a breeze with a fold-down shelf which can split the main compartment in half, while an adjustable expansion zipper ads over 10% of additional packing space.
Lockable rings are a nice touch which offer improved security.

---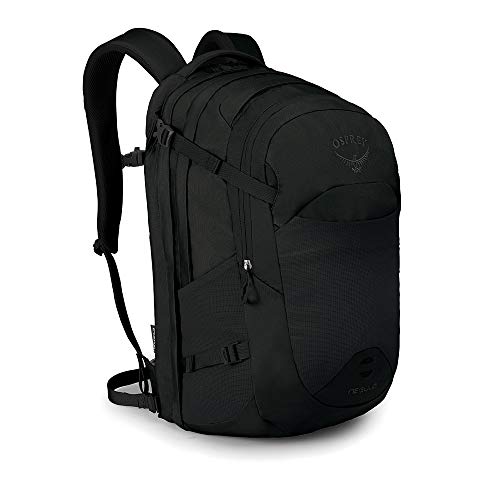 Osprey Nebula Men's Laptop Backpack at a Glance
:
---
Dimensions: 19″ x 12″ x 12″
Weight: 1.9 Pounds
Compartments: Suitcase-like compartment with mesh dividers
Laptop Only Compartment: Yes
Carrying: Adjustable shoulder straps, handles
Additional features:

Dual side water bottle pockets
If you're looking for the best backpack for flying, this is a serious contender. Eagle Creek is well known for their quality luggage and heavy-duty fabric that this backpack is made from anti-scratch and water resistant, perfect for daily use while still looking great.
The Nebula has a TSA laptop sleeve that will fit large 15" laptops. The spacer mesh is a nice feature, it keep the backpack away from your back so you shirt doesn't get all sweaty when carrying it in the hot weather.

We love the front zip panel with lots of organizing pockets for your phone, charger and cables etc. The waist strap keeps the backpack from bouncing around when you are running for the gate.

---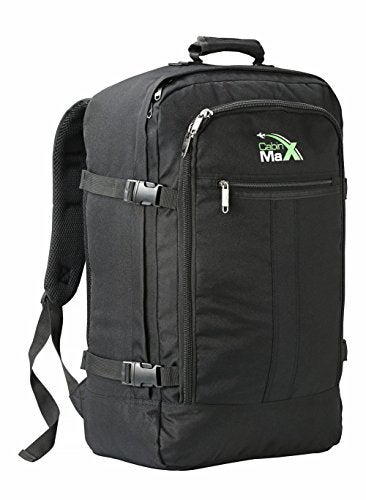 Cabin Max Metz Backpack at a Glance
:
---
Dimensions: 21" x 14" x 9" – maximum size for IATA flights
Weight: 1.5 Pounds
Compartments: 3 main zipped and 2 internal zipped compartments
Laptop Only Compartment: No
Carrying: Adjustable shoulder straps, handles, side adjustable straps
We have all seen the dreaded metal bins in airports. These allow us to measure our bag and confirm that it will fit within the approved dimensions.
Anything over the regulation size is bad news. A person stands to incur a hefty additional charge and have their bag checked into the hold.
This backpack has been made from scratch to fit perfectly within those dimensions. This makes it one of the best small travel backpack options out there.
You can say goodbye to the stress of measuring your backpack and get onto the plane every single time.
This is also a very lightweight travel backpack, weighing just 1.5lb. This means you can get the most from the weight limit you have.
A range of carrying options and compartments also make it an adjustable and flexible bag which works for whichever adventure you're heading out on.

---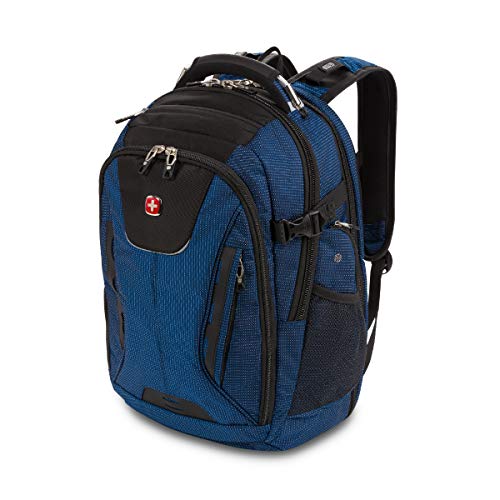 SwissGear Travel Gear ScanSmart Backpack at a Glance
:
---
Dimensions: 18.5" x 13.5" x 9.0" standard, 18.3" x 12.2" x 9.5" extended
Weight: 2.5 Pounds
Compartments: Various compartments and pockets for special items
Laptop Only Compartment: Yes
Carrying: Backpack straps
Additional features: ScanSmart technology to protect devices
This feature-rich option has a good claim to being the best hand luggage backpack.
If you're very organized and travel with a variety of items, this is a fantastic option thanks to its variety of compartments and pockets.
A built-in laptop sleeve protects your laptop from damage and you'll find specialized pockets for wires, water bottles, and other common items.
Made from 1200D polyester, this is a very durable bag while also offering a lot of comfort.
Great back padding protects your laptop and your back while air flow technology makes for a comfortable experience that's free from sweat.
Finally, the ScanSmart technology means that the bag can fold open to reveal your electronic devices – a great way to dash through airport security as quickly as possible and continue with your journey.

---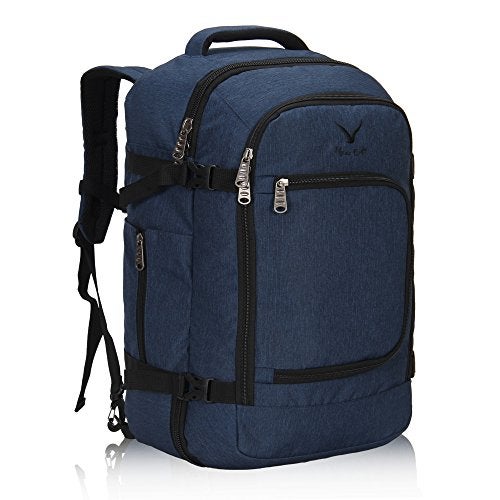 Hynes Eagle Travel Backpack at a Glance
:
---
Dimensions: 20.1" x 13.4" x 9.8" – 40L capacity
Weight: 2.25 Pounds
Compartments: Large main compartment with laptop and tablet sleeves
Laptop Only Compartment: Yes
Carrying: Backpack straps, side and top handles
If your priority is maximizing the space available from your carry-on allowance, this could be the ultimate travel backpack for you.
A large main compartment offers a 40L capacity so you can comfortable store a range of belongings whatever the type of trip you're going to be going on.
Interior slip pockets within this section allow you to safely store electronic devices.
The backpack can also be carried a couple of ways to accommodate for whatever is most comfortable and the look that you're going for.
In fact, there are a huge range of finishes you can choose from.
You have the standard colors available to you but also a range of designs which help you to make the backpack your own and standout from the crowd.

---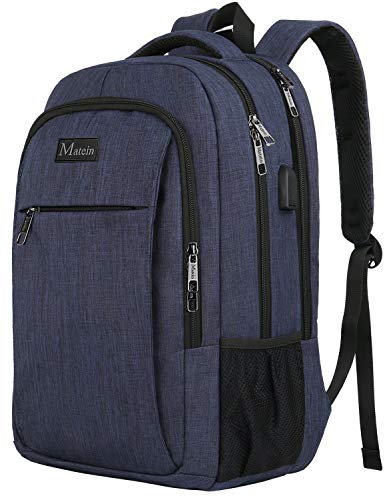 Looking for a weekend travel backpack that has a huge range of pockets?
This is a great option. It's also incredibly cost efficient and offers a great level of quality considering the low price.
With a huge range of compartments you'll find specific areas for your belongings which makes it easy to be organized.
The dimensions also fall well within the allotted constraints so you will have no problem using this on your flights.
There are nice touches, too. A USB charging port makes for convenient charging of your devices on the move.
Also, anti-theft pockets mean you can walk through airports and beyond safe in the knowledge your valuables are safe from pickpockets.

---
Veegul Multipurpose Travel Backpack at a Glance
:
---
Dimensions: 22" x 14" x 9"
Weight: 1.5 Pounds
Compartments: Large main compartment (side and top access), front pouches
Laptop Only Compartment: No
Carrying: Top handle, adjustable backpack straps
Additional features: Lockable rings, general build quality
Do you like to blend form and function? If so, this stylish travel backpack could tick all of your boxes.
A large 20L capacity means that you can comfortable store a range of items in style.
The "big mouth" opening style resembles a doctor's bag and opens up wide so that you can get easy access to the belongings that you have inside.
Front pouches are ideal places to store things like keys, kindles, and other items that you use frequently.
As with the other options in this list, it's the perfect size to be carried on a plane and sued as hand luggage.
Over 19 colors and design options mean you'll find something that you love.
---
Carry On Backpack Comparison Table
Considerations for Choosing a Carry On Backpack – Buyers Guide

The deeper you get into the world of backpacks, the more you notice a range of nuanced features. If you're looking to buy a backpack that will accompany you on countless adventures, you've got to get each detail just right. While padded shoulder straps may not seem essential, they can make a world of difference over the years.
As with any other purchase, it's a matter of balancing features and deciding which are the most important to you. Here are some tips to help you make sure you make the best choice possible.

Important Features
What's the key feature you're looking for? A high storage capacity? A backpack that is comfortable to carry for long periods of time? The aesthetics?
You should spend some time really thinking about how you'll use the backpack most of the time. Go through the motions: how will you pack it?
What will you need to access at the airport? How will the backpack be in terms of repacking quickly to make that 7am flight? Once you've got a vivid idea you're looking for, your search will become much easier.
Choosing a key feature that you can't compromise on is a great way to funnel your search and narrow down the possibilities that you have. Once you've identified your key feature, it will automatically eliminate a lot of unsuitable backpack options.

Materials
The price of carry-on backpacks varies greatly and you'll find the reason is the build quality. Cheaper backpacks will, of course, give you a poorer experience and won't stand the test of time. The most expensive options command higher prices because they're built from better materials using more selective manufacturing methods.
While it can be tempting to go for the cheap option, it doesn't make sense in the long-term and can open you up to unfortunate events. The last thing you want is a broken zipper while fumbling for your passport.
Whatever the key feature you're looking for, you should be sure to spend a lot of time thinking about the material. Water-resistant material is a big plus and can help you to protect your belongings if you're caught out in a quick shower. Some bags even come with tarps to help you with this.

Power Options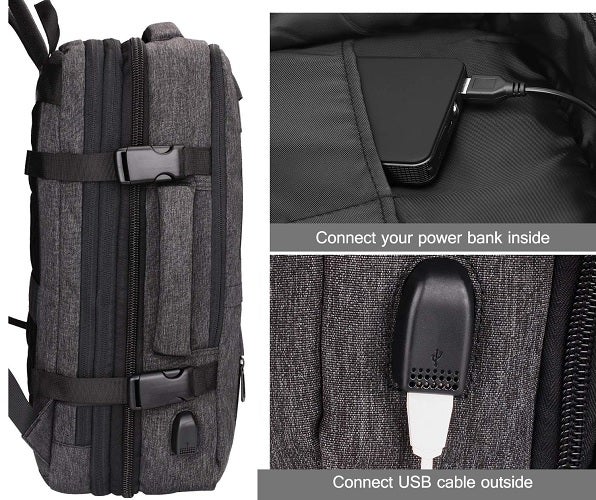 Ticketless travel is becoming more and more common. Our smartphones – and the digital tickets on them – are taking over. This is great for convenience and for the environment, but it often leaves us in tricky situations when it comes to preserving power.
Many people like to use their phones to read, play games, and listen to podcasts while waiting for a plane, but you run the risk of losing your ticket!
This is why many carry-on backpacks are beginning to include USB charging as standard. This is a feature that can't be overlooked, given that it conveniently equips you with the potential to charge on the move without having to worry about power.

Carrying Options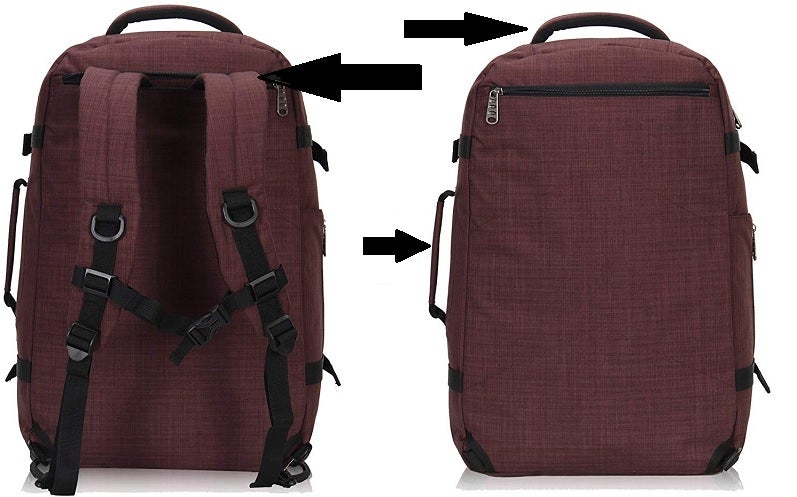 Another important detail that you can't overlook is the type of carrying options you would like. Shoulder straps are great for distributing weight evenly but sometimes a shoulder strap or briefcase handle might be more appropriate depending on the circumstances.
Some bags can offer a blend of carrying options which is often a big benefit.

Pockets / Compartments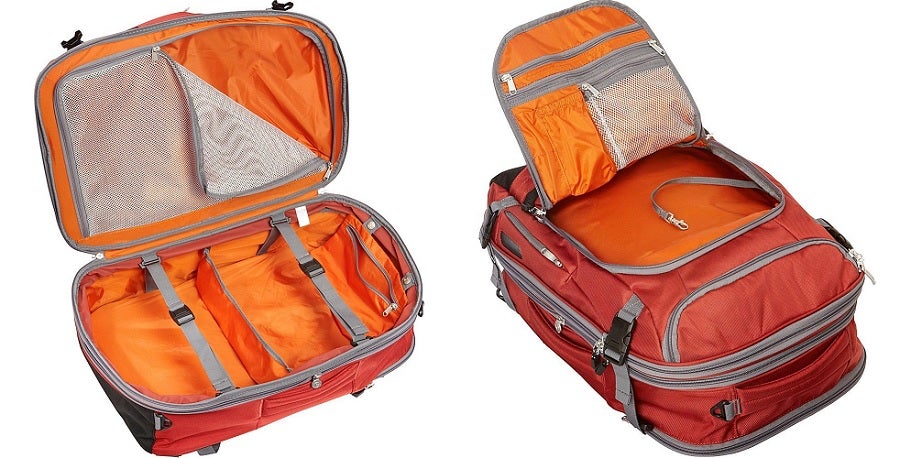 One of the biggest ways that carry-on backpacks vary is the size and number of compartments available. The organization of them will have a big impact on the way that you can use your backpack, so it's important to find one that fits with your needs.
If you're traveling with a laptop, for example, you'll want to ensure that padded sleeves are available to protect it.
It's worth nothing that some backpacks offer adaptable compartments. This makes the backpack perfect for a range of circumstances.

Budget
Carry-on backpacks vary greatly in terms of price. You'll find that there are entry-level options available which offer simple and low-quality experiences. Then there are options from the huge brands like Osprey and North Face which can command hundreds of dollars.
If you can calculate how much you can comfortably pay, you'll be able to further refine your search and look for the best option within your price range.

FAQs For Carry-On Backpacks
Q: Are cheap carry-on backpacks far inferior to expensive ones?
This really depends. It is possible to find cheap backpacks which offer superior quality when compared with some more expensive backpacks.
This is why it's so important to check out the reviews and do your research for particular models. Making informed decisions based upon research can help you to potentially get a bargain on a great carry-on backpack.
Q: What are the maximum dimensions for carry-on luggage?
This varies according to where you're flying and which airline you're flying with. You'll find that as a rule of thumb, most airlines will allow passengers to carry a bag of up to 22" x 14" x 9". It is always worth clarifying with the chosen airline if you can't find the information that you're looking for or if you have any doubt.
Q: How much should I spend on a carry-on backpack?
This varies greatly according to your own budget and the specific needs that you have. There is no one-size-fits-all answer to this question. You may indeed be able to find a great option according to your needs for a good price.
It is worth remembering that as a general rule of thumb, the more expensive the backpack the greater its lifetime. This means that a large up-front investment can be difficult in the short-term but it will be a sensible investment if the carry-on backpack lasts for many years.
Q: Are carry-on backpacks superior to suitcases?
There is a big debate among travelers when it comes to the superior luggage option. Essentially, it's a balance of pros and cons according to your specific needs.
What carry-on backpacks lack in terms of strength and protection, they more than make up for in portability and convenience. This is why it's such an important step to consider your exact needs and how they will be served by a particular option.
Q: Can carry-on backpacks transport electronic devices safely?
Some people are very concerned that the softer and more flexible nature of backpacks means that their electronics are at risk. This isn't necessarily the case, given that many options offer padded sleeves which are intended to specifically home sensitive electronic devices.
You'll find that these padded areas – when supported by the weight and rigidity of other items in the backpack – are more than capable of transporting your electronics safely.
Q: What's the perfect capacity for a backpack?
Bigger isn't always better. Some people are tempted to go for the largest possible capacity but this can lead to an uneven distribution of weight which makes a carry-on backpack difficult and uncomfortable to carry properly.
You should think about what you'll realistically need and go for the carry-on backpack option that can comfortably accommodate for that. Adjustable straps and handles are closely related to capacity, given that these have the potential to redistribute weight.

Tips For Traveling & Packing Your Backpack
Carry-on backpacks may seem simple and straightforward, but there are a series of expert tweaks and techniques you can use to get even more from your trusty traveling companion.
#1 Don't overpack
Some people are tempted to get the largest capacity possible. With 40L of empty space to fill, they are tempted to pack as much as possible and make the most of the space.
This can be a terrible error though. As your journey continues the weight can start to take a toll, the distribution of weight is all wrong, and you find it difficult to find the things that you need.
This is why smaller backpacks are viable options and you shouldn't just go for the highest possible storage capacity.
#2 Use the 1 to 6 rule
This is a really fun hack that we have found works very well and it can help you to make the most of the space that you have available to you. It's great if you're looking to use just a single backpack or piece of luggage for your trip.
Essentially, it's the number of essentials you will need: one hat, two pairs of shoes, there pairs of pants, four shirts, five pairs of socks, and six pairs of underwear.
#3 Spread the weight
We have all seen those people who have packed their backpack poorly. Hunched over to pull up misplaced weight, every step becomes unpleasant and the backpack is used very inefficiently.
When it comes to packing your brand new carry-on backpack, you should think about weight distribution. You want the heaviest items to be the closest to you, and you want those items to be evenly spread between the left and right sides.
It's also important to think about what you're going to want to access. Towels probably won't be needed in the airport, so consider placing them at the bottom to absorb shock and make space for the things you'll need at a moment's notice.
Final Thoughts
Equipped with the good carry-on backpack, you'll never have to worry about the restrictive measurements imposed by airlines. You'll have beaten the system and can rest assured that you and your luggage will make it onto the plane without a problem.
How We Researched
To come up with the carry-on backpacks we researched a variety of sources for reviews such as REI, Bass Pro Shops, Cabelas and Backcountry along with our own personal experience.
We also consulted online magazines for product research and reviews to get as much unbiased information as we could. To help weed out fake reviews we used Fakespot.com to make sure we only looked at genuine reviews.
With so much quality gear available, we had to narrow it down based on what we felt were the best options for the price. The author, Casey Fiedler has been leading backpacking trips for over a decade in his native state of Michigan.
To help narrow down the selection he used his personal experience along with recommendations from fellow guides and outfitters.
After extensive research, we came up with our list to help you choose the right one for you.
Sources
---
Notice:
OutsidePursuits.com is a participant in the Amazon Services LLC Associates Program, an affiliate advertising program. OutsidePursuits.com earns fees from products sold through qualifying purchases by linking to Amazon.com. Amazon offers a commission on products sold through their affiliate links.