Traveling and camping can be enjoyable or miserable, depending on how you approach it. Pitch your tent over a rock and try sleeping on the ground and you're guaranteed a terrible time.
Head out into the wild with great gear, plenty of knowledge, and a comfortable cot to sleep on and you're guaranteed a much more restful sleep.
While camping cots aren't the solution for backpacking and hiking, they are a great solution for car camping or campgrounds. Load up the car, the kids, and the dog with your new cots and everyone will have a much more restful and enjoyable vacation.
We're going to help you understand what makes some camping cots stand out from the crowd.
First lets take a look at the cots, then we'll talk about how to choose the right one for you.

Here is a feature overview of the cots, full reviews and our buying guide is below.
The Best Camping Cots
Coleman Pack-Away Cot
Kamp-Rite Oversize Kwik Cot
Vivo Camping Cot
Size and Weight Limit:
7 ft long by 31 inches wide supports 300 pounds
7 ft long by 33 inches wide supports 400 pounds
6ft 4 inches" long by 25" wide supports up to 250 pounds
Packed Size and Weight:
42" long by 6" wide and 5" tall weights 13 pounds
42" long x9" wide x8" tall and weighs 25 pounds
36" long x 7" wide x 4" tall and weighs 12 pounds
Features:
Removable side table and cup holder.

Heavy-duty steel frame
Drop down storage pouches to keep your cell phone, keys etc.
Durable aluminum frame with steel legs with water-resistant polyester fabric.
Camping Cot Reviews
Accommodating taller individuals is no problem with the Coleman Pack-Away. This cot can easily handle sizes up to 6' 8" and 300 lbs. There's no sweat here, if you need an extra bed around the house or around camp, this cot should be up to the task for any visitor or camper.
One cool feature is a removable side table with cup holder. I'm not sure how useful this will prove over the long run (I know I would forget to bring it with me on camping trips and probably leave it in the attic) but it's a fun addition. In my opinion this was the most comfortable camping cot.
Steel folding frame and polyester sleeping surface are both high quality materials that should last years under any use. Did we mention that it packs up into a convenient fabric case for transport and storage? Perfect. For cot in the neighborhood of $50, this is an excellent option!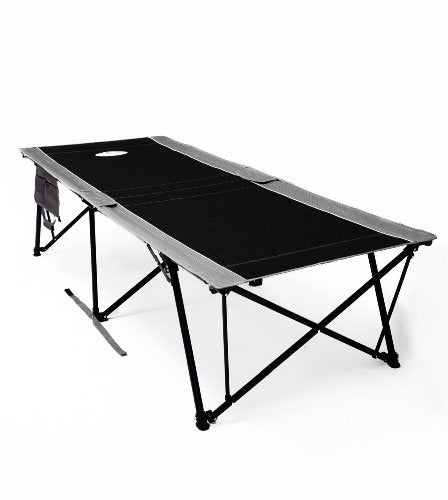 Measuring up at a cool 7' long, this cot has more than enough room for anybody. Sleep comfortable yourself or have space for an unexpected guest with this roomy cot. We don't see any reason the generous 33" wide cot can't accommodate even the most restless sleeper.
With two pouches on each side of the cot for storage, I find them much more practical than the Coleman removable table. These pouches are always attached and take up no extra room whether you choose to use them or not!
Another neat feature is that this cot folds up into a compact and easy to carry bundle with no extra storage bags. The cot its self has integrated handles so there's no extra bag to carry, keep track of, or get lost. Supporting more than a 100 pounds more than its competitors, this is the best camping cot for heavy people.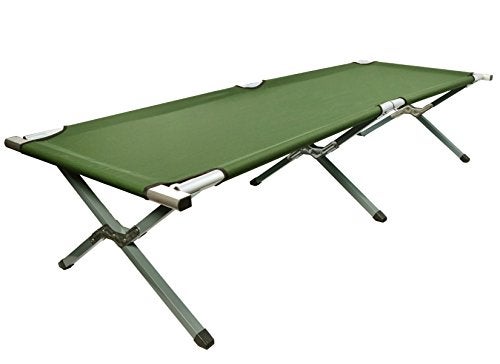 Heading back to the less expensive realm of camping cots, we're going to take a look at this budget-minded cot made by VIVO. At a real bargain price, we're not expecting anything majestic but this cot is light, small, and up to the job.
Aluminum construction, polyester fabric, and a narrow but long cot surface make this ideal for smaller people on  a budget. The cot its self weighs 12lbs and can hold up to 250lbs and comes with its own carrying case.
Overall this cot is a great choice to save money, save space, save weight and enjoy the outdoors. With everything a cot needs and nothing extra, we're pretty happy with the simple design and function of this cot. This is the best camping cot for the money.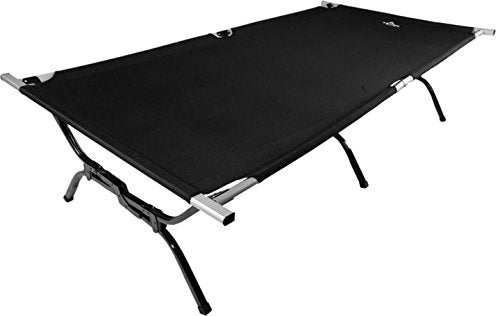 With a heavy price tag, this cot costs more than the other cots on our list. With this price, however, comes several additional options. Insulated cot pad for comfort and warmth, as well as hanging cot organizer. Each of these features is an extra cost, however.
Your cot its self will weigh 26lbs (which seems a bit much) and spread out to a generous 7' long and 40" wide. This is a mega-cot with enough room for a mosh pit at a thrash metal show. Just kidding – don't take your cot to a metal show.
Aluminum frame, steel legs, and canvas sleeping surface are all designed well and the cot is reliable. We think you'll get years of great use out of the giant cot with a smile on your face. The sheer size and cost of the cot, however, are not for everyone and we highly recommend this cot for serious users who need plenty of room to spread out! This is the best camping cot for side sleepers or if you have a bad back because of the extra padding.
How to Choose a Camping Cot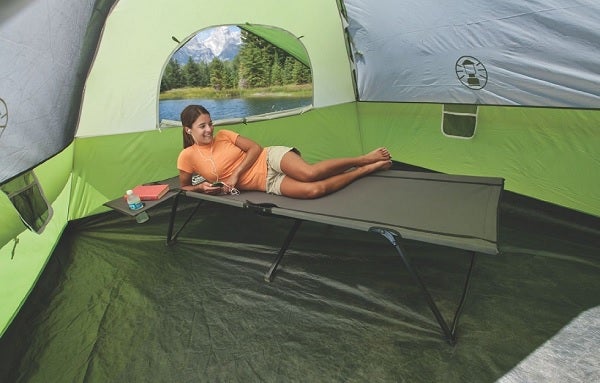 Size
Too often camping cots are poorly designed and lead to terrible sleeping situations. When purchasing a camping cot, it's critical to ensure the cot will fit your body stature. If you're a particularly tall individual, ensure that the cot will extend enough to accommodate your full length. Nothing is more bothersome than sleeping with your legs tucked in all night.
Weight
Two critical factors to consider with weight are: the weight of the cot, and your own weight. Some cots are made of ultralight materials to help lighten the carrying load of the cot. This is nice for carrying and storing more cots with less effort. However, lightweight materials sometimes sacrifice durability.
Be sure to check your cot's weight rating before purchasing to be certain the cot can easily support your weight. It's never fun to wake up on the cold, hard ground in the middle of a good night's sleep.
Weather
Consider the weather you intend to be camping in. Because cots are most often designed with thin fabric as a sleeping surface, this leaves room for convective cooling. Cold air moving under the cot can suck away body heat.
For cold weather camping an insulated cot or insulating mattress is advised when cot camping. Make sure to take an appropriate sleeping pad and sleeping bag in cold weather camping – even when sleeping on a cot.
Price
Of course we all want to save money, but sometimes saving on a cot can mean disaster. Cheaper cots can often be flimsy, fragile, or too short and narrow to comfortable sleep on. Of course there are good deal to be had but be sure to check cheaper cots before purchasing. Ensure your new purchase will last by checking the materials, weight, and size of the cot you're purchasing.
Packed Size
In order to maximize efficiency when traveling and storing cots, you'll want to check how small the cot packs down. Most cots fold into themselves to save space.
Don't forget to measure the trunk or back of your car to ensure your cot will fit in the car once folded up. To keep the cots out of sight and mind at home, check your basement, attic, closet, or other storage space for adequate room before purchasing your cot.
Conclusion
Buying a cot doesn't have to break the bank. We've reviewed a range of cots from inexpensive to luxurious. Remember to choose a cot based on your needs.
Will you be car camping? Using the cot in a spare bedroom? Do you like to spread out when you sleep? These questions are all critical to making a good cot selection choice. It's always wise to err on the side of caution as you never know when you might want to share that cot with someone.
New to camping? I created a guide for beginners: Essential Camping Gear. Also remember what you carry the tent in, your backpack is a critical, here is my guide to the best backpacks. Don't forget what your going to cook with, see my guide to the best camping stoves.
Notice: Outside Pursuits is a participant in the Amazon Services LLC Associates Program, an affiliate advertising program to provide a means for sites to earn advertising fees sold through by advertising and linking to Amazon.com. Amazon offers a small commission on products sold through their affiliate links. Each of your purchases via our Amazon affiliate links supports our efforts to bring you the best possible product reviews at no additional cost to you. We appreciate your support here at OutsidePursuits.com
Review Overview
Summary : The Coleman Pack-Away Cot was our favorite camping cot based on weight, packed size and features for a bargain price.